38 FREE resources for UIUX Newbies: Blog, Podcast, YouTube
Want to study UI/UX design yourself but don't know how to get started?
In this article, we'll first walk you through what UI/UX is and the differences between them, then put together a collection of great design articles, blogs, podcasts, YouTube channels that are specifically aimed at beginners. Hope it will be helpful to you!
---
What are UI and UX?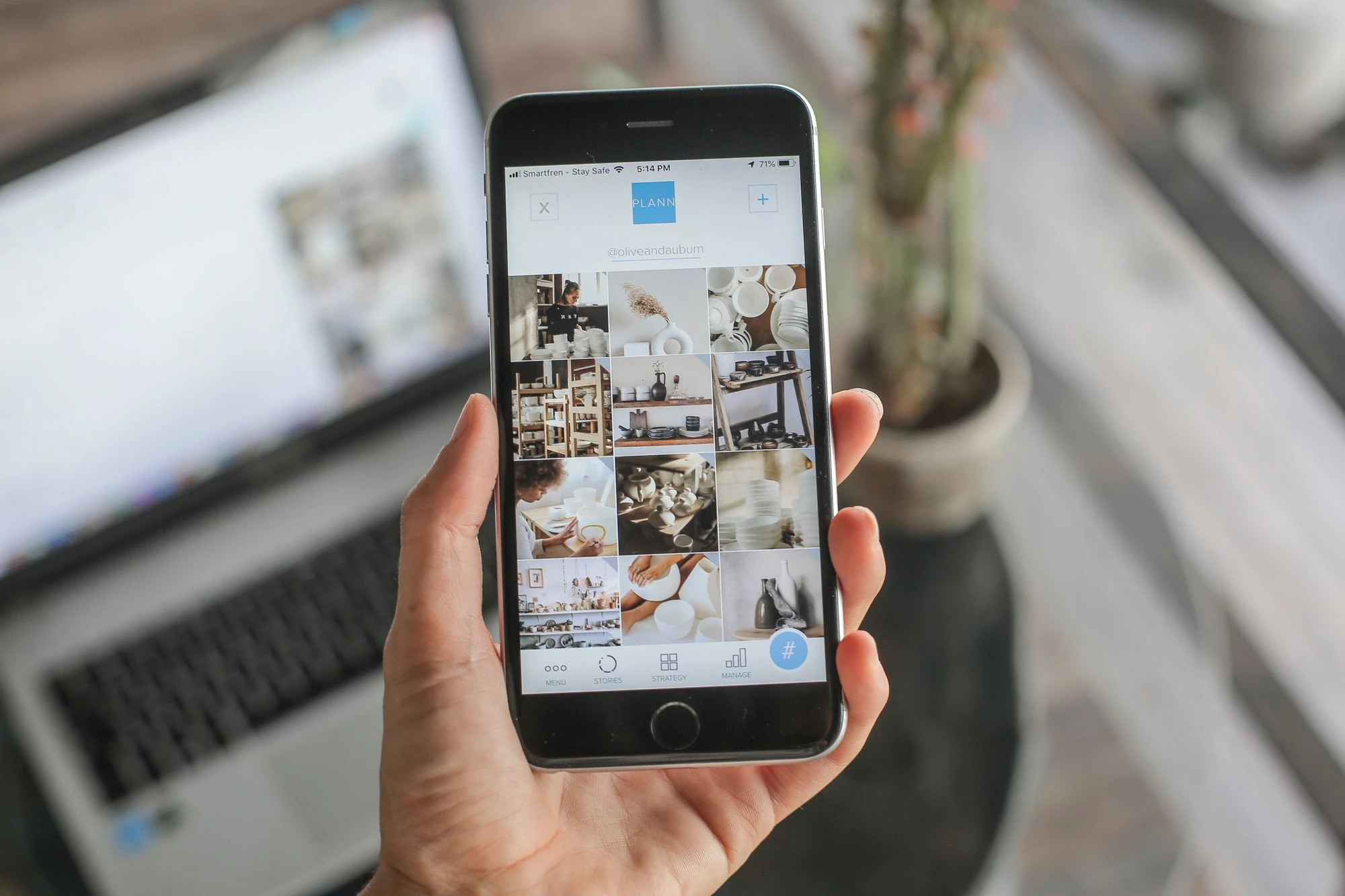 Image from Pexels
User Interface(UI):
"UI", also known as "User Interface", is the graphical layout of an application. UI designers value aesthetics. Thus, it's up to them to make sure the interface is attractive, visually stimulating and themed appropriately to match the purpose and personality of the app. Likewise, they need to make sure every single visual element feels united, both aesthetically, and in purpose.
User Experience(UX):
"UX" stands for "user experience." A user's experience of the app is determined by how they interact with it. UX designers' goal is to make the experience smooth and intuitive without being clunky or confusing, keeping the navigation of the app logical as well.
---
What are the differences between UI and UX?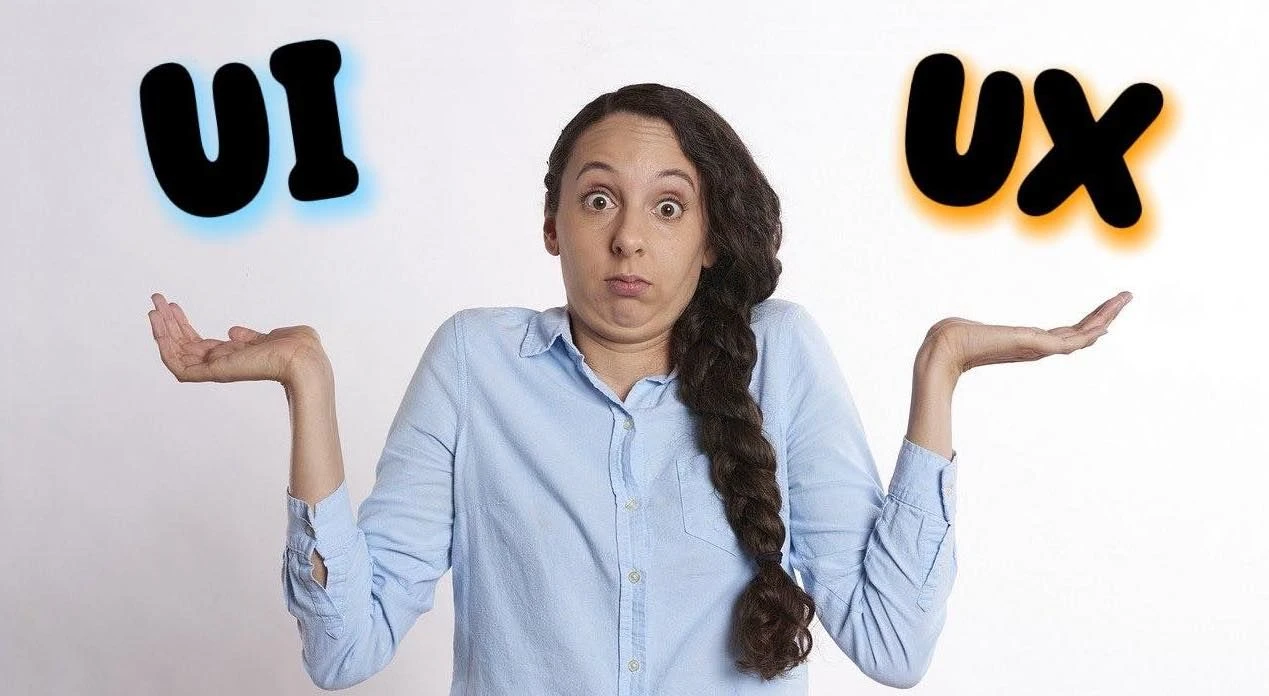 Image from Pixabay

In brief, UI designers focus on how a product's surfaces look and function, while UX designers attach great importance to the user's journey in a product or service.
After realizing how to differentiate UI and UX, you can now clearly choose one with interest to learn, the following are several high-quality UI/UX learning resources where you can benefit a lot!
Related Articles:

15 Must-Read UX Books for Anyone Interested in UX Design
---
【7 Must-Read UI/UX Design Articles】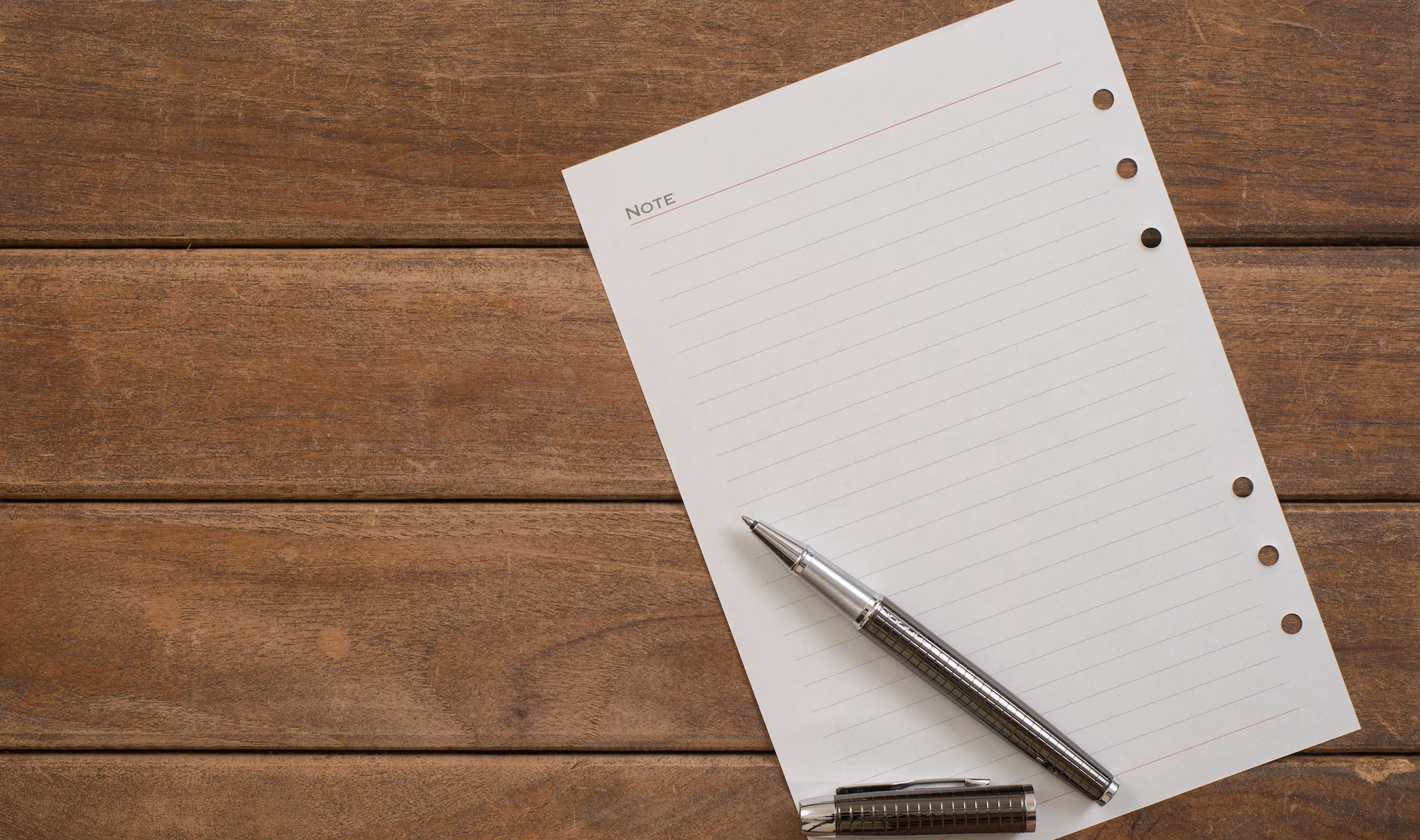 Image from Freepik

With step-by-step instructions, it will be easy to get started on UI design!
These topics contain the basic concept of UI, the skills and tools you need, and even plenty of learning resources, which are so detailed that you'll get loads out of them.
Before starting any UX tutorials, here's a comprehensive guideline you must read.
It compiled practical design tools, tips, and resources for you to master user experiences. Besides that, you can also learn how to build a winning UX strategy and dive deep into user research and UX writings in this article.
There are countless sorts of fonts nowadays, however, can you set an exclusive font by yourself?
Creating fonts is no longer an intricate process after you read this article. It will take you back to the fundamentals and tell you how to set fonts for the web, what to look out for and where the future of Typography lies.
Messy stock fonts library? Eagle can help you organize efficiently!

Image from Eagle
Good UI design makes every user feel comfortable and empowers each visitor to achieve the outcome they want. Through this article, you will learn what user interface design is, what makes good UI design and the 4 rules to help you create greater UI designs.
If you're brand new to the field of UX, read this before going any further.
Using a simple and detailed way to let you know what "User Experience" is, and why it is important, you will find that the application of UX exists everywhere in our daily lives.
This manifesto is for those who lack confidence in learning UX.
Up to 80% of UX beginners feel lost and lack confidence in their path. Don't doubt your skills or abilities and remember everyone started somewhere. Have faith in yourself!
Readability is undoubtedly one of the top concerns when it comes to any design project.
After reading it, you can gain a deeper understanding of what is readability, how to plan a design around the words, and even get more than 2,000,000 digital assets to help your design easy to read!
---
【12 Useful UI/UX Design Blogs】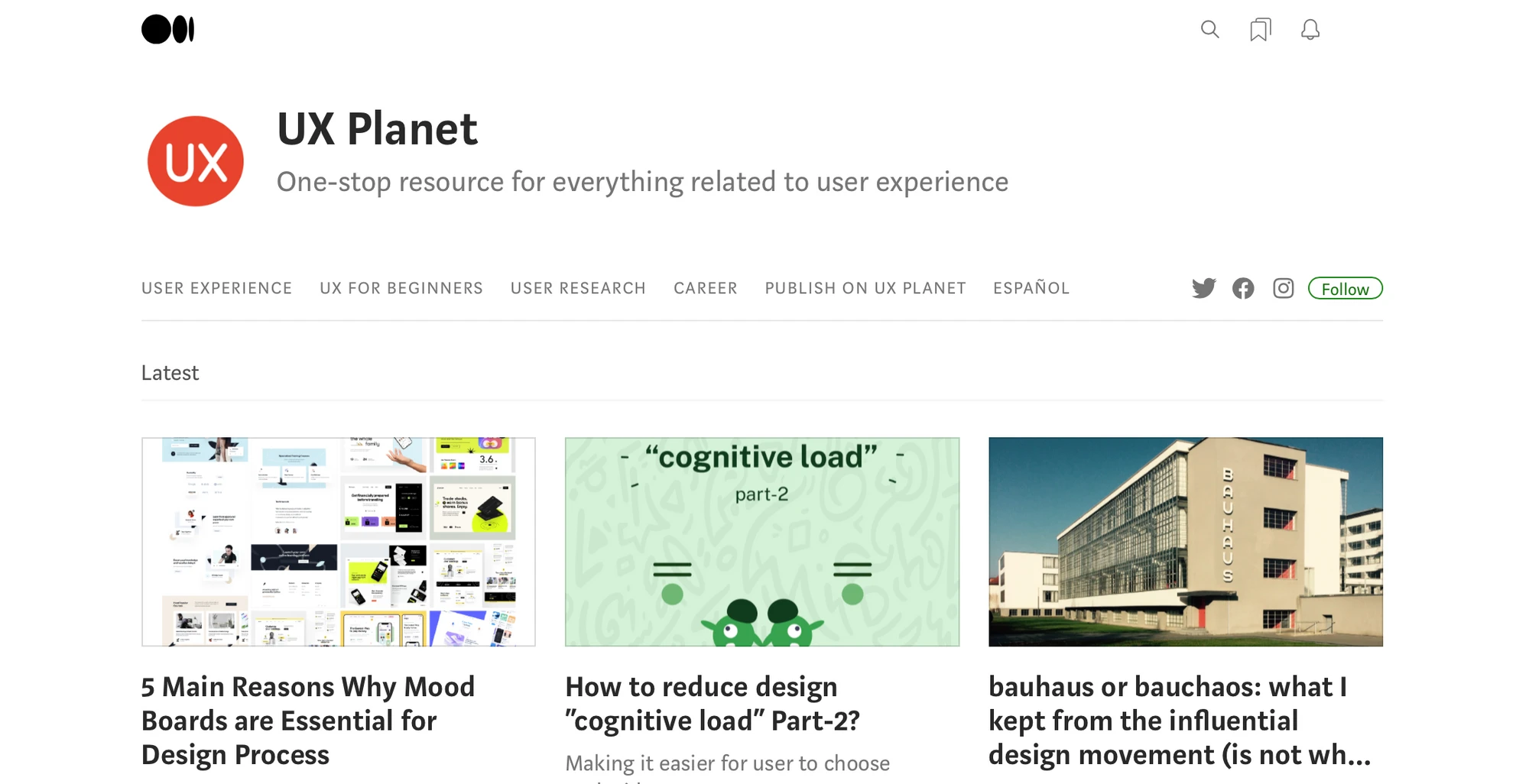 Image from Medium

Medium, launched by the two co-founders of Twitter, is a new place where you can share ideas and stories that are longer than 280 characters and not just for friends. All kinds of articles can be seen on one platform, and UI/UX is also one of the hottest topics, covering the basic concepts, tips, latest trends, career experience, and even advanced UI/UX skills. It's such a great place to enhance yourself!
Masters you should follow:
UX Collective: Curating stories on UX, visual, and product design.
UIE: A leading research, training, and consulting firm specializing in UX, website and product usability.
Collect UI: Daily updating, handpicked designs from Dribbble served in categories for your inspiration.
Related Reading: 43 Best Websites Designers Love for Finding Design inspirations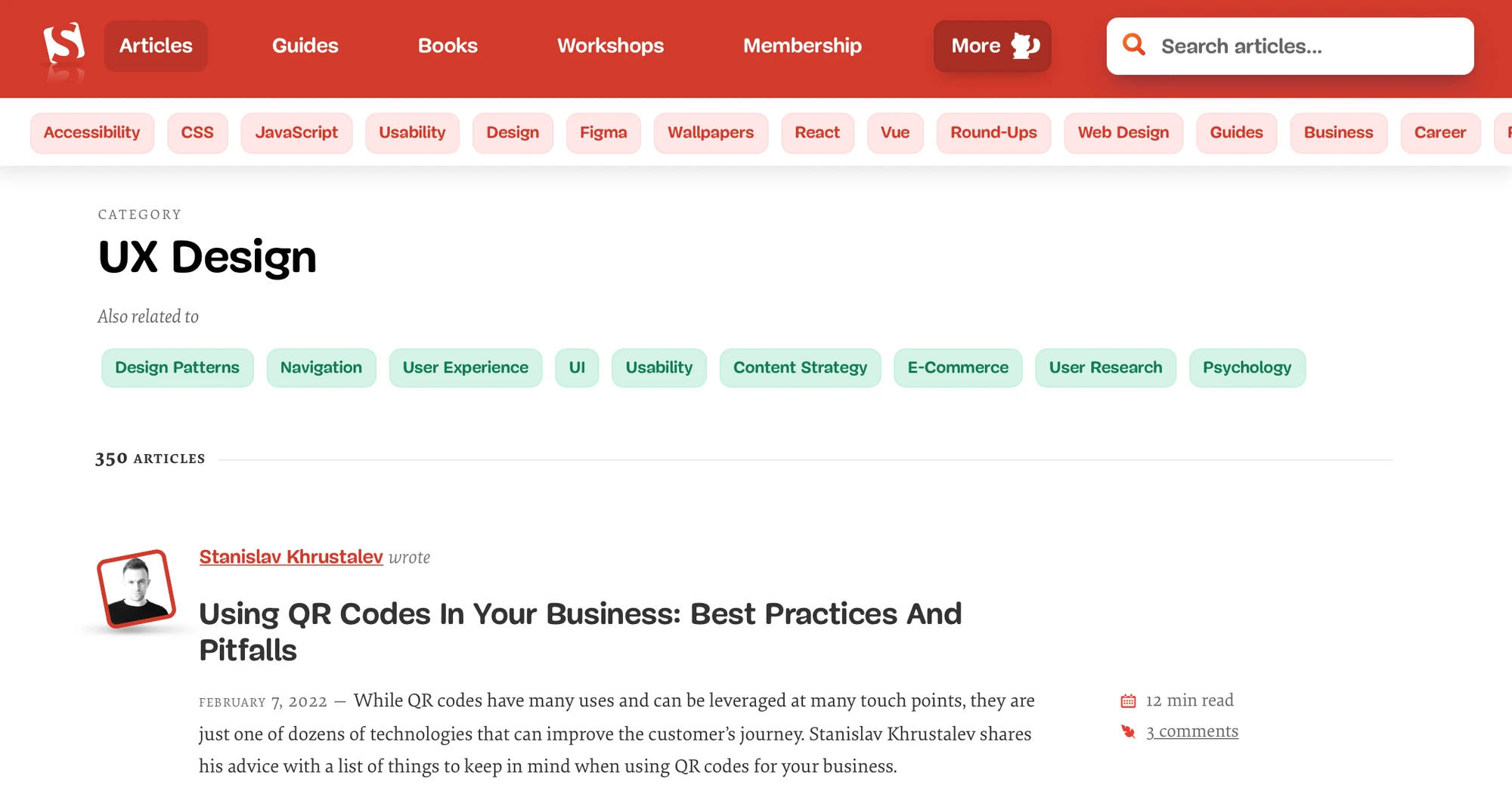 Image from Smashing Magazine

As one of the world's most popular and well-regarded magazines in the area of web design and web development, Smashing Magazine provides reliable and practical articles for web designers and developers. Topics include web design, graphic design, and user experience. Bookmark the blog to learn more in-depth about UI/UX!
Best articles for UX beginners: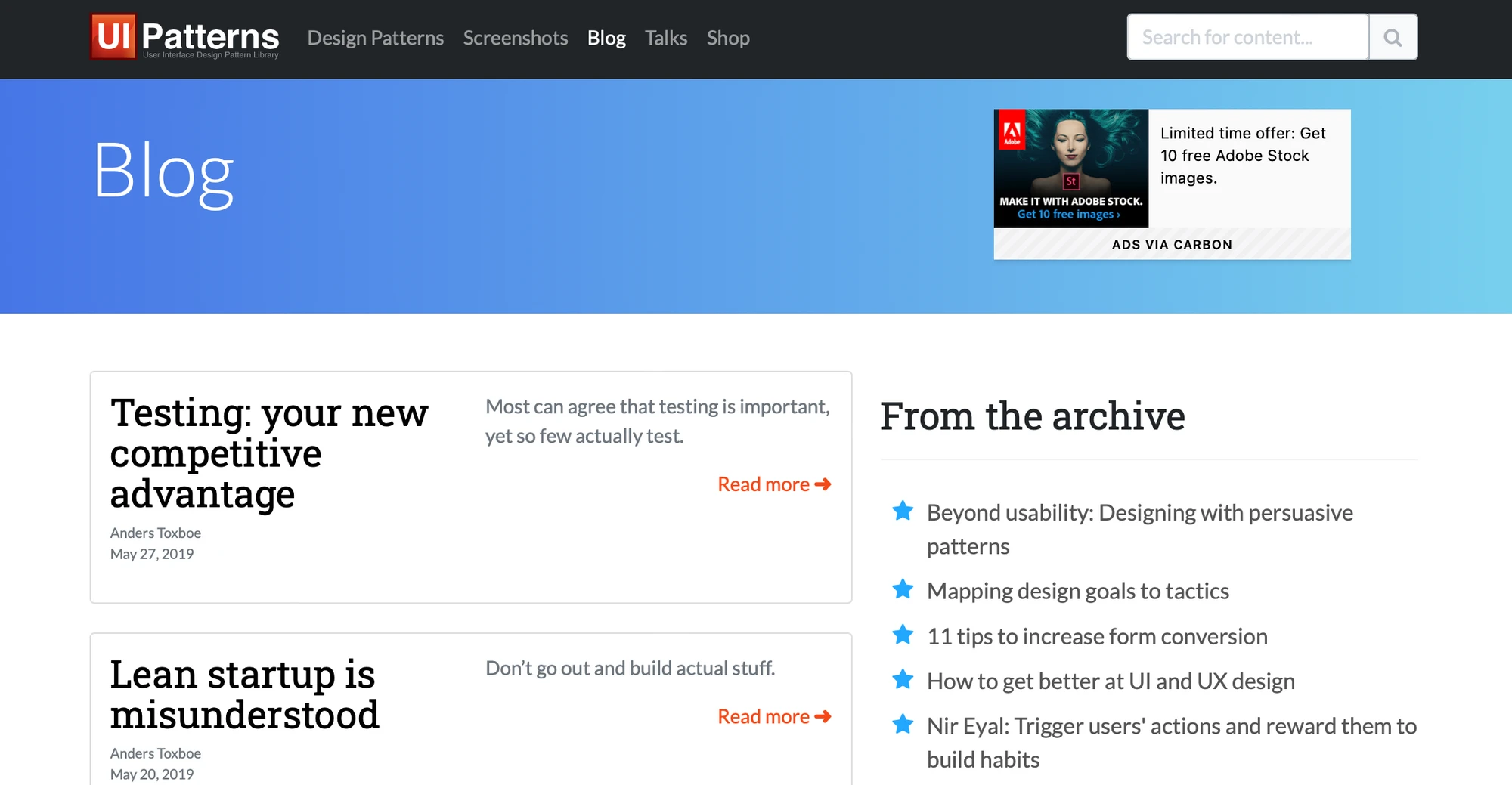 Image from UI Patterns

UI-Patterns is dedicated to creating a library of such solutions to common UI problems. It was originally a personal side project but is now open to everyone. This collection is made up of many useful and easy-to-understand articles. If you have some trouble learning UI, try it to find the answers to your questions!
Want to quickly collect UI inspirations? Using Eagle to capture the whole page!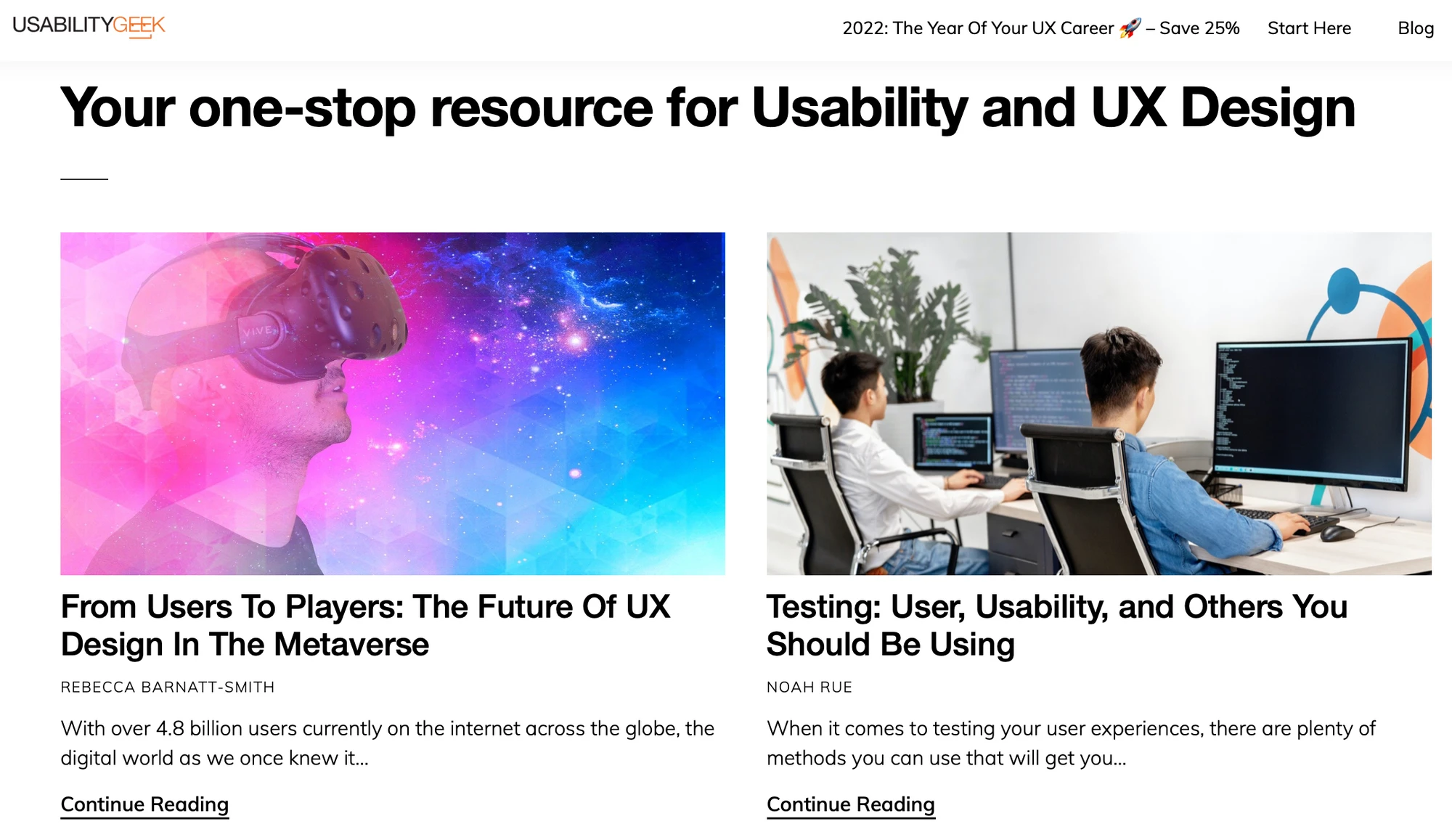 Image from UsabilityGeek

Usability Geek is a blog that gives you practical and comprehensive insights into topics like UI/UX design, eCommerce, HCI, conversion, and other related fields. What's more, The Interaction Design Foundation, also run by Usability Geek, offers high-quality UX design online courses for you to gain recognized certificates and advance your career.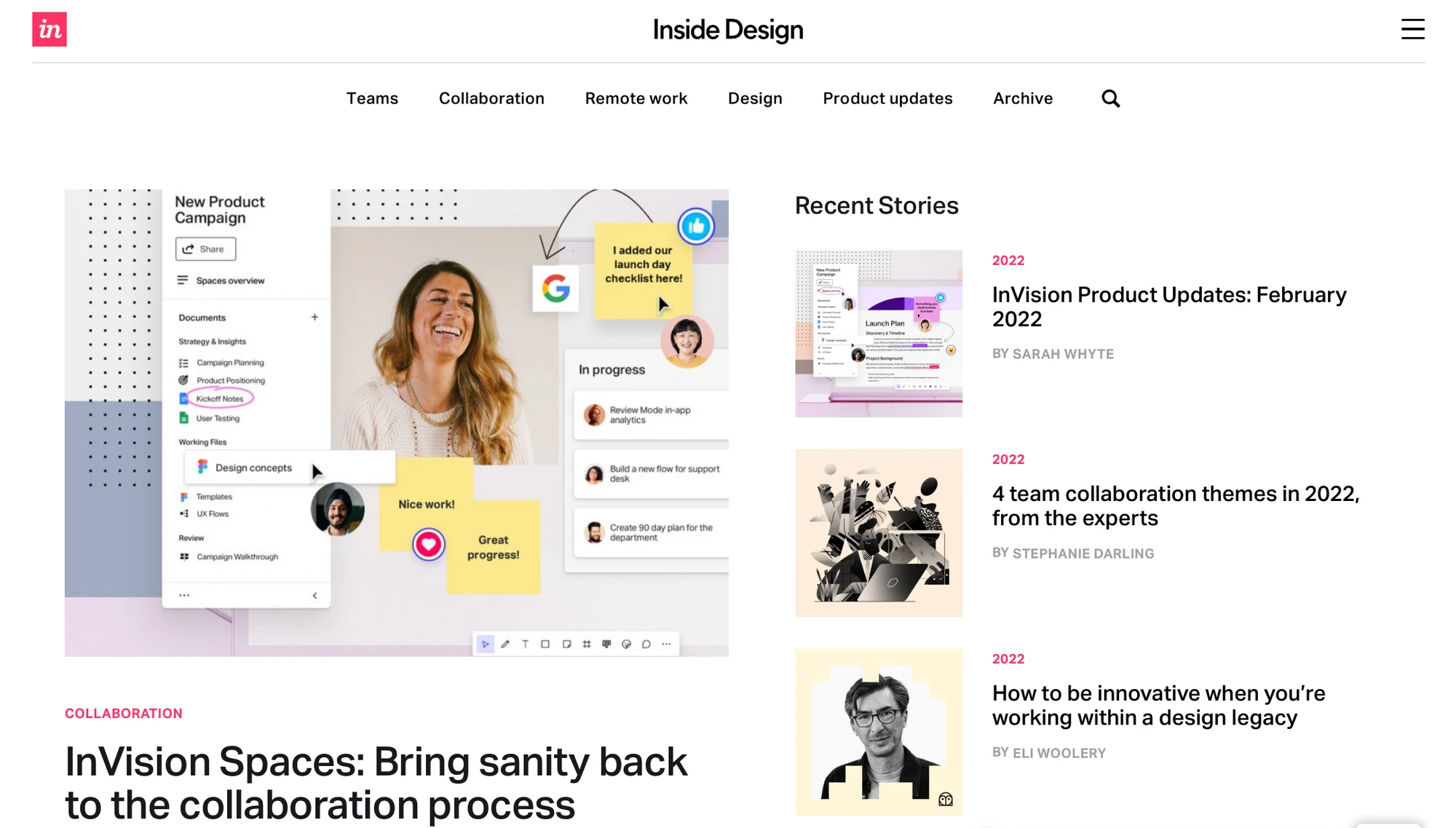 Image from Inside Design

InVision is the visual collaboration platform powering companies around the world, while Inside Design is their design blog, covering topics ranging from design resources, videos, tips, inspiration, UI and UX.
Want to keep up with the latest design trends, tools, or events? Inside Design is an excellent design resource for you!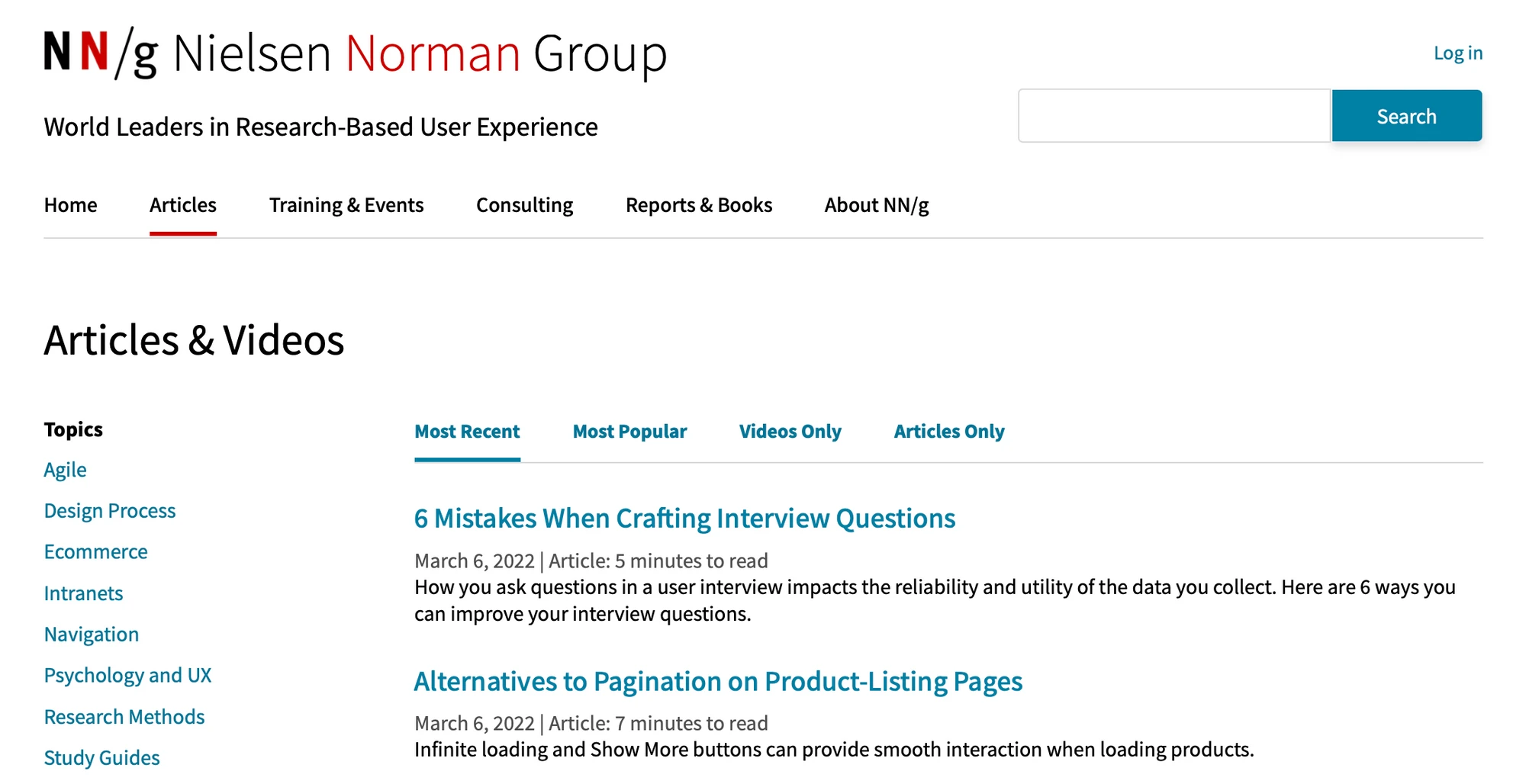 Image from Nielsen Norman Group

The Nielsen Norman Group is a trustworthy authority to provide reliable guidance on user experience. It strives to share its research findings through a free library of 1500+ articles including research findings, guidelines, and UX methods. So lucky you are that you can get all these precious design resources on one site!
Recommended articles: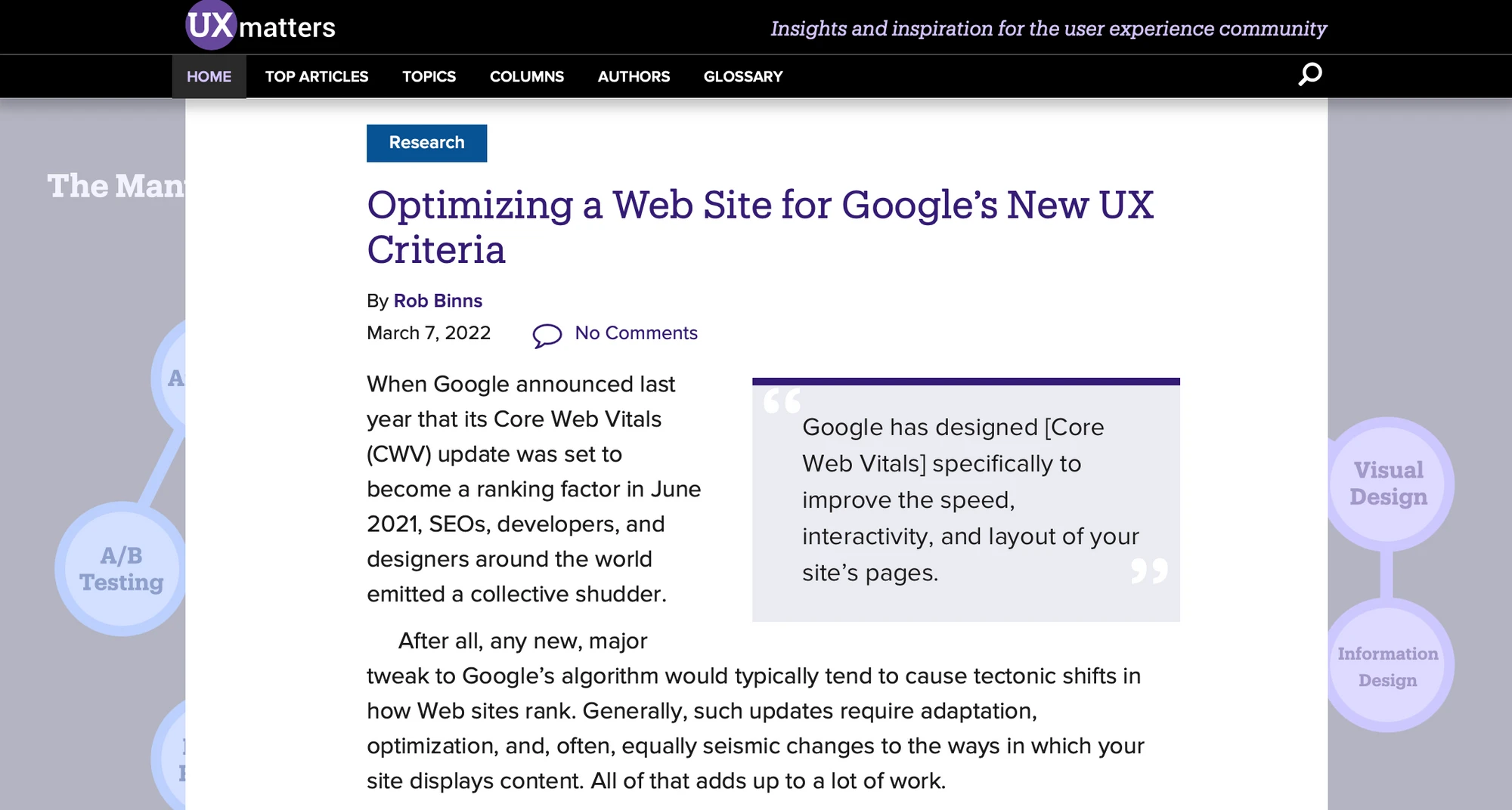 Image from UXmatters

UXmatters provides advice and inspiration to both professionals and beginners in the UX field. Many leading UX experts will share their insights on important UX issues and cases. All the articles cover everything from actionable advice, practices, in-depth thought, to future trends in digital experience. Read it regularly to gain from experienced designers!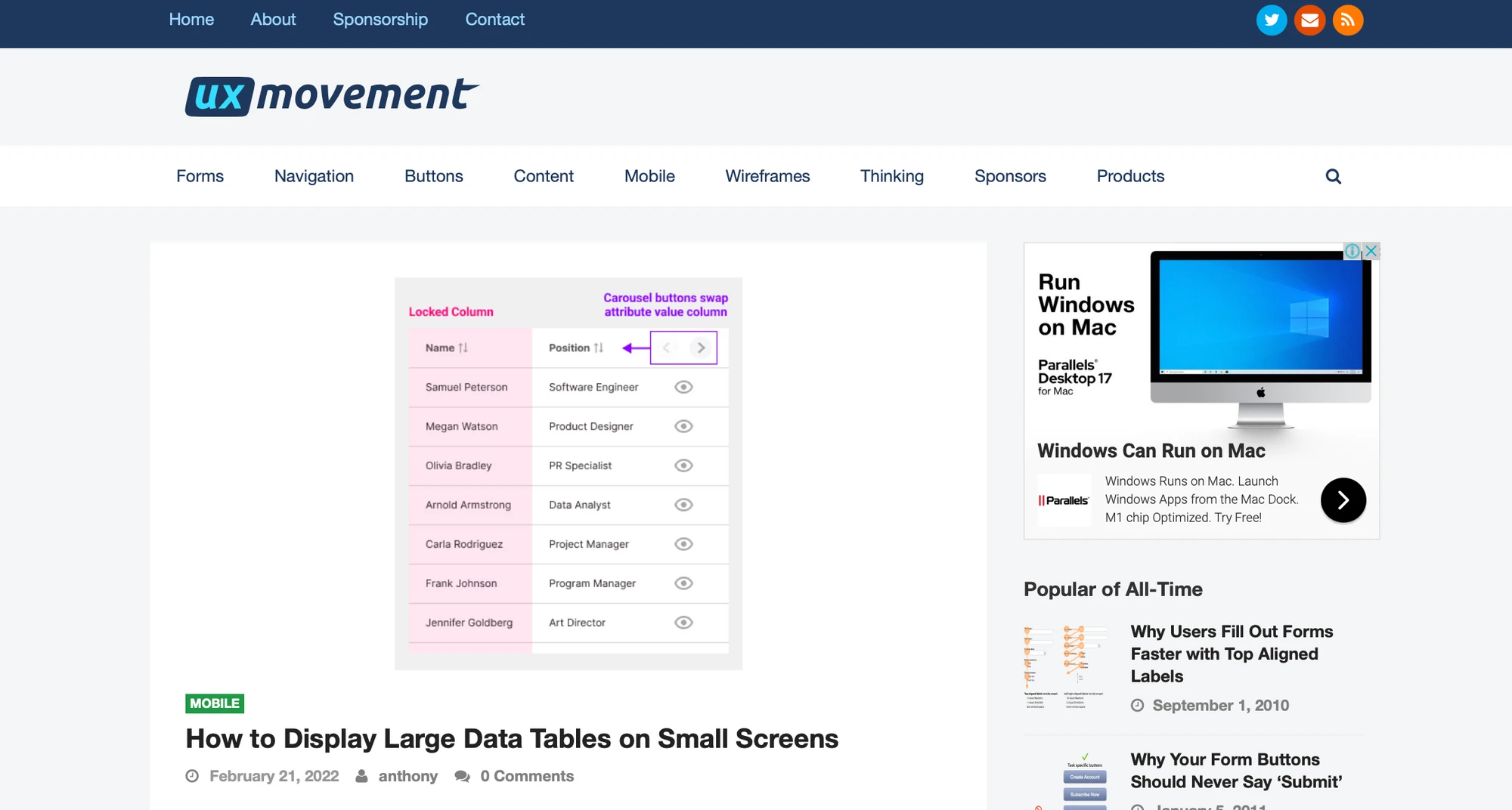 Image from UX Movement

UX Movement aims at teaching you how to master the user experience in apps, websites, and interfaces by sharing tips, techniques, and best practices. On top of that, you can quickly choose the topic you like by using the site navigation above.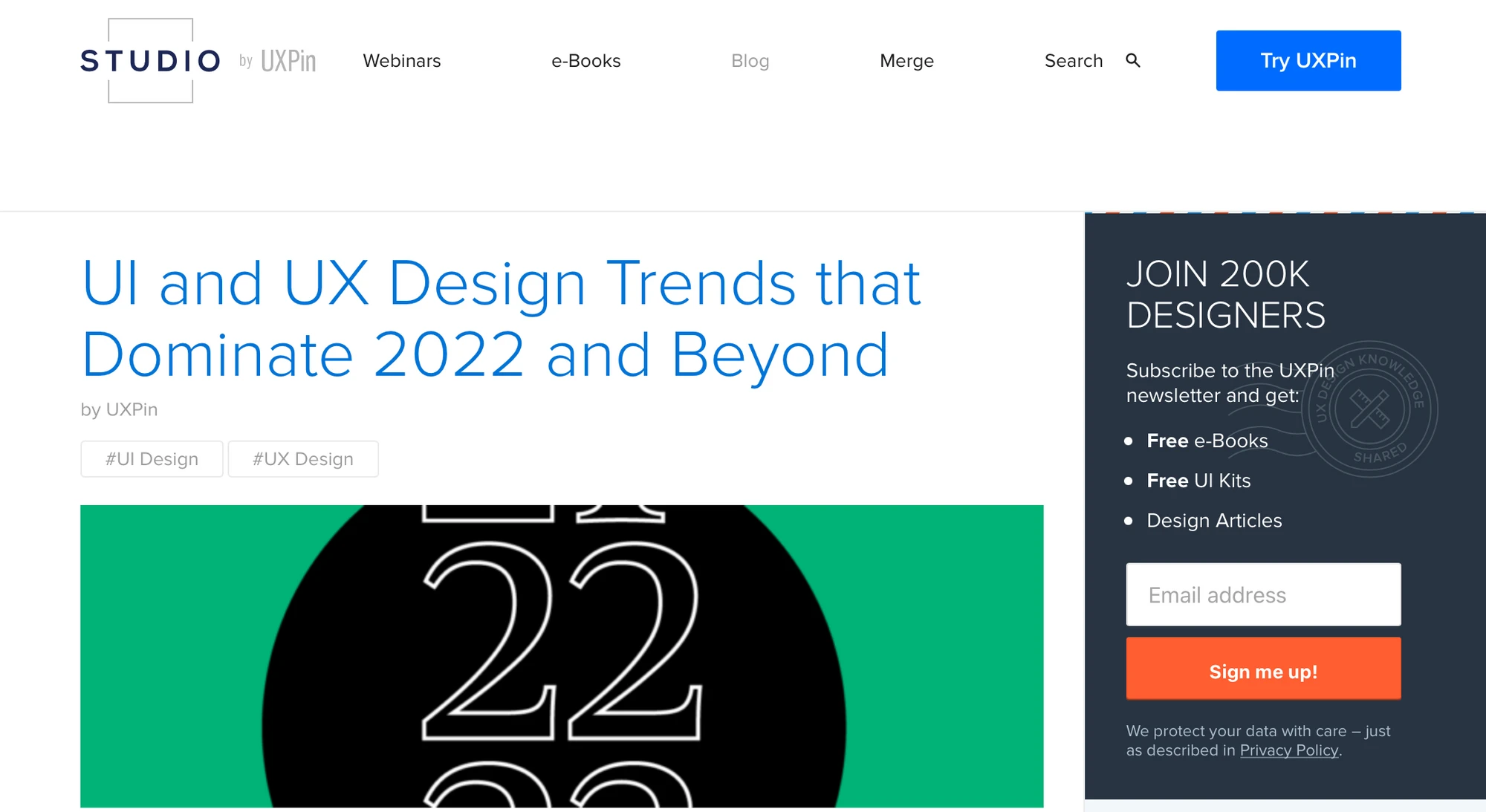 Image from UXPin

UXPin is a full-stack UX design platform, while its blog provides rich and high-quality articles. With over 20 types of topics, including UI/ UX, mobile, desktop, web design and case studies, UXPin's blog is one of the best learning resources for beginners. What's better, it even offers e-books and webinars for FREE.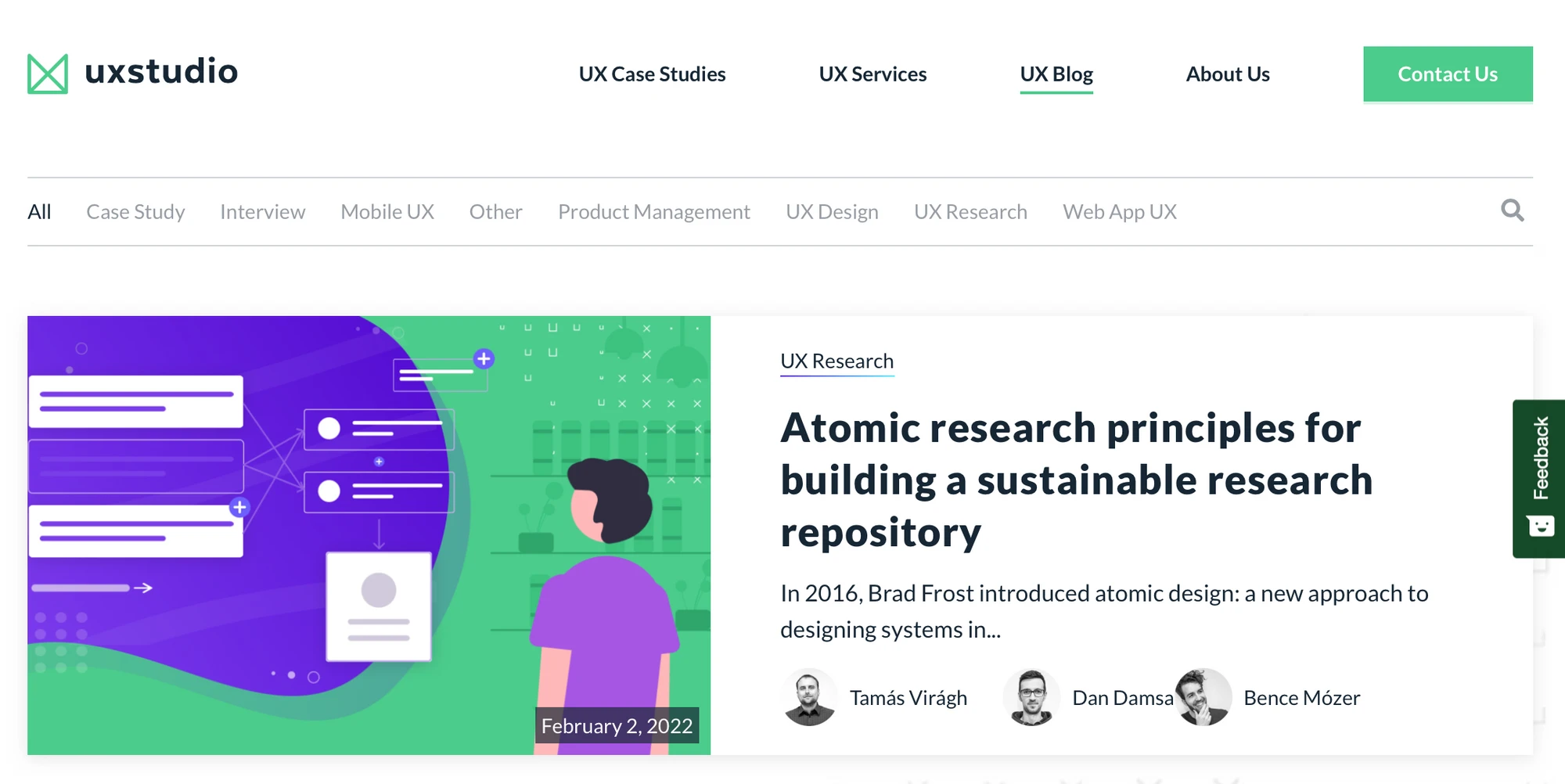 Image from UX studio

UX studio is a design and research agency, running a design blog at the same time. The categories of the articles include mobile, web, product management, and UX case studies. Moreover, they share useful design tips and skills with the UX community and hold professional UX courses to help you create a more powerful and amazing UX design!
Related readings: 20 Best UI/UX Online Design Communities to Join: Discord, Slack...
Image from UX Magazine

UX Magazine is a platform that discusses how to enhance user experience. Every month it will curate the best original articles from blogs and media, to launch an online magazine, covering the best new thinking on design, strategy, technology and common sense.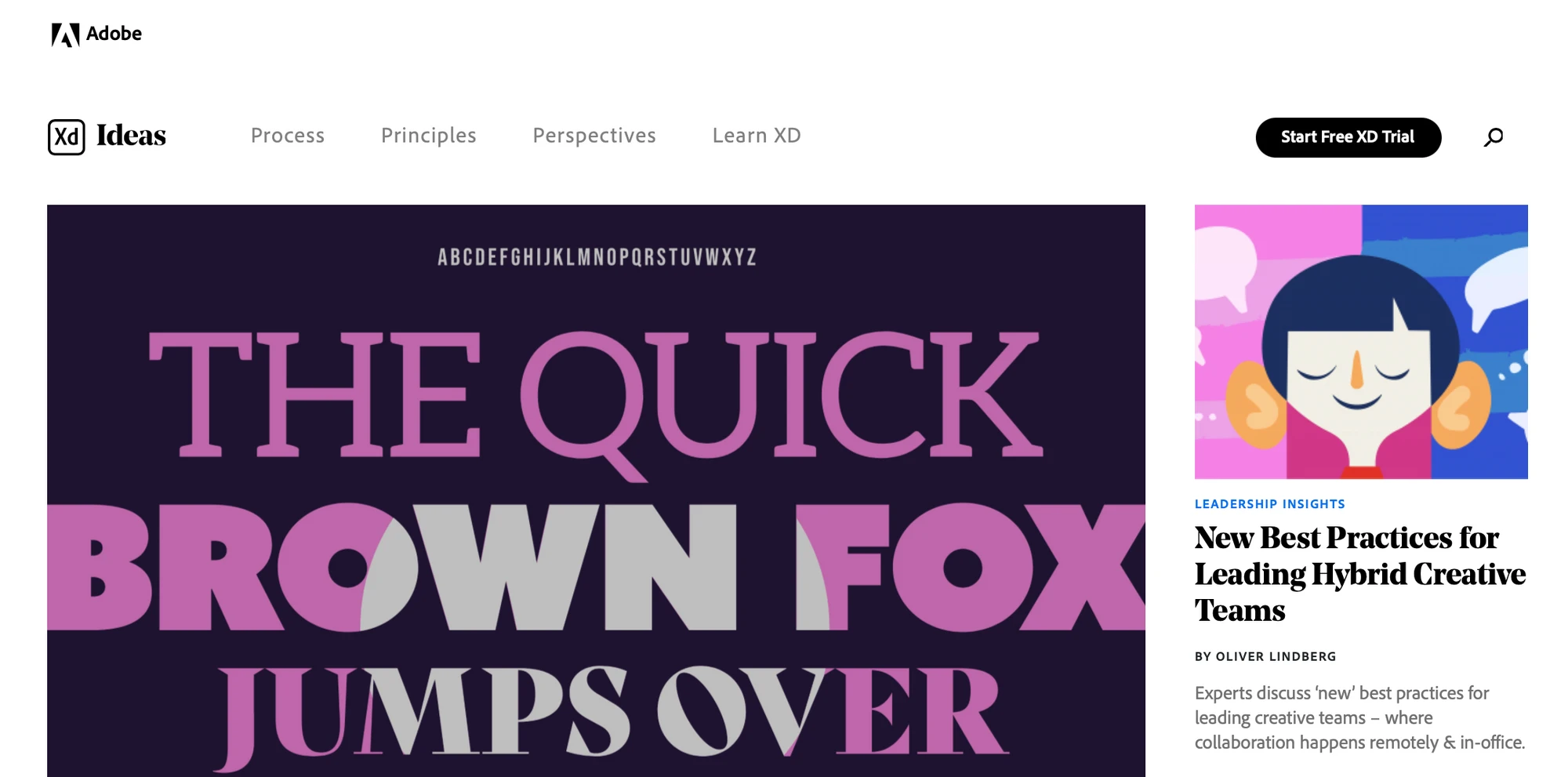 Image from XD ideas

Adobe's XD Ideas is a blog centering on UX topics in a colorful and visually pleasing interface. The content ranges from the design process, basic knowledge, latest trends, and unique insights from senior UX designers. In addition to rich articles, If you want to learn how to use XD, here is a step-by-step guide to help you master it!
Looking for places to help you organize design notes? With tags, ratings, and smart folders, Eagle can be your best learning partner!

Bonus: Sometimes designers need to write a great headline for your blog. In order not to waste time on inventing, here we recommend the Essay title generator to help you expand your design career even more!
---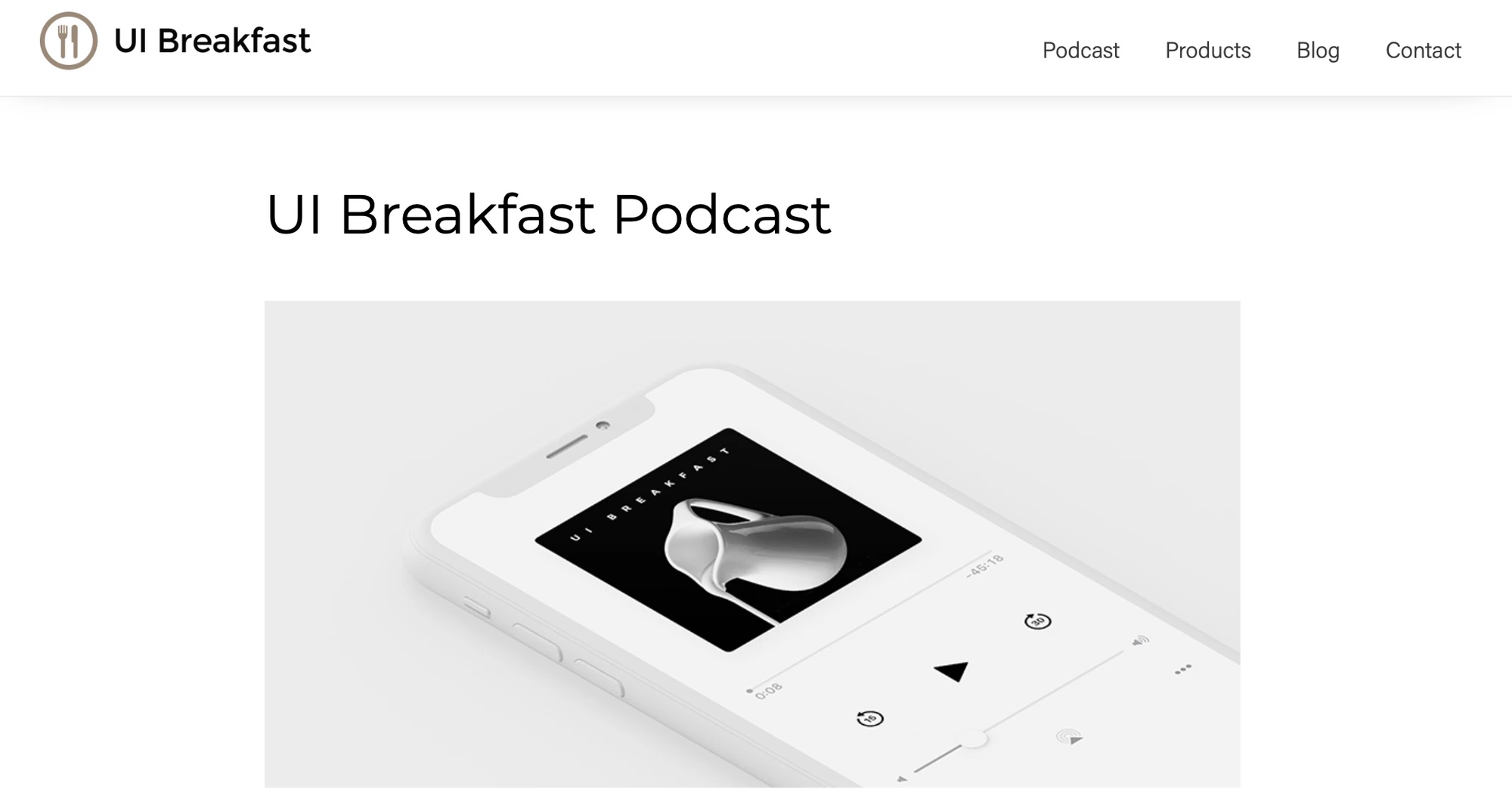 Image from UI Breakfast

UI Breakfast is a one-stop-shop for concise and intriguing podcasts, providing thought-provoking blog content, books, guides, and tools weekly to help UI/UX designers advance their skills. These interview-style podcasts are within 45 minutes and highlight exciting conversations with industry experts about UI/UX design, products, marketing, and so on.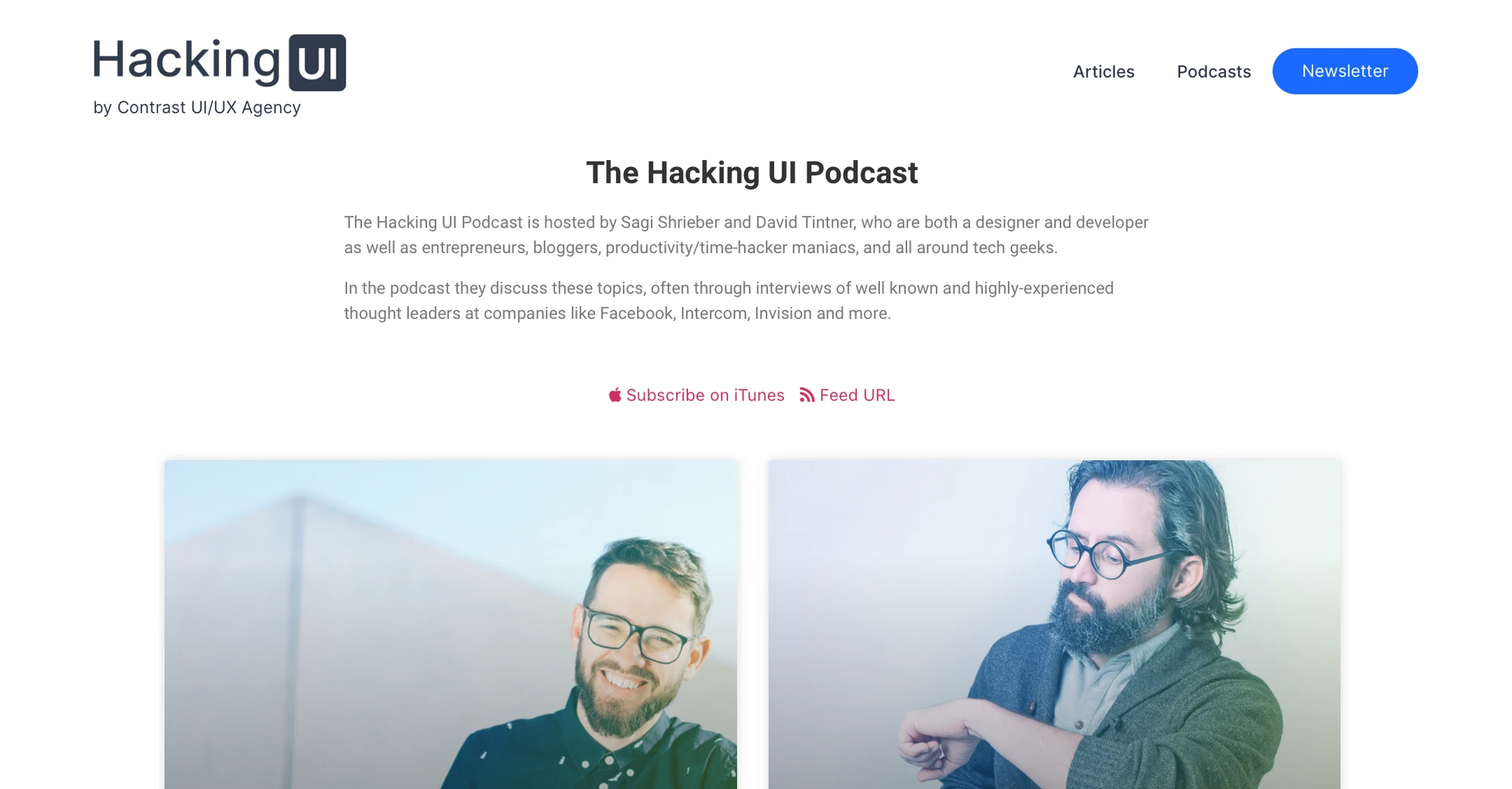 Image from The hacking UI

An amazing podcast, The Hacking UI, hosted by David Tintner & Sagi Shrieber, who are respectively a designer and developers. On the website, you can not only listen to the podcast that discusses topics including UX design, usability, user research and development, but read the useful articles covering interaction design, inspiration, and even masterclasses. It'll be the best partner in your process of learning UI/UX!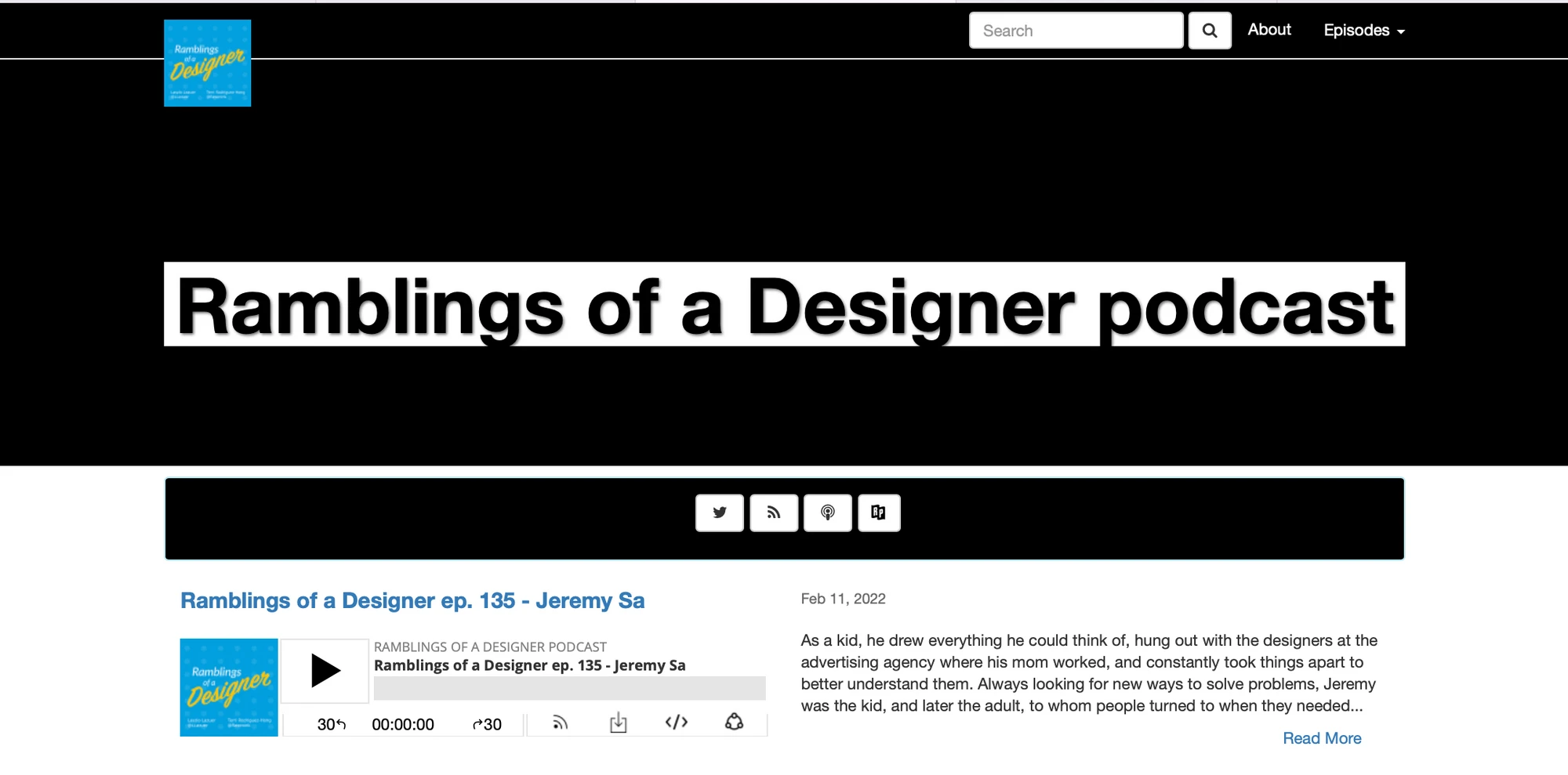 Image from Ramblings of a Designer

To get the first-hand graphic design news weekly, Ramblings of a Designer will be your No.1 pick!
It gives you the richest learning resources by interviewing with credible and inspiring designers as well as insightful article discussions. Besides that, specializing in portfolio reviews with a guest designer is also a more diversified and important viewpoint that you can hear feedback from.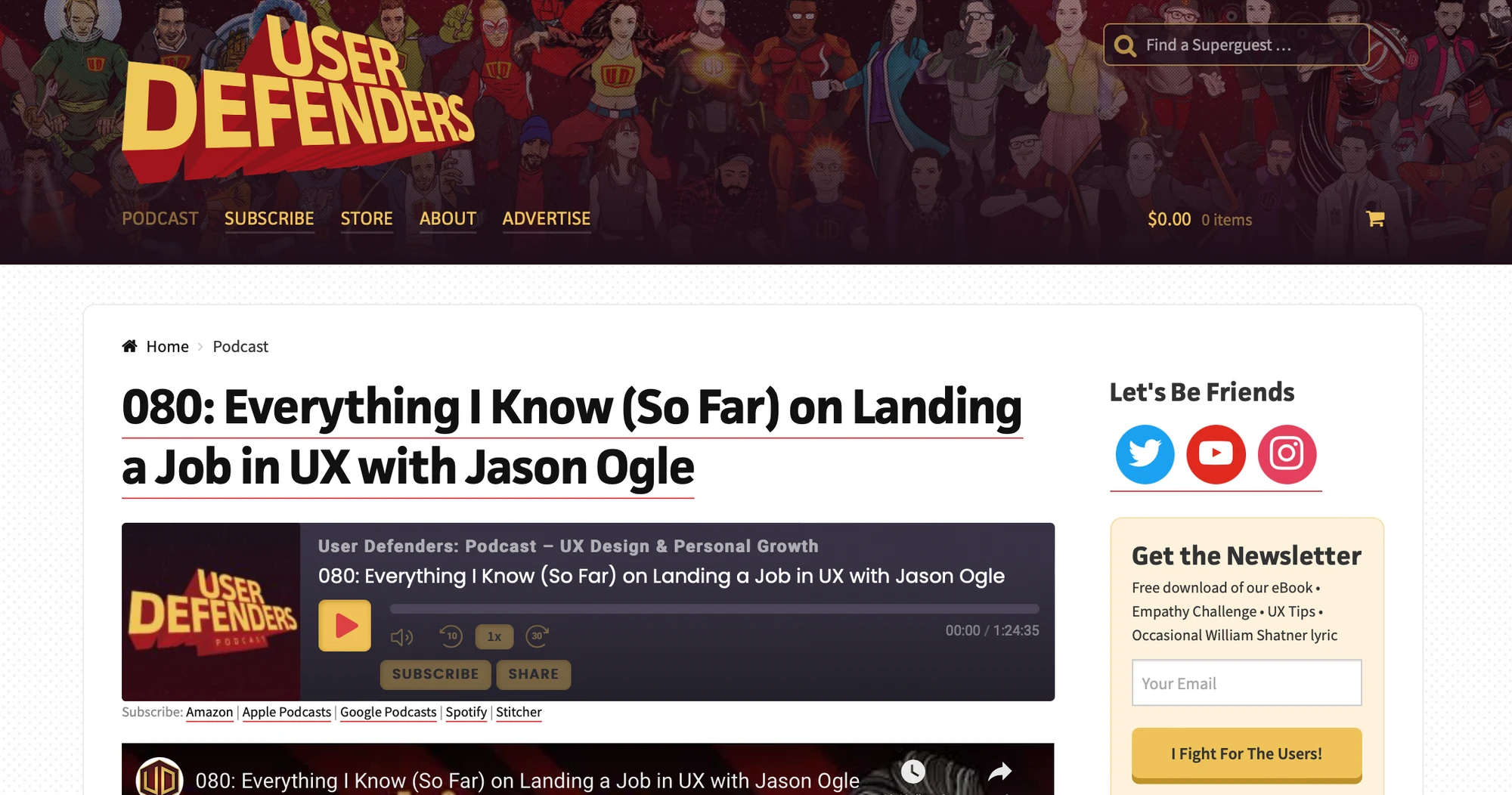 Image from User Defenders

User Defenders is an industry-leading and renowned UX podcast focused on UX design and personal growth. The founder, Jason Ogle, curated a wealth of topics from UI/UX, web design, product design to design thinking. In each episode, you can immerse yourself in an insightful, entertaining, and educational discussion between the host and talented and influential guests to help you become the best and most powerful UI/UX designer.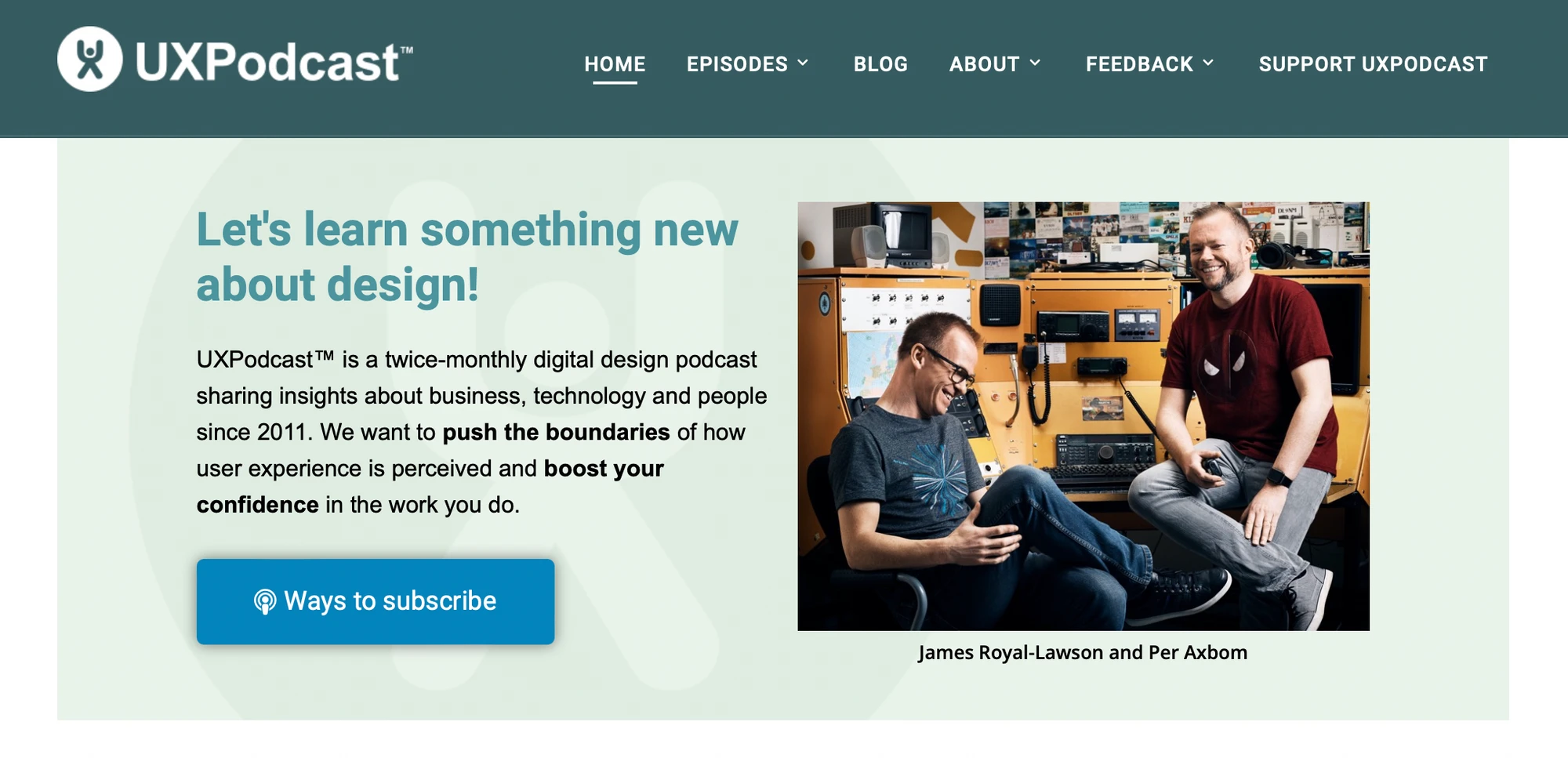 Image from UX Podcast

UX Podcast is a twice-monthly program hosted by James Royal-Lawson and Per Axbom. The topics they discuss go beyond just UX content and provide useful information for anyone interested in business, technology, or design. Each episode is grouped into 4 categories: a link show, guest shows, topic show, and event show, most of which are between 30-40 minutes long.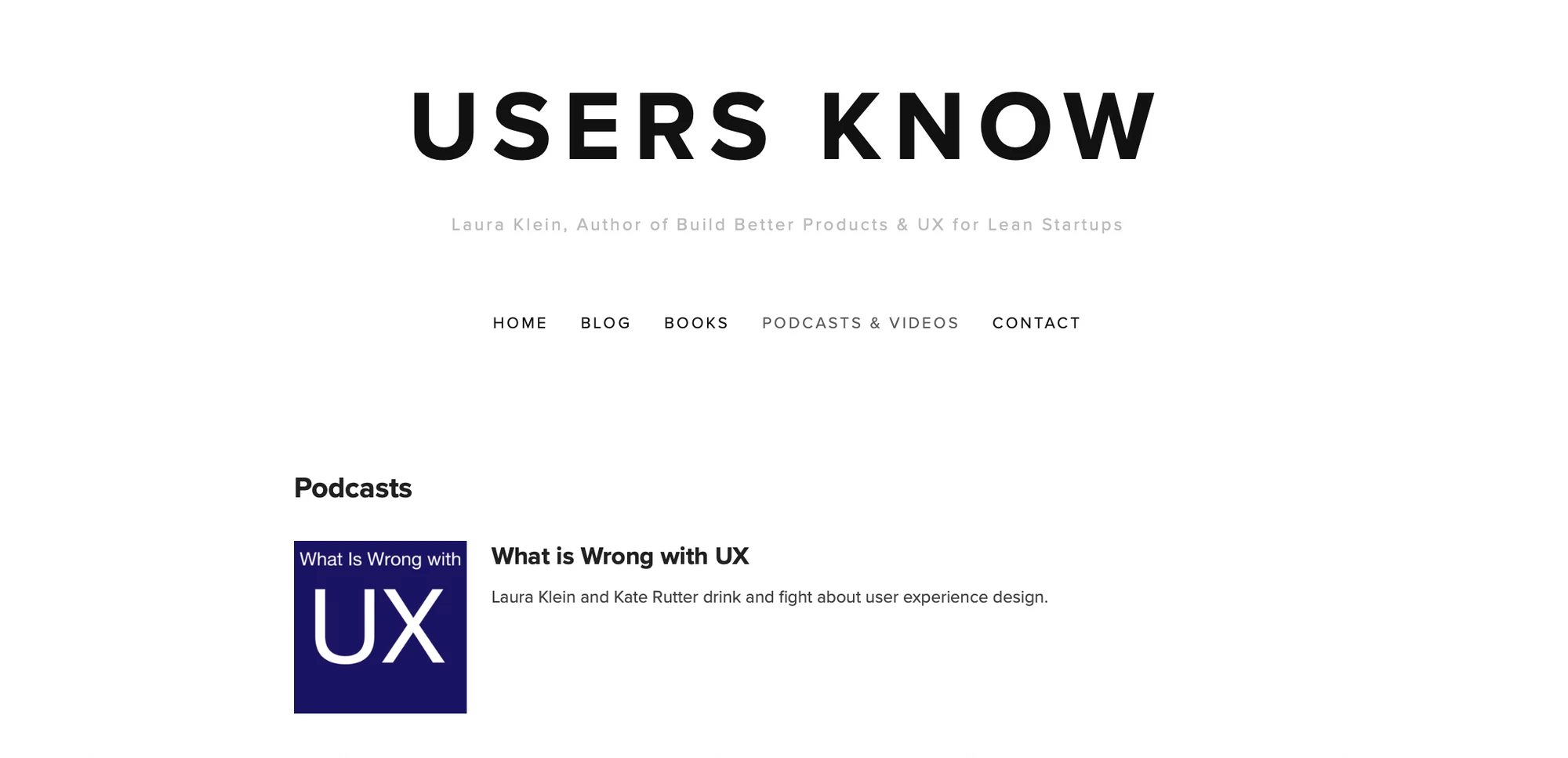 Image from What is Wrong with UX

What is Wrong with UX is an entertaining and insightful podcast, sharing a few cocktails, interesting stories from the hosts' design careers, and talking about how to build great products. Each episode is full of actionable advice that will make you a better UX designer.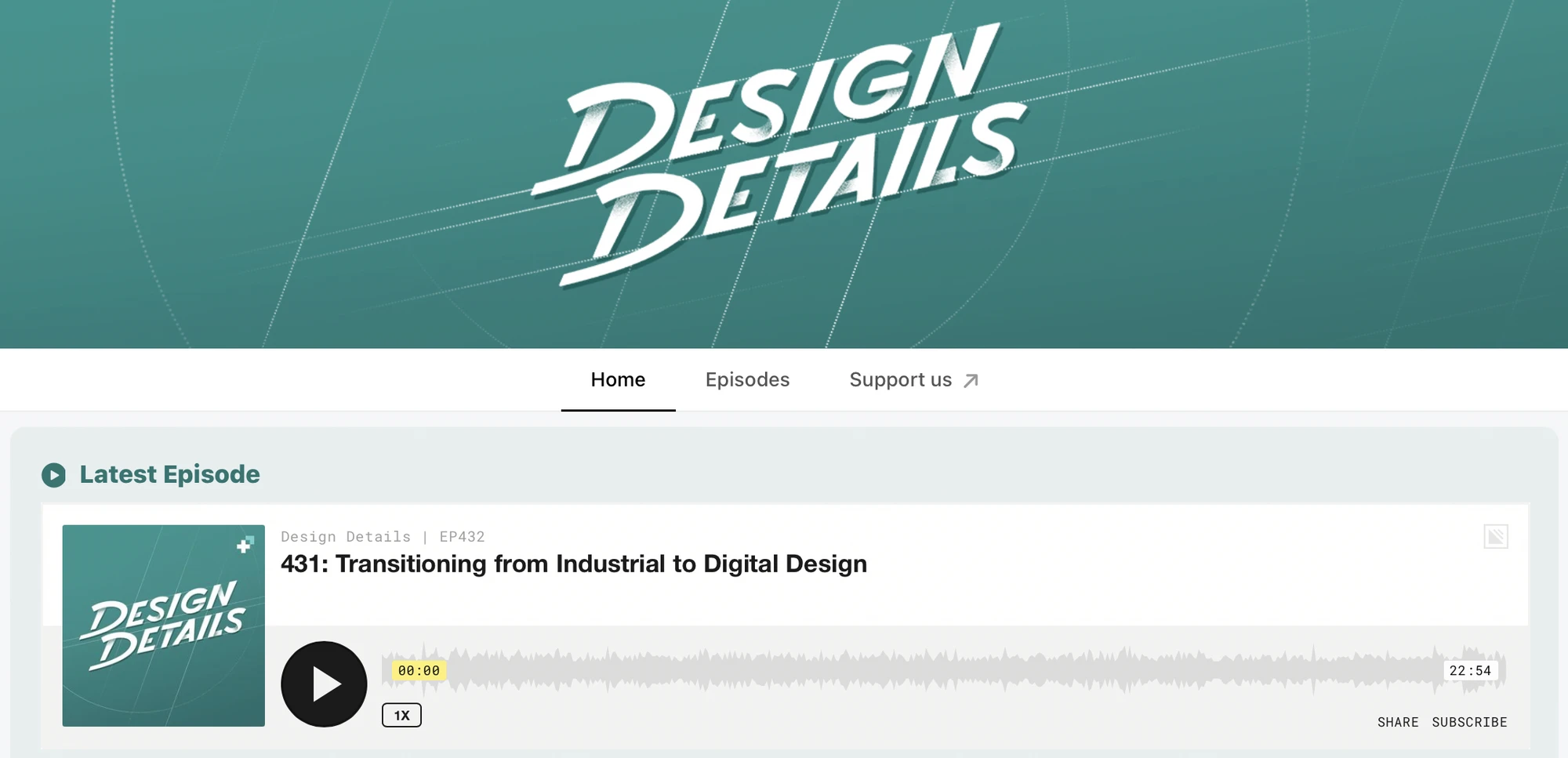 Image from Design Details

If you enjoy listening to designers who have a laidback chat or jokes, then you'll love the Design Details!
Design details is a weekly podcast hosted by Marshall Bock and Brian Lovin. It's a casual conversation between the hosts and leading designers in UX, visual design, product design, and game design.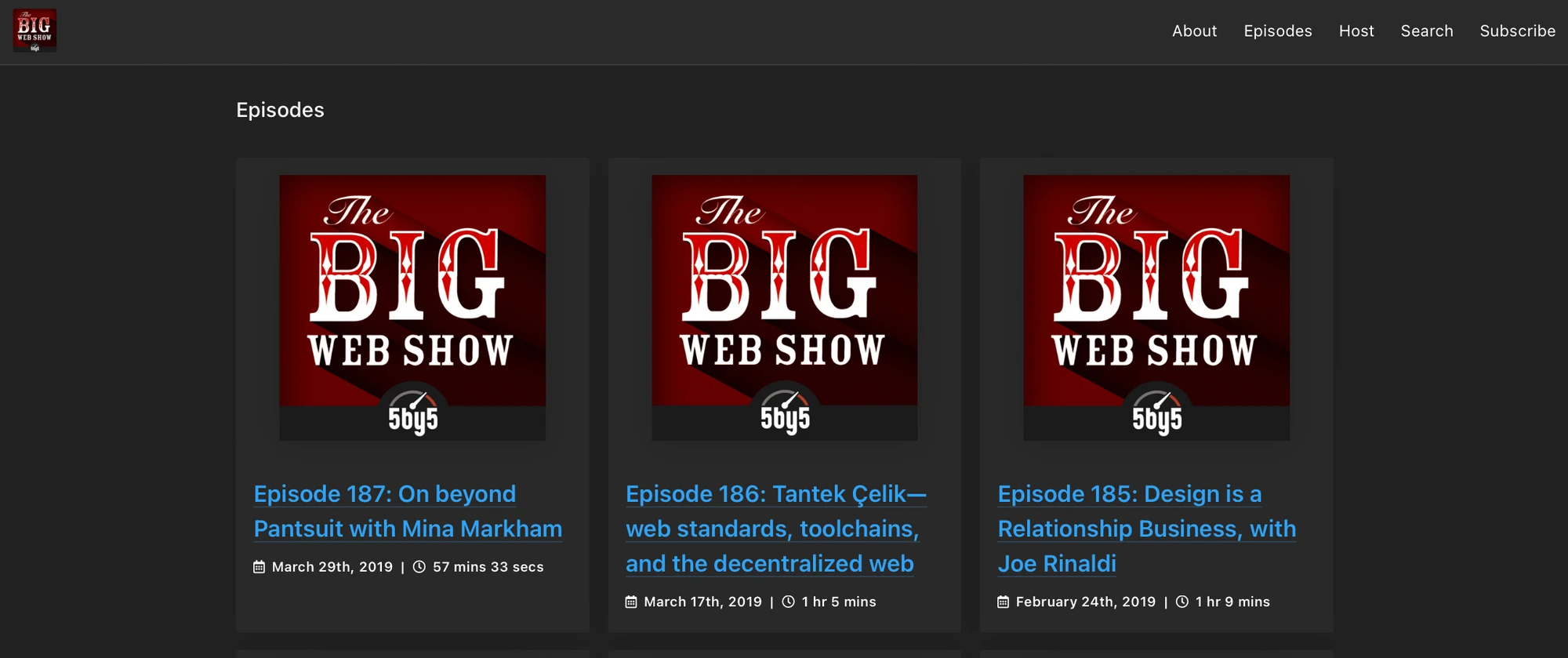 Image from The Big Web Show

The award-winning Big Web Show is hosted by Jeffrey Zeldman, featuring interviews with web design industry leaders on topics like web publishing, art direction, content strategy, typography, technology, and more. In addition, you can gain a lot from its hour-long question-answer sessions with top designers.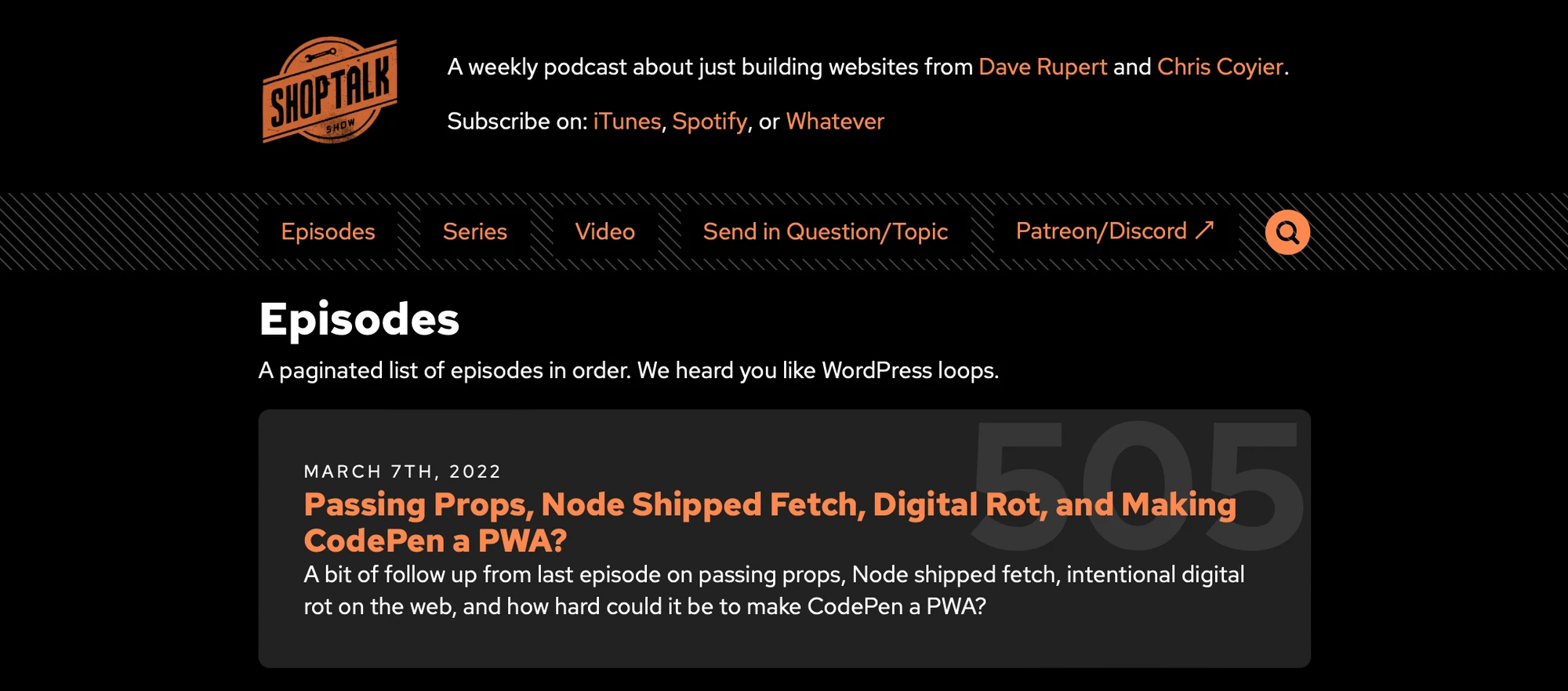 Image from Shop Talk

In each episode of the Shop Talk podcast, the host, Chris Coyier and Dave Rupert, bring on a guest to talk about front-end web design, development, and UX to help you further understand what's going on in the field, as well as teach you something new. Moreover, you may have the chance to get the answer you asked before during the program!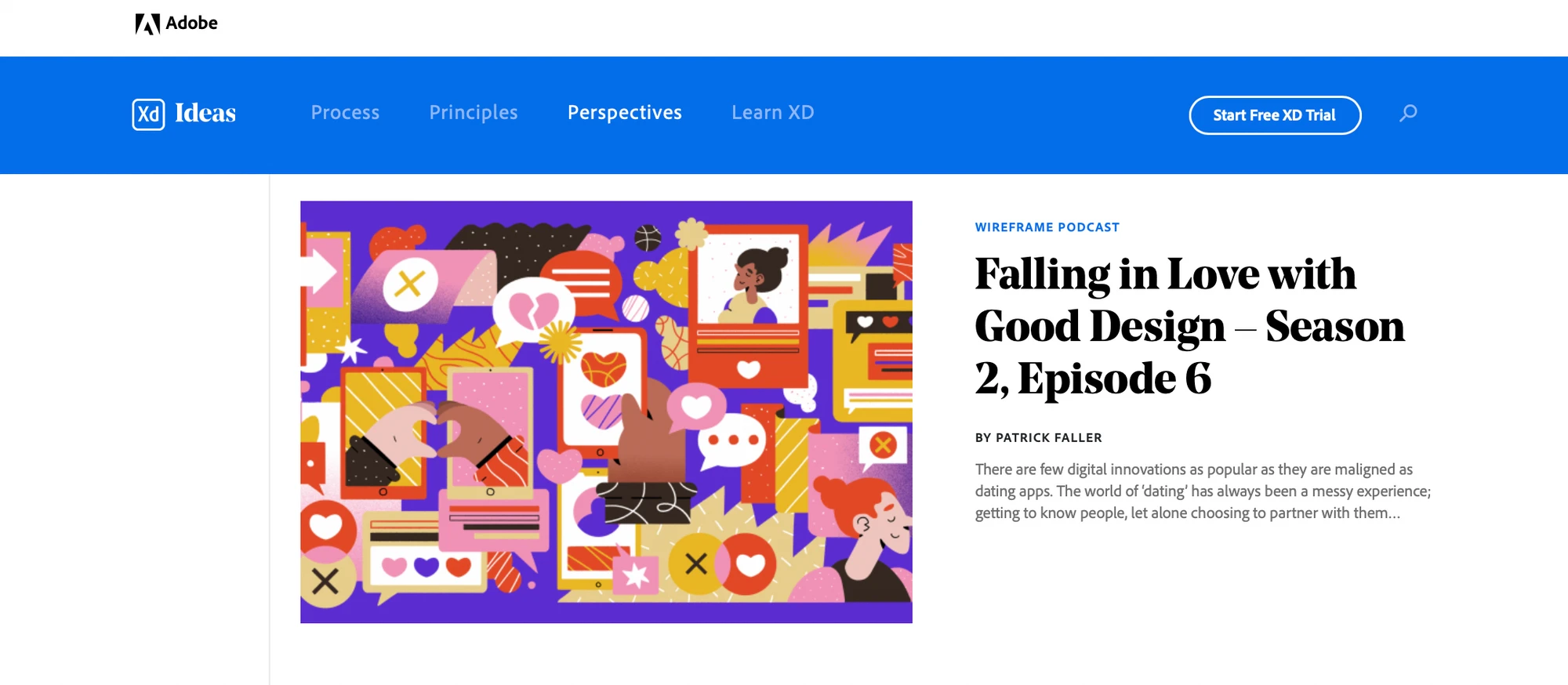 Image from Wireframe

Wireframe is a UX design podcast by Adobe and Gimlet Creative, focusing on the stories behind interaction design. Every episode is a little more than 20 minutes long. Whether you're a UI/UX, graphic designer, or someone curious about design, this podcast is perfect for you to quickly boost design inspiration and insight!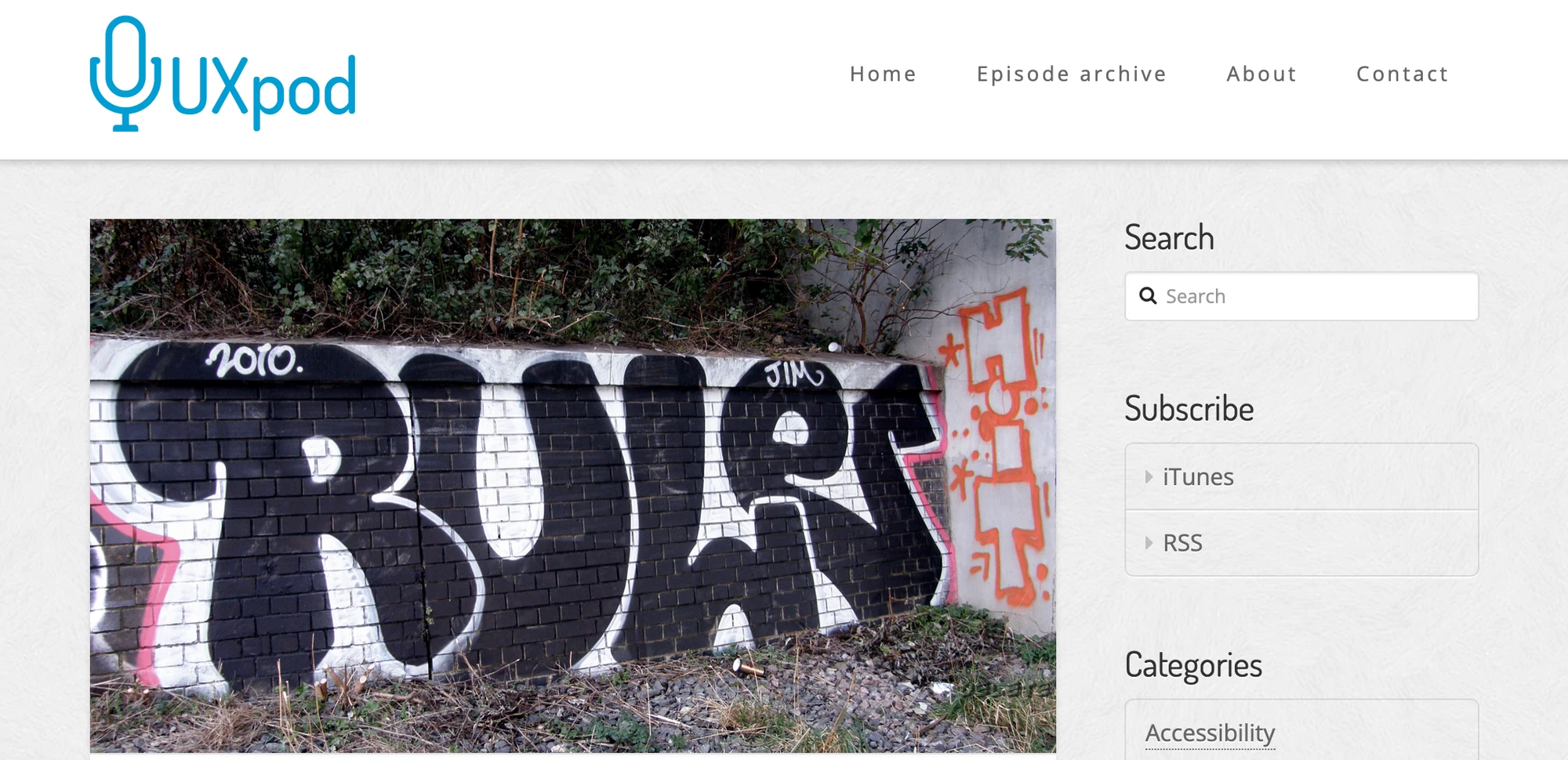 Image from UXpod

UX pod is one of the longest-running UX podcasts, set up by an Australian UX consultant, Gerry Gaffney, in 2006. The topics are nearly up to 30 categories, including Global UX, User research, UX writing, and a wealth range of design fields. Its goal is to provide a platform to have an amusing discussion for practitioners or others with an interest in UX.
---
【8 Helpful UI/UX design Youtube Channels】

Image from High Resolution

High Resolution is a unique, YouTube-based video series on product design and design thinking hosted by Bobby Ghoshal and Jared Erondu. Their weekly interviews with highly acclaimed senior UX designers come from famous companies, such as Facebook, Airbnb, Microsoft, IBM and more. Showing the challenges designers face today, it is good for you to know more about the industry and celebrated designers.

Image from The Futur

The Futur is mainly for designers and creative workers, providing practical videos ranging from UX design, brand design, to business design. You can gain a lot from every episode, and even get a wealth of design resources. Moreover, its professional and funny way of teaching makes it so popular with UX designers!

Image from Jesse Showalter

Jesse Showalter shares Digital Design & Web Development videos each week focusing on tools, techniques, projects, and more to help creators make amazing works. There is a diverse range of topics, including freelancing, graphic design, UI/UX design and more. If you're a Web Designer, UI/UX Designer, or Front-End Developer, subscribe to this channel to get the latest practical tutorials.

Image from NNgroup

NNgroup is a great online learning resource for both beginners and advanced designers. Over 500 videos on a wide range of subjects, including user experience research, training, and consulting, offer tips and useful information from experts in design fields. You'll find videos that go over everything from best practices for mobile design to designing for the elderly.

Image from UX Salon

Whether you are a newbie or a professional in UX design, you'll find this channel helpful.
UX Salon can give you a good idea of what to expect and what to look out for by interviewing top designers. It strives to get into the minds of UX experts in the global field, join different fields together, and connect designers from all over the world.

Image from UX Mastery

UX Mastery is one of the top UX design YouTube channels for beginners to learn.
Instead of stock videos or boring tutorials, it uses hand-drawn illustrations to teach UX skills and is almost cartoonish. Unfortunately, this channel does not often update anymore, but the content quality more than makes up for that. There are bundles of UX tutorials and guided videos that you can apply to your design career!

Image from Maex

This channel is made by a designer named Maex for any level of UI/UX designer. The channel is especially great for beginners looking into the industry and those looking for new skills. There are more than 300 UI & UX tutorials, including Sketch, Adobe XD, InVision, and all the other UI/UX tools. Definitely worth hitting the subscribe button.

Image from AJ&Smart

AJ&Smart is a product design and innovation studio based in Berlin, Germany. Their main work is to help companies produce products better and faster on minimum budgets. Its weekly channel explains the principles of the design sprint, strategy best practices, and book reviews to help you build design thinking and learn its processes to become a greater thinker and creator!
---
Too many UI/UX design assets and messy desktops? Eagle can help you organize!
Aside from using all these useful UI/UX resources to enhance your design ability, here's a practical step to improve your UI/UX design by using an organizing tool! Eagle is a desktop productivity tool that enables a powerful organizing system for all types of design files, including texts, audios, video, images, and so on.
It can add tags, ratings, notes and even use various filters to help you quickly find a specific inspiration or any other UI/UX asset among thousands without getting lost, Try Eagle!
Video from Eagle
Lastly, if you are eager to learn more design information and resources, visit and bookmark Eagle blog to become a better creative professional!
If you are still lacking inspiration and incentives to create something new, feel free to dive into Eagle Community to explore stunning assets shared by thousands of designers worldwide. Let Eagle be your best design assistant!