Top 20 iPad Drawing Apps: Create Masterpieces Effortlessly
So, imagine diving into the world of digital art with an iPad – it's like combining cutting-edge tech with your creative vibes. Whether you're already a pro with brushes or just starting to scribble your digital dreams, finding the perfect drawing software can totally change your art game.
Now, there's a bunch of options out there, each with its own cool features that match your creative style. So, let's break it down. We're about to take a close look at 20 best drawing apps for iPad. Ready for this? Let's roll!
Let's Talk About the Eagle App - Your Best Inspiration Organizer!
Video from Eagle
Tired of the chaos that comes with juggling various design assets? Eagle simplifies your workflow by providing a sleek platform to store, search, and categorize your images, whether they're for illustrations, mockups, or inspirations. No more tedious organization processes or struggling to find the right asset – Eagle empowers you to focus on your creative endeavors.
Experience the future of design asset management with Eagle, where order meets innovation. Discover the perfect blend of elegance and efficiency with the Eagle App, a comprehensive solution for collecting, managing, and accessing your design files effortlessly.
Get to know Eagle and get ready for a clutter-free workspace!
---
Get Ready for Digital Awesomeness: The 20 Best iPad Drawing Apps in 2023
Whether you're a seasoned artist or just doodle for fun, these apps are like magic canvases for bringing your ideas to life. It doesn't matter if you're into sketching, illustrating, or going all-in with digital art – we've handpicked 20 amazing drawing apps that are about to level up your creative game:
1. Procreate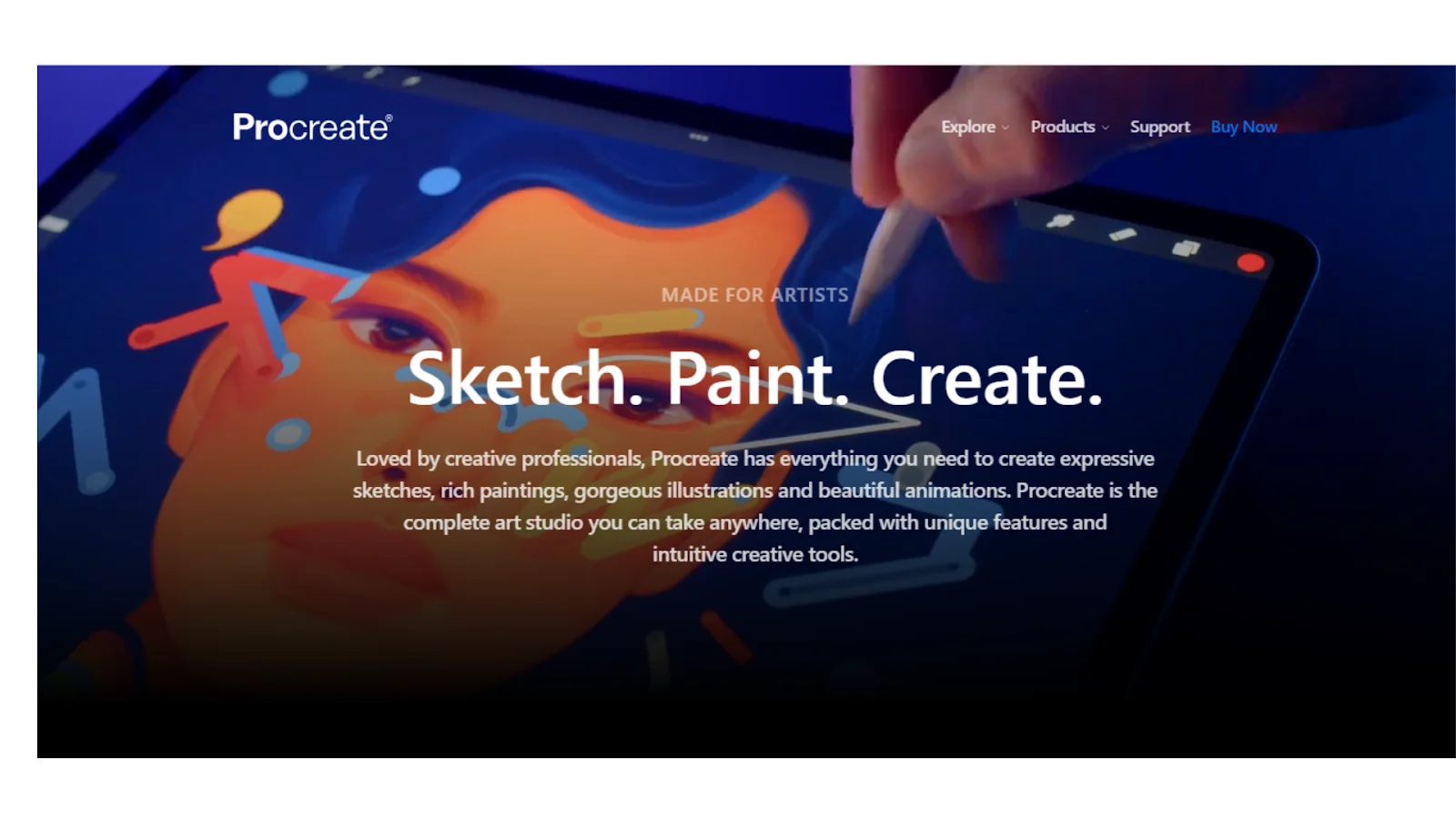 Image from Procreate
You know that friend who always has your back? That's Procreate for artists. It's like having an entire art studio at your fingertips, complete with a buffet of brushes, super smooth layer controls, and the power to customize your canvas like a boss. And guess what? It's like a match made in heaven with the Apple Pencil – they're like creative soulmates.
Plus, they've got this rad time-lapse feature and animation tools that have won the hearts of digital artists everywhere. Whether you're painting like a pro or just dipping your toes into the art world, Procreate's got the tools to turn your ideas into epic masterpieces.
Price: $12.99
2. Adobe Fresco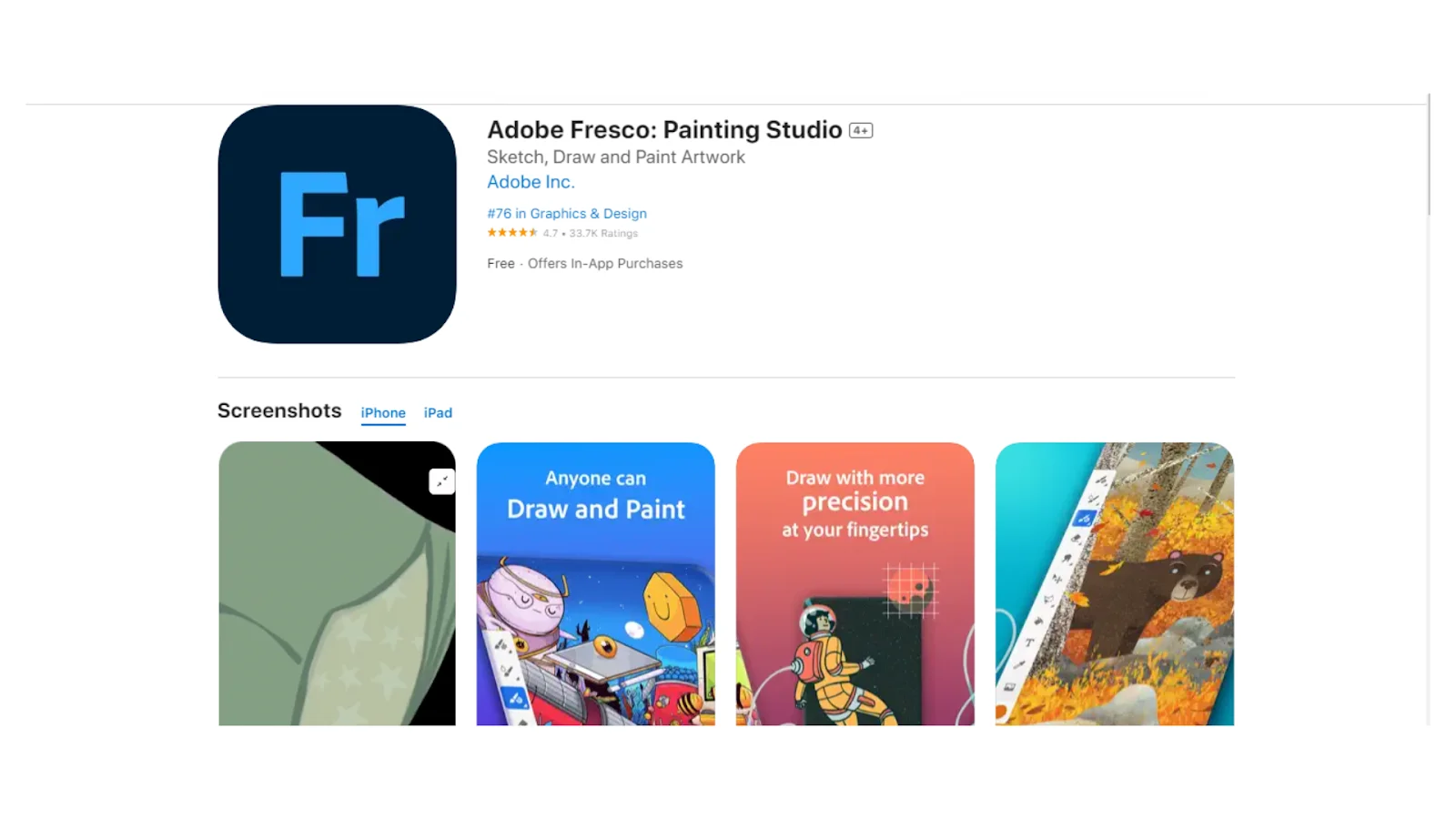 Image from Adobe Fresco
Imagine if you could mix the best of both worlds – traditional painting and digital magic. That's Adobe Fresco for you. This app is all about blurring the lines between digital and tangible art, making it perfect for creating intricate illustrations that can go from big screens to small screens with ease.
The coolest part? Their Live Brushes mimic the feel of real paint, like oils and watercolors, so your digital art feels authentic. And if that wasn't enough, it syncs seamlessly with Adobe's Creative Cloud, ensuring your creations are always within arm's reach. Whether you're starting from scratch or remixing existing art, Adobe Fresco is a playground for artists of all levels.
Price: Free (with some extra goodies available)
3. Autodesk SketchBook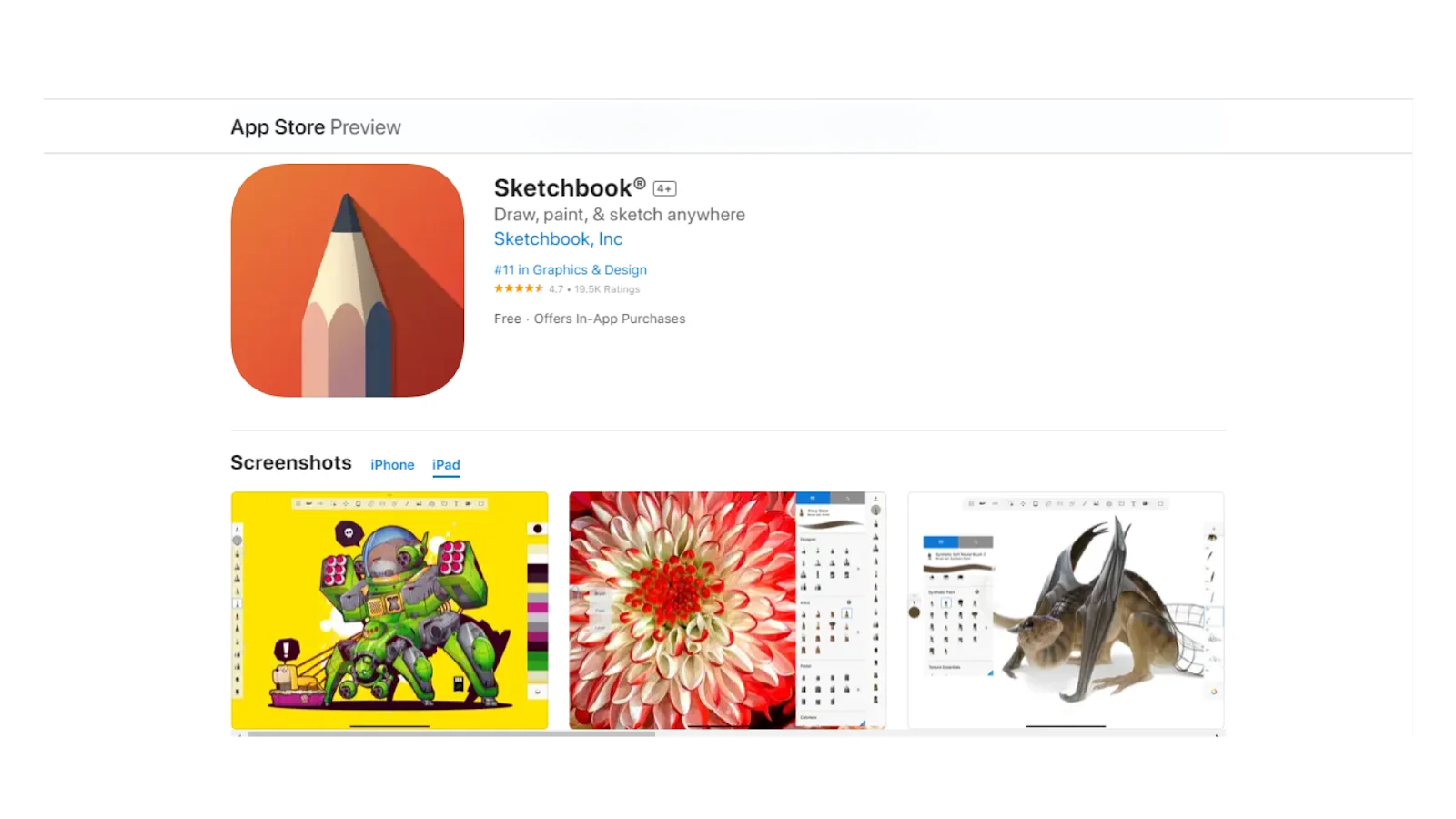 Image from Autodesk SketchBook
Autodesk SketchBook is like a cozy art corner just waiting for you to make your mark. With a plethora of brushes and a user-friendly interface, this app is a haven for sketching and drawing enthusiasts. The predictive stroke technology ensures your lines are as smooth as butter – a game-changer if you're all about precision.
But it's not just for the pros – SketchBook's customizable brushes and advanced tools mean everyone's invited to the drawing party. Whether you're a doodle novice or a sketching virtuoso, this app has the tools to transform your ideas into digital magic.
Price: Free (with a premium version available)
4. Concepts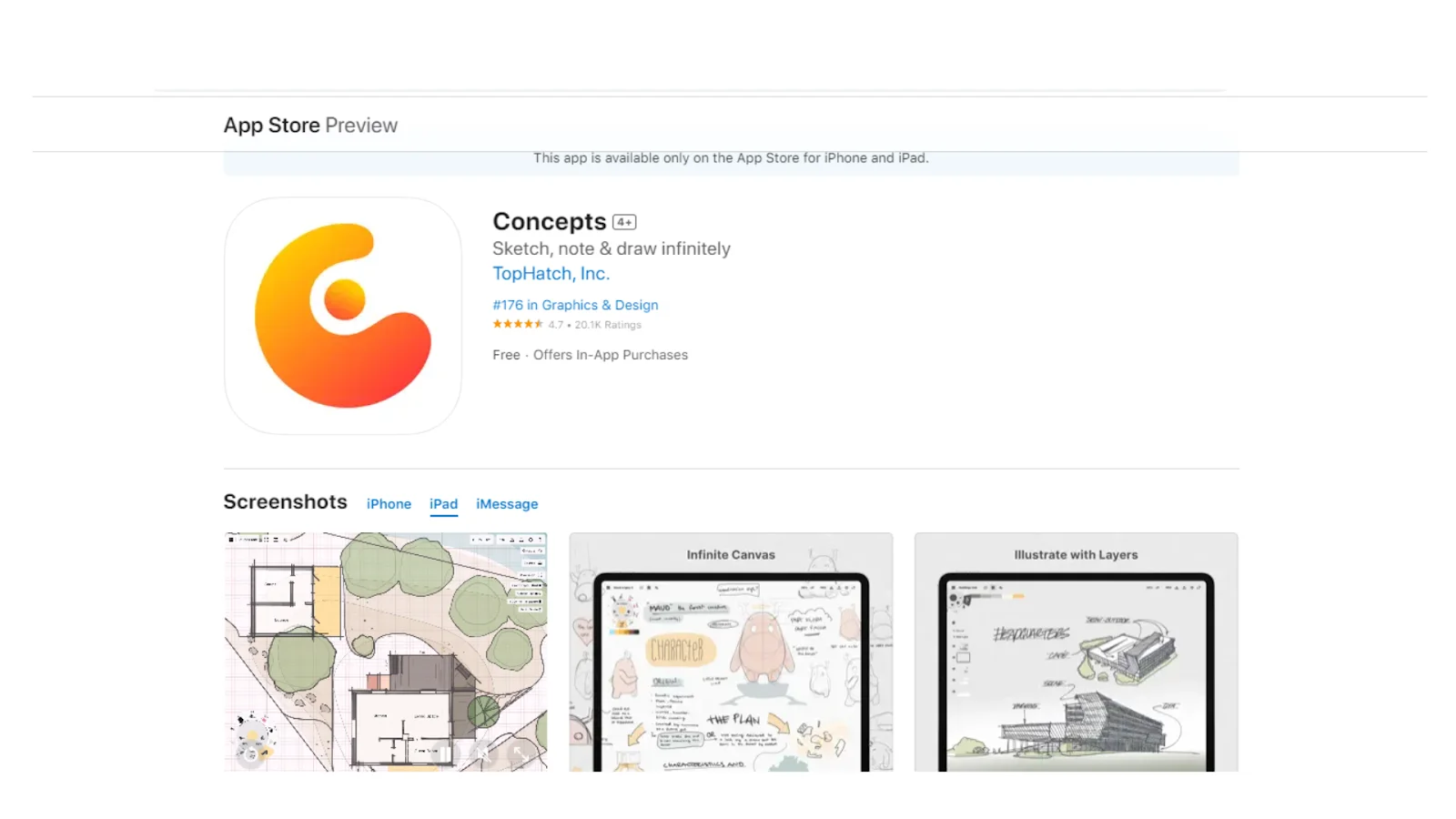 Image from Concepts
Calling all perfectionists and detail devotees – Concepts is your creative sanctuary. With its infinite canvas and versatile layer management, it's a dream playground for architects, designers, and illustrators. Think of it as the high-tech version of your favorite notebook, but with all the bells and whistles.
Whether you're crafting intricate designs, technical blueprints, or detailed diagrams, Concepts has got you covered. It's like the ultimate tool for creative minds who demand precision and flexibility.
Price: Free (with some cool extras up for grabs)
5. Clip Studio Paint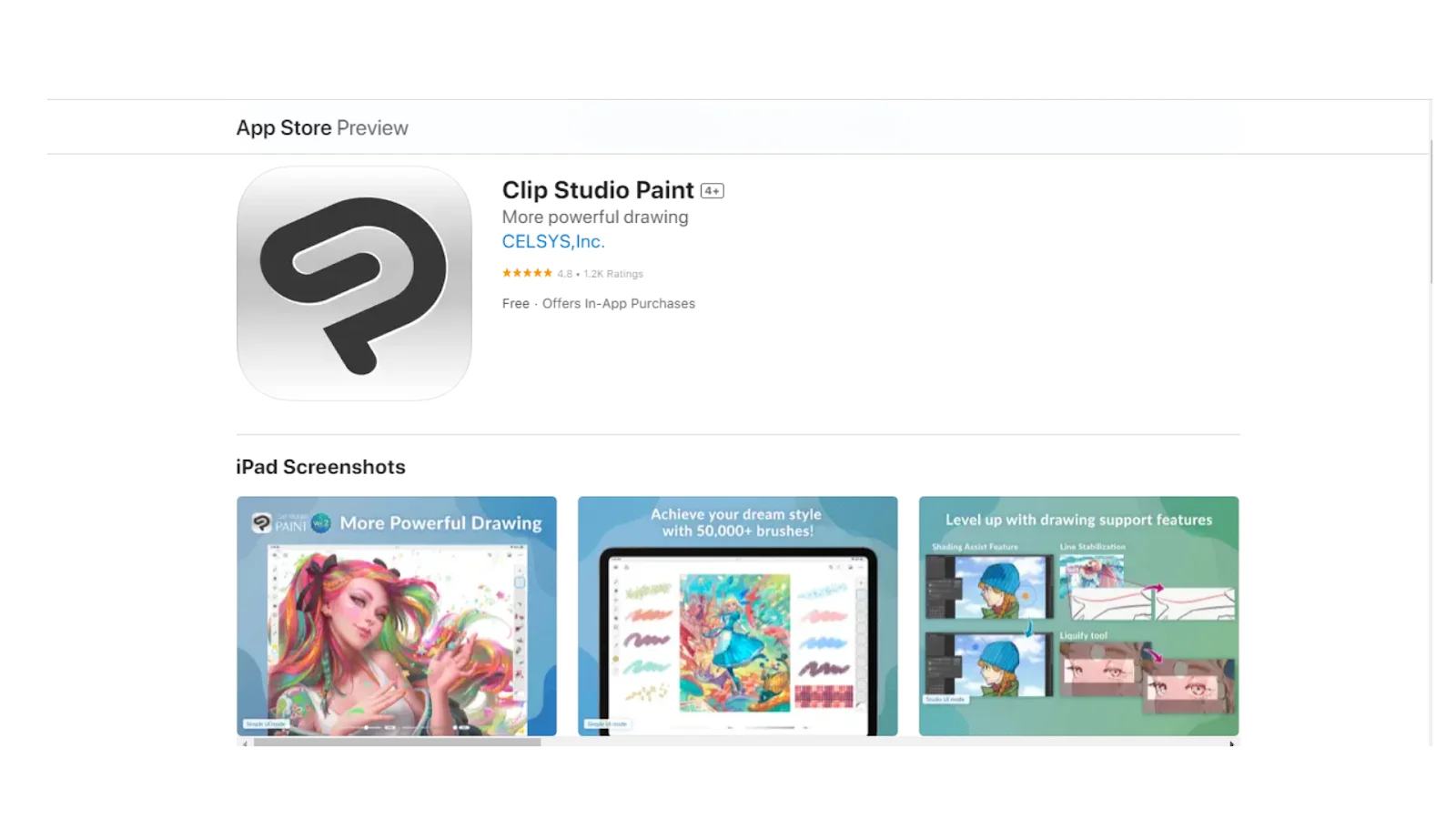 Image from Clip Studio Paint
If you're a fan of manga and comics, Clip Studio Paint is about to become your best friend. It's a treasure trove of brushes and tools tailor-made for crafting intricate illustrations that tell a story.
From specialized brushes for creating comic panels to 3D model options and even animations, this app caters to comic artists and illustrators who want their art to burst off the page. If you're ready to bring your narratives to life, Clip Studio Paint is your trusty sidekick.
Price: Free (with additional in-app options)
6. Affinity Designer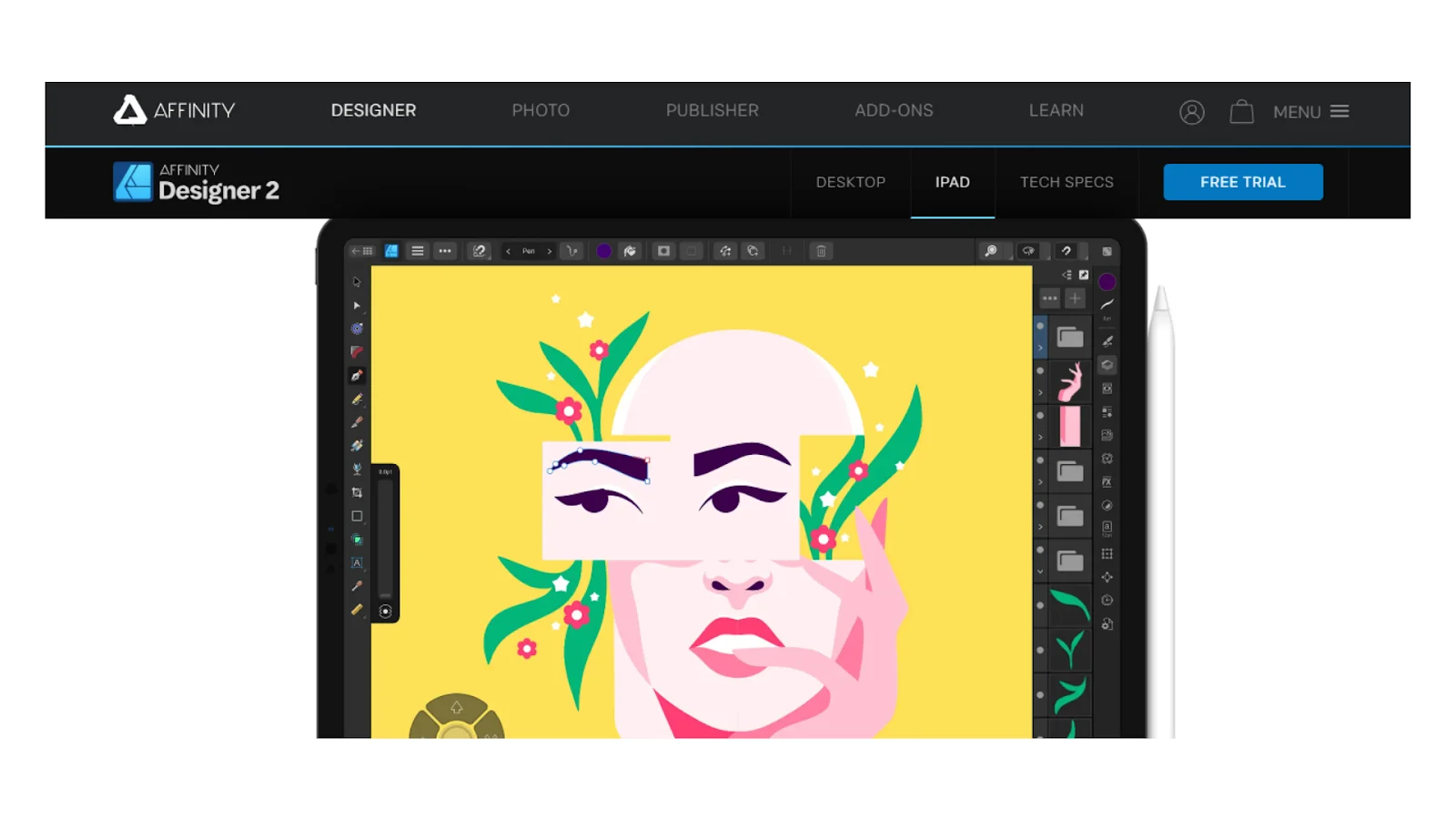 Image from Affinity Designer
You know those days when you're feeling extra artsy? Affinity Designer is your partner in crime. It's like a playground for crafting detailed illustrations and designs that are ready for the big leagues.
With a toolkit that covers path manipulation, gradient mastery, and shape creation with surgical precision, it's a paradise for graphic designers and illustrators who crave perfection. Whether your masterpiece will end up on a billboard or a business card, Affinity Designer is the secret sauce to making your art shine.
Price: $18.49
7. Tayasui Sketches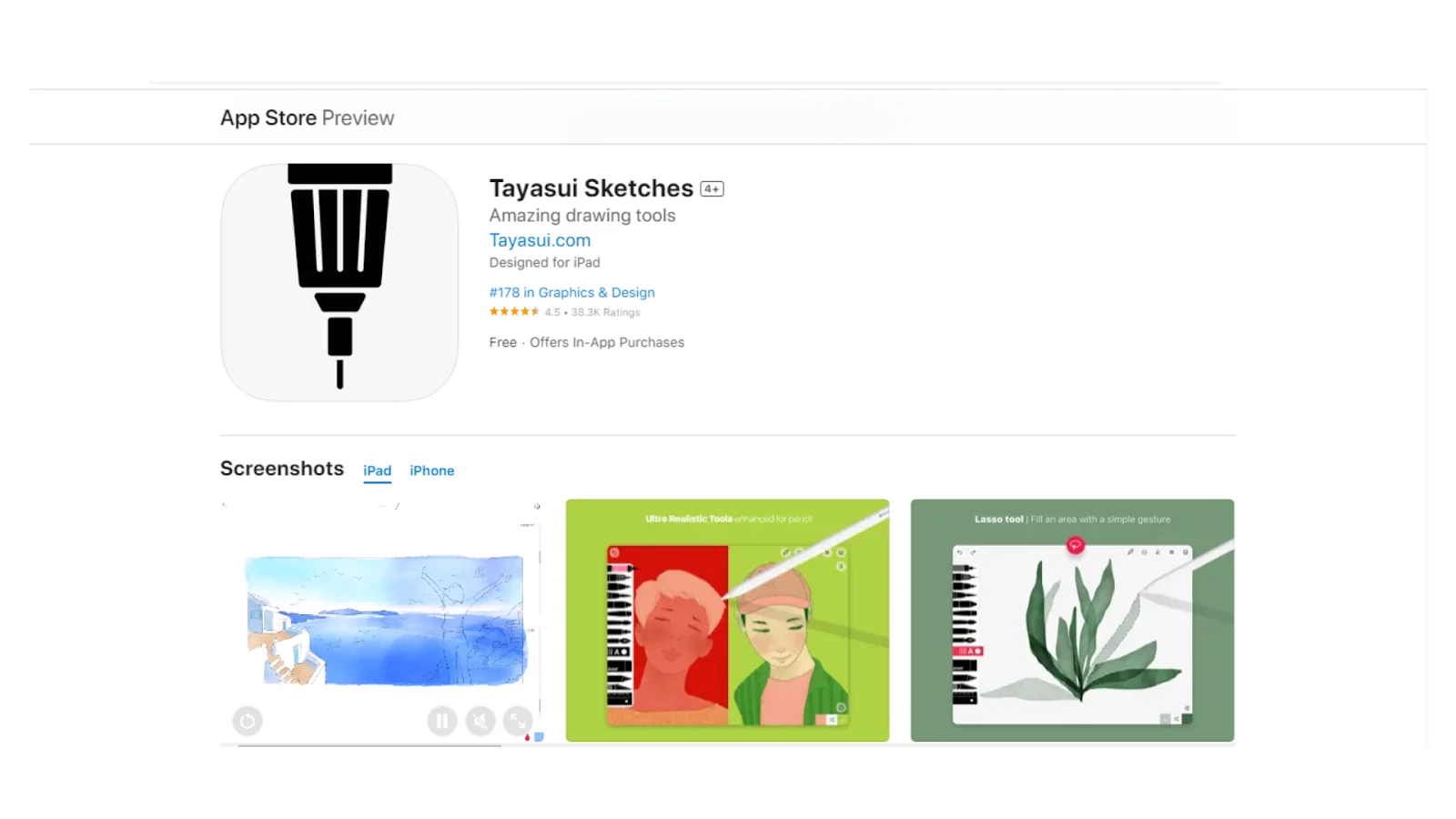 Image from Tayasui Sketches
Ready to dive into a world of brushes and palettes? Tayasui Sketches is here to welcome you with open arms. Whether you're just starting your artistic journey or you've got a gallery full of masterpieces, this app is all about providing a creative space free of distractions.
With a wide array of brushes and colors at your disposal, it's like a canvas begging to be transformed into a work of art. So whether you're a newbie or a seasoned sketching pro, Tayasui Sketches is the perfect setting for your creative escapades.
Price: Free (with additional in-app options)
8. Paper by WeTransfer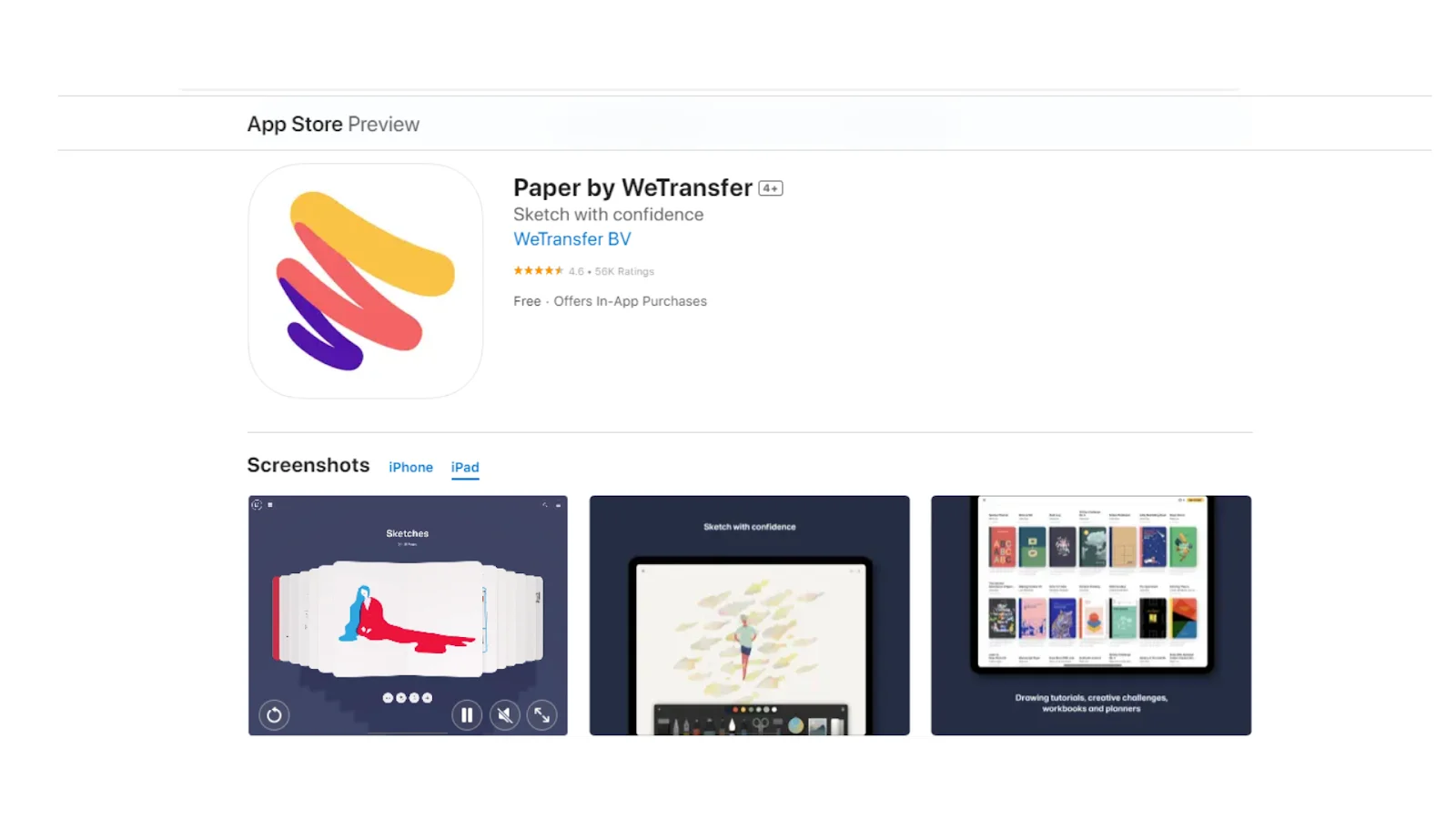 Image from Paper by WeTransfer
Ever yearn for the simplicity of traditional sketching? Paper by WeTransfer brings that nostalgia to your iPad. It's like a minimalist sketchbook with authentic brush mechanics, perfect for those moments when ideas strike like lightning.
From pens and brushes to highlighters and color blending, Paper is your go-to tool for capturing your thoughts and visions with a touch of elegance. Whether you're brainstorming or creating intricate designs, this app is like a digital playground for your creativity.
Price: Free (with extra in-app possibilities)
9. ArtRage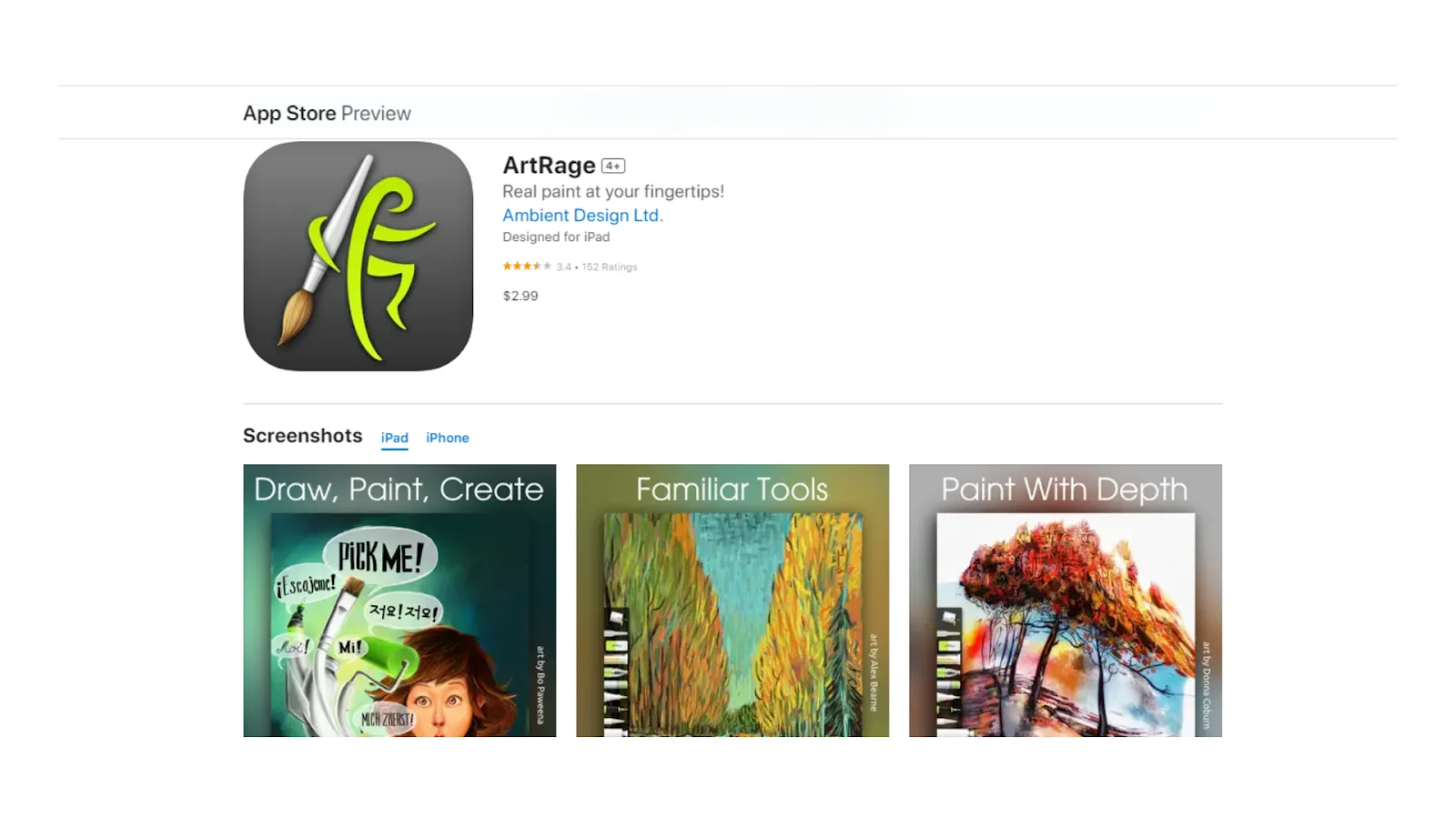 Image from ArtRage
Imagine if your iPad transformed into an art studio stocked with oils, watercolors, and every other art supply imaginable. That's ArtRage for you – this iPad drawing app that lets you recreate the texture and feel of traditional art media. It's an oasis for artists who want to explore textures and techniques in the digital realm.
With blending, smudging, and a variety of layer blending modes, ArtRage is the perfect companion for artists eager to experiment and create stunning, lifelike masterpieces.
Price: $2.99
10 MediBang Paint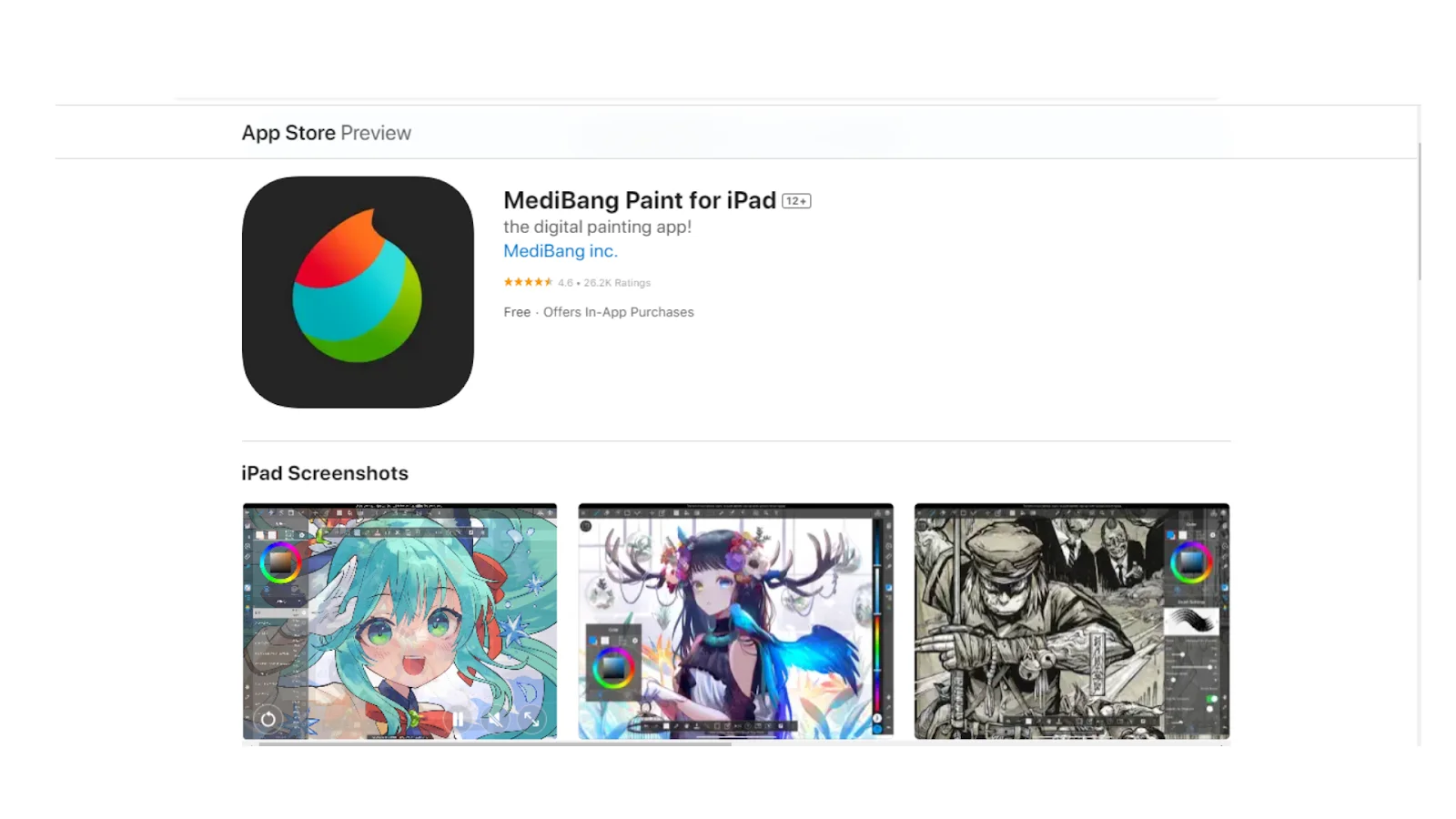 Image from MediBang Paint
Comic artists and illustrators, this one's for you! MediBang Paint is like your virtual art studio, complete with tools for crafting comic panels, an array of brushes, and a community of fellow creatives. With a diverse brush library and customizable color options, this app is your ticket to crafting captivating comic art and illustrations that tell a story.
Through built-in cloud storage and a vibrant artistic community, MediBang Paint encourages artists to unleash their creativity and collaborate with like-minded souls.
Price: Free (with extra creative options)
11. Tayasui Color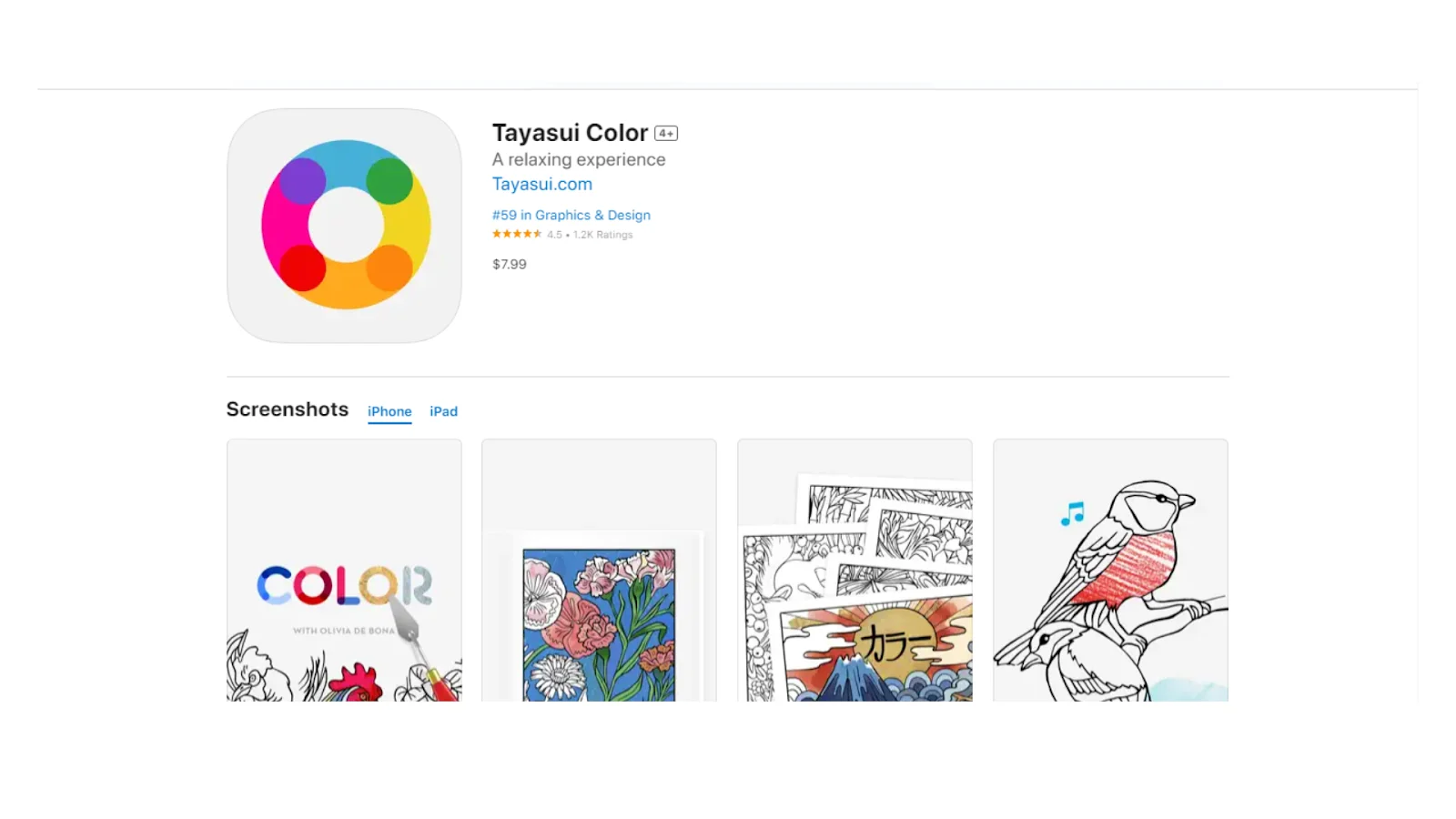 Image from Tayasui Color
Let's talk about coloring outside the lines – in the best way possible. Tayasui Color is here to transform your coloring game. With a vibrant set of tools and an extensive palette, this app turns coloring into a dynamic, enjoyable experience. It's not just for kids – it's a meditative journey for anyone who loves playing with colors, shading, and creating art that feels alive.
Price: $7.99
12. Inspire Pro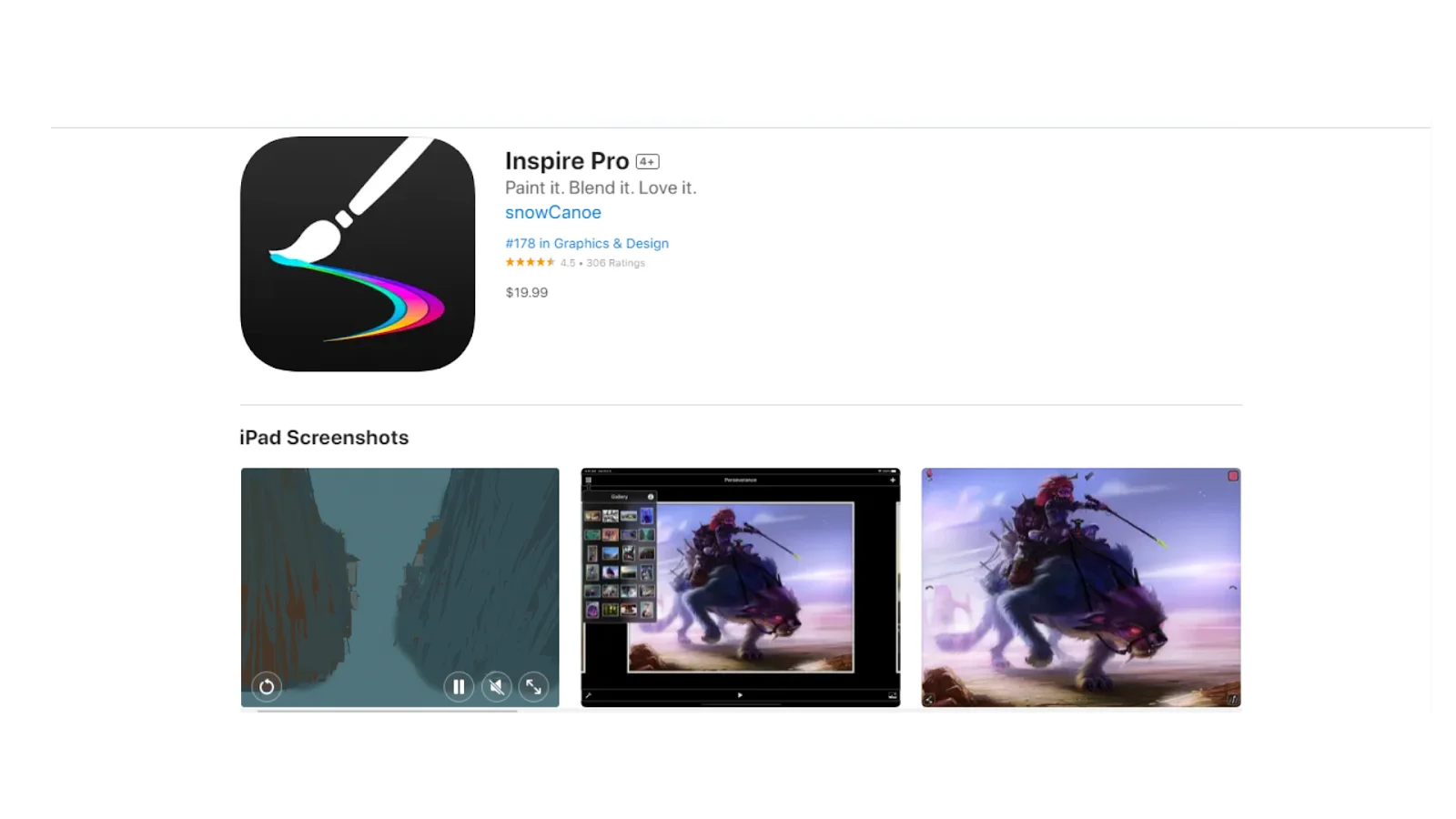 Image from Inspire Pro
Picture this: digital paintings that look like they were created with actual brushes. That's Inspire Pro for you. Traditional artists transitioning to the digital realm, this app's got your back. It's like having a palette of lifelike brushes and customizable settings at your fingertips. The result? Digital art that feels as real as the one you'd paint on canvas.
Price: $19.99
13. SVG Maker - Assembly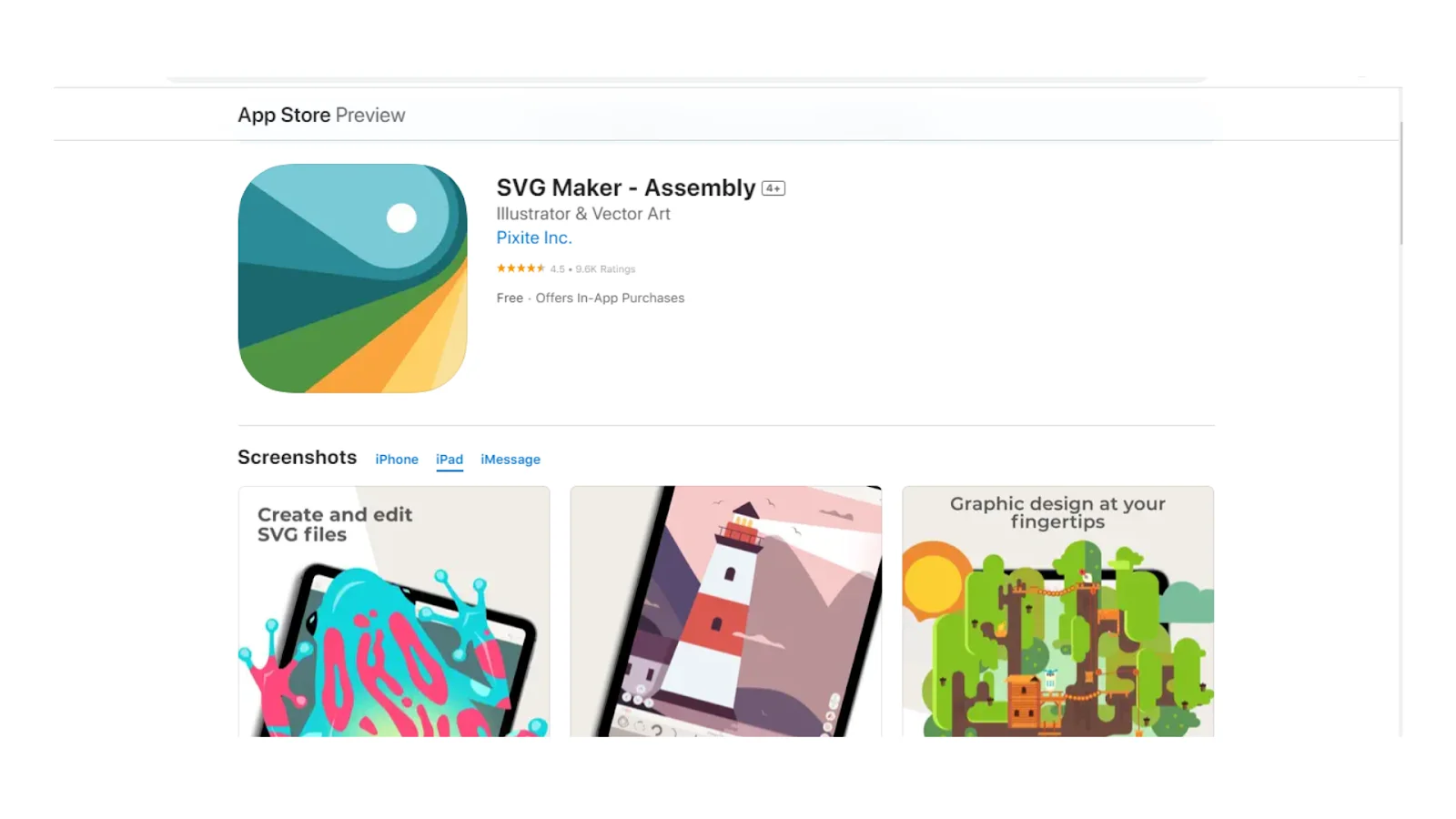 Image from SVG Maker - Assembly
Icons, logos, designs – if these are your jam, then Assembly is your playground. It's like putting together a puzzle of vector graphics with a drag-and-drop interface that makes everything a breeze.
They've got a library of editable shapes, patterns, and elements that are just waiting for your creative touch. Whether you're a design whiz or an aspiring artist, Assembly's got the tools to turn your concepts into visual masterpieces.
Price: Free (with some additional creative possibilities)
14. Zen Brush 3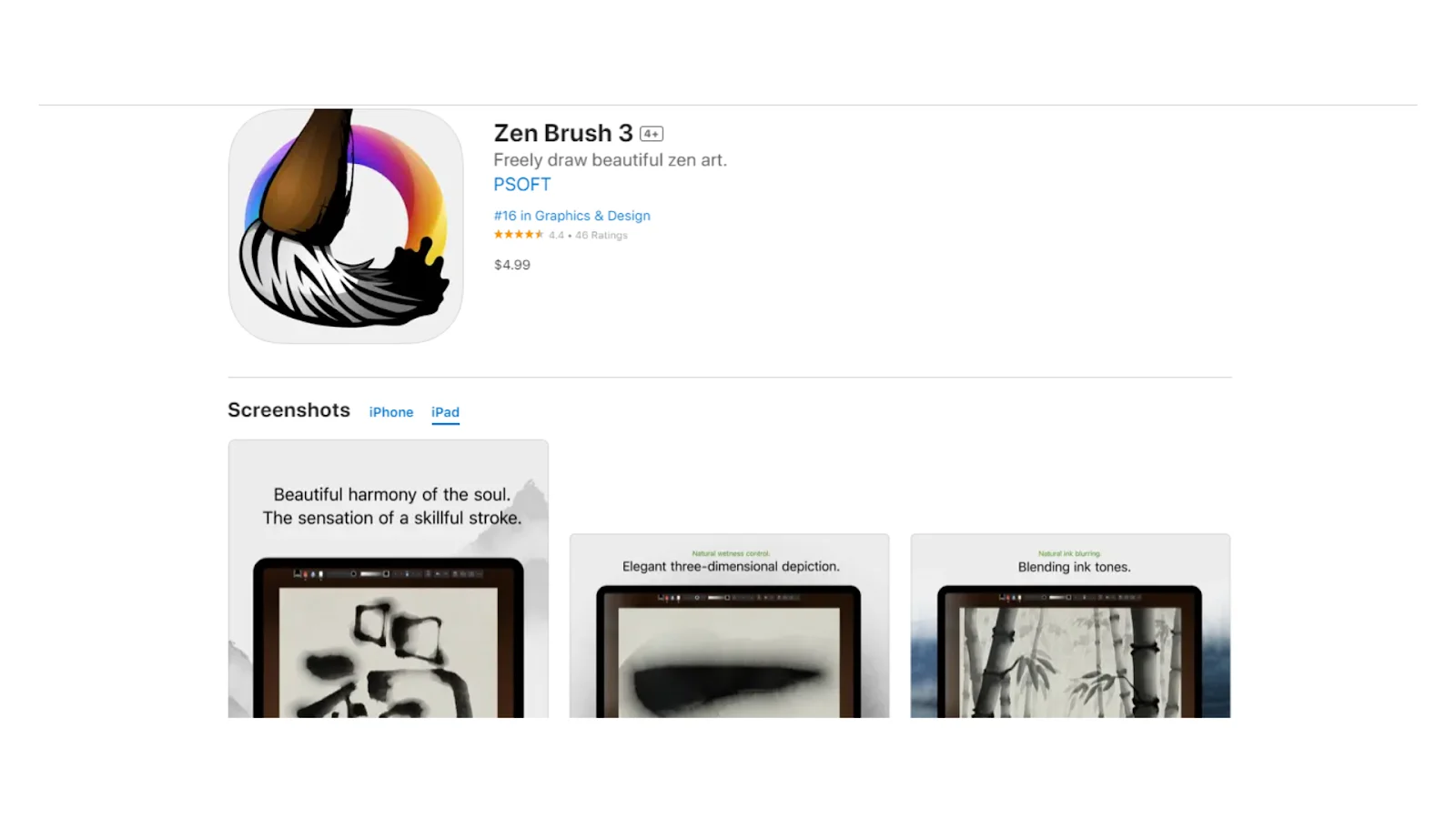 Image from Zen Brush 3
Ever dreamt of creating Japanese-style ink paintings with digital finesse? Zen Brush 3 is your answer. It's tailor-made for crafting expressive, minimalist artwork that's reminiscent of traditional sumi-e brush paintings. With customizable brush settings, ink shades, and paper textures, Zen Brush 3 transforms your iPad into a canvas for tranquil, fluid strokes.
Price: $4.99
15 Linea Sketch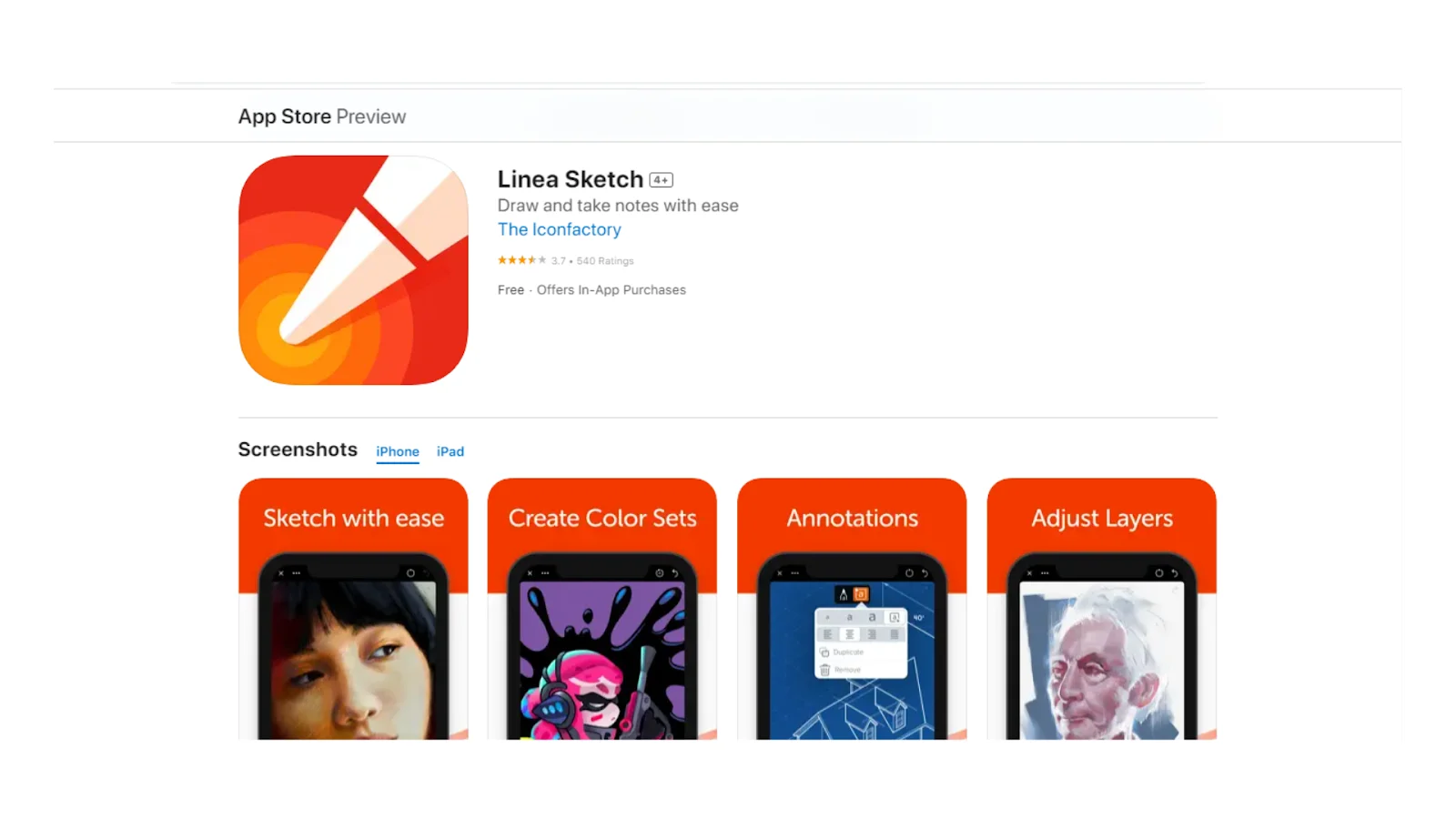 Image from Linea Sketch
When it comes to sketching and note-taking, Linea Sketch is your trusty companion. With an emphasis on simplicity and elegance, this app is a go-to for capturing your creative lightning bolts.
Think of it as your artistic notepad, equipped with layers, customizable grids, and tools for precision. Whether you're outlining ideas or crystallizing concepts, Linea Sketch is all about clarity and finesse.
Price: Free
16. Paintstorm Studio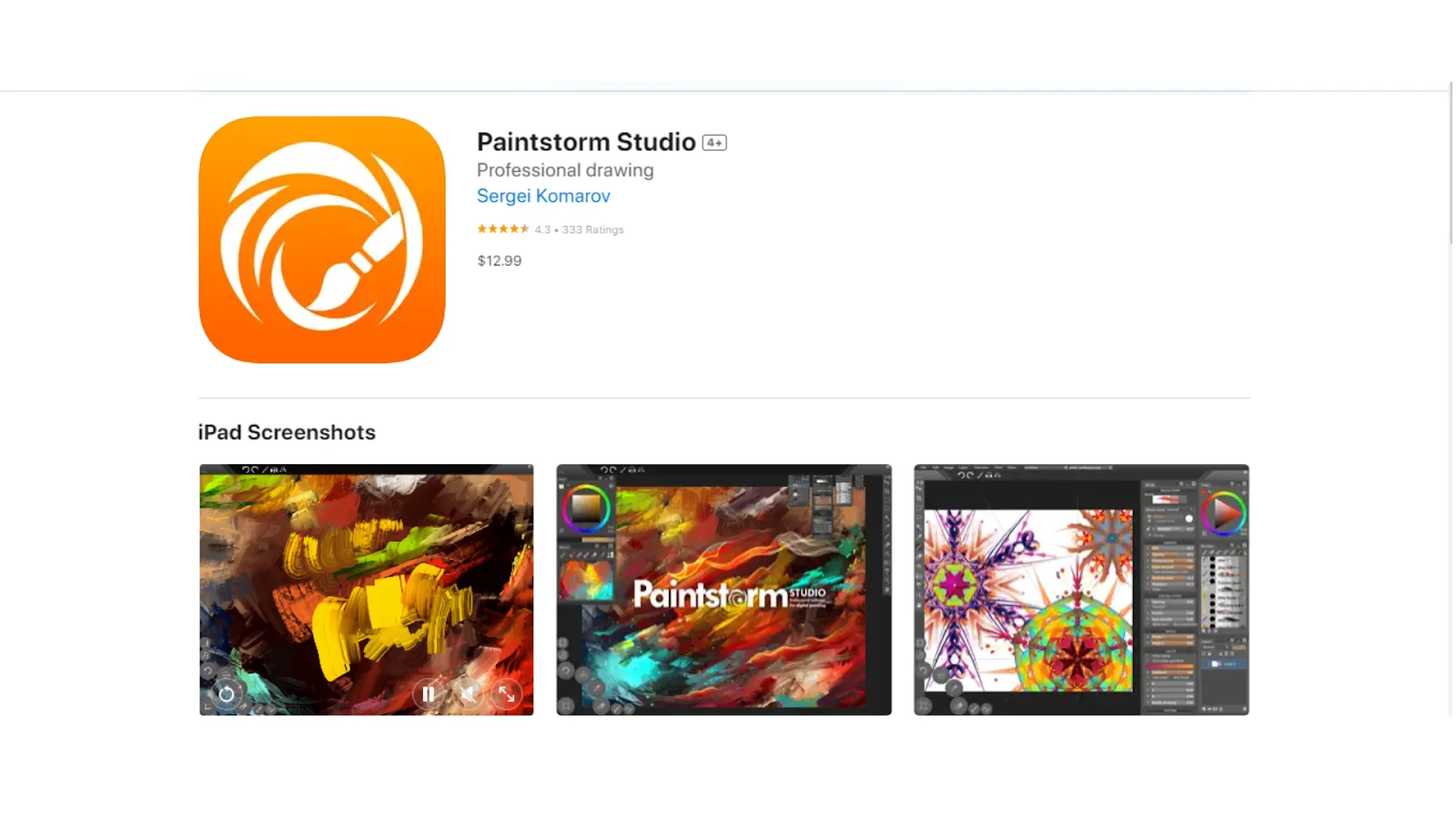 Image from Paintstorm Studio
For the artists who live and breathe details, Paintstorm Studio's got your back. It's like an art studio on your iPad, complete with a toolkit that's perfect for crafting intricate and detailed artwork. From brush customization to advanced features, this app equips artists with the power to breathe life into their visions, all with meticulous attention to detail.
Price: $12.99
17. Sketch Club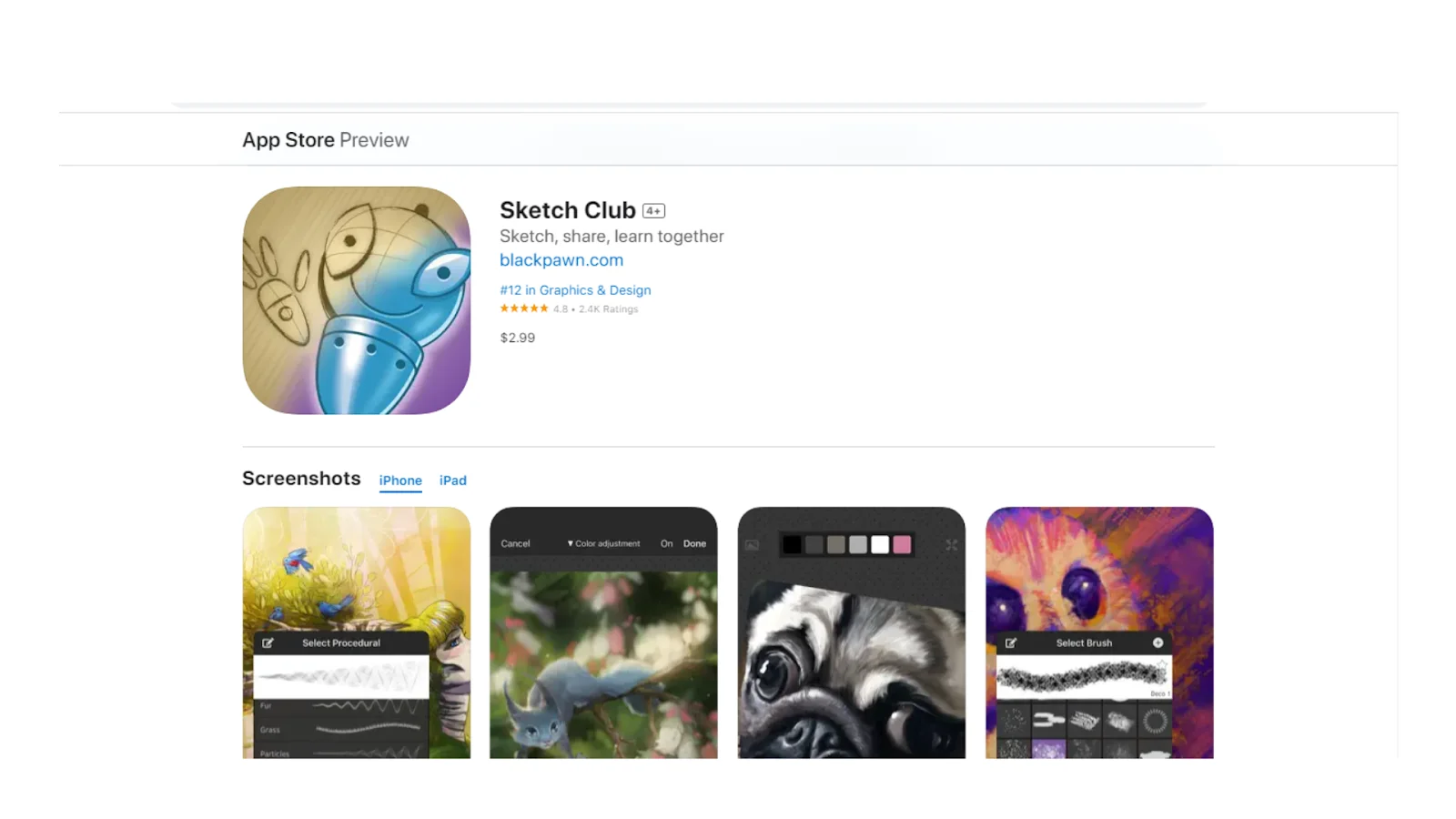 Image from Sketch Club
Imagine an app that's not just about drawing – it's about building a community. That's Sketch Club for you. With an array of brushes, layers, and filters, this app invites artists to share their work, take part in creative challenges, and find inspiration in fellow creators.
Plus, they've got a nifty feature that records your creative process as a time-lapse video – talk about an artist's journey!
Price: $2.99
18. Pigment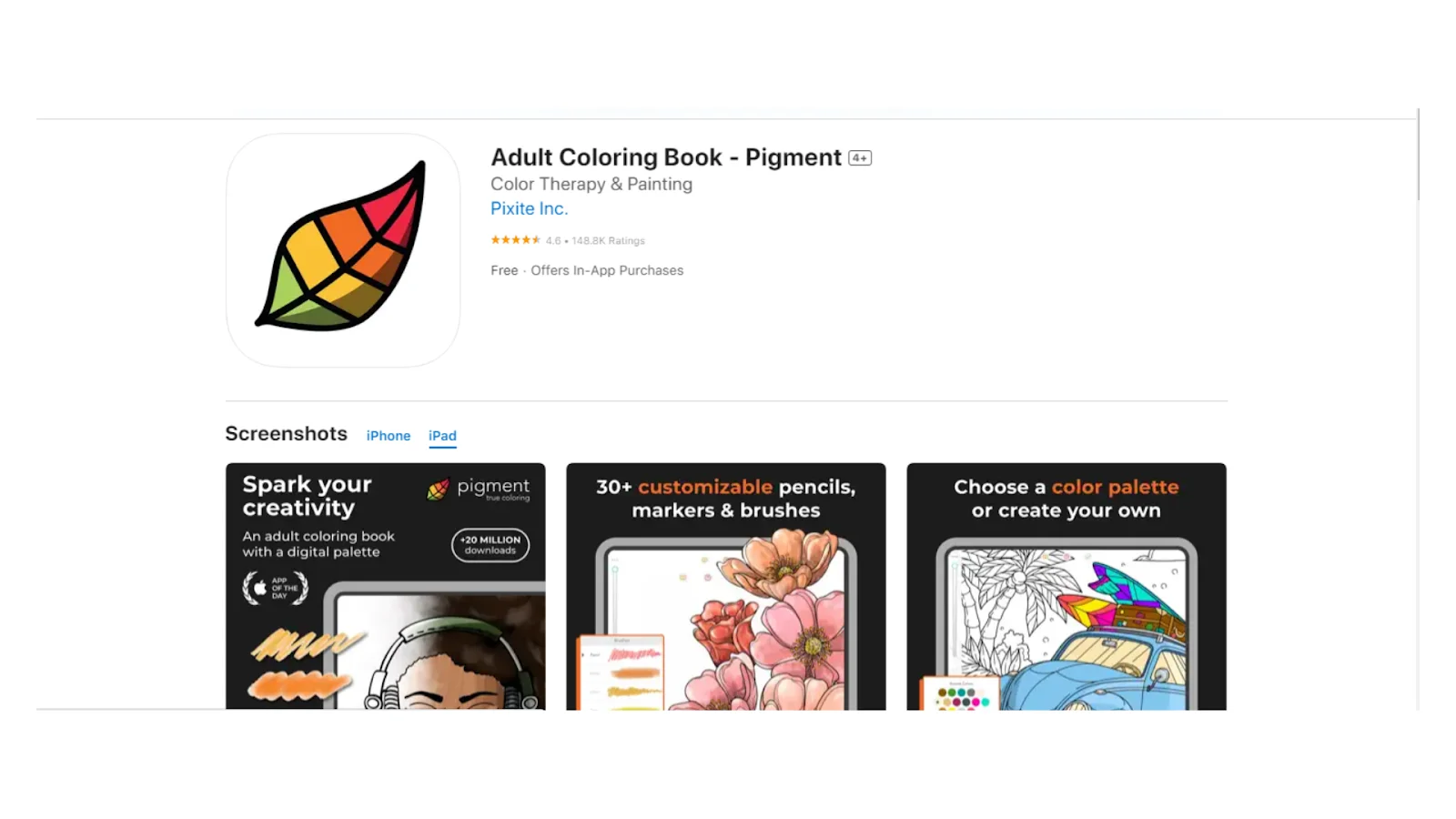 Image from Pigment
If you're all about coloring outside the lines, Pigment's your ticket to creative bliss. It's like a coloring book on steroids, offering a diverse array of pages and tools. It's perfect for those moments when you need to unwind, experiment with color palettes, or simply immerse yourself in the world of artistic expression.
Price: Free (with some extra artsy options)
19. Brushes Redux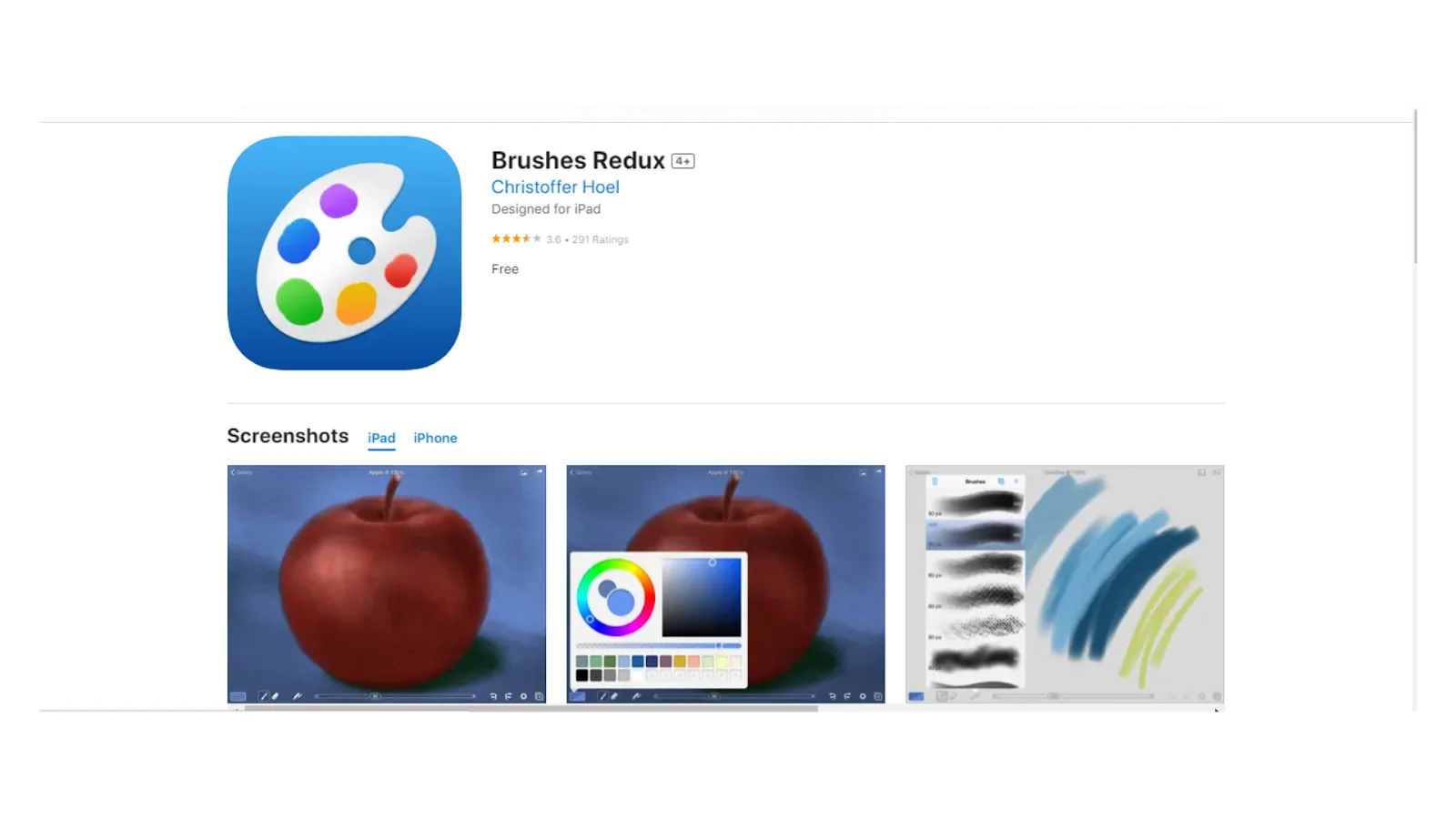 Image from Brushes Redux
Simplicity meets effectiveness in Brushes Redux. This app is all about sketching and drawing without any fuss. With an intuitive interface and brushes that respond like a dream, it's a no-brainer for artists of all skill levels. Whether you're a newbie or a seasoned pro, customizable brushes and layers give you the freedom to create captivating visuals anytime, anywhere.
Price: Free
20. Adobe Illustrator on iPad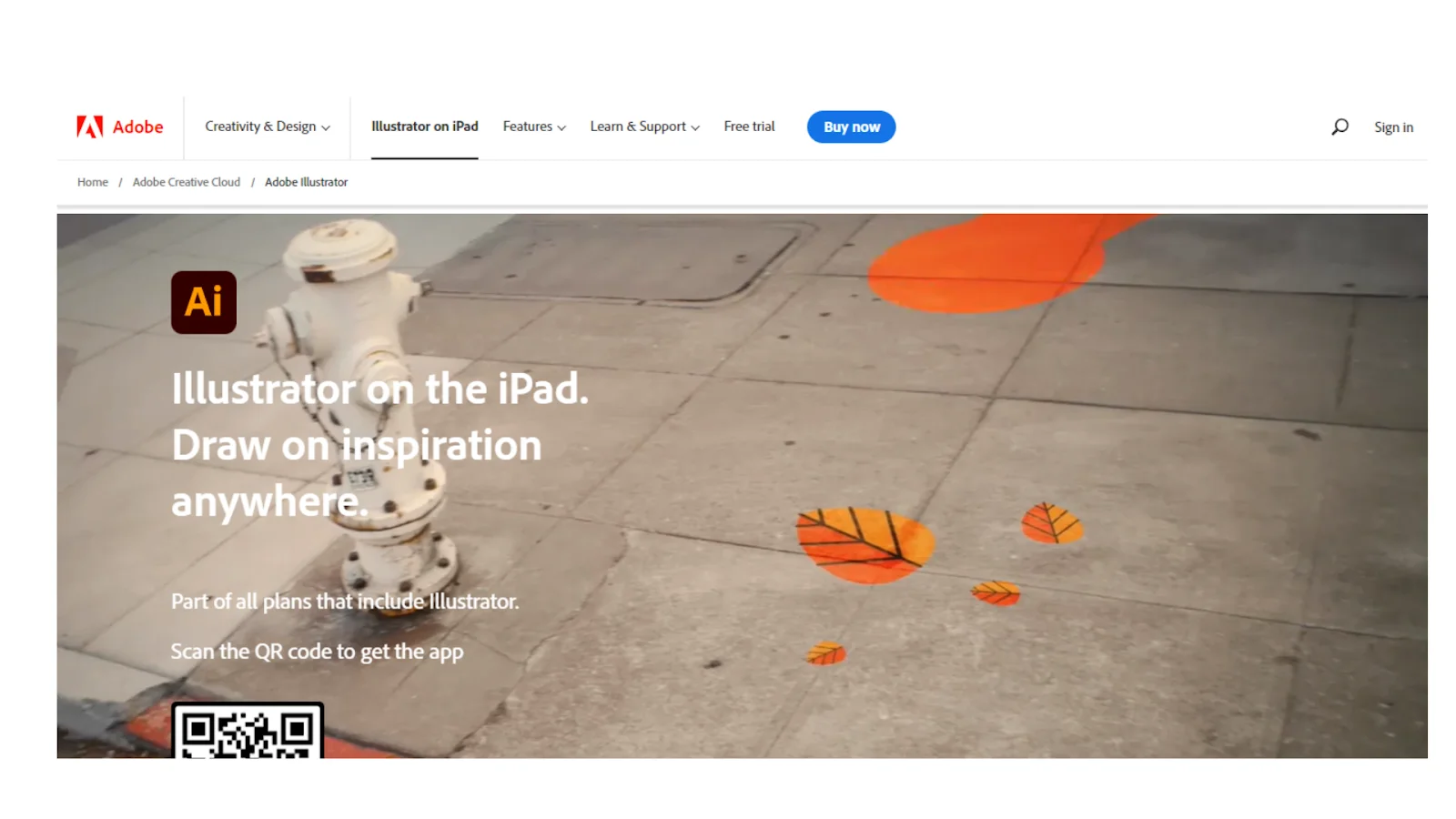 Image from Adobe Illustrator
When it comes to creating illustrations that pop, Adobe Illustrator is your partner in crime. It's all about creating scalable vector art that's perfect for every occasion. With seamless integration into Adobe's Creative Cloud, you can share your work and collaborate like a pro.
From customizable brushes to powerful layer management, Adobe Illustrator Draw empowers artists to create precision artistry that's fit for the big leagues. (Also Recommend: Uncover the Magic of Artistry with the Best Brushes for Photoshop!)
Price:
Starts at $20.99/mo for individuals
Students, teachers and businesses can apply for other plans
---
FAQ
1. How Do You Pick the Right Drawing App?
Choosing the perfect drawing app for iPad is all about you. Think about what you're good at, what you want to do, and what features you need. Look for apps with lots of brushes, layers, and tools you can tweak. And hey, check out reviews and tutorials to see if it's your kind of thing.
2. What iPad Should You Use for Drawing Apps?
Picking an iPad for drawing is like picking your dream art studio. Think about stuff like how fast it is, how great the screen looks, and if it works with the Apple Pencil. iPad Pro is like the superstar with top performance and a smooth drawing experience. But honestly, even older iPads can be pretty awesome for drawing – just pick what fits your style and budget.
---
Wrapping It Up
The iPad is like the ultimate art buddy, mixing tech with creativity for some mind-blowing results. So, when you're venturing into the world of digital art, choosing the right drawing app is like finding your magic wand. From beginners to pros, this list of the best 20 iPad drawing apps in 2023 is like your creative playground.
These apps aren't just tools – they're like partners in crime for your artistic journey. Whether you're sketching, crafting masterpieces, or breaking art barriers, these apps are here to boost your creativity.
In the midst of all this awesomeness, don't forget to try Eagle Now. It's like the modern-day artist's toolkit, keeping your design stuff organized and your creativity flowing.