Showcase Your Talents: Guide to the Best Portfolio Templates
Possessing a solid understanding and knowledge of your abilities isn't enough to secure your dream job, but showcasing and highlighting your skills through a well-crafted portfolio can significantly impact your clients.
Having a captivating portfolio can significantly benefit both your clients and hiring managers. This guide will help you understand what makes a great portfolio. As you work on your portfolio, it's important to keep in mind a few key attributes that will immediately grab the attention of your potential clients.
We have curated and gathered the best websites that offer portfolio templates and include all the must-have attributes such as Visual appeal, relevance, and a responsive design. Furthermore, these top picks elevate your ability to showcase your work, setting you apart from the competition.
Discover how to create a compelling portfolio with top template choices. Customize layouts, display your work, and showcase various projects effectively.
Eagle App - Organize & Browse your Design Inspiration
Video from Eagle (Using filters to sort media files)
Tired of relying on outdated methods to manage your media files? Meet Eagle: your solution for the streamlined organization. Bid farewell to all the hectic ways of organizing your media assets.
Eagle is packed with endless possibilities and an advanced AI filtering system that sort your files effortlessly and bring order to your media chaos. Moreover, the intuitive interface allows you to store your files inside color-coded folders, enabling you to group multiple files by categories, keeping all your files at your fingertips.
So what are you waiting for? Utilize all your productivity and energy for the important tasks and let Eagle become your helping hand; store all your files in one place and stay efficient in your daily tasks. Embrace a new solution with Eagle, where storing, saving, and browsing is done effortlessly.
Ready to experience a new world of organizing? Try Eagle for a free 30-day trial!
Where to Find Portfolio Template: 10 Websites Available
No matter how unique your areas of expertise are, these hand-picked websites will cater to all your portfolio needs, and you will indeed find a template that best highlights your work, elevates your profile, and sets you apart to win more jobs.
Calling all designers! Learn how to start a design portfolio with our ultimate guide: How to Start a Design Portfolio.
1. Colorlib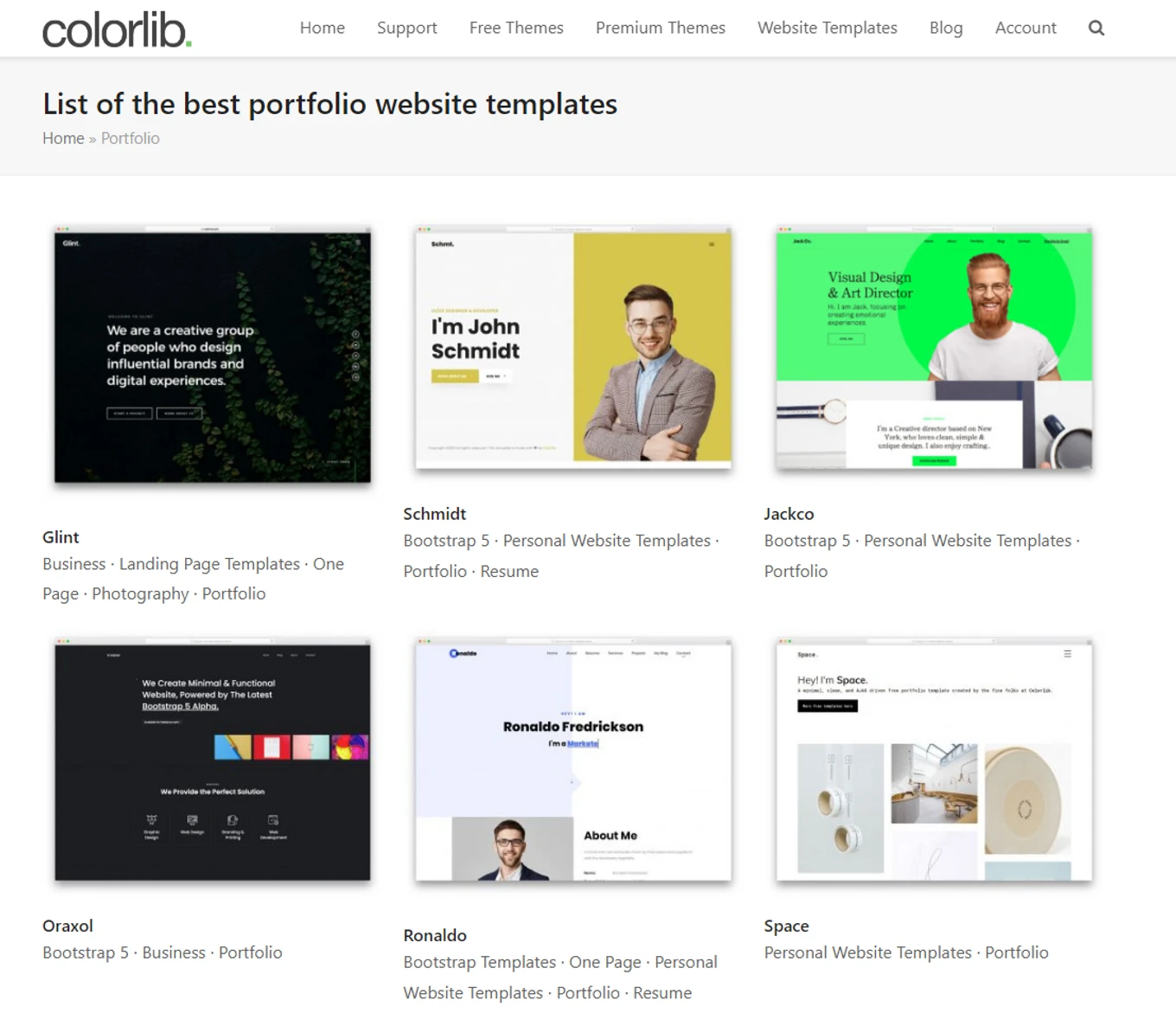 Image from Colorlib

At Colorlib, you are at home with professionally crafted templates, ready to be personalized and put to use. Moreover, Colorlib provides versatile templates catering to the needs of all industries, empowering individuals to build the best portfolio that stands out. With over 1500 top-notch templates available for WordPress, HTML, and CSS, you can definitely find a perfect way to showcase your skills.
Best For:
Ideal for those with no prior experience. On Colorlib, you don't have to be an experienced developer, as all the portfolio templates come with easy-to-customize capabilities, giving you complete control of your portfolio design to add content and showcase your work effortlessly.
Website: Colorlib
2. ThemeForest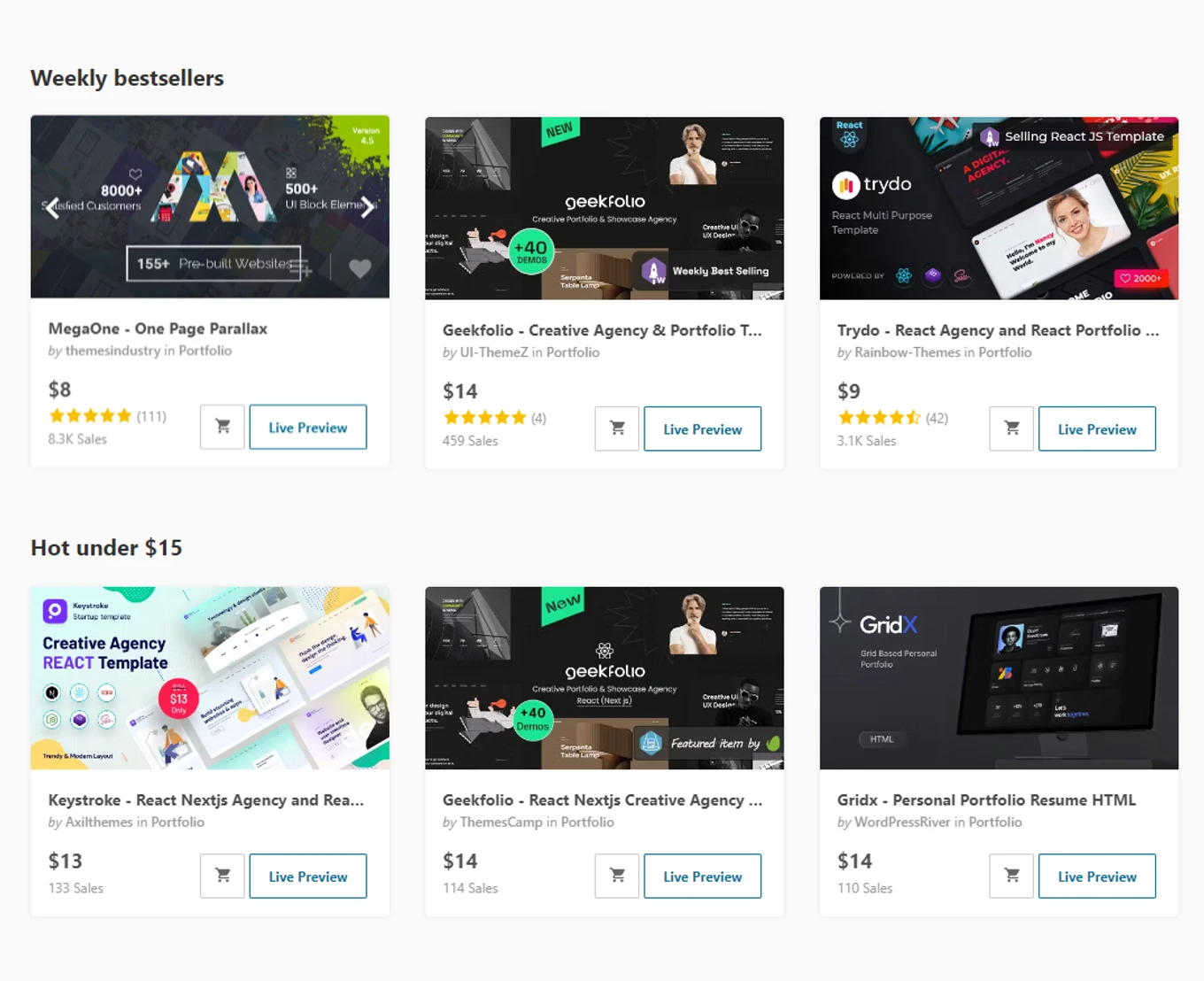 Image from ThemeForest

Are you looking for something unique, engaging, and responsive? Look no further than ThemeForest!
With its diverse collection of premium templates compatible with various platforms such as WordPress and HTML, you can find the best one that fits your needs quickly. It's hard to doubt the quality and credibility of templates on ThemeForest, as it is one of the most renowned and popular platforms for selling and buying templates.
Best For:
People looking for budget-friendly portfolio templates. ThemeForest can cater to the needs of anyone, from big brands to individuals looking for templates to showcase their abilities and keep website visitors engaged.
Website: ThemeForest
3. WIX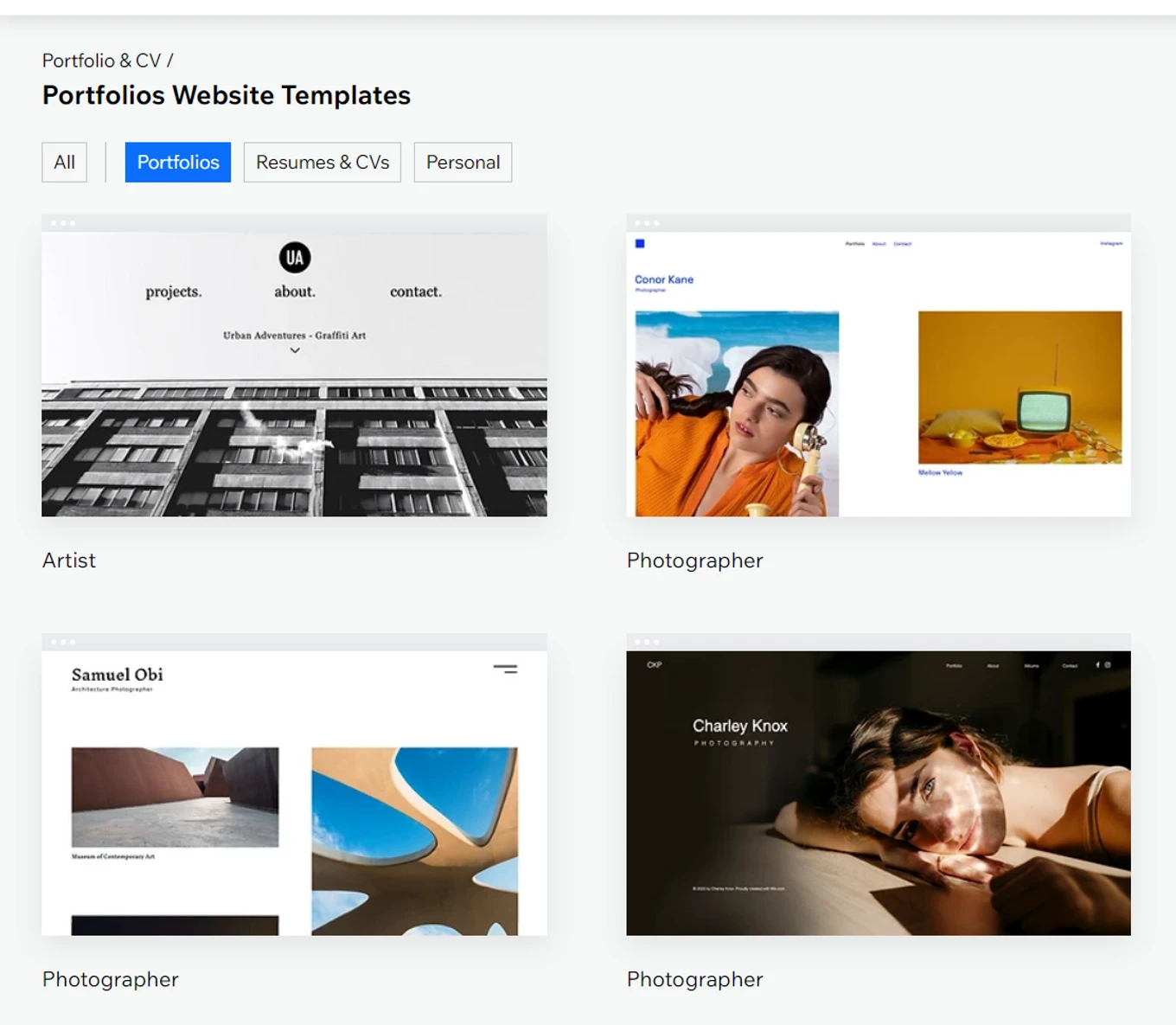 Image from WIX

WIX has been in the market for decades, empowering individuals to create websites without any web development experience. WIX is known for its robust interface, offering features and tools to create your website with drag-and-drop capabilities. Furthermore, WIX offers pre-built portfolio templates that can be personalized seamlessly. Additionally, it allows you to connect your domain name and hosting services effortlessly.
Best For:
Individuals looking for a drag-and-drop portfolio editor. Also, WIX offers an intuitive and user-friendly interface simplifying the editing process and enabling you to update your portfolio hassle-free.
Website: WIX
4. Envato Elements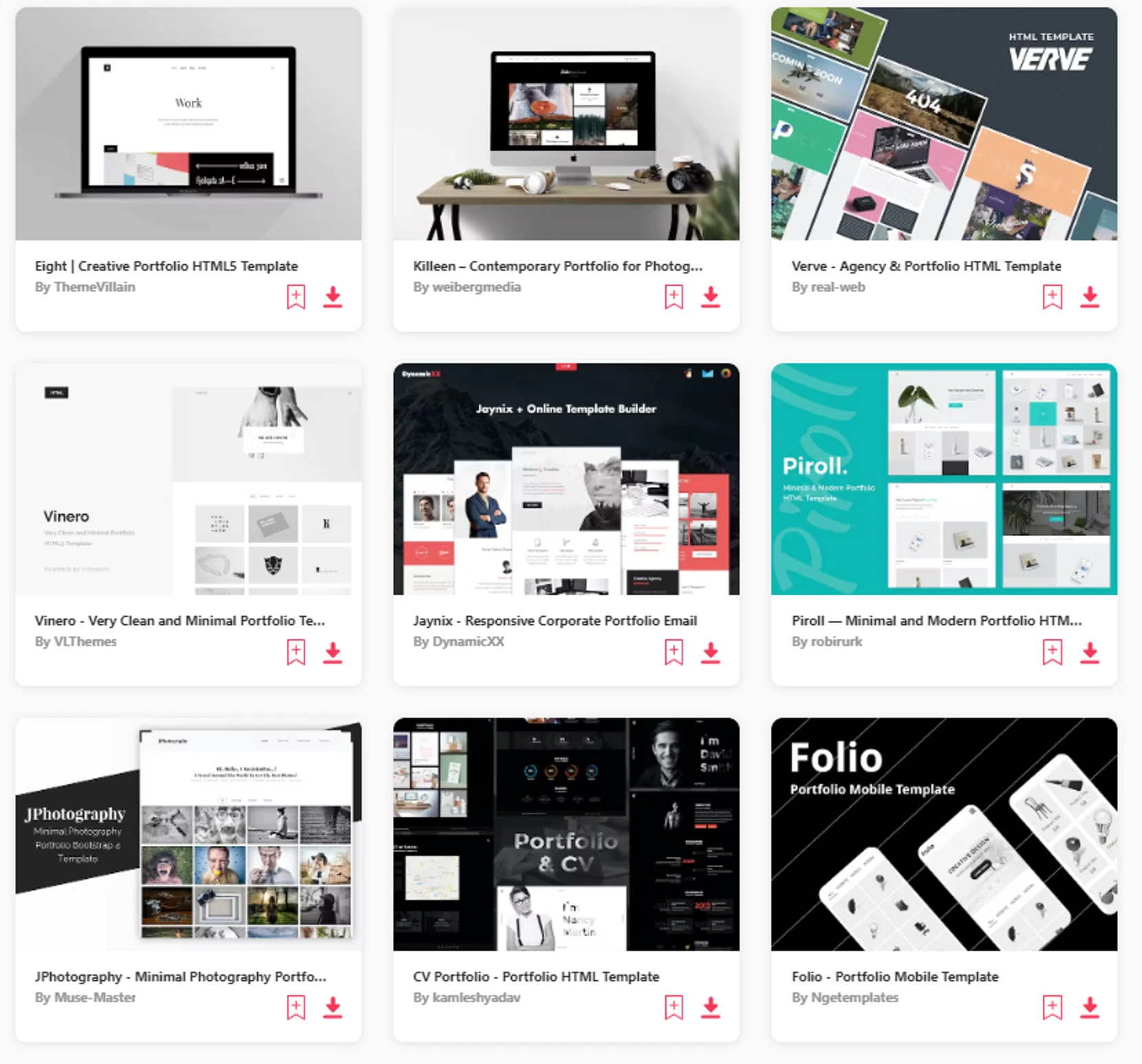 Image from Envato Elements

Envato Elements has enabled talented web developers to design and share their best website templates with the world. On Envato Elements, you can find niche-specific portfolio templates that are responsive and compatible with various devices. Furthermore, These templates are highly optimized and can efficiently showcase your work and content.
Best For:
Ideal for those seeking HTML templates. If you're a fan of HTML, Envato Elements is the right place to find elegantly designed templates by top-notch developers.
Website: Envato Elements
5. Webflow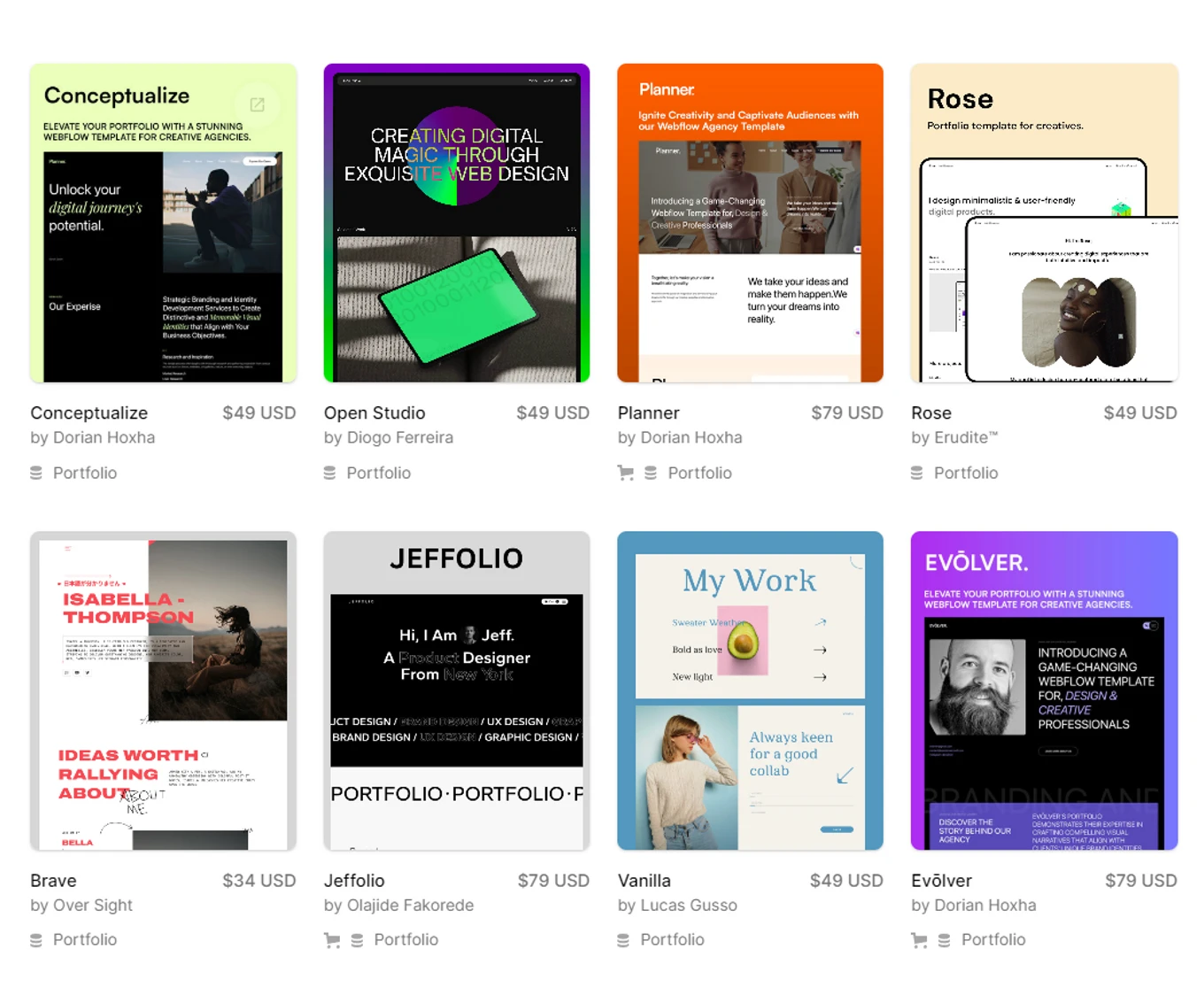 Image from Webflow

Webflow is the ultimate web design and development platform that enables you to design a website without understanding website coding. Undoubtedly, it's an option packed with endless possibilities worth considering if you find designing sites overwhelming. Furthermore, it comes with various ready-made templates that can give you a kickstart to design your portfolio by just editing and replacing content.
Best For:
People looking for an all-in-one solution for their website needs. To make your website live, it has all the necessary options, such as web hosting, customization, and CMS. Minimizing the hassle of managing/enhancing a portfolio website through different methods.
Website: Webflow
Say goodbye to client hunting hurdles, here are best freelance websites where you can kickstart your journey today!
6. Framer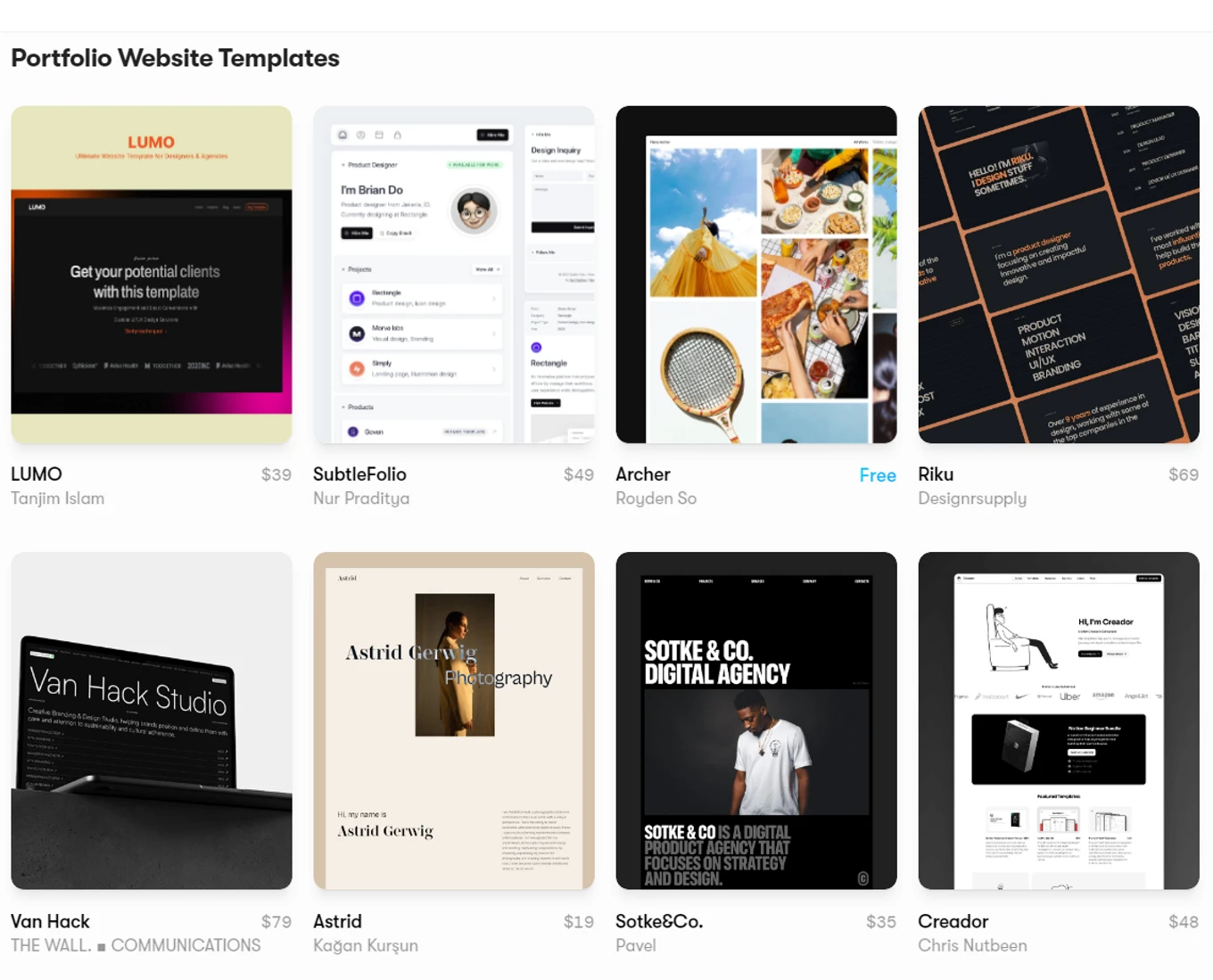 Image from Framer

Are you a fan of sleek animations and elegantly designed websites? Framer has got you covered!
Framer has made the job easier; now, you don't need to hire a web developer to create a portfolio website for you. Instead, you can choose from a prime library with hundreds of templates. Additionally, the Framer provides in-depth editing of these templates without requiring any technical knowledge, making itself a convenient choice for everyone.
Best For:
Perfect for those looking to create simple yet attractive portfolios. Truly, Framer can surprise you with its smooth transitions and engaging animations, enabling you to showcase your work with unique interactive elements that grab visitors' attention straight away.
Website: Framer
7. Dribbble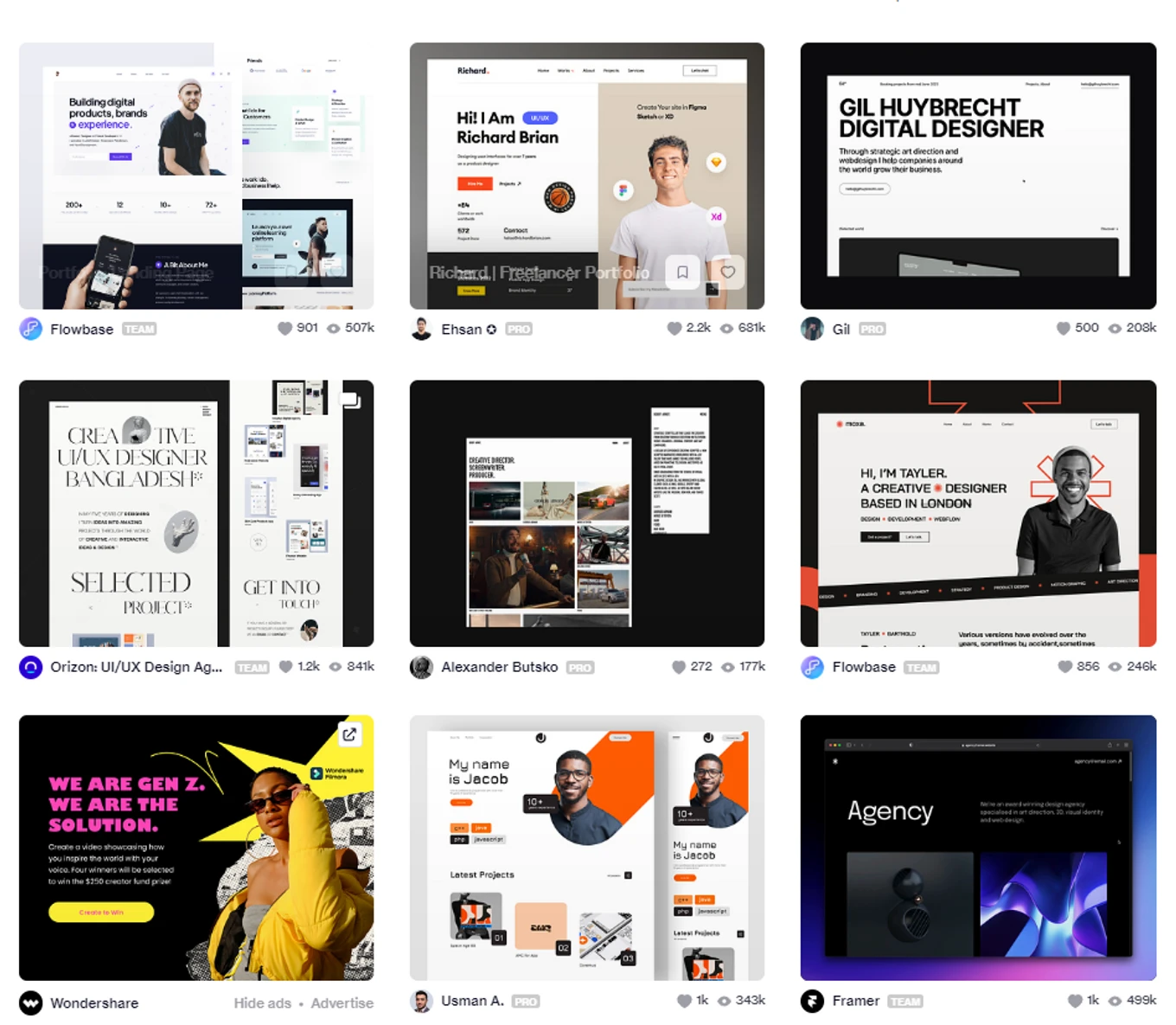 Image from Dribble

Dribbble itself is known as a portfolio platform used by creatives and artists to showcase their best work. Fortunately, on Dribbble, web developers also post their freshly created website and portfolio templates. Considering all this coming from highly talented designers worldwide makes Dribbble a platform to find versatile and unique portfolio template.
Best For:
Designers and professionals. On Dribbble, you can find a wide selection of portfolio templates featuring unique designs from creators worldwide. These templates will allow you to showcase your talent and experience effectively despite how niche-specific your industry is.
Website: Dribbble
8. Zyro
Image from Zyro

Creating websites with drag-and-drop builder? Yes, Zyro makes it possible. Additionally, Zyro features a library of portfolio templates that can be used as a starting point to start designing your unique portfolio. Furthermore, its advanced yet easy-to-use website builder allows you to effortlessly enhance your portfolio template with typography, animations, buttons, and whatnot.
Best For:
Perfect for those seeking single-page portfolio websites, as Zyro has limited editing tools and features that can fulfill all the basic needs in a portfolio. Considering that, Zyro is a good option that requires no designing or coding expertise and helps you launch your portfolio quickly.
Website: Zyro
9. Starter Templates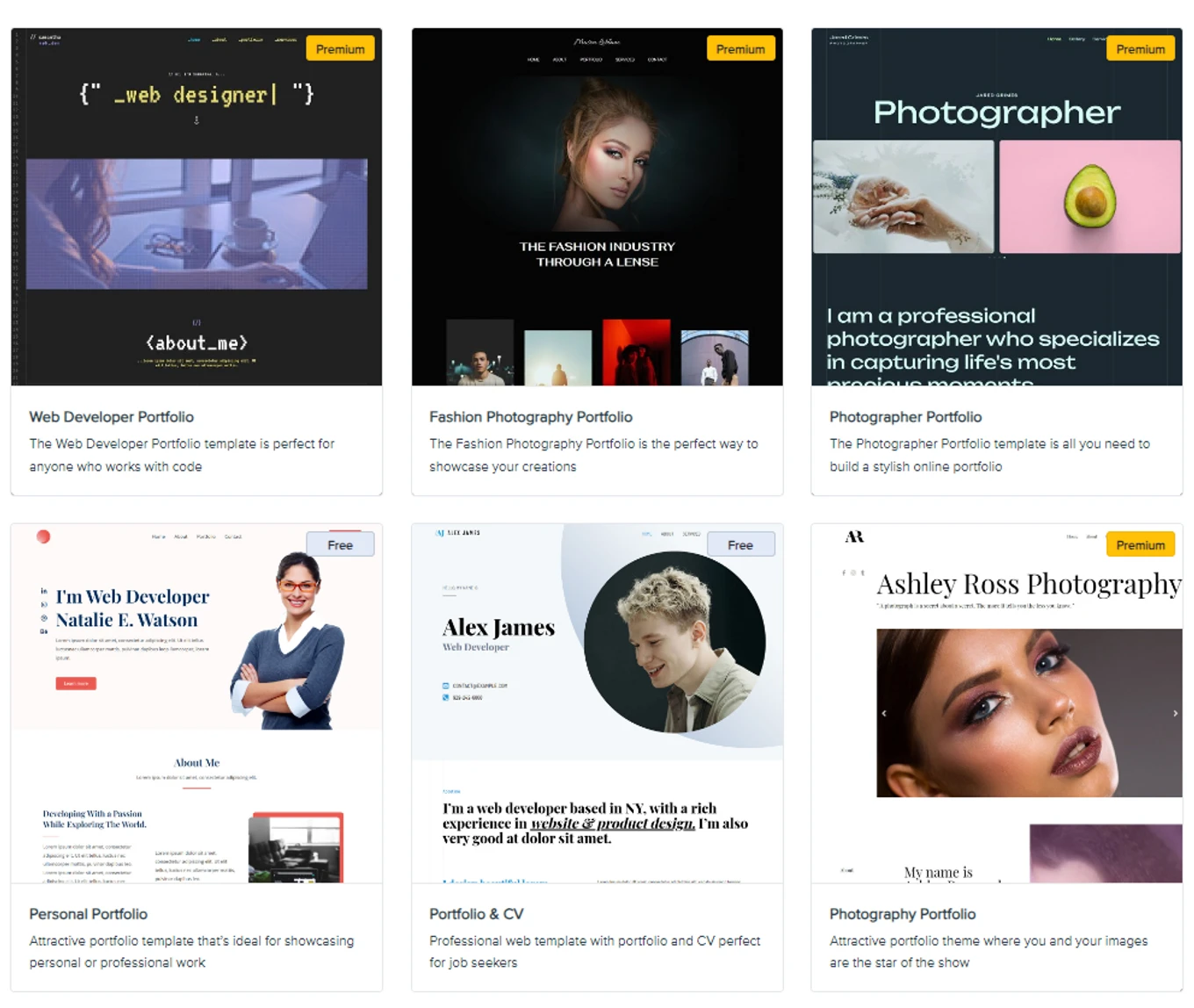 Image from Astra

Starter Templates is a well-known plugin in the WordPress community; The plugin provides free templates to kickstart your website and helps you build and customize it with Elementor and Beaver Builder. Furthermore, most of these templates come with all the required features and essential aspects of a portfolio website, minimizing the need for additional enhancement.
Best For:
WordPress users. If you enjoy creating and managing your website using WordPress, you will want to experience Starter Templates. Millions are already using this plugin, which can help you get your website up and running quickly.
Website: Starter Templates
10. Templatemo
Image from Templatemo

Templatemo is a free website where you can find HTML and CSS portfolio website templates. Furthermore, these templates don't require subscription or registration hurdles; you can download the template you like. Also, if you are familiar with web development fundamentals, you can use these templates as starting points.
Best For:
People looking for free HTML/CSS templates. Additionally, these templates are responsive and come with all the features that are required in a portfolio; all you need to do is enhance them according to your needs.
Website: Templatemo
---
FAQ
How to choose the right portfolio template?
Choosing the right portfolio template for your specific industry requires considering several factors before you jump into the market to choose yours. Here are some key points that will help you choose the right one for you:
Identify Your Industry: Different industries have varying portfolio design approaches. For instance, if you're a graphic designer, your portfolio should excuse a sense of creativity and aesthetics, which can be achieved through a sleek artistic, and visually captivating template. While if you're a web developer, your portfolio should be focused on its responsiveness, functionality, interactive elements, and more.
Showcasing: While all the portfolios are focused on showing the clients our abilities and experience, a portfolio needs to support different file formats, such as documents, videos, images, and other types of content.
Responsive Design: A portfolio must feature a responsive design compatible with different screen sizes. This makes the portfolio easy to navigate and ensures all the data looks good on different devices.
Optimized: For a portfolio website with many images and videos being featured, it is essential to have your portfolio optimized, as slow loading can affect the overall experience of your visitors.
Lastly, it's crucial to identify the platform support of your portfolio; for example, if you have yet to gain experience in web development, choosing templates that require coding expertise, such as HTML/CSS, won't be a good choice. However, you can choose more convenient and easy-to-use platforms to build your portfolio, such as WIX, Zyro, and Colorlib.
Need captivating visuals for your website? Your search ends - discover the top-tier websites offering free graphic design template!
Should I build a website for my portfolio?
Yes, having a dedicated website to feature and showcase your work offers countless benefits, such as:
Control: When you have your own website, you ultimately control your website layout, content, and design. You can enhance your portfolio website anytime to keep it up-to-date.
Portrays a Professional Image: When you take the time to build your own website to showcase your work, it puts a strong impression on your clients for putting the effort and time into creating a platform of your own.
Personalization: On your own website, there are no limits to enhancing user experience. It allows you to implement interactive elements, animations, and a navigation system that suits your needs.
---
Final Thoughts
Hopefully, with this in-depth guide, you now understand the leading platforms shaping the landscape of website templates. Certainly, all these websites offer top-notch templates that can be customized and molded to create a unique portfolio that captures attention. Importantly, these websites provide templates based on specific platforms such as HTML/CSS, WordPress, Elementor, and more, so choose the right platform for your template that sounds more convenient.
So what's holding you back? Choose your portfolio template now and attract more clients!
In your career journey, tame the chaos of media files and discover Eagle, your ultimate partner to help you stay organized and productive!