Top 15 Must-have Apps to organize your design files
Before getting into production finding the right assets whether they are design files, making a mood board, image, links, font it requires a lot of planning and resources gathering.
As a starter, you better organizing them before your files get piled up like a pyramid. So how do you keep all your design-related files organized and avoid cluttering your desktop or downloads folder? Have you tried any organized app to save you your precious time?
Today we'd like to introduce you to the top 15 must-have apps that are especially helpful for designers when you're trying to build your project. All of them have different sweet features that can give you a whole new world of file tidiness! May you organize assets happily, design happily!
---
List of 15 Top App to organize your design files
#1 Eagle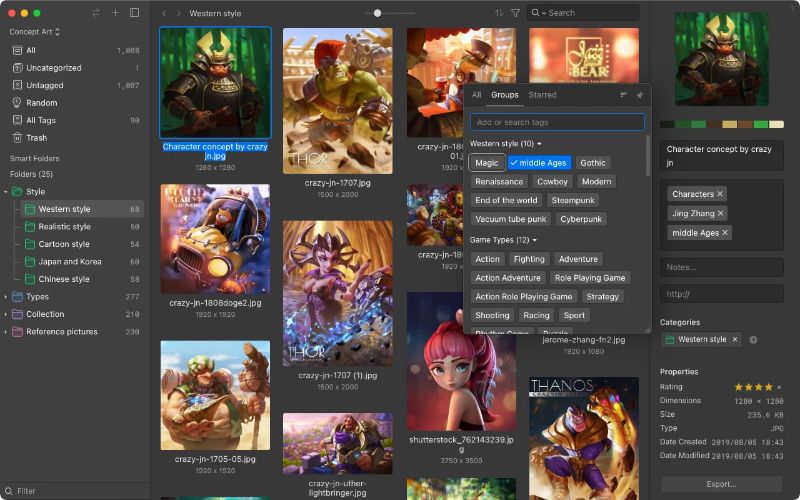 image from Eagle
Eagle is a feature-rich tool for organizing and collecting your digital assets. If you are working mostly on PC then Eagle is the one you are looking for. Eagle allows you to import your local folders and sort your files manually or automatically. It supports tag, rating, color search, and annotation which is really helpful in finding the files without making a mess on your PC, its extension allows you to gather ideas, collect references online.
For a starter, Eagle supports a wide range of formats such as images, raw, fonts, icons, 3D, videos, and audio which is a super friendly tool for all kinds of designers and OCDs.
Pricing: Free Trial 30 days. One-time purchase with free updates: $29.95. One license for two devices.
Platform: Desktop macOS and Windows. Extensions are available for Chrome, Safari, Firefox, and Edge.
Website:https://eagle.cool

---
#2 Raindrop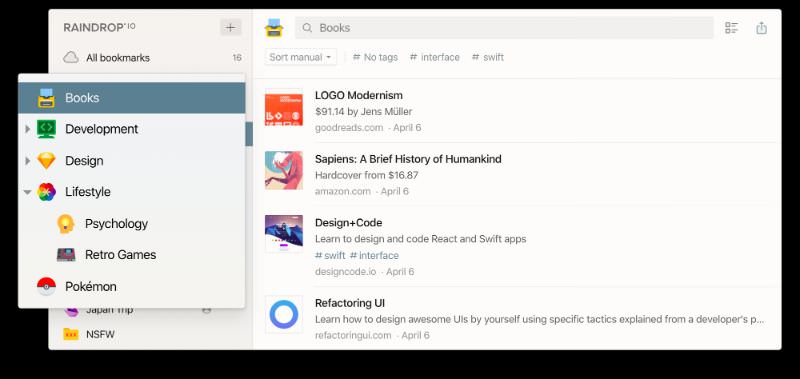 image from Raindrop
Raindrop.io is a very comprehensive tool to help you manage your bookmarks, images and songs ideas. The best part of the tool tags, you can tag your bookmarks and search for them using those tags. The facility to assign icons to folders is a great feature you can visually get to your targets with ease. For designers, working with bookmarks, you can find duplicates inspiration links with thousands of bookmarks in your library.
Pricing: Free version with essential features. Pro version: $29.40/yr.
Platform: Desktop: Windows and macOS, Mobile apps: Android and iOS. Extensions for Chrome, Safari, Firefox, Opera, and Edge.
Website:https://raindrop.io/
---
#3 Adobe Bridge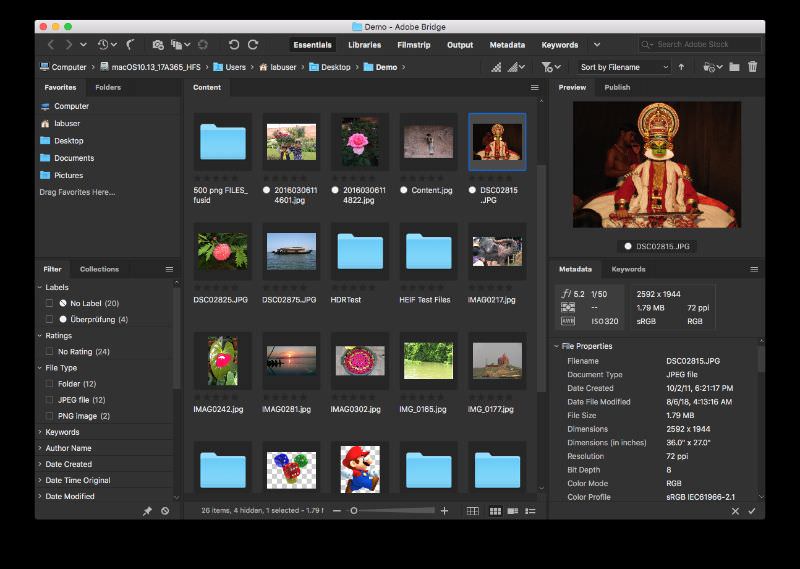 image from Adobe Bridge
Adobe Bridge is a design asset management tool and is a part of the Creative Cloud ecosystem. If you're working exclusively with other Adobe products, Bridge is the gem design resources organizer for you, it provides sorting, search, ratings, tagging, and even built-in photo editing capabilities. One of the things you have to look out for is its importing files can sometimes take quite a while!
Pricing: Free
Platform: Desktop Apps for Windows and macOS
Website:https://www.adobe.com/products/bridge.html
---
#4 Milanote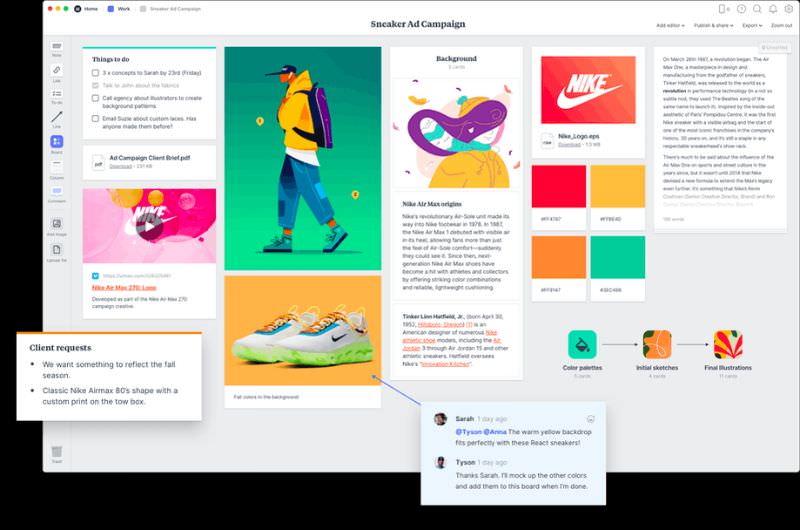 image from Milanote
Milanote is an easy-to-use tool to organize your ideas and projects into visual boards. If you are working with team members on a large project then this might be the one for you! It is very useful to give annotation on your inspirations files or link, and you can even send an invitation to other people to collaborate on the same draft. It also allows users to export the content as well as Word or PDF. The best thing is that it supports mobile applications.
Pricing: You can use a limited version for free. (Personal paid plan: $9.99/month, billed annually or $12.99/month billed monthly.)
Platform: Web application, mobile applications for iPhone and Android.
Website:https://milanote.com/
---
# 5 Pixave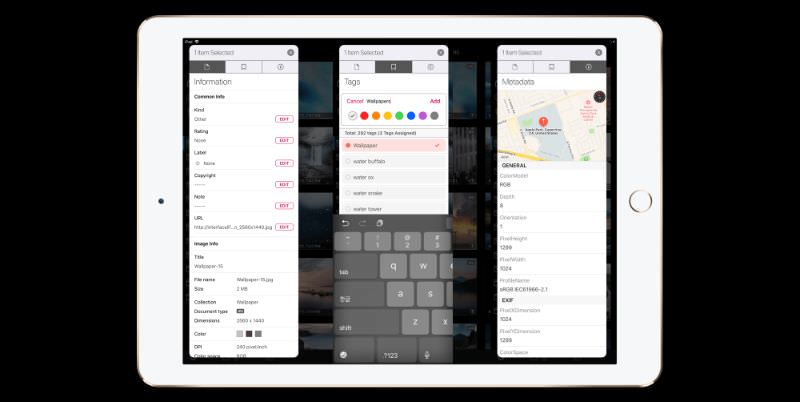 image from Pixave
Pixave is really a nice photo management app for Mac and iPad devices. It stores all your photos in one clean, concise library with no added fuss. One of Pixave's wonderful features is its Web Capturing ability, it allows you to save a desired webpage as an image. Perfect for those designers who find inspirations online as a screenshot. Just that some user says if your libraries are too big you might encounter constant breakdown but if you are on a budget and don't mind some breakdown, this is yours to go!
Pricing: $4.99
Platform: Desktop app for Mac and iPad app
Website:http://www.littlehj.com/mac/
---
#6 Daminion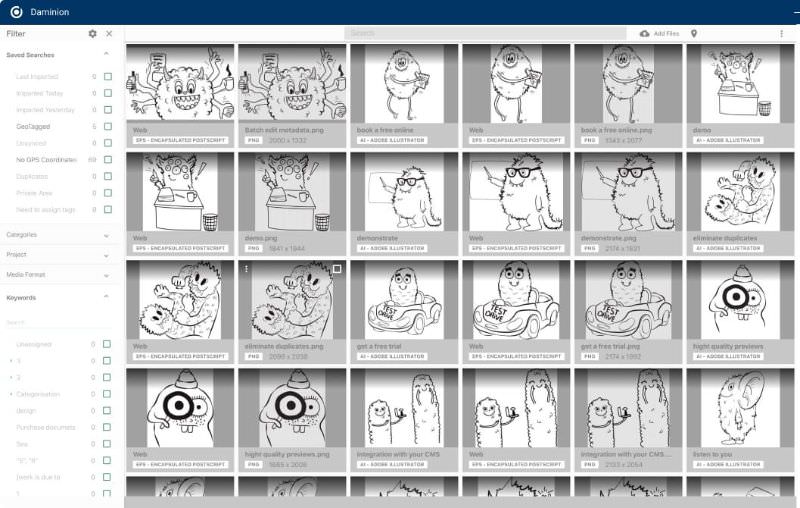 image from Daminion
Daminion is like Eagle and Adobe Bridge, it helps you centralize and organize your digital assets all in one place. It can sort your files by several different criteria: image color, automatically detected tags, image size, license type, and a range of other technical and descriptive tags.
The difference Daminion differentiates from others is their Geotagging feature, it can visually locate and display your images on the map. Especially useful for interior designers or photographer professionals who need to check out their image location now and then.
Pricing: Free trial available, $249/month for up to 5 users.
Platform: Desktop app for Windows, Mac needed an additional application to launch. Cloud version.
Website:https://daminion.net/
---
#7 Evernote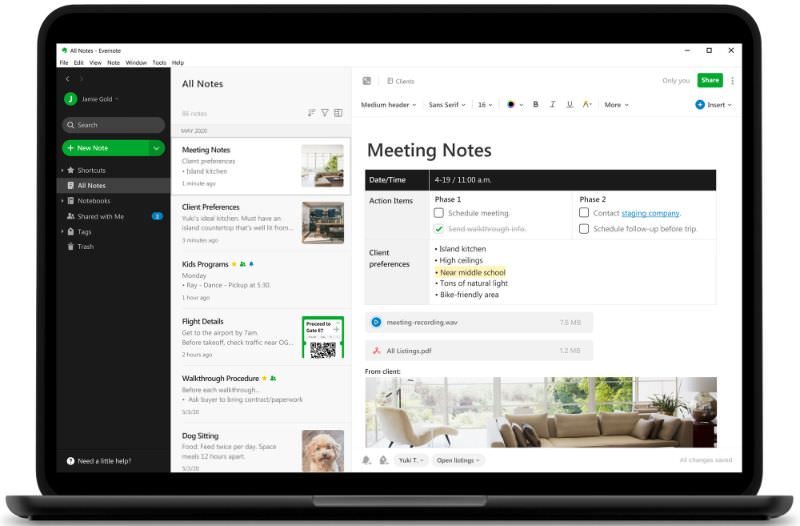 image from Evernote
Evernote can be used to manage important business documents like images, video, digitized files including business cards, receipts, PDFs, voice memos, website content, email campaigns, etc
Rather than keeping all of your important bits and pieces in the different cabinets, Evernote allows you to document anything and everything visually, and access it from anywhere.
You can quickly centralize everything to create a single access point. There's also an integrated iPhone app for capturing data and images on the go.
Pricing:
Free
Personal: $7.99/month
Professional: $10.99/month
Teams: $14.99/month
Platform:
Cloud, SaaS, Web-Based
Desktop - Mac and Windows
Mobile - Android, iPhone, iPad
Website:https://evernote.com/
---
#8 Pathfinder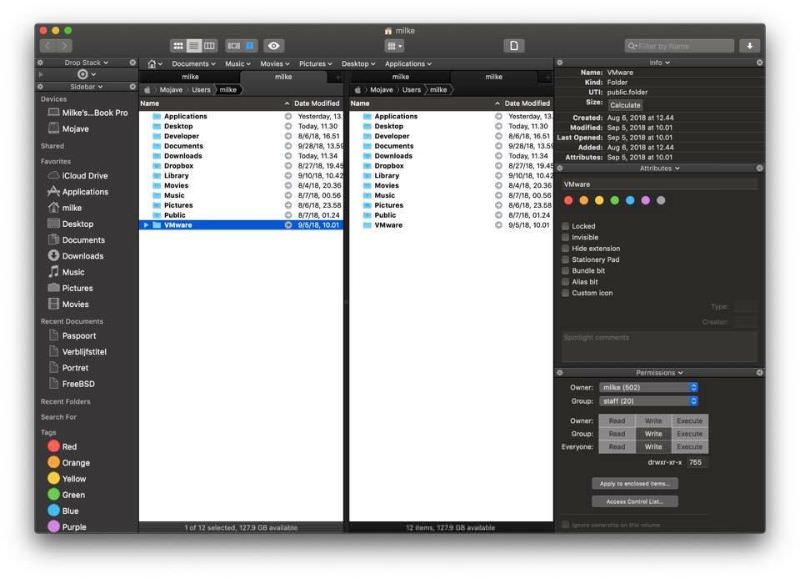 image from Pathfinder
Do you have time when you just needed to open two finder windows? With Pathfinder it's much easier to organize all your digital assets, you can also open up tabs in finder, just like in Chrome or Safari, to quickly navigate between different folders without opening multiple windows. Also, or Pathfinder offers a Windows-style address bar in the Finder application you can easily copy-paste the full address of the file/folder and jump directly to it.
Pricing: Free 30-day trial, then $39.95
Platform: Desktop macOS and Experimental Mobile app version on Android
Website:https://cocoatech.com/
---
#9 Synchronize Pro!
When you are organizing your files, sometimes you just want to synchronize them across your mac devices. Synchronize Pro allows you to copy your system so that you can start up any Macintosh from the backup, or move your current OS X system from one computer to another - even to a different model Macintosh. It also keeps old files in an archive, so that you can go back to them if you need to or protect against accidental deletion.
Pricing: Free
Platform: Desktop macOS
Website:http://www.qdea.com/synchronizeprox_intro.html
---
#10 Tiat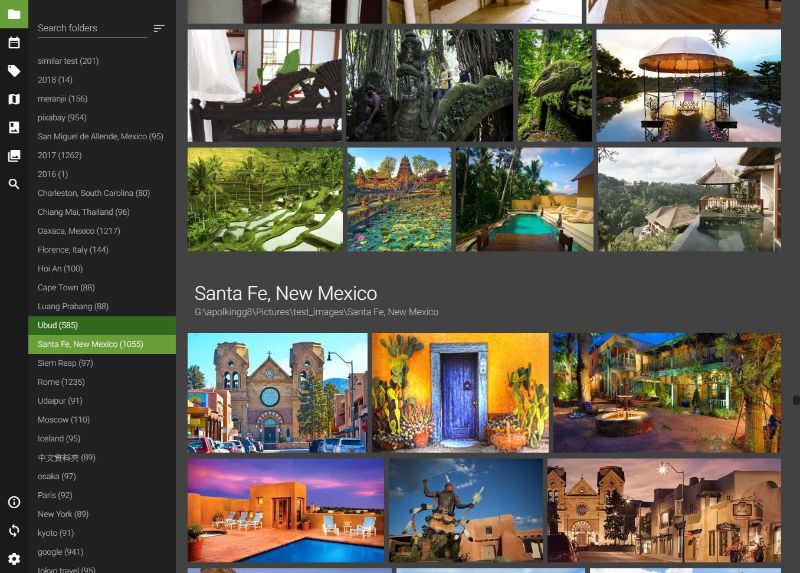 image from Tiat
Do you need a personal assistant to help you with all your image management? Tiat provides lots of search methods. In addition to basic names, labels, and comments, you can also search based on advanced data such as colors or EXIF information. You can also search with similar pictures, or by drawing it! This saves time and makes it easier for you to find the exact image you are looking for and focus on doing the work instead of getting lost in messy files. If you possess mostly image files, then check out Tiat!
Pricing: Free
Platform: Windows, macOS, and Linux
Website: https://tiat.app/
---
#11 Dropbox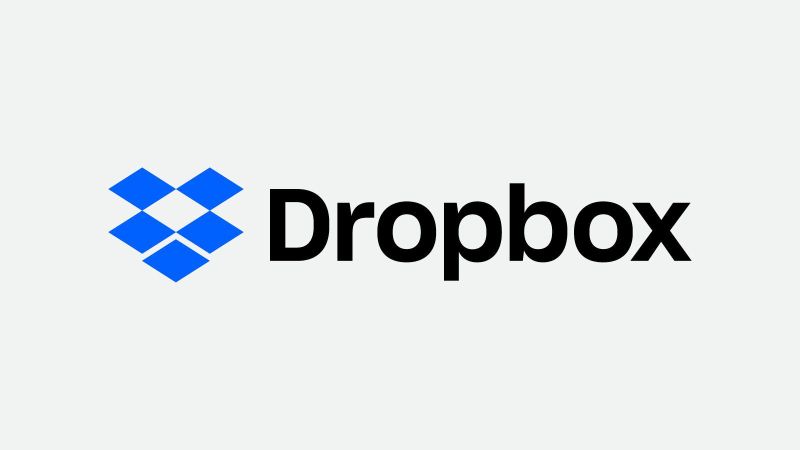 image from Dropbox
Are you looking for a simpler place to organize, store and share your design files with your clients or co-work with your colleagues? Dropbox is an easy solution for your team! How you store your files is an equally important organizational practice, Dropbox is an online storage locker that keeps files, pictures, documents, videos, and more so that you can access them anytime and anywhere!
Pricing:
Basic: Free
Plus: $11.9/ month
Family: $19.99/ month
Platform: Online, Mac Desktop, iOS & Android mobile apps
Website: https://www.dropbox.com/
---
#12 Allusion
Allusion is a recently released open-source Visual Library for reference images, with watched folders, image tagging, and advanced search features. Allusion helps you organize your images and keep them under your control.
Pricing: Free
Platform: Windows, MacOS and Linux.
Website: https://allusion-app.github.io/
---
#13 FastPictureViewer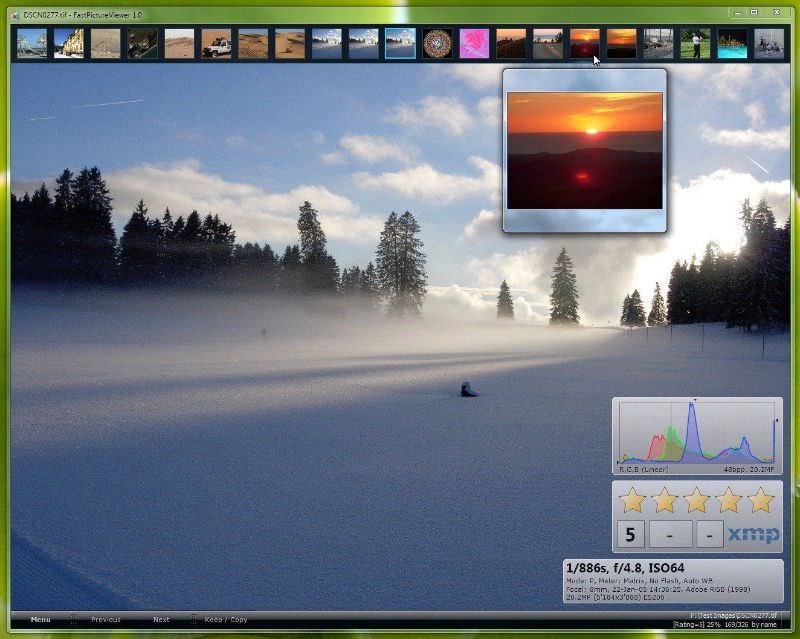 image from FastPictureViewer
FastPictureViewer is designed for photographers, editors, or anyone needing to quickly review, label and rate large amounts (thousands) of digital photos on a regular basis. Saving you time organizing while doing it. It supports rating and copying images on the fly, as you view them either in windowed mode or full screen.
Pricing: Free with limited format available, $49.99 for one device
Platform: Windows
Website: https://www.fastpictureviewer.com/
---
#14 References.Design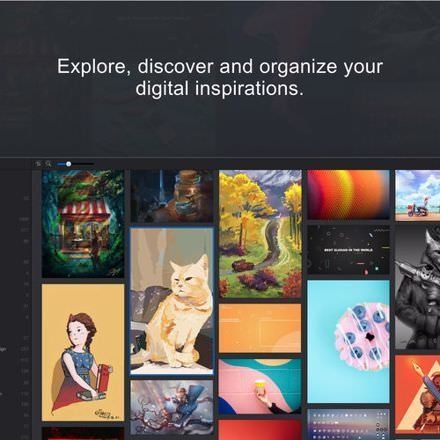 image from References.Design
References.Design helps to get the freshest inspirations from all over the popular design communities, as well as import your personal collections. You can easily manage all your online and offline assets in one place.
Pricing: $18 one time purchase
Platform: Mac
Website: https://references.design/
---
#15 Taglery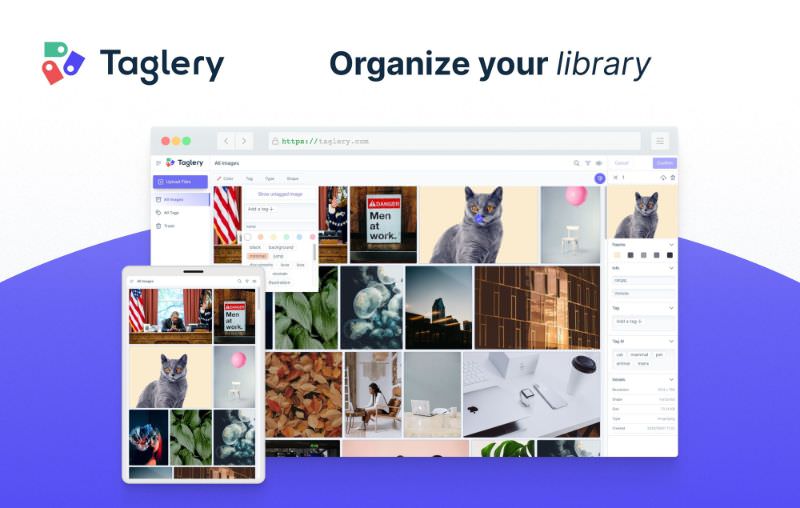 image from Taglery
If you are keen to store images in the cloud maybe you'd like to try Taglery, you can catalog different types of content of different formats, label your files to facilitate subsequent searches, view color palettes and many other image information all in one on the cloud!
Pricing: $18 one time purchase
Platform: Mac
Website: https://taglery.com/
---
Conclusion
All of the above-mentioned tools may help you organize and manage your design asset and image libraries, but they can't do it all for you. You still have to, at the very least, save and organize your design resources yourself. If you still don't know where to start just ask yourself :
What kind of device do you work on the most?
Do you have a budget?
What format and source tool do you usually work with?
I believe with these questions you already have a clear answer on your mind! Try out very software mentioned above to see if the app suits you, eventually you will know what you need!