Best 19 Image Annotation Tools 2023: Free and Paid
Image annotation is the technique of labeling data for model training or machine learning, and thus the image annotation tools are for efficient and precise labeling with different annotation methods, such as bounding boxes, shapes, key points, and more.
For those who need to:
Quickly define the objects in images, pictures, and videos
Track an object or area in images
Create a deep-learning dataset
Here is a guide to help you pick the best image annotation tool!
In this article, we will talk about 19 free and paid image annotation tools and list their key features, advantages, and pricing.
Let's get started!
---
Top 19 Image Annotation Tools Review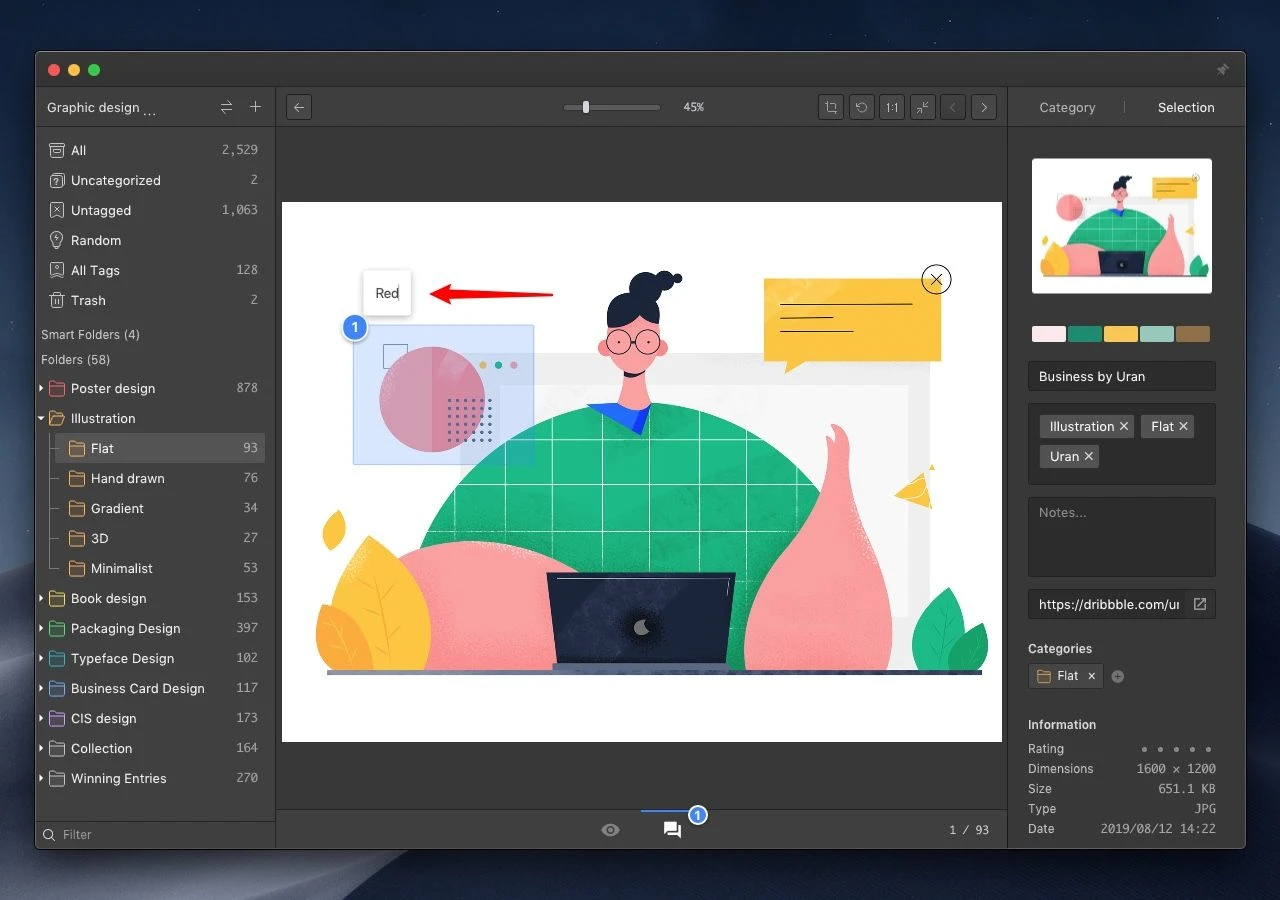 Image from Eagle

Eagle is probably the simplest image annotation tool on this list. It adopts the bounding box technique to help users make labels and leave notes on images and GIFs.
Image annotation isn't the main feature that Eagle emphasizes, but it works basic functioning well and can further organize, search, and browse efficiently. Eagle enables to reduce repetitive daily workload and automate some routines!
If you like to collect reference image on the websites, with their windows version, you are allow to give screenshot annotations such as drawing, highlight, arrow, mosaic to help you easily highlight the important area in your screenshots.
Key features:
Advantages:
User friendly
Beginner-friendly
Integrates and organizes all kinds of files all in one place
Price:
---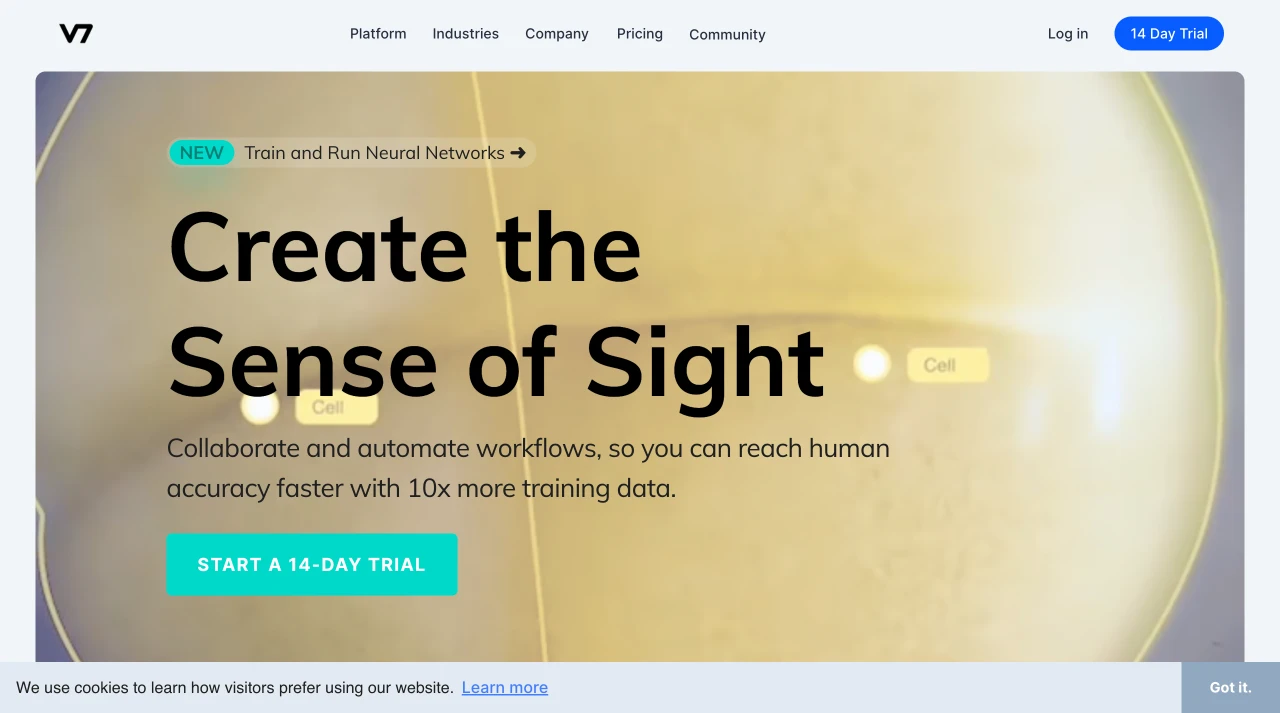 Image from V7

V7 can automate annotation, dataset management, and autoML model training to automatically complete labeling tasks. It supports many kinds of files including images, video, PDF, 3D volumetric data, and more.
Key features:
Automated annotation without prior training needed
Dataset management that stays robust at a large scale
Integrated data labeling services
Real-time collaboration and fluid UX
Frame-perfect video annotation tool
Advantages:
Beginner/ non-technical users friendly
Supports most unique file types (UH resolution, multi-spectral, microscopy formats, PDF)
Price:
Free 14-day trial
Education: $0 forever
Team: $450/month (billed annually)
Business: Automated Pipelines (Detail)
Pro: Production Scale (Detail)
---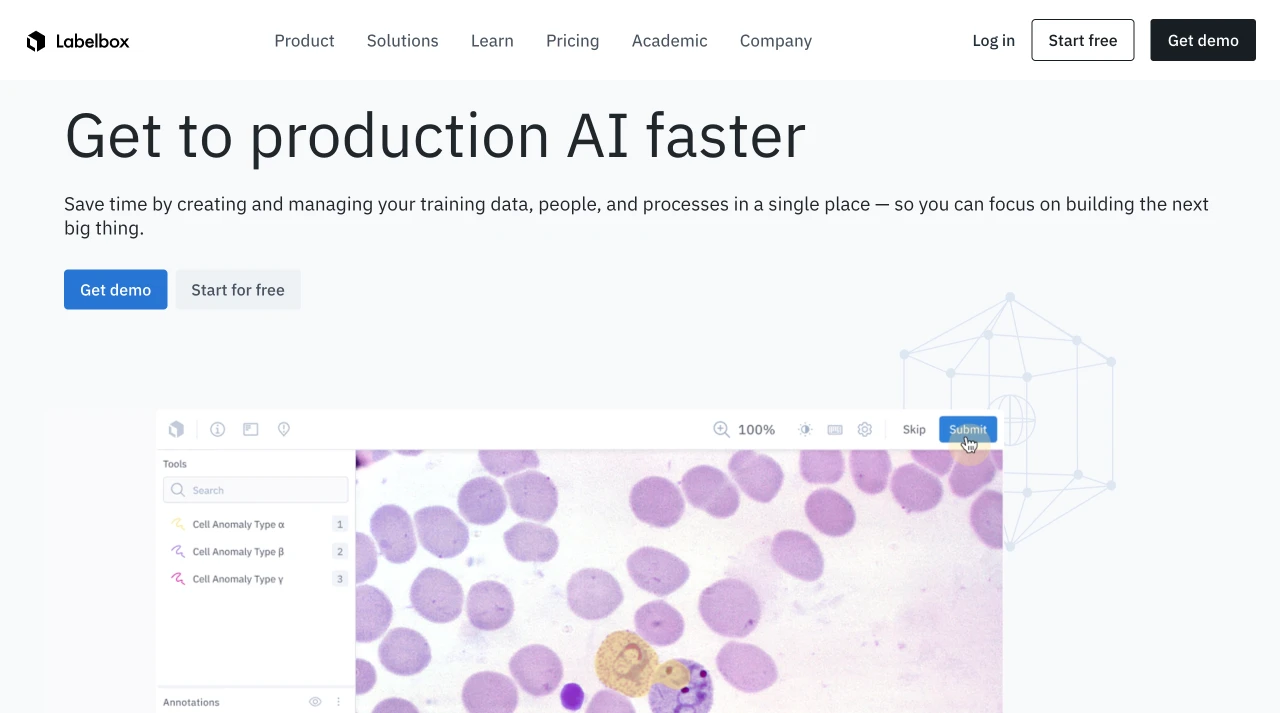 Image from Labelbox

Labelbox is aimed to engineer for precision and speed. It allows you to import any data from many types of files, automate labeling and orchestrate complex workflows. It was founded in 2018 and has quickly gone viral ever since.
It adopts polygons, bounding boxes, lines, and other advanced labeling tools.
Key features:
AI-assisted labeling
Integrated data labeling services
Prioritize the assets need to be labeled
QA/QC capabilities for high-quality training data
Strong labeler performance analytics
Customizable interface to simplify tasks
Advantages:
Superpixel coloring option for semantic segmentation
UX friendly interface
Advanced Performance and quality control monitoring
Price:
Free 10,000 annotations
Custom Pro and Enterprise plans
---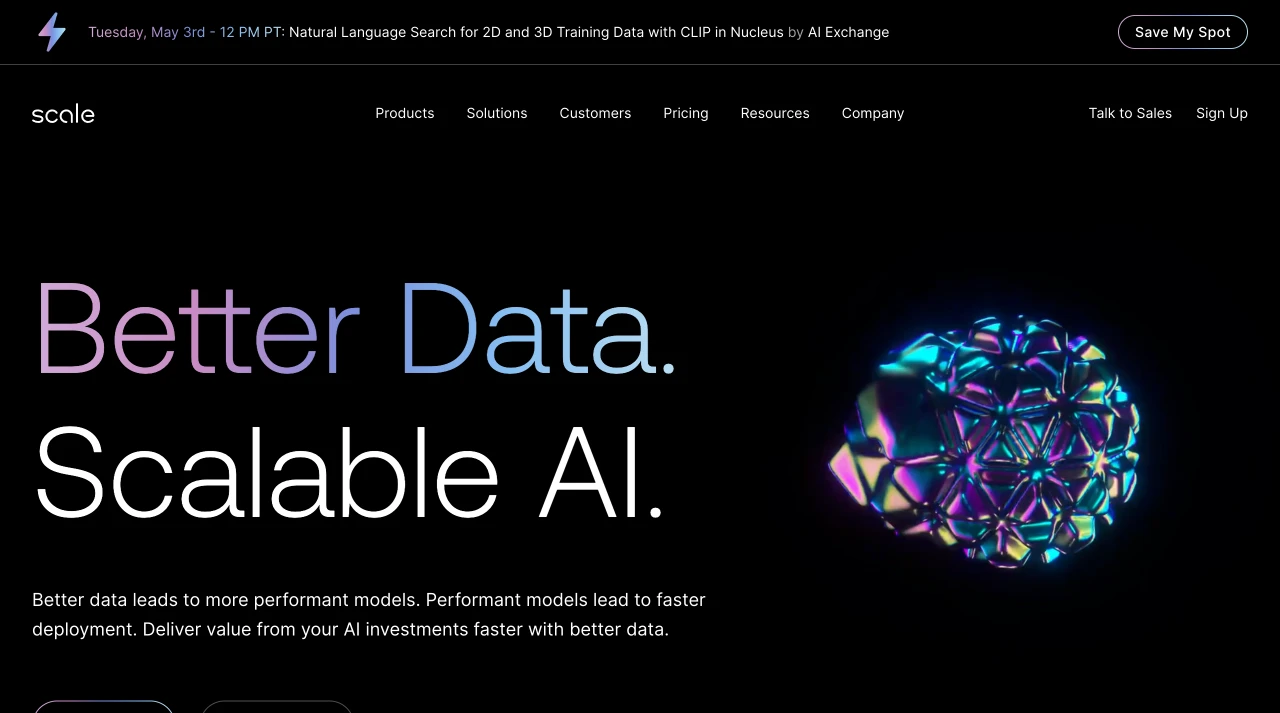 Image from Scale AI

Scale is a data platform that uses high-quality training and validation data for AI applications. It helps to create annotations of the 3D sensor, image, and video data, not to mention the ability to use for object detection, classification, text recognition, and more!
Key Features:
ML-powered pre-labeling
Automated quality pipeline
Dynamically generate a classification task
Model-in-the-loop data curation
Advantages:
Strong for autonomous driving use cases involving LIDAR and mapping
Easy to get started
Price: Custom Rapid and Enterprise plan (Contact them)
---
Image from SuperAnnotate

SuperAnnotate is the world's leading platform for building the highest quality training datasets for computer vision and NLP. It is the end-to-end image, video, and document annotation platform to annotate, train, and automate your AI pipeline and can streamline and automate computer vision workflows.
SuperAnnotate allows you to annotate images, videos, and text with faster data throughput, using the toolkit of boxes, polygons, lines, keypoints, cuboids, and pixel-wise annotations.
Key features:
Advanced tooling and QA, ML, and automation features
Superpixels for semantic segmentation
Various tools to apply
Supports various formats through image conversion
Advantages
Annotate multiple data formats at scale
Price:
Free 14-day trial
Custom Starter, Pro, Enterprise plans (Contact them)
---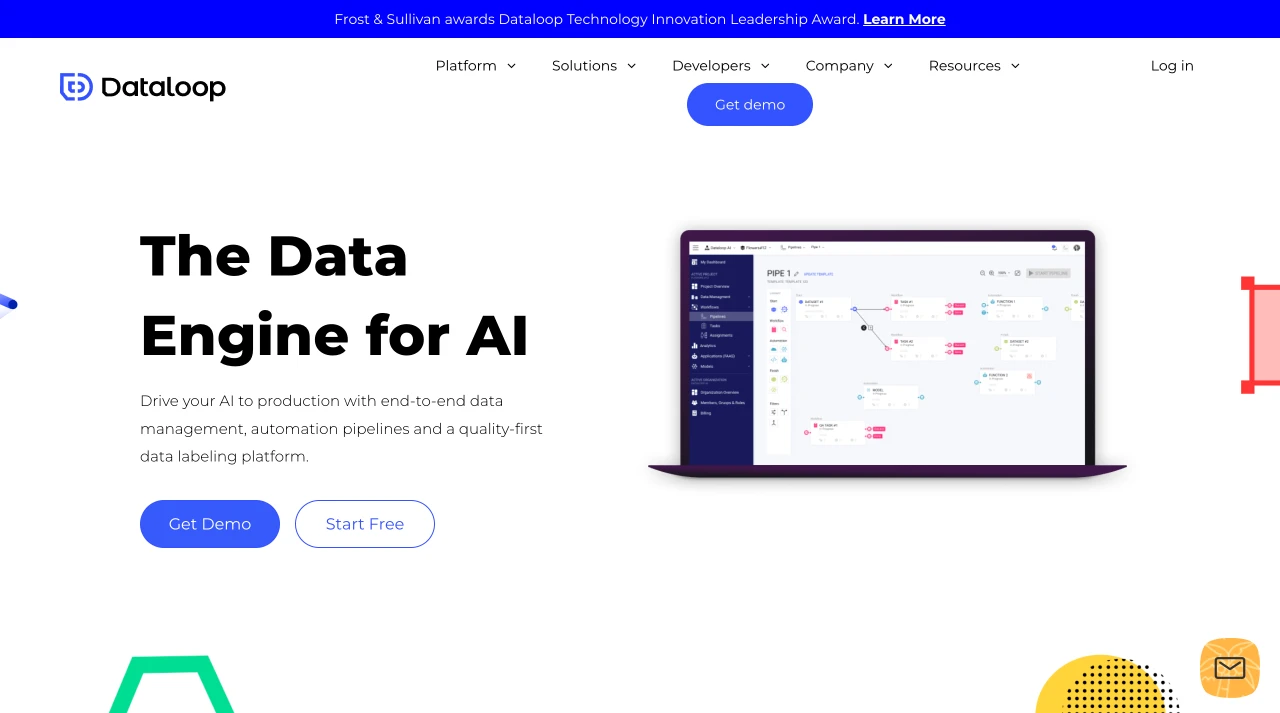 Image from DataLoop

DataLoop is also an AI-driven data management tool with end-to-end data management, automation pipelines, and a quality-first data labeling platform. It covers the entire cycle from data labeling, automating data ops, and deploying production pipelines, to weaving the human-in-the-loop.
All industries are supportable, including retail, drones, media, and content. It offers tools for basic computer vision tasks like detection, classification, key points, and segmentation. Dataloop supports both image and video data.
Key features:
Model-assisted labeling
Multiple data type support
Video support
Visualize, collaborate and explore datasets
Advantages:
Fast and reduce the data processing cost
Everyone can use it with minimum training
Simple dashboard
Price: Contact for detail
---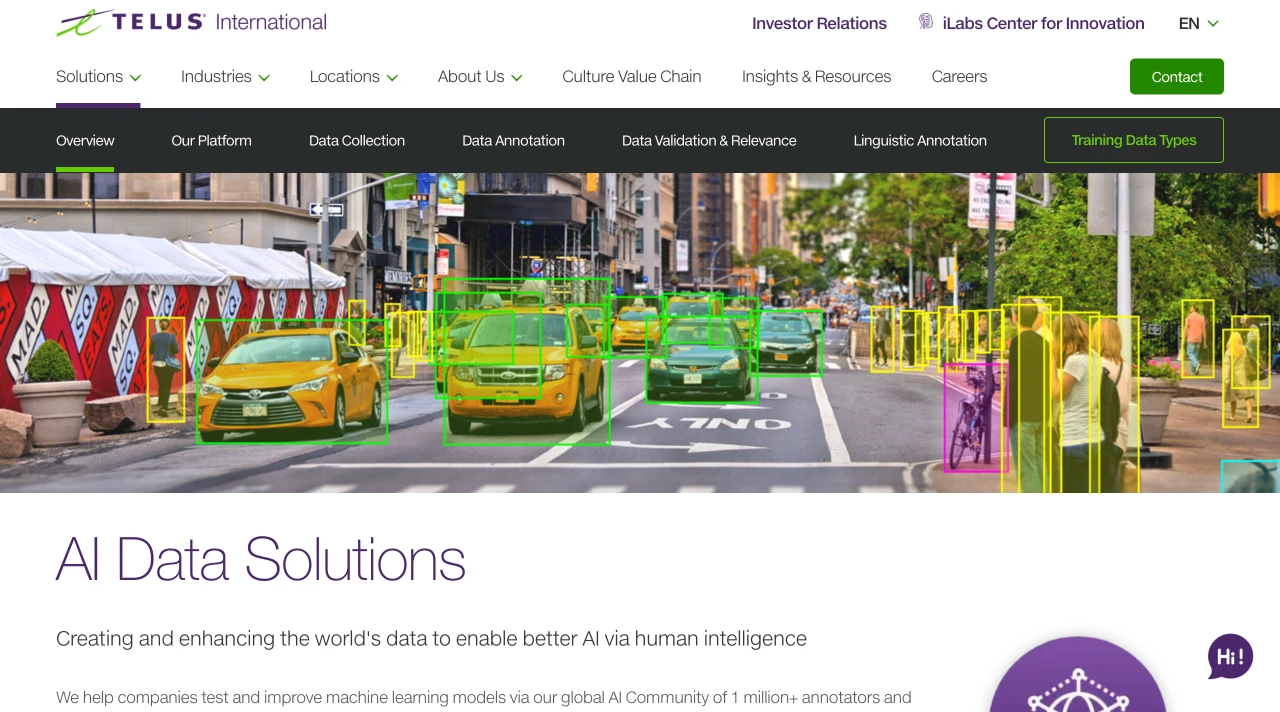 Image from TELUS International

This is a no-code, self-serve data labeling platform that is heuristically designed to help ML teams create diverse, high-quality ground truth datasets at an efficient cost, scale, and speed.
Founded in 2015, it has trained data for computer vision models that support image, video, and a wide range of basic annotation tools.
Features:
Only requires that businesses share data and label guidelines
Allows for attributes extraction
Document management
Advantages:
Fast in operations
High-quality dataset
Product comparison and competitor analysis features
Build-in advanced quality control tools
Price: Contact for detail
---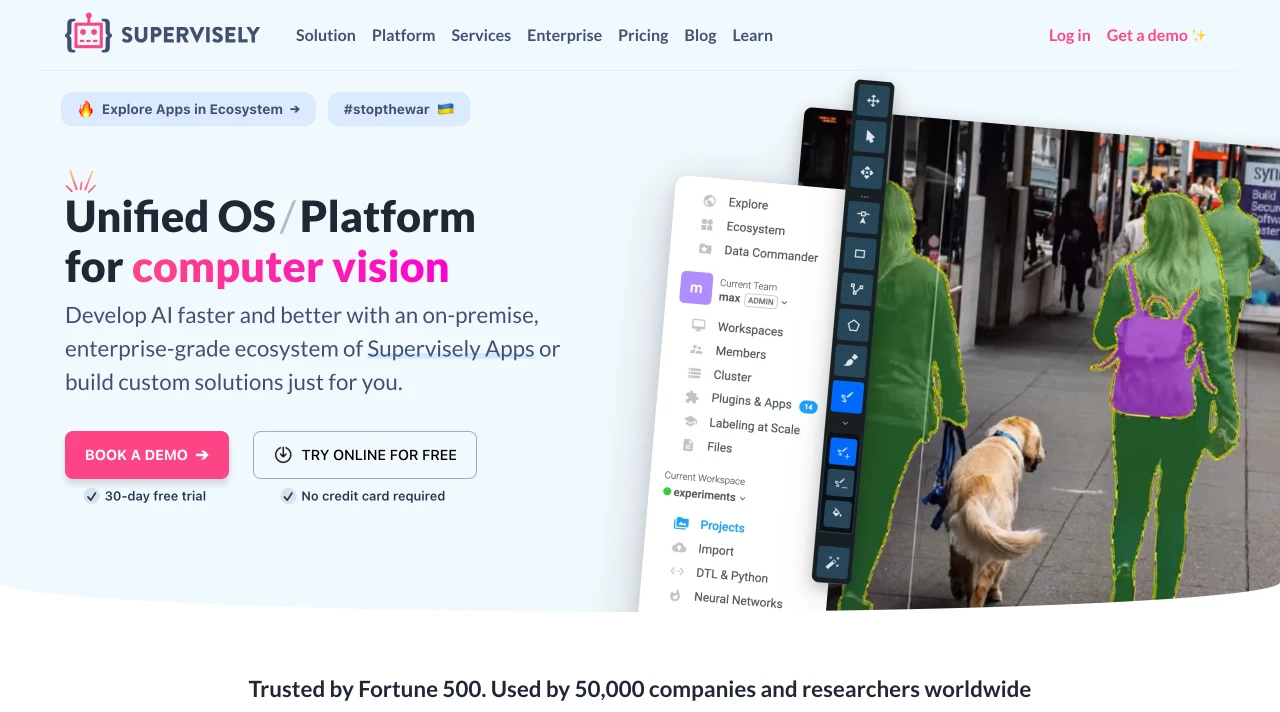 Image from Supervisely

Supervisely Enterprise is fully self-hosted and cloud friendly. It is web-based. It provides API, SDK, and backend source codes. It is highly customizable and can be integrated into any technology stack.
Apart from basic annotation tools such as boxes, lines, dots, polygons, or bitmap brush, Supervisely offers a Data Transformation Language tool and enables 3D Point Cloud.
Key Features:
Advanced labeling tools
AI-assisted labeling
Multi-format data annotation & management
Option do develop and import plugins for custom data formats
3D Point Cloud
Advantages:
Uploading and annotating is a breeze
Option to draw holes within the polygons
Data Transformation Language tools
Price:
Free 1000 images in Community Plan
On-premise Enterprise Plan: 30-days free trial
---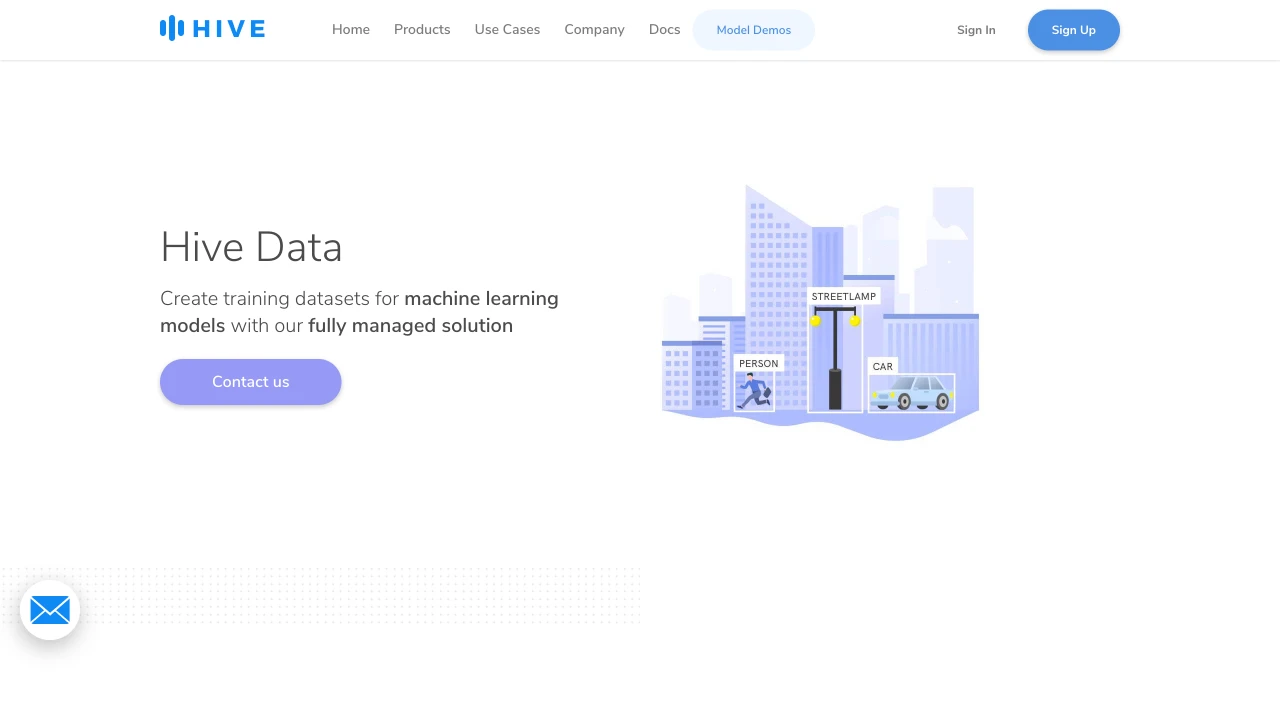 Image from Hive Data

Hive Data was founded in 2013. It is a fully managed data annotation solution to source and labels training data for AI/ ML Models. Hive is focused on powering innovators across industries with practical AI solutions and data labeling, grounded in the world's highest quality visual and audio metadata.
It supports image, video, text, 3D Point Cloud annotation, and multiple datasets. Apart from basic annotation types, Hive Data offers multi-frame object tracking, contours, and 3D panoptic segmentation.
Key features:
Multiple data type support
Available data sourcing
Advantages:
Offers pre-trained models
Advanced project management workflows
Support of different types of queries, compatible with hdfs and hql
Price: Contact for detail
---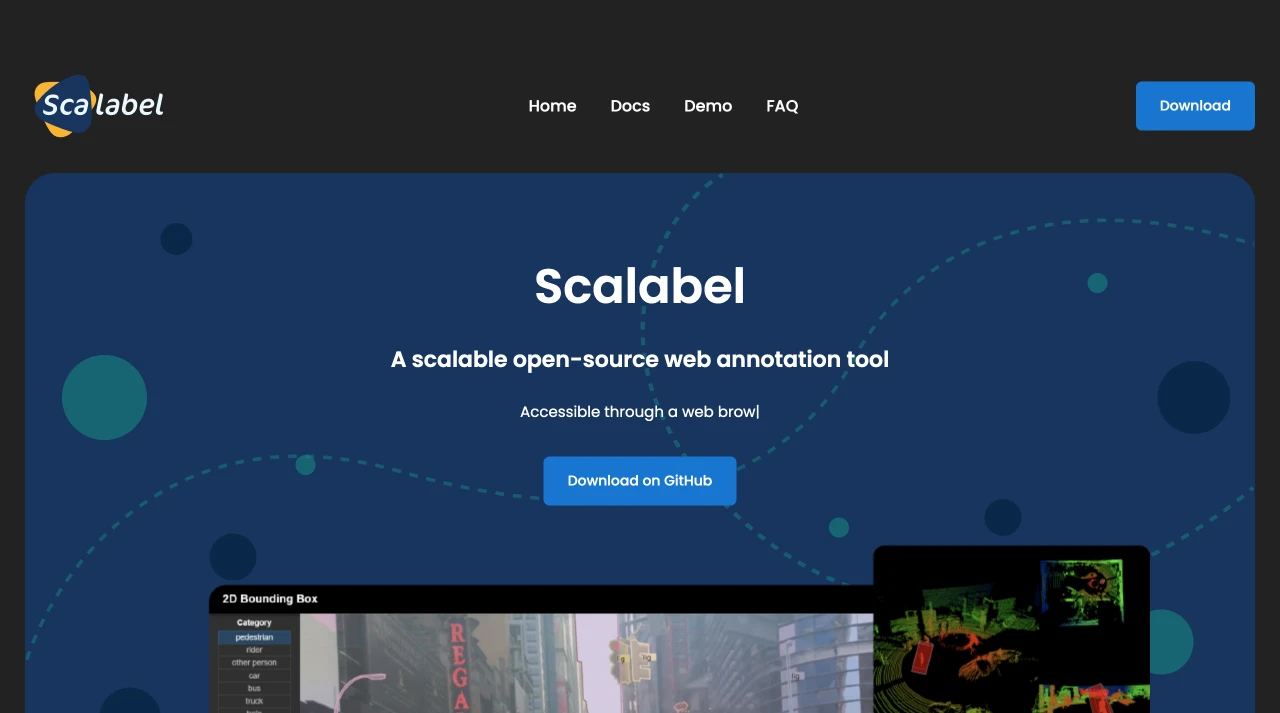 Image from Scalabel.ai

Scalabel is an open-source web annotation tool that supports 2D image bounding boxes, semantic segmentation, drivable area, lane marking, 3D point cloud bounding boxes, video tracking techniques…and more! It was praised to be the best and most effortless annotation tool.
Key features:
Innovative features and a user-friendly interface
Object tracking and interpolation algorithms
Advantages:
Project management
Works in the drivable area
Stable
Price: Free

---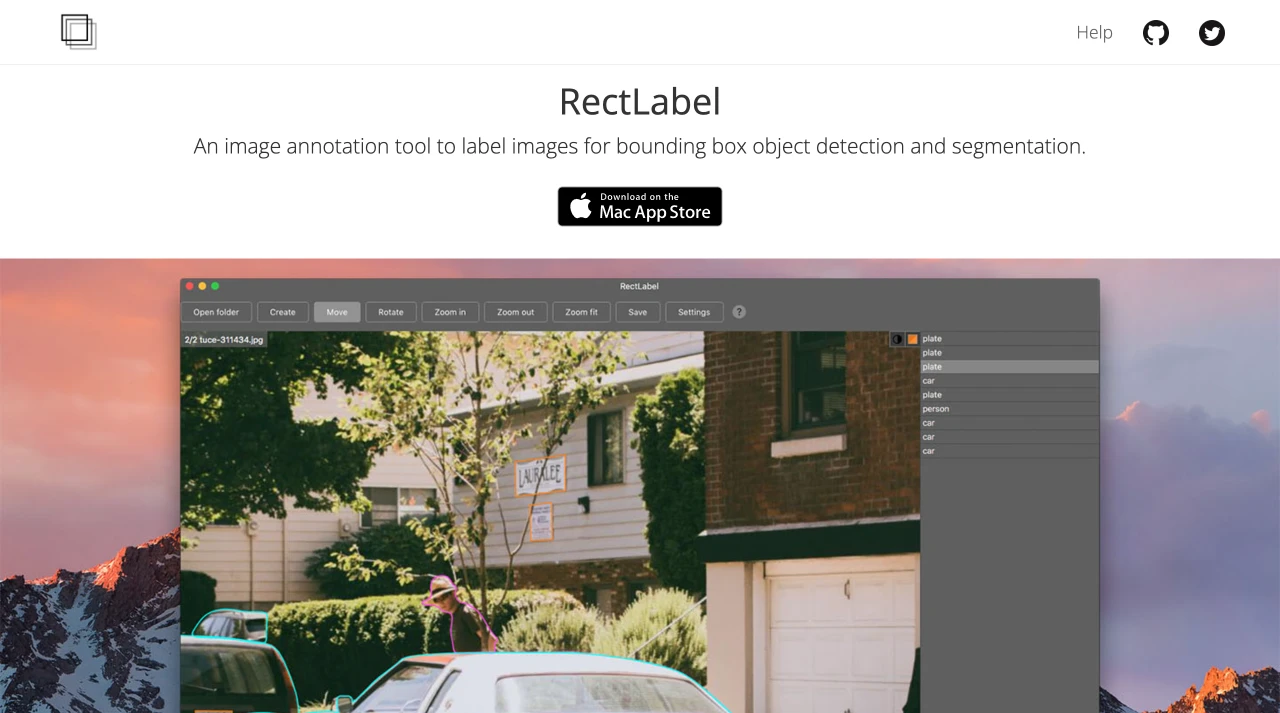 Image from RectLabel

RectLabel is an image annotation tool to label images for bounding box object detection and segmentation. You can edit points to fit the shape, draw key points with a skeleton and even label pixels with the brush tool, making the process of image annotation neat.
Key features:
Draw bounding box, polygon, cubic-bezier, line, and point
Automatically label images using Core ML models
Read and write in PASCAL VOC XML format
Augment images, resize images, video to frames, etc.
Advantages:
Can output in COCO format (Json file)
Overlay depth maps to images
Price: Free

---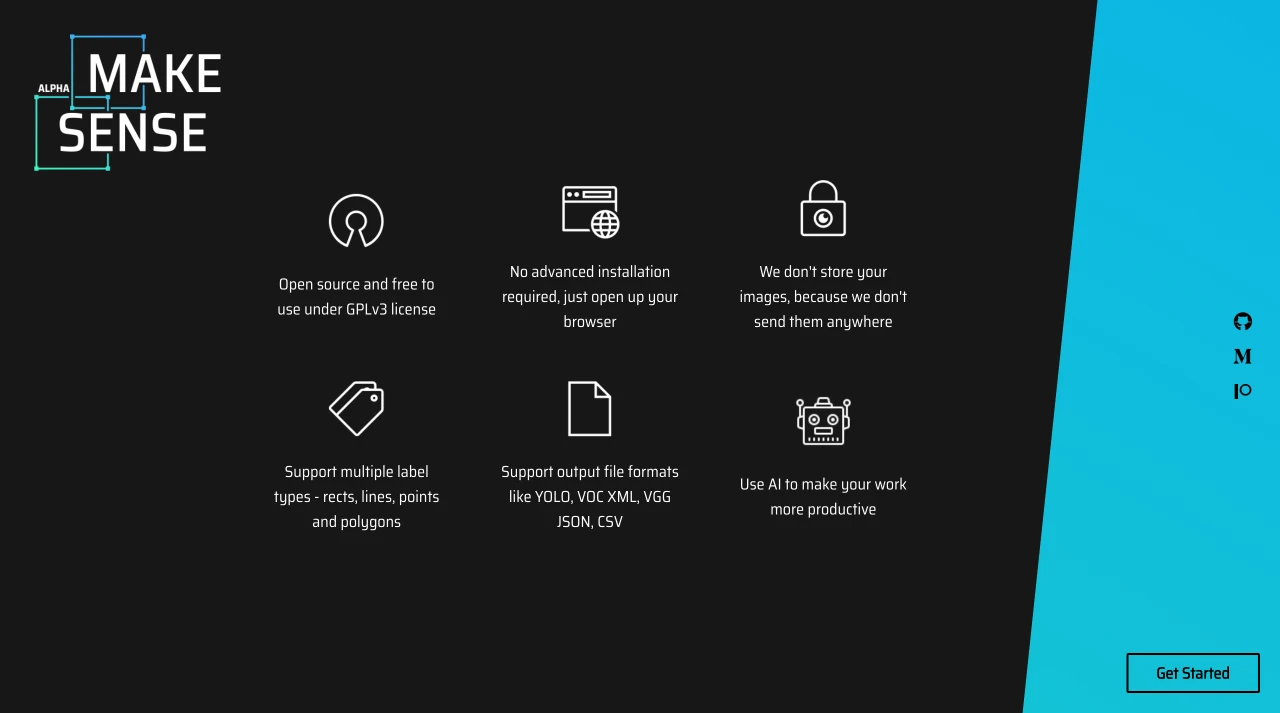 Image from MakeSense.AI

MakeSense is a free, open-source online web tool. You will need to load all your images to the web portal to annotate them. It adopts the COCO SSD object detection model and POSE-NET pose estimation for annotations. No installation is required.
A few downsides, it doesn't provide a way to save your annotation projects in between, that said, if you reload your web browser, the annotation progress will be gone. Second, it doesn't work as a team collaboration tool. And you can't upload the images in a ZIP format.
Key features:
COCO SSD object detection model for bounding box
POSE-NET pose estimation technique
Advantages:
Open-source and free
Quick operations
Price: Free

---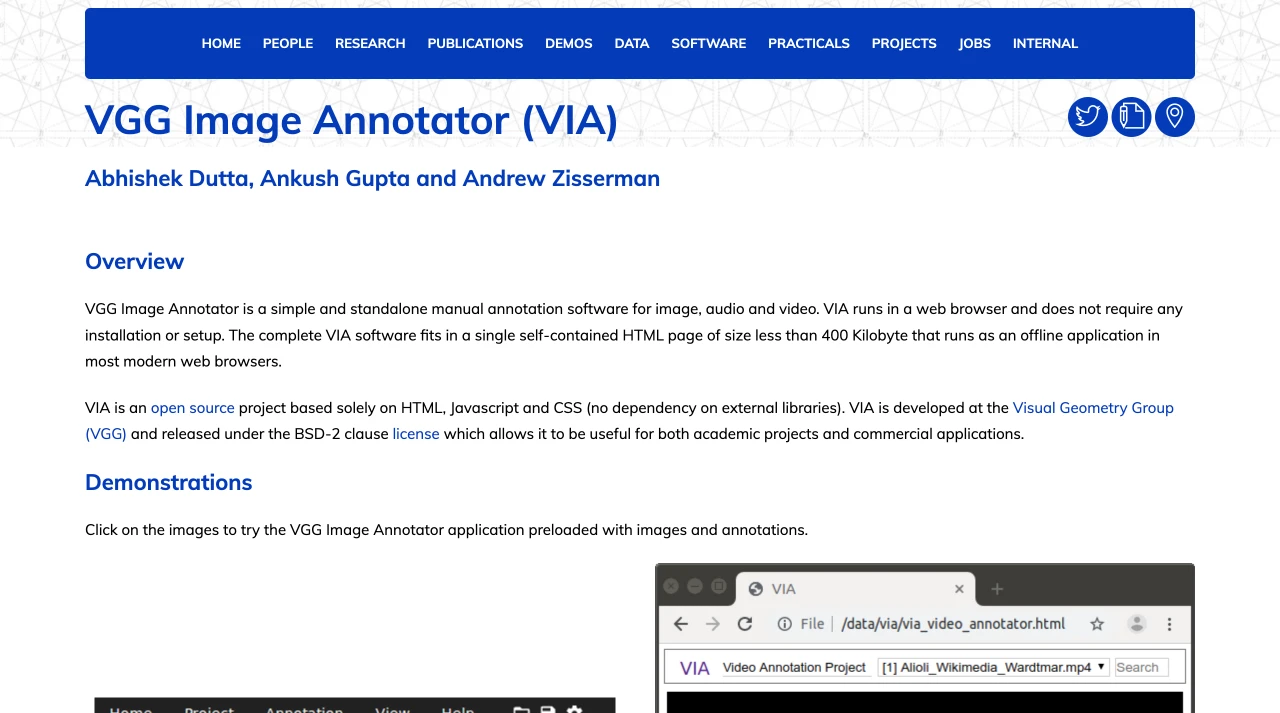 Image from VGG image annotator

VGG Image Annotator (VIA) is an open-source and free image annotation tool that can also be used offline. It is super beginner-friendly according to their supportive tutorials which include the steps of how to import model annotations and change the file attributes.
Key features:
Multiple annotating tools
Accepts video annotating
Advantages:
Export in COCO format
Can run at scale
Suitable for team cooperation
Price: Free

---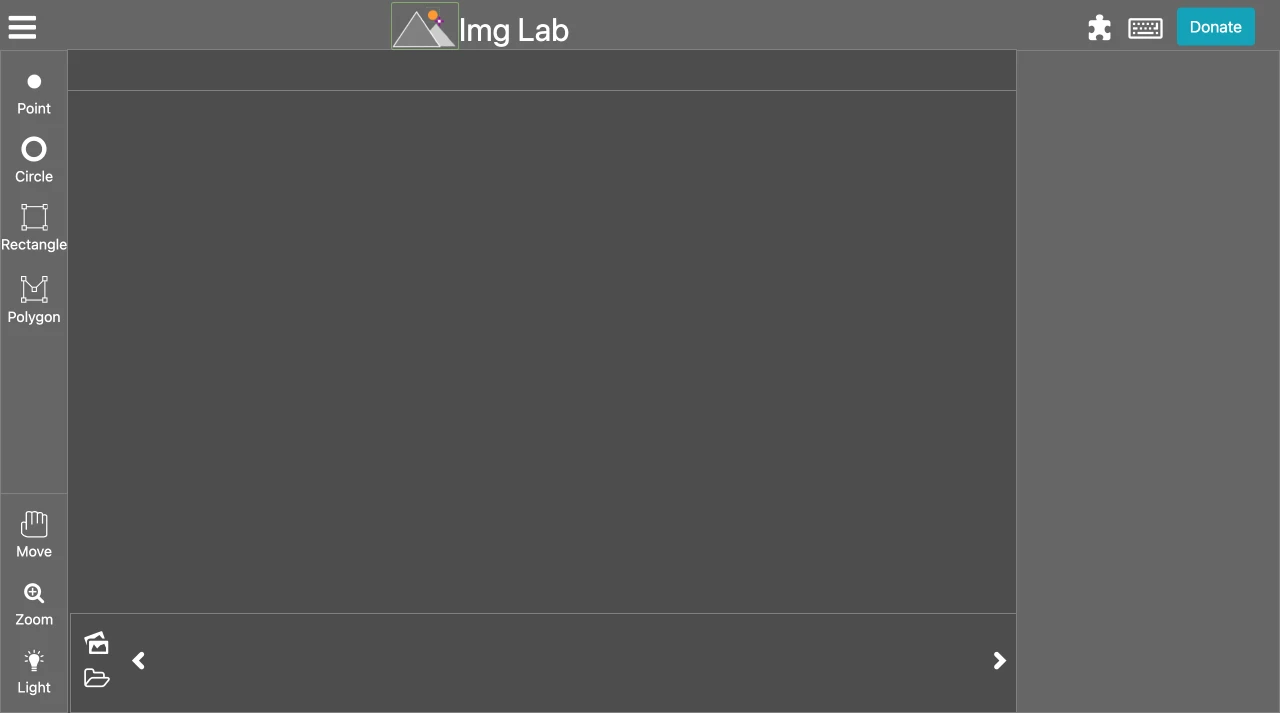 Image from imglab

Imglab is a web-based tool to label images for objects that can be used to train dlib or other object detectors. You can install it locally but not necessary; you can use it online and no login is required.
Besides the basic annotation functioning, it is also available to work with plugins, speeding up the process and making the auto-annotation come true.
Key features:
Multiple label tools
Supports various datasets (dlib, XML, Pascel VOC, etc.)
Advantages:
No installation required
Privacy and security assured
Price: Free

---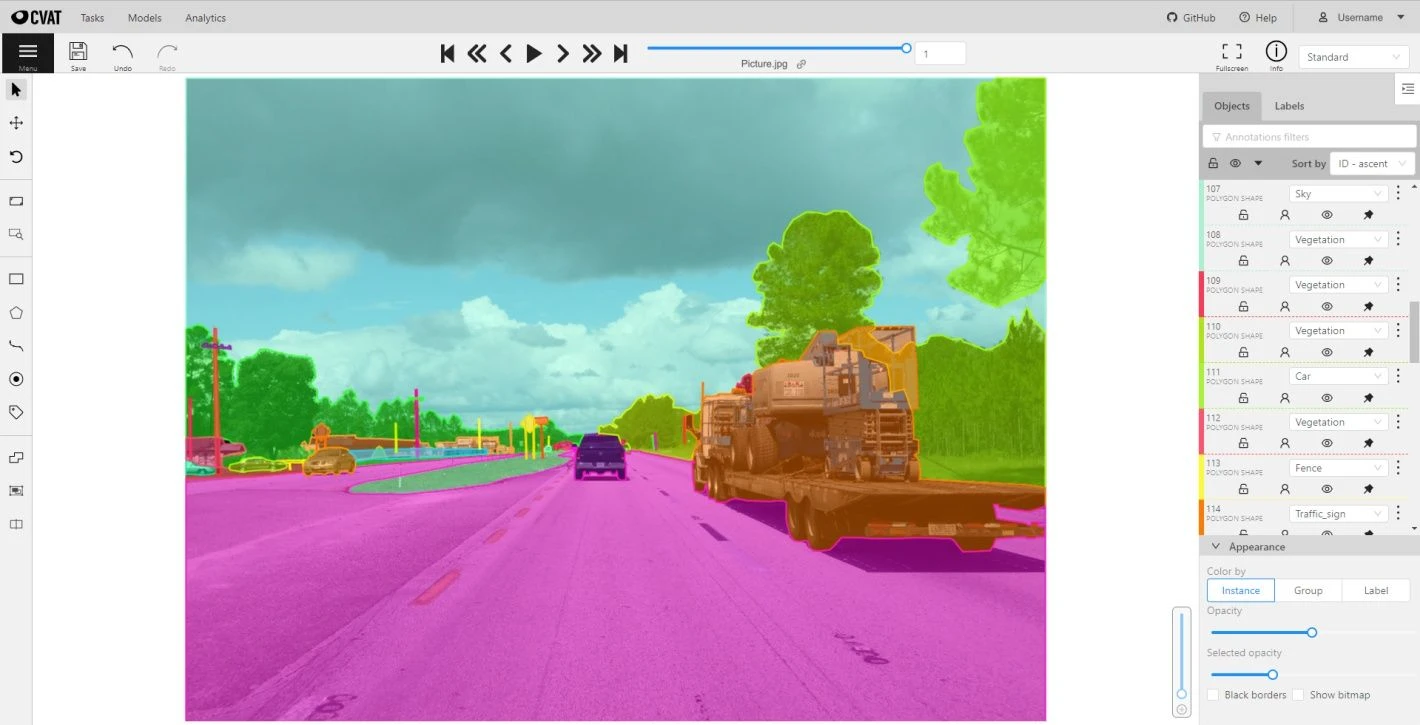 Image from CVAT

Computer Vision Annotation Tool (CVAT) is a free, open-source, web-based image and video annotation tool that is used for labeling data for computer vision. It was developed and maintained by Intel.
CVAT has a simple and clean UI and it supports the basics, including boxes, polygons, polylines and point annotations.
Key features:
Object detection, image classification, and image segmentation
Semi-automatic annotation
Interpolation of shapes between keyframes
Dashboard with a list of annotation projects and tasks
Advantages:
Useful for team
Semi-automatic annotation
Export in COCO format
Price: Free

---
16. labelimg
Image from labelimg

LabelImg is a graphical image annotation tool that labels object bounding boxes in images. It supports the bounding boxes and is extremely easy to install based on the pre-built binaries for Windows.
LabelImg may not be the best free image annotation tool on the list, somewhat like Eagle which is explained later, but it's simple, quick, and beginner-friendly, you don't have to worry too much even if you don't get along well with image annotation.
Key features:
Annotations are saved as XML files in PASCAL VOC
On-premise tool
Only image annotation
Advantages:
Price: Free

---
17. labelme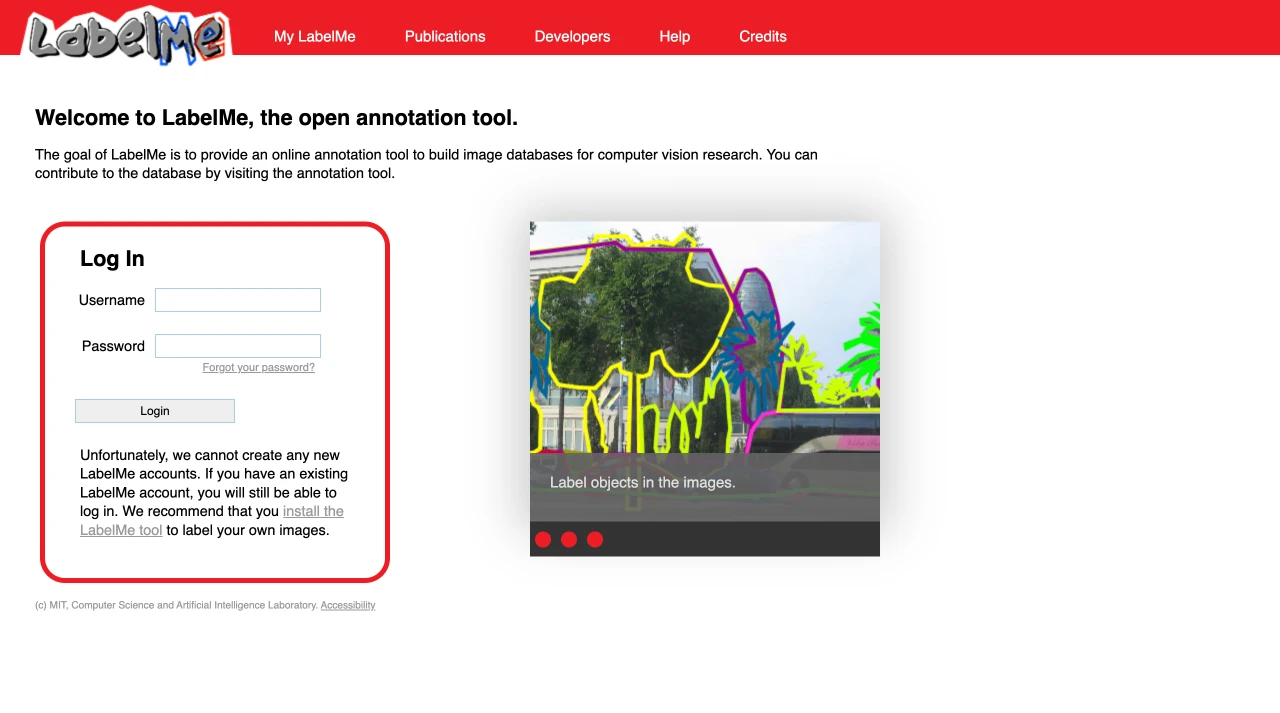 Image from labelme

LabelMe, developed using Qt, is an industry classic, free, open-source, free image annotation tool. It is written in Python so you need to install Python as well, perhaps a big downside for those who are not familiar with coding and starters.
It supports polygon, rectangle, circle, line and point annotation tools, but can only save files in JSON format. What's good about LabelMe is that you can create a "File List", which works like a task list, so that you don't lose track of the process of your annotations.
Key features:
File List (Task list)
Multiple annotation tools
Control points modification
Advantages:
Open to external contributions
Price: Free

---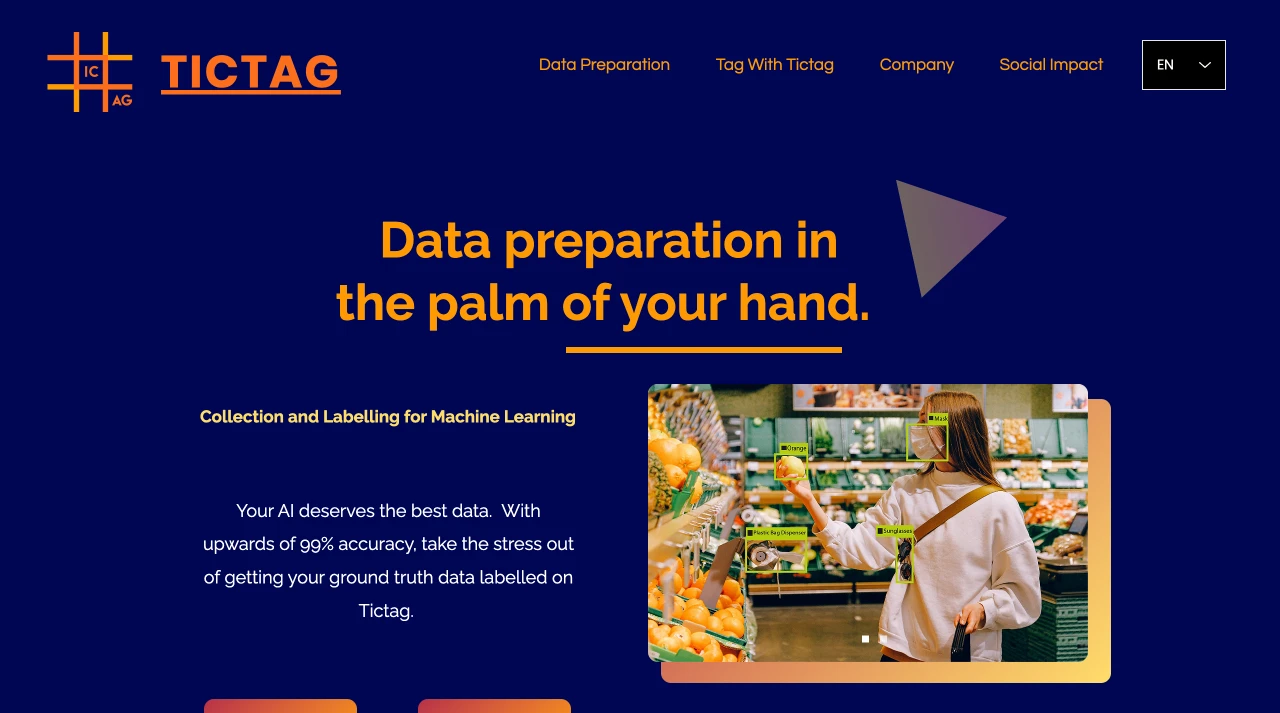 Image from Tictag.io

Founded in Singapore, Tictag is developed to make data annotation easy and fun. That said, it is definitely nice for beginners with its gamified process. You can even do annotations to earn rewards!
Key features:
Advantages:
Supports mobile version
Collects accurate data for machine learning
Price: Free

---
19. VoTT (Visual Object Tagging Tool)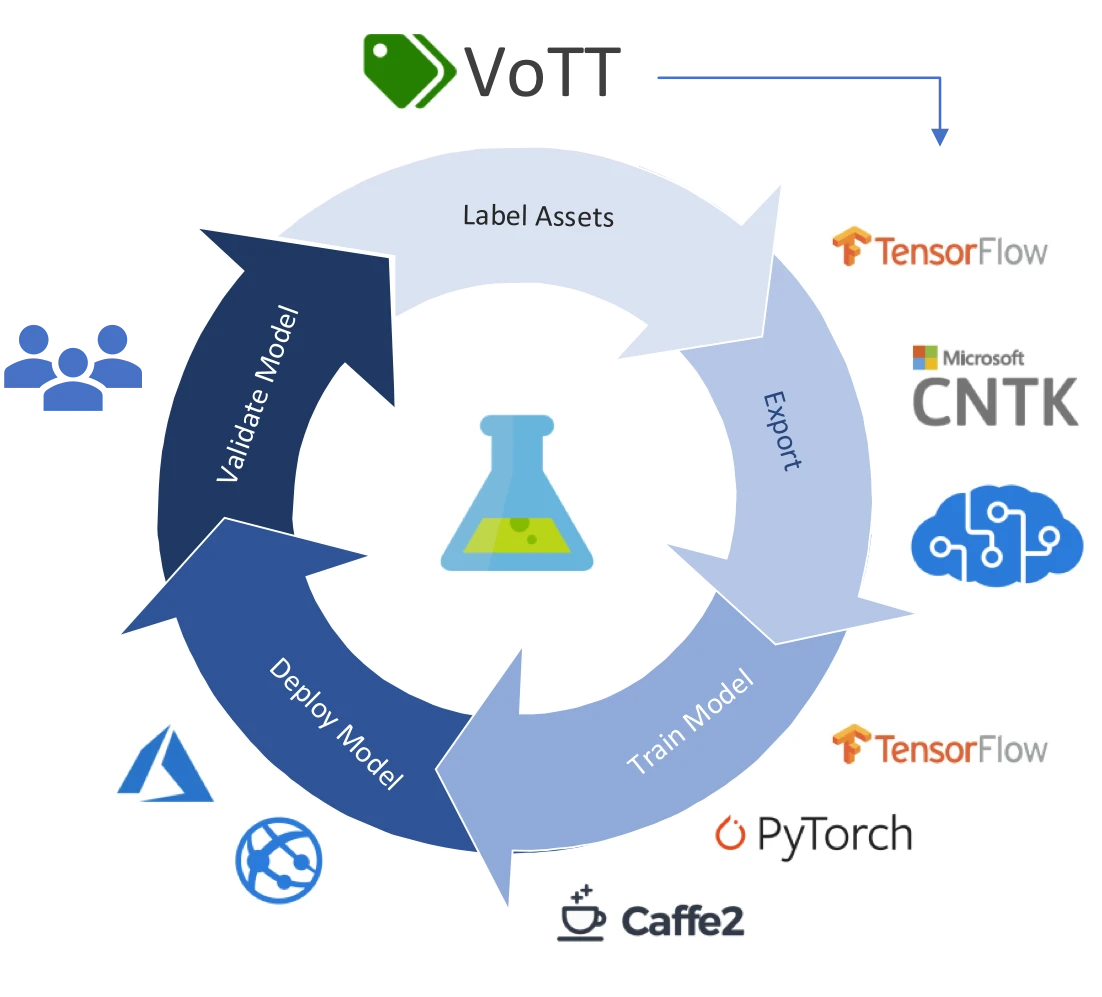 Image from VoTT

VoTT is no longer being maintained!
VoTT (Visual Object Tagging Tool) is a free and open-source image annotation and labeling tool developed by Microsoft. It has several interesting features and supports many exporting formats, but unfortunately, it is no longer being maintained, such a pity.
VoTT also supports many formats for exporting such as Azure Custom Vision Service, CSV, CNTK, Pascal VOC, Tensorflow Records, and VoTT Json.
VoTT offers active learning which is interesting but I never had a chance to use it. You could choose between Predict Tag and Auto Detect in the active learning feature. Besides image annotation, the tool could also be used for video annotation.
VoTT provides end-to-end support for generating datasets and validating object detection models from video and image assets.
Key features:
Active learning feature
Importing/exporting data from local and cloud storage providers
Enables running and validating a trained CNTK object detection model on new videos to generate stronger models
Advantages:
End-to-end support
Can export in Azure Custom Vision Service, CSV, CNTK, Pascal VOC, Tensorflow Records, and VoTT Json formats
Price: Free

---
Need other methods to organize images? Check out Eagle!
After viewing all these useful image annotation tools, here's a practical step to improve your file organization by using a management tool!
Eagle is a desktop productivity tool that enables a powerful organizing system for all types of design files. It can add tags, auto-tagging, ratings, and use smart folders to help you quickly find a specific image or folders among thousands without getting lost, Try Eagle!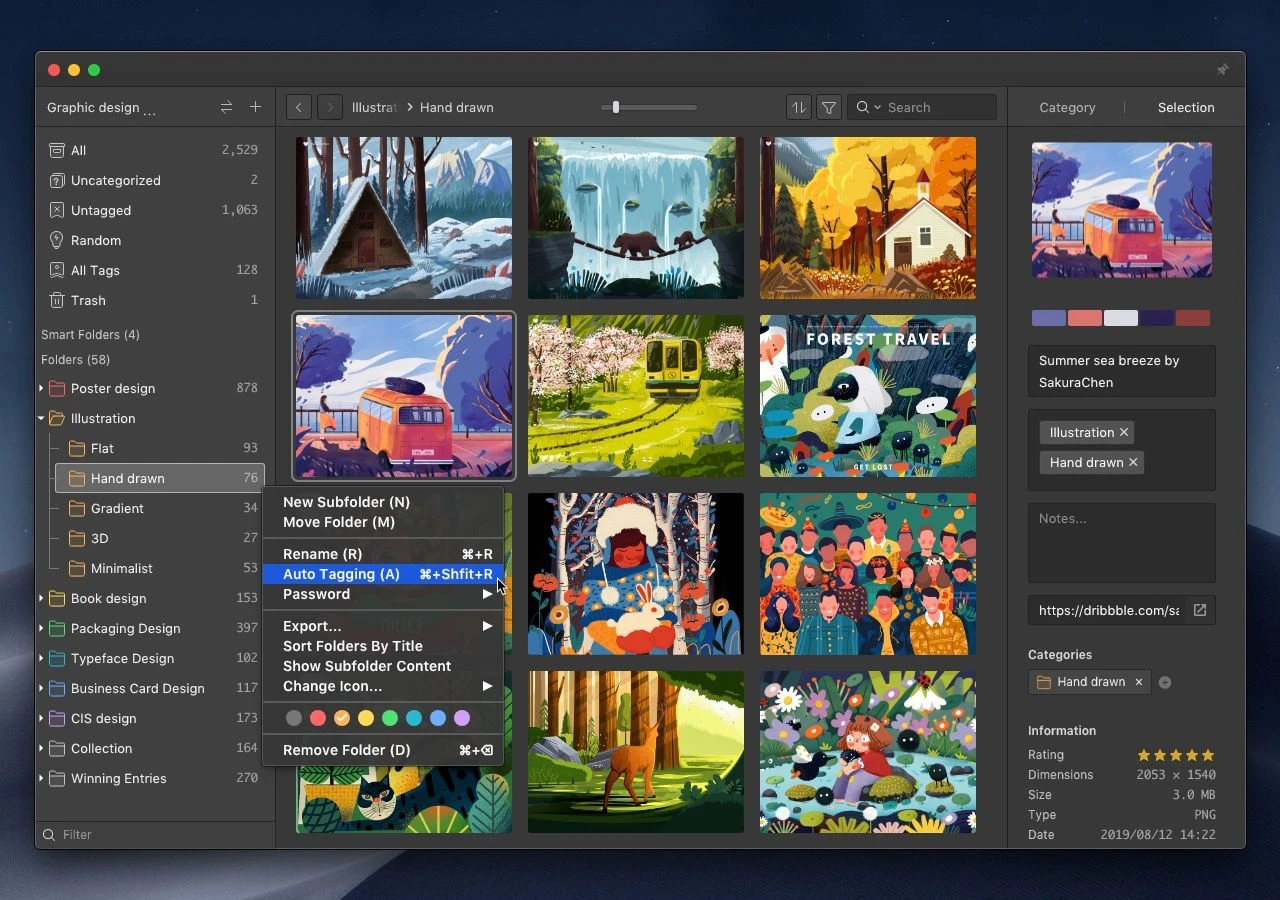 Lastly, if you are eager to learn more design information and resources, visit and bookmark Eagle blog to become a better creative professional!
If you are still lacking inspiration and incentives to create something new, feel free to dive into Eagle Community to explore stunning assets shared by thousands of designers worldwide. Let Eagle be your best design assistant!