Best 20 Must-Read Productivity Books to Work more Efficiently
Being more productive is not just about getting more work done, you also need to figure out why you're doing, and whether it's necessary.
If you want to effectively learn how to boost work efficiency, books are also one of the most common ways for you to achieve that!
So we curated a list of 20 best and most acknowledged productivity books that will streamline your workflow, shift your mindset, and even kick your bad habits, all of which can help you brush up on your productivity skills!
---
Want to Enhance your Productivity? Eagle Will Give You a Hand!
Whether you are a designer, photographer, marketer, video editor, Eagle is your best assistant!
Eagle is powerful digital asset management software that can help you manage all the images, videos, documents, fonts, and even sound effects in one go. You can add tags, notes, and ratings to each file to easily categorize it while using its amazing search filter to find the specific ones in seconds.
What's more, quickly capturing web page images with Eagle's Extension is also one of my favorite features, which can save me many trivial steps to improve my productivity!
Read More: >> Best 25 Productivity Tools & Tips for Designers in 2022
---
Best 20 Books to Boost Your Productivity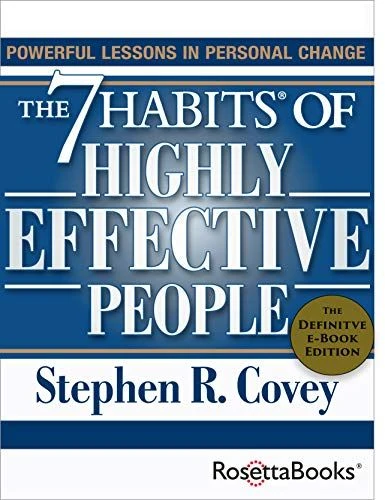 Image from The 7 Habits of Highly Effective People

🗣 "Peace of mind comes when your life is in harmony with true principles and values and in no other way." — Stephen Covey
As one of the most inspiring and impactful books, it has sold more than 40 million copies in 40 languages worldwide, transforming the lives of tons of people of all ages and occupations, including Presidents, CEOs, and even college students. These 7 habits advocated by Stephen Covey will help you develop from the efficiency of personal work habits to the thinking foundation of teamwork.
For Those who want to change your lifestyle to make yourself more productive.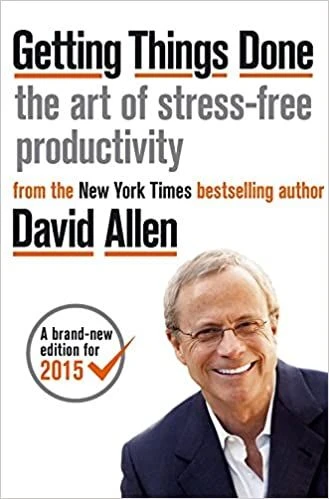 Image from Getting Things Done: The Art of Stress-Free Productivity
🗣 "Distractions are inevitable, and the question is not how to eliminate them but how to handle them more effectively."— David Allen
If you want to improve your productivity, "Getting Things Done" is a must-read for you!
This has been changing the way many people view productivity for over 20 years. So far, It has sold 2,000,000+ copies in 38 languages all over the world. David Allen provides a practical approach, known as the GTD principle, to keep you from getting distracted. Let's learn how to apply the principles of GTD to our lives with this book!
For Those who want to overcome feelings of confusion, anxiety, and overwhelm at work.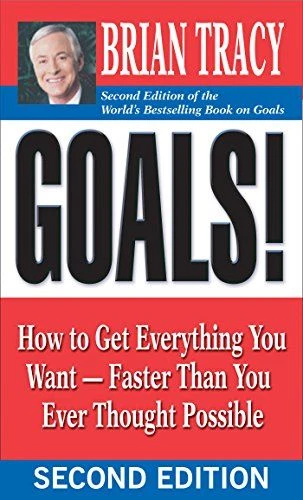 Image from Goals!: How to Get Everything You Want
🗣 "A goal, however, is something distinctly different from a wish. It is clear, written, and specific. It can be quickly and easily described to another person. You can measure it, and you know when you have achieved it or not."— Brian Tracy
Do you have unfulfilled dreams?
Do you find yourself never keeping up with those successful people?
This book brings you a simple, powerful, and highly effective goal-achieving system that has been used by more than millions of people to achieve extraordinary things. If you follow the 12 steps made by Brian to implement, set, and achieve your goals, you will be more positive and productive, which allows you to get more things done in less time!
For Those who want to make strides towards their goals.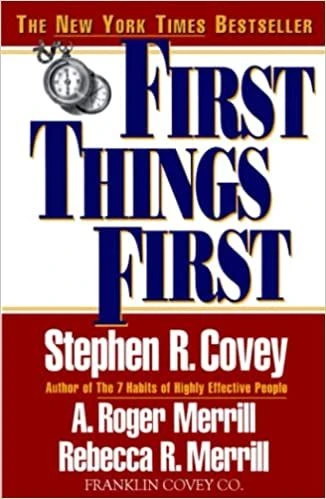 Image from First Things First

🗣 "What we believe about ourselves and our purpose has a powerful impact on how we live, how we love, and what we learn." — Stephen Covey
In First Things First, Stephen Covey, A. Roger Merrill, and Rebecca R. Merrill advocate categorizing tasks by urgency and importance so that you can focus on what actually needs to be done in the limited amount of time that you have.
Using personal examples and insight from years of business experience, he argues for a new way of looking at your "to-do" list. Rather than offering you another clock, First Things First provides you with a compass, because where you're headed is more important than how fast you're going.
For Those who make lists of what they need to do, but don't know what they want to achieve.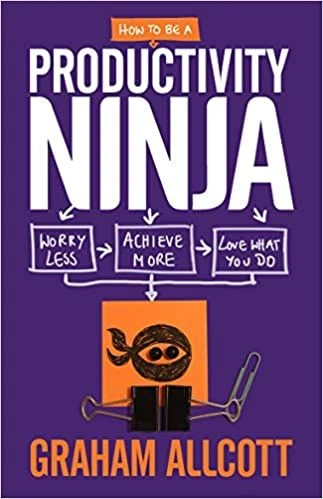 Image from How to be a Productivity Ninja: Worry Less, Achieve More and Love What You Do
🗣 "How well you protect and use your attention determines your success." — Graham Allcott
Written by one of the UK's leading productivity experts, this book aims to make the most of your attention, beat procrastination, and learn to work smarter, not harder. By reading it, you'll gain strategies for guarding your time as well as insights into how to stay calm and work with a clear mind.
For Those who are looking for a fun, accessible guide to productivity.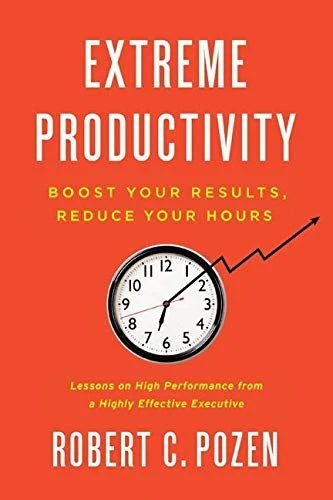 Image from Extreme Productivity:Boost Your Results, Reduce Your Hours
🗣 "My approach to creating an outline is completely systematic: first I brainstorm, next I categorize, and then I outline the final product." — Robert C. Pozen
Robert C. Pozen, one of the business world's most successful and productive executives, reveals the surprising secrets to workplace productivity and high performance.
From this book, you'll learn how to make the best of time. One of the key principles of this book is the idea that you have to make a critical shift in your mindset from hours worked to results produced if you want to be fully efficient and effective.
For Those who want to learn how to prioritize their time to achieve high-impact results.
---
Try prioritizing tasks with Eagle's Rating!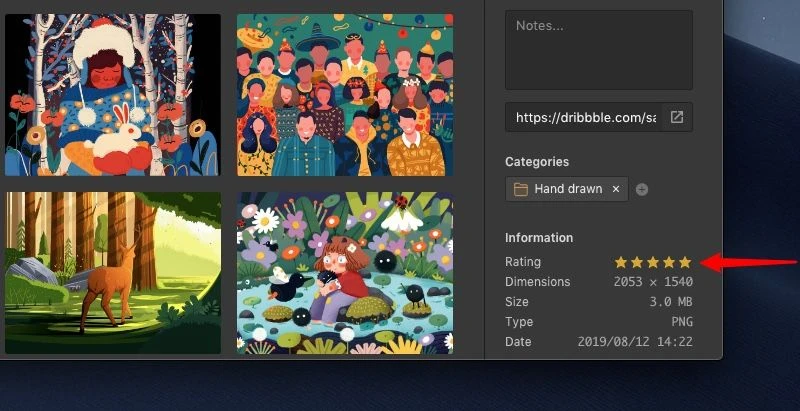 Image from Eagle - Star Ratings

---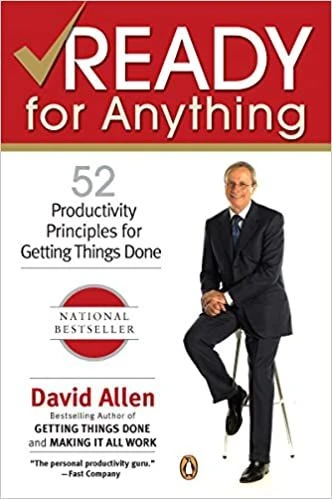 Image from Ready for Anything: 52 Productivity Principles for Getting Things Done
🗣 "When we truly need to do is often what we most feel like avoiding." — David Allen
Allen, known as the author of Getting Things Done, offers 52 breakthrough ways to enhance efficiency based on his own experience. With wit, inspiration, and know-how, he will show you how to make things happen—with less effort and stress, and with lots more energy, creativity, and effectiveness.
For Those who want to work and live at his or her very best.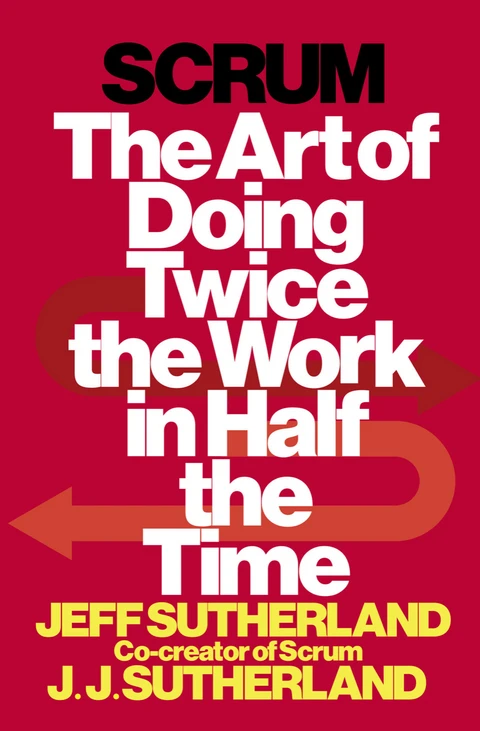 Image from Scrum: The Art of Doing Twice the Work in Half the Time
🗣 "Multitasking makes you stupid. Doing more than one thing at a time makes you slower and worse at both tasks. Don't do it. If you think this doesn't apply to you, you're wrong—it does." — Jeff Sutherland
Scrum, the brand-new way to work, launched by Jeff, completely reverses the way projects work and improves the efficiency and performance of the team. Since its release, it has been widely adopted by the technology industry to develop new software and products, creating many innovations and changes.
In addition to technology research and development, Scrum can also be applied to any project and team-oriented organizational work style.
For Those who want to try a new way to efficiently achieve their goals.
Image from Zen to Done: The Ultimate Simple Productivity System

🗣 "Take as much stuff off your plate as possible, so you can focus on doing what's important, and doing it well." — Leo Babauta
Zen To Done is a simple system to get you more organized and productive, and keep your life saner and less stressed, with a set of habits. Leo Babuata sorted out 10 simple habits to help you learn how to become more mindful and at peace with what's on your to-do list so you can logically and thoughtfully tackle your work.
For Those who want to get their lives organized and actually accomplish the things they plan.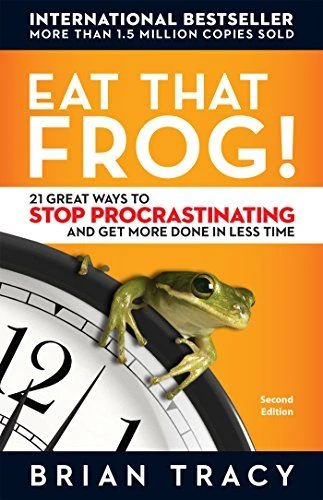 Image from Eat That Frog!: 21 Great Ways to Stop Procrastinating and Get More Done in Less Time

🗣 "There is never enough time to do everything, but there is always enough time to do the most important thing." — Brian Tracy
"If you must eat a frog, it's best to do it right at the start of your day" said by Mark Twain.
Brian Tracy takes this saying and uses it as a metaphor for tackling the most challenging task on your to-do list first thing in the morning. "Eating your frog" each morning can give you the satisfaction of knowing that you've already done the worst thing you need to do for the day, potentially setting you up for a smoother day ahead.
For Those who have problems with how to prioritize tasks and pick the most important assignments.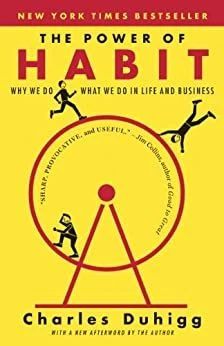 Image from The Power of Habit: Why We Do What We Do in Life and Business

🗣 "Willpower is the single most important keystone habit for individual success." — Charles Duhigg
In this book, Charles Duhigg discusses habits. He talks about their existence and how you can change them by following various scientific discoveries and knowledge.
One of his main points is that the "secret" to achieving the goal you want to reach is by understanding how habits work and then leveraging this knowledge to your advantage.
For Those who want to have more willpower to break bad habits.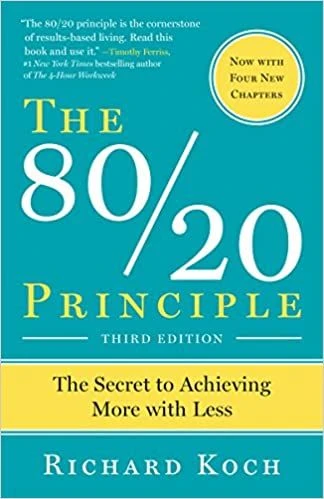 Image from The 80/20 Principle: The Secret to Achieving More with Less

🗣 "We can change the way that we think about external events, even where we cannot change them. And we can do something more. We can intelligently change our exposure to events that make us either happy or unhappy." — Richard Koch
The 80/20 principle is one of the great secrets of highly effective people and organizations. It shows how we can achieve much more with much less effort, time, and resources, simply by identifying and focusing our efforts on the 20 percent that really counts.
For Those who spread themselves too thinly in their working personal lives.
---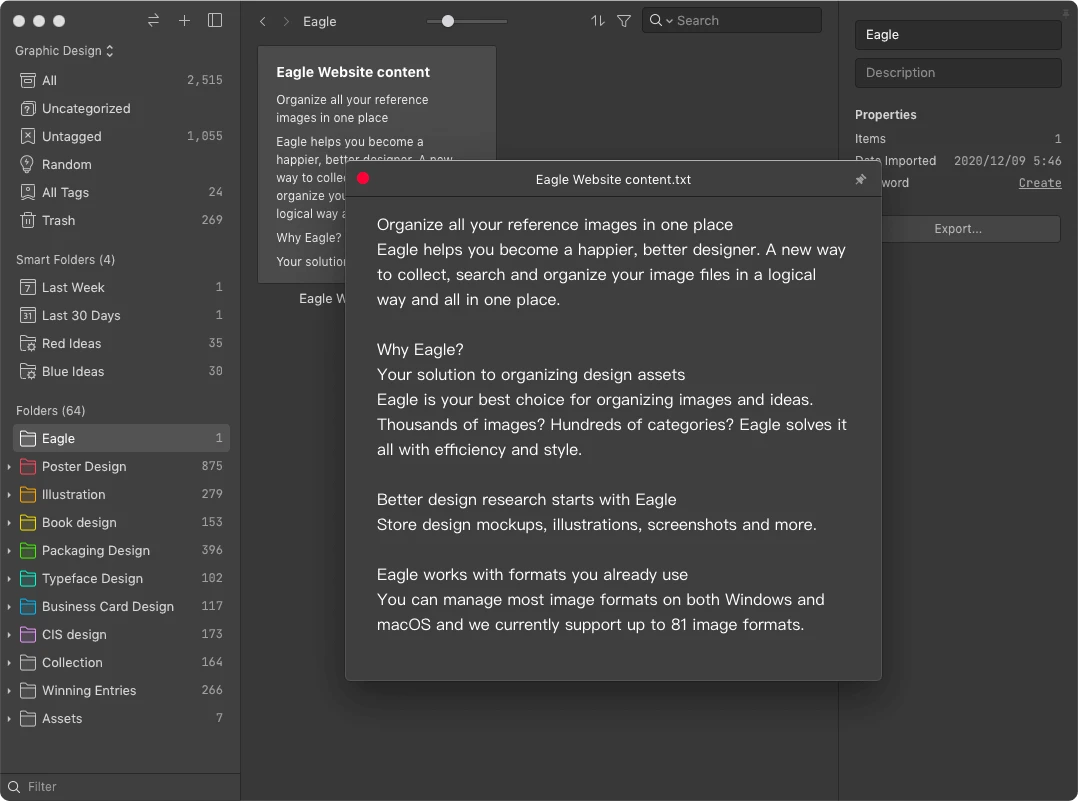 Image from Eagle - Create template

---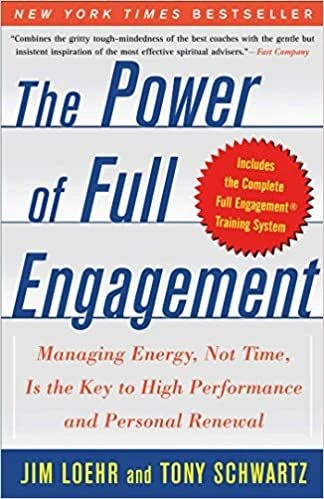 Image from The Power of Full Engagement

🗣 "Energy, not time, is the fundamental currency of high performance." — Jim Loehr and Tony Schwartz
The Power of Full Engagement by Jim Loehr & Toy Schwartz is a book for a more productive work and life balance. Their focus is on managing energy, rather than the traditional model of time management.
Above all, this book provides a life-changing road map to becoming more fully engaged on and off the job, which can help you be physically energized, emotionally connected, mentally focused, and spiritually aligned.
For Those who always have a full schedule every day.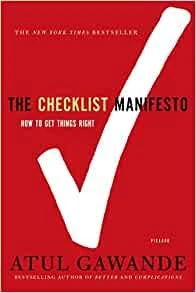 Image from The Checklist Manifesto: How to Get Things Right

🗣 "Good checklists are precise. They are efficient, to the point, and easy to use even in the most difficult situations." — Atul Gawande
The Checklist Manifesto is about cultivating a habit of consulting a checklist before executing any task so as not to make reckless human errors. In this book, Atul Gawande shows what the simple idea of the checklist reveals about the complexity of our lives and how we can deal with it.
For Those who want to use checklists for better performance and lack of human error.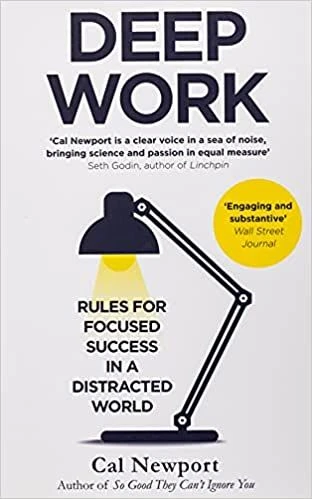 Image from Deep Work

🗣 "Three to four hours a day, five days a week of uninterrupted and carefully directed concentration, it turns out, can produce a lot of valuable output." — Cal Newport
This book focuses on eliminating all the clutter, noise, and distraction in your life so that you can concentrate on deep and productive work. In another word, your ability to use focus when doing demanding tasks while also eliminating distractions. Deep working will be helpful, regardless of your industry.
For Those who want to learn how to focus without distraction on cognitively demanding tasks.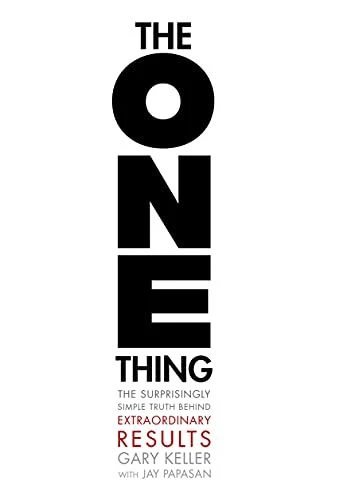 Image from The One Thing: The Surprisingly Simple Truth Behind Extraordinary Results

🗣 "Work is a rubber ball. If you drop it, it will bounce back. The other four balls-- family, health, friends, integrity-- are made of glass. If you drop one of these, it will be irrevocably scuffed, nicked, perhaps even shattered." — Gary Keller
Do you often work on multiple things at once?
Be careful that this may make you inefficient at work and not even get a single thing done in the end. In this book, Keller suggested that you focus on one thing that will most greatly impact our day, week, month or life, instead of measuring productivity by the number of things accomplished.
For Those who have trouble focusing on one thing at a time.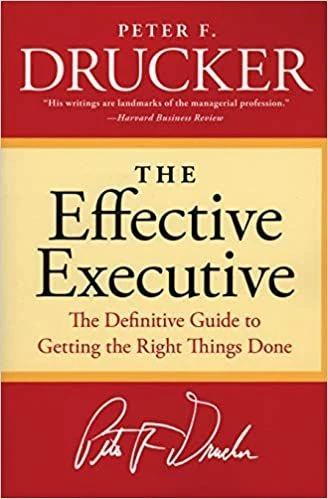 Image from The Effective Executive: The Definitive Guide to Getting The Right Things Done

🗣 "Intelligence, imagination, and knowledge are essential resources, but only effectiveness converts them into results." — Peter Drucker
If you are an executive, this book will help you a lot!
It's a strategic guide to knowing where to focus on your energy, which is essential for productivity. Peter F. Drucker demonstrates the distinctive skill of the executive and offers fresh insights into old and seemingly obvious business situations.
For Those who are in managerial positions.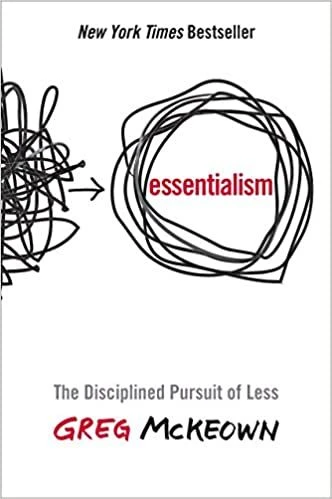 Image from Essentialism: The Disciplined Pursuit of Less
🗣 "Done right, a strategic intent is really one decision that makes 1,000 decisions." — Greg McKeown
Have you ever simultaneously felt overworked and underutilized?
Try using Essentialism to transform the way you work!
Essentialism is more than a time-management strategy or a productivity skill. It is a systematic discipline for identifying what is essential, then eliminating everything that is not, so we can make the highest possible contribution toward things that matter.
For Those who are looking for a strategy to help you figure out what is absolutely essential.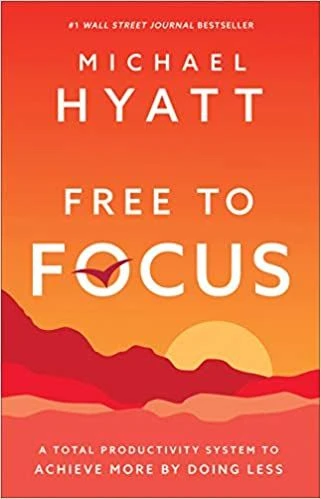 Image from Free to Focus: A Total Productivity System to Achieve More by Doing Less

🗣 "If you want to master your schedule, increase your efficiency and output, and create more margin in your life for the things you care about, you've got to learn how to focus." — Michael Hyatt
This is a revolutionary productivity system acknowledged by over 25,000+ professionals. It can help overwhelmed leaders achieve what matters most so they can succeed in both work and life.
For Those who need help distinguish what matters most and what's not in your daily life.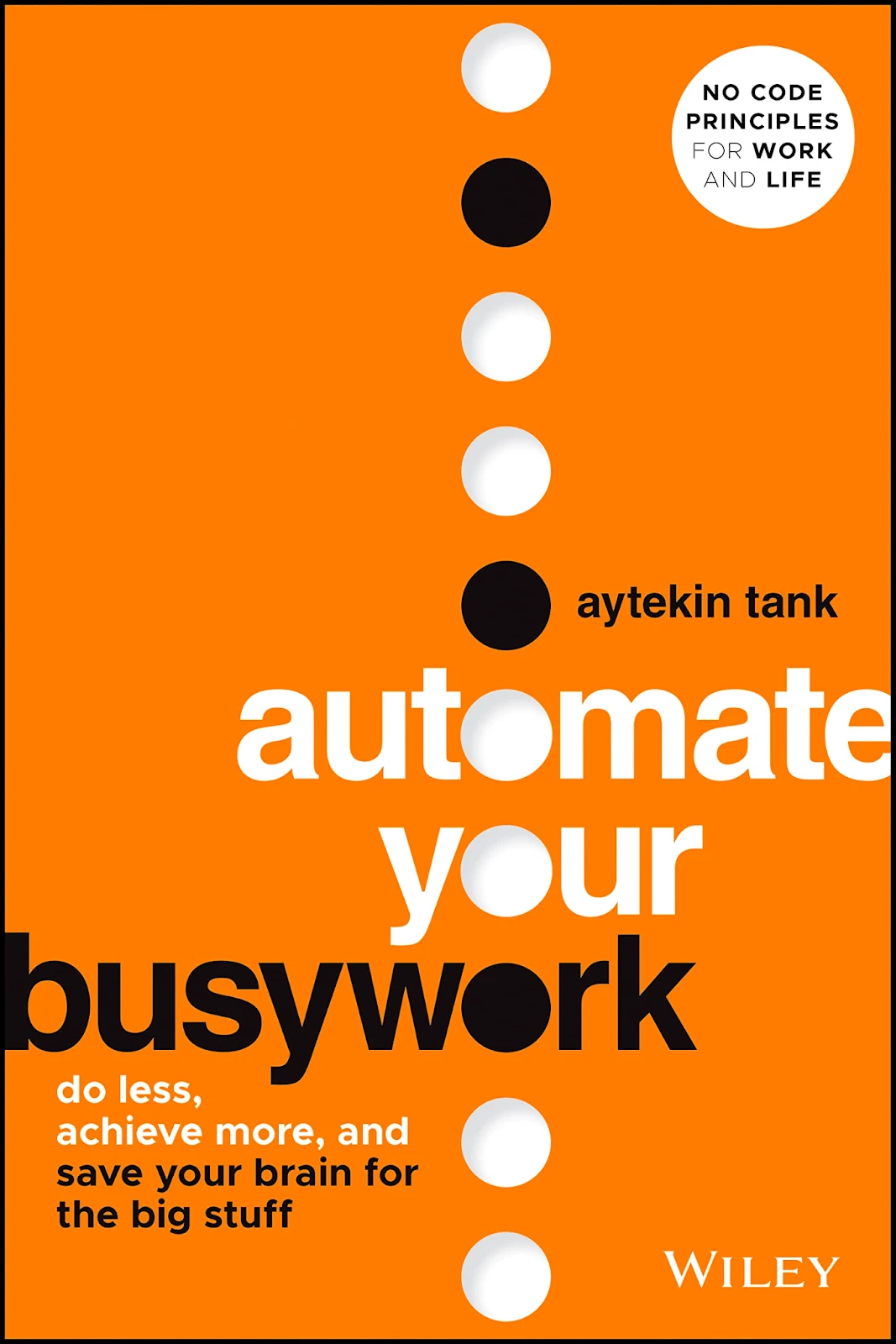 Image from Automate Your Busywork: Do Less, Achieve More, Save Your Brain for the Big Stuff
🗣 "Progress comes down to making people's lives easier."
In "Automate Your Busywork: Do Less, Achieve More, Save Your Brain for the Big Stuff" entrepreneur, founder, and CEO of Jotform Aytekin Tank delivers a must-read blueprint for everyone who wants to maximize their most valuable resource: time.
In this book, you will discover how to move from busywork to less work, and finally, have the time to focus on what truly matters in your business and life. You will learn what's possible when you offload repetitive tasks, why automation has democratized innovation, and how you can use cheap no-code automation tools to achieve "timefulness," the state of having enough time.
Every entrepreneur, founder, business owner, and freelancer who just doesn't have enough hours in the day will benefit greatly from this book.
For Those who want to do less and achieve more.
---
Conclusion
Whether you want to learn how to set goals or checklists or increase your productivity in a systematic way, you will find a book here that will help you a lot.
Pick one that suits you, and cultivate a habit of reading it in your free time. Most of all, remember applying tips and methods to your work and daily life, and you'll find yourself achieving more that really matters!
Image from Pexels

Lastly, if you are eager to learn more design information and resources, visit and bookmark Eagle blog to become a better creative professional!
If you are still lacking inspiration and incentives to create something new, feel free to dive into Eagle Community to explore stunning assets shared by thousands of designers worldwide. Let Eagle be your best design assistant!