Design Smarter: Explore 20 Best Free Mockup Websites
Mockups are undoubtedly vital in saving time and energy, but they can be counterproductive if you spend hours designing the mockup itself. Thanks to these mockup websites, you can now choose your favorite mockup templates and make changes according to your brand needs and identity.
It can be challenging to find quality templates that can meet your specific requirements. That's why we have curated this list to ensure you never run out of mockup templates, from mobile apps to branding materials, product packaging, and much more. Furthermore, by customizing these mockups a little bit, you can create professional visuals of your projects and present them to your clients and stakeholders to gather their feedback.
Discover a game-changing solution for designers - a free mockup website now and design smarter with a collection of free mockups at your fingertips!
Eagle App - Collect & Organize your Design Ideas
Video from Eagle (Using eagle browser extension to collect images)
Tired of your old-school ways of organizing your files? Bid farewell to everything that drains your energy and try Eagle, the ultimate solution and user-friendly tool to help you effortlessly organize and collect your files.
Don't let your favorite images get scattered across different drives on your computer, which also consumes a lot of time when you're looking for a specific file. With Eagle and its feature-rich, advanced AI interface, you're just one click away from finding all your files in one place. Furthermore, Eagle's browser extension simplifies the process of saving images by allowing you to drag and drop images from your favorite web pages to your Eagle smart folders and customizable libraries.
Stay Productive with Eagle! Try Eagle for 30 days free and streamline your file organization today!
---
20 Best Free Mockup Websites At Your Fingertips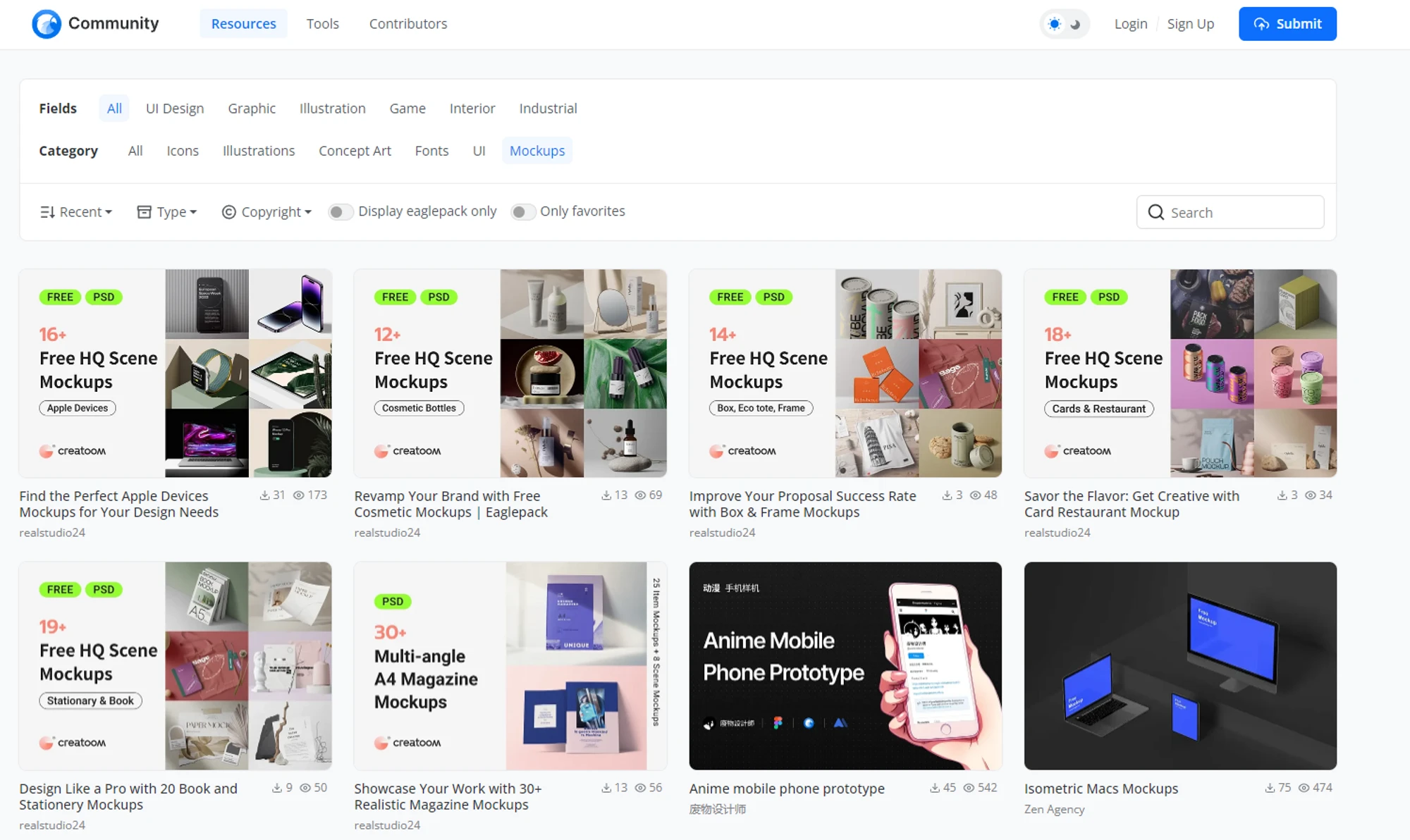 Image from Eagle
Designers are always looking for quality mockup templates to streamline their design processes, thanks to one remarkable community known as Eagle Community. Here, you can find top-notch mockup templates designed by professional designers, whether you're looking for product packaging, mobile prototypes, fashion and apparel, branding identity, and much more. Eagle Community can be your one-stop for all your design resources.
Usage Instructions:
These templates are available in .eaglepack format which means you will have to download the Eagle app to unpack and use these templates.
While some of these templates are available for free commercial use, it is still suggested to visit the source sites and review any specific usage instructions from creators.
The only set of branding mockups you'll ever need!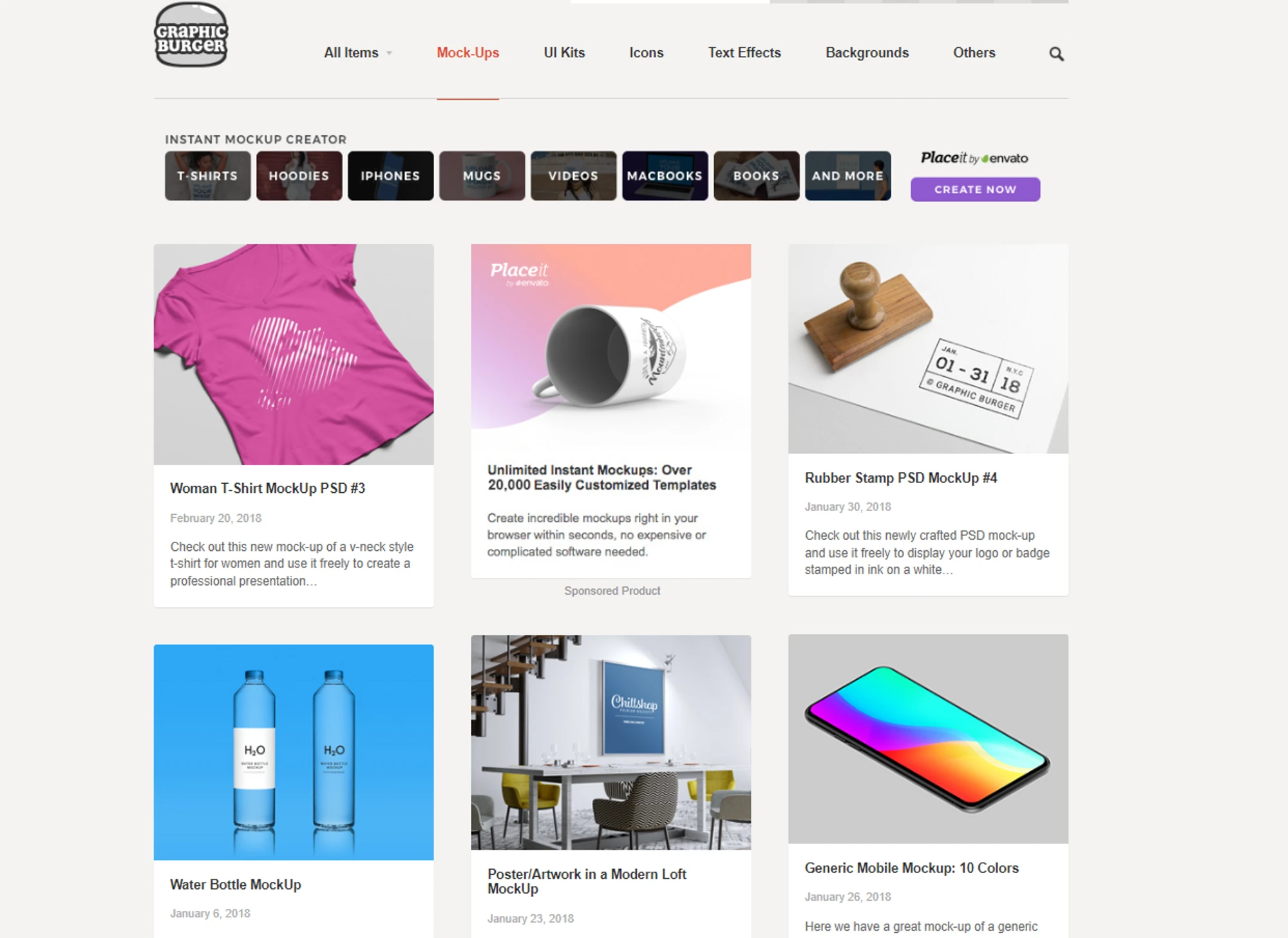 Image from GraphicBurger
As the name suggests, GraphicBurger offers a wide range of visuals for various purposes. However, when it comes to easily accessible mockups, it stands out from the rest. GraphicBurger provides templates for multiple industries, including but not limited to branding materials, mobile apps, and stationery, among others. Furthermore, GraphicBurger allows you to download these mockup templates in multiple formats, such as Adobe Illustrator, Photoshop, and Sketch, enabling you to customize the mockups to suit your needs.
Usage Instructions:
Most of the templates from GraphicBurger include a license file with guidelines and usage instructions for both commercial and personal use. It is recommended to read this file before using these templates for business purposes.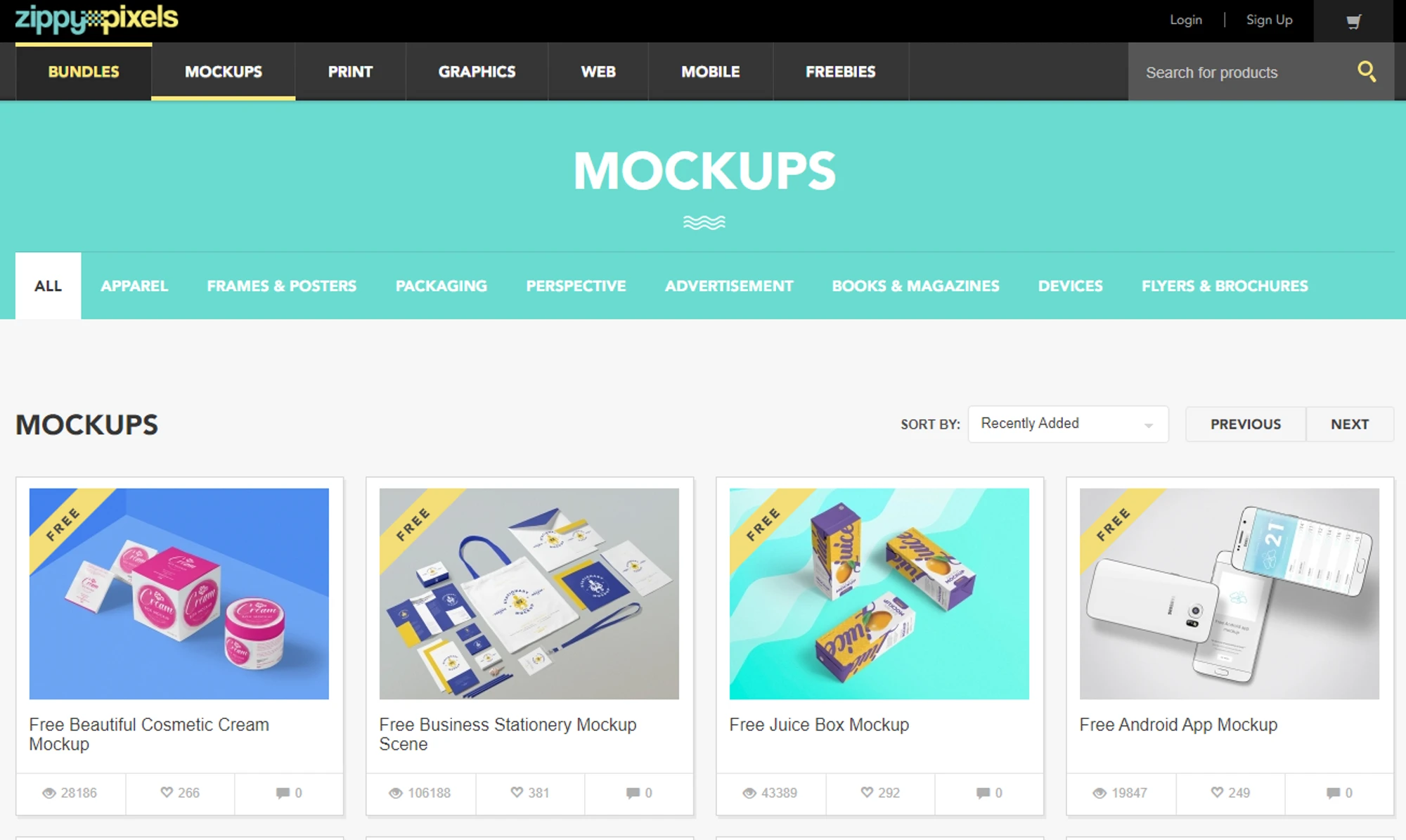 Image from ZippyPixels
ZippyPixels has a vast library of versatile mockups to cater to your brand identity needs and product advertising and more! ZippyPixels provides additional details such as template resolution, dimensions, and software requirements, ensuring that you find exactly what you're looking for. If you're seeking a reliable source to find the best free mockups, ZippyPixels is the place to be.
Usage Instructions:
ZippyPixels is accessible to everyone. To download these templates, simply provide your email, and they will send you a link to download the file.
However, please note that while some templates are available for both personal and commercial use, others may require attributions. Usage instructions will be displayed upon downloading.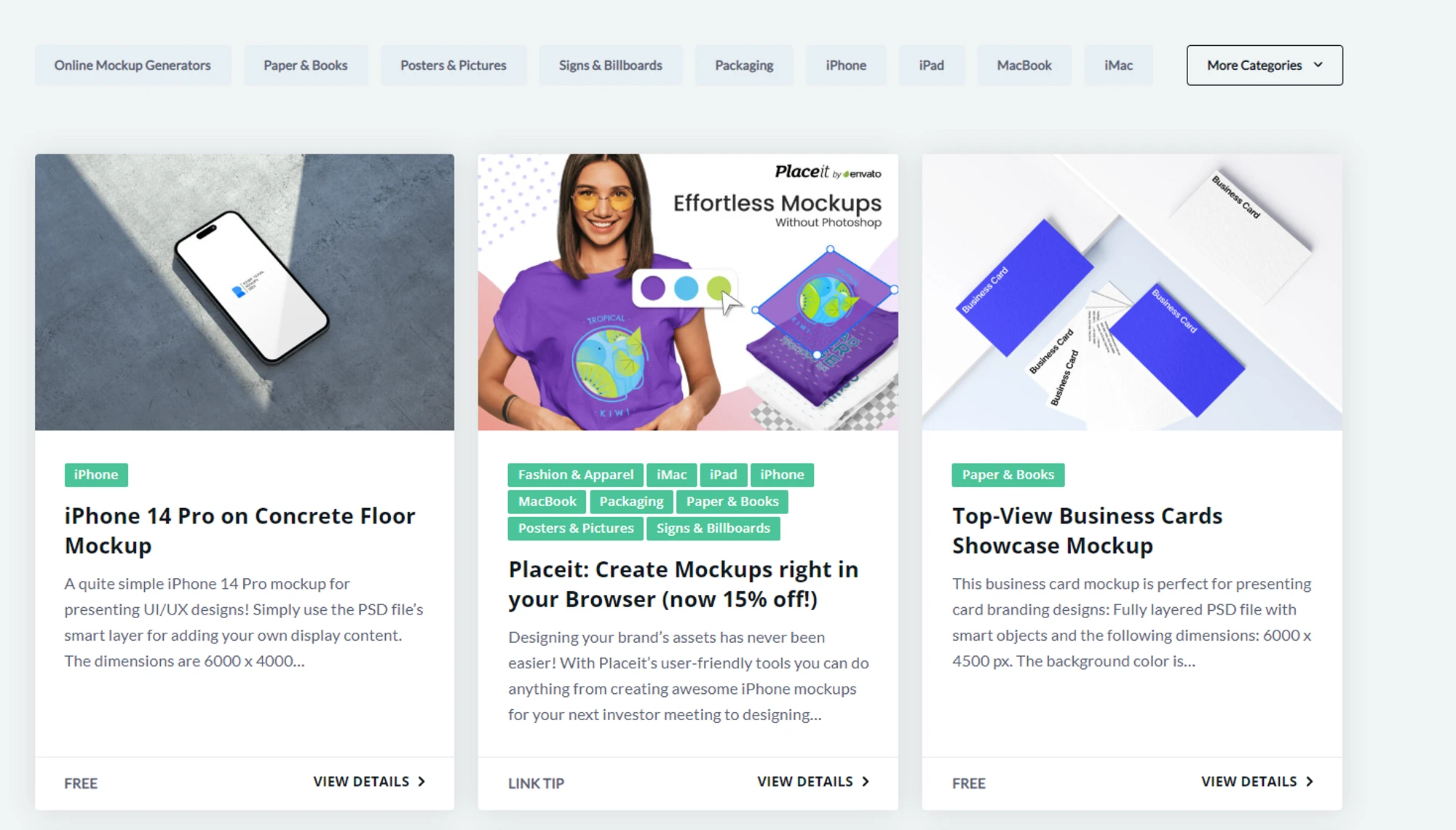 Image from Mockup World
Mockups are known for their realism and high attention to detail, and that's what Mockup World prioritizes as well. It provides its users with a free collection of diverse mockups from designers globally, starting from posters and pictures, signs and billboards, paper and books, and much more. Moreover, the developers keep the website constantly updated so that users can access fresh and up-to-date templates.
Usage Instructions:
Since these templates come from designers around the globe, some templates might not be available for commercial use. It is recommended to read the usage instructions provided by the designer to avoid any copyright infringements.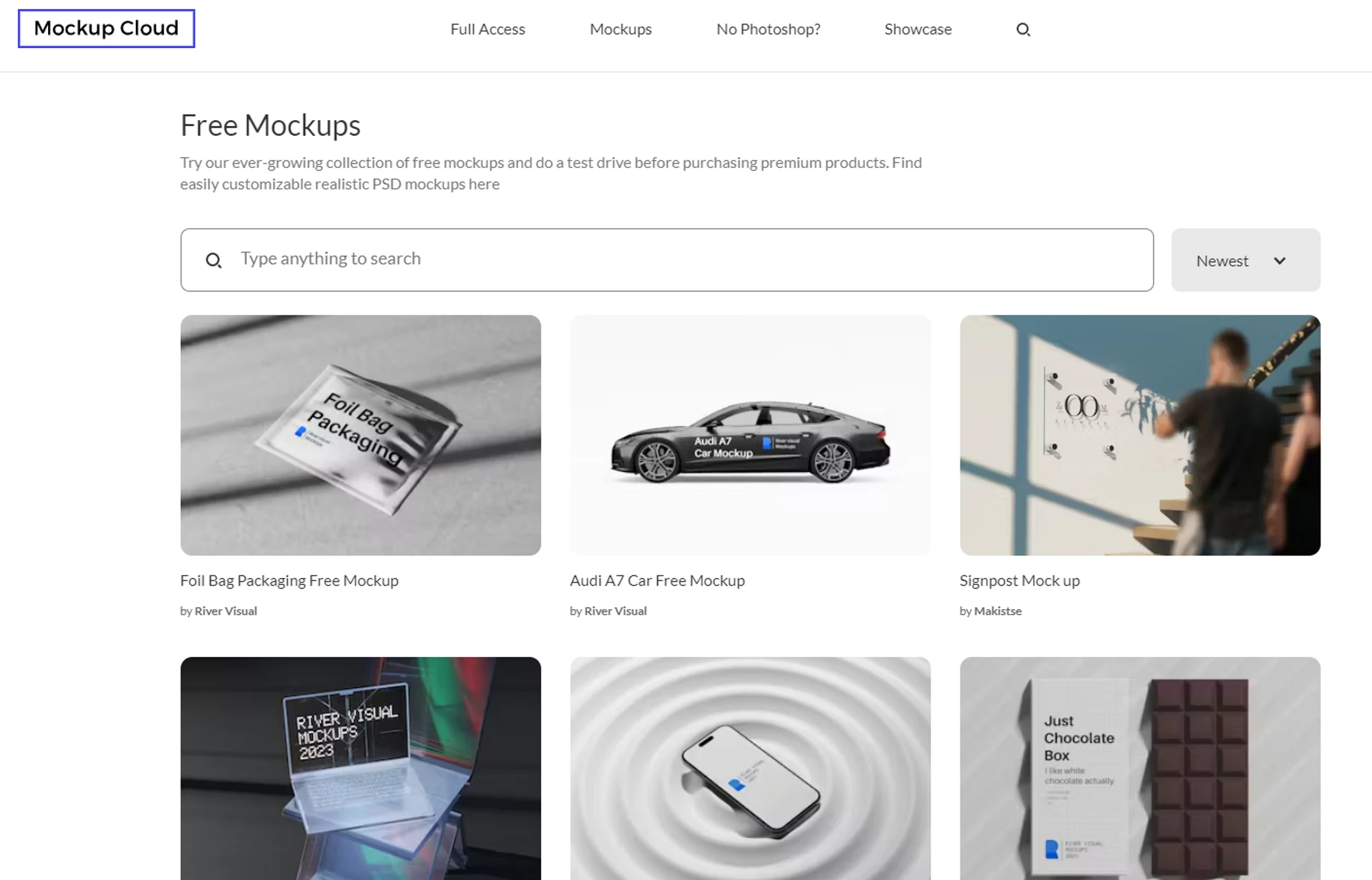 Image from Mockup Cloud
Mockup Cloud is a platform for designers to discover and contribute high-quality mockups. Additionally, these templates offer advanced customization options for users, allowing them to make changes to various aspects of mockups, such as adjusting shadows, changing colors, adding their own designs, and more.
Usage Instructions:
Usually, Mockup Cloud provides clear licensing that allows users to use these templates for commercial and personal purposes. However, it is advisable to read the license details on the download page in case there are any updates.
Present the best visually appealing packaging mockups and impress your clients!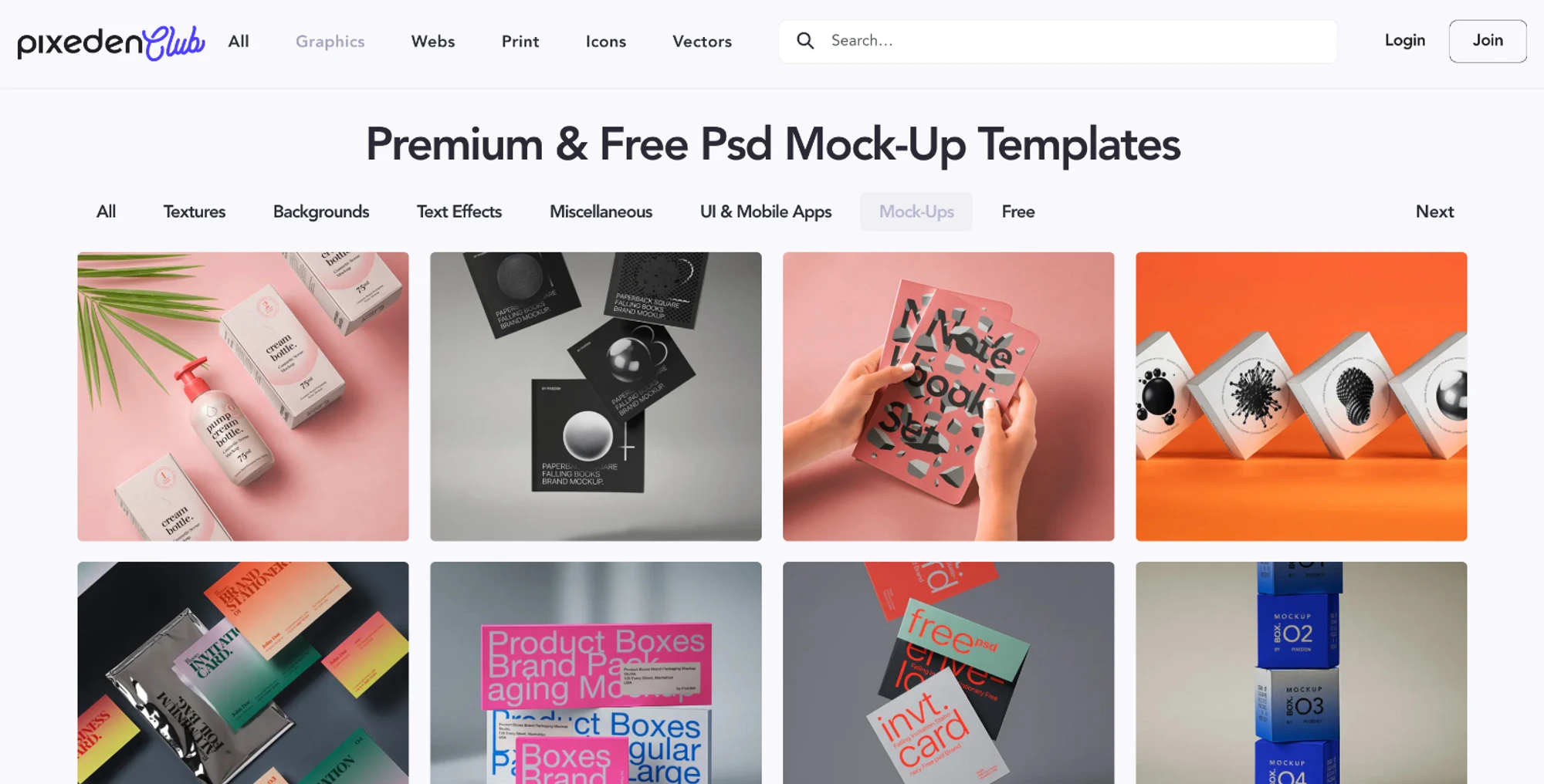 Image from Pixeden
Pixeden is another stop for mockups, offering a variety of mockup templates. Whether you're in search of templates for stationery, packaging, branding, or visual presentations, Pixeden provides a wide range of options to meet your needs. Elevate your projects with the versatility and professionalism that Pixeden is known for.
Usage Instructions:
Pixeden is very clear and straightforward with its usage terms for the templates. They allow you to use their templates for both commercial and personal purposes.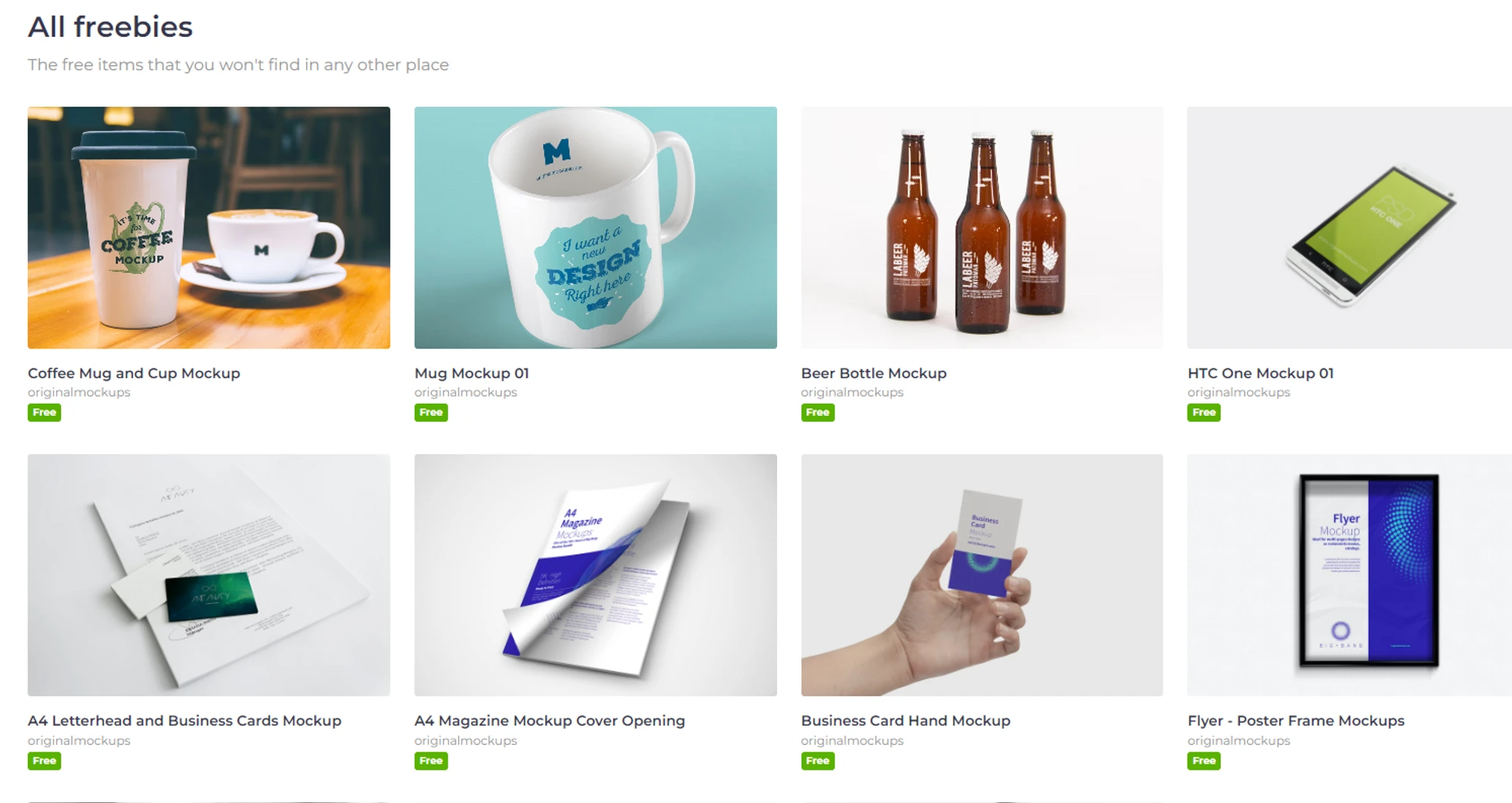 Image from Original Mockups
Original Mockups is the perfect place to find high-quality templates that showcase your work with stunning visuals. It offers an extensive and comprehensive library of templates to meet your various needs, including apparel, digital devices, stationery, and more. They provide both premium and free plans, but you can still find eye-catching mockups in their free library.
Usage Instructions:
Original Mockups provides a standard license for their templates, granting you the privileges to use these assets for commercial and personal purposes.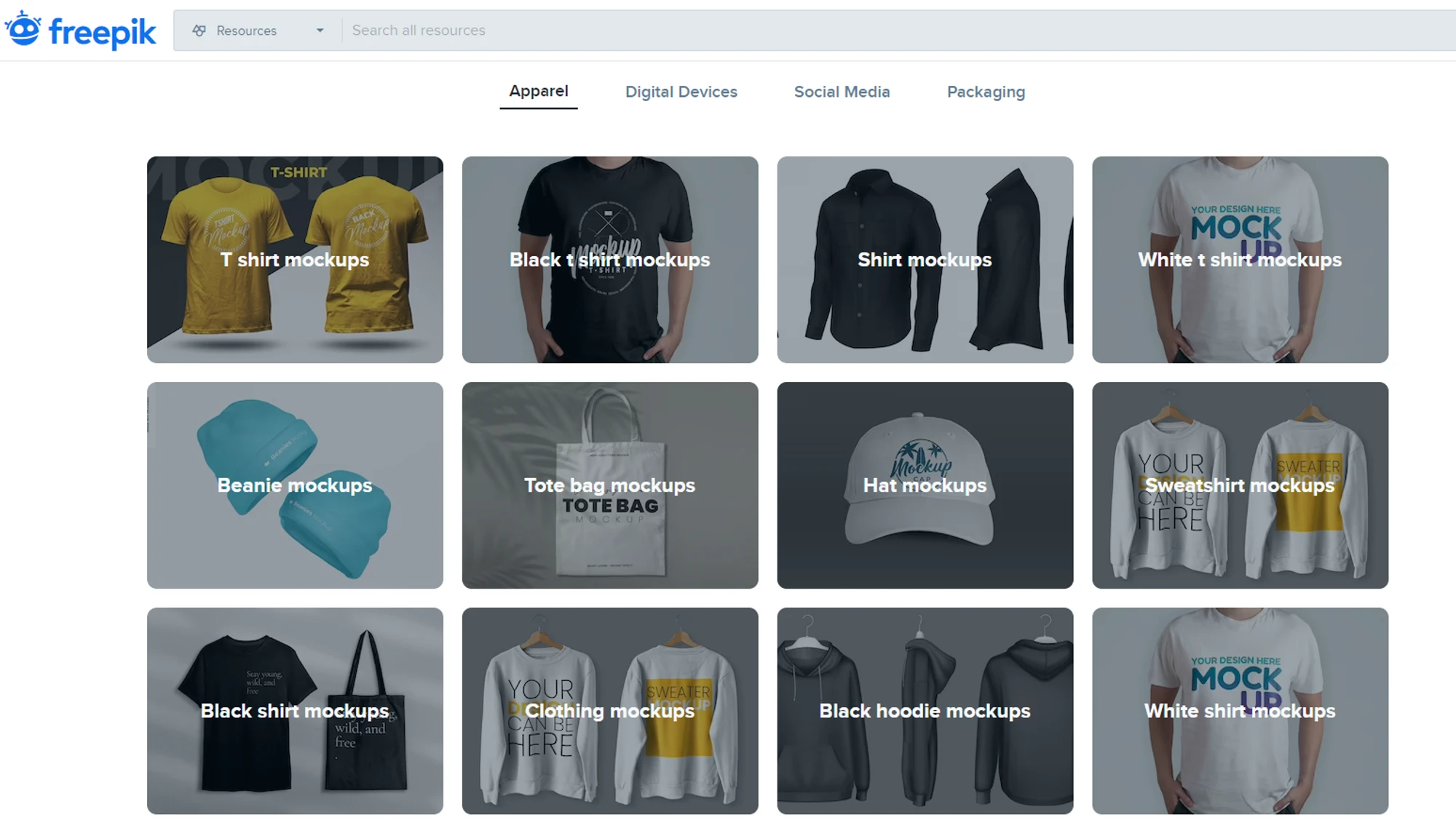 Image from Freepik
Freepik is a well-known name when it comes to finding pre-built graphic assets. They also offer a vast collection of mockups that can help you enhance your design and present it with the highest quality. Freepik provides options for marketers, designers, and creative professionals to choose from an extensive mockup library, which includes templates for branding, social media, digital devices, packaging, and much more.
Usage Instructions:
The free license from Freepik allows you to use their templates in both personal and commercial projects. However, you are required to give credit to the original author by including an attribution. The attribution link will be provided upon downloading the file.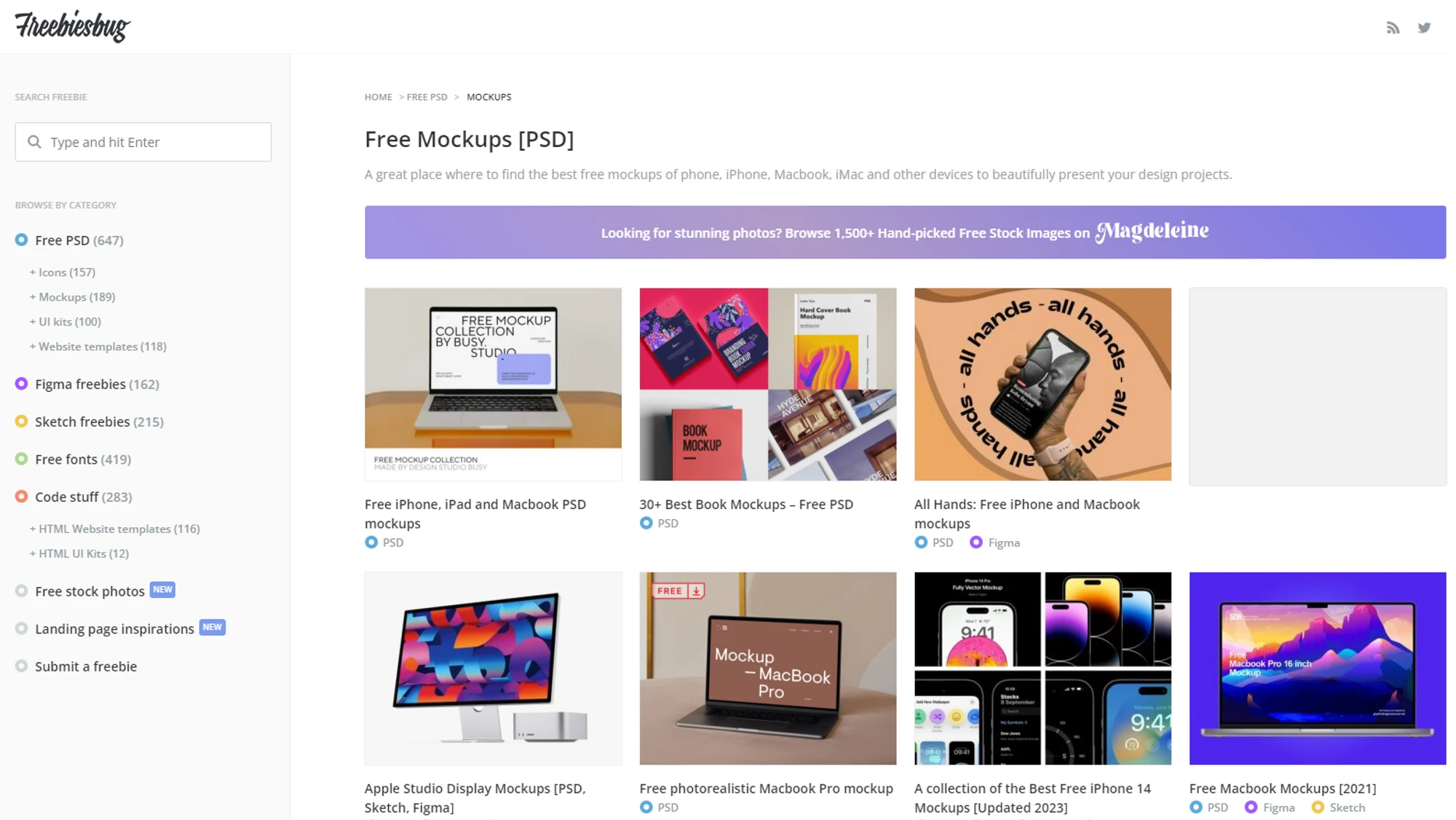 Image from Freebiesbug
Freebiesbug is known for curating and sharing useful assets to help designers, content creators, and developers achieve their goals. Moreover, Freebiesbug offers over 150 mockup templates that can be used to create presentations, showcase product designs, prototypes, and more. Additionally, Freebiesbug compiles templates in various formats from renowned platforms like Sketch, Figma, and Adobe Photoshop, allowing you to edit these mockups in your preferred editor.
Usage Instructions:
Freebiesbug does not create these templates; therefore, it does not hold any licensing rights. If you download these templates from other sources, we recommend checking the usage instructions provided by the respective sites.
Elevate your prototyping with this comprehensive list of prototyping tools!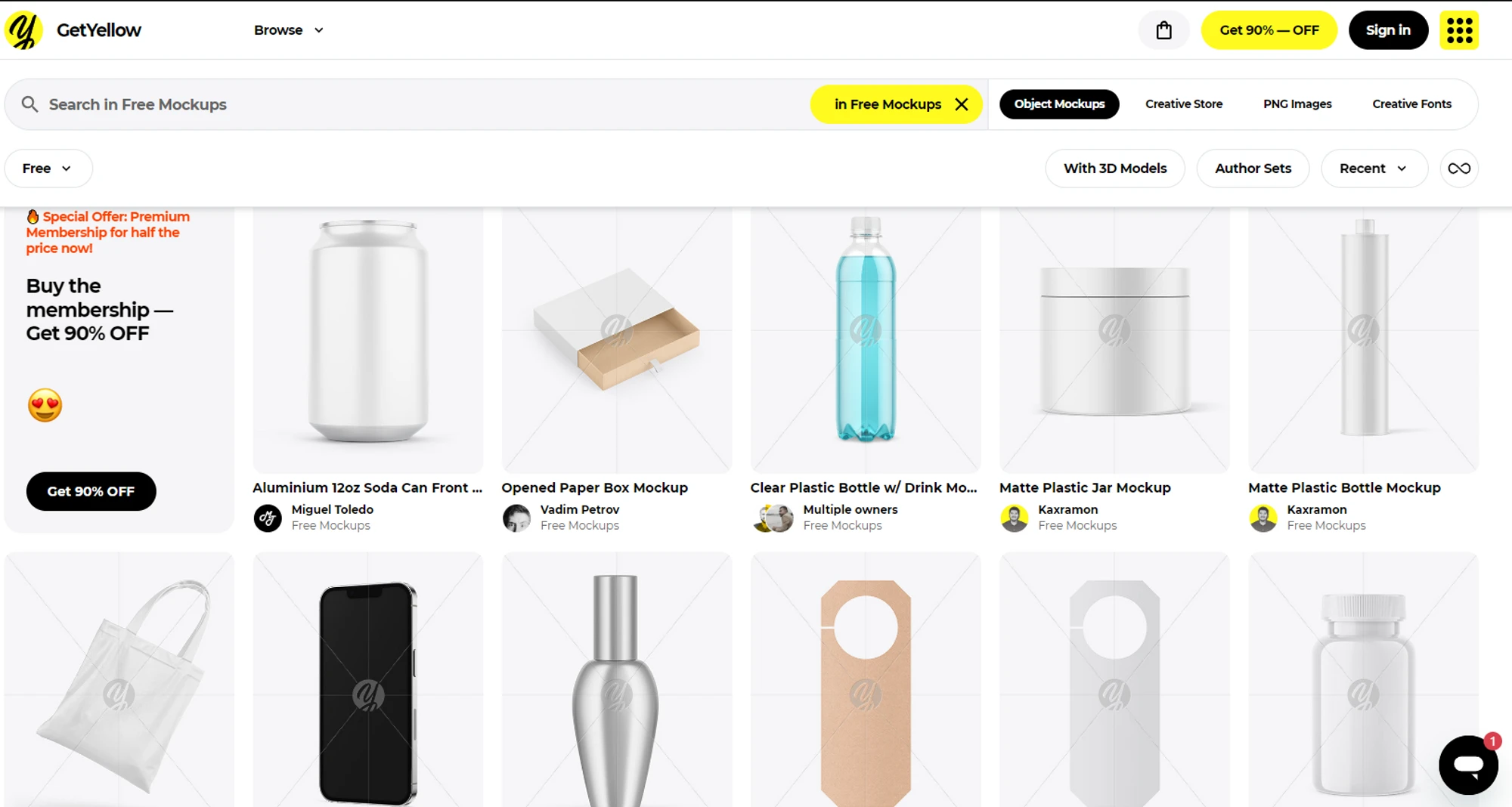 Image from Yellow Images
Yellow Images prioritizes 3D models and premium quality mockups as their main assets, where designers can team up and work together to create the best-looking mockups to help the community. Most of these templates require a premium plan; however, if you browse thoroughly, there is a good chance of finding a free mockup that suits your project.
Usage Instructions:
Yellow Images provides a free trial license that only allows you to use these templates for personal use.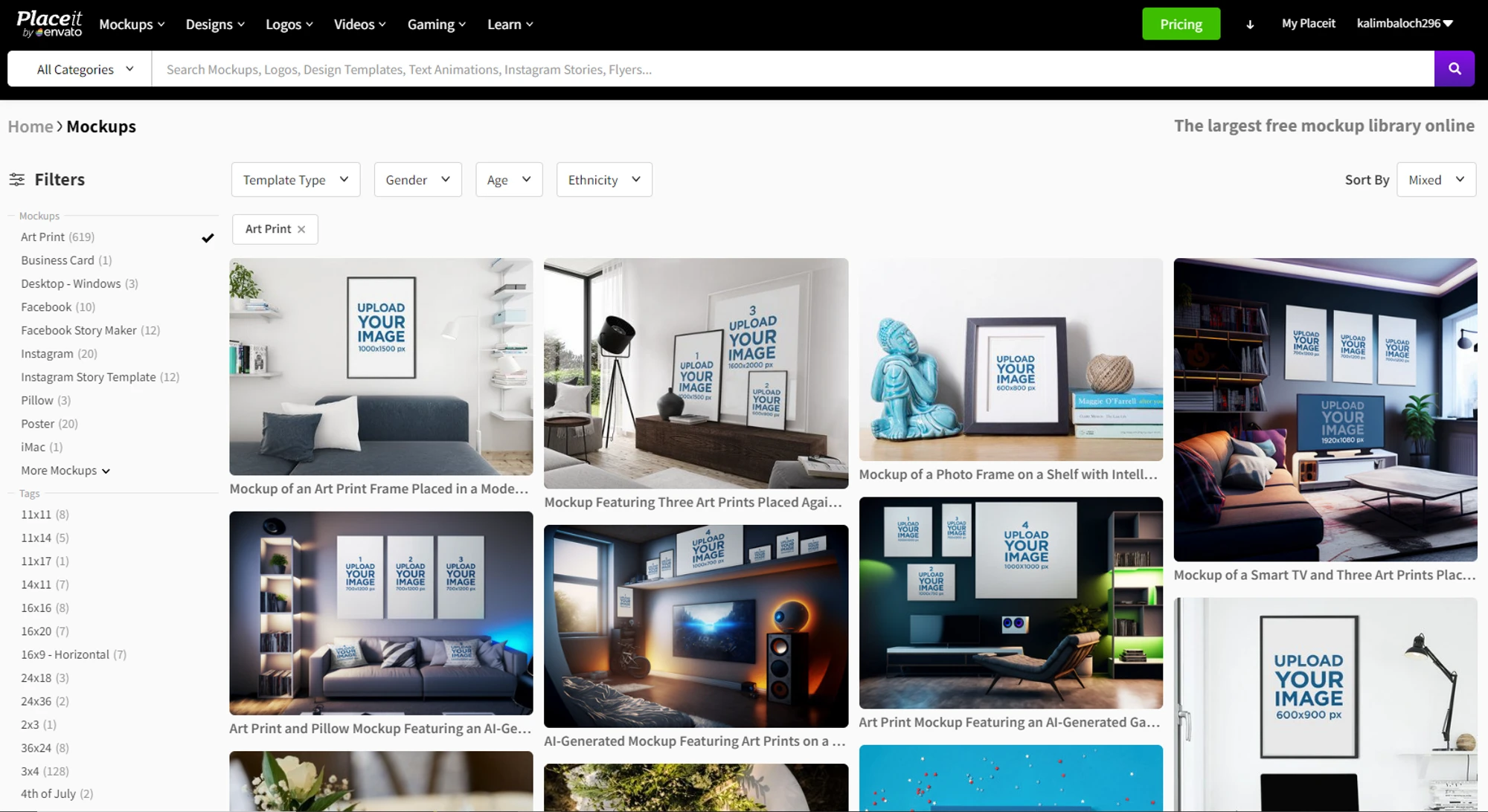 Image from Placeit
Placeit makes it easy for designers and creatives to find templates and quickly enhance them within the website's editor. On this platform, you can scroll through dozens of templates in multiple categories such as print materials, technology, apparel, and more. Additionally, you can modify the colors of the mockup, import your own logo and images, and complete your mockup all within the website editor. This saves a significant amount of time that would otherwise be spent on editing using third-party software.
Usage Instructions:
Under the Placeit free plan, you are granted a license to use these templates for personal and commercial purposes.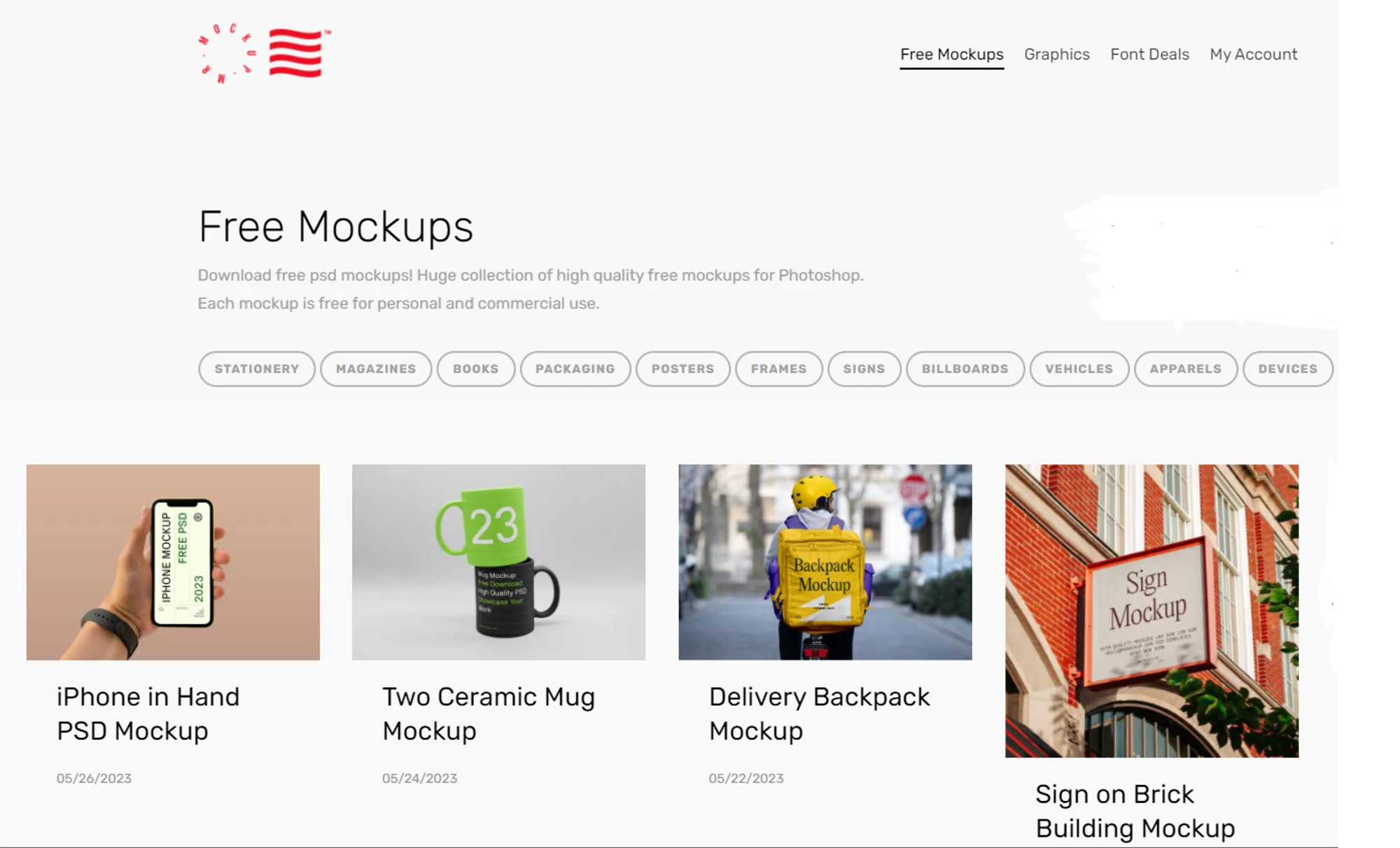 Image from Mr.Mockup
Your ultimate solution for mockup templates, ranging from signage to devices, packaging, and apparel. Mockup is your go-to platform for all your mockup needs. They offer high-quality templates to help you bring your designs to life and present your projects with eye-catching visuals. Moreover, the smart layers make editing simple. You can easily insert your images and media within smart layers and you're done.
Usage Instructions:
Mr.Mockup allows you to use these free templates for both commercial and personal purposes.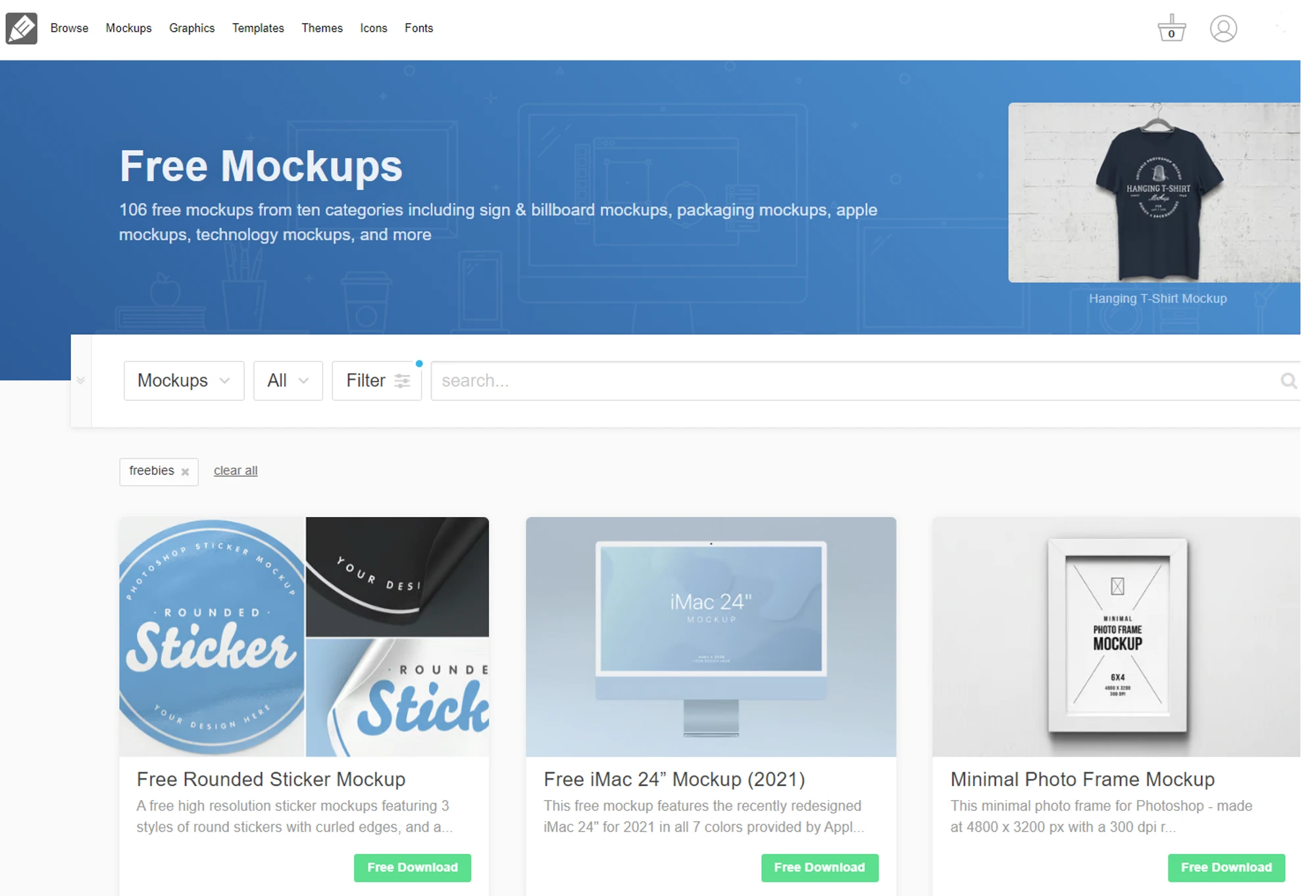 Image from Medialoot
Medialoot is a good option to explore and find quality mockups. However, the free library isn't as comprehensive as the premium one. Nonetheless, it has the potential to help you with your projects. Moreover, these mockups come with editing instructions. So, if you're new to this, they will make it easier for you to enhance the templates according to your needs.
Usage Instructions:
Medialoot's free license allows you to use the templates for both commercial and personal purposes, with the condition that you add an attribution link back to the Medialoot website.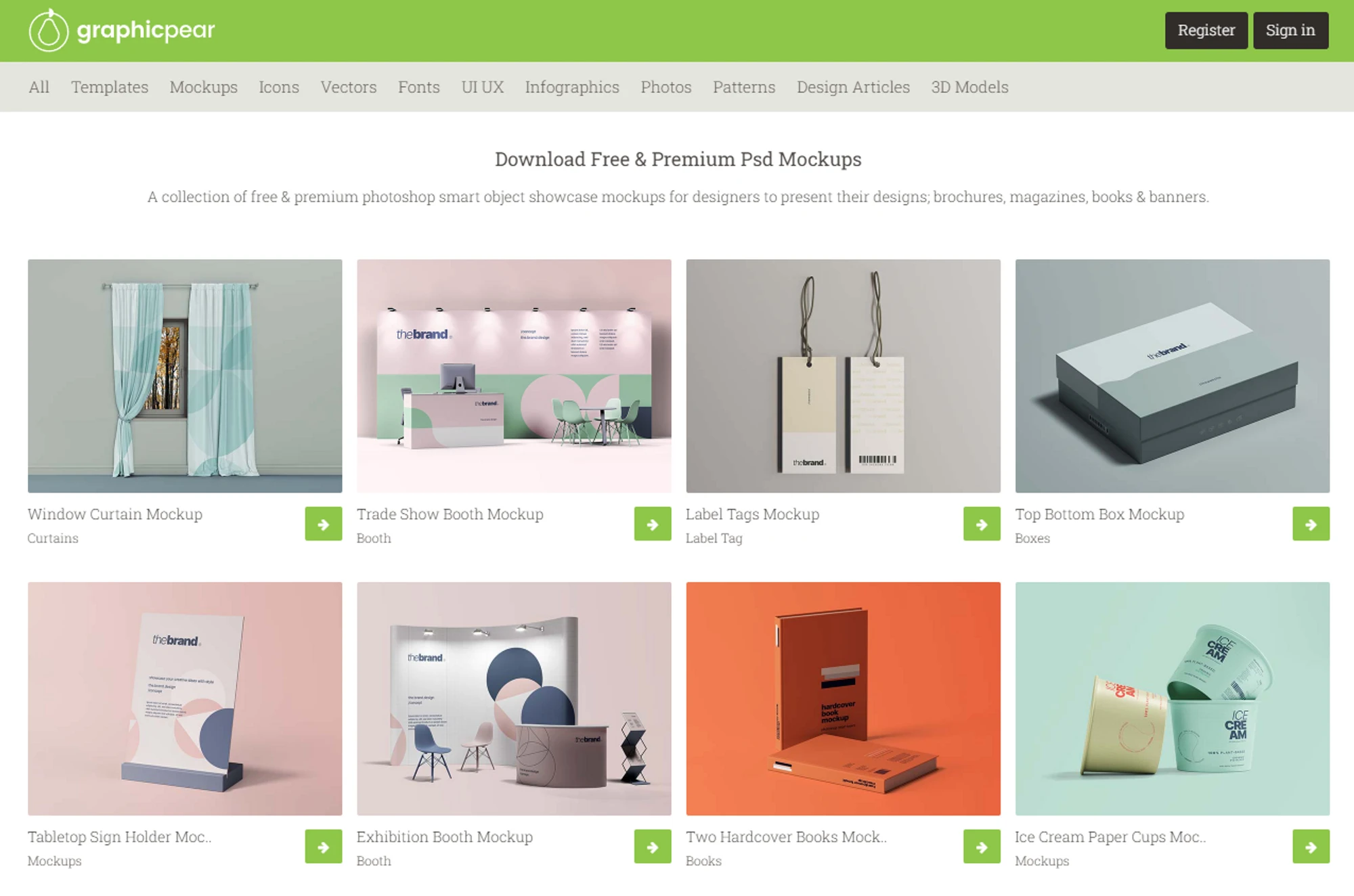 Image from Graphic Pear
Graphic Pear has a mockup library of more than 20 pages, including branding, packaging, apparel, stationery, digital devices, and much more. With this versatile collection of mockups, you can undoubtedly find the visually appealing mockup that best showcases your work in a realistic way. Graphic Pear is renowned for its commitment to quality, consistently delivering high-quality mockups with meticulous attention to detail.
Usage Instructions:
Graphic Pear's free account grants you a license that allows for personal use of these templates only.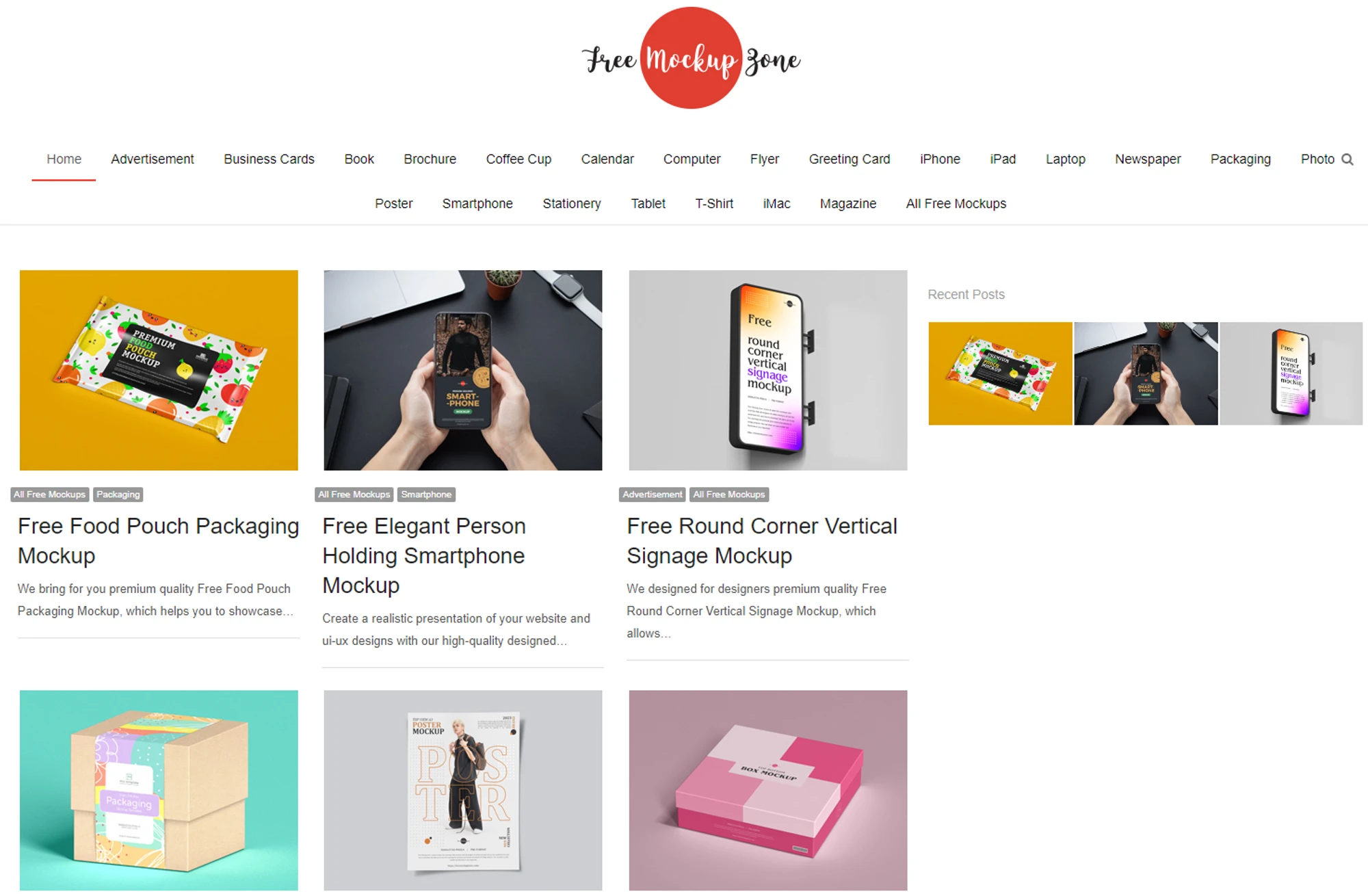 Image from Free Mockup Zone
The website runs a lot of ads to keep itself alive; however, it features a vast collection of the best free mockups that are unique and hard to find elsewhere. Free Mockup Zone templates use smart layers, which simplify the customization process and help people with no prior experience to edit smoothly. Moreover, they continuously upload new assets, which means you can always come back for more ideas and fresh mockups.
Usage Instructions:
Free Mockup Zone allows you to use the templates commercially and personally without any restrictions.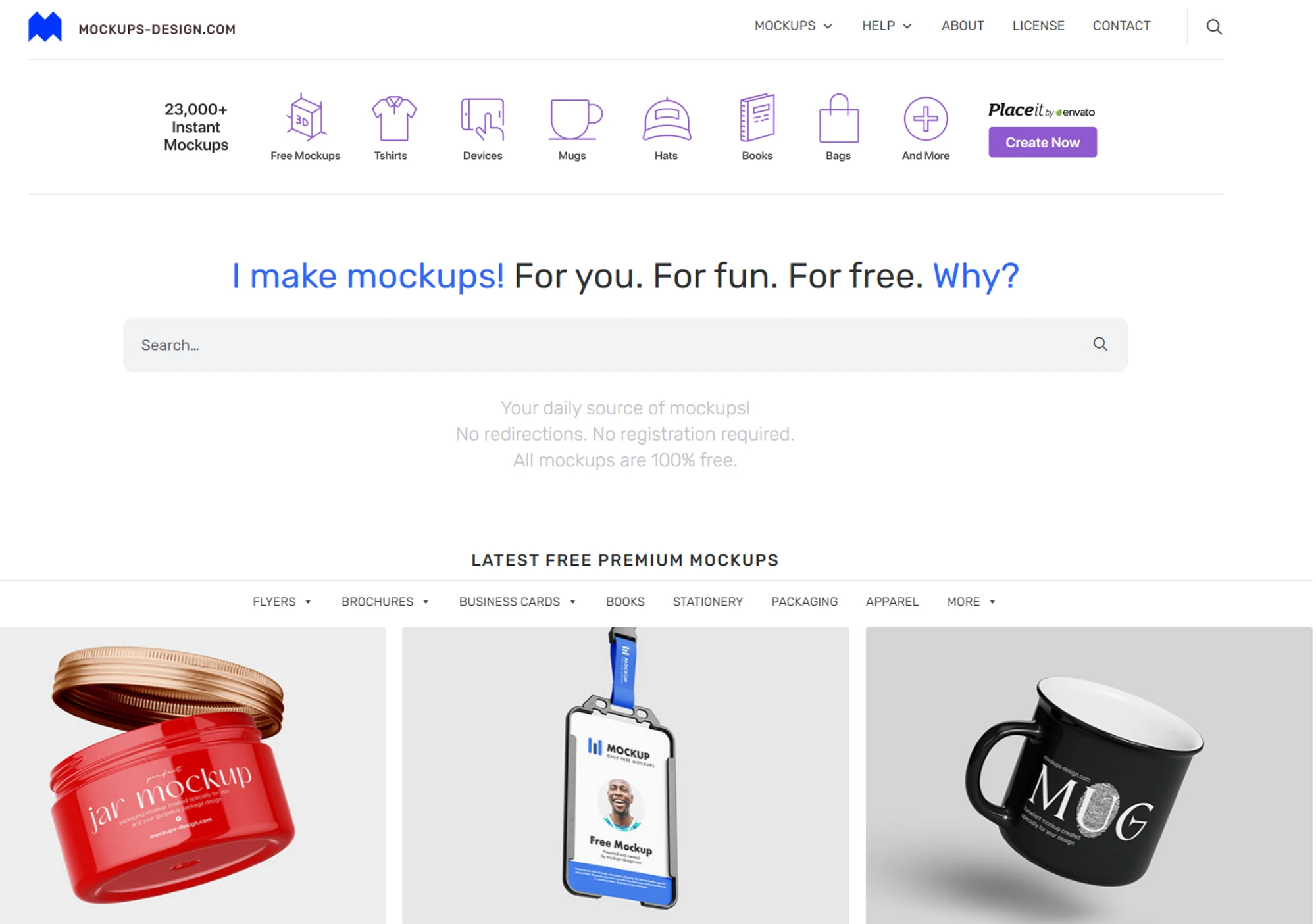 Image from Mockups Design
Looking for something to fit into your web designing projects or product packaging? Look no further than this free mockup website and elevate your projects with these stunning templates. With over 70 pages of mockup templates, you are bound to find everything you're looking for. Moreover, these templates are easily editable in Adobe Photoshop, allowing you to enhance and implement changes to the smart layer.
Usage Instructions:
This mockup website allows you to use these templates for both personal and commercial projects.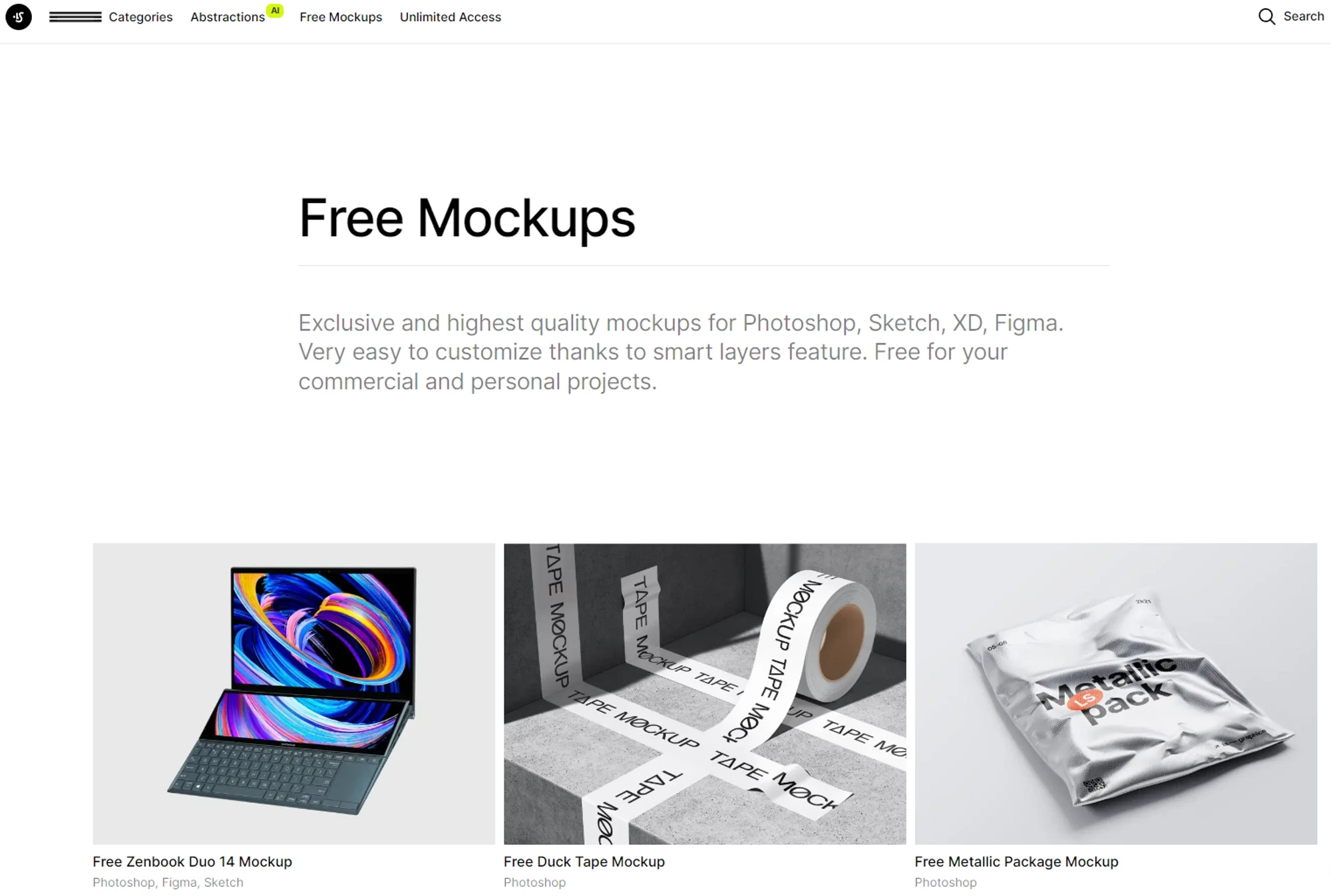 Image from LS Graphics
LS Graphics is a website for creatives and designers who are looking for free mockups to showcase their projects to clients and stakeholders in a professional manner. LS Graphics provides templates in three formats: Adobe Photoshop, Sketch, and Figma, enabling you to edit these mockups in your favorite software. If you're looking for a quick way to download high-quality templates, LS Graphics is the place to go.
Usage Instructions:
LS Graphics provides clear instructions, granting users a license for both their commercial and private projects.
Image from Free Design Resources
As the name implies, this platform is designed to assist designers and creatives in finding templates for various projects, including mockups. Browse through countless pages of mockups to find the one that complements your topic and project. Additionally, you can utilize search filters to narrow down your searches, such as software type and specific properties.
Furthermore, Free Design Resources provides a PDF file that guides you through the editing process of these mockups.
Usage Instructions:
Free Design Resources offer three types of licenses: personal use, commercial use, and 100% free. Templates with a 100% free license can be used for both personal and commercial projects without any limitations.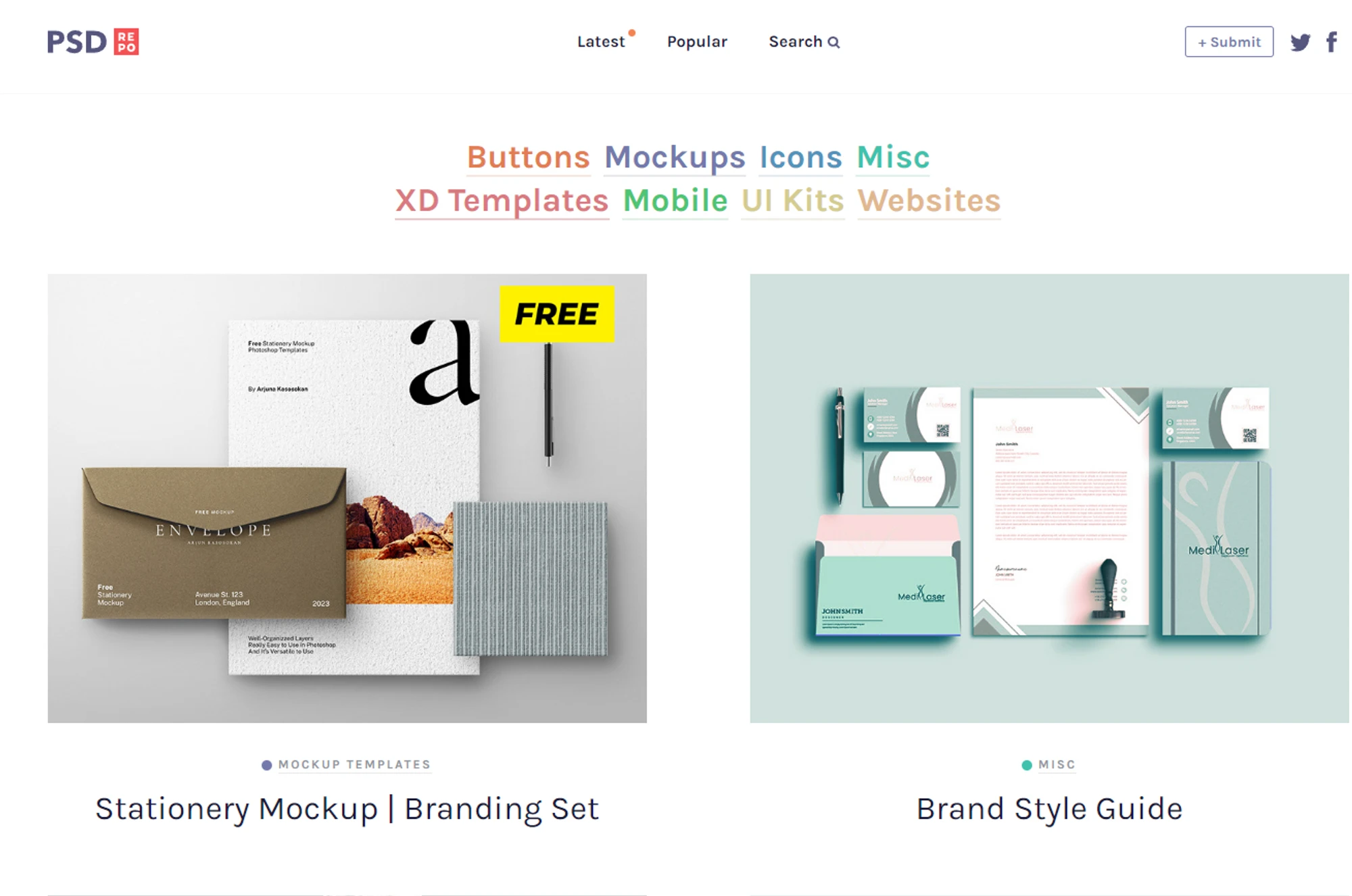 Image from PSD Repo
PSD Repo features its own mockups and templates from other platforms, where you can find professionally crafted templates from talented designers all over the world. Additionally, with the search bar, you can easily find any specific template by searching for keywords. Moreover, you have the option to subscribe to their email service to receive weekly notifications for new templates and designs.
Usage Instructions:
Most of the templates on this website are imported from other platforms. Therefore, it is essential to read the usage instructions provided by the author before using them in your personal or commercial projects.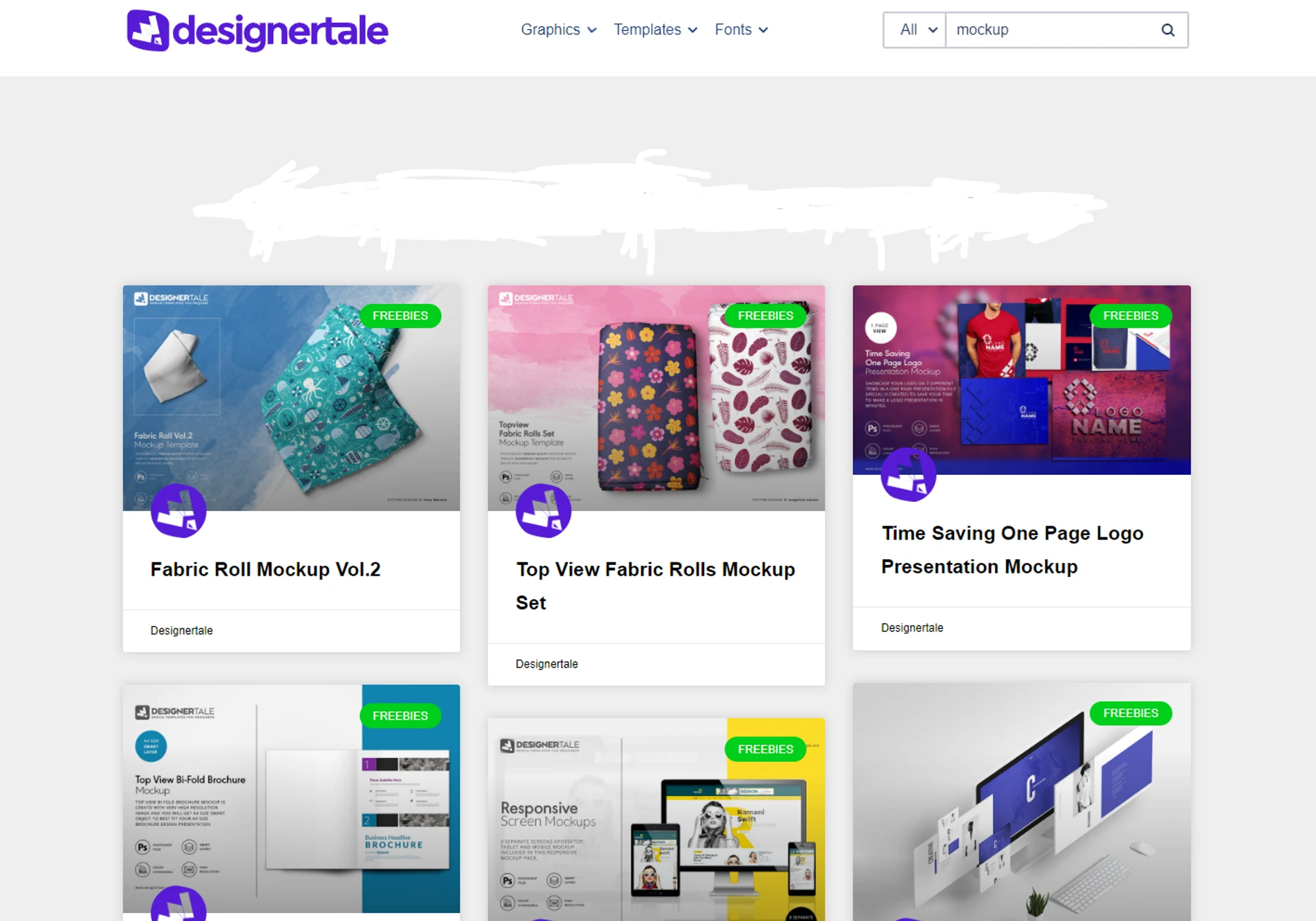 Image from Designer Tale
Designer Tale is known for selling high-quality mockups to its customers. They offer mockups with maximum details and a realistic editing approach. While there are many premium templates available, there are also free options to explore. Designer Tale provides versatile mockups for various purposes. All you have to do is add your desired template to your cart.
Usage Instructions:
Designer Tale offers the same licensing terms for both its free and premium plans, allowing users to utilize these templates in both personal and commercial projects.
---
FAQ
What is a mockup?
A mockup is a design used to visualize and showcase projects and products before investing resources into them. Mockups help save time and resources by providing a realistic context of the final product's appearance. They are also used to present ideas and presentations to potential clients for approval.
How can a free mockup website benefit designers?
A free mockup website offers pre-built mockup templates that designers can use to quickly start or enhance their existing projects without starting from scratch. This helps speed up the design process and allows designers to focus on more important aspects.
Are the mockups on the website compatible with different design software?
Yes, most mockup websites provide templates compatible with various design software and online tools, including Adobe Photoshop, Sketch, and Figma. When downloading a template, there is usually an option to choose the format for your specific software.
Explore free graphic design template and elevate your projects with the best visuals!
---
Conclusion
In conclusion, mockup websites provide a convenient solution for designers to skip the labor of designing from scratch. These websites offer appealing pre-designed mockups that allow designers to approach their projects quickly. They also offer a diverse range of templates catering to different design needs, such as Apple products, branding, packaging, apparel, and web design.
However, it is important to note that some mockup websites may have strict licensing terms. It is recommended to adhere to these terms before using the free templates to maintain a positive reputation for these websites' efforts in keeping them operational.
Have a collection of favorite mockups but nowhere to store them? Eagle is here to help you organize and store all your media assets in one place. Try Eagle NOW!