Beginner's Guide to Graphic Design Software & Tools for Mac 2023
As a beginner are you overwhelmed by too much information not knowing which graphic design software or tools to choose from? Whether you are just getting into the graphic designer world or you are an expert with years of experience, there's a saying that goes "you cannot make bricks without straw", there are certain software and tools that you just can't start without as a graphic design professional.
If you are looking for Mac compatible in your design workflow, this list gives you the most essential Mac software and tools that every graphic design beginner should have on hand, hopefully, this article will guide you toward making better decisions when choosing the right software and tools of your needs, you can find the following software and tools to
Create custom graphics or animation
Find templates to quickly produce visual content
Stay productive and efficient in your design process
---
Graphic Design Software for Mac
Image from Eagle
Do you want to have your files neatly categorized and previewed easily? Eagle is the one every beginner should own! It's for organizing, collecting and browsing your digital assets. It provides many different ways to sort your files such as tag, rating, smart folder, color search, annotation and more! Moreover, its extension allows you to gather ideas, collect references online to quickly create a mood board.

Eagle supports 90+ formats, with just one app, you could easily preview all the popular design software, which in some cases, blind to the operating system. It also comes in really helpful to find the files without making a mess when your design deadline is near. If you are looking for tools to stay productive for all kinds of design work processes Eagle is yours to go!
Platform: MacOS and Windows. Extensions are available for Chrome, Safari, Firefox, and Edge.
Pricing: Free 30 days trial then US$29.99 for one license. No subscription. Free updates. Educational discounts are available. Each license can be used for two devices.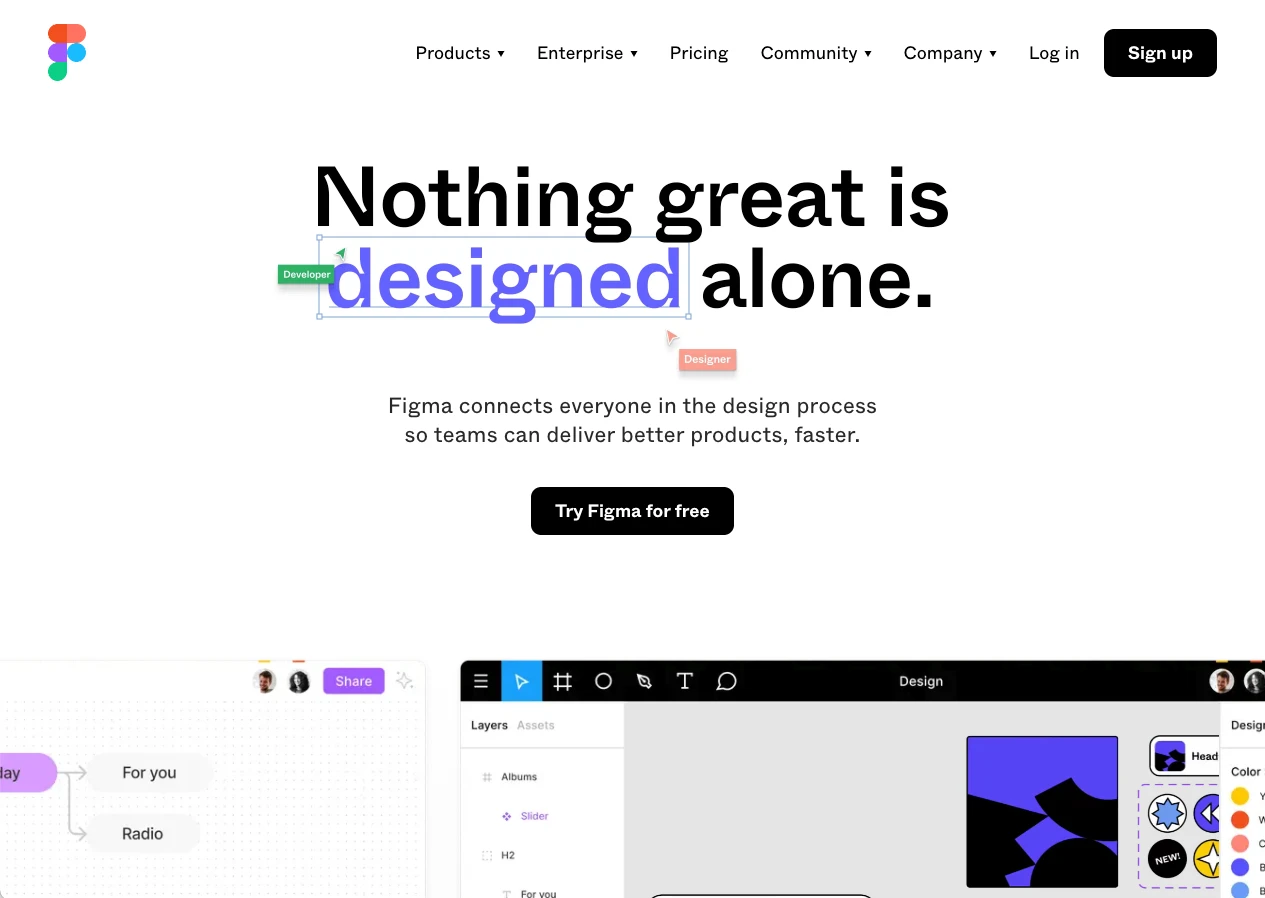 Image from Figma

Figma is a cloud-based design tool that doesn't matter of mac or windows devices. It has replaced many designers' favorite tools on the market currently. Not only does it able to create graphics but it allows team members to quickly design, prototype, and gather feedback all in one place.
It's a great tool to design, prototype, and launch your products from start to finish. It also provides many plugins and templates to help you get your hands on easier.
Platform: Web
Pricing:

Starter: Free for 1 team project
Professional: $12 per editor/monthly
Organization: $45 per editor/monthly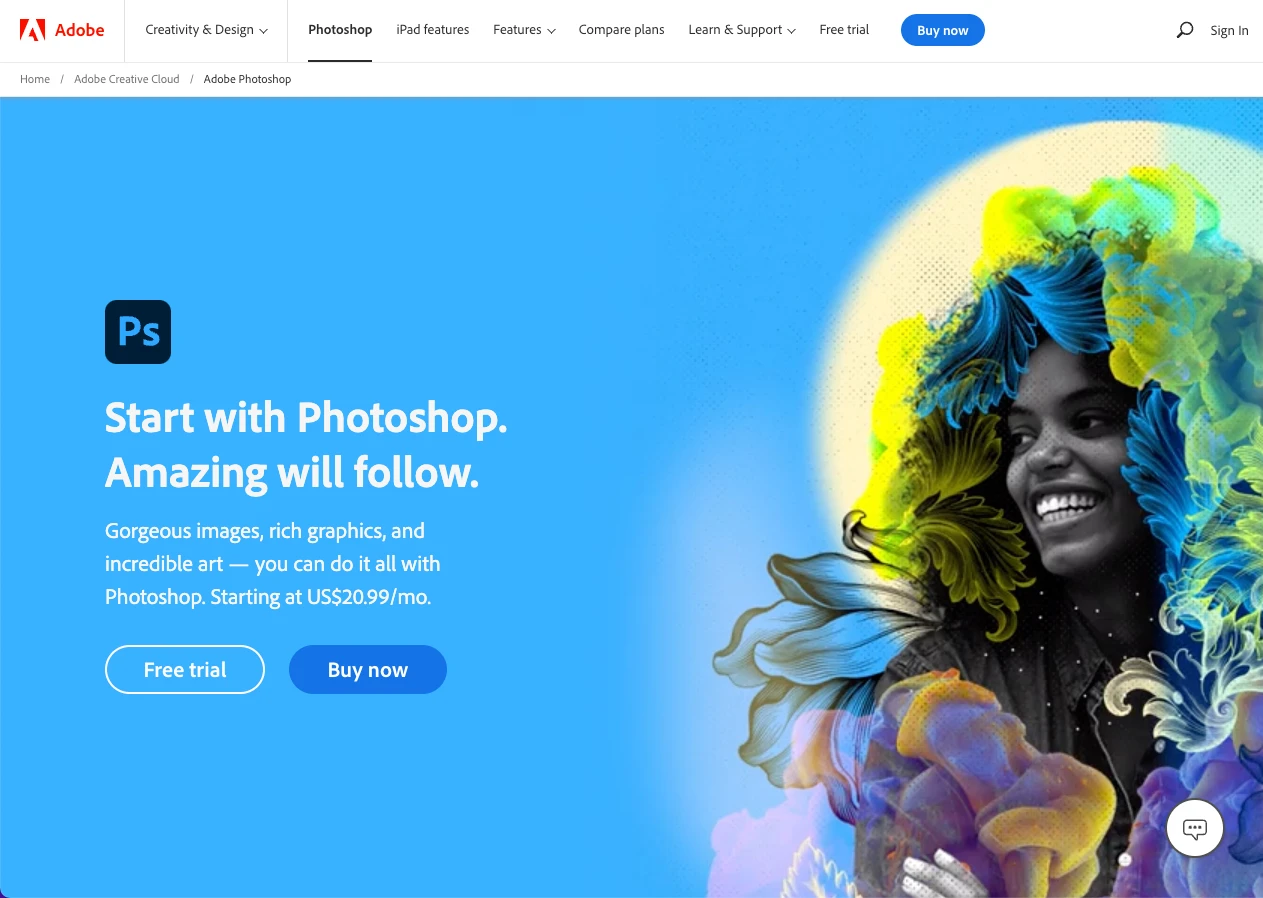 Image from Adobe Photoshop
Get All Adobe Creative Cloud Apps for 50% off for 6 monthes now! (Valid until May 18th, EMEA region only.)
Adobe Photoshop is arguably the most popular software for graphic design and is used by millions of artists around the world. Whether you are looking to create banners, posters, websites, or logos, this best graphic design software can do it all for you. From small edits to sophisticated designs, Adobe Photoshop has tools for every level. If you are someone who works with illustrative designs, you can even draw or paint anything you like.
Along with image editing, you can create naturalistic artwork and composition in this software. You can define the size of your canvas, isolate elements from backgrounds, create custom brushes, 3D and so much more!
Platform: Windows and Mac
Pricing: Free 30 days trial, Creative Cloud Photography Plan: US$9.99/month.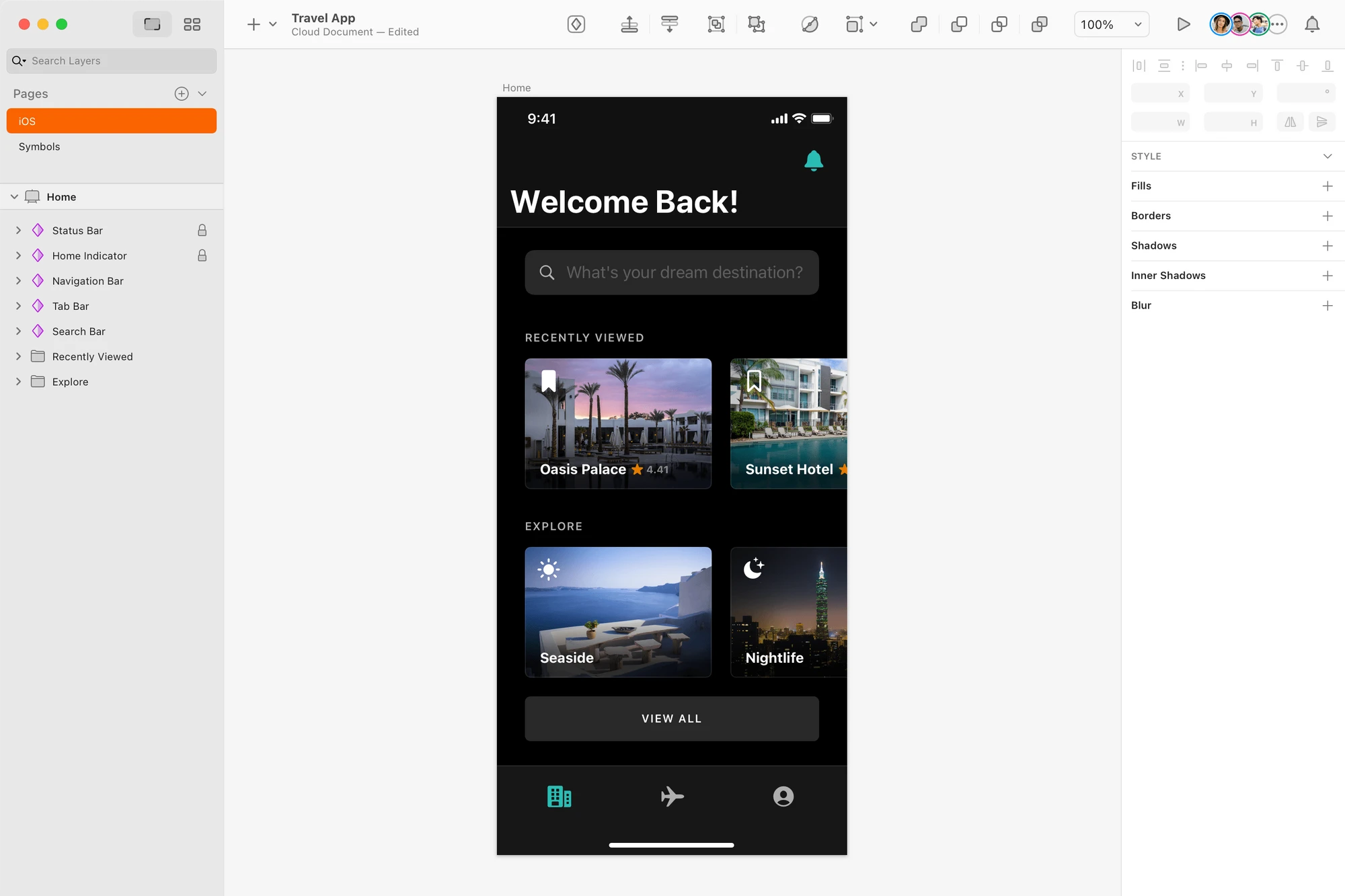 Image from Sketch

Sketch is a Mac-only graphic design program that focuses mainly on digital design. These digital designs are used to create websites, apps, and interfaces. Unlike Photoshop, Sketch isn't built for photo editing or print work.
With Sketch, you can create a prototype by collaborating with other designers on the platform itself. The program has a smart layout feature in which the component will automatically resize based on the content. There are hundreds of plugins in the software which will let you do vector editing and other design work with precision down to the pixel. Digital icons are another thing that can be created through this software. Sketch, on the downside, is not great for print design or illustrations.
Platform: Mac
Pricing: Free 30 days trial $9 per editor monthly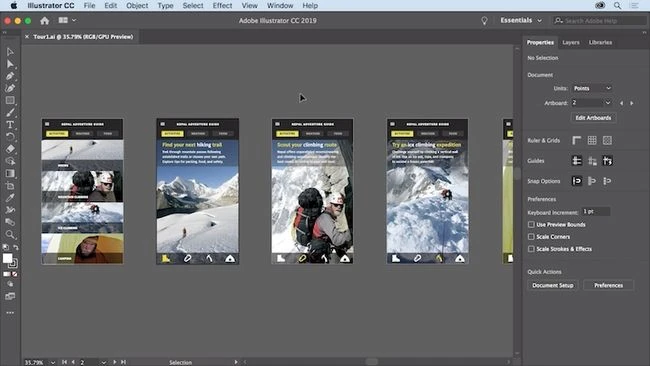 Image from adobe illustrator

Adobe Illustrator is a design software that is centered around vector design. You can create artwork, icons, posters, etc. and the designs created in Adobe Illustrator can be used in business cards or billboards and from smartphones to 8k screens. You can use this software to draw, mix, and refine designs to create something spectacular. Adobe has made a mobile version called Adobe Illustrator Draw, which is one of the best graphic design apps out there.
To draw, you can use the shaper tool and create vector shapes. Geometric shapes can be added to other outlines and can be moved, reshaped, and scaled. Even the fonts in the software can be manipulated according to your needs by adjusting their weight, slant, or width. For beginners, Adobe provides professionally designed templates to save time. The user interface of the program is helpful, but there is a steep learning curve to get good at illustrator.
Platform: Windows and Mac
Pricing: Free Trial for 7 days then US$20.99/ monthly on Adobe Creative Cloud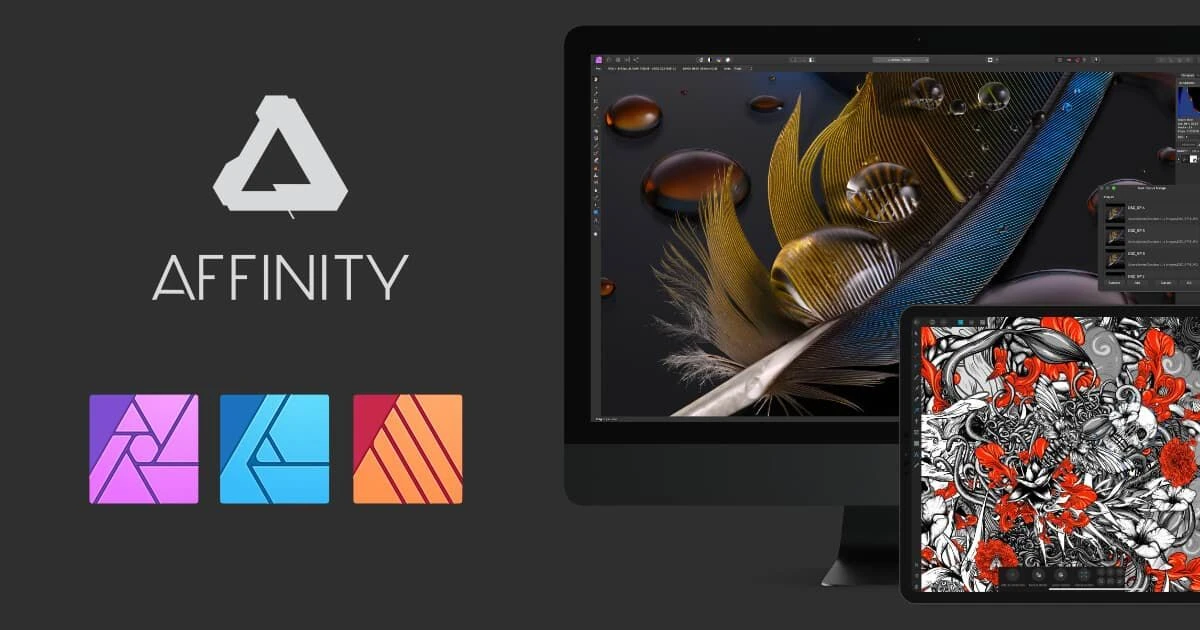 Image from Affinity Designer
The Affinity Designer is a cheaper alternative to illustrator, which is especially suitable for someone who is in the early stage of design career. The software is known to work smoothly, which can improve your workflow and make you express your creativity more freely. You can move and zoom your artwork at 60fps; see the gradients, effects, and adjustments changing live along with the transforms and curve edits.
Affinity Designer lets you work on both vector and raster workspaces, and you can switch between them easily. This software can work on any device, and you can create unlimited art boards within it. Advanced color controls are provided where you can work in RGB or LAB color spaces with up to 32-bits per channel. You can find a wide range of toolset in the program which can be used to achieve a high level of accuracy and productivity. The grids and guides are fully customizable, where you can change the spacing, sub-divisions, gutters, angles, etc. Another powerful feature of Affinity designer is that you get floating-point accuracy by zooming your artwork, even by more than a million per cent.
Platform: Windows, iPad, and Mac
Pricing: Windows or Mac: US$54.99 subscription-free and lifetime updates.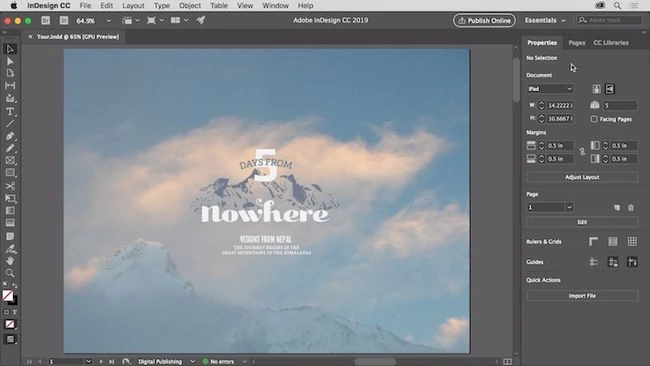 Image from Adobe InDesign
Another software by Adobe that can be used to create designs is the Adobe InDesign. This graphic design software is used primarily in the publishing industry because you can design magazines, info sheets, books, posters, interactive PDFs, brochures, etc. with it. With the 'adjust layout' option that InDesign provides, you can change the text of your document, and the graphic will adjust accordingly.
The properties panel has been redesigned to give you more intuitive control over the tools. The Sensei technology integrated into InDesign makes the automatic arrangement and resizing of images. Beginners can quickly learn this graphic design software because it has a low learning curve. To work with other members of your team in creating a design, you can use Adobe InCopy. The Creative Cloud Libraries can help you share text, colors, and graphics with other members.
Platform: Windows and Mac
Pricing: Free Trial for 7 days then US$20.99/ monthly on Adobe Creative Cloud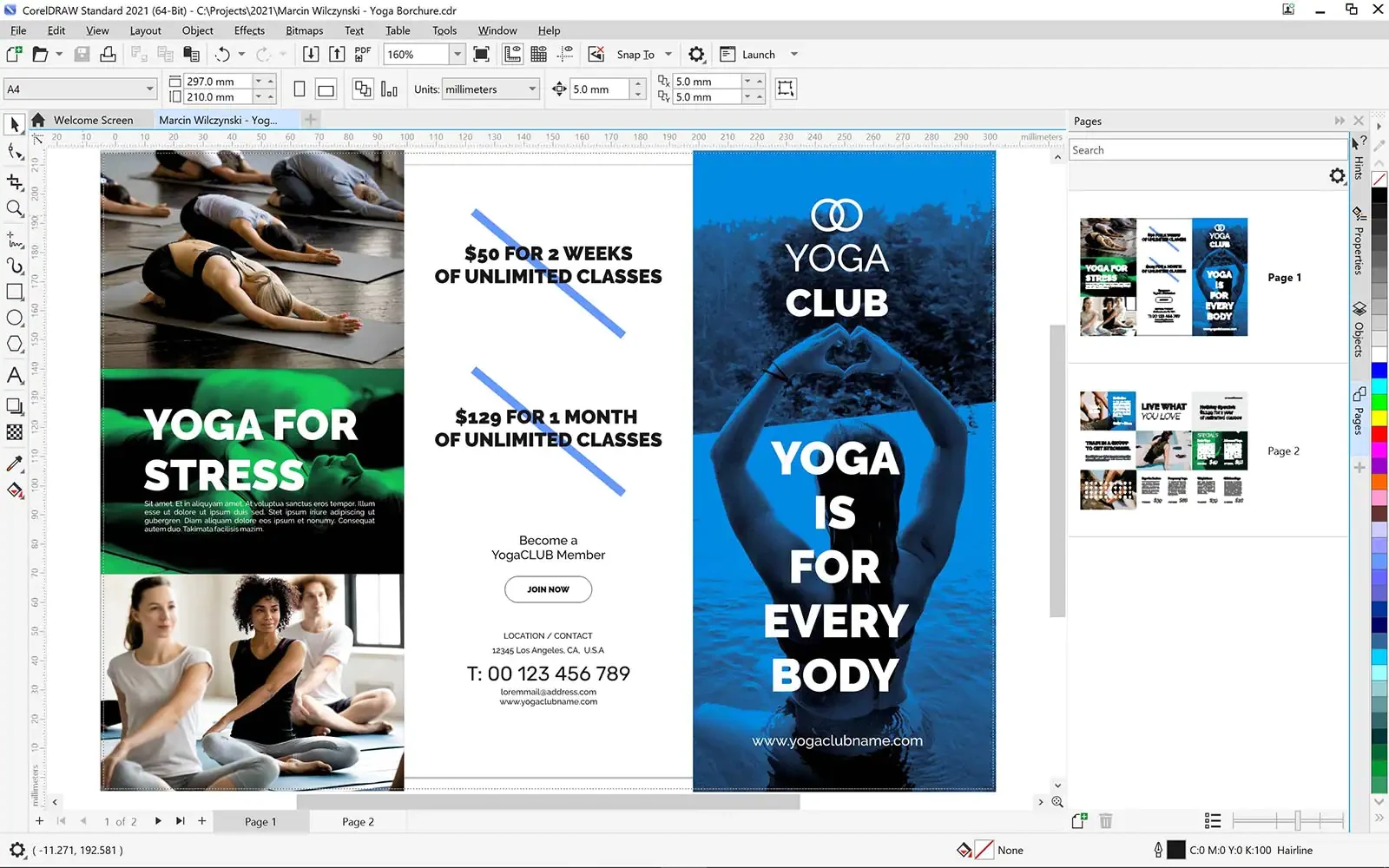 Image from CorelDRAW Graphics Suites 2021
CorelDRAW was earlier built only for Windows OS; it is now available for Mac as well. With this graphic design program, you can create professional vector illustrations. There are powerful design tools to help you work faster and smarter. You will find numerous customization options, whether you are working on logos, web design, or print projects. CorelDRAW now uses AI technology to provide you with LiveSketch, which converts sketching into precise vector curves. The suite contains tools for graphic design as well as layout. It has Photo-Paint and Corel Font Manager for photo editing and font management.
The software has web graphic tools and presets to develop creative web content; you can publish directly into your Wordpress site through it. The file compatibility is also overwhelming; the program supports over 100 file formats.




Platform: Windows and Mac




Pricing: 15-Day free trial then

Annual Plan. US$20.75/monthly
Monthly Plan. US$34.95/monthly
One-Time Purchase. US$499.00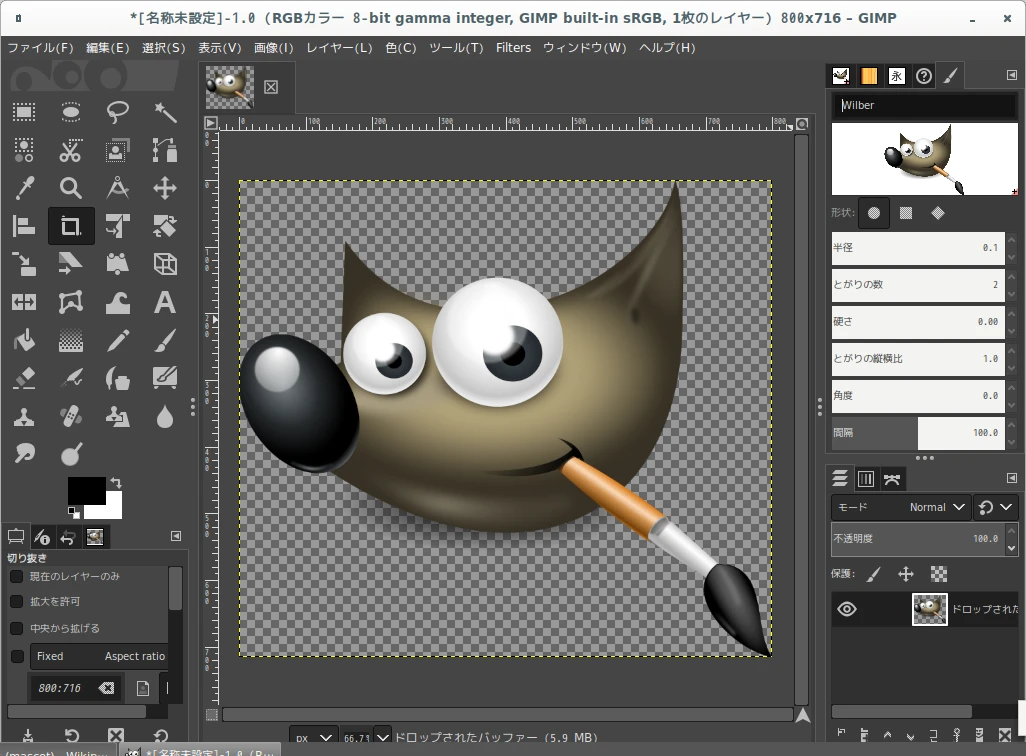 Image from GIMP
GIMP is a free graphic design software that works on many platforms like Windows, Linux, and Mac OS. GIMP is an open-source program that allows you to change its source code and distribute the program. There are many customization programs and 3rd party plugins that can be used in GIMP to improve your productivity and create better designs. GIMP can also be used to retouch images, wherein you can even make creative composites. Interface components and mockups can also be designed, along with print designs such as icons and logos.
Platform: Windows, Linux, Mac
Pricing: Free
9. Corel Vector (Formerly Gravit Designer)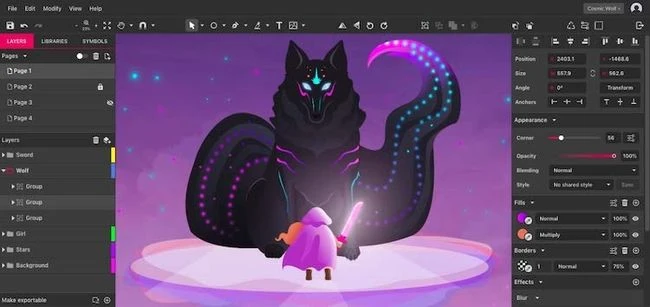 Image from Gravit Designer
This is another free graphic design software that can be used to create vector-based designs. You can create logos, edit photos, and create animations and illustrations in this program. Gravit does not have an offline version in the free plan. The software is fully customizable according to the user's needs. The pro version of Gravit is paid and has more advanced features like advanced export options, offline version, more color space, etc.




Platform: Windows, Mac, Linux, Chrome OS




Pricing:

Gravit Designer: Free with limited features
Gravit Designer PRO: US$49.99 /year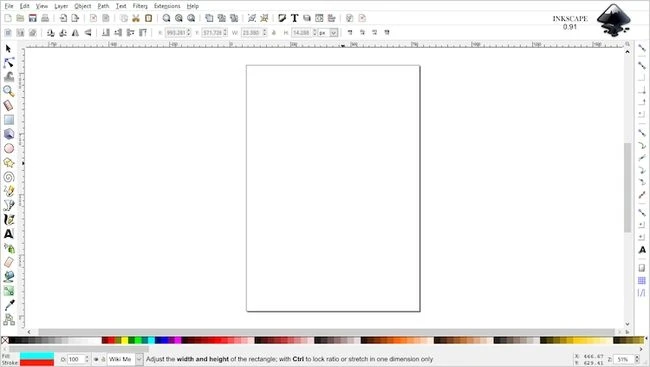 Image from inkscape
Inkscape, like many other platforms, provides multi-purpose use. It can be used by designers, illustrators, or web designers. The software has flexible drawing tools, which make it easy for beginners to understand the software and create art without difficulty. As the text is an integral part of graphic design, Inkscape has a powerful text tool at your disposal. This software is open source and can be used with any platform. A designer has to spend some time understanding how to use this software. This software is best used to create images that are vector-based and needs to be required in SVG format. Inkscape provides a lot of filters and a helpful community for the designer to grow.
Platform: Windows, Linux, and Mac
Pricing: Free
💡 Related articles: The 23 Best Design Windows Software for Newbies
Graphic Design Platform with no experience needed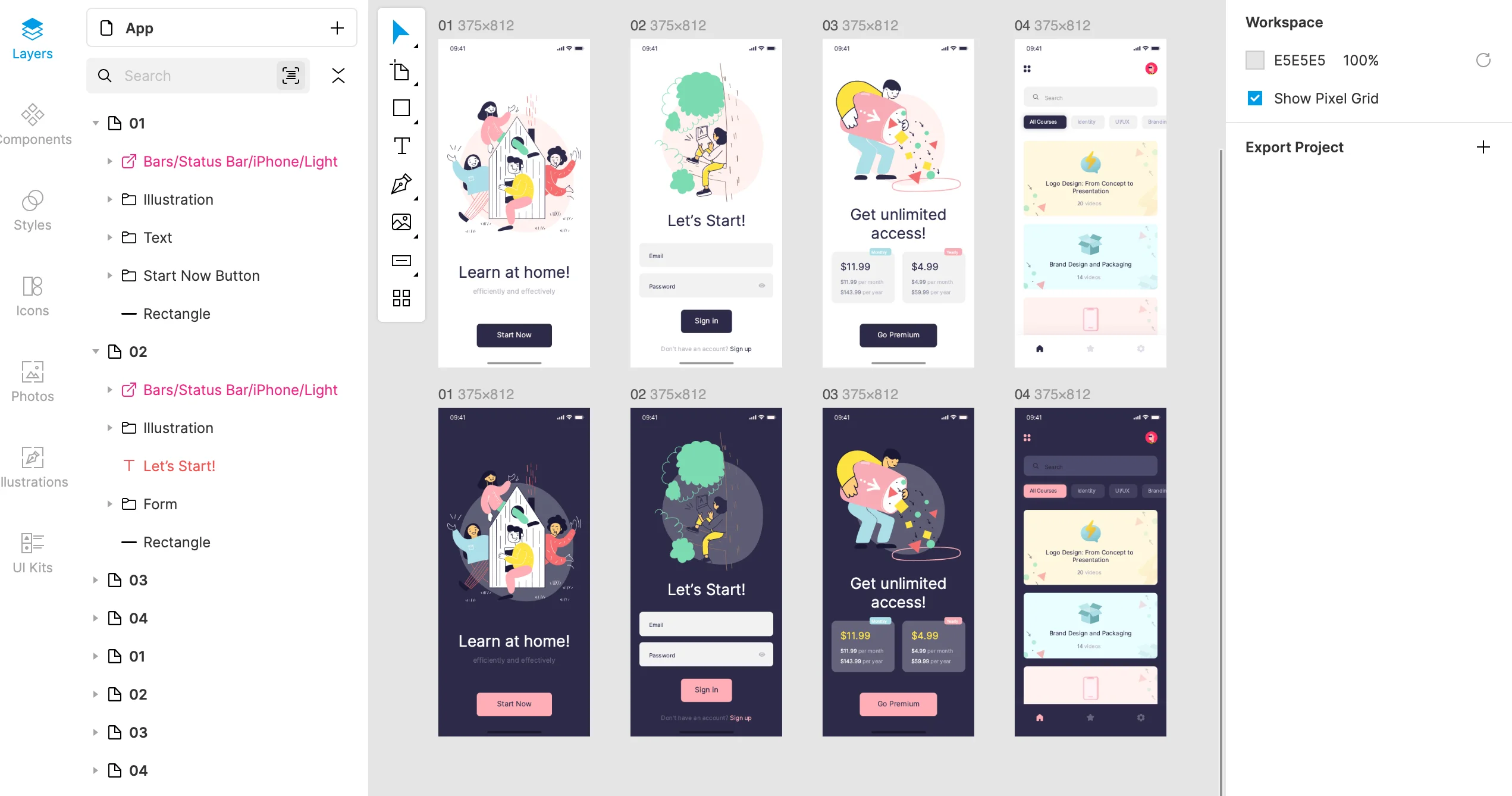 Image from icon8
Lunacy differs from others: it can both work with vector graphics and raster ones. There are numerous built-in icons, illustrations, and photos for creating the best ever vector design. It is best for UI/UX designers. Plus, the tool offers 3 AI-powered tools that work with raster graphics, i. e photos. Among them are background remover, image upscaler and avatar generator.
What is the best part? There is not only one, but 3. First, it is absolutely free. Second, it has the simplest interface so you don't need a great amount of time to get familiar with its interface. Easy-to-use and powerful, with many well-labeled options, Lunacy is clearly created for beginners. And lastly, it works in 18 languages, so it is available for almost the entire world.
Platform: macOS, Windows, Linux
Pricing: Free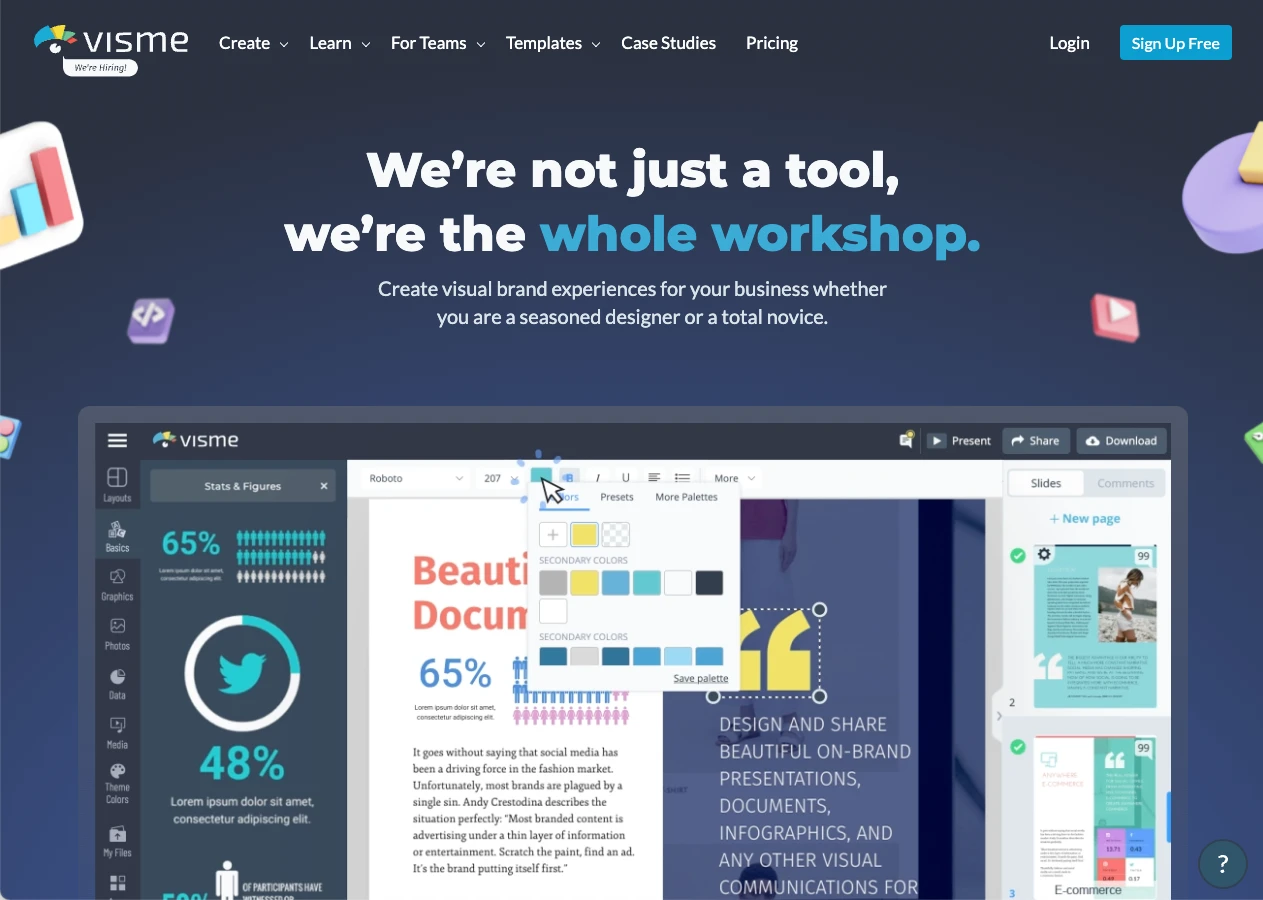 Image from Visme
Visme is an online design tool that goes above and beyond basic design capabilities, without requiring you to learn any complex software. It has an easy drag-and-drop editor, which lets both businesses and individuals create stunning and interactive visual content. There are hundreds of templates to choose from across 40+ categories, from presentation and infographics to press releases, reports and social media images. With a free Visme account, you can use some of these templates, but you get full access to millions of stock photos, videos, icons, animated graphics, fonts and graphs to customize these templates as much as you want. If you want to access premium templates and features like the brand kit, you need to upgrade to a paid account. There are multiple download formats available in Visme, from image to offline web. You can also publish your projects online and share them with a live URL. The unique thing about Visme is you can bring your content to life with advanced animation and interactivity features. For example, you can create a custom animated character, or add links, hover effects and pop-ups to your designs.




Platform: Web Browser




Pricing:

Basic plan: Free
Standard plan: US$14.00/per month
Complete plan: US$25.00/per month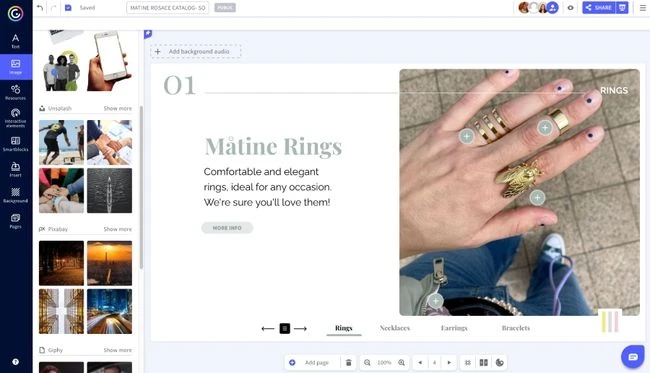 Image from Genially
Genially is an accessible all-in-one tool for creating interactive and animated designs. You can choose from thousands of templates or you can start from scratch to create posters, infographics, social media content, client pitches, interactive images, website sliders, and more. Best of all, Genially puts no limit on the number of creations you can make as a free user.
There are thousands of visuals to choose from within Genially's interface from vectors and image libraries (Unsplash, Giphy, and Pixabay are integrated within the editor) to maps and charts. You can also make any element interactive and add animation effects to it in seconds. Finally, Genially allows you to add buttons to your creations to turn your designs into microsites, product catalogs, and other interactive spaces, and it also gives you the option to insert media such as videos and social media posts within your creations.




Platform: Windows and Mac




Pricing: Free plan available

Pro plan: US$9.90/monthly
Master plan: US$39.90/monthly
Team plan: US$79.15/monthly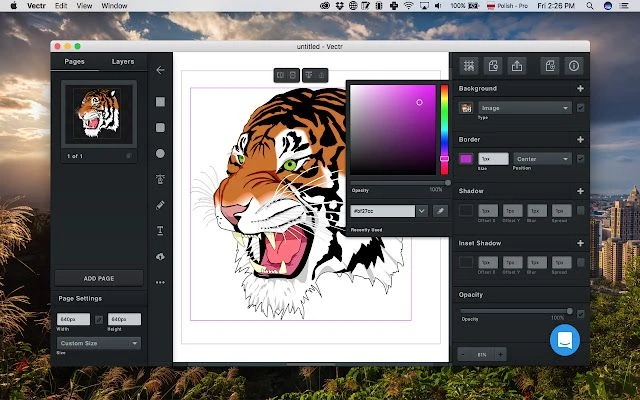 Image from Vectr
Free graphics software, Vectr can be used to create vector graphics. These vectors created won't lose their quality when scaled. Vectr doesn't use pixels to create the design; it uses mathematical equations. This free graphic design software is available both online and for desktop. Vectr provides you with an easy-to-use platform which you can use to create any 2D graphics. It can be business cards, logos, posters, brochures, etc.
Vectr provides you with detailed guides on how to use the program, which you can use to learn and create anything with your imagination.
Platform: Windows, Web Browser, Linux, Mac, and Chrome OS
Pricing: Free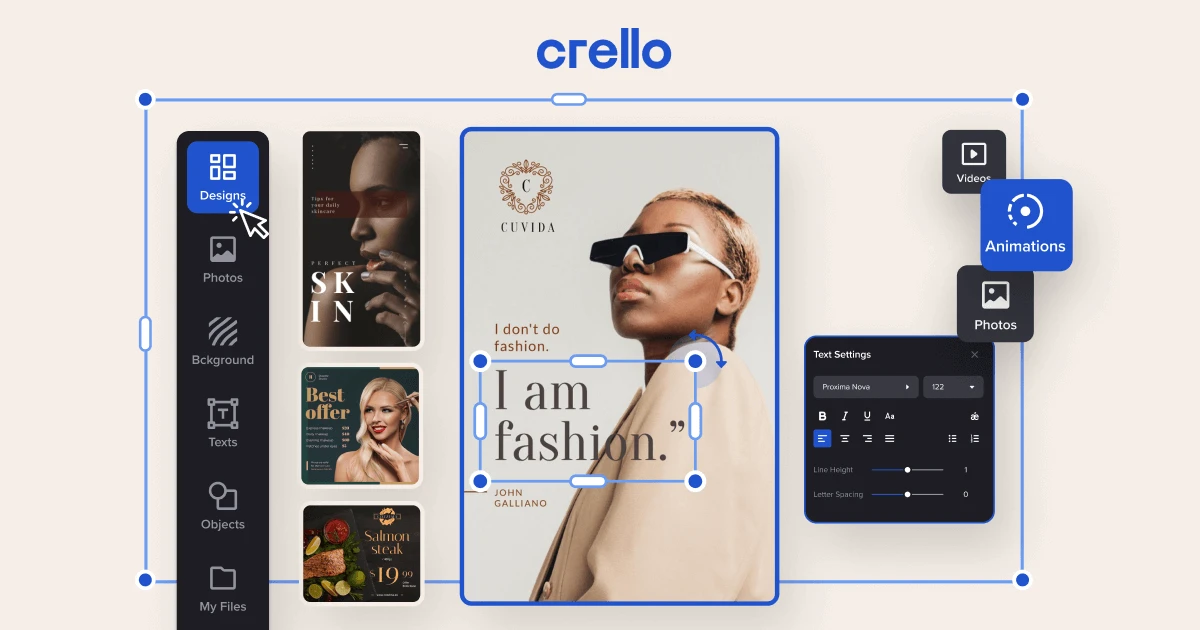 Image from Crello
Crello is an online graphic design tool for those in need of original and impressive visual content. It allows creating customizable social media, web, print, and ad content for your personal and professional needs. With its intuitive online editor, not only does it offer a massive library of trendy templates, but it also lets you download content and create your own designs from scratch.
Everything you need to do is sign up for free, choose a template, and customize it the way you want. Instruments are many: add texts and objects, remove image backgrounds, change colors and fonts, resize images, upload illustrations, and much more. Crello offers about 10,000 animated objects to follow the latest trends in design and helps you craft high-quality visuals. Most instruments are free here; for the unlimited downloads and some extra features, you can upgrade to a Pro plan for a token payment.




Platform: Web Browser




Pricing:

Starter plan: Free
Pro plan: US$10.00/monthly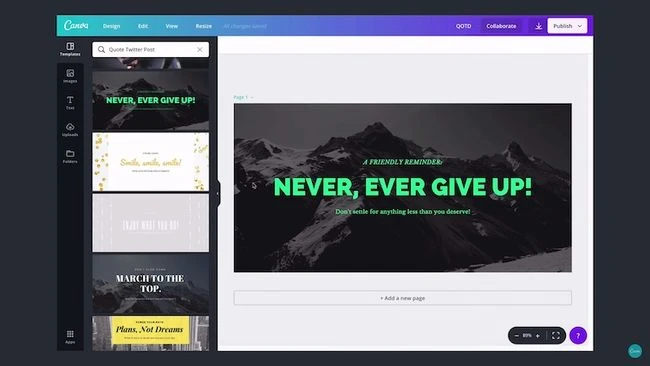 Image from Canva
If you have no previous experience in designing and you are looking for something very easy, then Canva is for you. This free online graphic design software allows you to create designs easily and quickly. There are a ton of templates, fonts images, many of which are free to use. Canva works on the drag and drops concept, where you only need to select the elements and drag it to your work area and customize it. This program does not provide you with advanced features like Photoshop. It, however, solves a beginner's design need who doesn't want to get into the process of learning and purchasing premium software. Canva is available as a graphic design app that can be used in Apple and Android devices. The basic features in Canva are free; you will, however, be charged if you want to use more features in it.
Platform: Web Browser, Android, iOS
Pricing:
Starter plan: Free
Pro plan: US$12.99/monthly up to 5 people
Enterprise plan: contact sales for more information
💡 Related articles: 15 Best Collaboration Tools for Designers & Marketing Teams
Other Productive Tools for Mac to Boost Design Workflow
Image from Eagle
Ever wonder if you could collect inspirations or online reference materials with ease? Eagle App Extension allows you to batch save images, capture area, capture visible and capture full pages with just one click! So in the future whenever you are to gather ideas, doing pre-project research, or even saving any hilarious design memes, Eagle is there to help!
Platform: MacOS and Windows. Extensions are available for Chrome, Safari, Firefox, and Edge.
Pricing: Free 30 days trial then US$29.99 for one license. No subscription. Free updates. Educational discounts are available. Each license can be used for two devices.
18. iRightMouse - Right click menu tool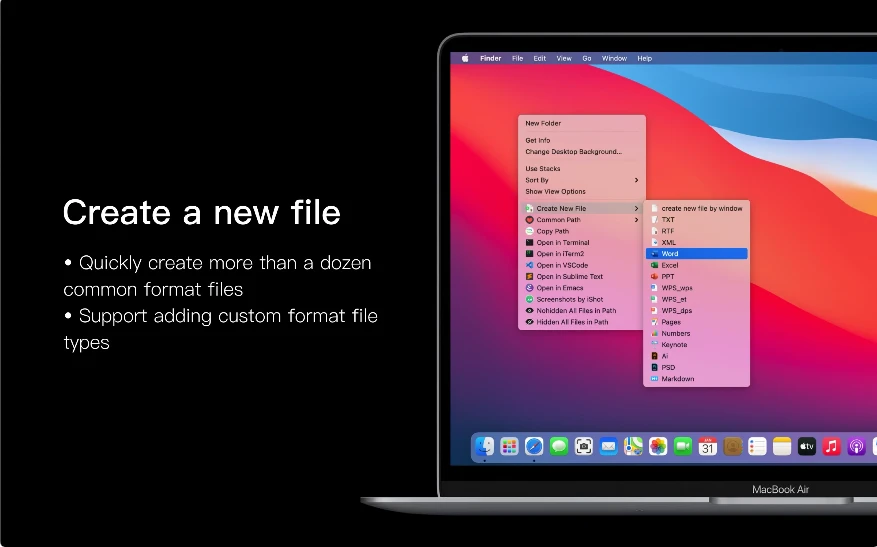 Image from iRightMouse
Looking for the right click function in windows to get a quick access to create documents or applications? This powerful right click menu tool is very useful for your daily workflow.
For example, you can copy, move, and cut files, copy the path of files, choose to open files through a specific editor, you can also hide and completely delete them directly by right-clicking, and can even set a set of built-in folder icons for folders.




Platform: macOS




Pricing:

Free with basic features
Pro with advanced features: $2.49/ yearly subscription or $8.99/ one-time fee
19. Ubar - Dock replacement for Mac

Image from Ubar
Are you a mac user that wishes your mac Dock allows windows taskbar feature? uBar is here for your Dock replacement. It helps a lot with your window management which mac dock doesn't have.
If an application has more than one window, you'll know right away. Click application to open the window menu, which allows you to bring any window or even just the application itself to focus and so on!
Platform: macOS
Pricing: 14 Day free trial, then $30 for an individual license.
20. Avocode - Integrate all design files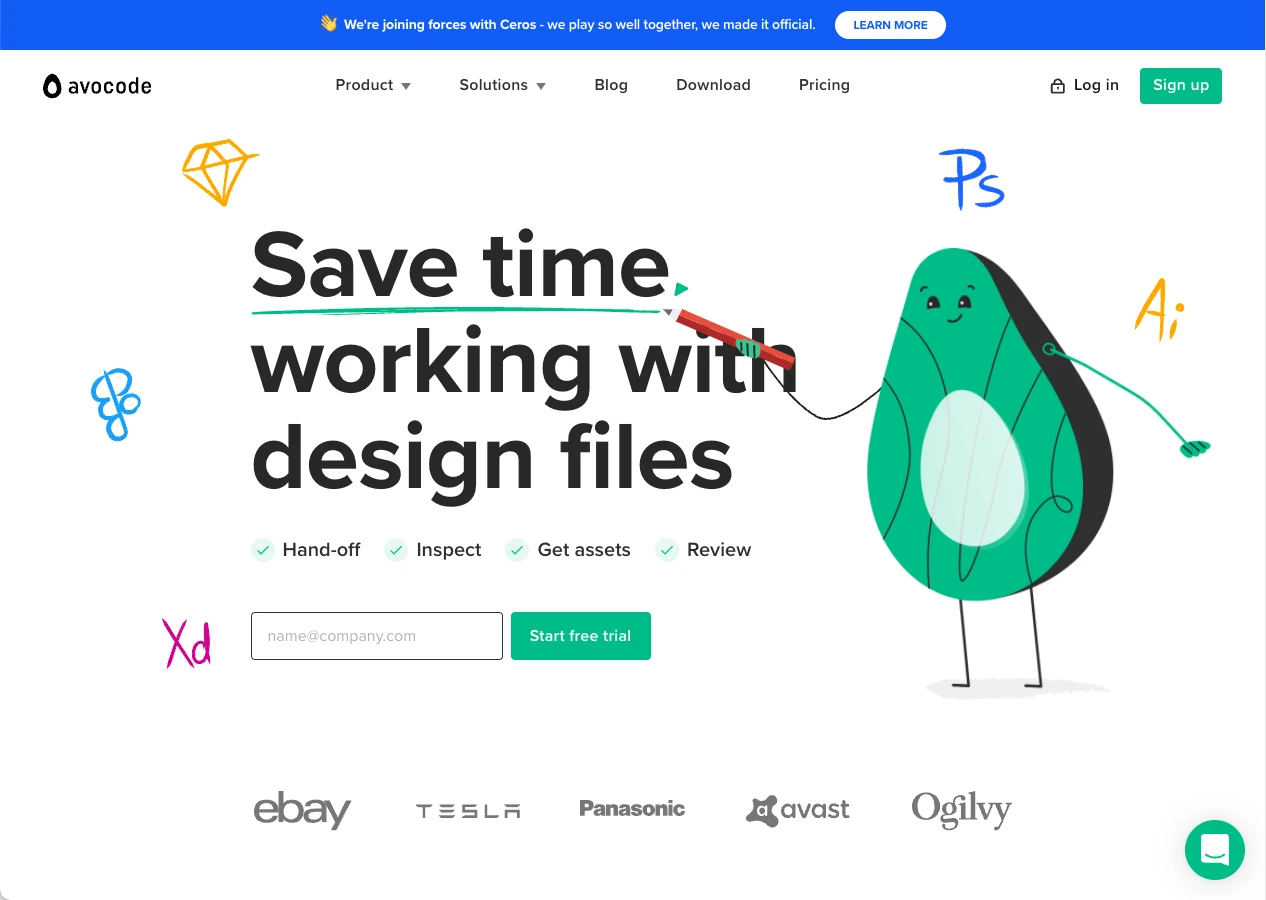 Image from Avocode
Want to have all your design files integrated perfectly altogether? Avocode is a tool that helps you convert and review design software formats. It's a useful tool for communicating design details between designers and developers. It solved the problem of post-design with the design specifications.
So in the future when some of your team designers work on Photoshop, a few with Sketch, some with Figma you can rely on Avocode to help you get rid of the format issues everything could be organized altogether. Currently, the conversion compatibility is 99%.




Platform: macOS, Windows, Linux




Pricing: 7 days free trial.

Solo plan: US$19/ month
Team plan: US$29/ month per user
21. Alfred - Customized keyboard shortcut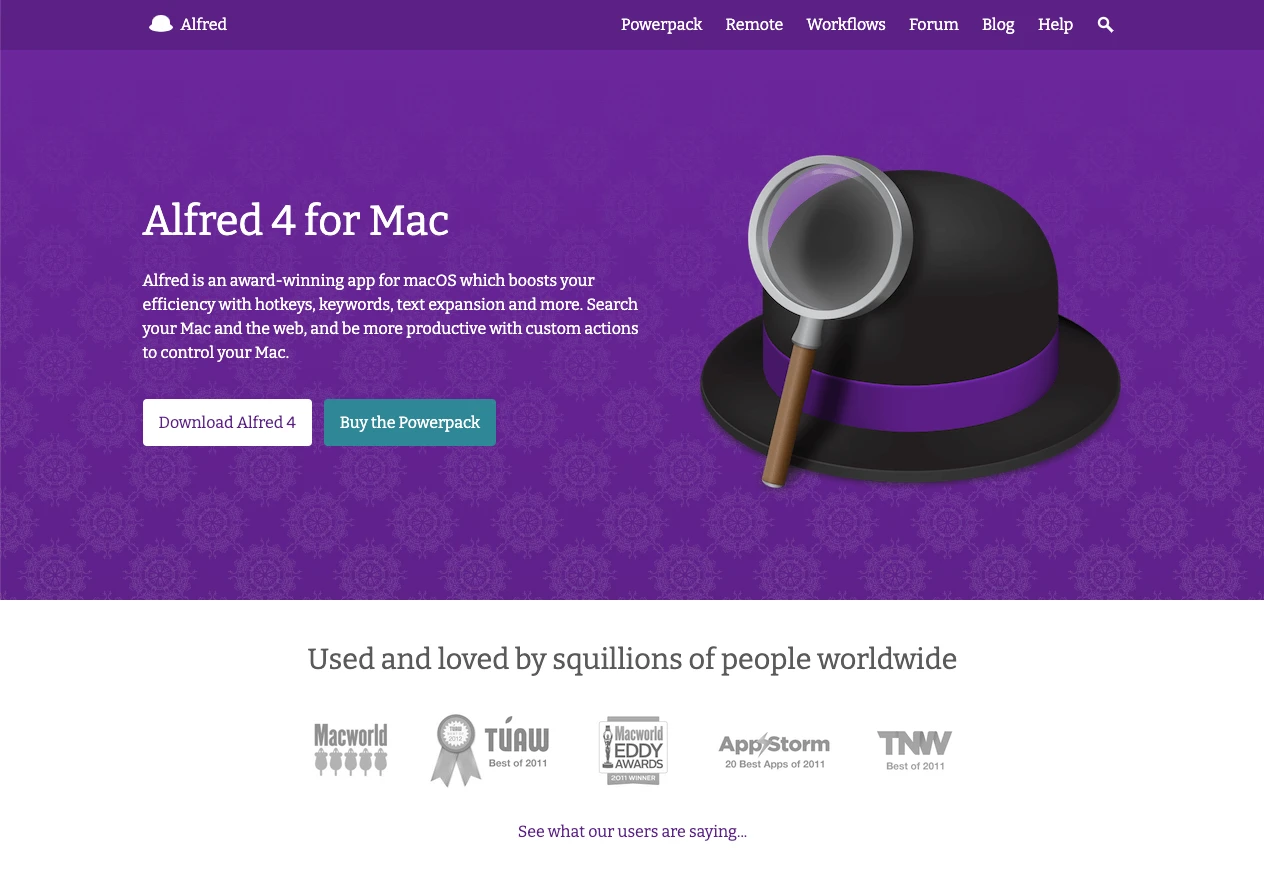 Image from Alfred
Want to have more control over your Mac or create custom action to replace daily repetitive design work? Alfred is an easy to use tool to help you boost your efficiency with hotkey shortcuts, keywords, text expansion and more.
It allows you to do everything from searching for design files to opening apps, math calculations and quickly search the web for anything as well. With Alfred's clipboard history and snippets features, there's no need to type the same responses over and over. You may also import workflows from the community to have all your daily work automated. It's much more helpful than the default Mac Spotlight.




Platform: Mac




Pricing: Free with basic feature

Single User License: £29 for one user on two of your own Macs, for the current version
Mega Supporter License: £49 for one user on your own Macs, and gives you a lifetime of free updates to Alfred for Mac
22. HazeOver - Distraction dimmer tool
Image from HazeOver
HazeOver is a tool to help you turn distractions down and focus on your current task. It runs in the background and adds a translucent dark screen behind a window you're using at the moment.
When you switch to a different window, HazeOver automatically fades the previously used window. You can select between an instant switch or a smooth animation. If you are easily distracted or if you ever needed focus when producing your design work, check out HazeOver!
Platform: Mac
Pricing: Free Trial available then US$4.99
23. MindNode - Clarify your ideas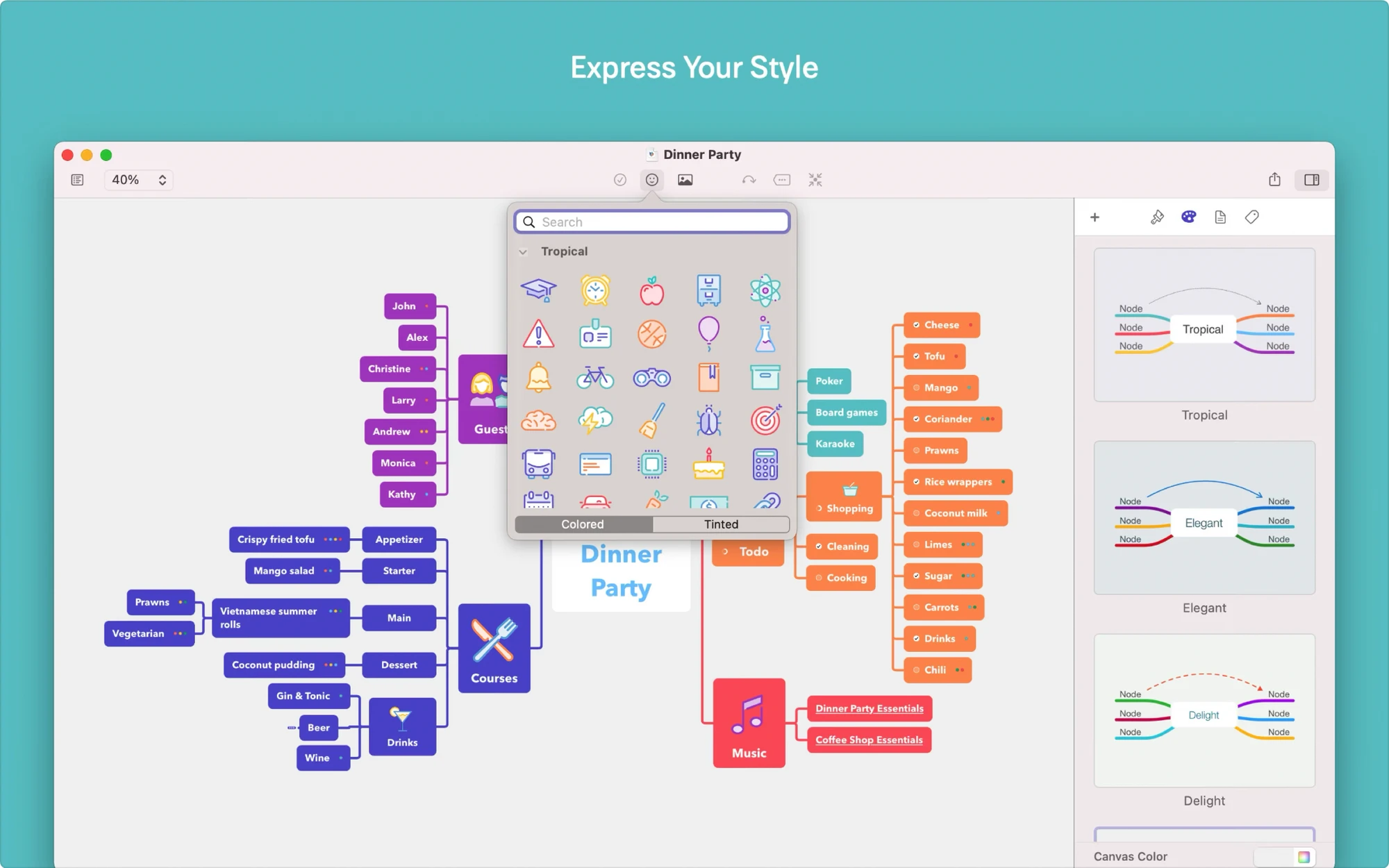 Image from MindNode
Every great idea starts with a single thought. Which leads to another and another. And then a million more! MindNode is a tool to help you turn your ideas into visual presentations.
Its beautiful and clean interface is very satisfying for building a bullet-style mind mapping process. You can also easily export the mind maps into PDFs, PNGs, and even RTF formats effortlessly.




Platform: macOS and iOS




Pricing:

MindNode for Mac and MindNode for iOS: Free with basic editor features
MindNode Plus: Full feature & cross-platform, US$2.49/ per user monthly or US$19.99/ per user yearly
24. Mouseless - Shortcut cheatsheet (disconnected)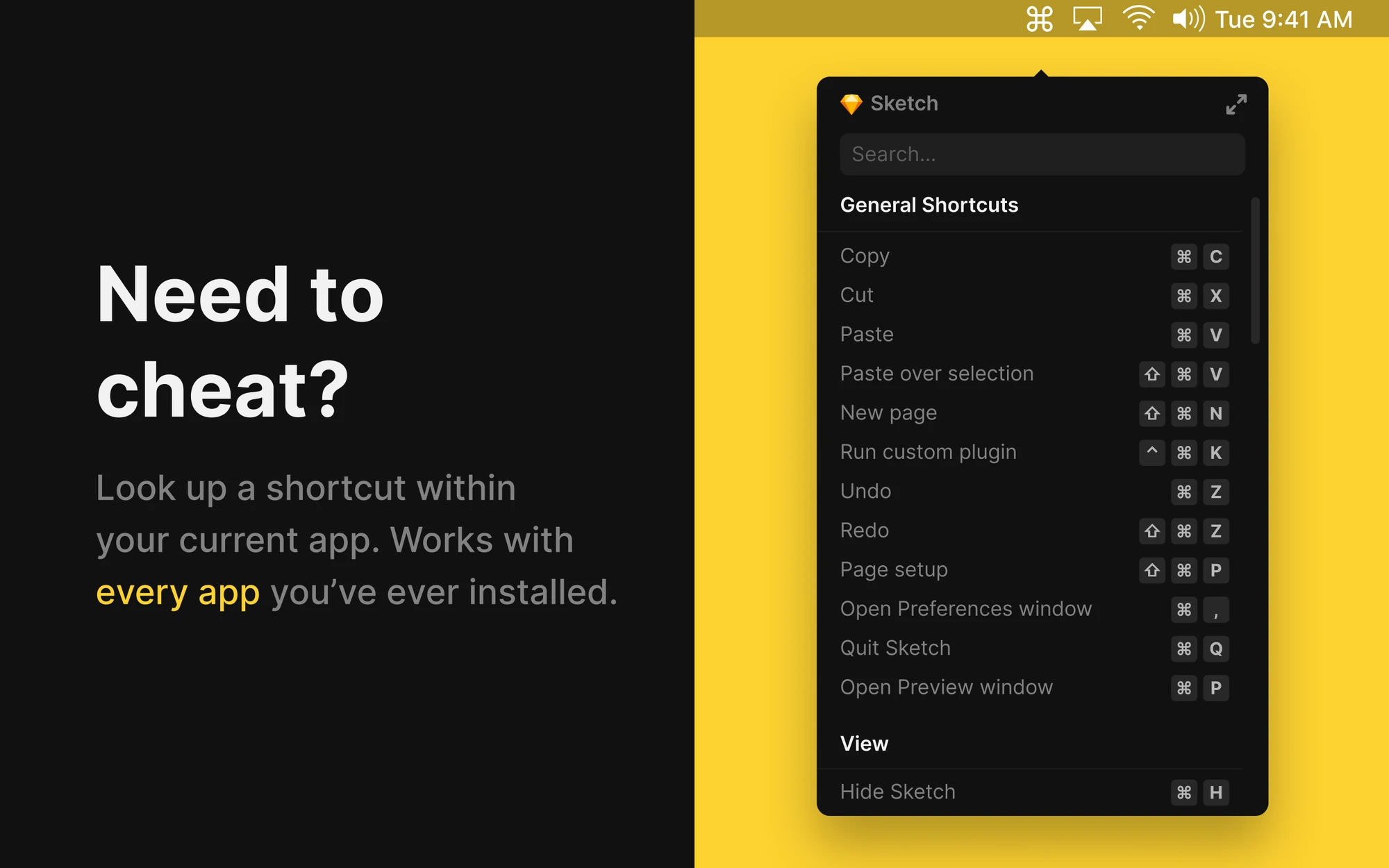 Image from Mouseless
Wading through shortcuts, and it's too hard to remember any? Get those keystrokes ingrained in your muscle memory for good. Mouseless is a tool to help you reduce the work for your mouse and provide a database to look up a shortcut within your current app.
It covers the basics with shortcuts for macOS and let your fingers fly in one of the 28 apps and tools you already love, if you are a forgetful designer but want to stay productive you can't miss out on this!
Platform: MacOS
Pricing: US$20
25. Clockify - Time tracker tool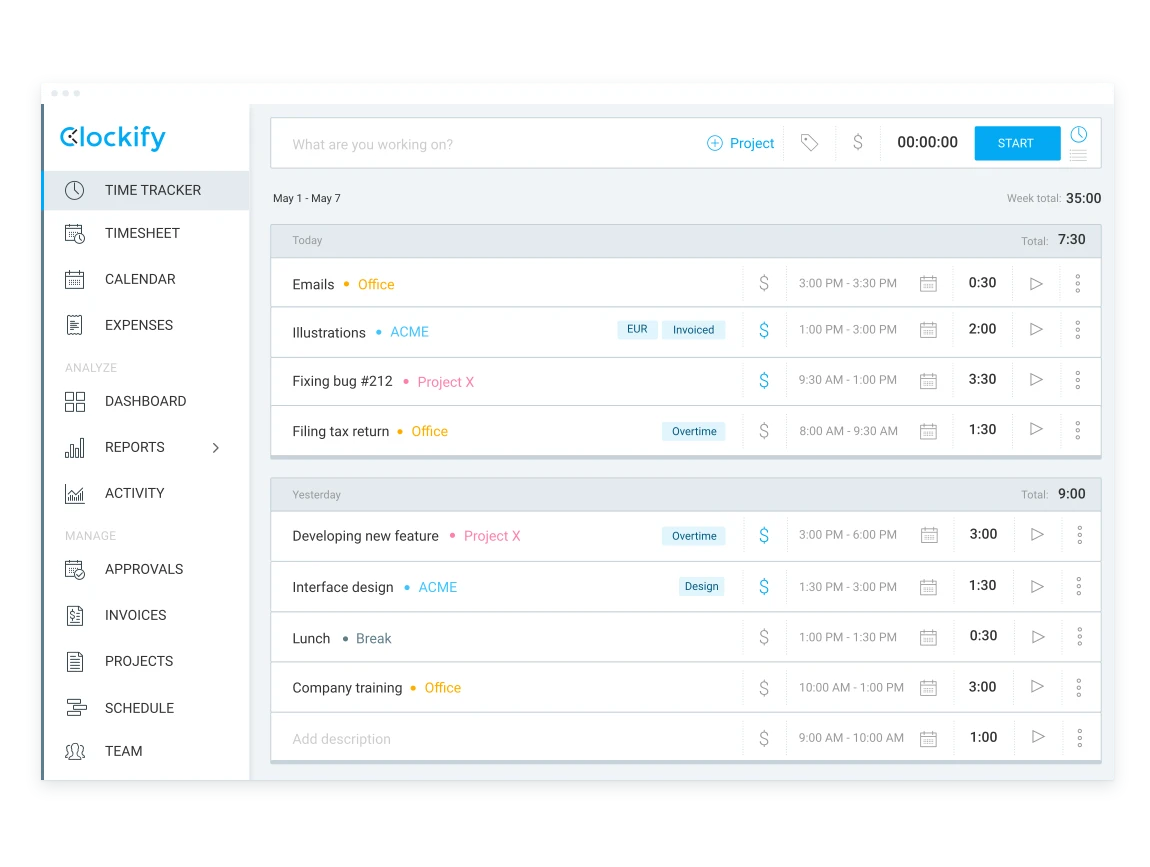 Image from Clockify
Do you ever wonder how much time you have spent on one project? Clockify is the tool to help you track your design work, budget and everyday life, you'll soon realize how you can improve and be a more productive designer!
It can integrate with the most popular software and tools like Notion, Figma, Evernotes..etc. Want to have your time neatly organized? then try Clockify!
Platform: Web, macOS, Linux, Windows, iOS, Android, Browser extension
Pricing: Track time for FREE, Advance feature pricing starts from US$3.99/per user month billed annually
Want more than just tools to be a better graphic designer? Try Eagle!
We understand selecting the right software and tools can be quite a challenge for beginners, however, just to keep in mind that every designer is different with their workflow, focus more on the product feature and what you want to achieve with the software then you will eventually find the right one for graphic design!
For a deeper dive into the topic of choosing tools as a designer, you can visit tools for organizing your design files, list of useful tools for color and chrome extension designers can't live without, and if you want to learn more about being productive and do better design research make sure you check out Eagle! Eagle is a powerful desktop-based assets management tool, that provides a new way to collect, search, browse and organize all your files all in one place whether it's design mockups, illustrations, screenshots files or more you can easily boost your productivity fast and happy!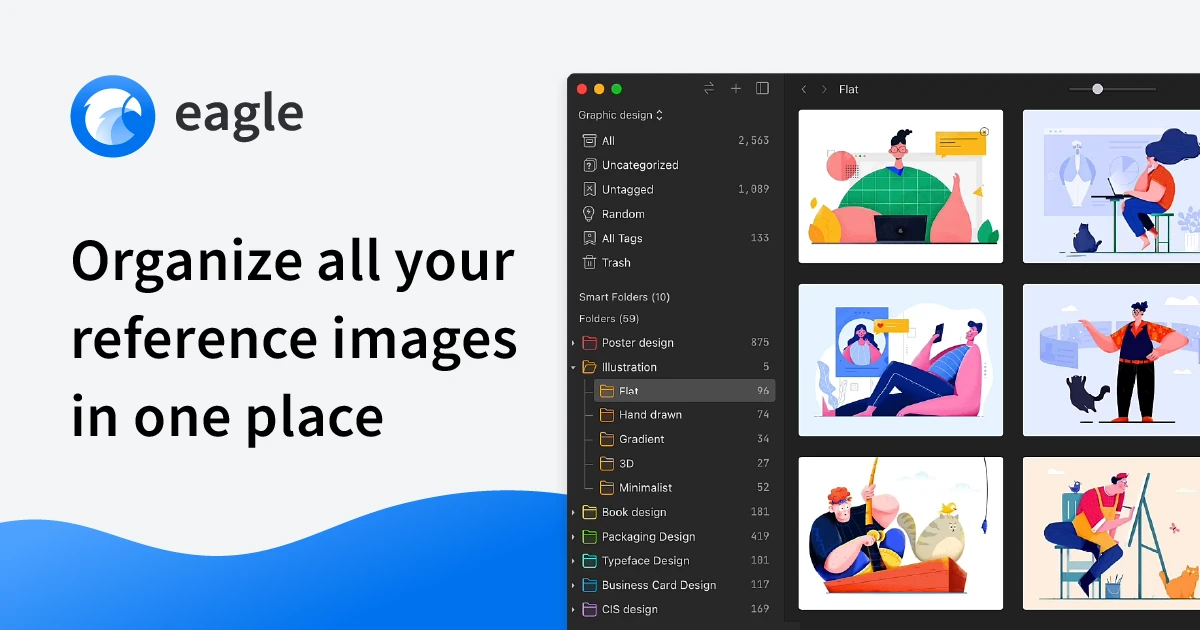 Image from Eagle