Effortless Character Design Generators: 2023's Best 8 Unveiled
Hey there, creators and digital visionaries! Get ready to step into a world of artistry made easy. In 2023, character design has taken a revolutionary leap with effortless generators at your fingertips. No more blank canvas frustration or endless tweaking – just a few clicks to bring your wildest ideas to life!
Come along with us on this exciting journey as we uncover the top 8 character design generators of the year! These incredible tools have a touch of magic, connecting with your imagination and boosting your creativity like never before. Are you prepared to be truly amazed? Let's dive in!
Eagle App - Your Ultimate Game Design Library
Video from Eagle App
Are you tired of sifting through endless folders and scattered files for your game design inspiration? Look no further! Get ready to meet Eagle App, the game-changer in the world of game design libraries! This incredible tool will completely transform how you organize and access concept art and references.
Eagle App revolutionizes the creative process with seamless organization and a powerful tagging system. Its intuitive interface allows users to curate and catalog visual assets effortlessly. Smart folders and subfolders make it easy to find references, and the robust tagging system enables quick searches for specific themes or files. Additionally, Eagle App offers cloud synchronization, ensuring access to the design library across different devices.
Experience the future of game design libraries with Eagle! Unlock your true potential, streamline your creative process, and immerse yourself in a world of endless inspiration. Say goodbye to scattered references and endless searches, and embrace the power of Eagle App to take flight in your artistic journey.
Get to know Eagle and discover seamless organization and endless inspiration.
What is a Character Design Generator?
A character design generator is a powerful AI tool that uses artificial intelligence to create customized and imaginative characters according to your preferences. Whether you're an artist seeking inspiration or a writer in need of well-developed characters, these generators are invaluable resources. They provide access to a vast database of pre-designed characters or generate new ones from scratch, making it easy to explore various possibilities.
For a more organized approach, structured character design generators follow specific rules and guidelines, allowing you to input parameters such as age, gender, or personality traits. On the other hand, random character design generators offer a spontaneous and unpredictable experience, generating characters through algorithms that randomly select attributes like appearance and background story. Both types of generators offer unique qualities and can spark creativity in crafting captivating characters for your projects. So why struggle with character creation when AI can bring your imagination to life? Try a character design generator or prompt generator today and watch your creativity soar!
Why Use a Character Design Generator?
A character design generator offers unexpected inspiration and eases creative blocks, providing various options and saving time. It enables exploration of new styles and genres, fostering artistic growth. Whether you're an experienced artist or a beginner, these generators enhance character creation for video games, comics, or illustrations. Embrace new possibilities and unlock your imagination with this valuable tool. Try it now and see your artistic skills flourish!
---
Best 8 Character Design Generators for Captivating Game Arts
This discussion will focus on the best 8 character design generators for captivating game arts. These tools provide an array of features to aid in crafting one-of-a-kind and captivating video game characters.
Some key features include customizable options, pre-designed templates, and the ability to export designs in various file formats. Pricing varies depending on the tool, with some offering free versions or trial periods, while others require a subscription or one-time purchase.
1. Character Creator 4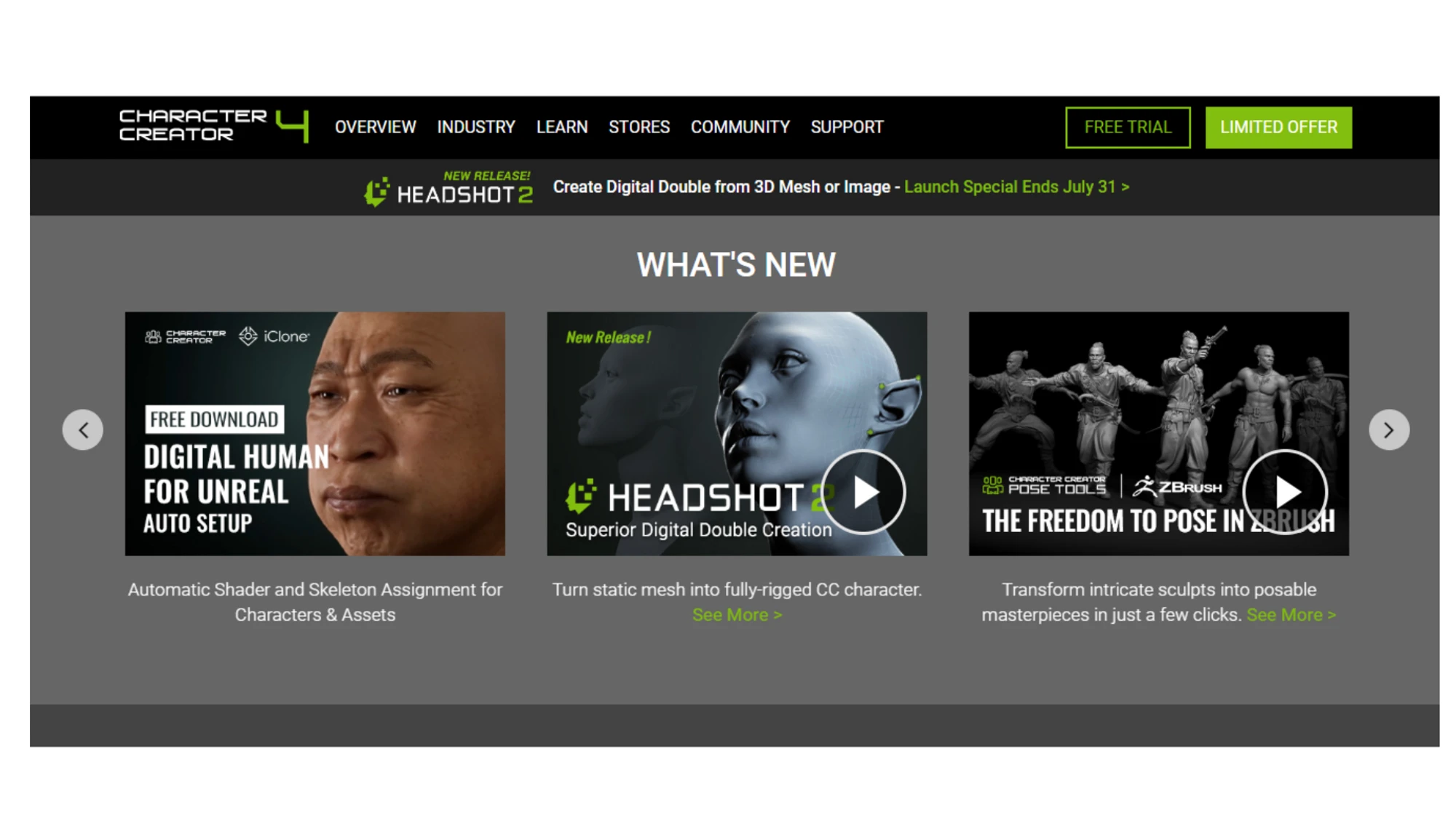 Image from Character Creator 4

Key Features: Character Creator 4 is a powerful 3D character creation software that empowers users to design highly customizable and lifelike characters for use in games, films, and animations. With an intuitive interface, it offers a wide range of character customization options, including facial features, body proportions, and clothing styles. Users can create characters from scratch or choose from a selection of pre-made base models to speed up the process.
The software also includes animation tools, allowing users to control facial expressions and body movements for seamless integration into their projects. Character Creator 4 is designed to produce realistic 3D renders, giving characters a polished and professional look. It offers numerous clothing and accessory options to dress characters in various styles, making them suitable for a broad spectrum of settings and narratives.
Pricing: Starts at $299 (One-time payment).
Link: Character Creator 4
Unleash the power of game design tools to create immersive worlds and unforgettable adventures. Level up your designs and bring dreams to life.
2. Fuse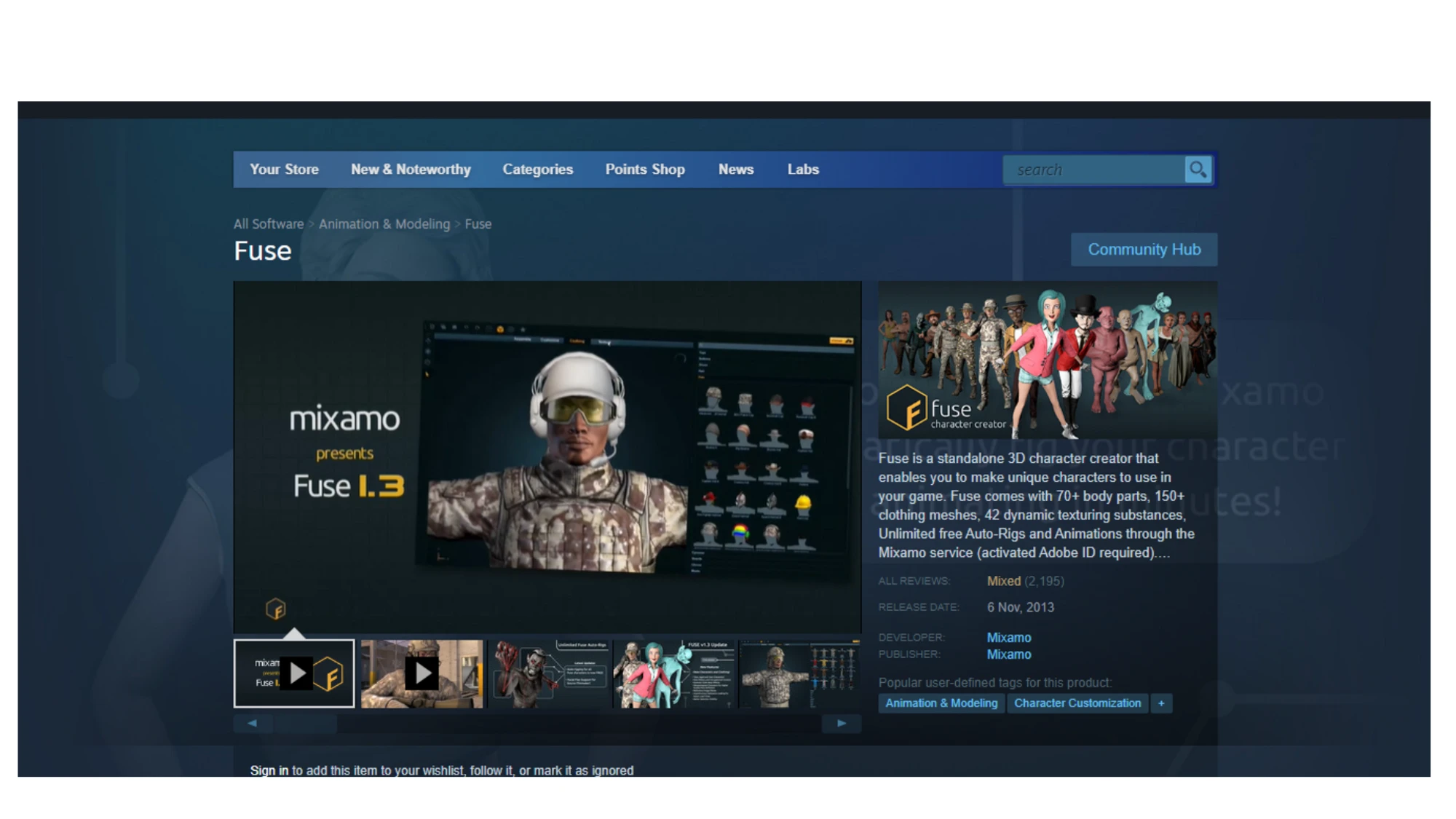 Image from Fuse

Key Features: Fuse was integrated into Mixamo by Adobe, offering an easy-to-use character creation platform for both beginners and professionals. It boasts an extensive library of assets, including hairstyles, clothing, and accessories, which can be mixed and matched to create unique characters. The software allows users to apply custom textures, adjust morphs, and create custom poses for characters.
Once the character design is complete, it can be exported in various formats compatible with major 3D software and game engines. Fuse's versatility makes it a valuable tool for game developers, animators, and illustrators looking to quickly create high-quality characters without the need for complex modeling.
Pricing: Free version available with limited features; subscription model for access to additional content.
Link: Fuse
3. Daz 3D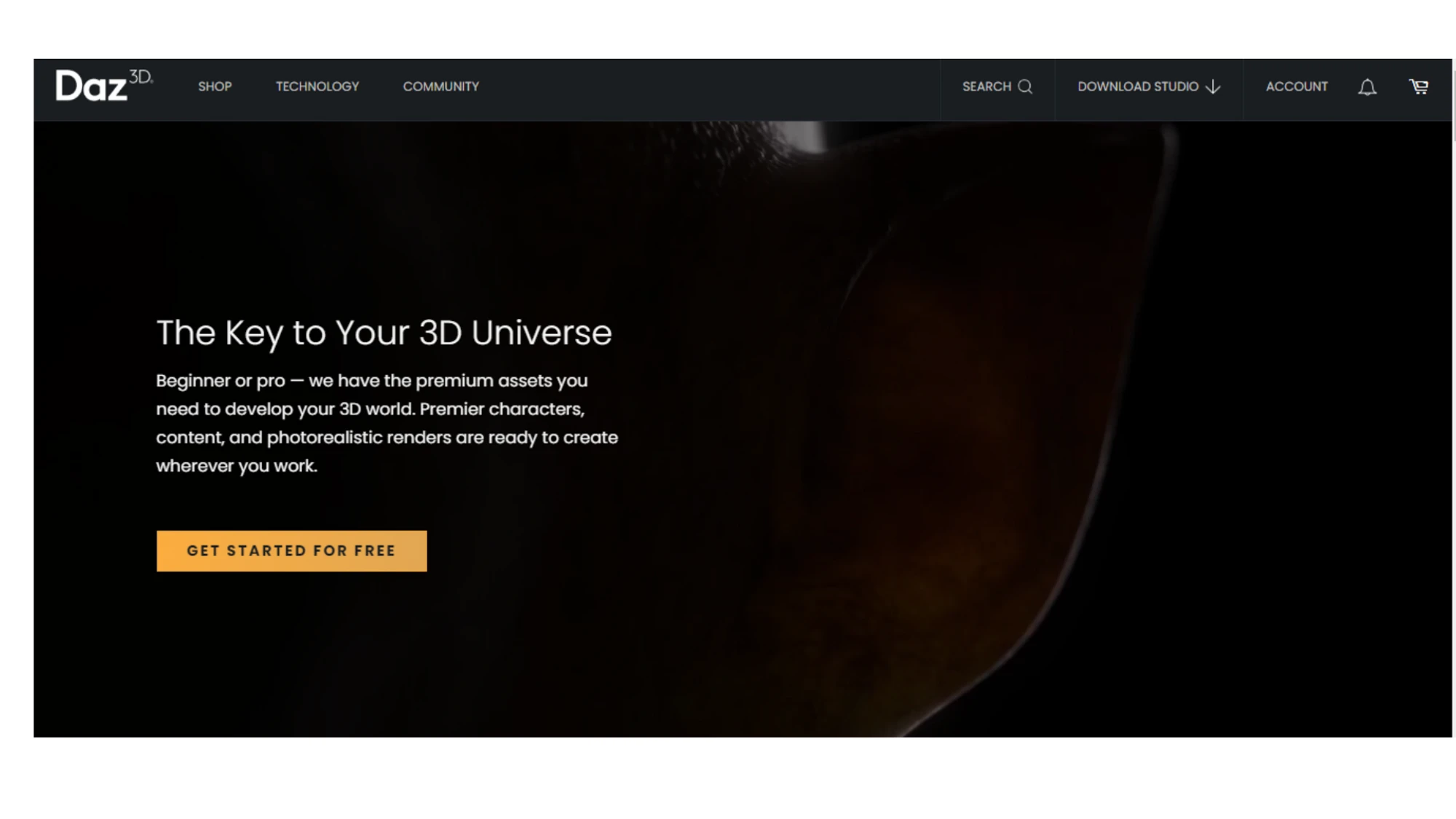 Image from Daz 3D

Key Features: Daz 3D is a leading platform for 3D character creation and animation, catering to a wide range of users from hobbyists to professional artists. The software features a vast library of pre-made characters, which can be easily customized using morphing tools to achieve unique appearances. Users can manipulate facial expressions, body shapes, and poses to suit their storytelling needs.
Additionally, Daz 3D provides an extensive collection of 3D props, environments, and accessories, enabling users to create immersive scenes and settings. The software seamlessly integrates with Daz Studio, allowing for easy pose adjustments and animations. With Daz 3D's user-friendly interface and extensive resources, artists can bring their characters to life with stunning realism.
Pricing: Daz Studio is free to download; assets can be purchased individually or through bundles.
Link: Daz 3D
Explore a collection of free game assets that breathe new life into your game. Level up your visuals, audio, and gameplay with these invaluable resources.
4. Artbreeder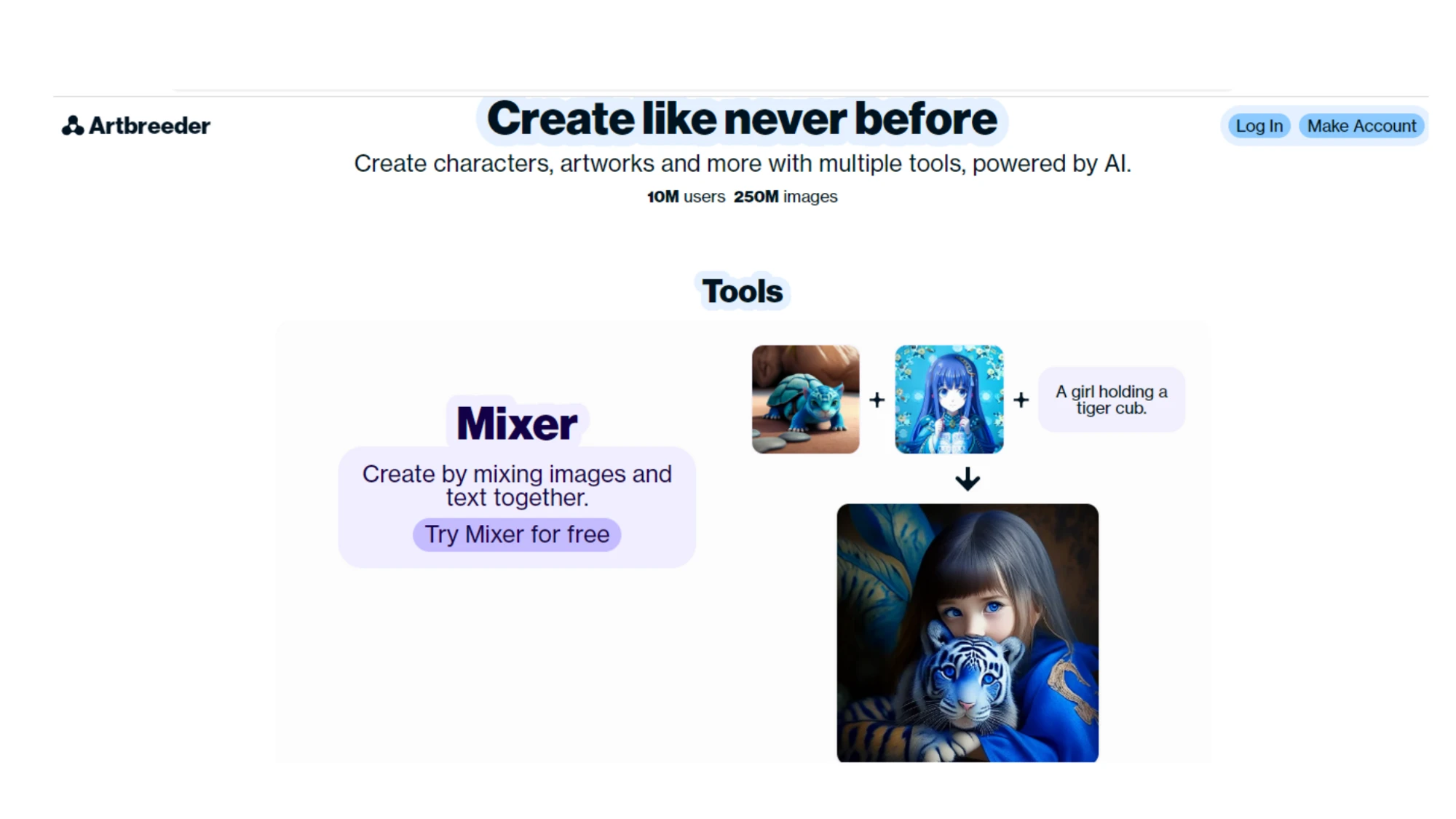 Image from Artbreeder

Key Features: Artbreeder is an innovative AI-driven art generator that can be used for character inspiration and morphing various images to create unique character designs. The platform leverages the power of artificial intelligence to blend and manipulate images, offering endless possibilities for character creation.
Users can start with existing images or their own artwork and apply various styles and effects to generate new and captivating character concepts. Artbreeder is particularly useful for artists seeking to experiment with different visual styles and explore fresh ideas for their characters.
Pricing: Free version available with limited resolution; premium subscriptions offer higher resolution and additional features.
Link: Artbreeder
5. HeroMachine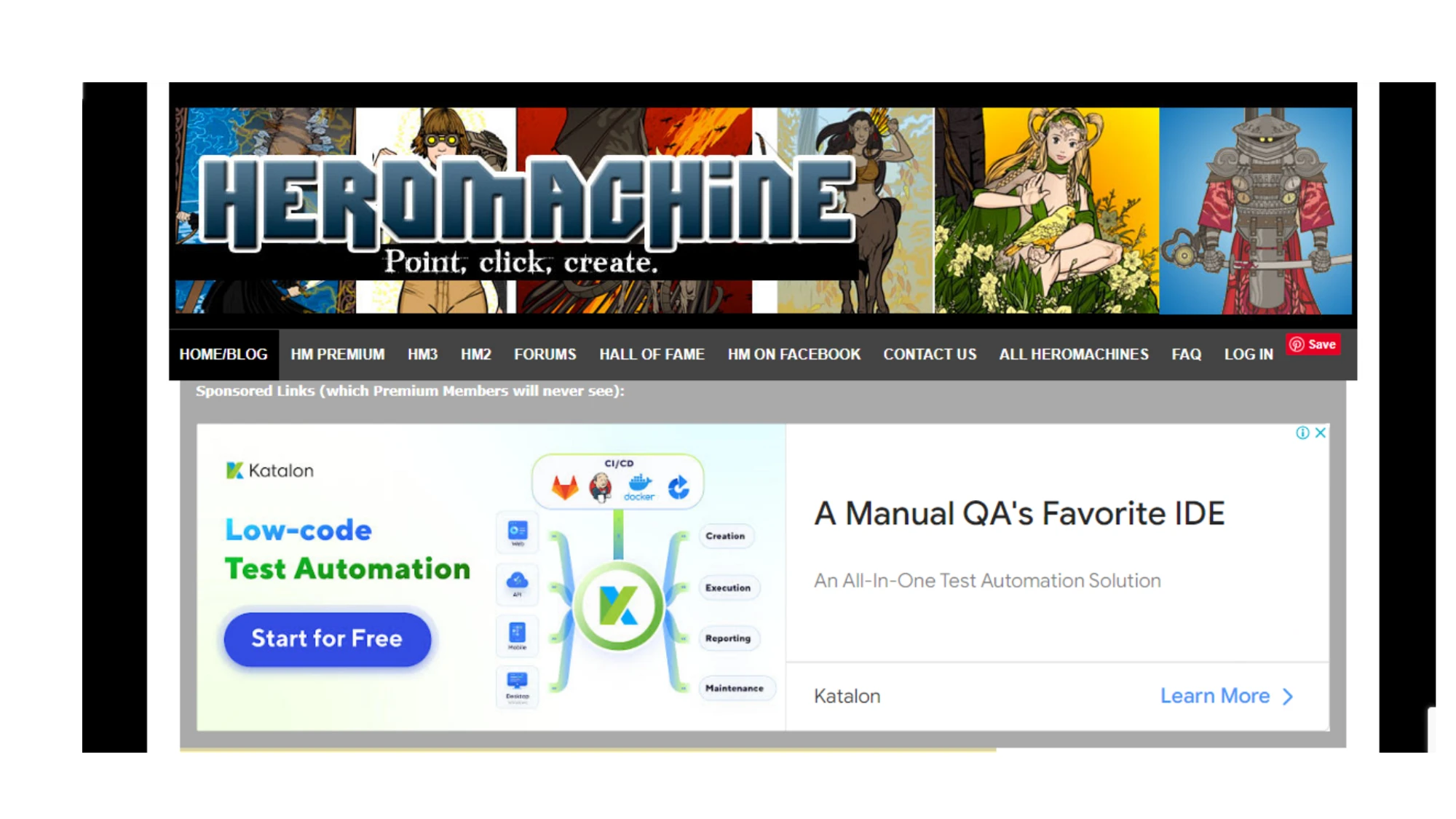 Image from HeroMachine

Key Features: HeroMachine is an online character design tool that allows users to create custom illustrations of characters in a comic book or cartoon style. It offers an extensive selection of pre-drawn elements, including facial features, body parts, clothing, and accessories, which can be combined and adjusted to bring characters to life.
The software provides a drag-and-drop interface, making it user-friendly for both beginners and experienced artists. Once the character design is complete, users can export the artwork as an image file for use in various projects, such as comics, illustrations, or character sheets for role-playing games.
Pricing: Free to use.
Link: Hero Machine
6. Portrait Illustration Maker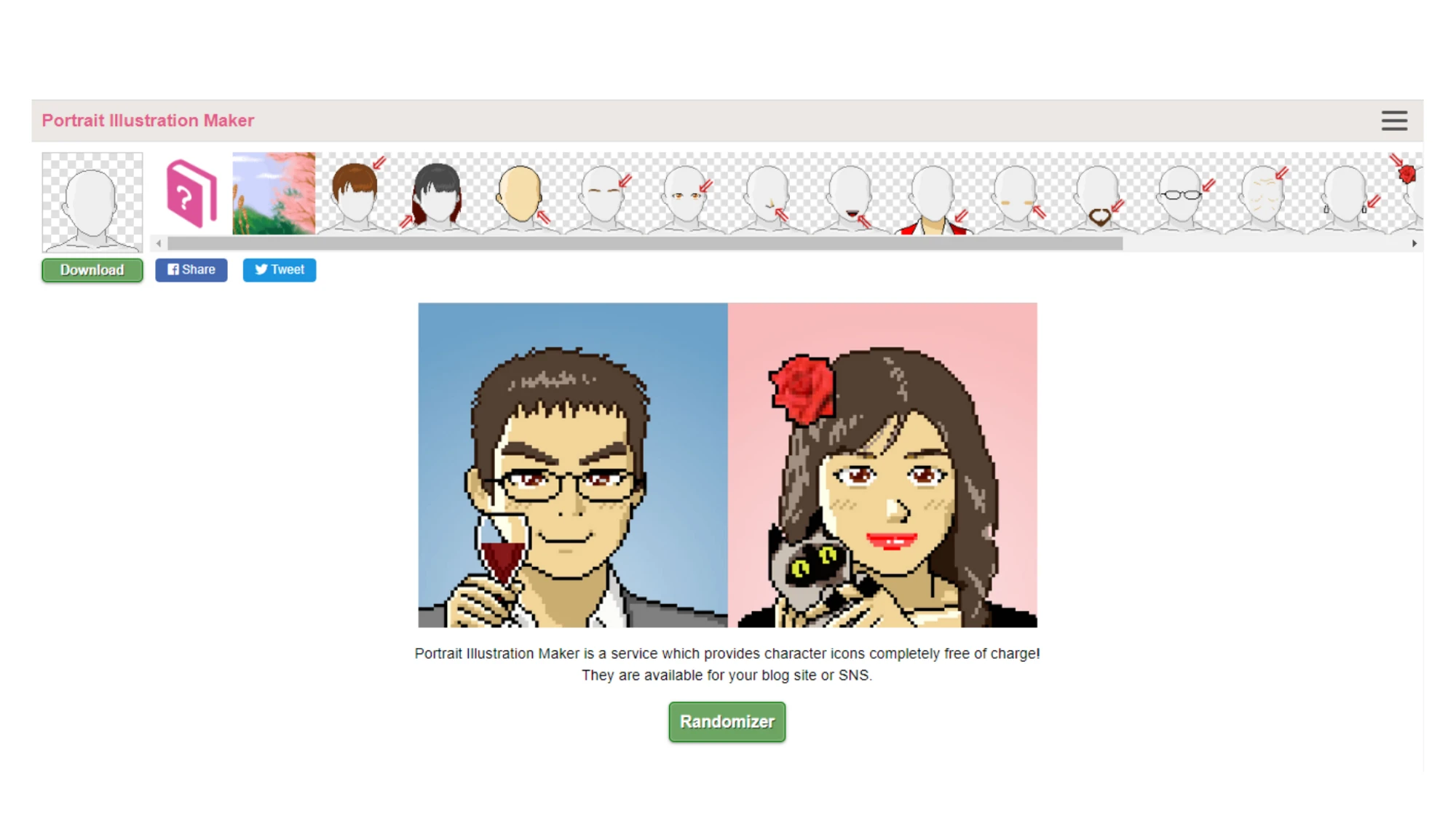 Image from Portrait Illustration Maker

Key Features: Portrait Illustration Maker is a user-friendly web-based tool that specializes in creating anime-style avatars. Users can customize facial features, hairstyles, and accessories, as well as choose from a wide range of expressions and poses.
The software provides an assortment of artistic filters and background options to enhance the final avatar design. Portrait Illustration Maker is an ideal choice for individuals looking to create fun and expressive avatars for social media profiles, forums, and other online platforms.
Pricing: Free to use.
Link: Portrait Illustration Maker
7. FaceYourManga
Image from FaceYourManga

Key Features: FaceYourManga is a character design generator focused on creating manga-style avatars. Users can select from various facial features, hairstyles, outfits, and accessories to assemble a unique manga character.
The platform offers a wide range of customization options, allowing users to craft characters that reflect their individuality or represent their favorite anime archetypes. FaceYourManga avatars can be used as profile pictures, social media icons, or for personal storytelling and creative projects.
Pricing: Subscription plans start at $14.99/month.
Link: FaceYourManga
Game Design Resources! Discover a wealth of resources that ignite your imagination and empower your game development process. Unleash your potential and craft extraordinary gaming experiences.
8. Rinmaru Games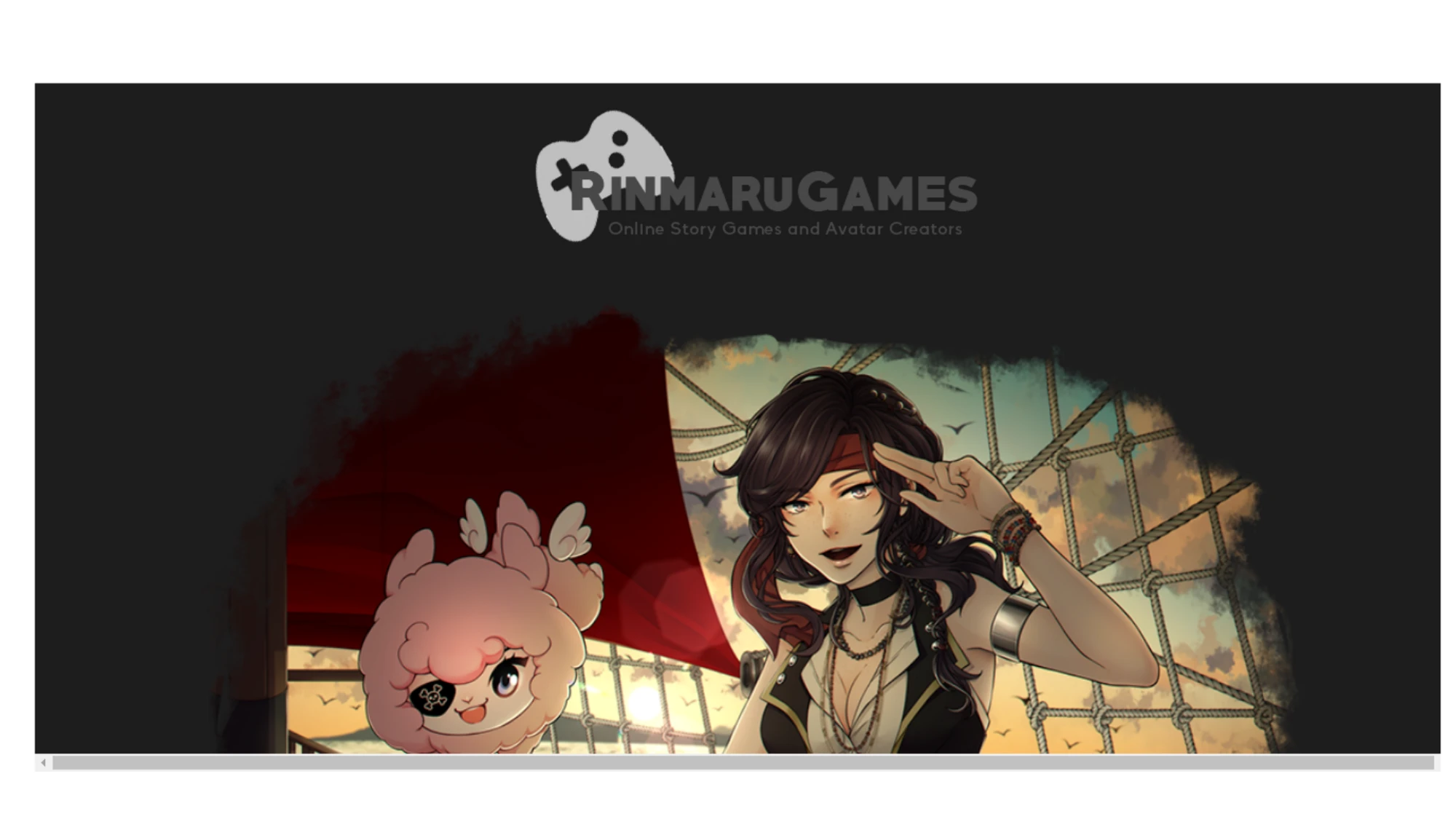 Image from Rinmaru Games

Key Features: Rinmaru Games offers a variety of online character makers that cater to different styles, such as fantasy, historical, modern, and more. Users can choose from an extensive selection of facial features, hairstyles, clothing, and accessories to create characters fitting for various settings and genres.
The platform's user-friendly interface allows for easy customization and adjustments. Rinmaru Games is an excellent choice for artists and storytellers seeking to design visually appealing characters for webcomics, illustrations, or visual novels.
Pricing: Proprietary and Free product.
Link: Rinmaru Games
Tips for Effective Character Design
Start with a strong concept: Consider personality, background, and motivations to inform appearance and interactions.
Focus on silhouette and shape language: Create a unique, recognizable silhouette and use shapes to convey characteristics and emotions.
Use colors strategically: Colors can communicate mood and traits; choose a harmonious color scheme that enhances the design.
Pay attention to details: Add accessories, tattoos, or scars to add depth to the character's story without overdoing it.
Consider the interplay between physical features, attire, and personality traits: This holistic approach enhances character authenticity and emotional impact.
By following these tips, designers can create visually captivating and memorable characters that resonate with the audience and enhance the overall storytelling experience.
---
In a Nutshell
Whether you're looking for a structured approach or prefer the randomness of a generator, there's something for everyone. A character design generator can save you valuable time and effort, freeing you to concentrate on other aspects of your creative process. It removes the pressure of creating unique and engaging characters from scratch.
With these tools, you can effortlessly generate a wide array of captivating characters that enrich your storytelling. Remember to apply the tips we've discussed throughout this article for effective character design. Consider their personality traits, motivations, and backstories to fashion well-rounded and relatable characters.
Experiment with different combinations and variations offered by these generators to bring your imagination to life. In conclusion, character design generators are powerful tools that can aid any writer or artist in creating compelling characters effortlessly. Embrace the convenience they provide while still adding your personal touch to make each character truly unique.
So go ahead and give them a try. Let your creativity soar as you explore the possibilities these generators have to offer! Ready to soar to new creative heights? Try Eagle Now and experience the game-changing power of our ultimate game design library.