Grab these 20 Free Design Ebooks to Boost Your Design Skills
Whether you're an experienced design connoisseur or a fledgling visionary embarking on your creative odyssey, the tireless pursuit of knowledge and inspiration propels your evolution and growth. Join us as we present a curated selection of 20 essential, free design eBooks that will fuel your creativity and expand your skill set.
Each eBook is a treasure trove of insights, practical tips, and thought-provoking ideas from industry experts and visionaries. Unlock fresh concepts, enhance your techniques, and discover innovative solutions as you dive into these pages of design brilliance.
Let's open the door to the art of design together!
Wanna Be More Efficient In E-Learning? Let Eagle help!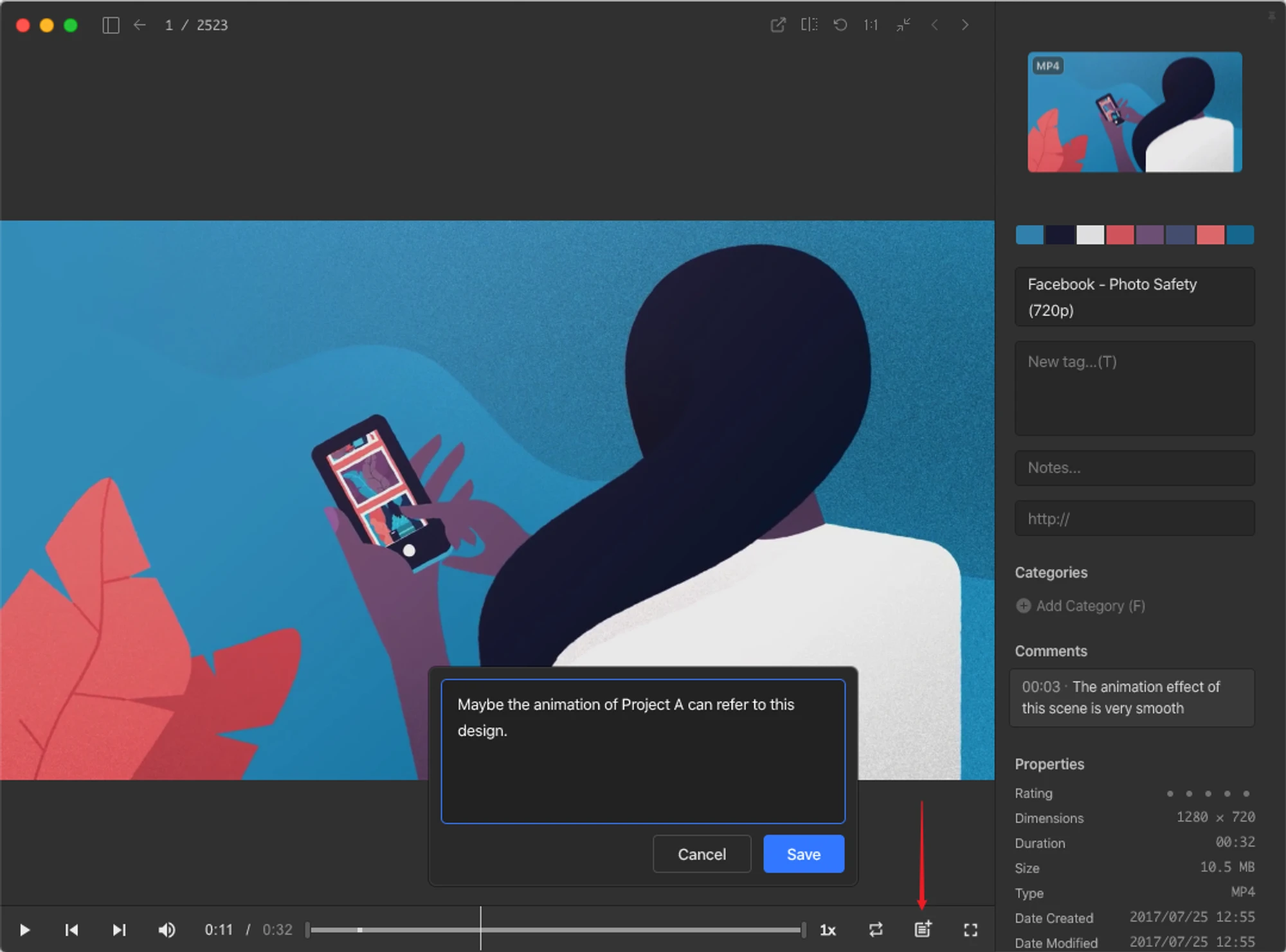 Image from Eagle App
In the world of design, learning and mastering new skills is essential for professional growth. That's where Eagle, a powerful app designed specifically for designers, comes in. Eagle is not only a tool for organizing and managing design ideas but also a valuable resource for learning and improving your design skills. You can learn how to find videos by searching keywords in the video notes, auto-tagging and, setting up your preferences, Eagle empowers aspiring designers to take their creativity to new heights and accelerate their learning journey.
Regardless of whether you're tackling an e-learning project, immersing yourself in the creation of visually captivating content, or dedicating time to perfecting your video editing abilities, Eagle stands by your side, offering an array of tools and resources to bolster organization and unwavering concentration.
From brainstorming sessions to collaborating with team members, Eagle simplifies the design process, making it a must-have tool in your arsenal.
Let Eagle help you unlock your full creative potential and take your e-learning projects to the next level.
---
20 Must-Read Design eBooks For Designers
We have curated a collection of 20 exceptional free eBooks on graphic design that will take your creativity to new heights. Each eBook offers valuable insights, practical tips, and expert advice to help you excel in your design journey.
Whether you're a beginner seeking foundational knowledge or an experienced designer eager to explore advanced techniques, these free eBooks cover a range of topics and cater to various skill levels. From typography to user experience design, branding to illustration, these resources provide a wealth of information to suit your specific interests and needs.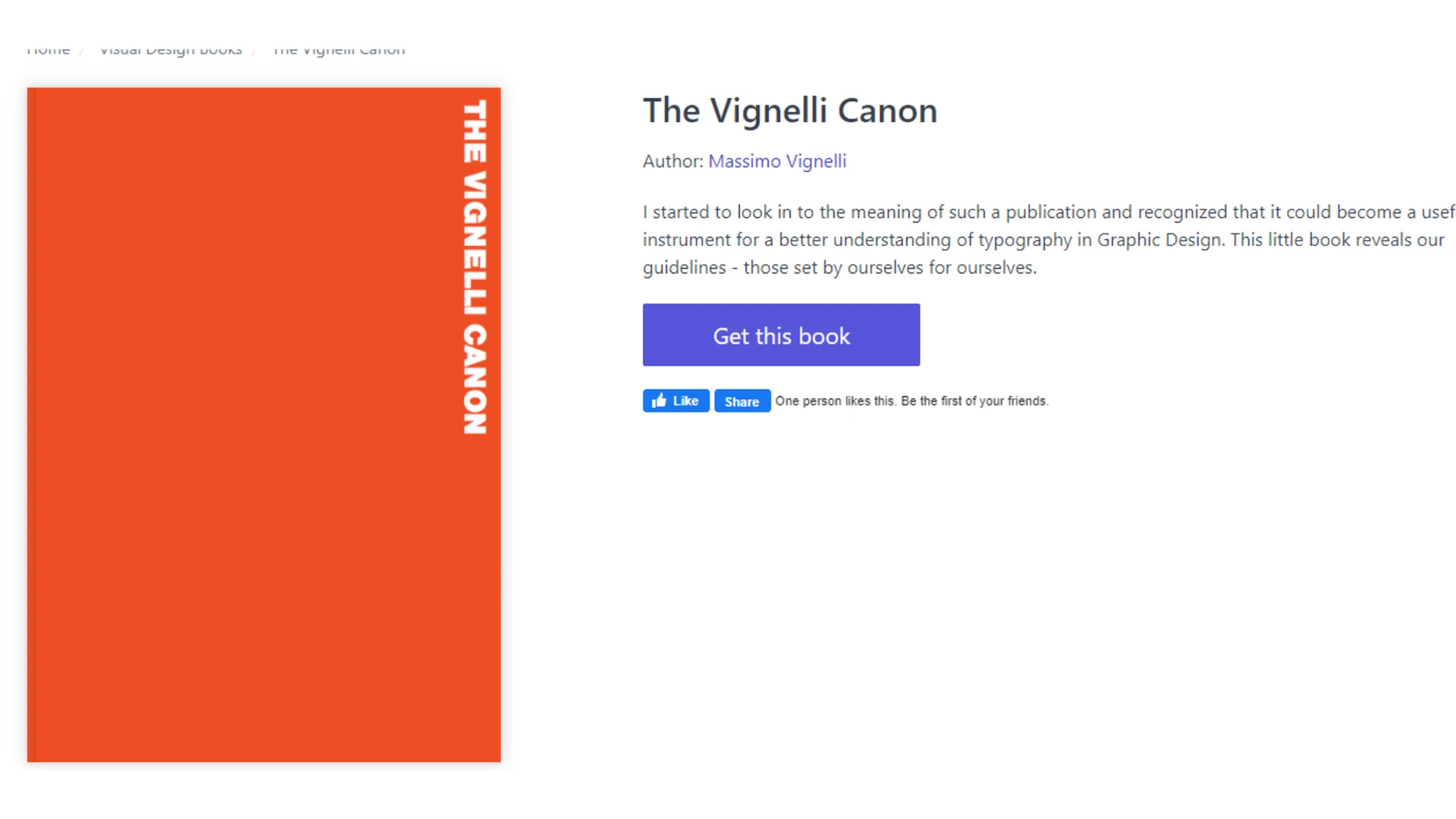 Image from Lapa Books
Massimo Vignelli's timeless ebook, "The Vignelli Canon," serves as a comprehensive guide to design principles. It covers topics such as typography, grid systems, and visual hierarchy, making it a valuable resource for designers of all levels. With its clear and concise approach, this eBook equips designers with fundamental knowledge and insights that can shape their design decisions.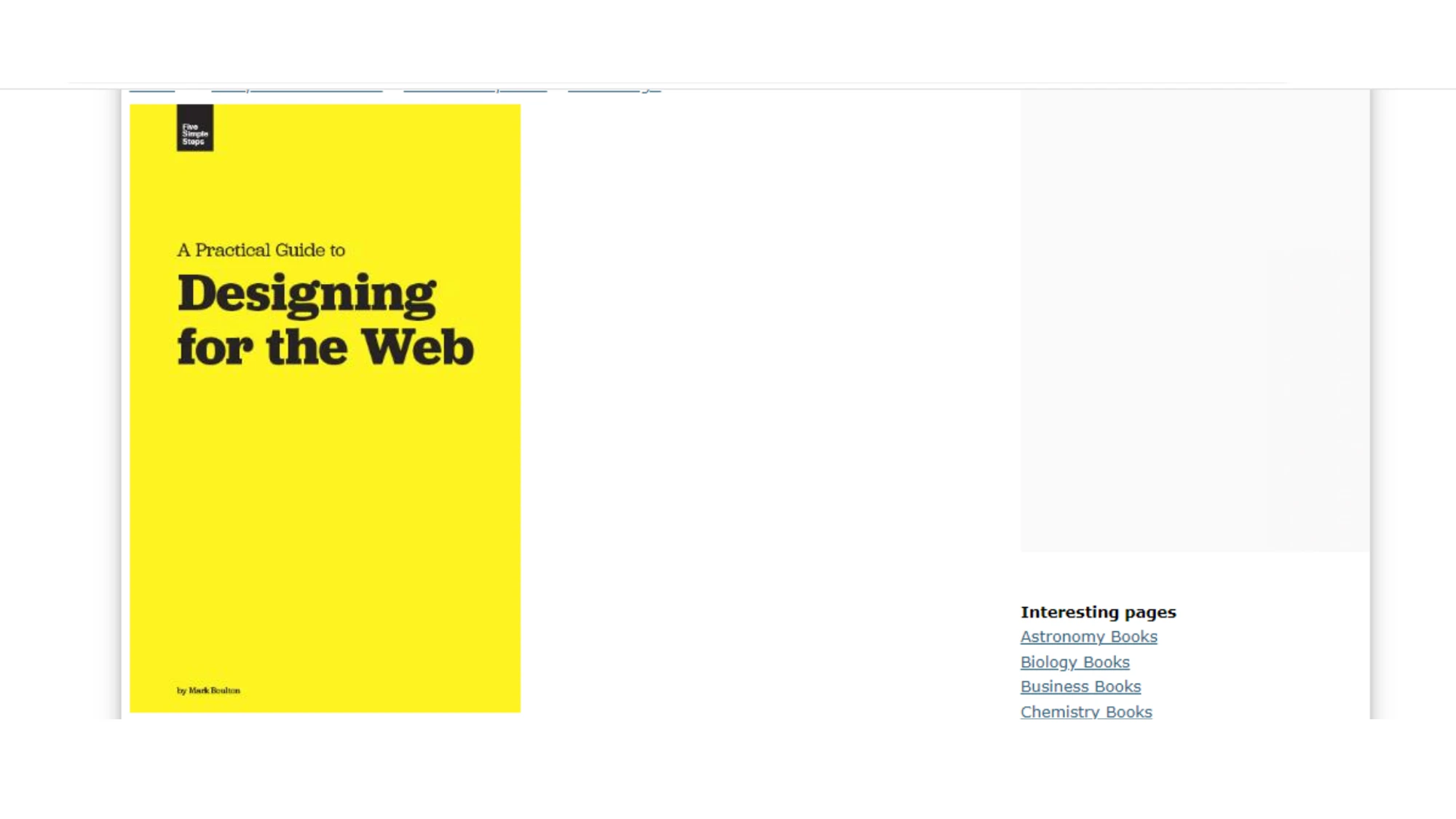 Image from e-Books Directory
In Mark Boulton's eBook, "Designing for the Web," designers entering the world of web design will discover a wealth of practical wisdom, making it an invaluable resource for their creative endeavors. It covers essential principles, including layout, typography, color, and user experience considerations.
Whether you consider yourself a novice or have already made progress as an intermediate designer, this eBook is designed to support you in understanding the intricacies of creating visually striking and impactful websites.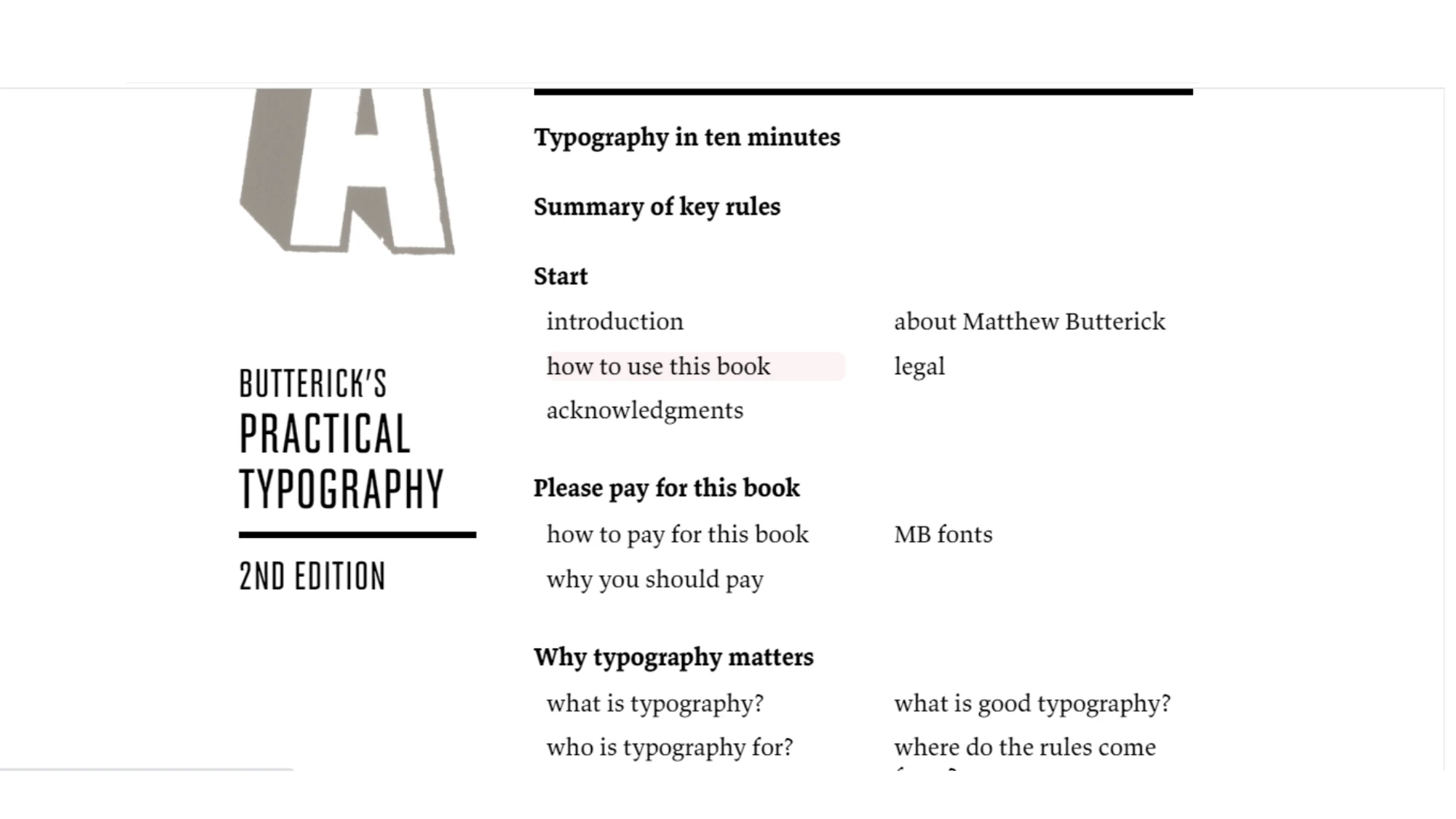 Image from Practical Typography
Matthew Butterick's eBook, "Practical Typography," is a comprehensive guide that demystifies the art of typography for designers. From selecting appropriate typefaces to mastering spacing and hierarchy, this eBook covers it all. It caters to designers of all skill levels, offering practical tips and techniques to elevate the typographic quality of your designs.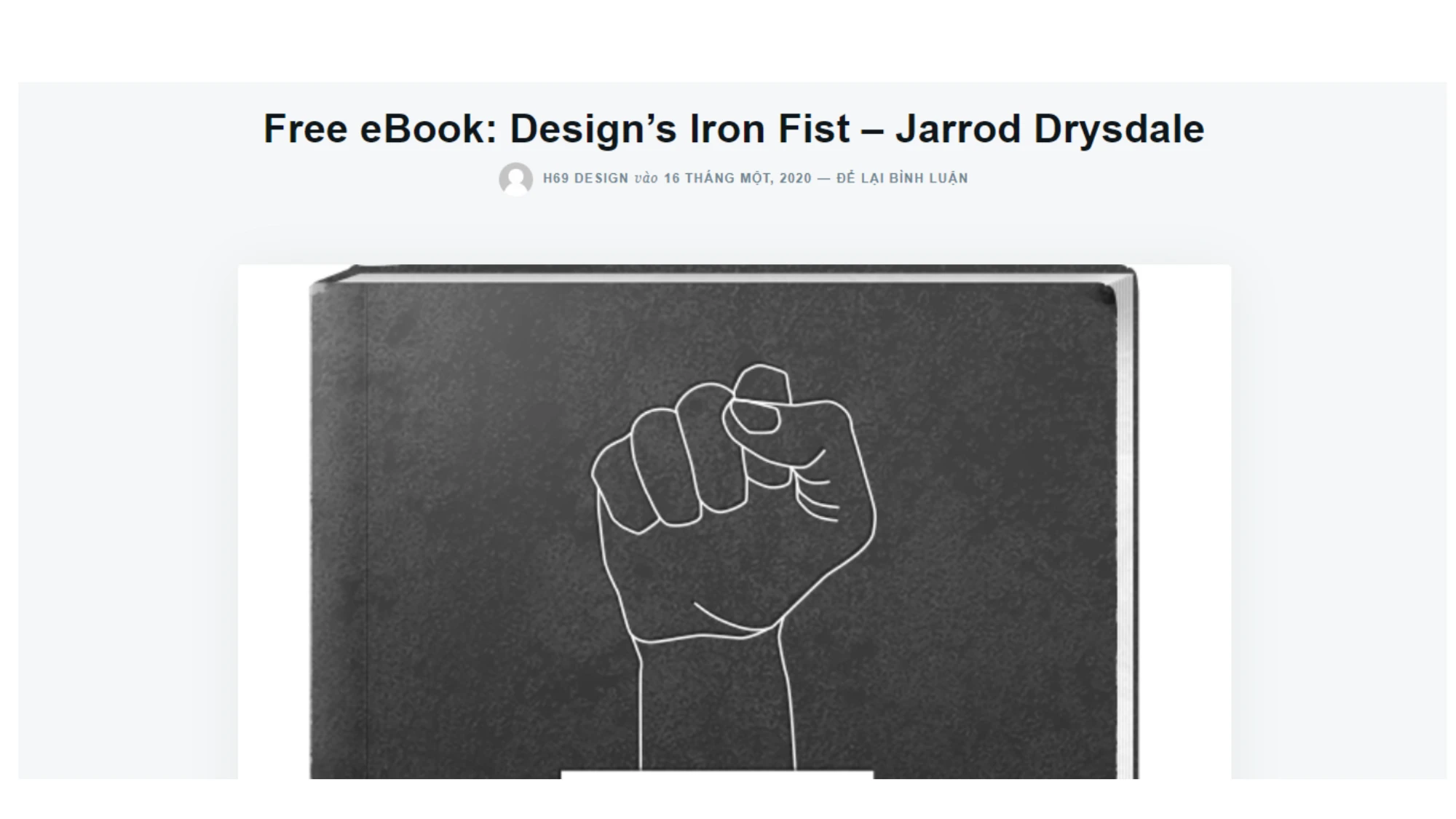 Image from H69.Design
Jarrod Drysdale's eBook, "Design's Iron Fist," takes a deep dive into design theory and best practices. It delves into the principles that underpin successful designs, exploring topics like composition, color theory, and visual storytelling. This eBook is best suited for intermediate to advanced designers looking to refine their design thinking and create impactful visual experiences.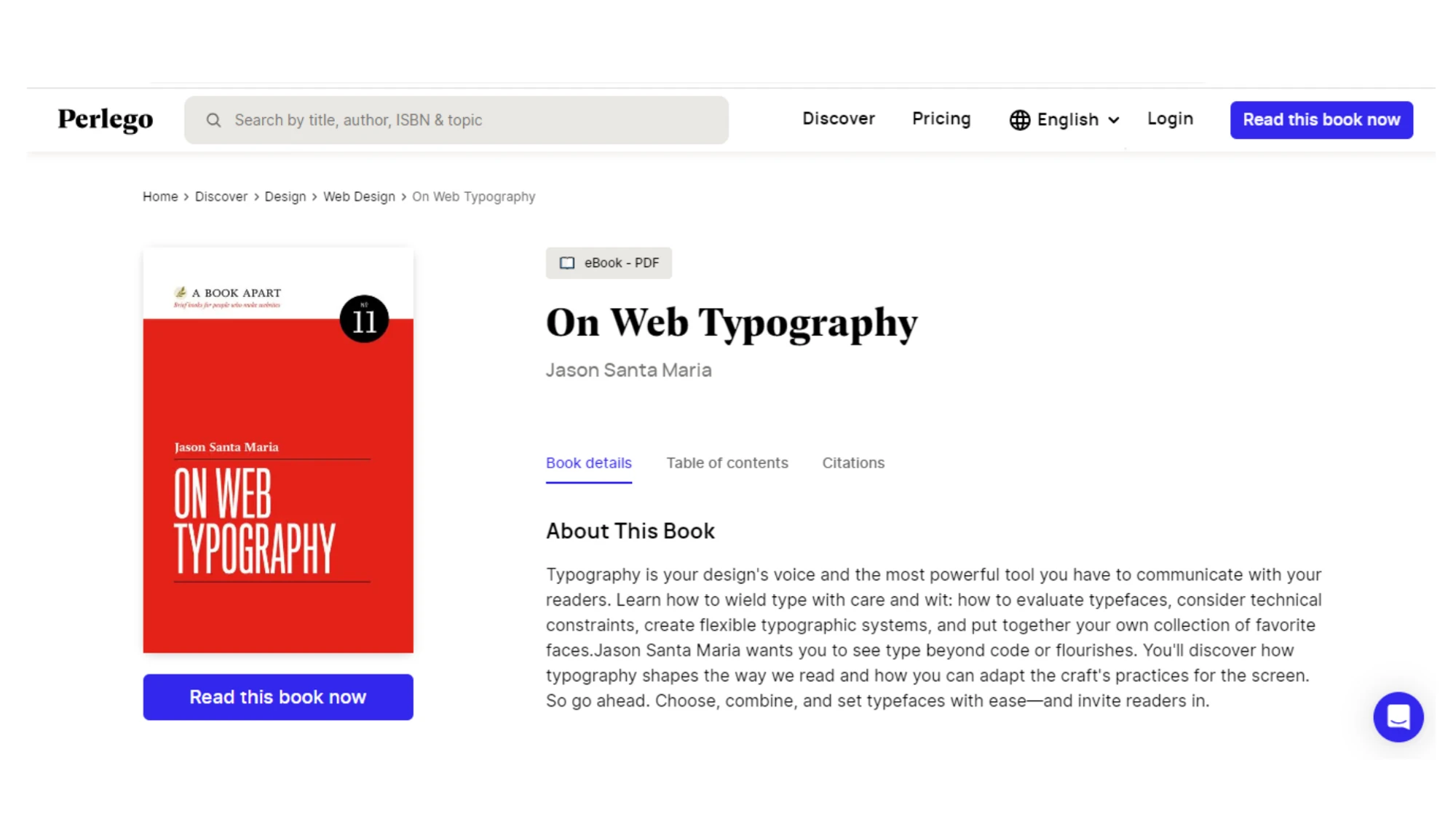 Image from Perlego
Jason Santa Maria's eBook, "On Web Typography," delves into the art and science of typography in the context of web design. It offers valuable insights into selecting and pairing typefaces, optimizing readability, and ensuring a harmonious typographic hierarchy. With its focus on web-specific challenges and opportunities, this eBook caters to designers of all skill levels seeking to create engaging and legible typographic experiences on the web.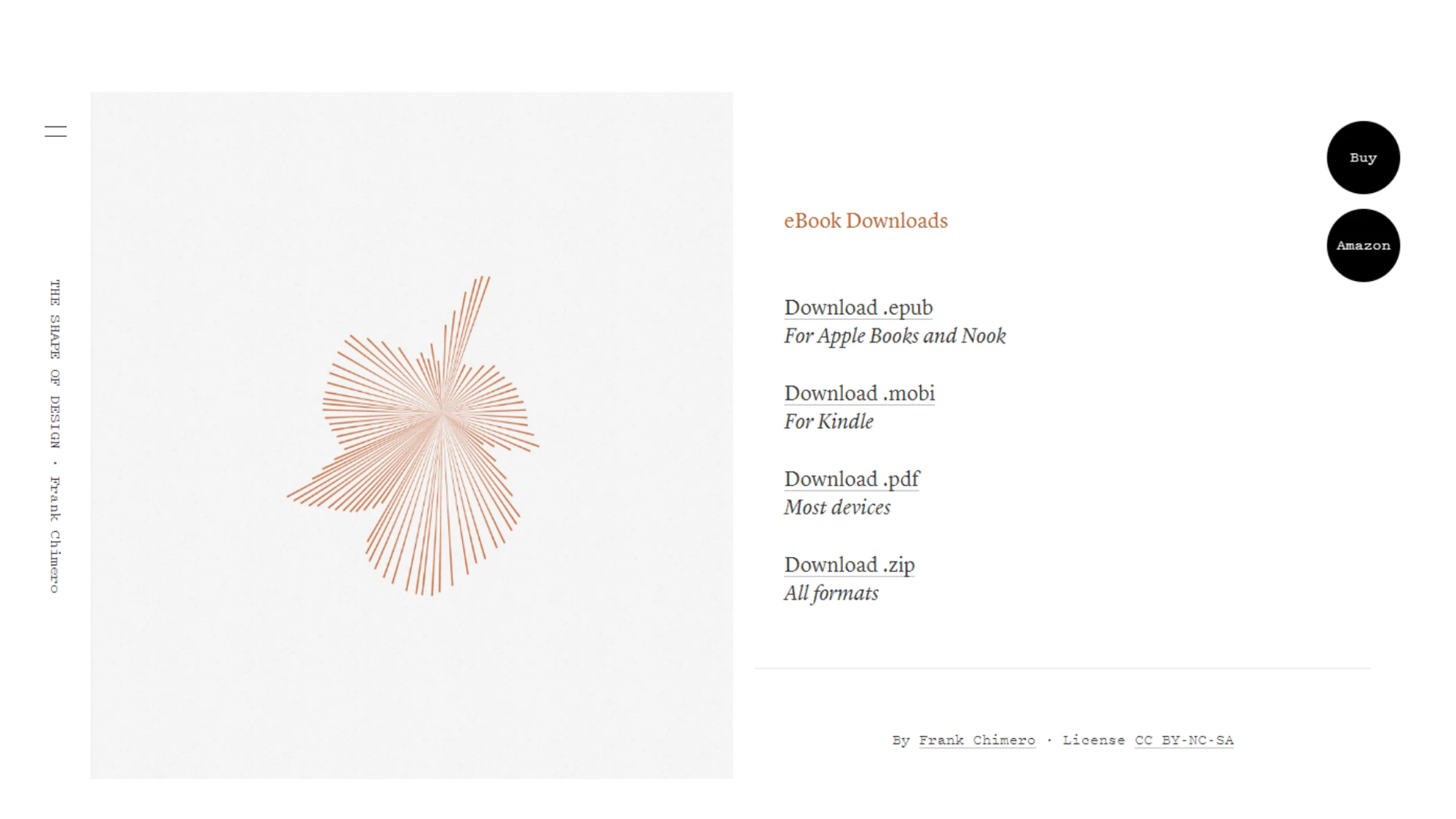 Image from The Shape of Design
Frank Chimero's "The Shape of Design" is a thought-provoking exploration of design philosophy and its impact on our lives. With its reflective and poetic approach, this eBook transcends technicalities, inviting designers at all levels to contemplate the deeper meaning and purpose of their craft. It challenges conventional notions and encourages a more holistic and human-centered approach to design.
Image from A Book Apart Library
A Book Apart offers a collection of eBooks covering a wide range of design topics, from responsive web design to design systems, content strategy to UX design. Each eBook is written by industry experts and offers practical insights and best practices. While the topics and skill levels vary across the collection, designers can explore specific chapters that align with their interests and skill levels.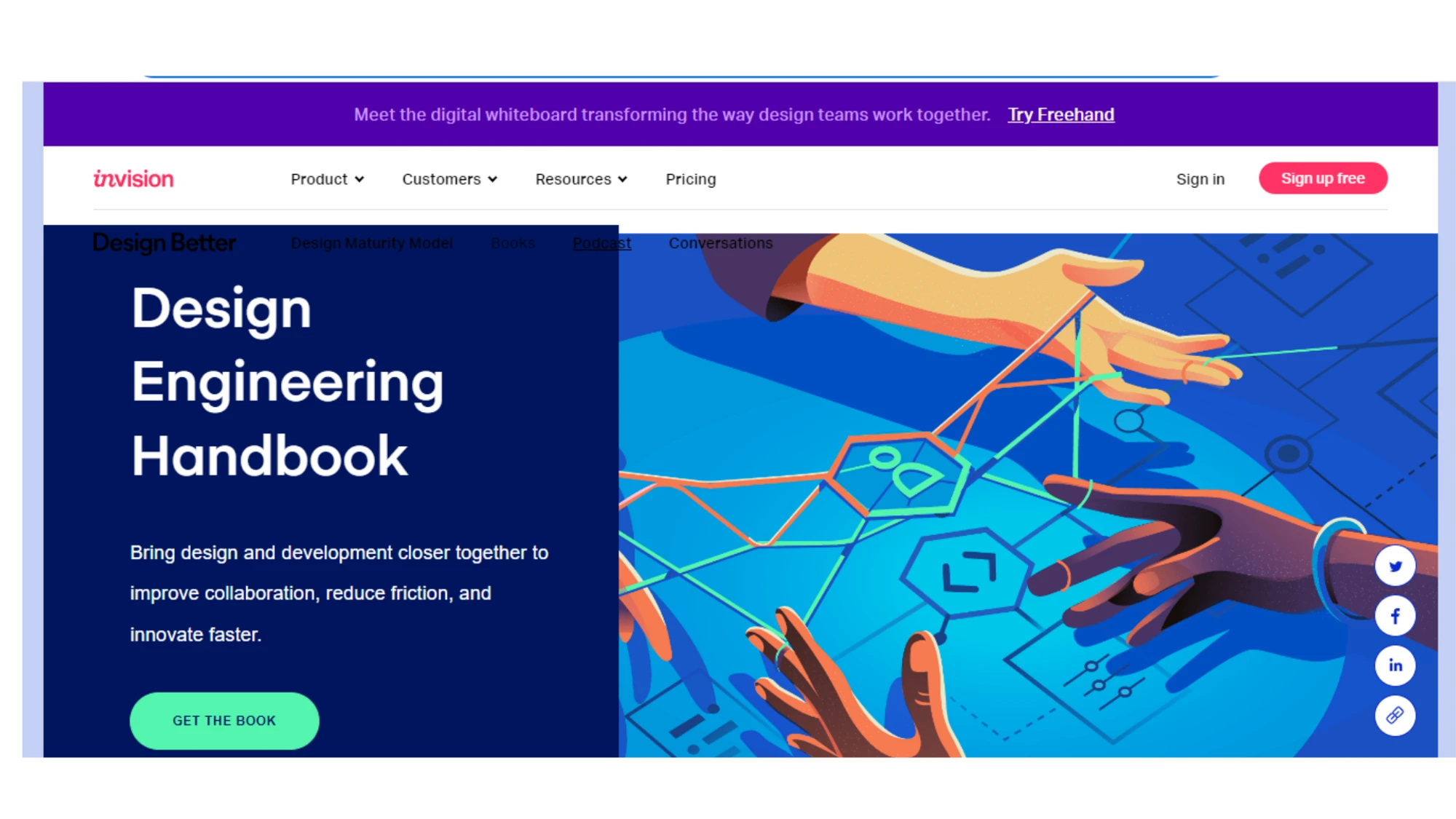 Image from The Design Better Library
The Design Better Library is a treasure trove of free eBooks covering various design disciplines. From product design to design systems, research methodologies to collaboration practices, these eBooks provide valuable insights and actionable advice. With resources suitable for designers of all levels, the Design Better Library empowers designers to learn, grow, and improve their design processes.
Ready to supercharge your graphic design skills? Explore our insightful blog post on graphic design software and uncover valuable tips, recommendations, and industry insights.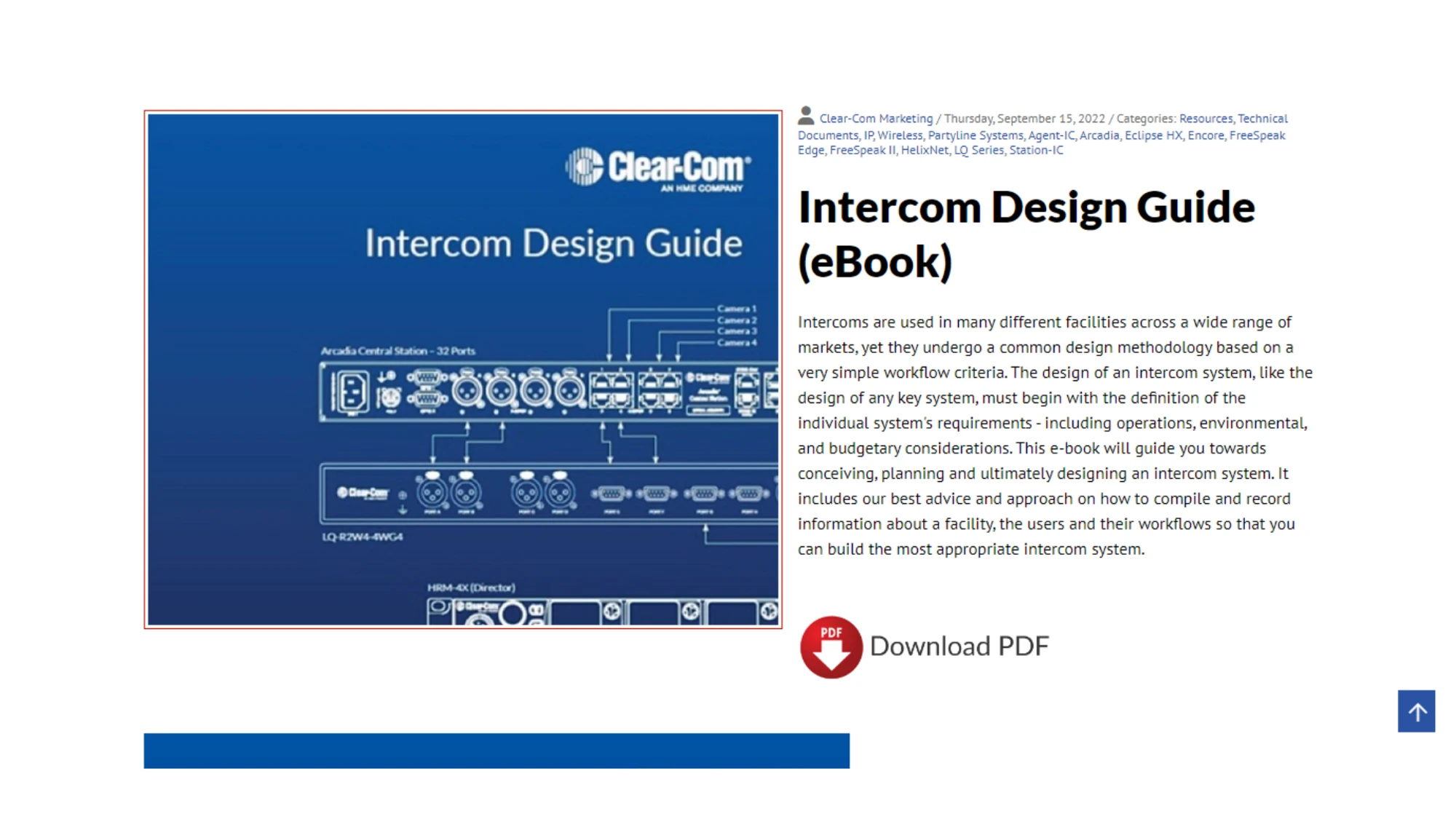 Image from Intercom
Intercom offers a collection of free eBooks covering design and product management topics. These eBooks provide practical advice, case studies, and expert perspectives on areas such as UX design, product strategy, and design leadership. From beginners to design veterans, prepare to be inspired as these resources fuel your passion and deepen your understanding of the design process.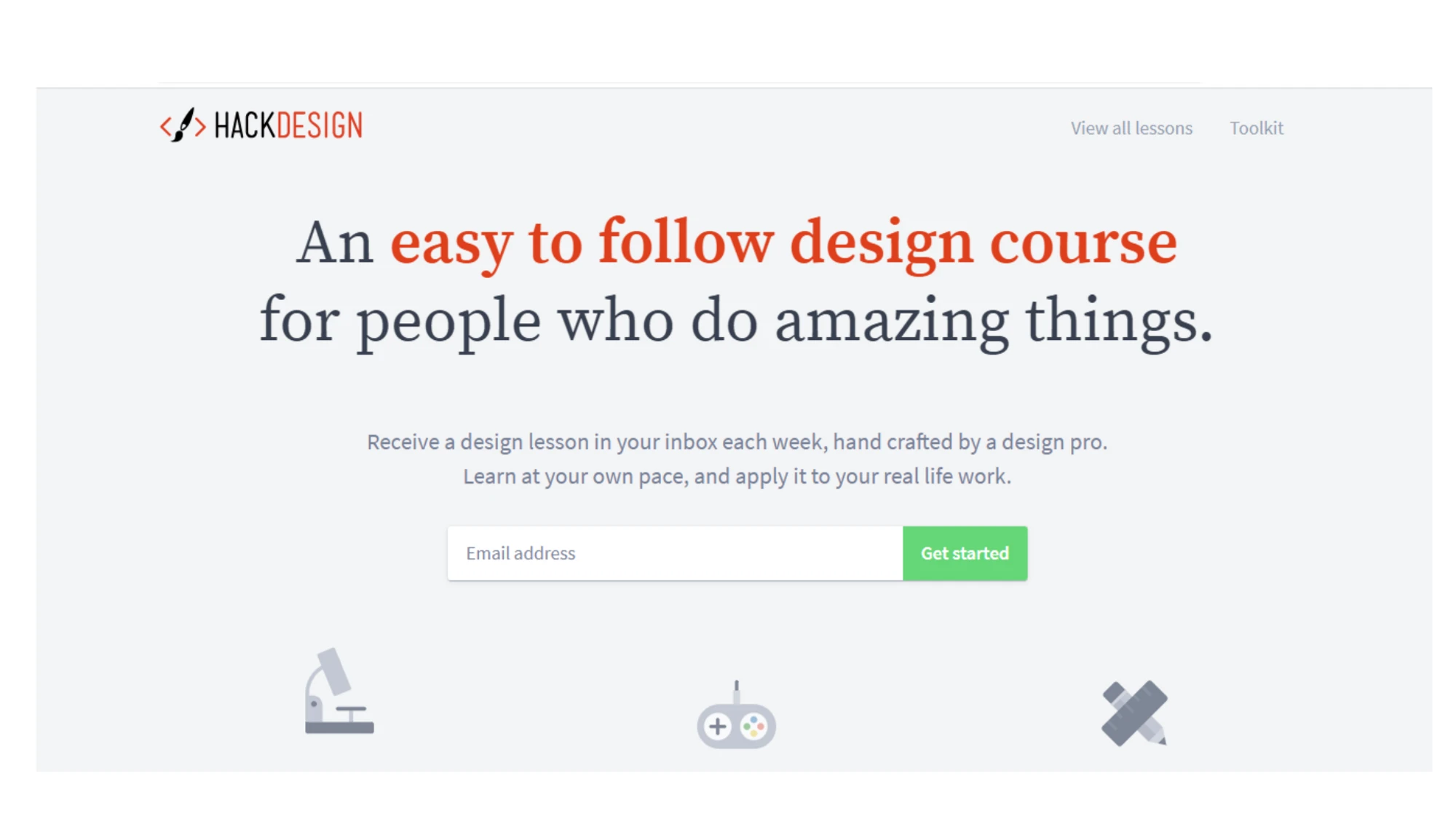 Image from Hack Design
Hack Design takes a unique approach to design education by offering a free email course delivered in bite-sized lessons. Discover a treasure trove of design wisdom in Hack Design's course, covering typography, color theory, and more. Tailored for both newcomers and intermediate designers, these lessons will expand your expertise, fine-tune your abilities, and inspire you to create exceptional designs.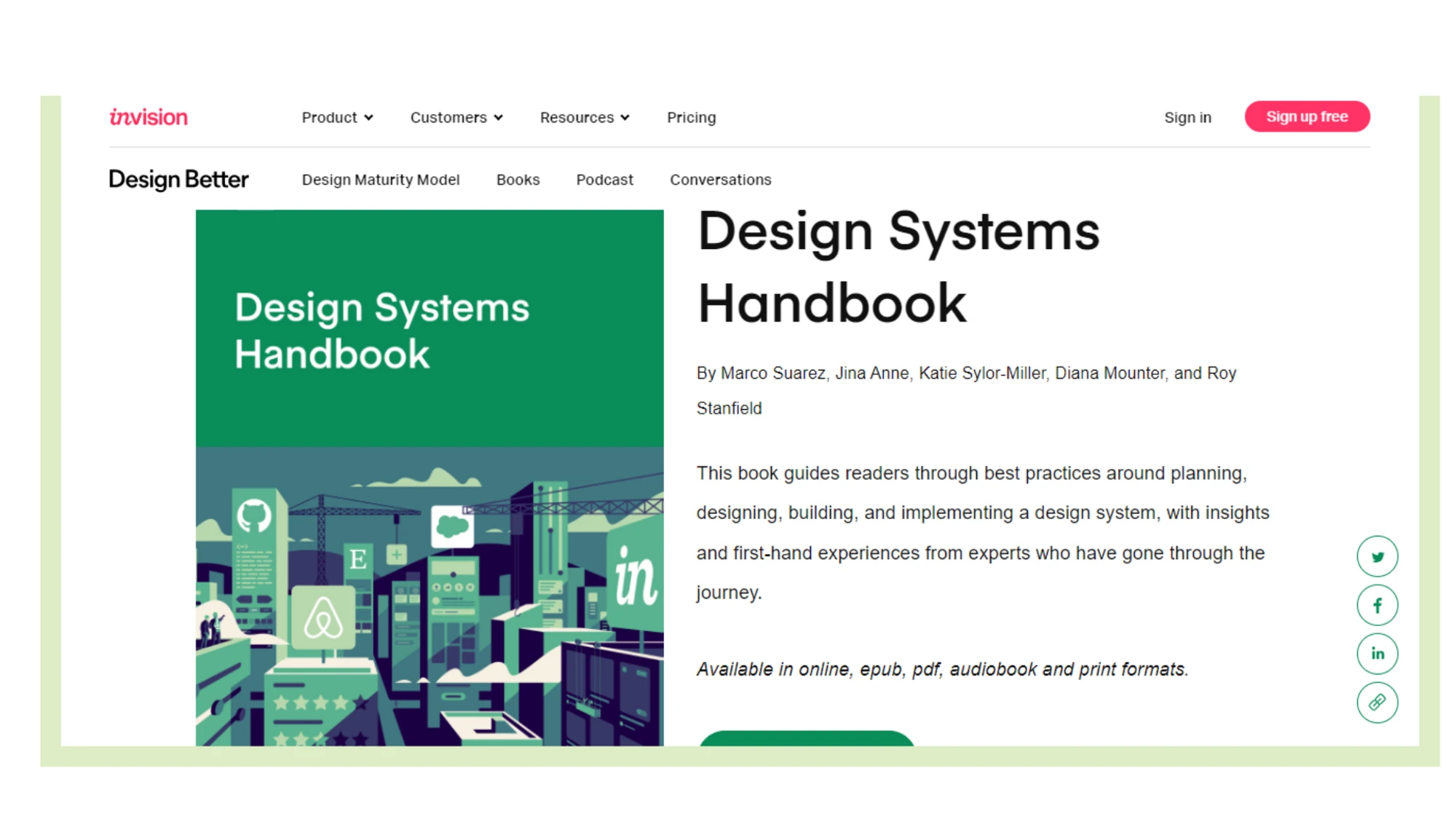 Image from Design Systems Handbook
InVision's "Design Systems Handbook" is a comprehensive resource that explores the creation, implementation, and management of design systems. It provides practical guidance on establishing design consistency, fostering collaboration, and scaling design efforts. Designers at all levels will find value in this eBook, as it equips them with the tools and knowledge to create scalable and efficient design systems.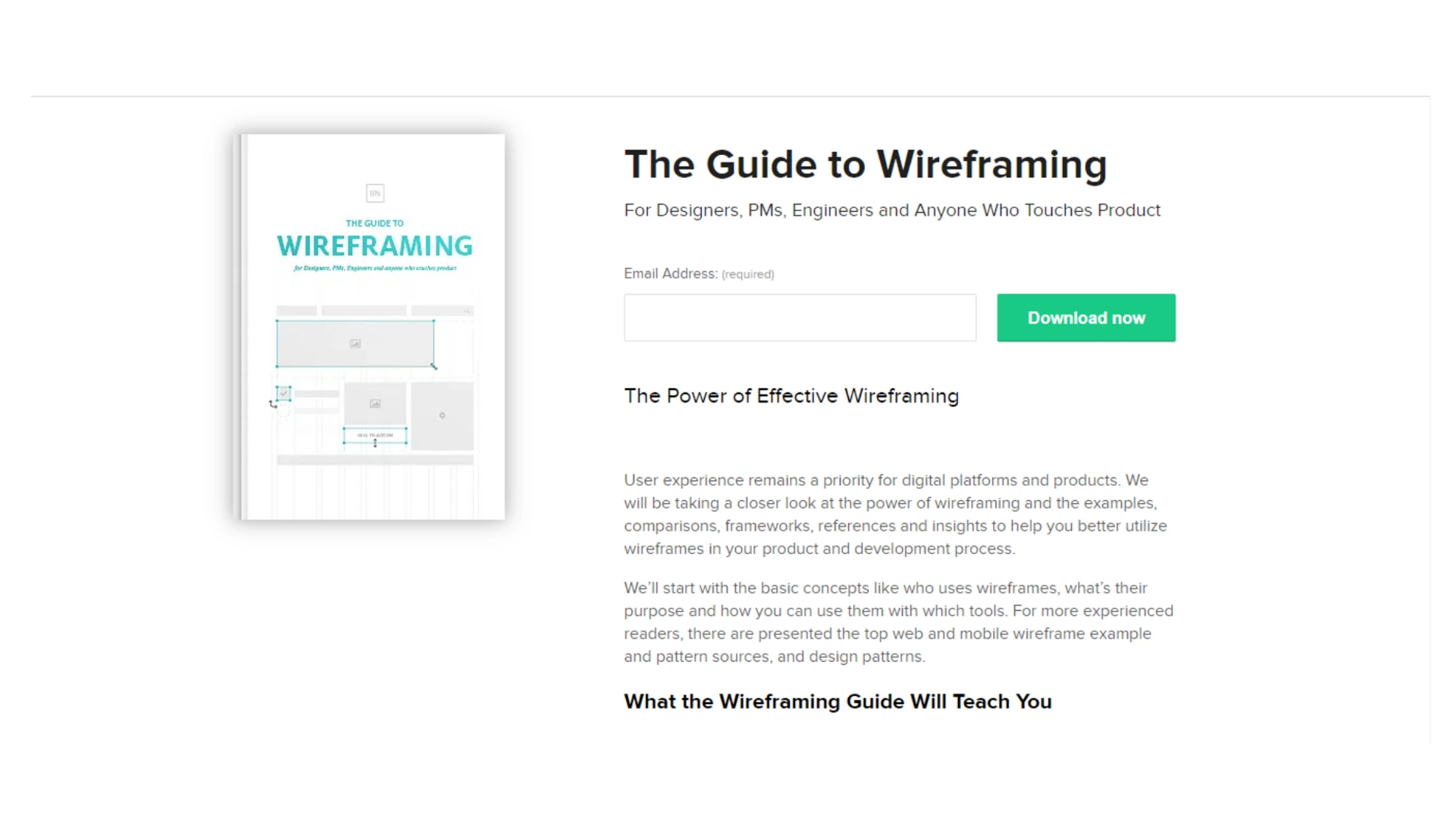 Image from UXPin
Unlock the art of effective wireframing with UXPin's "The Guide to Wireframing." Crafted for designers at any stage of their journey, this comprehensive resource unveils the best practices, essential tools, and techniques to help you master the secrets of wireframing. This eBook provides actionable insights and examples to help designers create effective and user-friendly wireframes.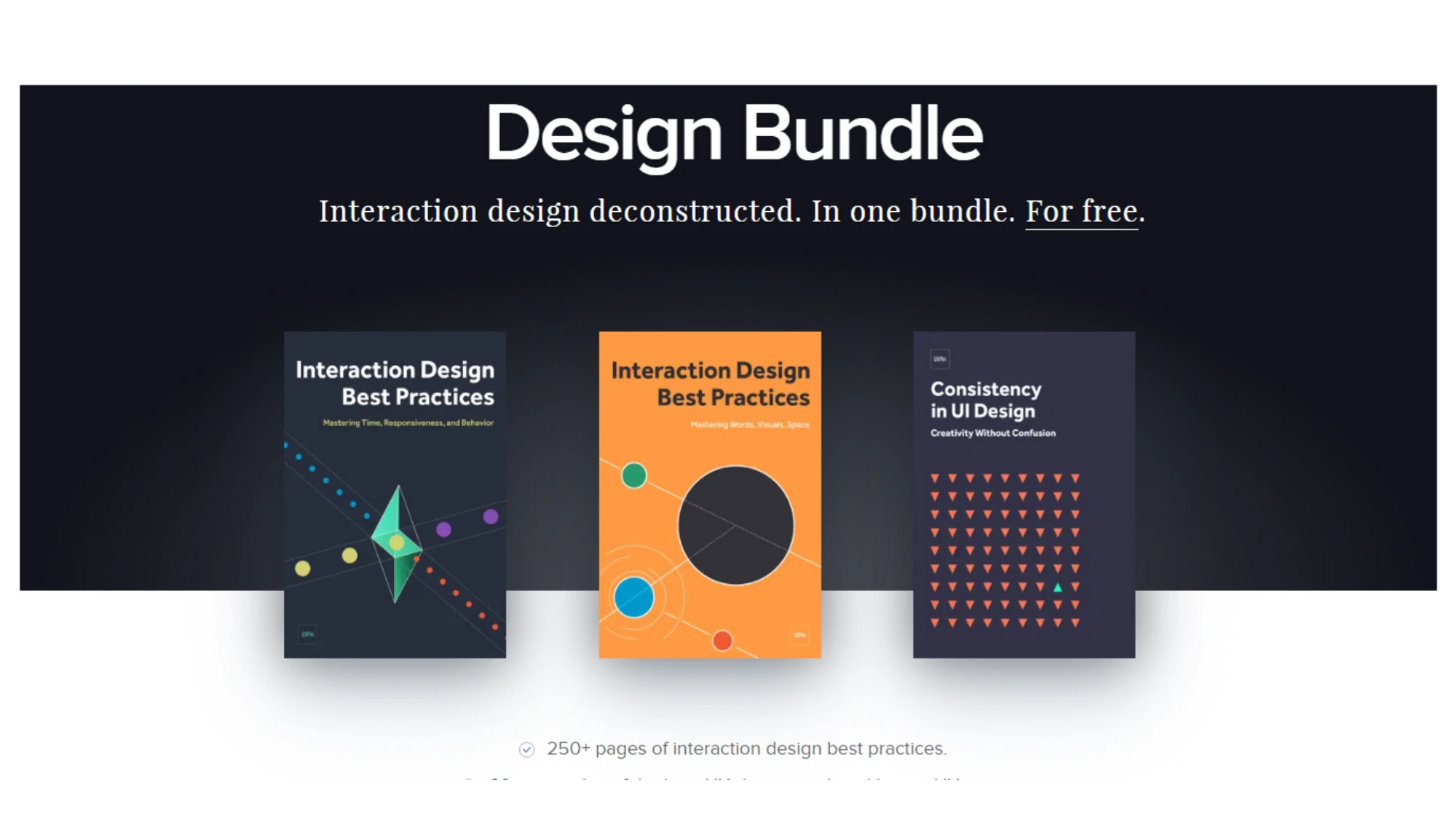 Image from UXPin
The Practical Interaction Design Bundle by Smashing Magazine is a collection of eBooks that covers practical interaction design principles, strategies, and techniques. With a focus on creating delightful user experiences, these resources offer valuable insights and actionable advice. Designers of all levels will benefit from the practical guidance provided in this bundle.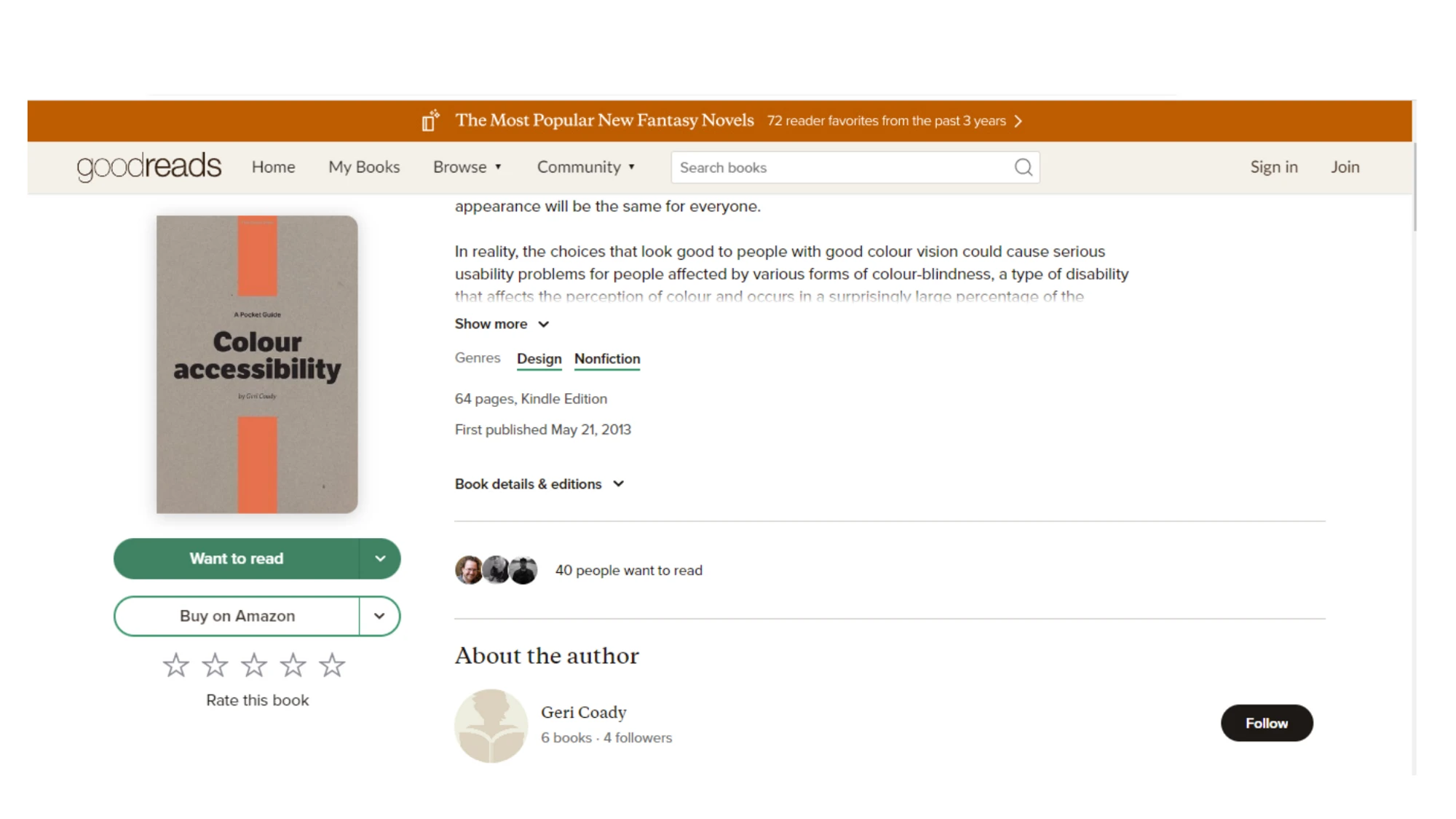 Image from Good Reads
Guide to Colors' "The Pocket Guide to Color Accessibility" helps designers understand the importance of color accessibility in their designs. It covers key concepts, guidelines, and tools for creating inclusive color palettes. Designers at all levels will find this guide valuable for ensuring their designs are accessible to a diverse audience.
Stay up-to-date with the latest trends and insights in the design world. Explore our informative blog post on designing new websites and discover a wealth of valuable resources, articles, and inspiration.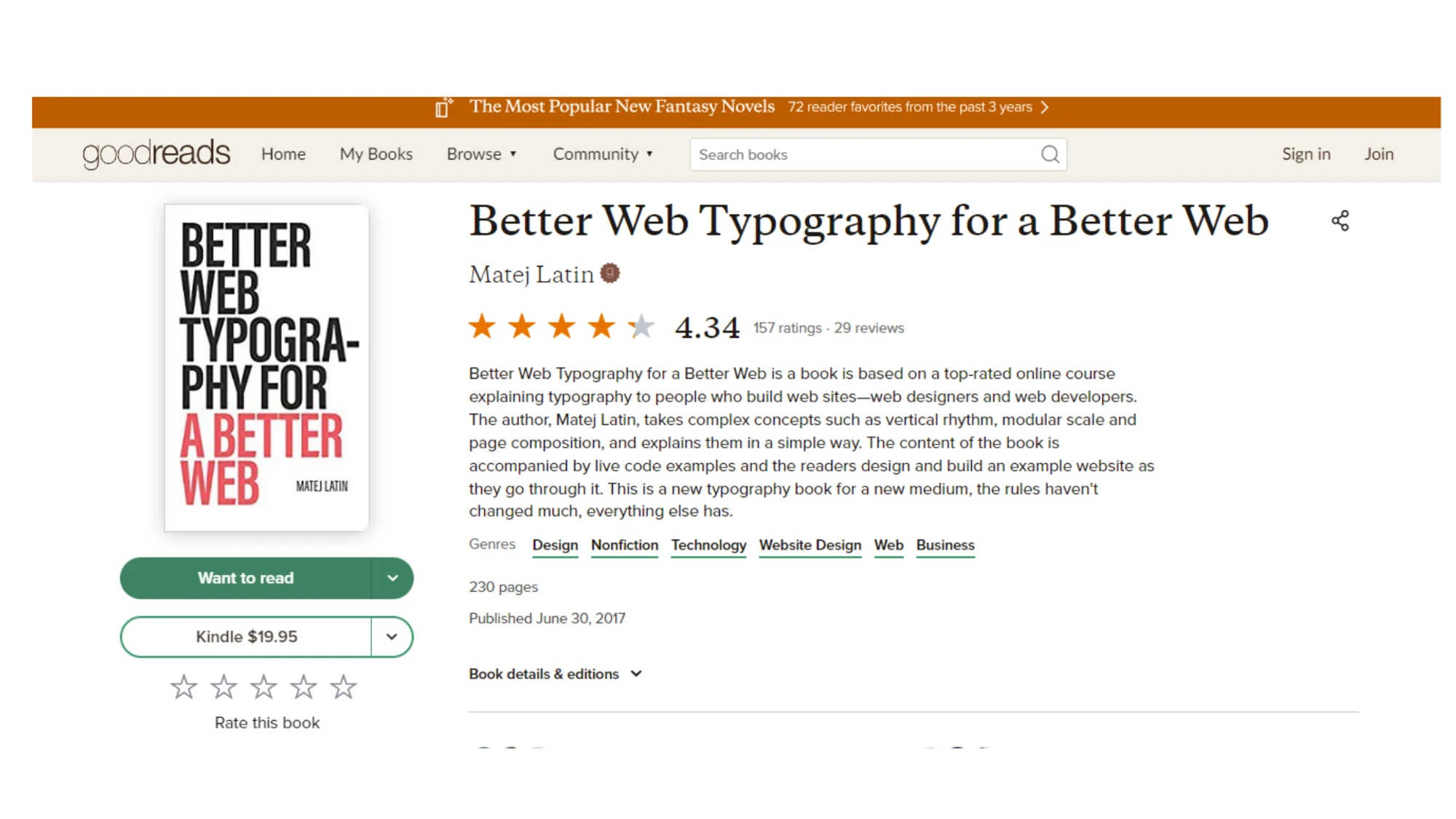 Image from Good Reads
Matej Latin's eBook, "Better Web Typography for a Better Web," dives deep into the art of web typography. It offers practical techniques and best practices for improving the readability, aesthetics, and overall typographic experience of websites. Suitable for designers at all levels, this eBook provides actionable insights to elevate the typographic quality of your web designs.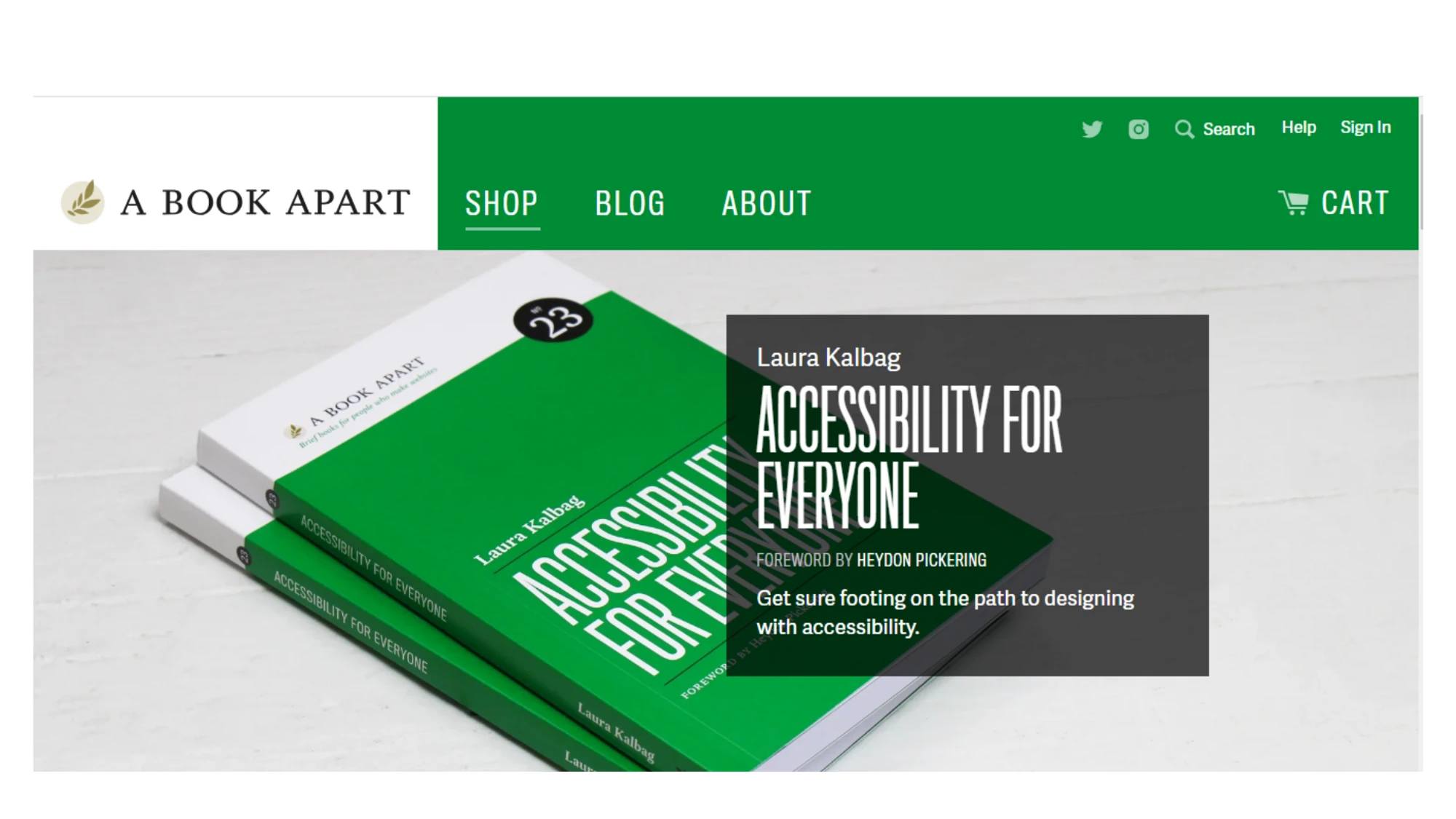 Image from A Book Apart
Laura Kalbag's eBook, "Accessibility for Everyone," focuses on designing inclusive digital experiences that cater to users of all abilities. It covers accessibility principles, techniques, and tools to help designers create more inclusive and user-friendly products. Designers at all levels will find practical guidance in this eBook to ensure their designs are accessible to all users.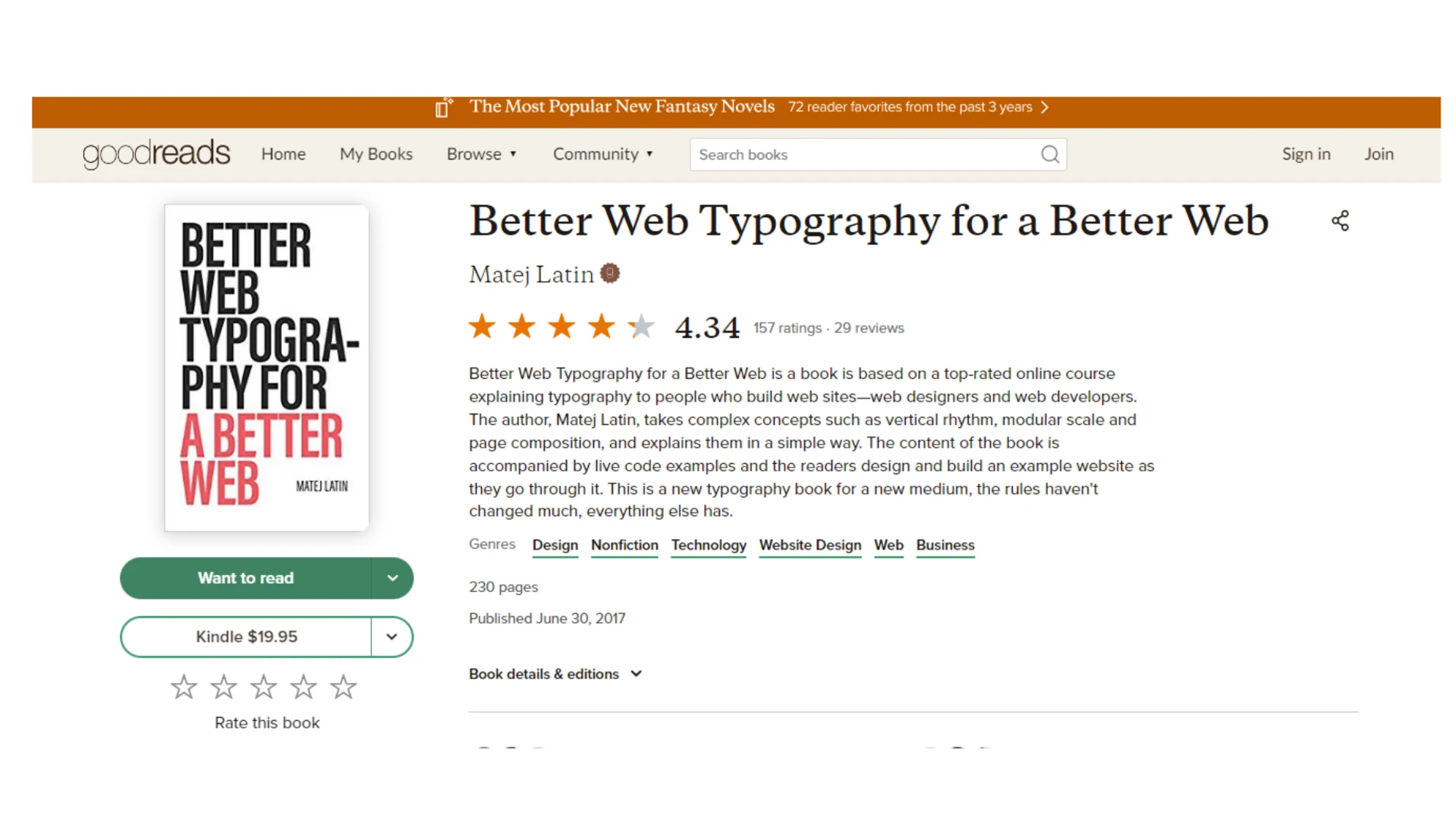 Image from Good Reads
Jenifer Tidwell's "Designing Interfaces" is a comprehensive guide that covers various aspects of interface design, including interaction patterns, navigation, and visual design. It provides insights into designing intuitive and engaging interfaces across different platforms and devices. Suitable for designers of all levels, this eBook equips designers with the knowledge and skills to create exceptional user experiences.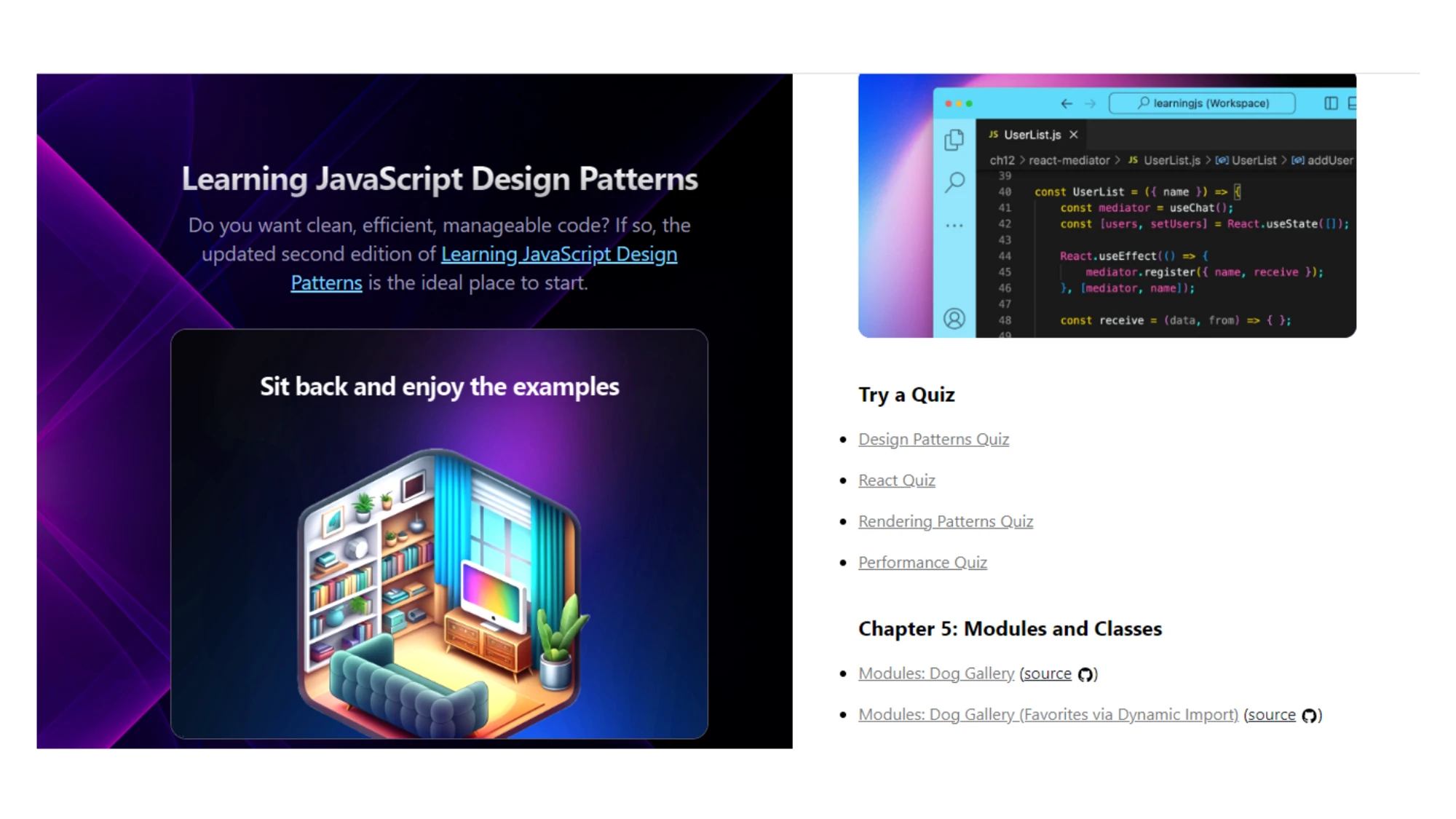 Image from Addy Osmani
Addy Osmani's eBook, "Learning JavaScript Design Patterns," explores various design patterns and best practices in JavaScript development. It is beneficial for designers with intermediate to advanced coding skills who want to enhance their understanding of organizing and structuring JavaScript code. This eBook equips designers with the knowledge to create more efficient, modular, and maintainable JavaScript applications.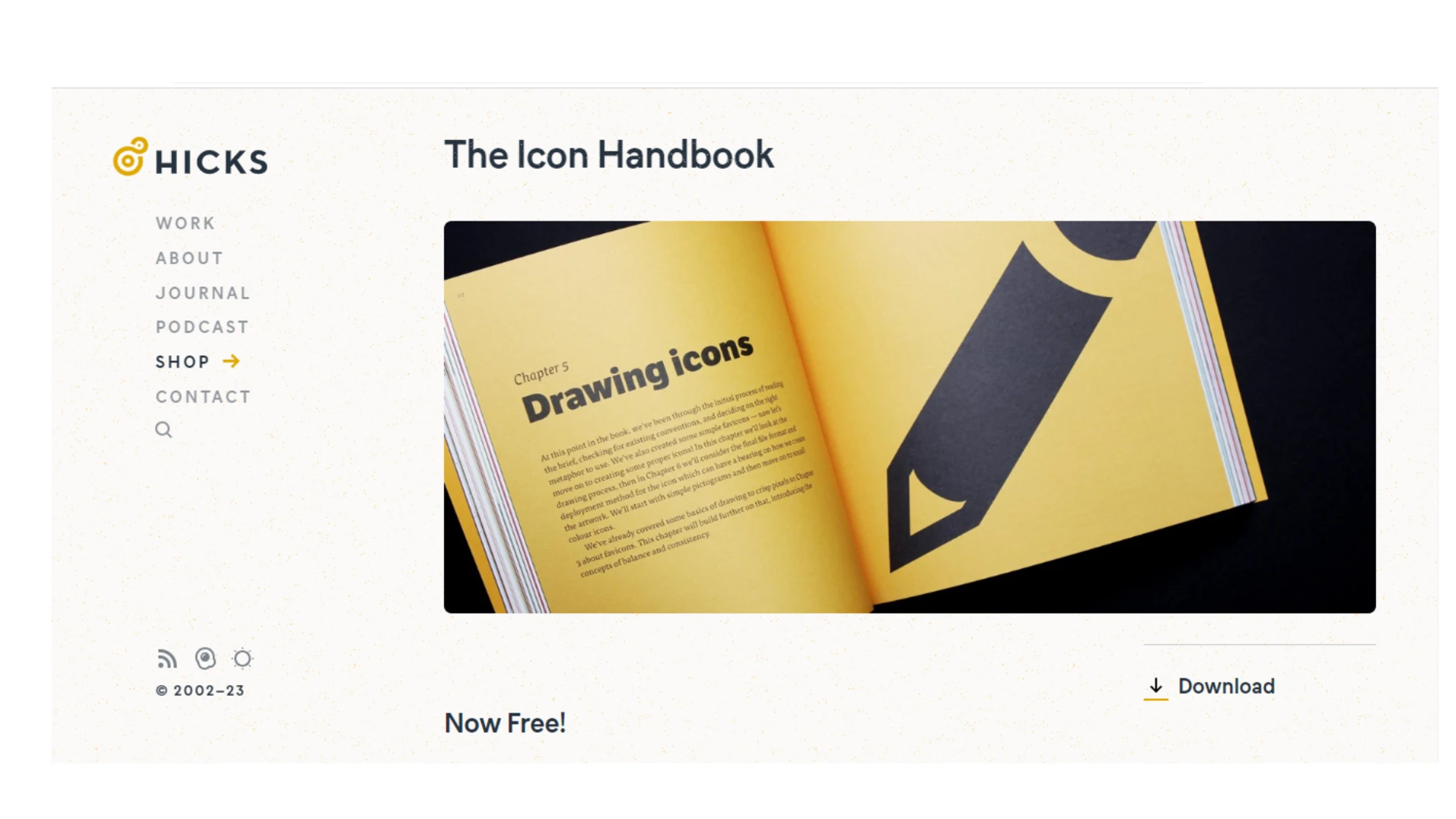 Image from Hicks.Design
Jon Hicks' "The Icon Handbook" is a comprehensive guide to icon design, covering everything from the fundamentals to advanced techniques. It provides insights into iconography principles, creation workflows, and implementation considerations. Designers at all levels seeking to create visually appealing and meaningful icons will find this handbook invaluable.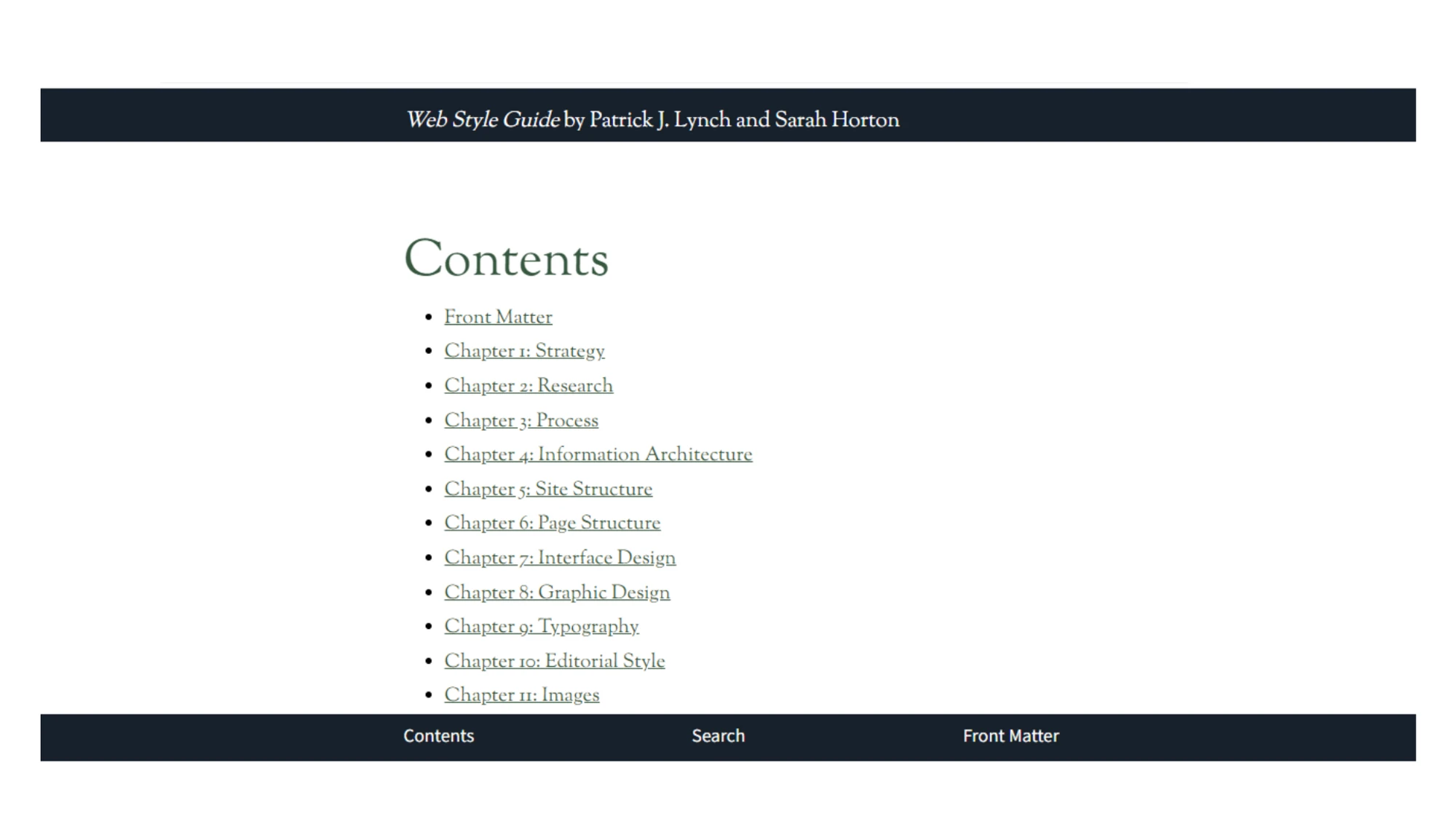 Image from Web Style Guide
Patrick J. Lynch and Sarah Horton's "Web Style Guide" is a comprehensive resource for web design, covering topics such as information architecture, visual design, and usability. It provides practical guidance for designing user-friendly and visually appealing websites. Suitable for designers at all levels, this eBook equips them with the knowledge to create effective and engaging web experiences.
---
Tips to Make the Most of Design eBooks
To truly maximize the benefits of these design eBooks, consider the following tips:
Take notes and highlight key points: As you read through the eBooks, jot down important insights and highlight key points that resonate with you. This will help you retain and revisit valuable information later.
Apply the knowledge: Actively apply the concepts and techniques you learn from the eBooks to your design projects. Experiment with new ideas and incorporate them into your workflow to see how they enhance your designs.
Engage in self-reflection: Take the time to reflect on how the eBooks' teachings align with your current design approach. Consider how you can adapt and improve your design practices based on the insights gained from the eBooks.
Explore additional resources: Use the eBooks as a springboard to explore related resources such as blogs, articles, and online courses that delve deeper into specific design topics. This will further enrich your understanding and expose you to diverse perspectives.
Join design communities: Engage with fellow designers and participate in design communities like the Eagle community to discuss the eBooks' contents, share insights, and seek feedback. Collaborating with others will broaden your understanding and foster valuable connections.
Experiment and iterate: Don't be afraid to experiment with new design techniques and iterate on your work. The eBooks provide a foundation, but it's through practice and exploration that you truly hone your skills and develop your unique design style.
Remember, the eBooks are valuable resources, but it's up to you to actively engage with the material and apply the knowledge to your design practice. By doing so, you can unlock your full creative potential and continually evolve as a designer.
Ready to elevate your book cover and magazine designs? Check out our latest blog post featuring a collection of stunning book covers and magazine mockups.
---
Final Words
By exploring these resources, designers can expand their knowledge, refine their skills, and find inspiration to create exceptional designs.
Additionally, to further enhance your design workflow, we highly recommend checking out the Eagle app. With its powerful features and intuitive interface, Eagle is designed specifically to help designers and video editors arrange and organize their design ideas and data seamlessly. With its ability to streamline your workflow, foster collaboration, and unleash your creative potential, Eagle propels your design journey to unparalleled heights.
Remember, constant learning, experimentation, and engagement with the design community are key to growth and success as a designer. So, dive into these free design eBooks, embrace new ideas, and keep pushing the boundaries of your creativity. Let these resources be your guide as you continue to evolve and thrive in the dynamic world of design.
To learn more about how Eagle can revolutionize your design process, visit eagle.cool and embark on your journey with the 30-day free trial.