Stand Out Online with 15 Free Background Websites
In the digital age, creating a website is no longer an arduous task filled with technical jargon and tedious coding. Instead, it has become easier than ever to make your mark on the web and stand apart from the competition with eye-catching visuals that will draw in viewers.
For those looking to add visual interest to their websites without breaking the bank, there are plenty of free background websites available for use. From whimsical watercolors to colorful abstracts, these 15 sources offer something for everyone - giving even novice designers the opportunity to put their own creative spin on their site design.
With these resources at hand, anyone can take control of their online presence and create a visually stunning statement that speaks volumes about what they have to offer.
EAGLE - Organize All Your Design Assets
Video from Eagle
Picture this: You've meticulously crafted your design project but lack the perfect background. Frantically searching through cluttered folders or getting lost online wastes time and energy.
But fear not, because Eagle is here to save the day. Its intuitive interface and organizational features streamline your workflow, providing easy access to a vast collection of high-quality backgrounds. Eagle revolutionizes designers' experiences, offering efficient cross-platform synchronization and empowering them to focus on creating visually stunning websites.
So, why wait? Start your 30-day free trial of the Eagle app now!
Eager to enhance your designs with captivating visuals? Explore the best stock image websites and find the perfect images to bring your vision to life.
---
Top 15 Free Background Websites
Imagine your website as a canvas, waiting to be transformed into a captivating work of art. Just like choosing the right background for a painting can make it truly mesmerizing, selecting the perfect background for your website can elevate its aesthetics and make it stand out in the crowded online world.
So, where to find free background? Luckily, there's an abundance of free background websites that offer a plethora of options to suit your unique style and preferences. Let's dive into 15 of these remarkable resources that will take your website design to the next level.
1. DesignScape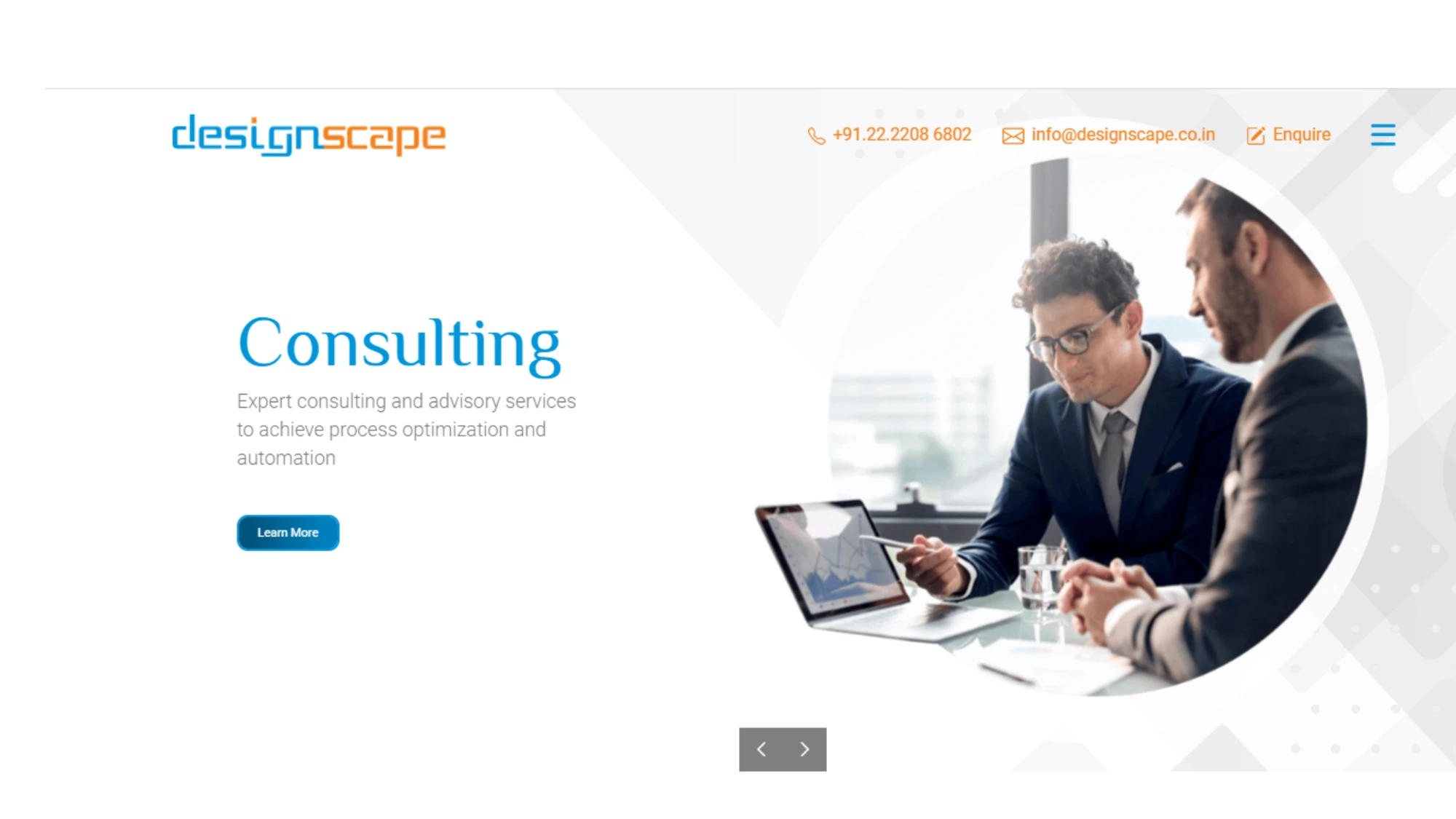 Image from DesignScape
DesignScape offers a thoughtfully curated selection of backgrounds, meticulously handpicked to meet the diverse needs of designers. With their comprehensive library, you'll find a wide range of styles, themes, and visual elements that will complement your website's aesthetic and enhance its overall appeal.
Features: Curated collection, user-friendly interface, search filters, responsive optimization, supplementary design assets, flexible download options, and regular updates
2. Subtle Patterns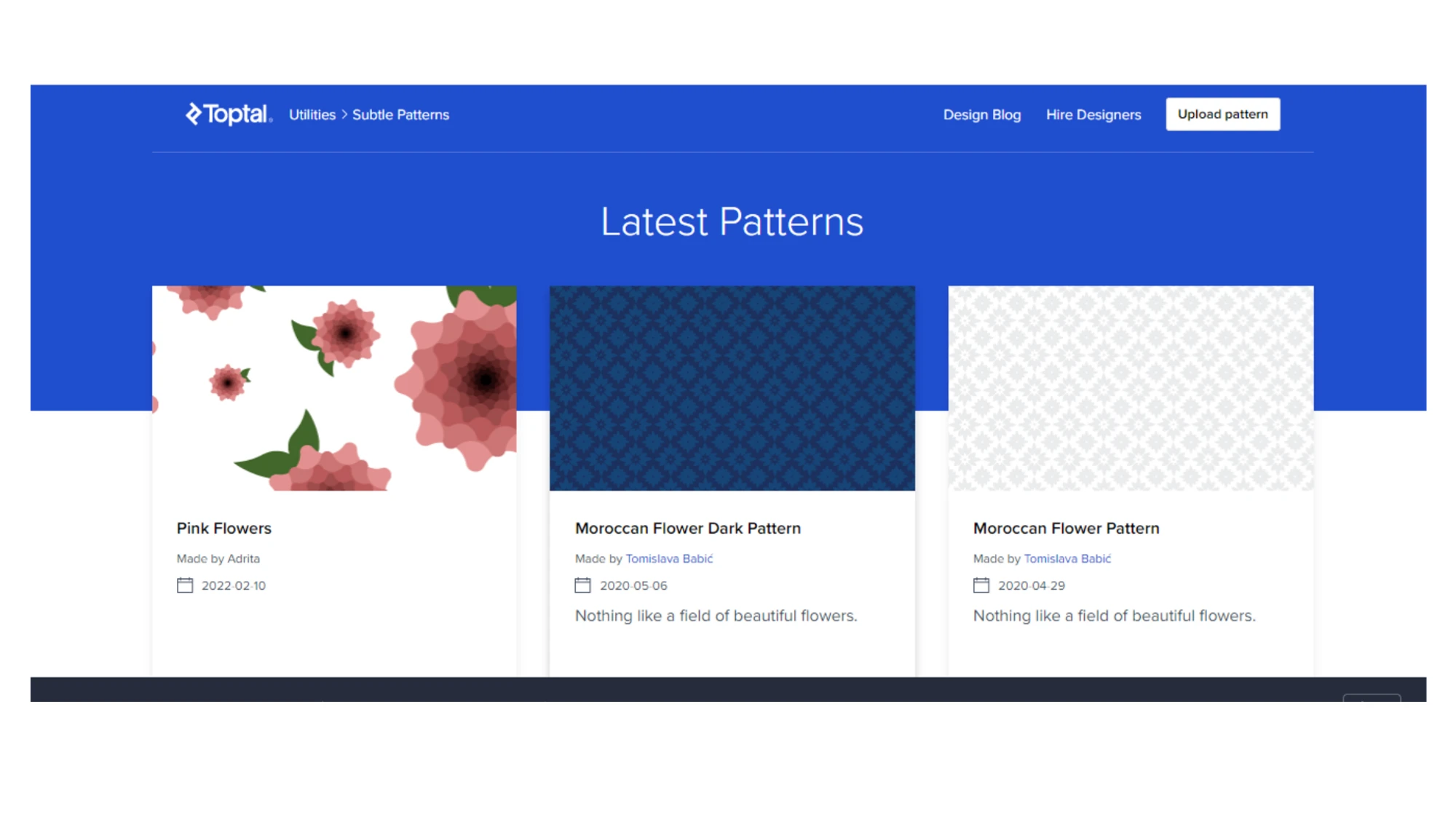 Image from Subtle Patterns
Looking for subtle and seamless background patterns that add depth and sophistication? Subtle Patterns is the place to be. Their diverse collection of patterns will give your website an elegant touch, and downloading them is a breeze. They constantly update their collection, so you'll always have fresh options to choose from.
Features: Diverse pattern collection, easy download options, and regular updates.
3. Hero Patterns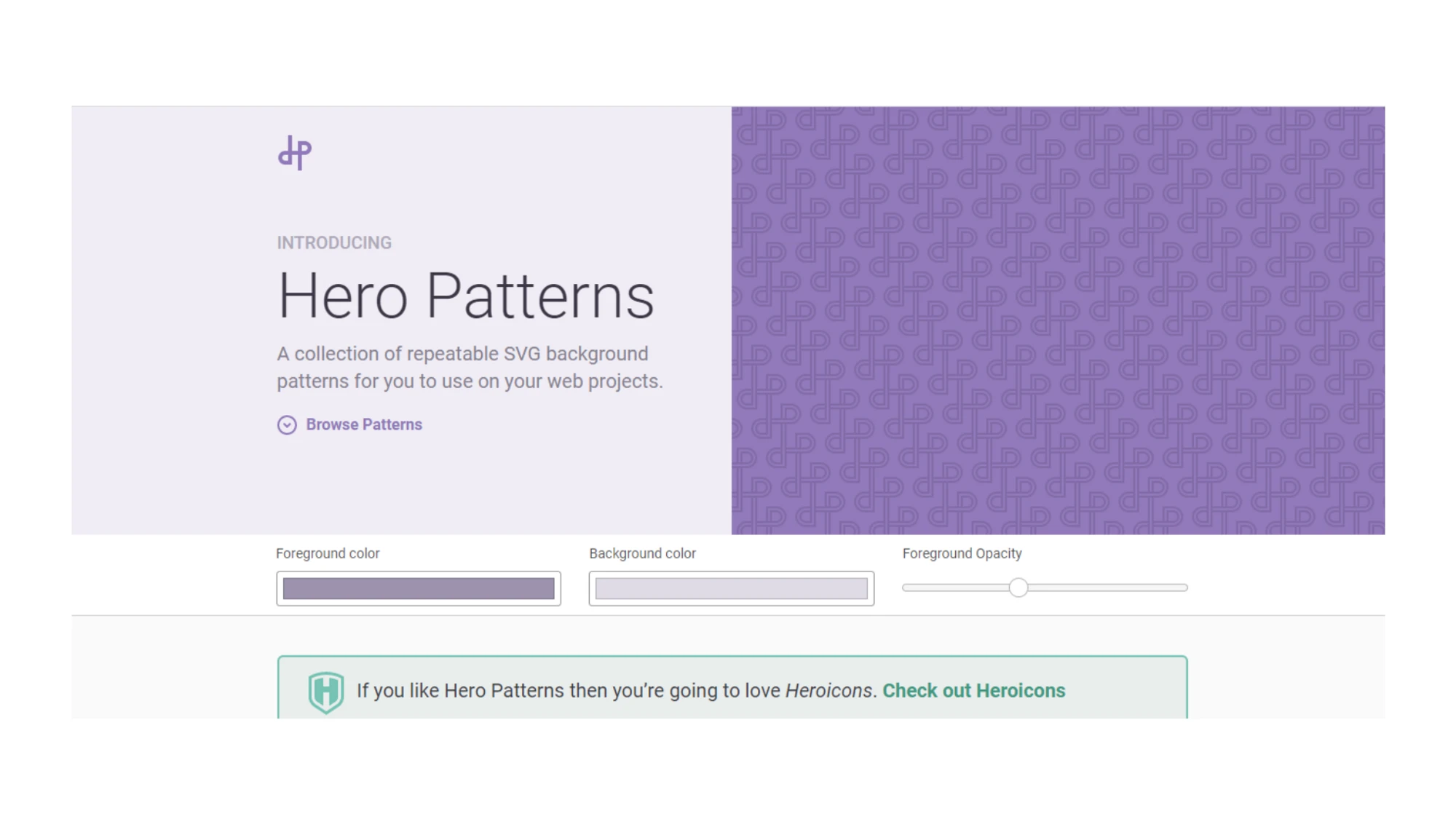 Image from Hero Patterns
If you crave simple yet captivating background patterns, Hero Patterns has got you covered. Their patterns exude modernity and style, providing your website with a contemporary edge. With a wide selection to browse and customization options available, you can create a background that truly reflects your unique taste. And guess what? They even generate convenient CSS code to simplify the implementation process.
Features: Wide selection of patterns, customization options, and convenient CSS code generation.
4. Pexels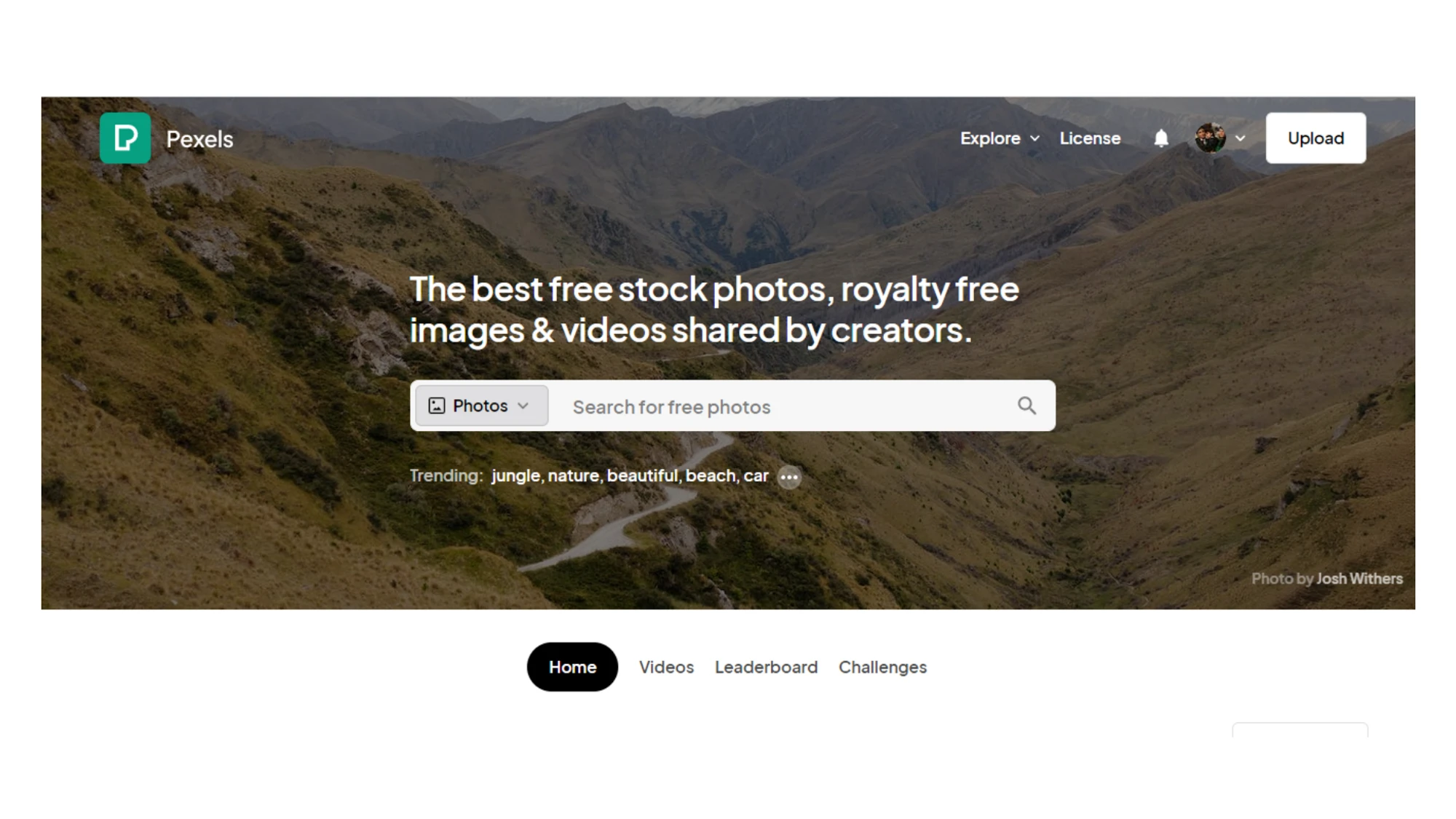 Image from Pexels
Now, let's talk about Pexels, a true treasure trove of captivating background images. Their vast library of high-quality stock photos will serve as stunning backdrops for your website. With easy search and download functionality, finding the perfect image is a breeze. Plus, you can explore their extensive collection of free background images to ensure you find exactly what you're looking for.
Features: Extensive collection of free images, easy search and download functionality.
5. Unsplash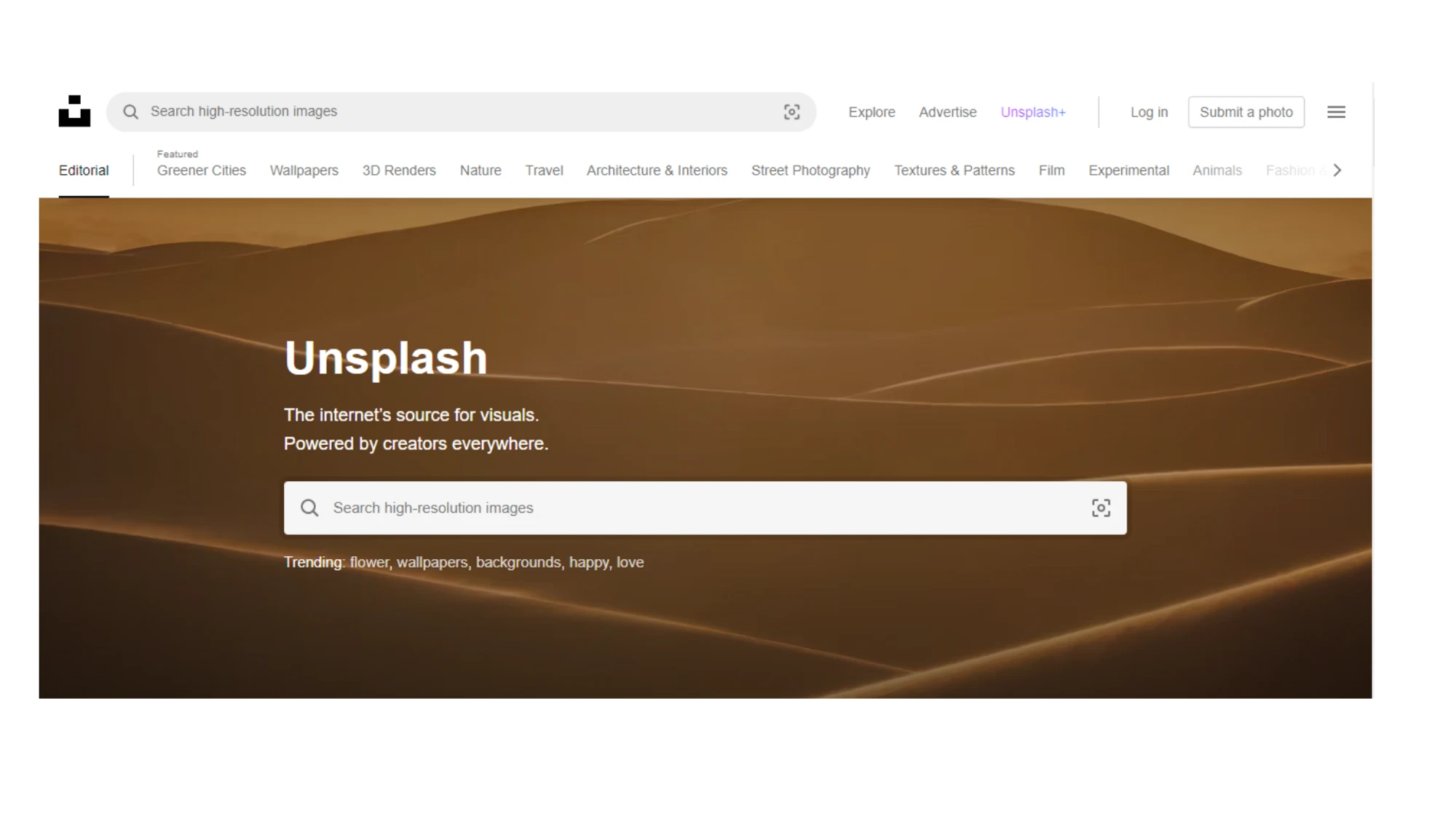 Image from Unsplash
Prepare to be amazed by Unsplash. Their massive collection of royalty-free photos is a feast for the eyes. From breathtaking landscapes to abstract visuals, their high-resolution images will transform your website into a visual wonderland. With search filters and user-friendly download options, Unsplash makes it a breeze to find and incorporate stunning visuals into your design.
Features: High-resolution images, search filters, and easy-to-use download options.

Don't miss out on the powerful features and seamless organization of Eagle. Try Eagle today and experience a whole new level of efficiency and creativity!
6. Pixabay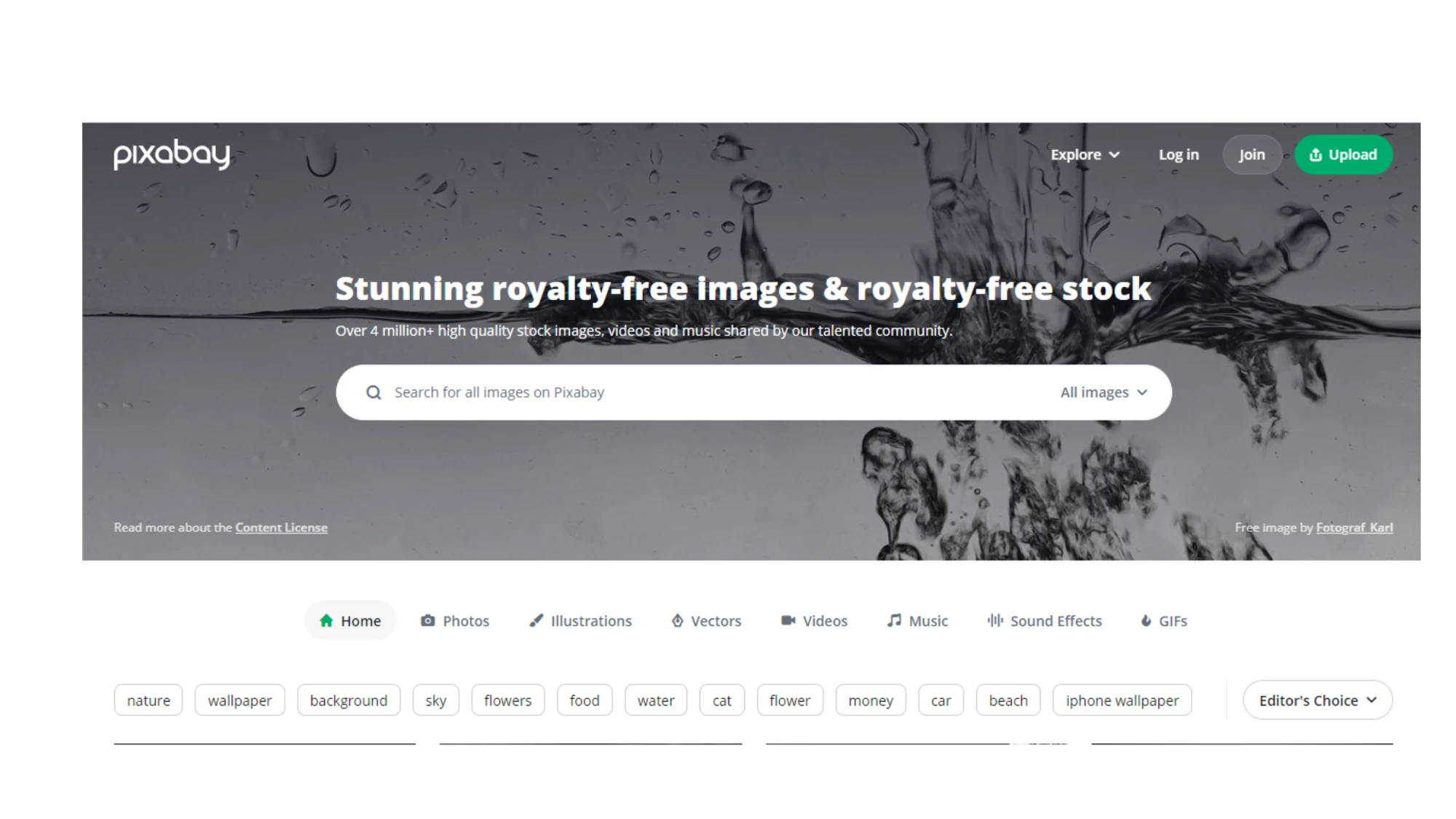 Image from Pixabay
Pixabay is another exceptional free background pictures website. Their wide range of images, illustrations, and vectors will infuse your website with captivating visuals. With various categories to explore and easy download options, Pixabay ensures you'll find the perfect background to complement your content.
Features: Extensive library, various categories, and easy download options.
7. Freepik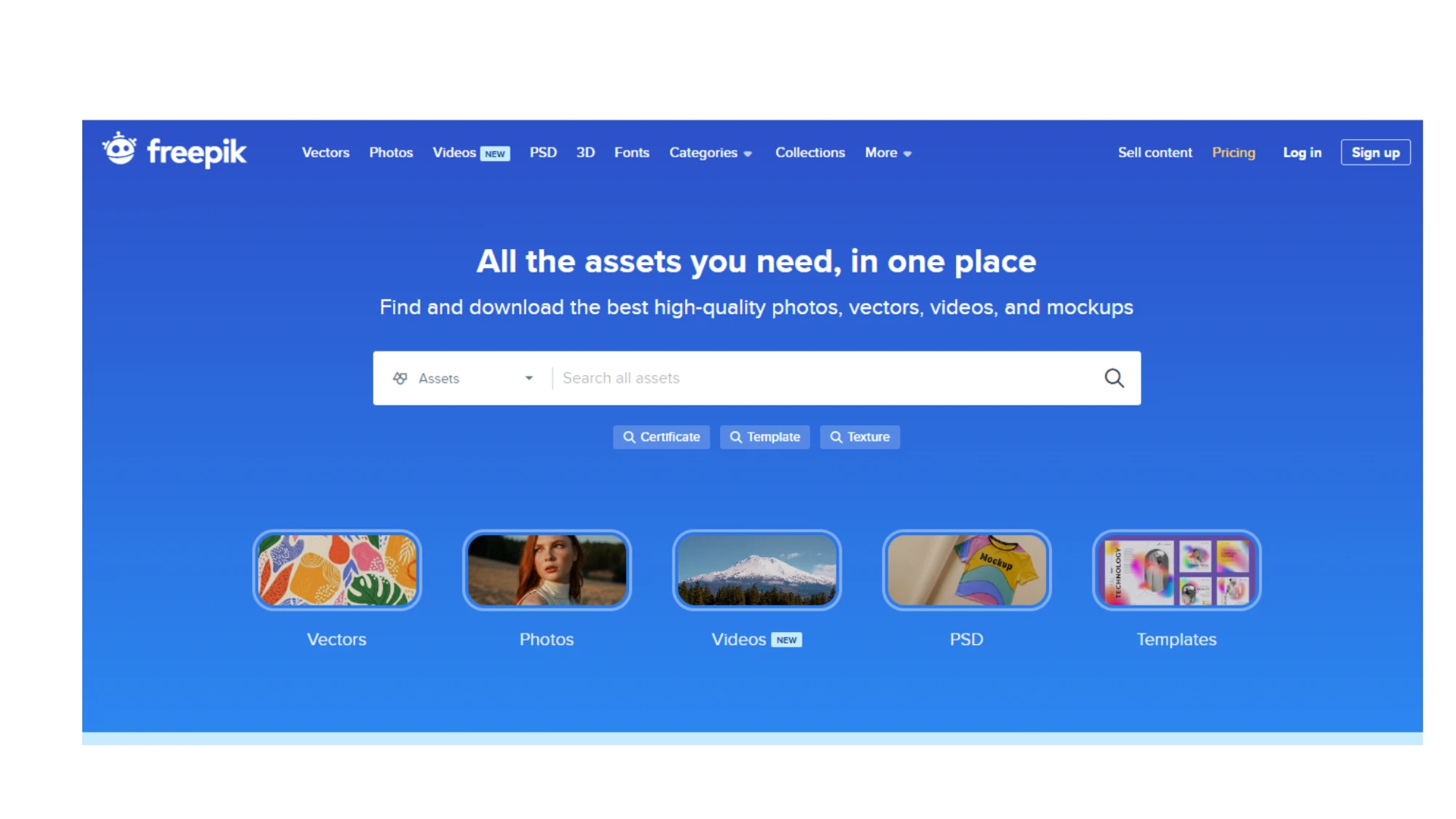 Image from Freepik
If you're looking for a comprehensive collection of graphic resources, Freepik is the place to go. Their extensive library includes backgrounds, vectors, icons, and more, empowering you to create a visually stunning website. With their user-friendly interface and easy download options, Freepik simplifies the process of finding and incorporating the perfect resources into your design.
Features: Diverse range of resources, user-friendly interface, and easy download options.
8. Canva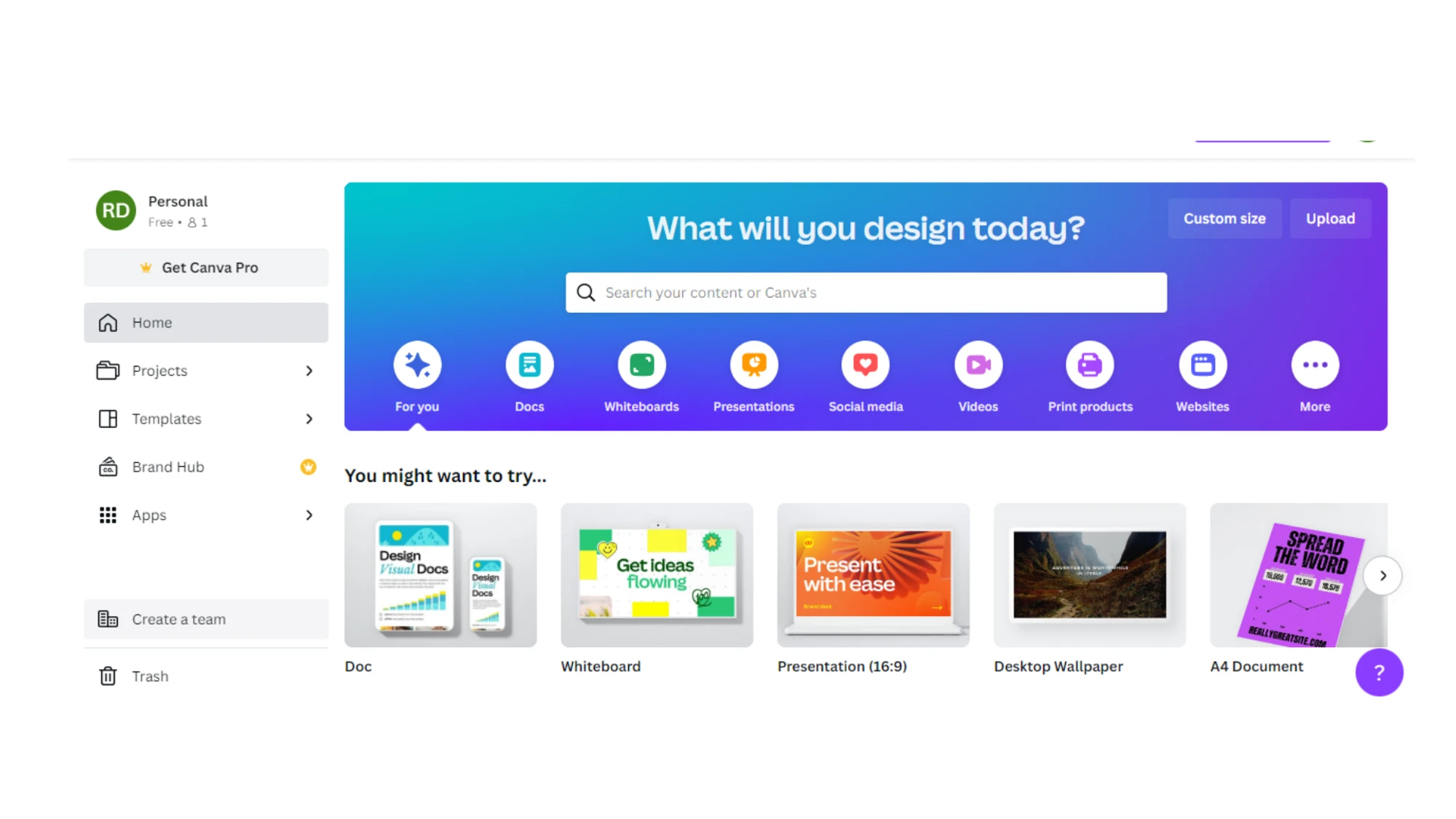 Image from Canva
Now, let's talk about Canva, a popular online design tool that opens up a world of possibilities. With their customizable background templates and a plethora of options, you can unleash your creativity and design a website that stands out. With a vast template library, customization tools, and drag-and-drop functionality, Canva empowers you to create visuals that are truly unique and captivating.
Features: Template library, customization tools, and drag-and-drop functionality.
9. Patterncooler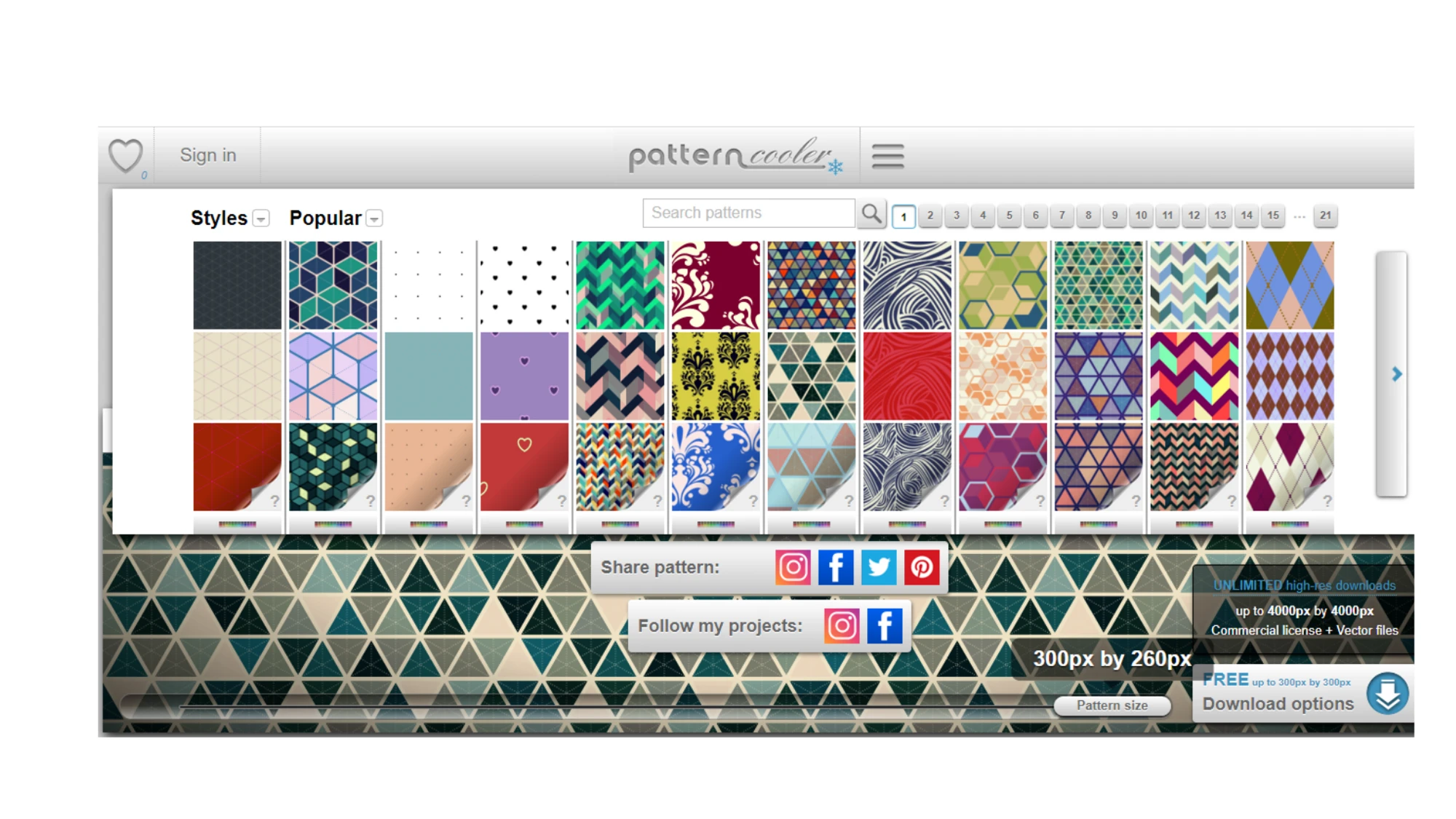 Image from Patterncooler
If you're feeling adventurous and want to create your own custom background patterns, Patterncooler is your go-to resource. It's like having a paint palette for your website. Experiment with different colors, shapes, and styles to generate patterns that are as unique as your vision. With customization options and an easy download experience, Patterncooler makes it a joy to create backgrounds that truly represent your website's identity.
Features: Customization options, pattern generator, and easy download functionality.
10. SVG Backgrounds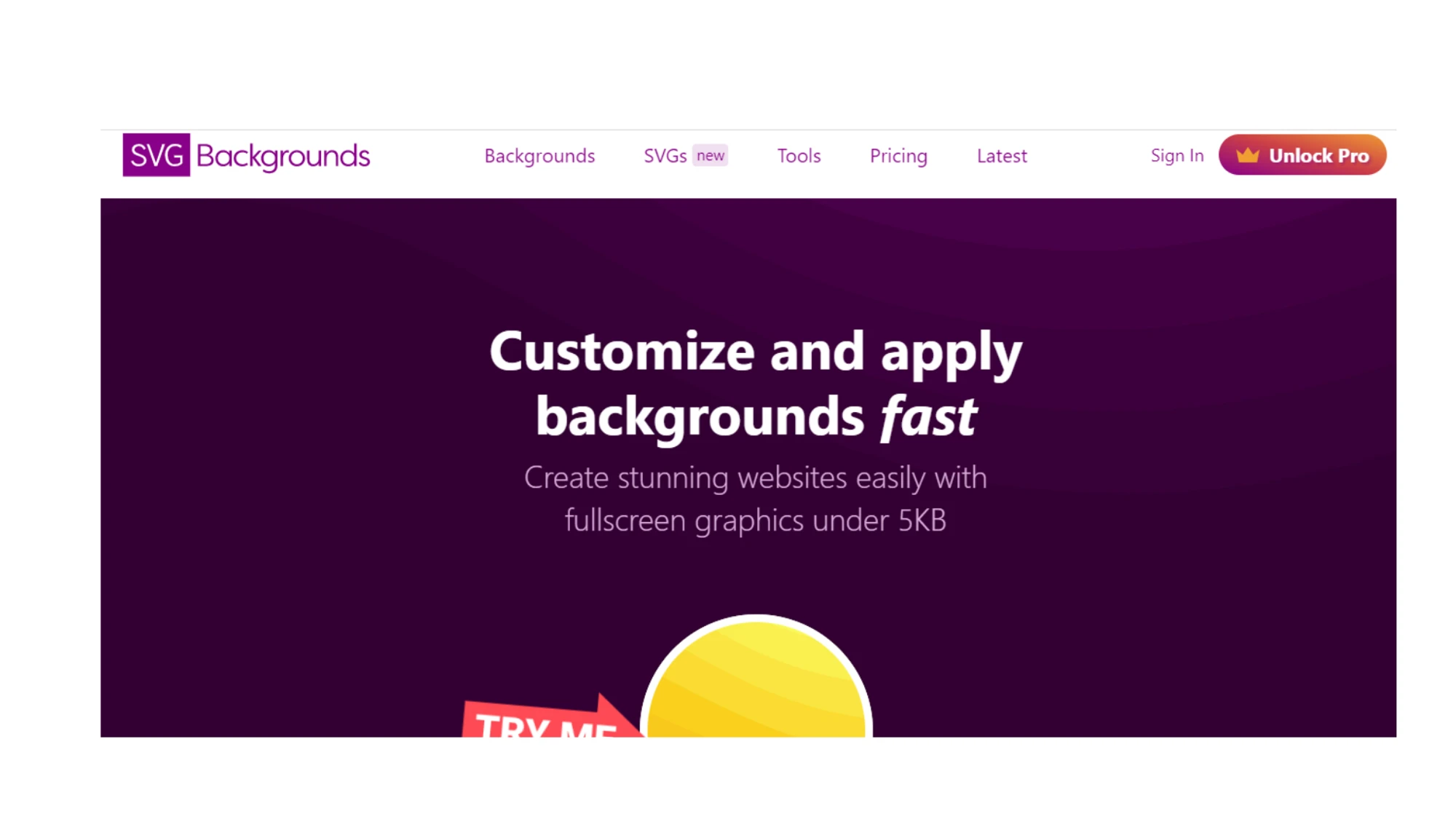 Image from SVG Backgrounds
When it comes to adding a touch of sophistication to your website, SVG Backgrounds is a game-changer. Their visually appealing SVG-based backgrounds are like intricate brushstrokes that add elegance to your design. The versatility of their designs allows you to easily customize them to fit your website perfectly. And the best part? These backgrounds seamlessly integrate with HTML and CSS, making implementation a breeze.
Features: Versatile designs, customizable options, and easy integration with HTML and CSS.
Unleash your creativity with stunning illustrations from the top free illustration websites. Discover a treasure trove of artistic inspiration and elevate your designs to the next level.
11. Patternify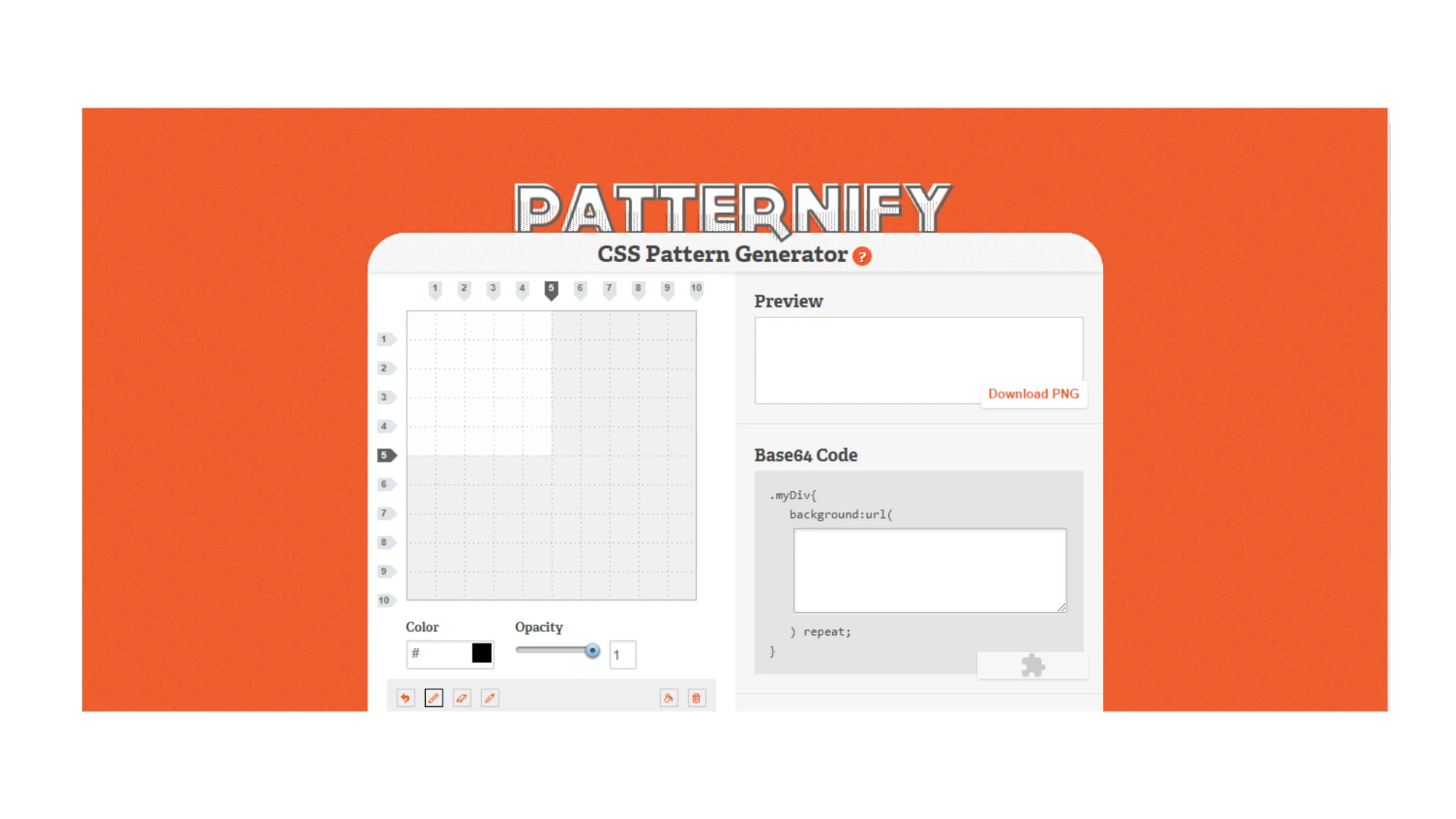 Image from Patternify
Patternify is a handy tool that puts the power of pattern creation in your hands. It's like having a digital loom at your disposal. With real-time adjustments to colors, sizes, and shapes, you can weave together a custom background pattern that matches your website's vibe. And with the ability to preview your pattern as you create it, you'll have complete control over its appearance. When you're satisfied with your masterpiece, simply download the pattern files and apply them to your website.
Features: Real-time pattern preview, customization options, and downloadable pattern files.
12. Patternizer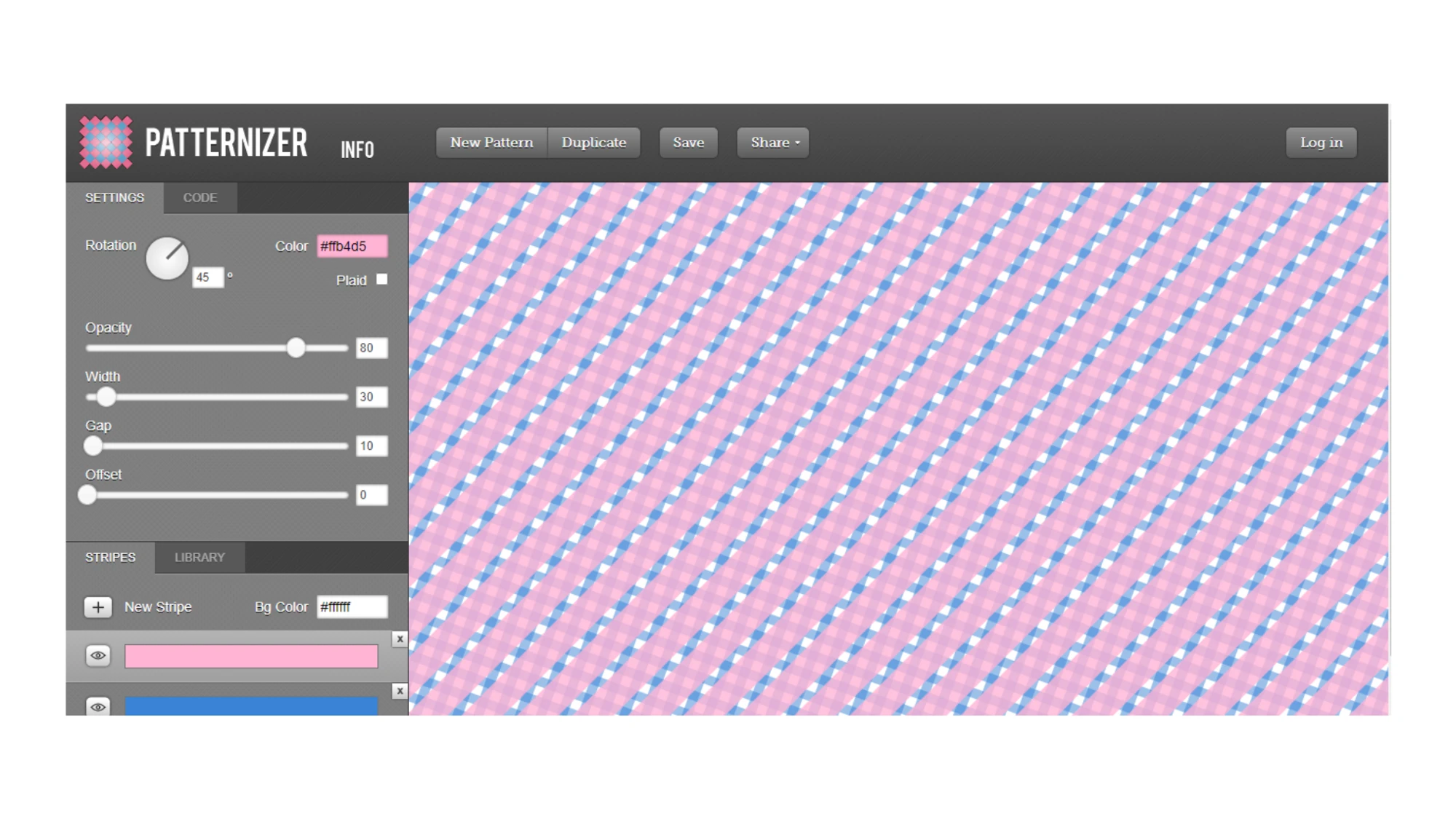 Image from Patternizer
Looking to add texture and visual interest to your website? Patternizer has got you covered. It's like having a sculptor's toolkit for your backgrounds. With Patternizer, you can effortlessly create seamless background patterns with various shapes, sizes, and colors. It's the perfect way to give your website a unique and eye-catching look. Customize your patterns in real-time, see a preview of how they'll appear, and easily download the patterns you create to breathe life into your design.
Features: Pattern customization, real-time preview, and easy download options.
13. BG Patterns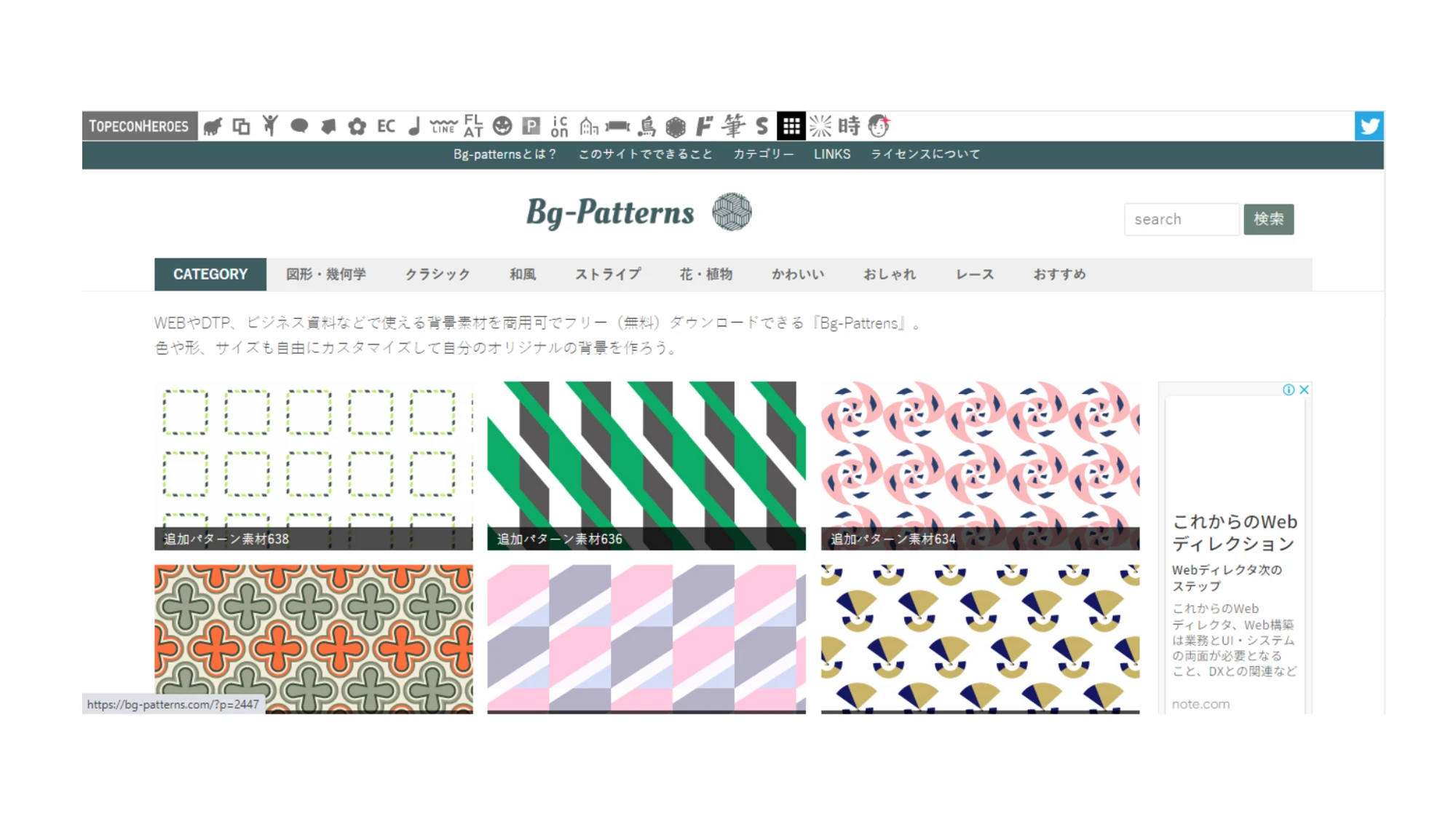 Image from BG Patterns
If you're seeking a user-friendly platform to create custom background patterns, BG Patterns is here to assist. It's like having a set of design stencils at your fingertips. With BG Patterns, you can explore different shapes and colors to create patterns that suit your taste, whether you prefer something simple or more complex. Enjoy the freedom of customizable pattern options, get a real-time preview of your patterns, and effortlessly download the pattern files to apply them to your website.
Features: Customizable pattern options, real-time preview, and downloadable pattern files.
14. Pattern8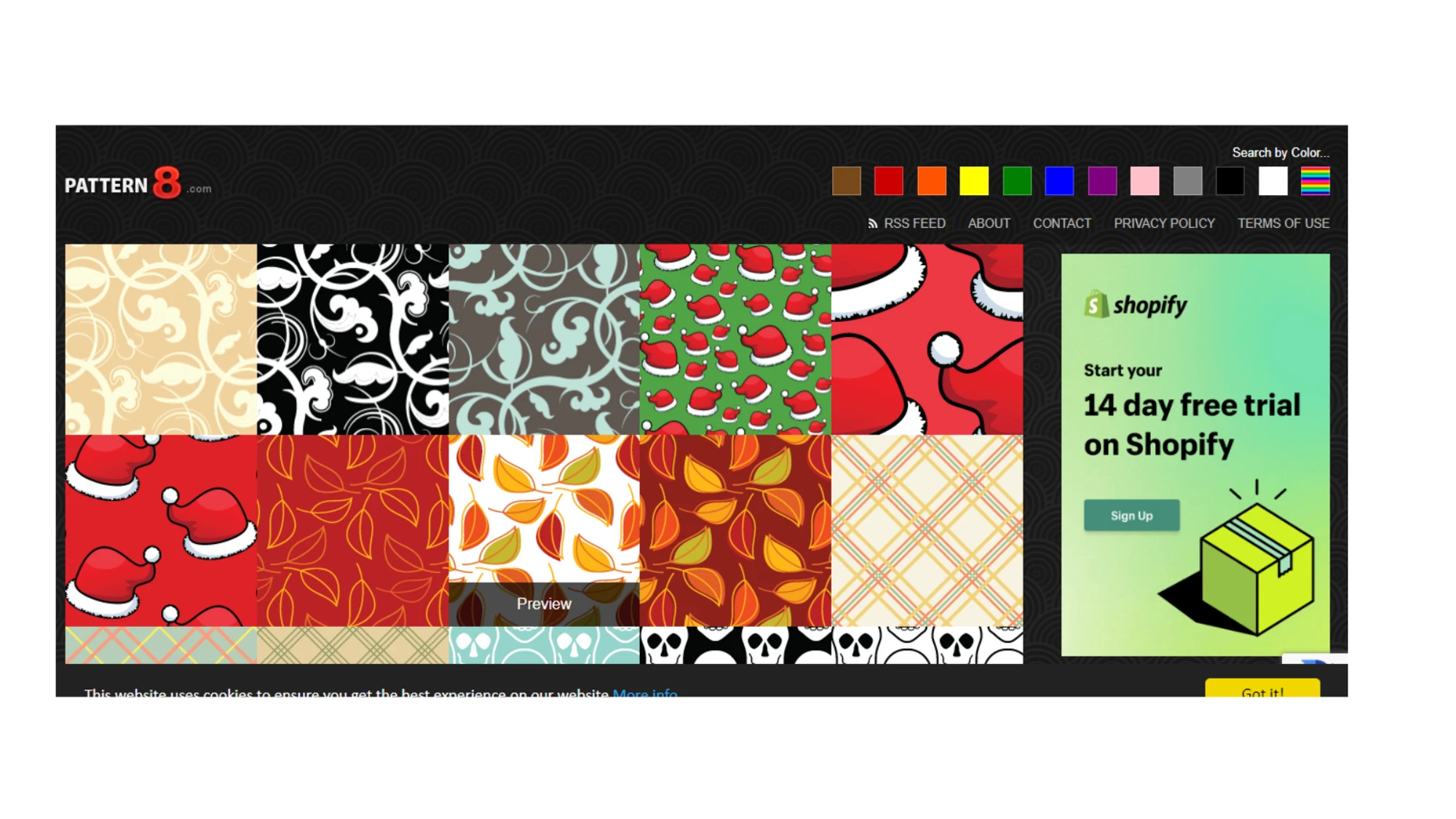 Image from Pattern8
Pattern8 offers an extensive collection of seamless patterns that will add that extra oomph to your website. It's like having an art curator hand-select patterns that match your style. From geometric designs to floral patterns and abstract motifs, Pattern8 has a vast library to choose from. Conveniently download the patterns you like, and if you want to add your personal touch, customize them to fit your website perfectly.
Features: Extensive pattern library, easy download options, and pattern customization tools.
15. Patterninja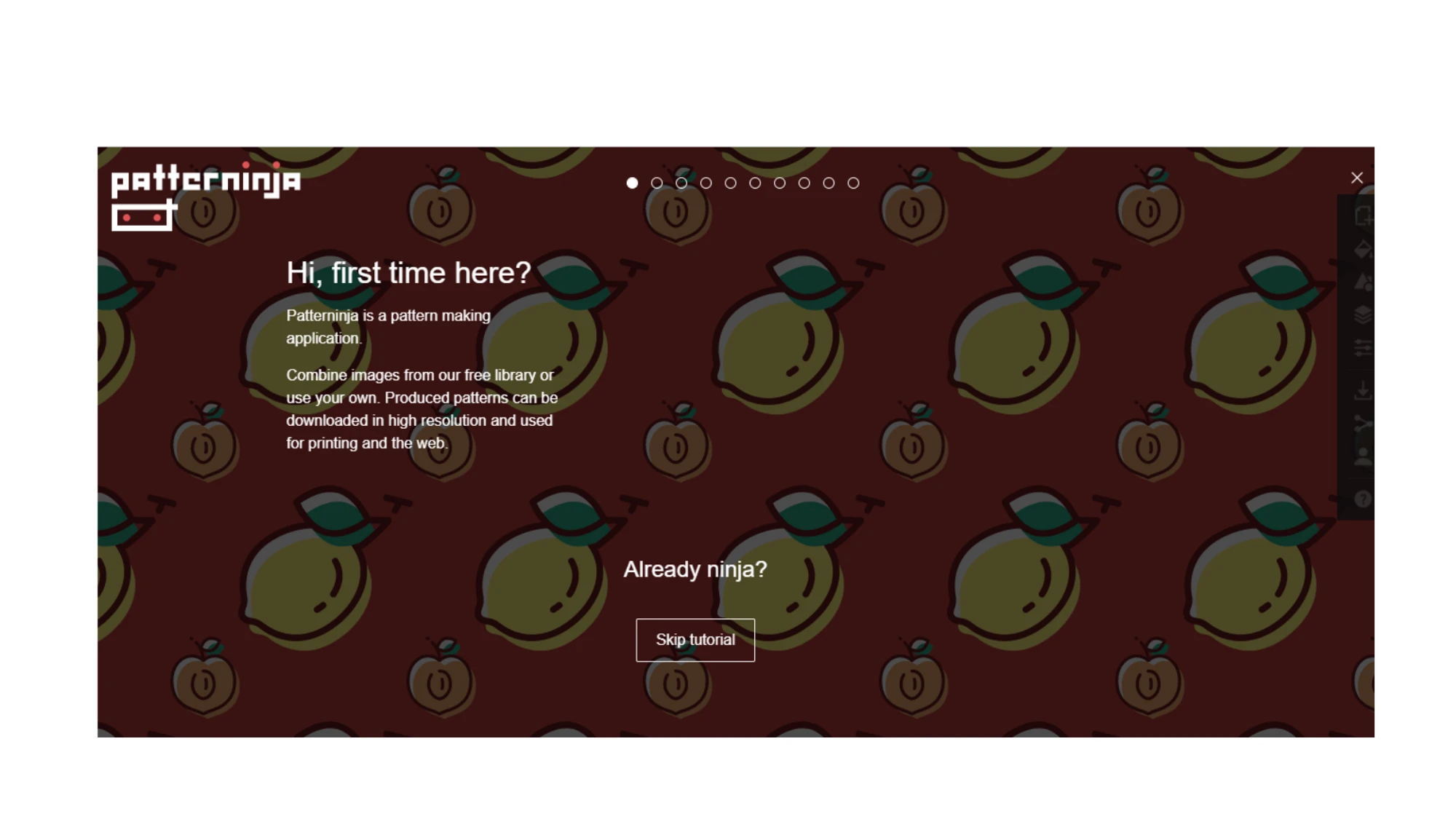 Image from Patterninja
Patterninja takes pattern creation to a whole new level. Whether you're looking for a background that mimics the delicate beauty of lace or the boldness of geometric shapes, Patterninja has got you covered. With their intuitive interface, you can easily customize every aspect of your pattern, from colors and shapes to opacity and scale. It's like having a painter's palette at your disposal, allowing you to create patterns that reflect your unique style.
Features: Pattern customization, advanced design options, and seamless pattern generation.
Transform your web design projects with the ultimate web design tool. Unlock your creative potential, streamline your workflow, and bring your visions to life with ease.
---
FAQ
What is a background website?
A background website is a platform or resource that offers a collection of backgrounds for websites. These backgrounds can include patterns, images, textures, or other visual elements used to enhance a website's design and aesthetics. Background websites provide a variety of options and often categorize backgrounds based on styles, themes, or purposes.
What are the advantages of using a background?
Using a background for your website offers several advantages. It can enhance the aesthetics of your site, making it more attractive and engaging to visitors. The right background sets the tone and mood, helping to convey the desired atmosphere for your website. Backgrounds also add depth and visual interest, making your site more dynamic. They can support your branding efforts by aligning with your brand's colors, style, and identity. Additionally, a well-designed background improves readability by ensuring that important content is legible and accessible.
How to choose the right background for your website?
Choosing the right background for your website involves considering several factors. Start by understanding the purpose and theme of your site, determine the message and emotions you want to convey, and consider the content and layout of your website, ensuring that the background complements and enhances the overall design.
Take into account your brand's color scheme or the desired color palette for your site. Select a background that harmonizes with these colors, providing suitable contrast for readability. Also, consider the user experience and ensure that the background does not hinder usability or affect performance.
Lastly, strive for consistency with your brand identity or design style. Experiment with different backgrounds and seek feedback to refine your choice until you find the perfect background that enhances your website's aesthetics and aligns with your goals.
---
In a Nutshell
Adding background websites to your website can make a huge impact on its overall look and feel. Backgrounds are an excellent way to draw attention, create visual interest or establish the mood of any page.
Utilizing free backgrounds from reputable sites helps you achieve these goals without breaking the bank. By using well-crafted imagery, it is possible to strengthen your message while capturing readers' attention in ways that plain text alone cannot do.
There are many options for finding quality images online; however, utilizing 15 free background websites allows you to diversify your resources with minimal effort and cost. So go ahead, explore, and let your website's design soar to new heights!
Unlock the full potential of your design projects and stay productive with Eagle. Take control of your assets, streamline your workflow, and elevate your creativity. Try Eagle today and discover a smarter way to design!