Your Ultimate Guide to Free Audio Editing Software: 10 Best Options
As a content creator or artist, you want to keep your audience engaged while maintaining other aspects of your content. It is important to prioritize audio quality. Whether you're doing a voice-over for your vlog or recording a video for your podcast, you shouldn't compromise on the audio quality of your content.
These top 10 handpicked audio software options will cater to any of your audio enhancement needs, whether it's about adding sound effects, removing unwanted background noise, or fine-tuning low-pitch sounds that can affect the overall quality of your project. Say goodbye to hours of manual editing, as these tools offer time-efficient features that streamline your audio workflow effortlessly.
Discover the best 10 free audio editing software options available. Edit your audio, soundtracks, and music effortlessly with top-rated tools for professional results.
---
What Is Audio Editing Software? Why Is It Important?
Audio editing software is a tool that enables music producers, filmmakers, and content creators to enhance the overall quality of their audio. By utilizing these tools, users can achieve the desired quality by mixing and readjusting audio parts to perfection.
Audio editing software is essential for creatives for several reasons, including:
Editing: Usually, an audio recording contains various errors that can be fixed using these tools. You can trim, cut, remove pauses and unwanted noises, and rearrange audio segments seamlessly according to your needs.
Improved Quality: The original recording often comes with distortion and unwanted noise. Content creators can enhance the quality of their recordings by adding various sound effects and balancing the frequencies to make the audio more pleasant.
Mixing and Mastering: Some audio parts require adjustments, such as leveling the volume or mixing multiple audios to create a balanced audio mix. Moreover, with the help of sound editing software, you can optimize your content audio for various platforms and systems, making the audio more suitable for your audience.
Eagle App - Organize & Browse Your Audio Files
Video from Eagle (Using Eagle to organize audio files)
Being a music producer or an artist, it can get overwhelming sometimes when you can't find that specific audio file. To address all your audio file management concerns, Eagle is here to save the day!
No doubt, large-scale projects require multiple audio recordings in the editing workflow, but finding your files just by their names can be hectic. Considering that Eagle offers solutions for all your media assets, it also comes with smart features for your audio files, such as Search by BPM (Beats per minute), enabling users to filter and find the right audio files that suit the needs of any ongoing projects. Additionally, the hover preview makes it more convenient to find your specific audio files effortlessly, saving you the trouble of opening your audio files individually.
Say goodbye to old-school methods, and let Eagle streamline your workflow with endless possibilities. Try Eagle now for 30 days free!
---
Top 10 Free Audio Editing Software Options
Ready to make your audio sound more professional? We've got you covered! Discover our handpicked list of audio editing software to cater to your specific needs. Be sure to take a look at the features, as each software we are about to introduce may vary in features and potential use.
1. Audacity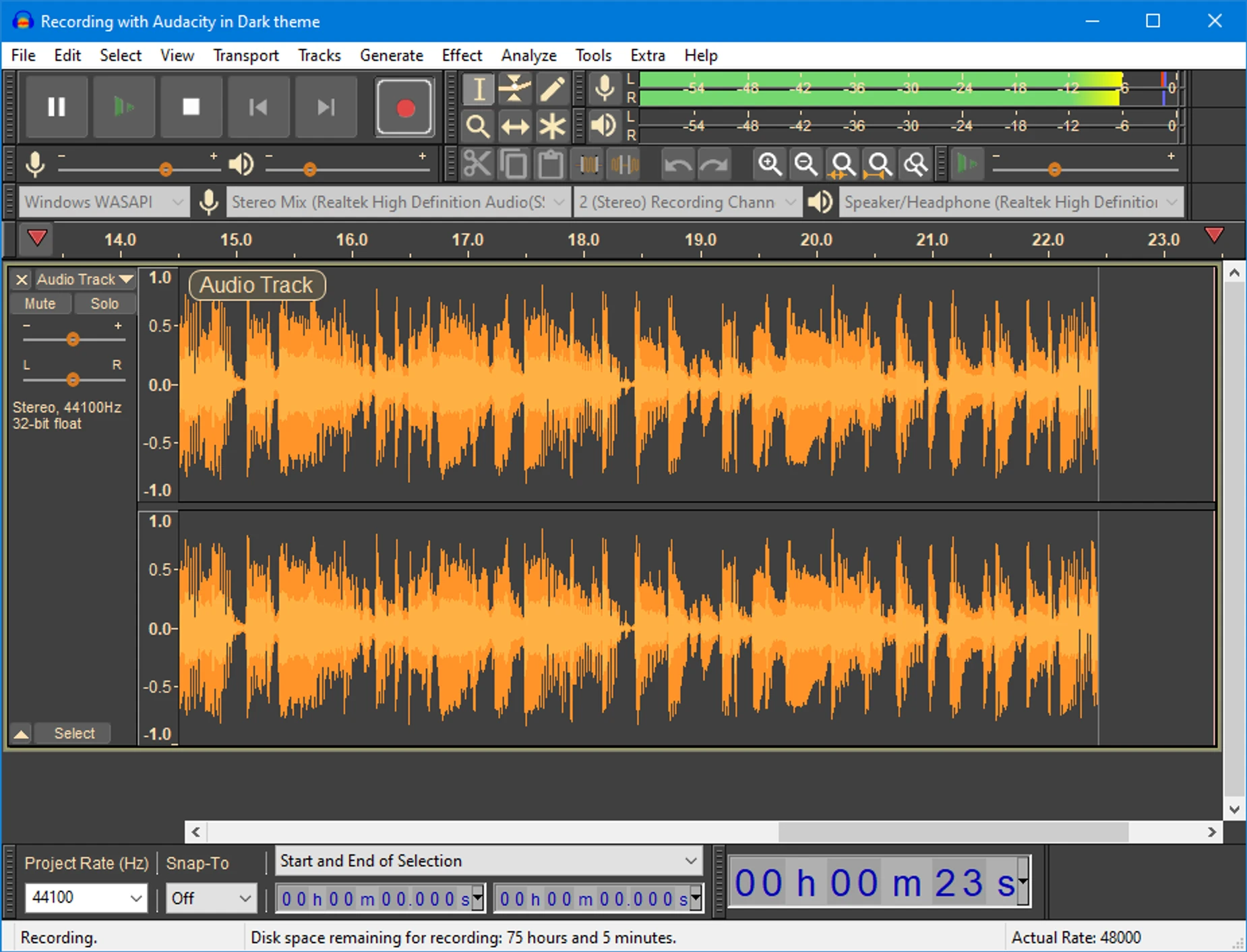 Image from Audacity
Audacity has been a prominent player in the audio and music industry for many years. It is widely utilized by music producers, podcasters, and hobbyists to elevate their audio quality to a professional level. Furthermore, Audacity caters to the needs of both beginners and large-scale projects, offering a wide range of features from basic editing like cropping, cutting, and mixing to advanced tasks such as enhancing audiobooks, podcasts, and music production. So, if you're embarking on a content creation journey, consider Audacity for all your audio enhancement needs.
Features:
Audio Manipulation: Audio manipulation is made easier with Audacity's top-notch features; you can add various effects such as fade in/out, amplification, noise reduction, and many more.
Built-in Recorder: Audacity lets users record using their devices; this feature is essential and handy for long hours of podcasts, voice-overs, and music recordings, as users can adjust recording settings such as bit depth, channel configuration, and sample rate to achieve their specific recording quality.
Effects Plugins Support: Audacity supports LADSPA, LV2, Nyquist, VST, and Audio Unit for effects plugins. Furthermore, users can modify these effects in the text editor.
Pricing: Free
Operating System: Windows, Mac, and Linux
Download: Audacity
Want to add your own sound effects? Worry not, you can find all your favorite niche-specific sounds on these free sound effects sites!
2. OcenAudio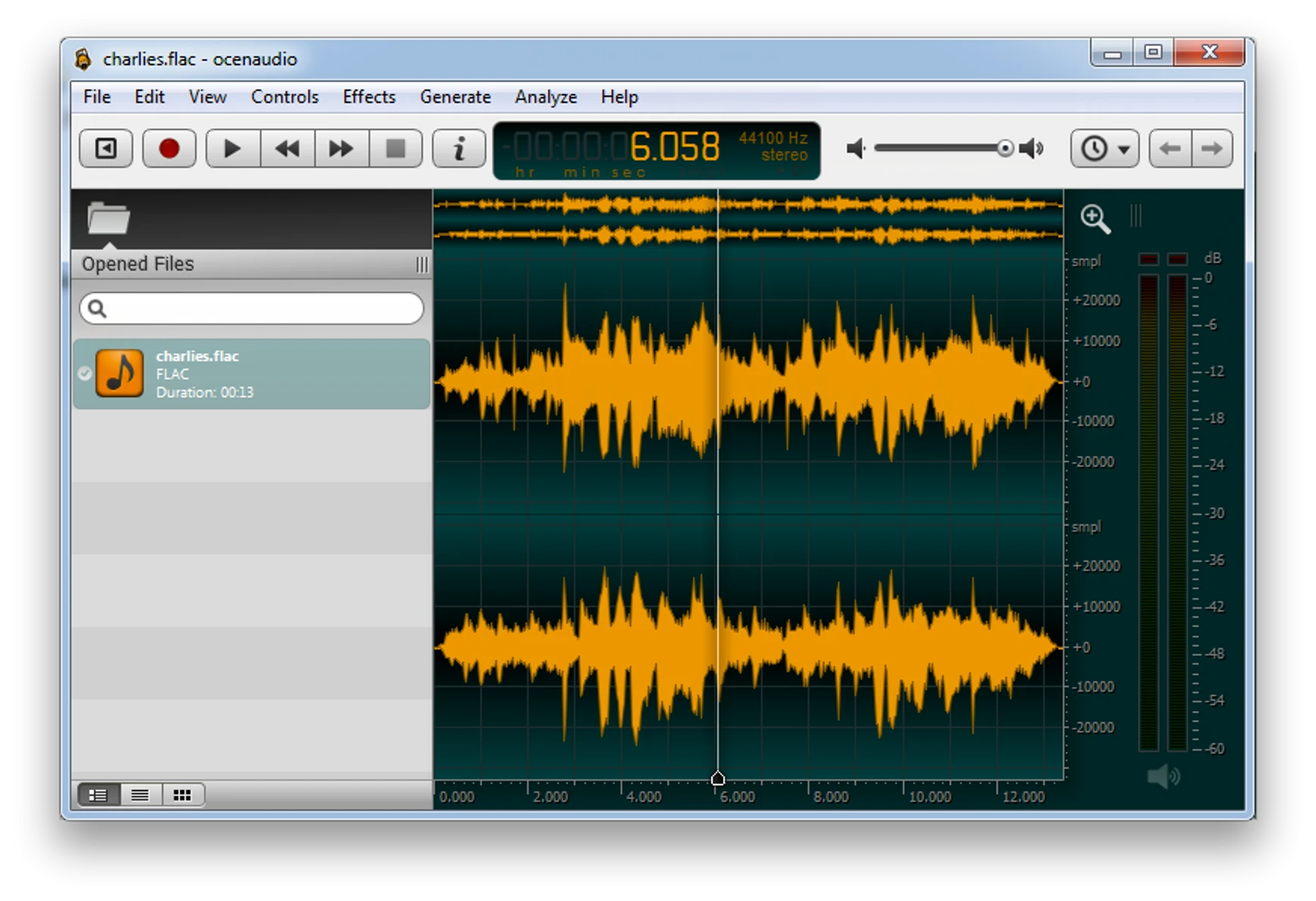 Image from OcenAudio
Similar to Audacity, OcenAudio also offers potential benefits for content creators seeking to improve the quality and professionalism of their recordings. While it may provide fewer effects and advanced features compared to Audacity, OcenAudio excels in its simplicity and user-friendliness. It is a considerable choice to meet both your basic and professional-level needs. Additionally, it supports multitrack editing, enabling you to edit all your recordings in a single window.
Features:
Multi-Selection: In OcenAudio, users can select multiple parts of their recordings, enabling them to add sound effects and make changes to specific segments of their audio files.
Background Noise Reduction: OcenAudio allows you to remove all unwanted background noise. Users have the option to remove noise using both automatic and manual methods.
Multitrack Editing: OcenAudio excels in multitrack editing, making it ideal for large-scale projects where users can seamlessly combine multiple manipulated audio files and recordings in a single interface.
Pricing: Free
Operating System: Windows, Mac, and Linux
Download: OcenAudio
3. WavePad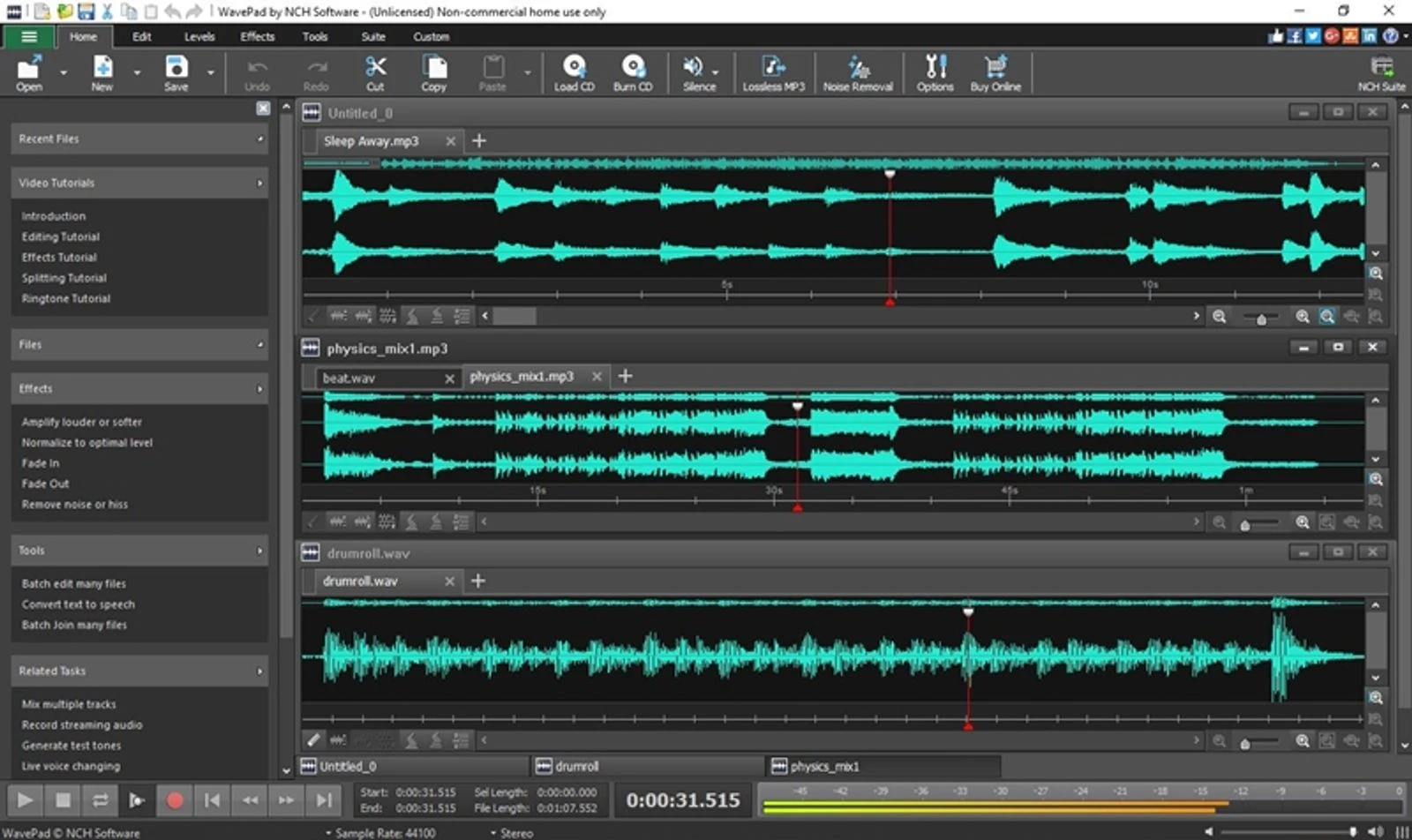 Image from WavePad
WavePad is another handy music editor for people looking to enhance their audio files with effects and sound filters easily. It offers a feature-rich interface that allows you to manipulate your recordings using various features such as a voice-changer, pitch-shift, Equalizer, Reverb/Echo, Fade In/Out, and many more. Despite its powerful editing capabilities, WavePad maintains a very user-friendly interface, making it an excellent choice for both beginners and professionals.
Features:
Personalized Workflow: With WavePad, you can create your customized interface by selecting only the features and options you need to work on your projects.
Detailed Analysis: On WavePad, you can display the audio frequency in the spectrogram visual format.
Batch Processing: Working on multiple files is easier thanks to WavePad's batch processing, which enables users to apply effects and modifications simultaneously.
Pricing:
Free
Standard Edition: $29.99
Master Edition: $49.99
Operating System: Windows, Mac, Android, and iOS
Download: WavePad
4. AudioDirector
Image from CyberLink
Are you looking for something with an AI touch to automate most of your audio editing tasks? Then you should try AudioDirector. Fortunately, with the AudioDirector's top-notch features, you can eliminate the need to make manual adjustments and save countless hours. Whether it's about removing the wind noise in your outdoor vlog or making any other audio enhancement, AudioDirector delivers it with just one click. Additionally, AudioDirector is packed with endless possibilities to help you unlock the maximum potential of your audio files.
Features:
AI Tools: AudioDirector is programmed to help you with the most common errors and problems in a recording, and it uses Artificial intelligence to help you enhance and to remove any unwanted things in the audio.
Speech Enhancement: An excellent feature for podcasts and educational content, where the audio needs to be flawless to help the audience understand.
Vocal Balance: With this, you can detect all the vocals in your audio file and adjust the sound of the vocals according to your requirements.
Pricing:
Free
AudioDirector 365: $19.99/Monthly
AudioDirector Lifetime: $96.99
Operating System: Windows 10 or above
Download: AudioDirector
5. Adobe Audition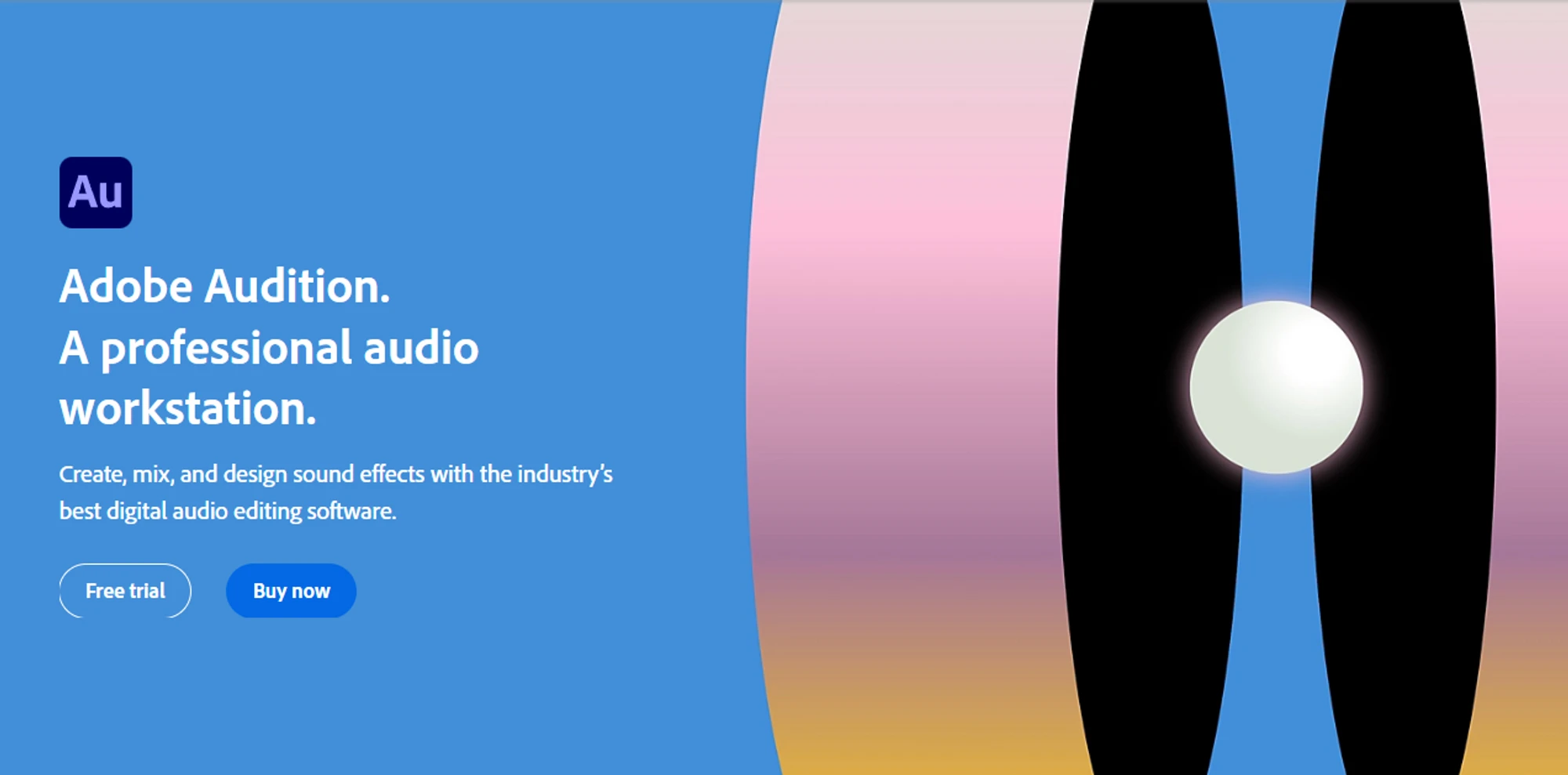 Image from Adobe
Adobe has a solution for all media industries, and with Adobe Audition, you can now become an Audio Engineer at home. Adobe Audition is widely used in the music and film industries because of its advanced capabilities to handle complex projects with no limitations. Adobe Audition's versatility knows no bounds; whether you're looking to enhance the quality of a podcast or make a music remix, Adobe Audition has the right tools for all your needs.
However, beginners might find the interface overwhelming compared to other audio editing tools like WavePad and Audacity. Still, if you're ready to put hours into editing tasks, you will eventually discover Adobe Audition as the ultimate tool for all your audio editing needs.
Features:
Audio Restoration: Adobe Audition offers various features and tools to take your audio to perfection and seamlessly remove unwanted elements from your recordings.
Waveform and Multitrack Mode: Audition comes with two editing modes; in Waveform mode, you gain more control over individual files, allowing you to implement changes with the help of Spectral Frequency Display. Meanwhile, the multitrack mode can be used for large-scale projects, enabling you to work on multiple audio files within a single interface.
Integration with Premiere Pro: Adobe Audition can be seamlessly integrated with Adobe Premiere Pro, making it a convenient choice for filmmakers and content creators to work with both the visual and audio aspects of their projects.
Pricing:
7-day free trial
$20.99/Monthly
Operating System: Windows and macOS
Download: Adobe Audition
6. GarageBand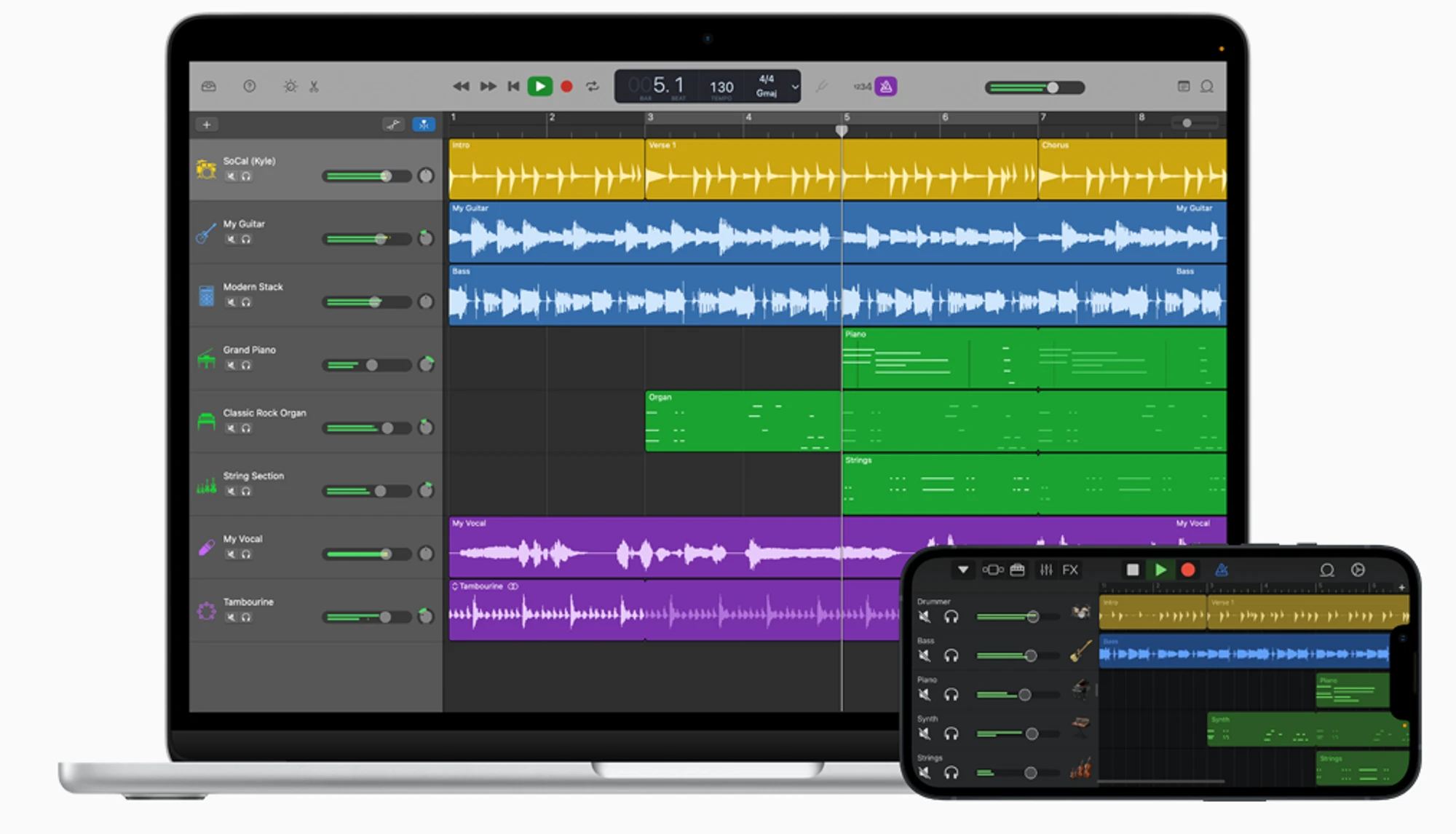 Image from GarageBand
GarageBand is an excellent choice for hobbyists and musicians to put their creativity to use. It offers a wide range of virtual instruments, including guitars, keyboards, and drums, providing everything you'll ever need to compose a song. Additionally, GarageBand seamlessly integrates with real instruments, allowing users to import recordings directly into their editing workflow. Without a doubt, it's a top choice in music production software, even for those with limited resources.
Features:
Virtual Instruments: Create music with all the necessary virtual instruments, such as guitars, keyboards, and drums. Moreover, you can also use pre-recorded loops of these instruments by simply dragging and dropping them into your projects.
Integrate with Real Instruments: Users can connect their instruments to GarageBand, allowing them to record live performances and import them directly into their projects.
Supports External Plugins: GarageBand allows users to extend the tool's functionality by installing any third-party Audio Unit plugins.
Pricing: Free
Operating System: Mac
Download: GarageBand
7. FL Studio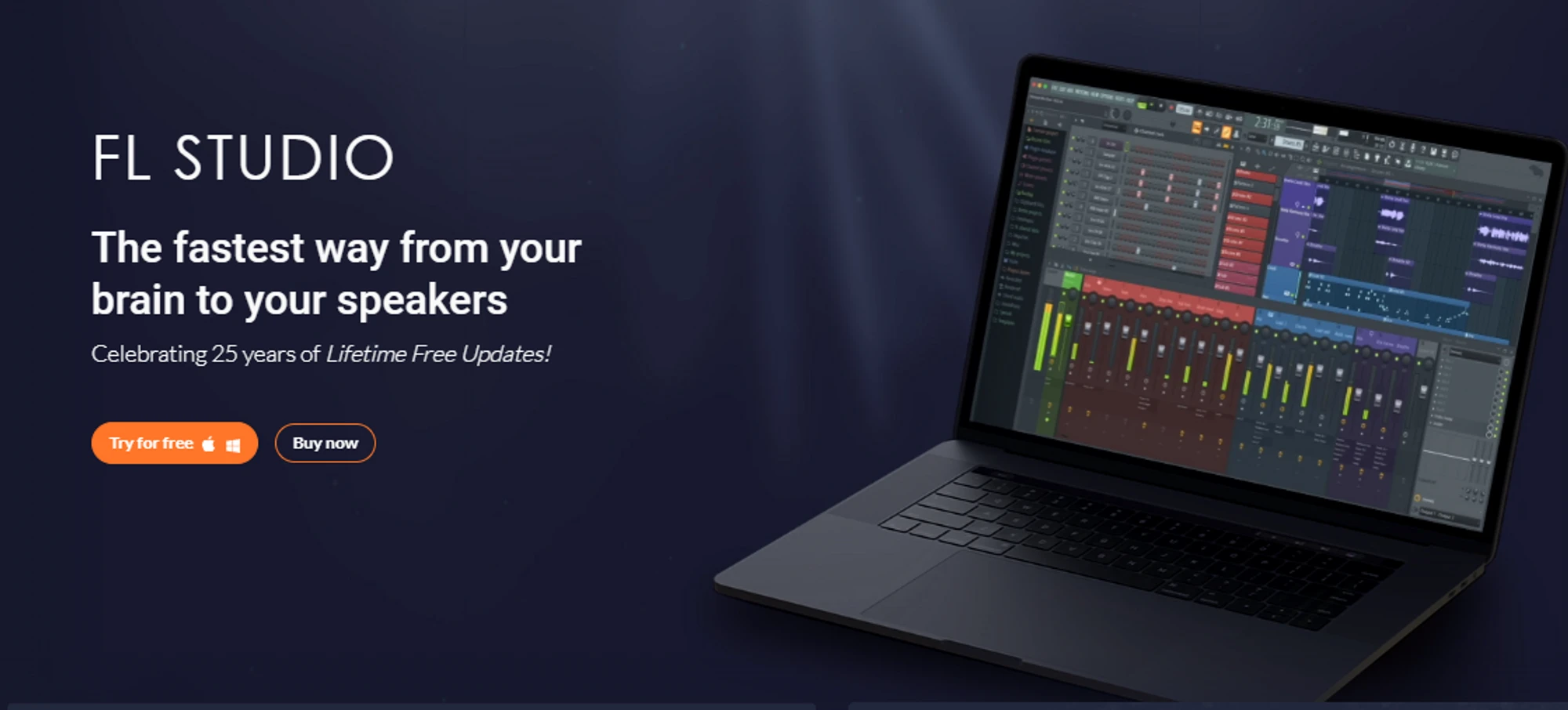 Image from Image-Line
Developed by Image-Line, FL Studio is a popular music editing software that has become the preferred choice among renowned music producers and DJs worldwide. With its user-friendly interface and powerful features, FL Studio caters to the needs of both newcomers and professionals, offering endless possibilities to create unique and pleasing sounds. Furthermore, FL Studio regularly updates its software, providing users with new features and sound effects to enhance their projects with minimal effort.
Features:
Mixing and Effects: The FL Studio mixer grants users more control over effects, panning, and audio levels. Additionally, users can choose from a wide range of effects to complement their projects.
Extendable Functionality: FL Studio comes with various types of synths, effects, and plugins that are essential for large-scale productions, easily integrable into the FL Studio interface.
Time-Stretching and Editing: FL Studio allows you to manipulate and time-stretch your audio files, enabling you to create loops that match your project's tempo.
Pricing:
Free (With limited features)
Fruity Edition: $99
Producer Edition: $199
Operating System: Windows and macOS
Download: FL Studio
Are you a game sound designer? If so, you wouldn't want to miss these essential tools for game designers!
8. Cakewalk by BrandLab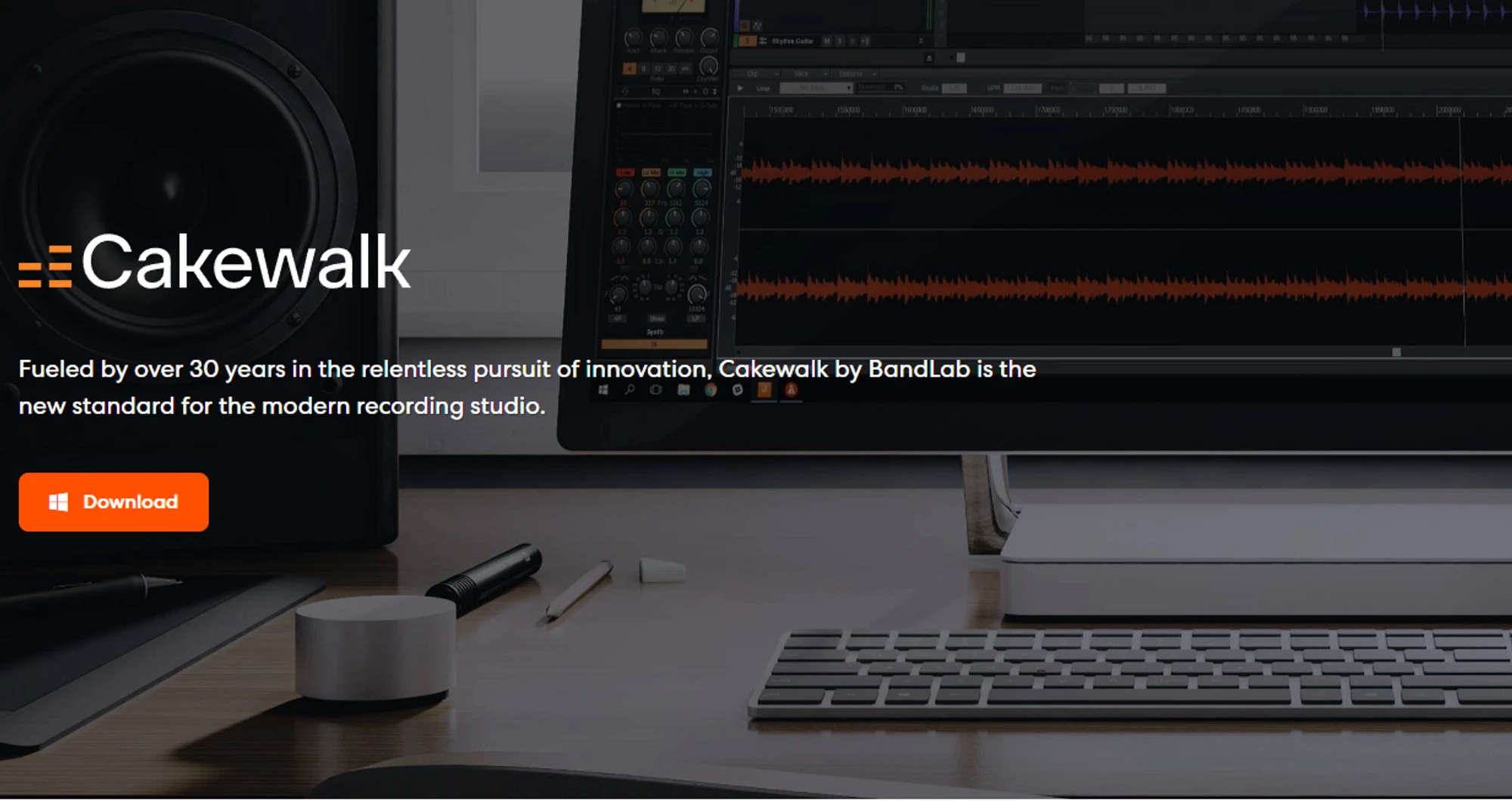 Image from Bandlab
Cakewalk is the ultimate audio editing tool you'll ever need to unleash your creativity to the maximum. Explore its feature-rich interface, which provides options to mix and master, edit and manipulate, and create music using virtual instruments and more. Whether you're just starting your audio editing journey or looking for robust audio editing software, Cakewalk has the capabilities to cater to all your audio editing needs.
Features:
VST Plugin Support: Cakewalk allows users to expand its functionality by adding virtual instruments, effects, and synths of their choice with the help of VST support.
MIDI Editing: An excellent feature for music producers, enabling users to create music and work with virtual instruments seamlessly.
Precise Editing: In Cakewalk, users can bus track and gain control over audio routing, enabling them to apply effects to specific parts of the audio files for more streamlined management.
Pricing: Free
Operating System: Windows
Download: Cakewalk
9. TwistedWave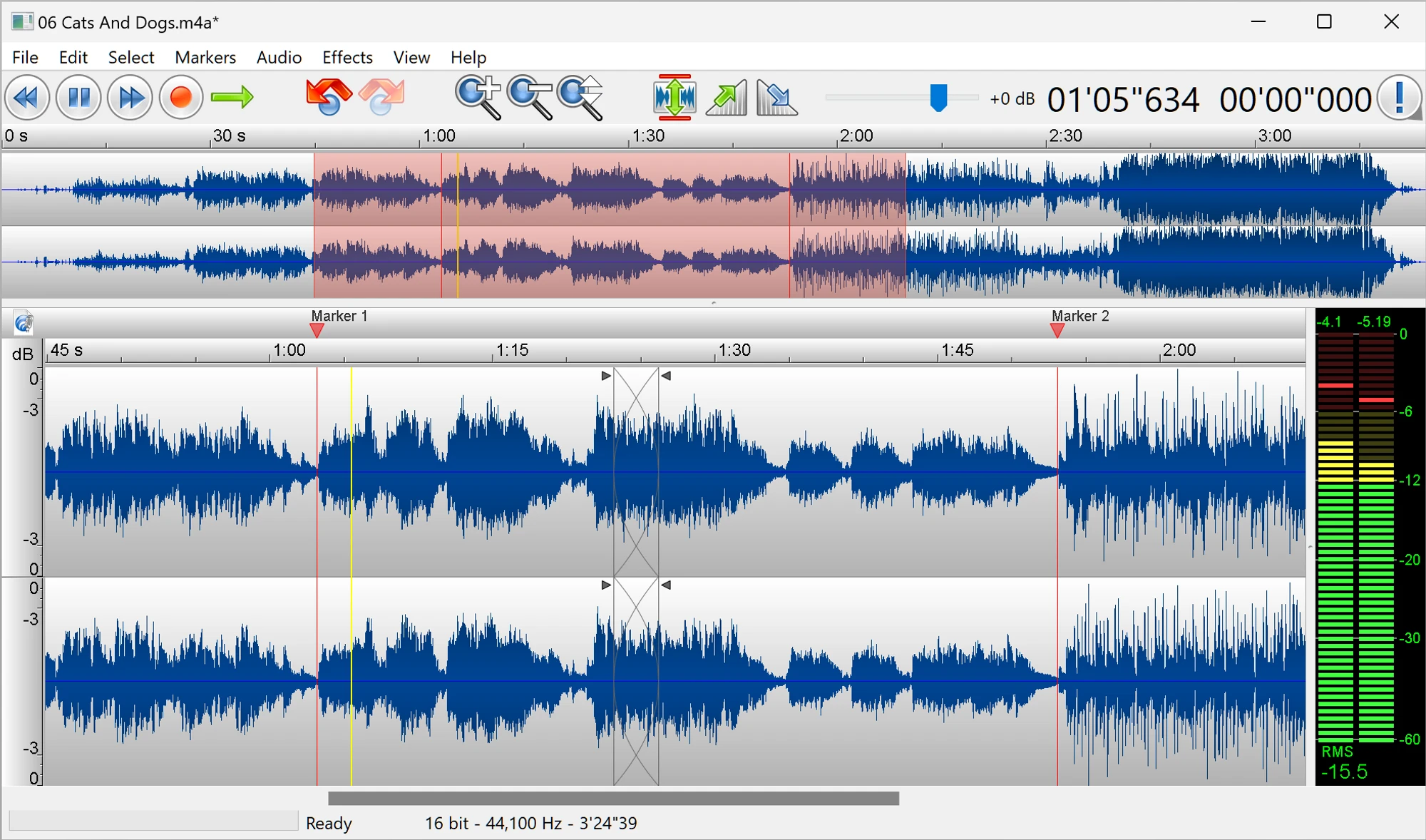 Image from TwistedWave
TwistedWave is a highly user-friendly, free audio editing software. Don't let its old-school look judge its potential; it can handle all your basic to professional-level audio manipulation needs. Additionally, TwistedWave offers a hassle-free solution to enhance your audio, enabling users to edit their audio recordings on a web-based editor. Indeed, TwistedWave is a perfect choice for beginners who are looking to dip their toes into the audio editing world, as it comes with a user-friendly and intuitive interface, making everything look less overwhelming.
Features:
Web-Based Editing: Make quick changes to your audio files without installing anything on your device, making it a convenient option for people looking to perform quick editing tasks such as trimming, cutting, and adjusting.
Real-time Preview: You can preview effects and settings before applying them to your projects, ensuring users achieve their desired results.
Cutting-Edge Editing: TwistedWave can still perform all the basic and necessary audio enhancement needs despite its web-based nature. You can manipulate your audio recordings' pitch, speed, and sound levels.
Pricing:
30 days free trial
$9.99/Monthly
Operating System: Web, Windows, macOS, and iOS
Download: TwistedWave
10. Waveform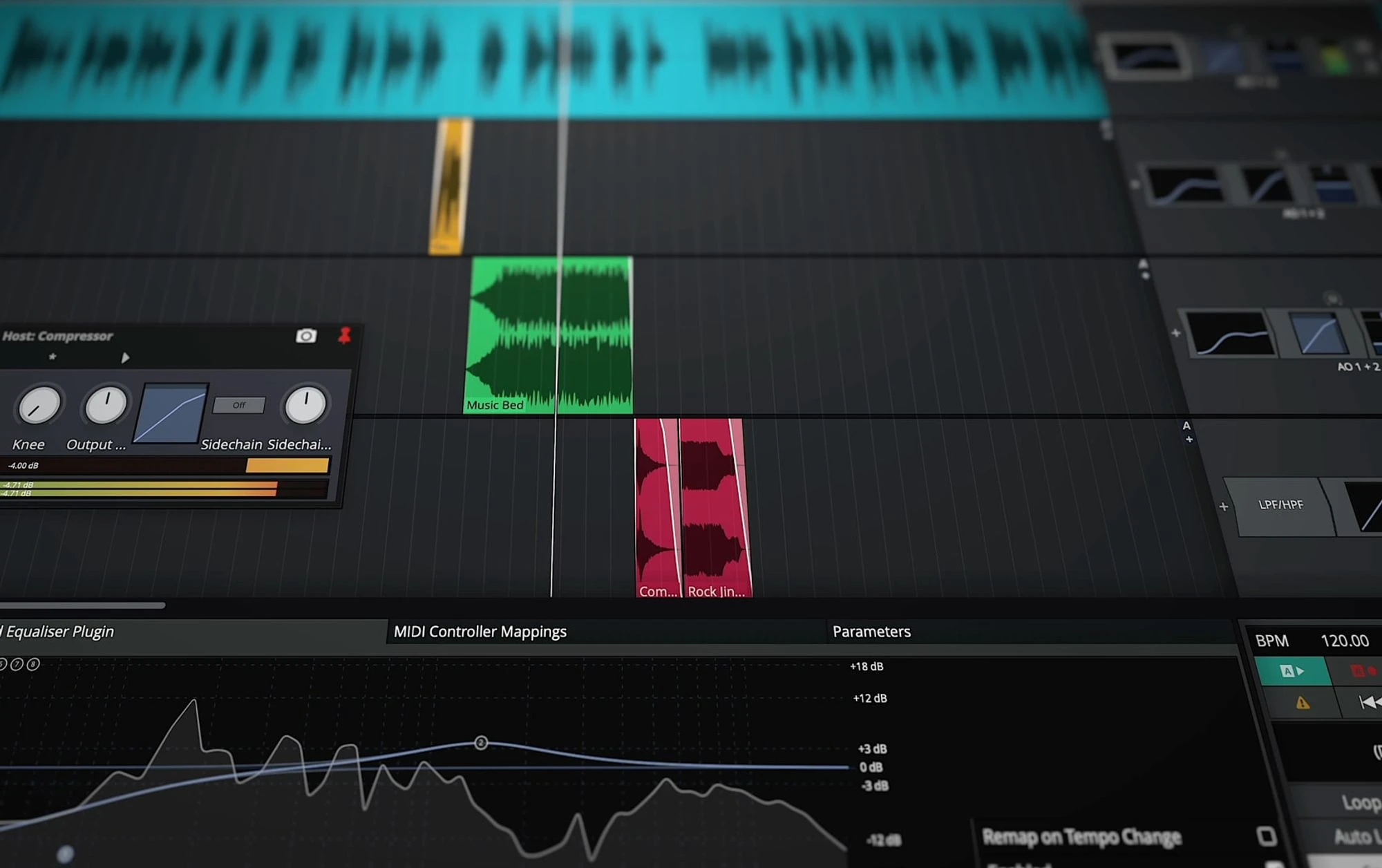 Image from Traction
Looking for a comprehensive audio editing software that addresses all your concerns? Look no further than Waveform! Whether you need to handle voice-overs, mixing, mastering, recording, podcasting, beat-making, or general editing, Waveform has got you covered. The best part is its intuitive and user-friendly interface, making it easy to find the right tools, effects, or editing features. Plus, Waveform offers learning tutorials and a detailed PDF guide to help you become familiar with its usage and features.
Features:
Real-time Audio Recording: This handy feature is perfect for live performances, podcasts, or educational content, allowing users to make immediate changes if the audio quality needs adjustment.
Micro-Drum Sampler: A must-have for music creators! Import your drum kit samples and have full control to edit and fine-tune the sound of your drums.
Multitrack Editing: Streamline your editing workflow for complex projects like music productions, voice-overs, and podcasts by working on multiple audio files simultaneously with multitrack editing.
Pricing: Free
Operating System: Windows, macOS, and Linux
Download: Waveform
---
FAQ
How to Choose the Right Free Audio Editing Software?
Choosing the right free audio editing software depends on your needs and prior experience. Here are some important factors to consider that will help you decide:



Observing Your Needs: There are two types of audio manipulation options available in the market:

DAW (Digital Audio Workstation): DAWs are more complex yet powerful audio workstations used for large-scale projects such as music production, film production, game sounds, and more.
Audio Editing Software: Audio Editing Software focuses more on manipulating and enhancing your pre-recorded audio files.

To sum up, if you intend to create music and soundtracks with virtual instruments and tools, a DAW will be the right option for you. However, if you're looking to enhance and polish your existing audio files by adjusting, merging, normalizing, trimming, or adding effects, sound editing software will cater to all your needs.




Considering Your Experience Level: If you're new to audio editing, there may be better choices than starting with a DAW. Fortunately, there are some user-friendly free audio editing software options available, such as WavePad, OcenAudio, and Audacity. With these, you can kick-start your audio editing journey without feeling overwhelmed.




Choosing Widely Used Software: Consider selecting an Audio Editing Software with many active users. Platforms where fellow editors contribute with tutorials and guides, such as YouTube and Vimeo, can help other editors ease their editing journey.



What Would Be the Best Audio Editing Software for Podcasters?
Audacity is a popular choice among podcasters as podcast editing software due to its simplicity and feature-rich interface. It allows podcasters to seamlessly edit and manipulate audio recordings with support for various file formats, making it a versatile solution for all your recording devices.
Annoyed by unorganized audio files? This useful guide includes all the tips on how to organize audio files.
---
Conclusion
You can easily make your choice now that you have a list of carefully curated Audio Editing tools. When your editing needs go beyond the software's capabilities, you can always explore other options. Fortunately, most of these tools come with a free plan and have no restrictions, which is especially beneficial for beginners who want to invest their money only when they are confident in their editing skills. By utilizing these tools, you can gain knowledge and understanding of the terms used in the audio editing world, which will eventually help you improve your skills.
Moreover, incorporating sound effects and other tools can significantly enhance the quality of your audio files. So, what are you waiting for? Pick your favorite software and surprise your audience!