(Updates) 2022 Black Friday & Cyber Monday Deals for Designer
Hello, designers! It is Black Friday and Cyber Monday of the year again where we celebrate the best deal from all the software we use daily! Most of the software offers huge discounts during this Black Friday and Cyber Monday promotion period, make sure you utilize this timing to get the best deal and save some money! This article is for designers who are:
looking to renew your subscription fee from software and tools
looking to try new software and tools with a discount rate
simply just wanted to grab the best deal ever of the year
then read on! We will try to get you all covered, if you find this article helpful, please don't hesitate to share these amazing deals with your friends and family 🙂



Note: Some of the deals are not yet revealed, please stay tuned with us we will update as soon as the offers are out to make sure you enjoy the best discount during this period!
---
What is Black Friday?
Black Friday is a colloquial term for the Friday after Thanksgiving in the United States. It traditionally marks the start of the Christmas shopping season. Now many stores and online shopping offer highly promoted sales at discounted prices, also for designers related products as well!
When is Black Friday 2022?
Black Friday 2022 is on Friday, November 25, 2022. But normally Black Friday sales usually run over the weekend starting Friday to Monday ("Cyber Monday") or for a week ("Cyber Week").
What is Cyber Monday?
Cyber Monday is a marketing term for e-commerce transactions on the Monday after Thanksgiving. It was created by retailers to encourage people to shop online because retailers noticed that many customers, who were too busy to shop over the Thanksgiving week-end or did not find what they were looking for, shopped for bargains online that Monday from home or work.
When is Cyber Monday 2022?
Cyber Monday is on Monday, November 28, 2022.
---
Design Softwares & Tools
Adobe
Image from Adobe
If you are a designer, then Adobe is no stranger to you, this year 2022 Adobe offers 25%-70% off for team, individual and student users during black Friday sale. Some of the country do not apply to the sale, either the local discount are the same to the black Friday sale or the currency fluctuations that don't have the promotion this year.
If you are looking to renew your license or wanting to buy it at the lowest price of the year, we suggest to grab the deals now! As they acquire Figma few weeks ago, who knows many be next year the price scheme might be different.
Promotion Period: now until 25th November
Offer Deals:
Creative Cloud All Apps for Individuals: Save up to 40% off Creative Cloud All Apps (for first time CCI All Apps subscribers, excludes United States 【Their deals are 25% off 】and Japan 【Their deals are 25% off】 )

Creative Cloud Student and Teacher – save up to 70% off (for first time subscribers)


Creative Cloud for Teams – Save up to 40% off (excludes United States【Their deals are 25% off】and APAC countries)
Grab Deals Here: https://www.adobe.com/
---
Image from Eagle App
Eagle App is a digital assets manager for designers to solve all your file organization troubles, if you are designers who have messy download folders, or desktops or just doesn't know where you saved your references, Eagle is something for you to grab during this Black Friday season.

It supports over 81+ popular designer working formats preview, which is super handy for those is the only designer on your team. It's another strong capability is categorizing, especially the amazing color filter option that allows you to find files you are looking for without making a mess on your PC.
Eagle also comes with an extension to gather ideas, and collect all reference images you see from the web, whether it's bulk save ideas, full page screenshots or capture area only.
Promotion Period: 2022/11/25 (Fri) 00:00 - 2022/11/30 (Wed) 23:59 (GMT+8 time zone)
Offer Deals:
Grab Deals Here: en.eagle.cool
---
Videvo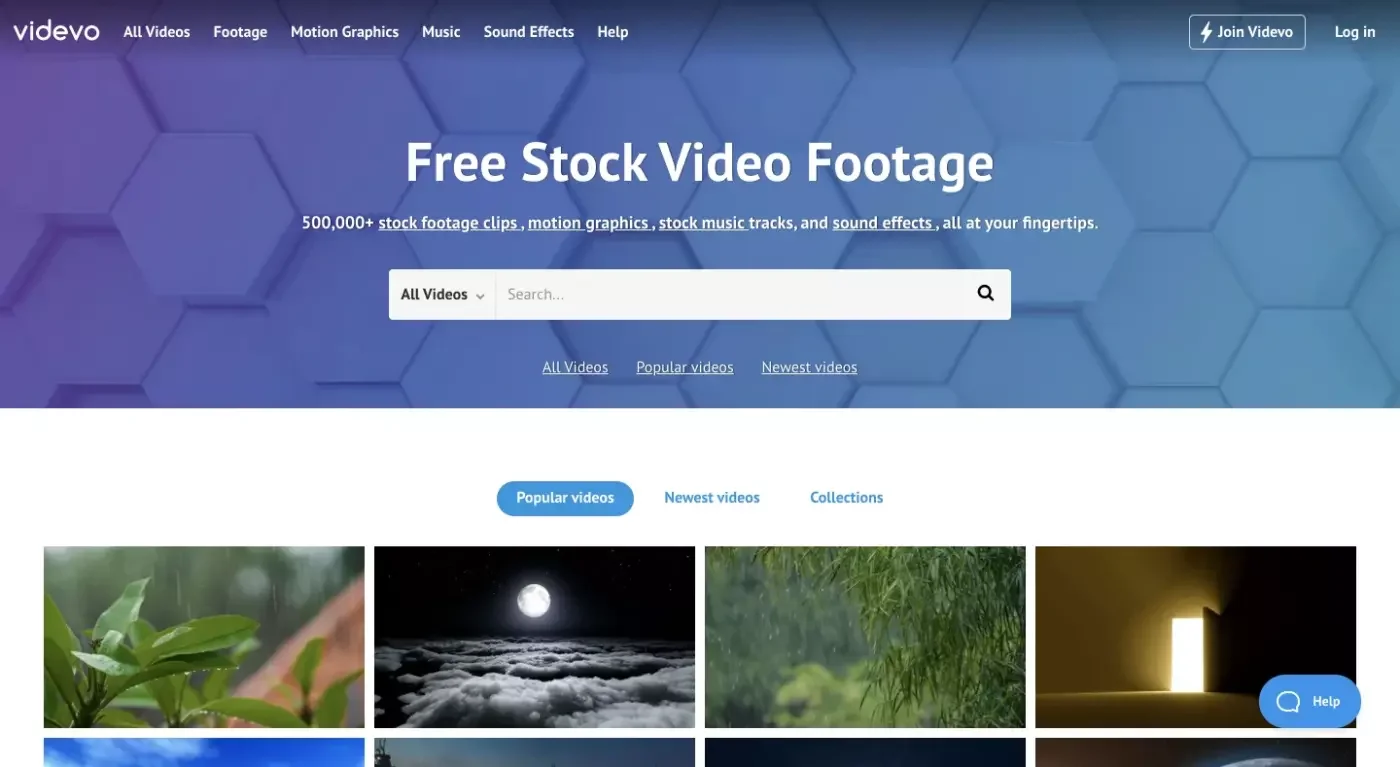 Image from Videvo
Videvo offers thousands of free stock video footage as well as motion graphics, music, and sound effects created by their community of users, and most of them are Royalty-Free, which means you can use them commercially and without attribution.
They also have some premium videos, use the coupon code "EAGLE15" to get 15% off on yearly premium plans or get unlimited downloads at $21 per month!
Promotion Period: Now
Offer Deals: "EAGLE15" to get 15% off on yearly premium plans
Grab Deals Here: https://www.videvo.net/
---
InVideo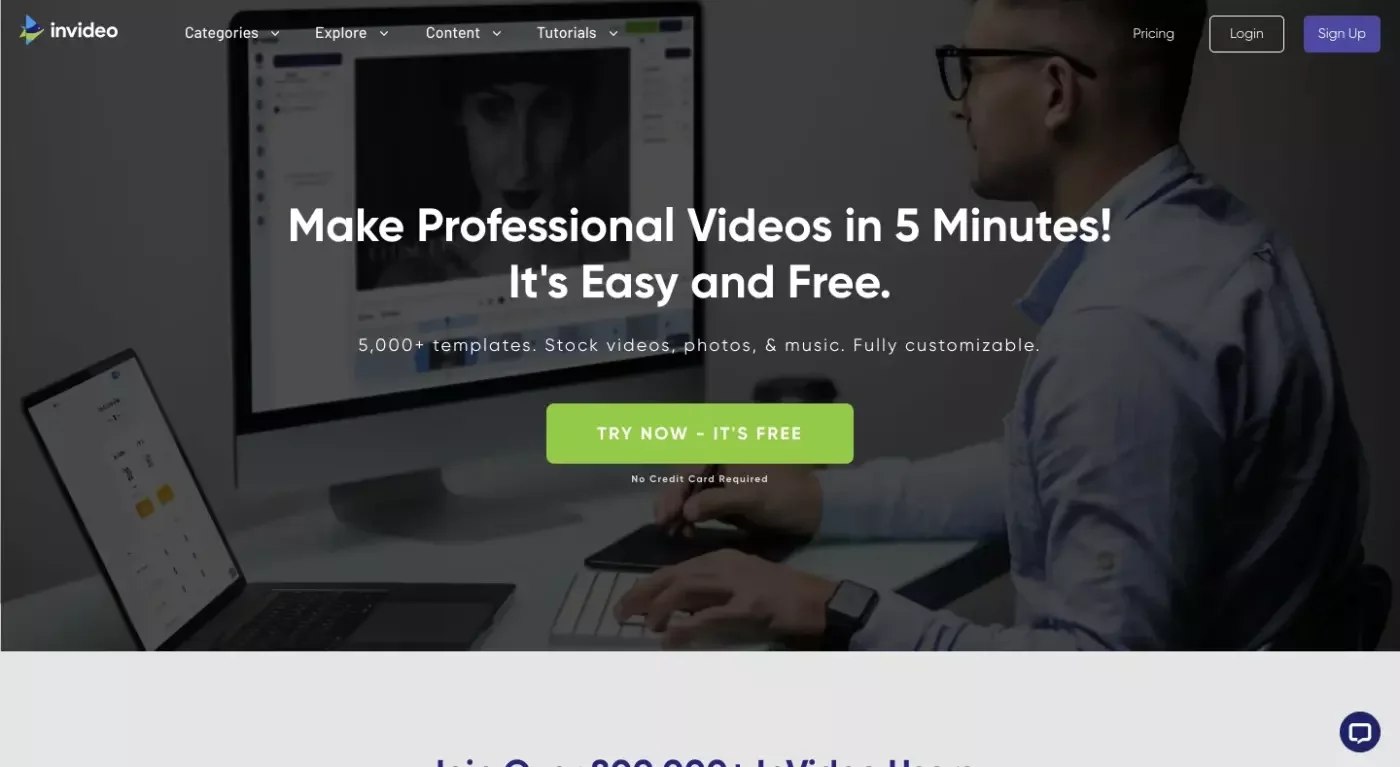 Image from InVideo
InVideo has more than 4000 free, professional, and quality video templates, for example, YouTube, Facebook, or Instagram stories. It not only offers footage but also a functional editing tool. You can add subtitles, filters, or stickers to the video, and quickly produce an eye-catching ad!
If you want to get full access to the professional iStock library, including ready-made video templates, no watermarks, and unlimited creative assets, feel free to join InVideo's monthly subscription for only $15 a month. You won't be disappointed. Their early Black Friday Cyber Monday deal have started, grab the deals now!
Promotion Period: Valid until 1st December 2022
Offer Deals: "CYBERM40" to save 40% on All InVideo Plan
Grab Deals Here: https://invideo.io/
---
CorelDRAW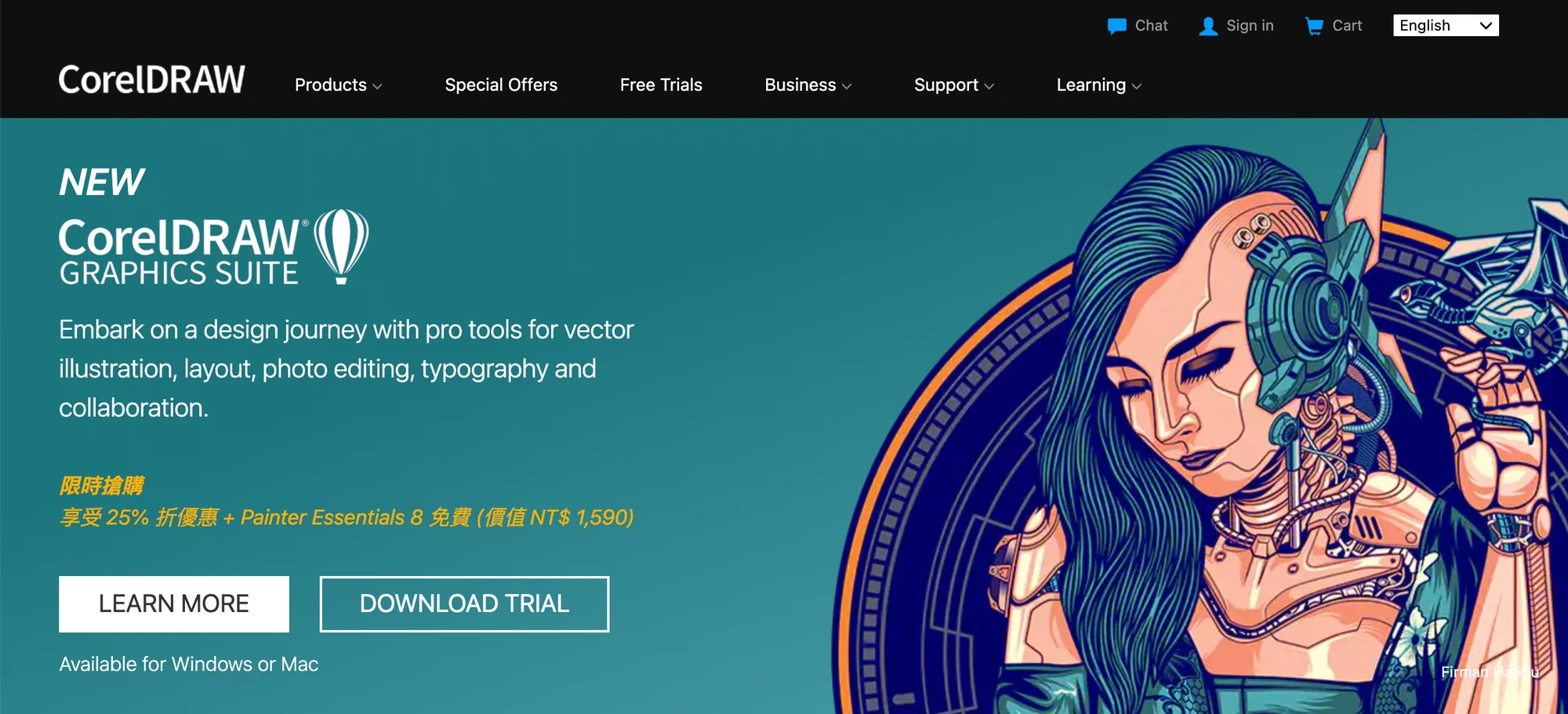 Image from CorelDRAW
CorelDRAW was earlier built only for Windows and it's now available for Mac as well. With this graphic design program and the powerful tools within it, you can create professional vector illustrations faster and smarter. You will find numerous customization options, whether you are working on logos, web design, or print projects. CorelDRAW now uses AI technology to provide you with LiveSketch, which converts sketching into precise vector curves. The suite contains tools for graphic design as well as layout. It has Photo-Paint and Corel Font Manager for photo editing and font management.
The software has web graphic tools and presets to develop creative web content and you can publish directly into your WordPress site through it.
Promotion Period: NOW
Offer Deals: Up to 25% off
Grab Deals Here: https://www.coreldraw.com/
---
Affinity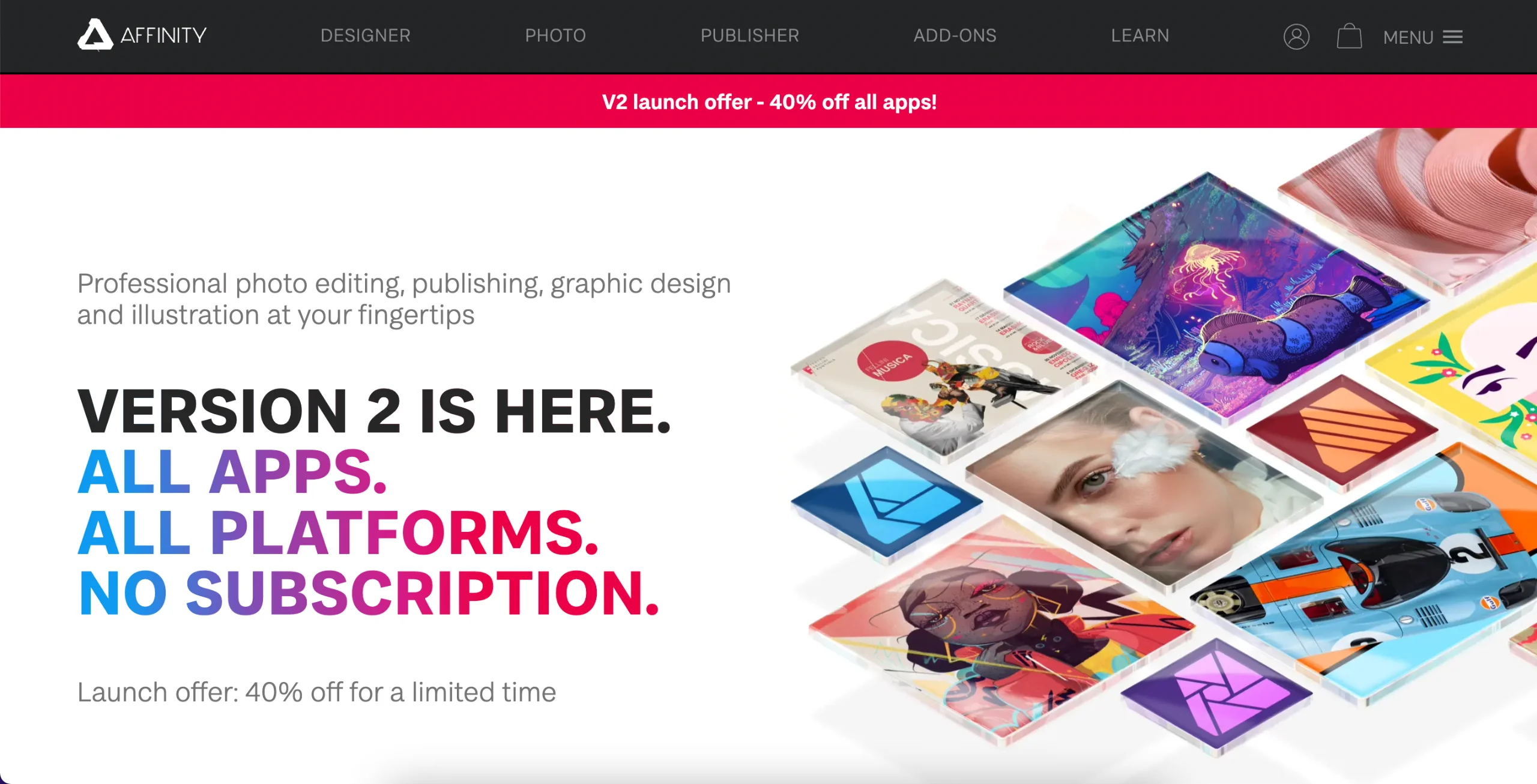 Image from Affinity
Affinity Designer has won Apple Design Award in 2015, it is compatible software to create concept art, print projects, logos, icons, UI designs, mock-ups and more, it's one of the top choices for professional illustrators, web designers, game developers and other creatives who love vector and raster design tools.

Given the similarity, many people often compare Affinity Designer with Adobe Illustrator, illustrator gives you a bit more control over small details overall.
The non-subscription price tag is beyond reasonable given the mature and comprehensive feature-set it offers. If you are looking for Adobe Illustrator no subscription alternative, then don't miss out Affinity! Last year black friday it offers 30% off now as affinity launches version 2, it offers 40% off!!! Grab the best deal of the year now!
Promotion Period: Now
Offer Deals: 40%off (30% off last year)
Grab Deals Here: https://affinity.serif.com/en-us/
---
Canva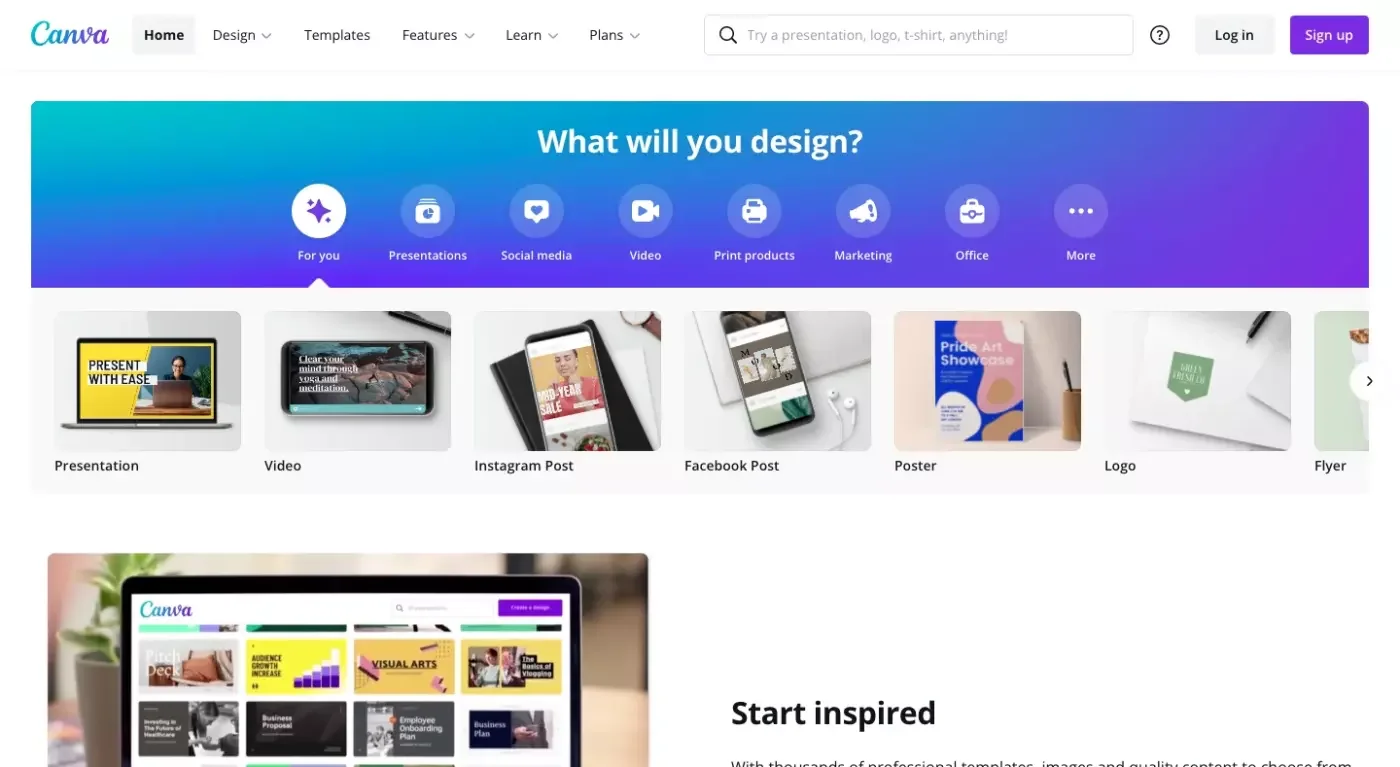 Image from Canva
Canva is pretty comprehensive and is best suitable if you want to deliver teamwork more effortlessly. With the business membership, you can set the brand's official color and fonts, making your pictures on social platforms and brand more consistent. Get your best deal during their black friday sale!
Promotion Period: NOT YET REVEALED
Offer Deals: NOT YET REVEALED
Grab Deals Here: https://www.canva.com/en/pricing/
---
Renderforest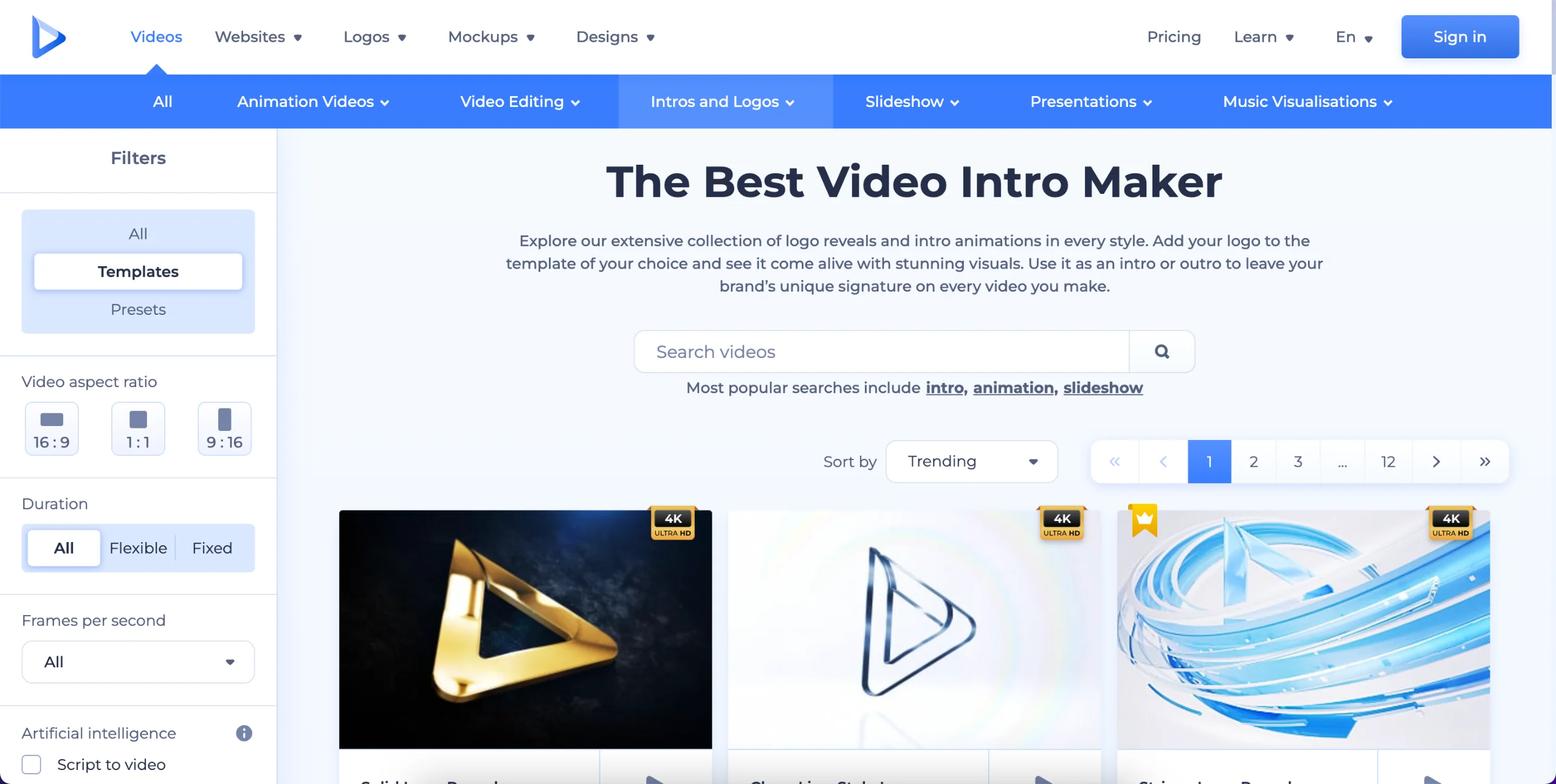 Image from Renderforest
Renderforest is an all-in-one branding platform that allows users to create broadcast-quality videos, AI optimized logos, photorealistic mockups, digital and print graphics of all topics and purposes, as well as fully functioning websites.
Promotion Period: until November 28th, 2022
Offer Deals: use "blck22" to get 20% OFF on the Business and Pro annual plans
Grab Deals Here: https://www.renderforest.com
---
Art Text 3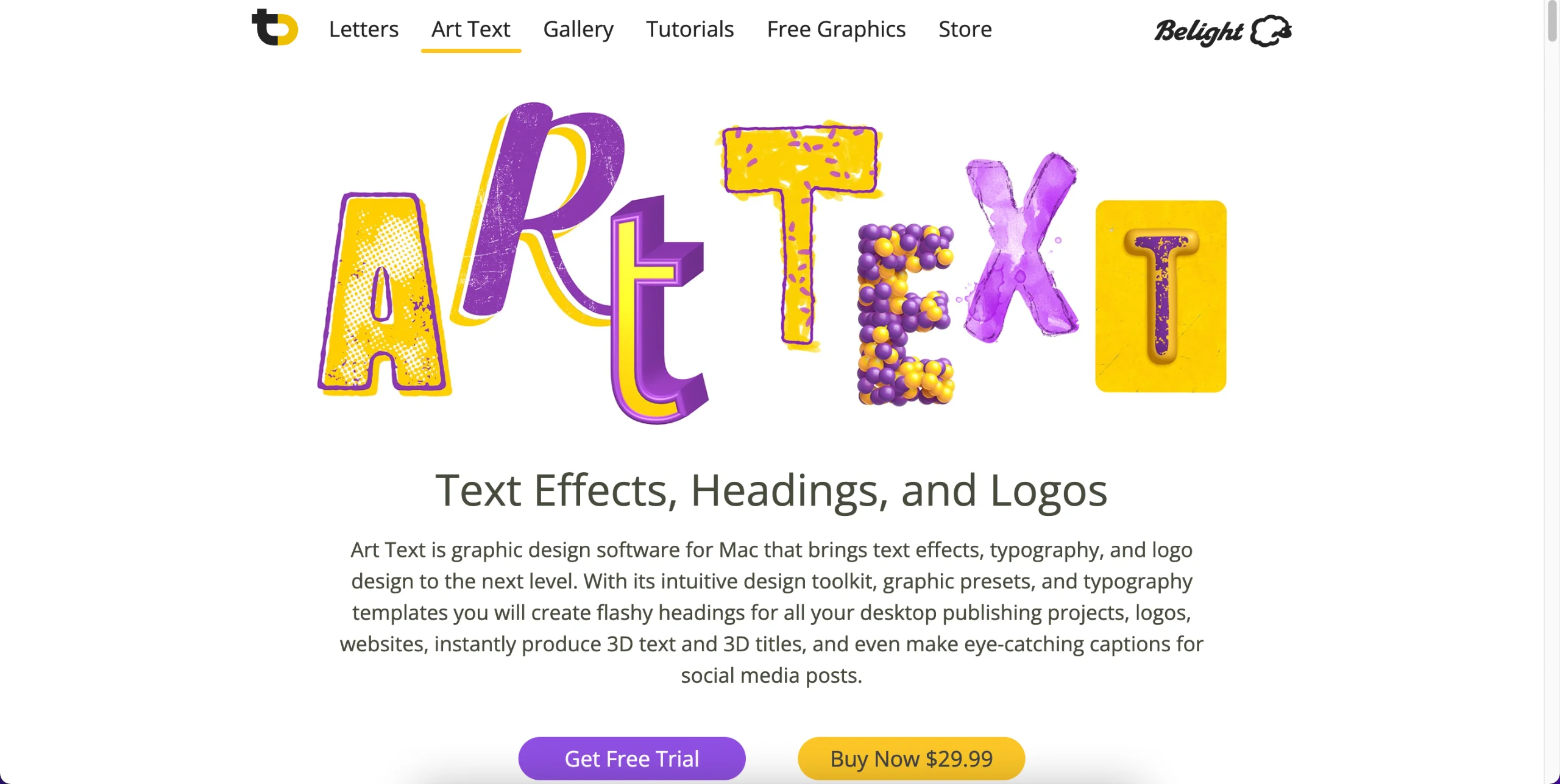 Image from Art Text3
Art Text 3 is text design software for macOS that lets users quickly create photorealistic 3D texts, watercolor & aquarelle lettering, retro style titles, visually attractive social media posts, 2D calligraphy, neon & glow typography effects.

Promotion Period: NOT YET REVEALED
Offer Deals: NOT YET REVEALED
Grab Deals Here: https://text.design/art-text/
---
Design Courses
Domestika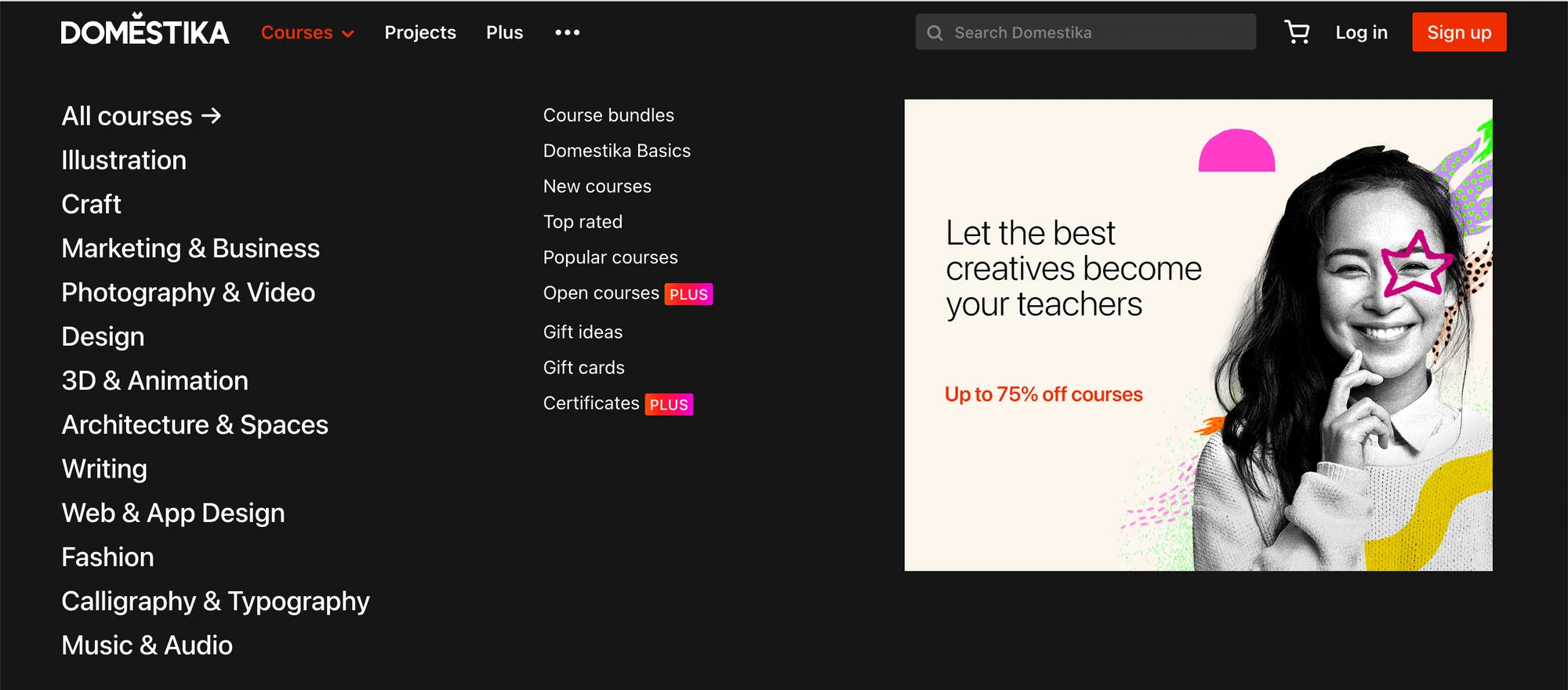 Image from Domestika
Domestika is the largest online community for creatives, with millions of professionals and around 2,000 courses taught by experts—from winners of the National Design Award, the Pulitzer Prize, and the Goya award to National Geographic illustrators. With so many categories to choose from, it's easy to find the best course for your audience.
Promotion Period: NOW
Offer Deals: Up to 82% off
Grab Deals Here: https://www.domestika.org/en
---
Udemy
Image from Udemy
Udemy is one of the best online course platforms it has more than 54M learners you can find many design-related courses on its sites such as web design, design tools 3d, and fashion design, you name it, you can find it in many languages too!
Promotion Period: NOT YET REVEALED
Offer Deals: NOT YET REVEALED
Grab Deals Here: https://www.udemy.com/
---
SkillShare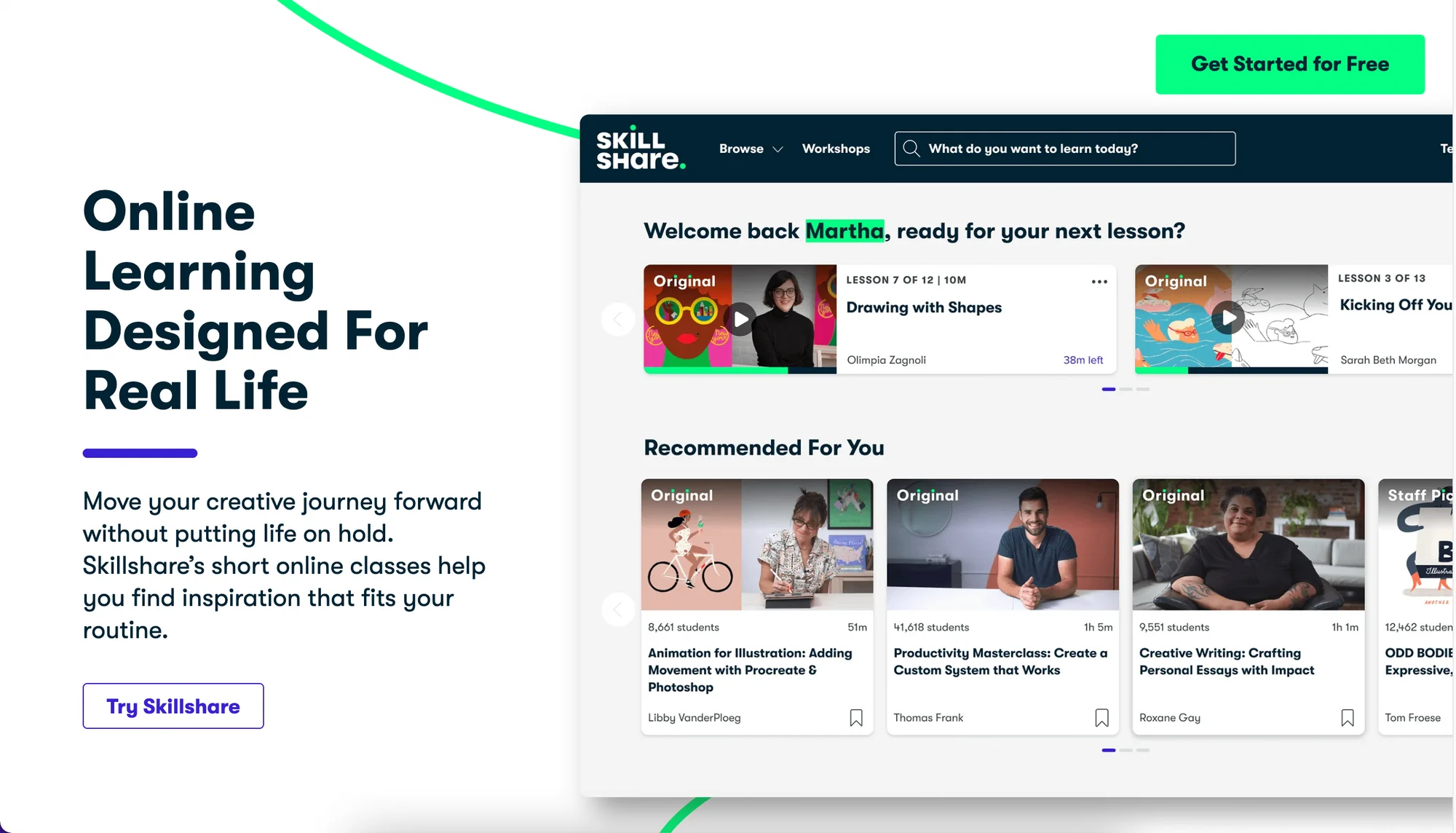 Image from Skillshare
Skillshare is an online learning platform for a wide variety of creative topics. The great thing about Skillshare is that you can watch unlimited UX courses (and other categories) with a low-cost subscription fee.
Promotion Period: 11/24 at midnight - 11/28 at midnight
Offer Deals: save 50% on an annual subscription using code: AFF50
Grab Deals Here: https://www.skillshare.com/
---
Design Material Sites
EnvatoElements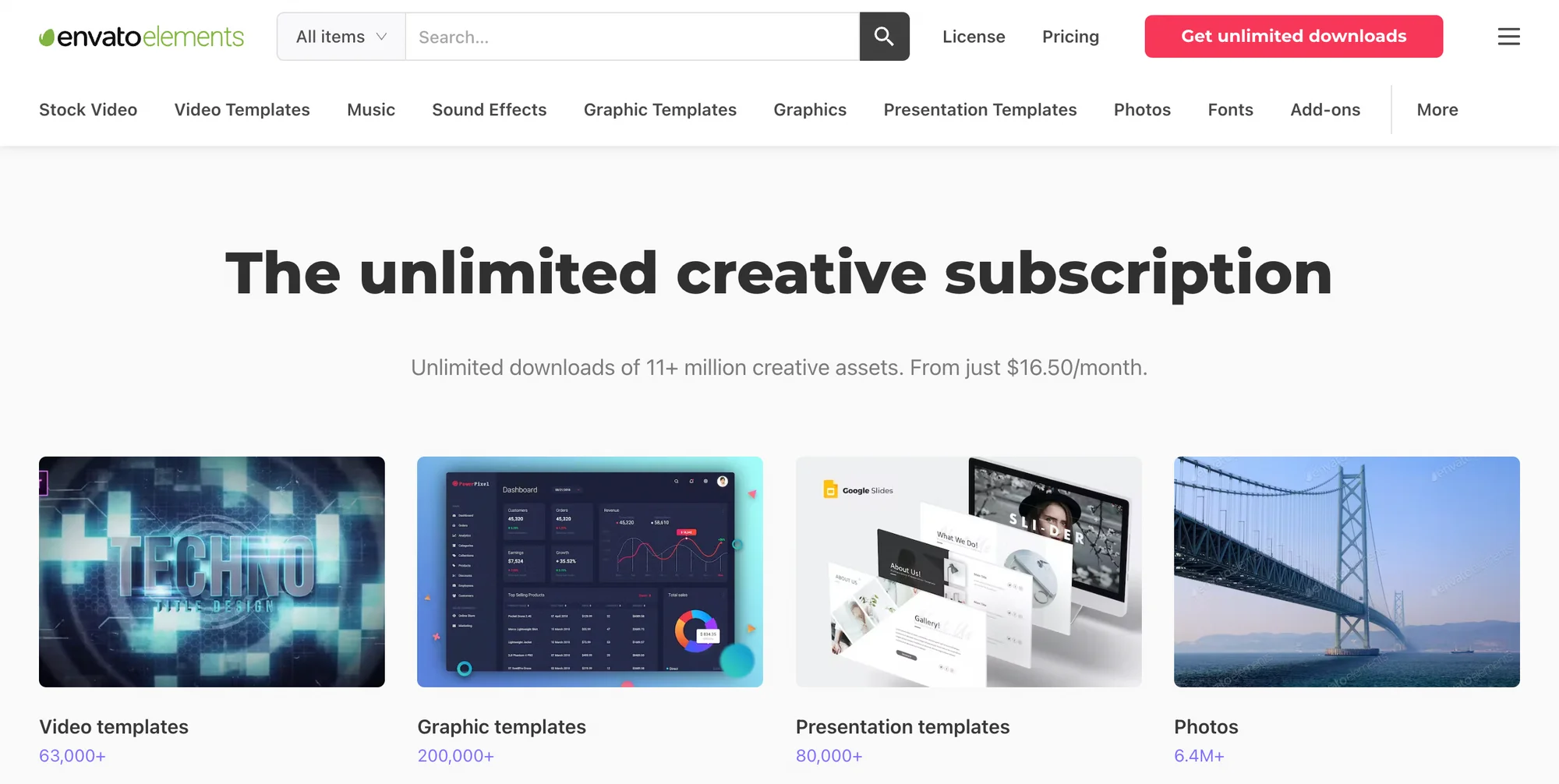 Image from EnvatoElements
Do you struggle to find the correct design materials or music for your projects? or even if you find it the price it's out of your budget?
EnvatoElements is a complete material library, including pictures, music, websites, videos, fonts and more.
With it's subscription, you can download over a million assets, and finding them all on one website you will also be able to access to Envato Tuts where you can learn many design courses for free! Wait for it's black Friday deals to make the best of your resources!
Promotion Period: NOT YET REVEALED
Offer Deals: NOT YET REVEALED
Grab Deals Here: https://elements.envato.com/
---
ShutterStock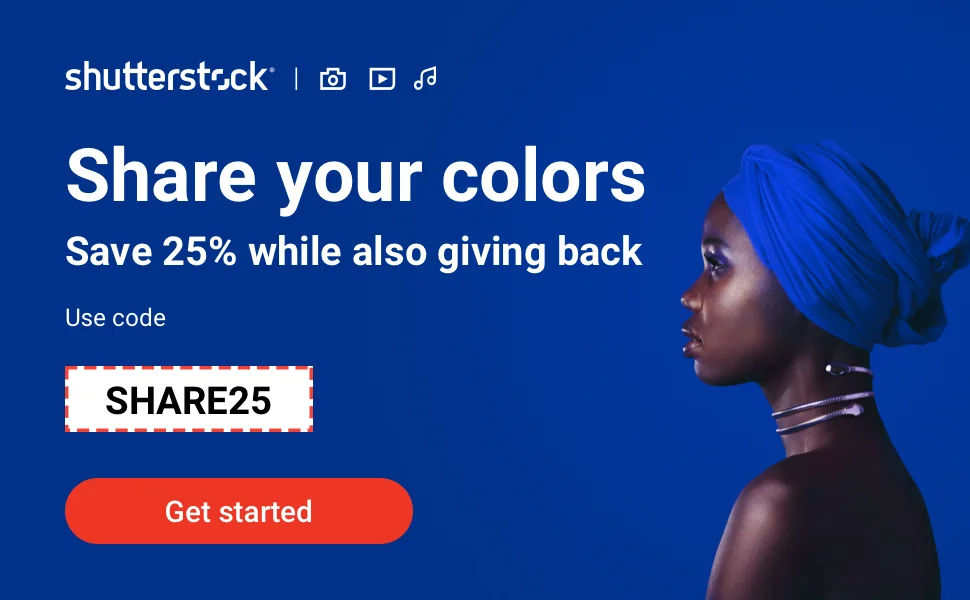 Image from Shutterstock
Shutterstock is a huge and popular material website that is famous among designer. You can get free images weekly by signing up for them. If your budgets are spare, their premium plan is also a good choice that you won't regret. Seize this Black Friday deals to get 25% off on all their product!!
Promotion Period: Valid until 14th November 2022
Offer Deals: Use code "SHARE25" to get 25% off sitewide
Grab Deals Here: https://www.shutterstock.com/
---
CGTrader

Image from CGTrader
CGTrader was founded in 2011 by Marius Kalytis, an experienced 3D designer himself. You can download free 3D models from car to humans 3D assets. Available in a number of file formats including MAX, OBJ, FBX, 3DS, STL, C4D, BLEND, MA, MB. If you are looking for a place to sell your 3D models or purchase you can try them here as well!

Promotion Period: NOV 22, 2022 00:00:00 (EET)- DEC 1, 2022 00:00:00 (EET)
Offer Deals: BLACK WEEK SALE UP TO 70% OFF
Grab Deals Here: https://www.cgtrader.com/3d-models
---
FlippedNormals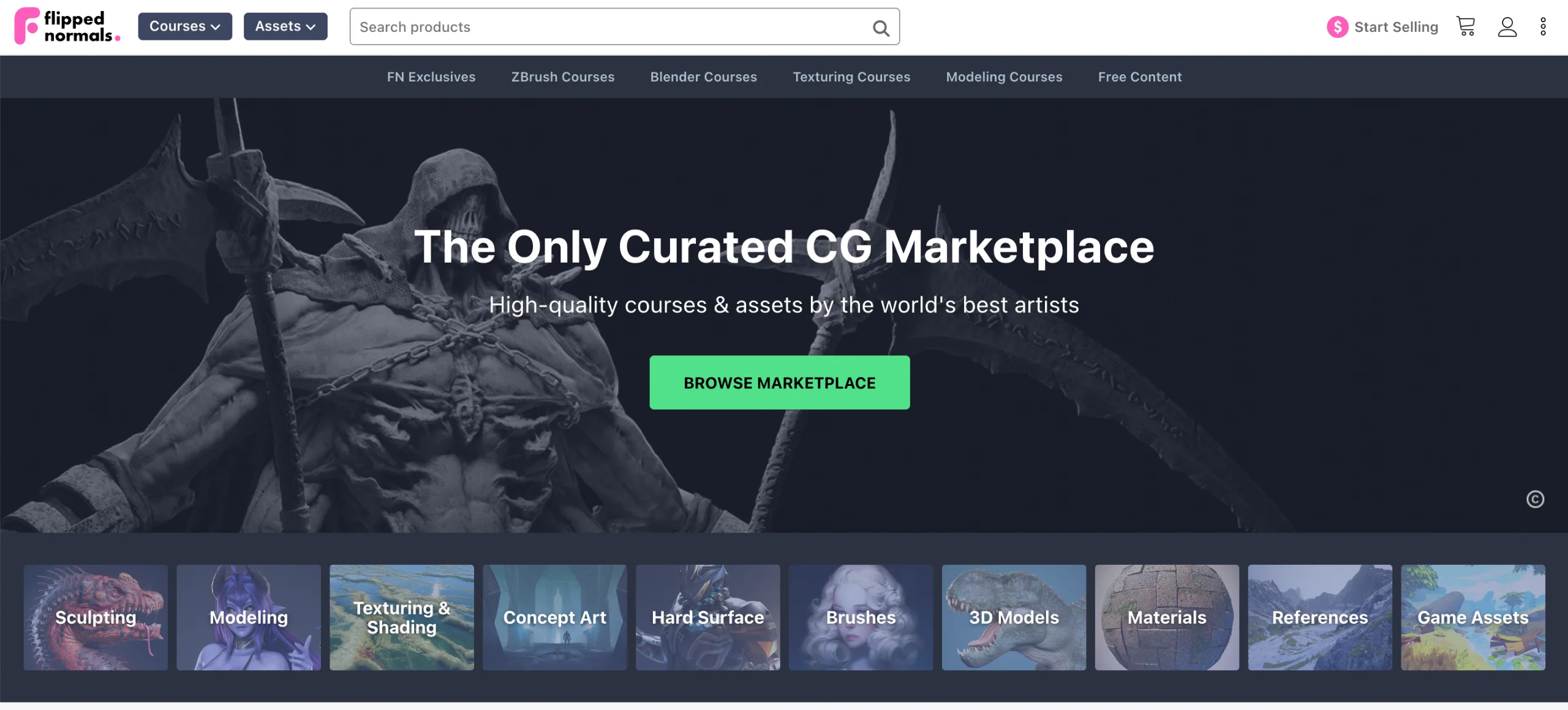 Image from FlippedNormals
FlippedNormal is a market place where they provide computer graphics and assets, you can find many premium assets for sculpting, modeling, texture, concept art, 3d models, game assets or courses!

Promotion Period: November 21st till the 29th
Offer Deals: Thousands of products will be 50% off
Grab Deals Here: https://flippednormals.com/
---
HDRMAPS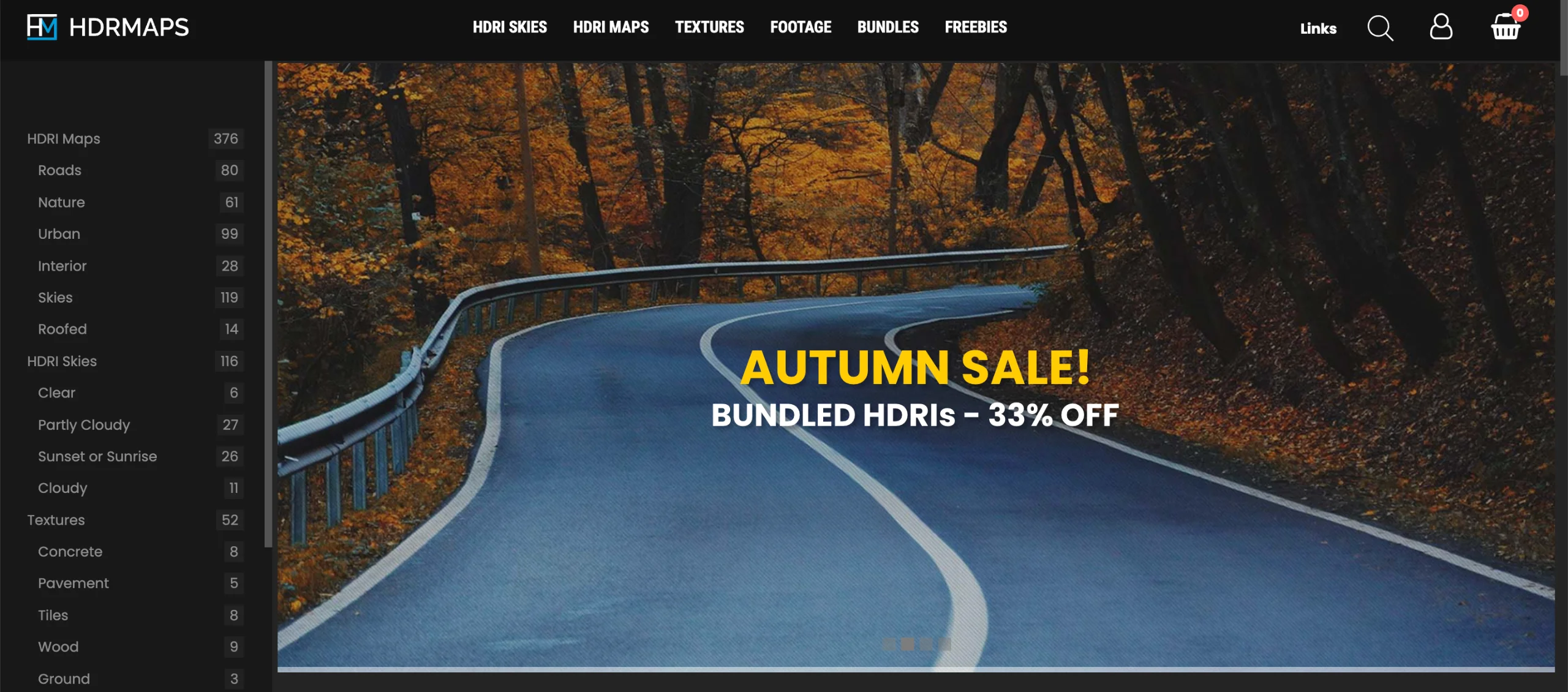 Image from HDRMAPs
HDRI Maps is a website that offers high quality 20K HDRi maps, skydomes, time-lapses, textures, and photogrammetry scans. They were founded in 2010 with the goal of providing 3d artists with the best possible resources for their work.
Promotion Period: NOW
Offer Deals: Bundled HDRI 33% off
Grab Deals Here: https://hdrmaps.com/
---
Sketchfab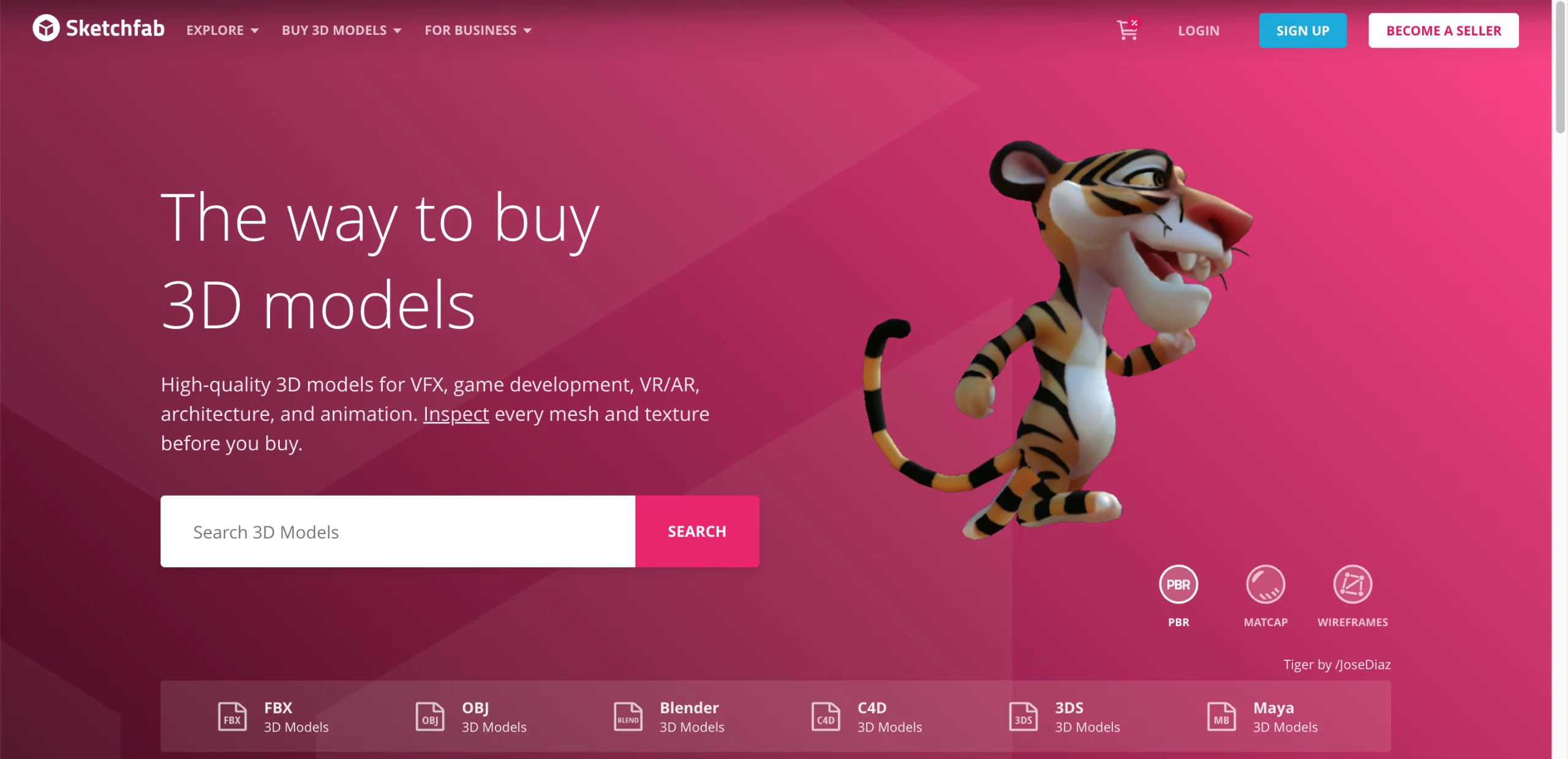 Image from Sketchfab
Sketchfab is one of the largest platform to publish and find 3D models online, you can fin many 3d design assets such as fbx, obj, blender, c4d, maya and more!

Promotion Period: NOT YET REVEALED
Offer Deals: NOT YET REVEALED
Grab Deals Here: https://sketchfab.com/store
---
Unity Assets Store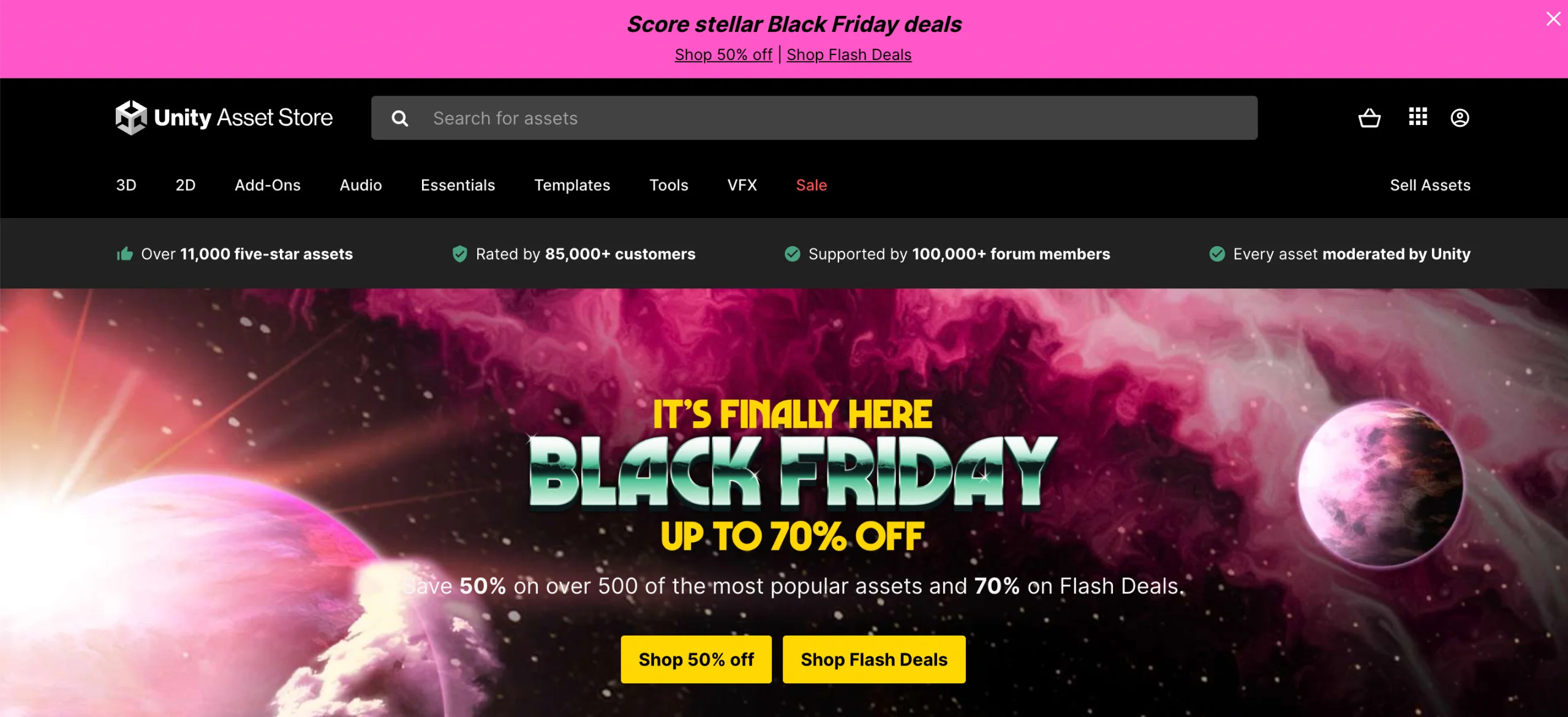 Image from Unity Assets Store
Unity Asset Store is a game assets store market place provided by the well-known game engine Unity. Almost all the materials and resources you need when developing a game can be found here, such as 2D and 3D model, characters, background scenes, SDKs, templates, tools, music effects, VFX, even tutorials and more. They also offers some free game assets for you to speed up our development process!

Promotion Period: Starting November 14 at 8:00 am PT
Offer Deals: 50% off on over 500 popular assets, plus 70% off on 24 hour Flash Deals, New Flash Deals will launch daily, so get ready to act fast.
Grab Deals Here: https://assetstore.unity.com/
---
Vecteezy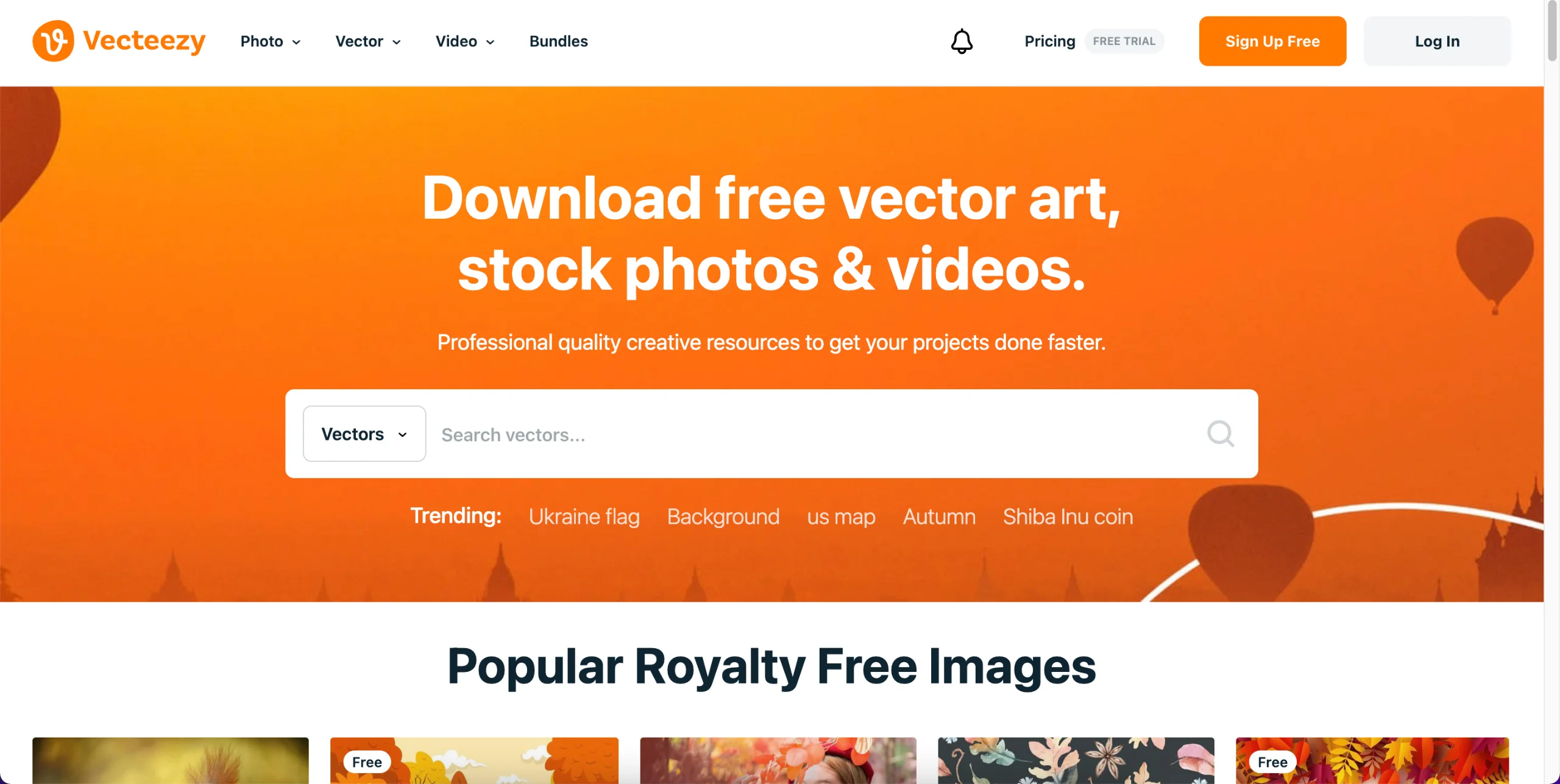 Image from Vecteezy
Vecteezy makes fully licensed, professional-quality creative resources (including stock photos, stock videos, and vector graphics) accessible to all, enabling designers to do their best work and take on any project with confidence.
Promotion Period: NOT YET REVEALED
Offer Deals: NOT YET REVEALED
Grab Deals Here: https://www.vecteezy.com/
---
Presetpro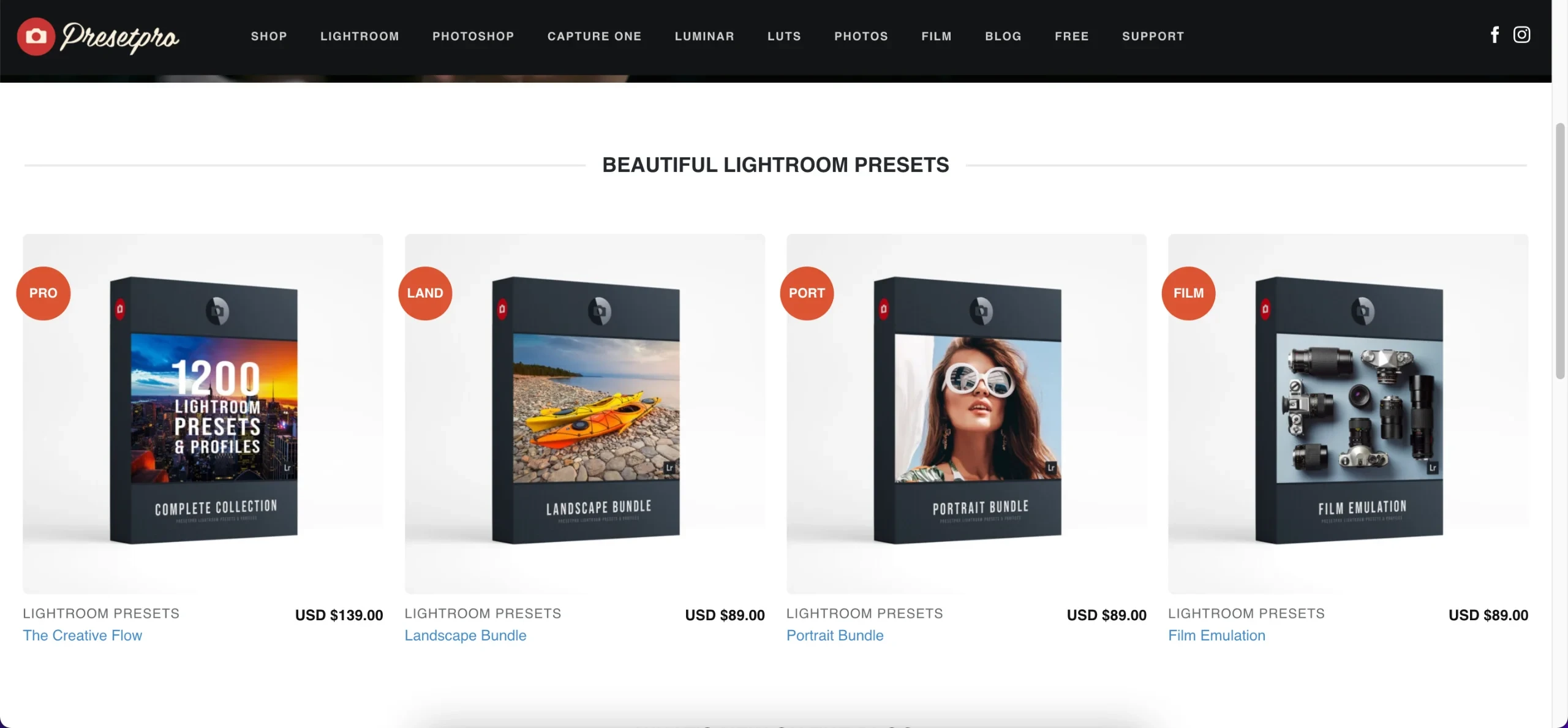 Image from Presetpro
Presetpro is a website made by Professional photographer Tim Martin pulls inspiration from his travels to create unique and original preset collections for Lightroom.

Promotion Period: NOT YET REVEALED
Offer Deals: NOT YET REVEALED
Grab Deals Here: https://www.presetpro.com/
---
Other Software and Tools
SetApp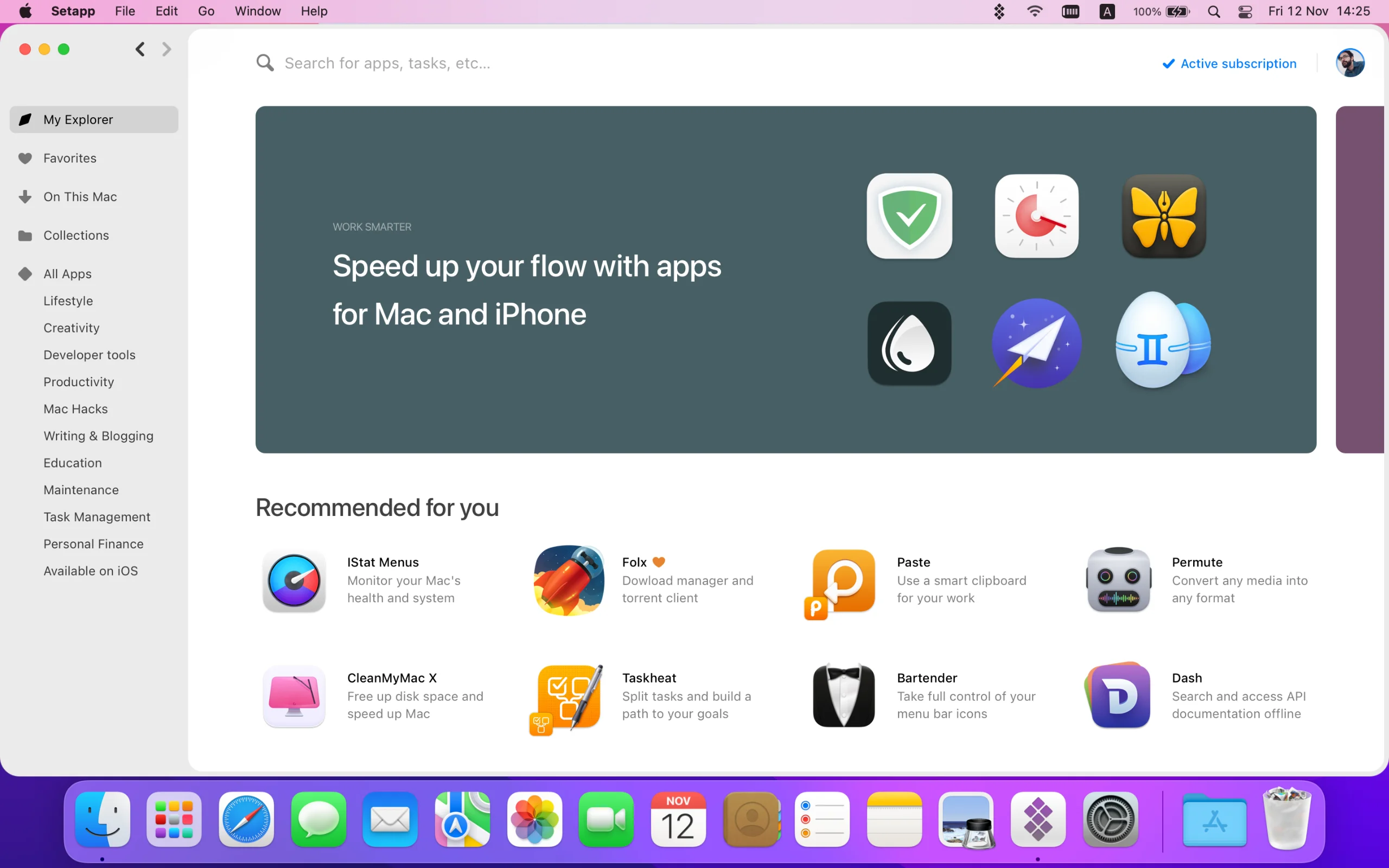 Image from Setapp
Setapp is a one-stop app subscription for Mac and iPhone users, covering all the tools they need to solve their daily tasks and get more done. Setapp partner up with many premium apps so you don't have to worry about the payment or whether the app is up to date or not, Setapp is fuss free and you only need a simply monthly subscription price then are able to access all kinds of app you need!
Promotion Period: NOT YET REVEALED
Offer Deals: Free 7 days trial

Grab Deals Here: https://setapp.com/
---
CleanMyMac X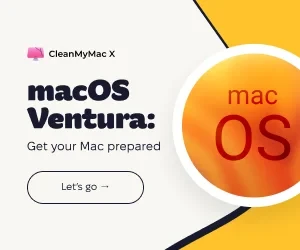 Image from MacPaw
CleanMyMac X is all-in-one package to awesomize your Mac. It cleans megatons of junk and makes your computer run faster.

Promotion Period: November 25th
Offer Deals: 30% off
Grab Deals Here: https://macpaw.com/cleanmymac
---
Kdan Mobile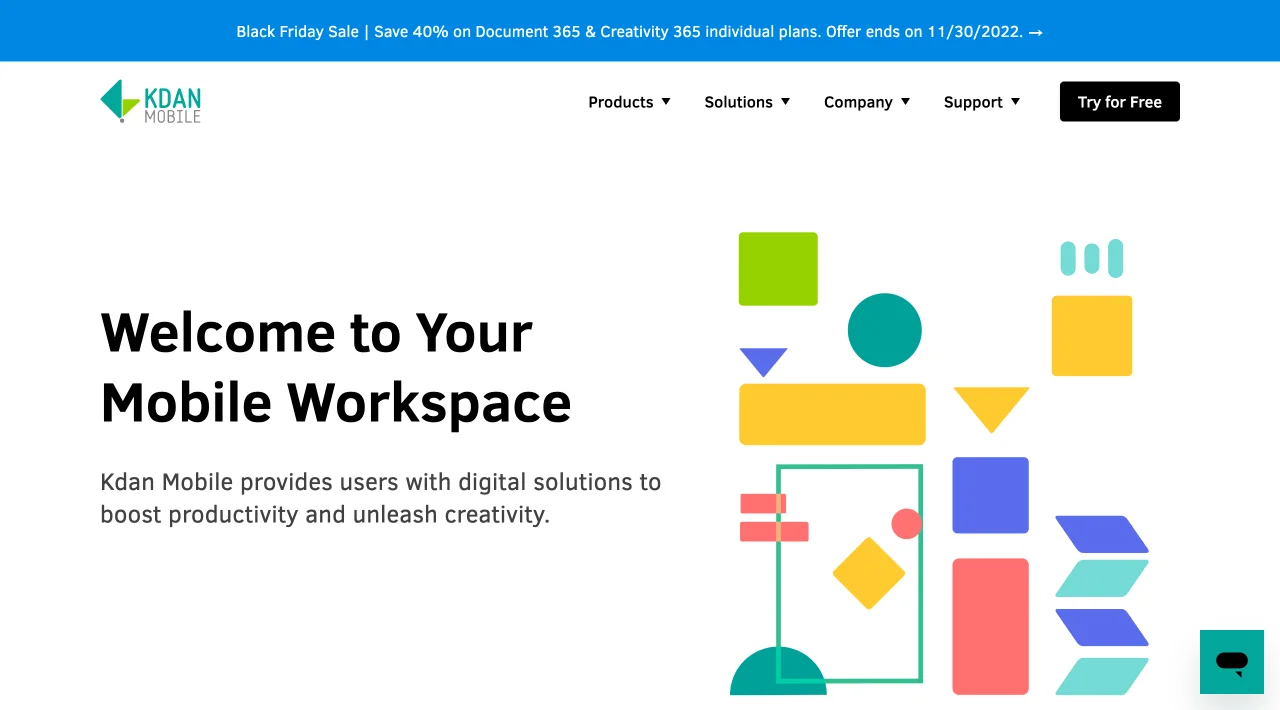 Image from Kdan Mobile

If you're looking for online digital solutions, Kdan Mobile has everything you need! From document management software, Document 365, to multimedia creativity solutions, Creativity 365, Kdan Mobile offers life-time 40% off on the annual plan.

With one subscription, you can enjoy all the premium features, bringing you comprehensive, cross-platform solution suites. In addition, subscribers can receive 1TB Kdan Cloud storage.

Promotion Period: now until 30th November
Offer Deals: Creativity 365 & Document 365 Annual Subscription lifetime 40% off
Grab Deals Here: https://creativestore.kdanmobile.com/campaign/black-friday-sale



If you are a design related software or tools that offers a Black Friday deals for designers, we wants you! Please kindly send the offers via email [email protected] with subject line 2022 Black Friday Deals- (NAME of your BRAND), we will get back to you ASAP!