20 Best Photoshop Plugins: Enhance Editing with Leading Tools
Are you a designer or a creative that spends hours on Photoshop projects? If so, you should definitely explore the world of Photoshop plugins; they have the potential to ensure a streamlined and smooth workflow. Thanks to these versatile plugins, you can enhance your editing capabilities and simplify complex projects for maximum productivity.
Knowing these plugins can be game-changers, we have curated the top 20 plugins that offer potential benefits and the ability to help individual designers with their specific tasks.
Photographers and designers, level up your Photoshop game with 20 best Photoshop plugins for advanced retouching and creative effects. Try them now!
What are Photoshop Plugins?
Photoshop plugins are developed by third-party developers and platforms. They are used to extend the functionality of Photoshop, helping designers and content creators to be more creative with additional tools, features, effects, and automation options granted by these plugins. Using these plugins, you can customize your editing workflow and achieve specific visual effects that may not be available in the standard version of Photoshop.
---
20 Top-rated Photoshop Plugins for Advanced Editing
Calling all photographers and designers! Retouch your best shots with these valuable and advanced plugins that will take your projects to the next level.
1. Social Media Toolkit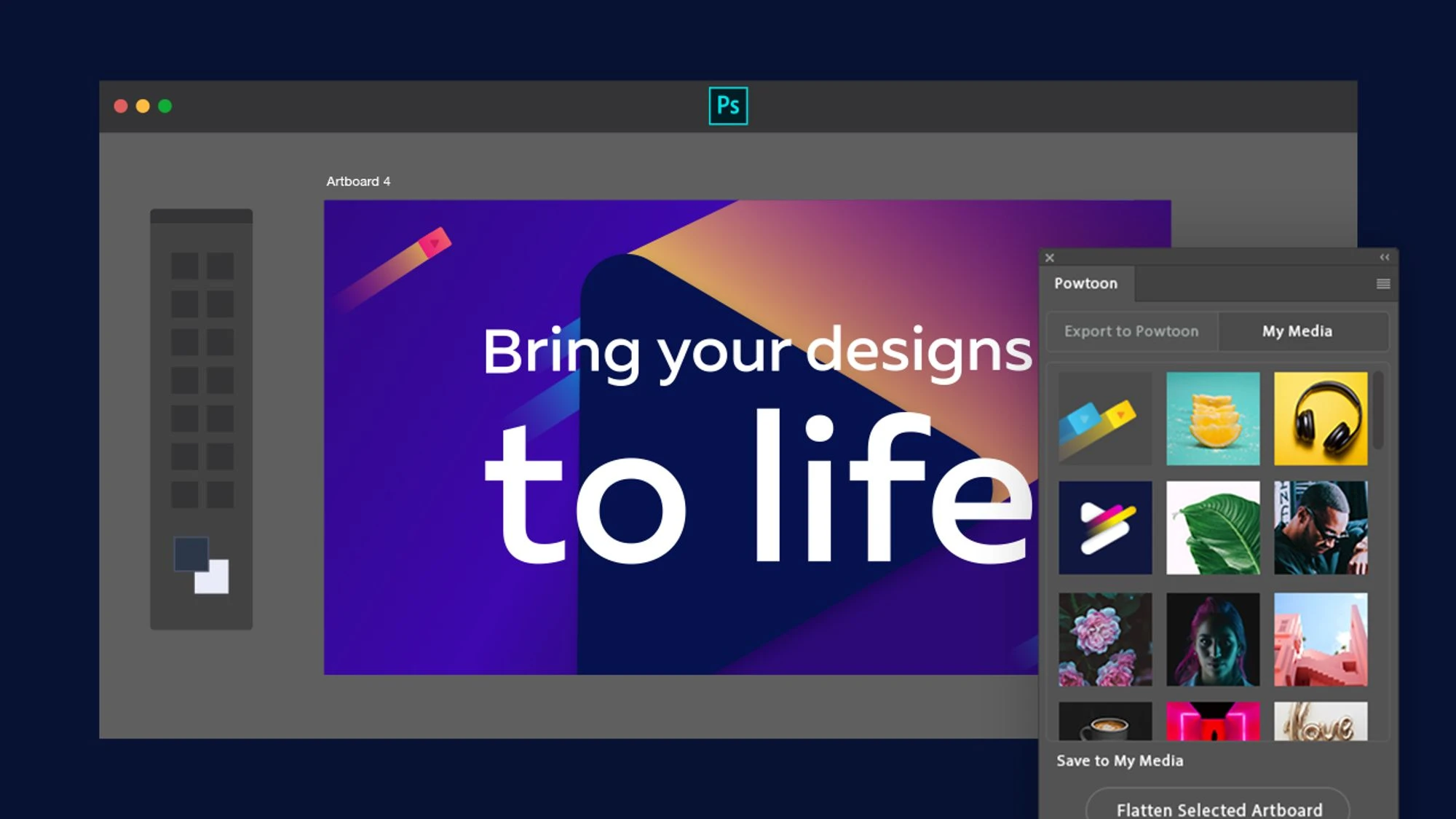 Image from Adobe

Social Media Toolkit is among the best Photoshop plugins when it comes to social media projects. While designers work on social media-related projects, finding the correct dimensions for any specific platform is often time-consuming. Fortunately, Social Media Toolkit helps designers to implement changes to the properties and achieve the perfect width and length required for various social media platforms, all within the Photoshop interface.
Key Features:
Produce Optimized Images: Get appealing and optimized sizes for multiple social platforms.
Advanced Options: Facebook has specific image dimensions for each purpose, thanks to Social Media Toolkit for providing options for all kinds of Facebook posts.
Benefits:
Best among free Photoshop plugins
Easy to install and use
Pricing: Free
Website: Social Media Toolkit
Top Figma plugins you don't want to miss if you're a fan of Figma!
2. StockSolo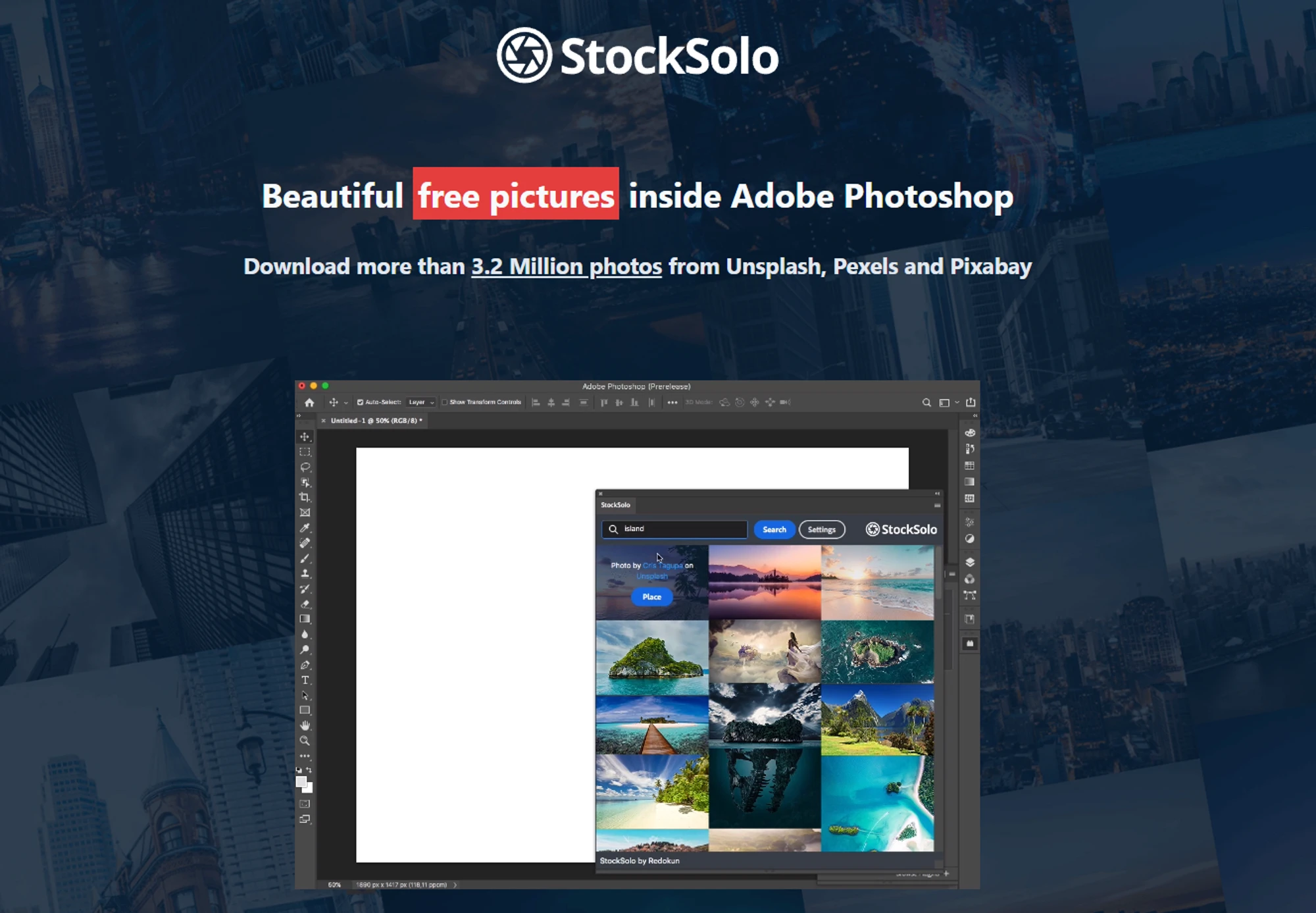 Image from StockSolo

Incorporating images into a project or final design outlook is often necessary, but searching through various websites to find the desired image can be tedious. To address this concern, StockSolo has made a Photoshop integration to help you find the images best for your projects within Photoshop.
Key Features:
Import from Top platforms: You can import images from well-known platforms that offer royalty-free images for artists and designers.
Versatility: You can get images for any category with a vast library, including millions of images.
High Quality: StockSolo gathers images that are available in high resolution so you can edit and resize them without risking the quality.
Benefits:
Easy to use
You can find niche-specific images with a single keyword
Pricing: Free
Website: StockSolo
3. Color Designer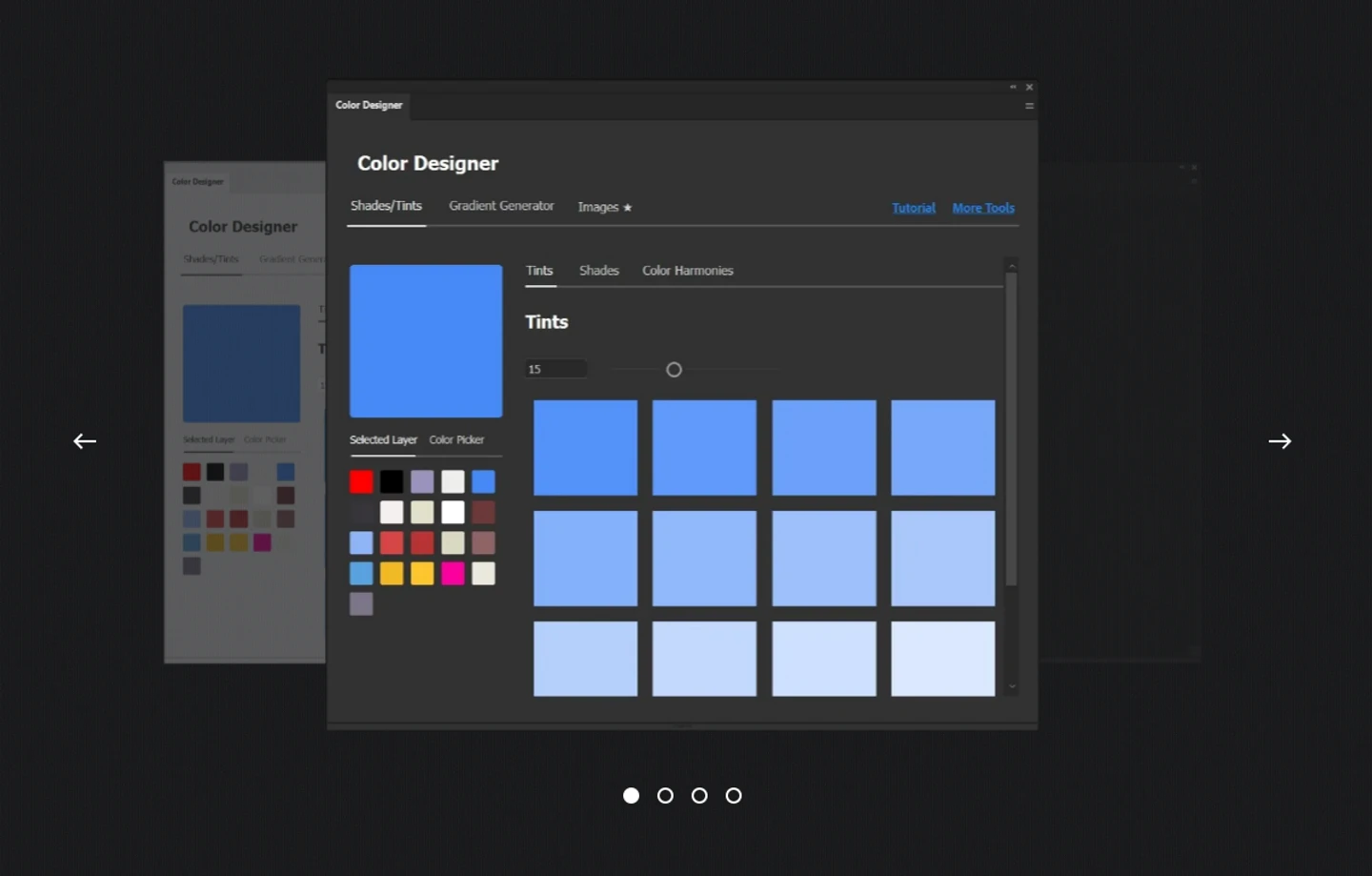 Image from Color Designer

Confused about the right colors to use in your project? Let Color Designer help! Choosing colors directly from the Photoshop interface is confusing, but with Color Designer, you can create your set of colors, shades, tints, and more. It helps you elevate your project design with the right and relatable colors so it's always visually appealing to your audience.
Key Features:
Custom Generator: Generate custom shades and tints.
Gradient Generator: Combine two colors and generate a stepped gradient.
Benefits:
Easy to install and use.
It comes with a generator to help you generate colors and gradients according to your project needs.
Pricing: Free
Website: Color Designer
4. Luminar Neo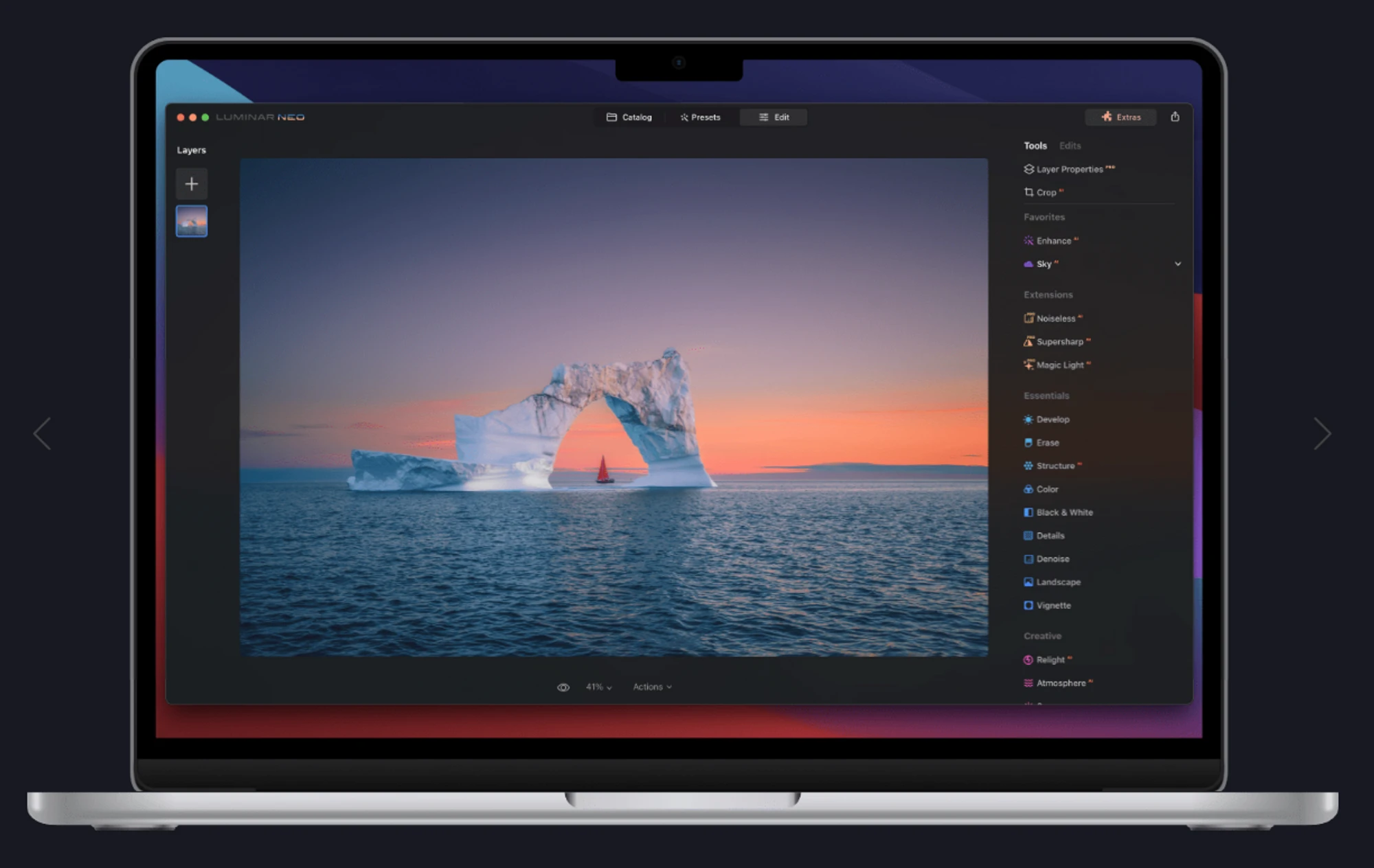 Image from Luminar Neo
No Doubt, Luminar is a well-known name in the photo editing and computer graphics world; while the standalone software can enhance your images to perfection, Luminar also has a solution for your Photoshop Editor. Fortunately, it comes with a plugin for Photoshop, which allows you to enhance your images with the best retouching tools.
Key Features:
Retouching: Retouching is done quickly with the help of the Luminar plugin; you can elevate your images with valuable tools.
Presets: You can use the stunning presets to take your designs to another level
Benefits:
Retouching is done quickly when compared to Photoshop itself.
Pre-built assets to help you save time and energy.
Pricing:
Free Trial
$14.95/Monthly
$119/Yearly
Website: Luminar Neo
5. Topaz Labs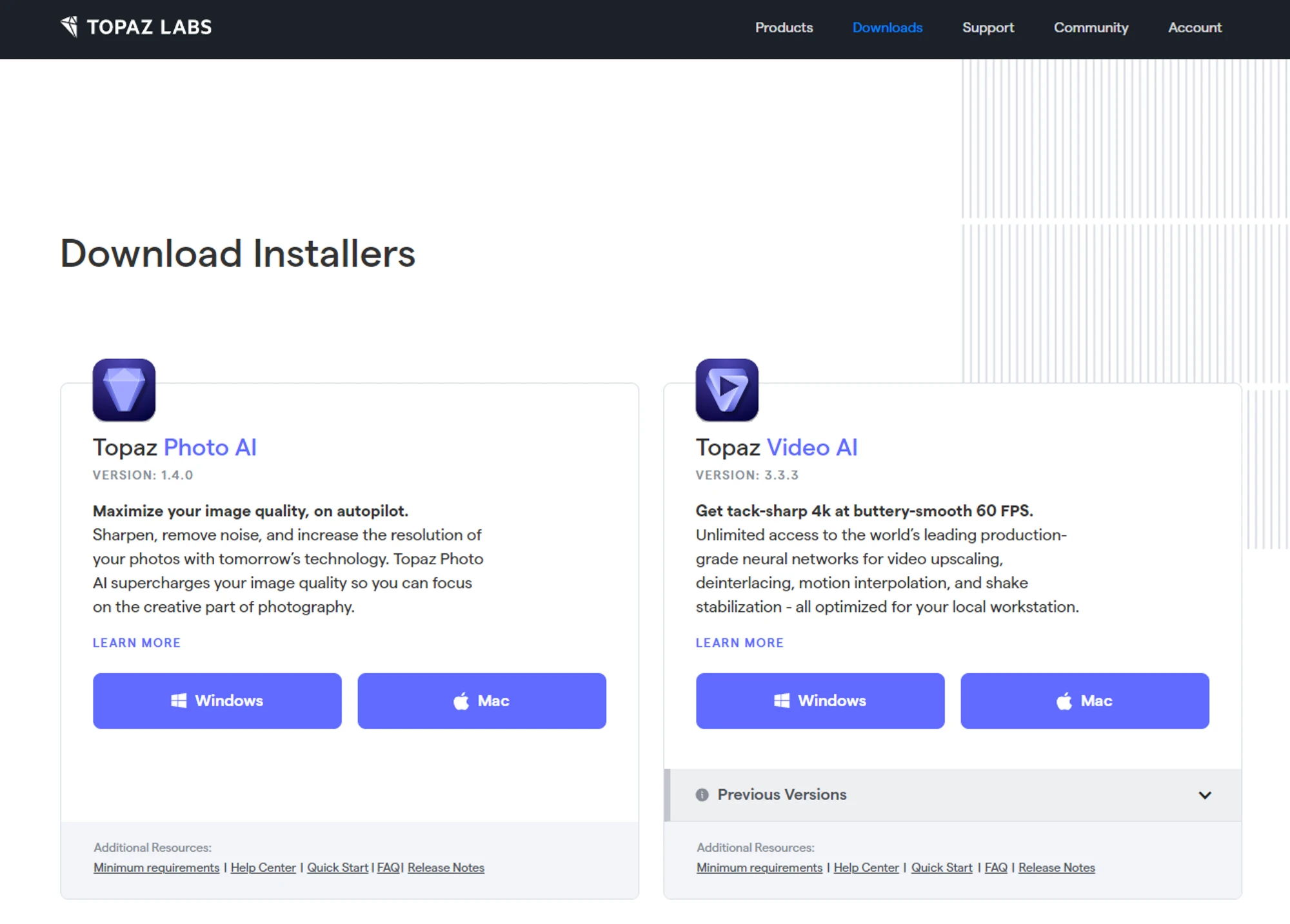 Image from Topaz Labs

Topaz offers a Photo editing software suite to cater to the needs of photographers and designers. Moreover, every photo editor launched by Topaz Labs also comes with a Photoshop plugin. Furthermore, Topaz Labs currently offers Topaz Gigapixel, Sharpen AI, and DeNoise; these all carry different editing and enhancing image capabilities.
Key Features:
Upscaling: You can Upscale your images Topaz Gigapixel without risking the quality of the original image.
Denoising: Get rid of noise and make your image details more visible with Topaz DeNoise.
Sharpening: Easily sharpen your photos with a natural touch with Topaz Sharpen
Benefits:
Get extra options to enhance your projects.
Make your designs and creative work more visually appealing.
Pricing:
30 days free trial
$79.99 Yearly subscription for each Topaz Labs software
Website: Topaz Labs
6. Nik Collection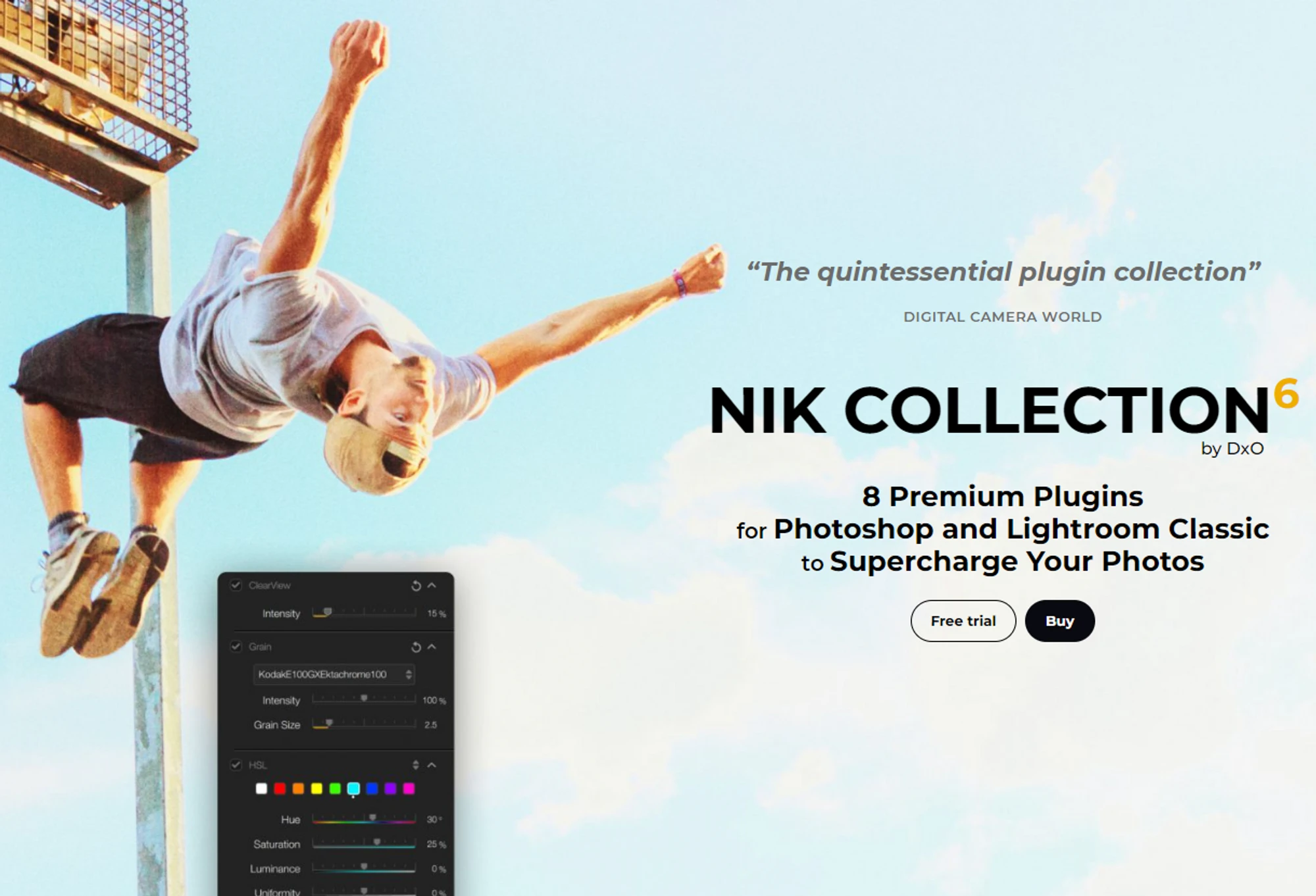 Image from Nik Collection

Nik Collection is a collection of plugins for Photoshop, packed with 8 plugins to take your Photoshop project to a whole new level. Undoubtedly, the interface and features of Photoshop can be complex. Nevertheless, incorporating plugins can help to simplify your tasks. Moreover, Nik Collection plugins can cater to all your editing needs; this set of plugins includes Nik Color Efex, Analog Efex, Dfine, HDR Efex, Silver Efex, Viveza, Sharpner, and Nik Perspective.
Key Features:
Versatile Plugins: Nik Collection features plugins for all kinds of editing needs, including plugins for image Manipulation, Removing noise without losing the details, image sharpness, and Dozens of filters, colors, and whatnot.
Simple plugin interface: Plugins are made to bring ease and help you be more creative; Nik collection plugins are extremely easy to use and built with a user-friendly interface.
Benefits:
Take your images to perfection with advanced yet easy-to-use retouching plugins.
Multi-purpose plugins to cater to your project needs.
Pricing:
30 days free trial
$149.00 One-time payment
Website: Nik Collection
7. ON1 Effects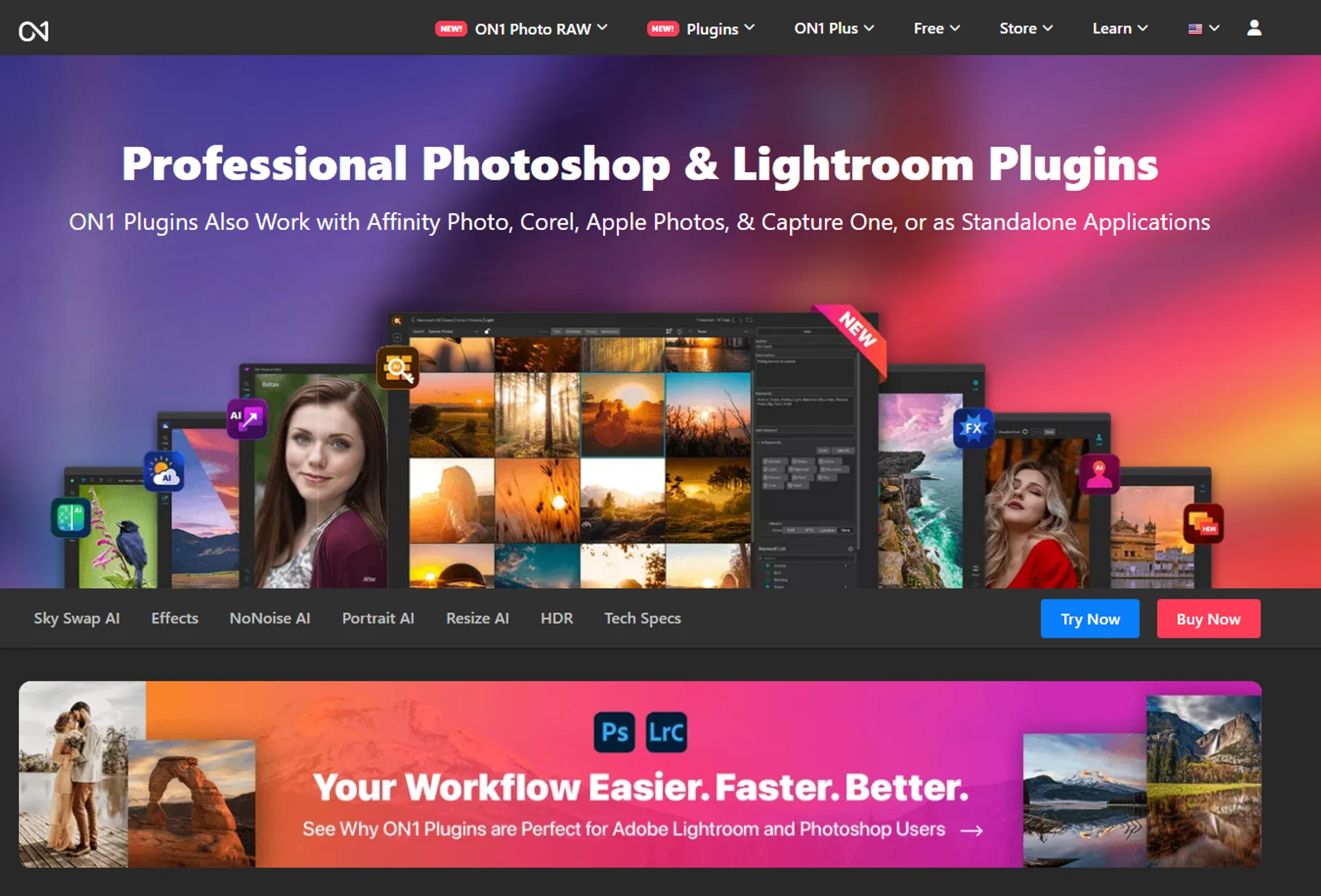 Image from ON1 Effects

ON1 Effects is known for enhancing images with effects, it works as a standalone editor, but you can also use it as a plugin for your Photoshop. Furthermore, ON1 Effects allows you to quickly apply the presets and effects to the specific areas of your project; this enables you to maintain overall image quality and only modify the parts of the image you want to. Also, It comes with a bundle of plugins; each Plugin has its features and functions.
Key Features:
Pre-built Assets: To ease your editing workflow, ON1 Effects provides presets that can be directly implemented into your projects.
Masking Tools: Some effects and tools are applied directly to the whole image. To address this concern, ON1 Effects offers masking tools to enable you to apply effects to specific areas in your image.
Benefits:
It can save more time with its intuitive interface and presets, helping you to get your desired looks faster.
You can seamlessly integrate ON1 Effects into your Photoshop workflow and get access to all ON1 Effects features and tools.
Pricing:
Free trial
$99.99 (One time purchase), including a bundle of 6 plugins.
Website: ON1 Effects
8. Camera Raw
Image from Adobe

The Adobe Camera Raw plugin is created by Adobe to assist Raw photographers. Without the Plugin, Photoshop automatically compresses imported images, resulting in a loss of detail and texture. Furthermore, you can preserve the original quality of your Raw images while you enhance the image.
Key Features:
RAW editing capabilities: Camera Raw has powerful editing tools that help you enhance and adjust the exposure, noise, and sharpness of your Raw images.
Non-destructive: Photographers can enhance the image without altering the original image data.
Benefits:
It makes Photoshop one editor for all your image editing needs, you can extend the functionality of Photoshop for raw editing options, so you don't have to look for other editors for Raw editing.
Simplifies the process of raw editing, allowing you to edit within Photoshop seamlessly.
Pricing: Free
Website: Camera Raw Plugin
9. Fontself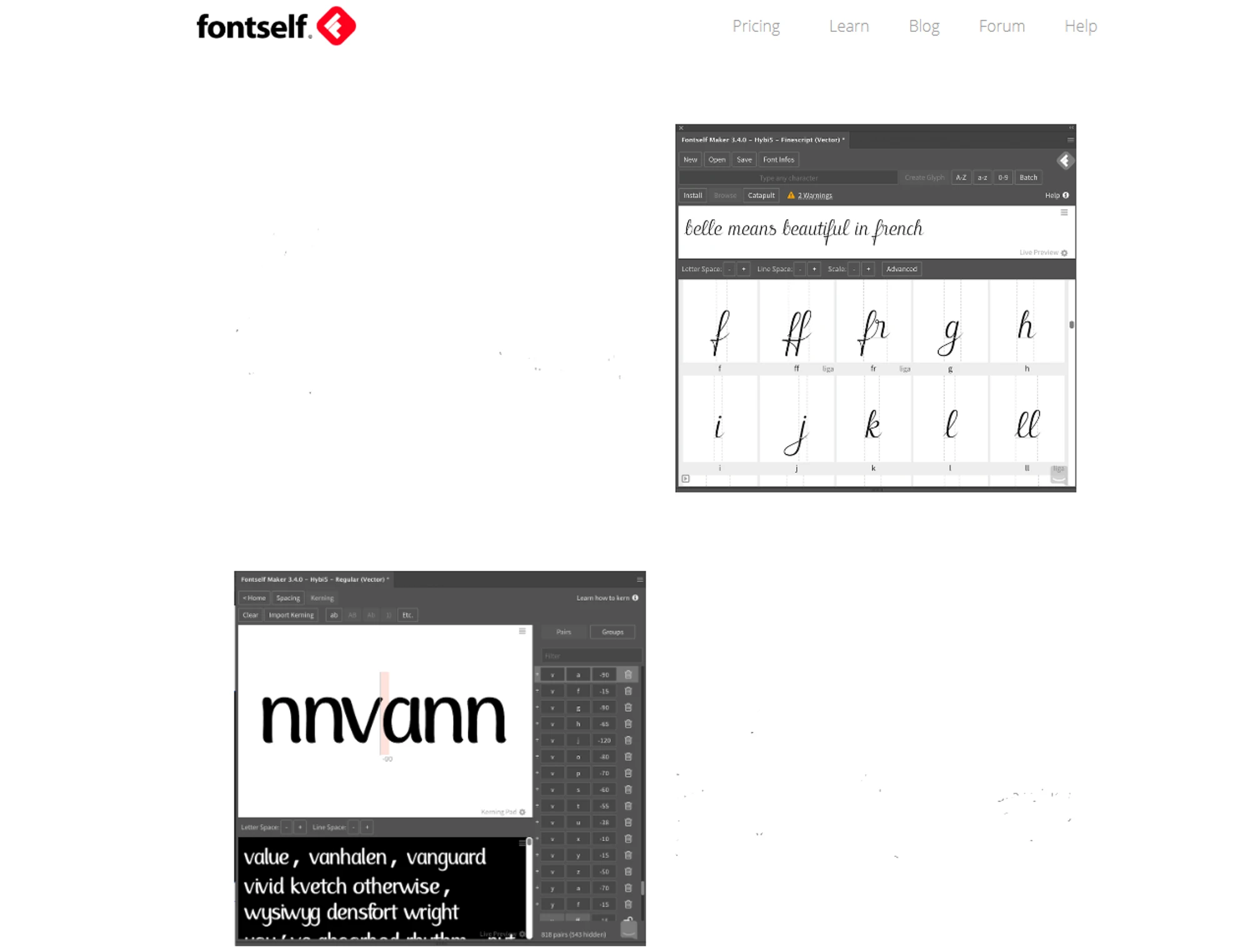 Image from Fontself

Why use fonts created by others when you can create your own? Yes, you heard that right! With the help of Fontself, you can get a personal Font maker inside Photoshop. The Plugin allows you to get creative with vector art to create a typeface of your own; you can create your own glyph with the help of this Plugin.
Key Features:
Font Creation: With Fontself, you can turn your hand-drawn letterforms into usable fonts with an easy drag-and-drop interface.
Real-time Preview: Fontself provides a real-preview editing workflow, allowing you to detect errors and adjust accordingly.
Benefits:
Create your own personalized fonts to make your projects stand out and look unique.
A User-friendly interface and real-time preview help you save time and edit more efficiently.
Pricing: $59.00 One time payment
Website: Fontself
10. Ink
Image from Chrometaphore

With Ink, you, as a designer, can make the job easy for web developers and UI Designers; this helps you create documentation of specific properties used in web designing models, including width, height, font names and styles, font styles, and colors. It enables you to hand over the project's specific details to the web designer, so there's no confusion for the web developer.
Key Features:
Layer Measures: Ink automatically measures the width and height of layers, saving you the time and energy used in the manual process.
Layers and styles: It supports most of the common and used layers in an HTML5 web designing model, so you provide precise details to your web developer in the final documentation.
Benefits:
Build a better front-end for your websites with the help of Ink.
Create easy-to-understand documentation for your web designers and clients.
Pricing: Free
Website: Ink
Should you work extensively with Photoshop and need to view complex PSD files, take a look at this carefully hand-picked list of PSD file viewers!
11. Icons8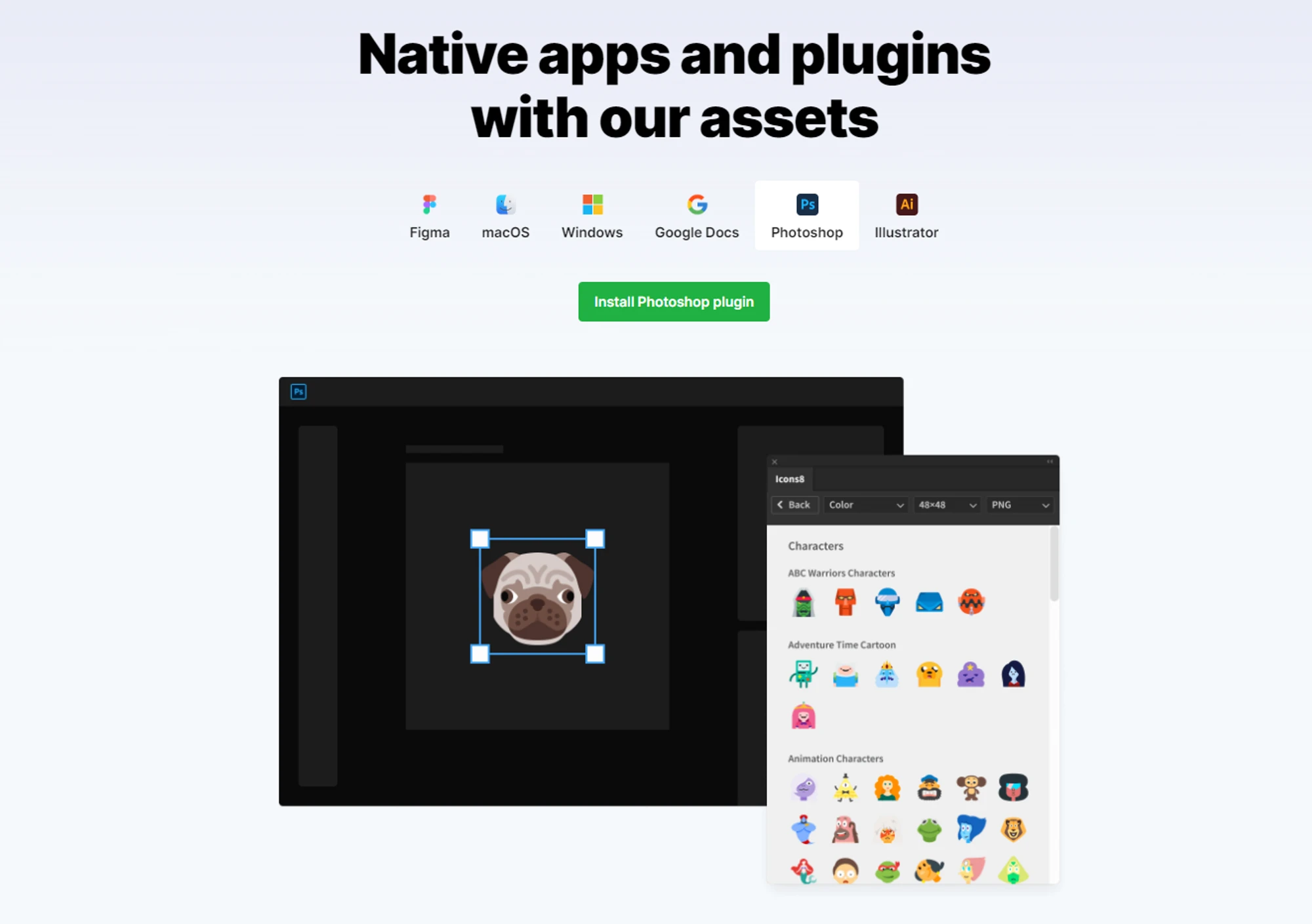 Image from Icons8

Icons are almost needed for every project, but designing an icon from scratch can take time and effort. Thanks to Icons8, designers have over 125,000 icons to elevate projects easily. Whether your project seeks icons for social media, art, travel, sports, animals, and whatnot, no matter how niche-specific your Photoshop project is, icons8 will always have solutions for your icon needs.
Key Features:
Icon Search: Icons8 comes with a search bar, so you don't have to find icons manually; you can use the keyword related to your project and have many options.
Ease of Customization: While your project might have specific requirements for icon dimensions, Icons8 allows you to resize and customize icons according to your needs easily.
Format Support: These icons support multiple export formats such as PDF, SVG, and PNG, enabling designers to export projects in their preferred format.
Benefits:
Minimize the trouble of downloading icons from the web to import into your projects.
Ensures streamlined workflow with ease of icon customization.
A vast library of icons saves you the time and trouble of looking for niche-specific icons on different websites.
Pricing: Free
Website: Icons8
12. Powtoon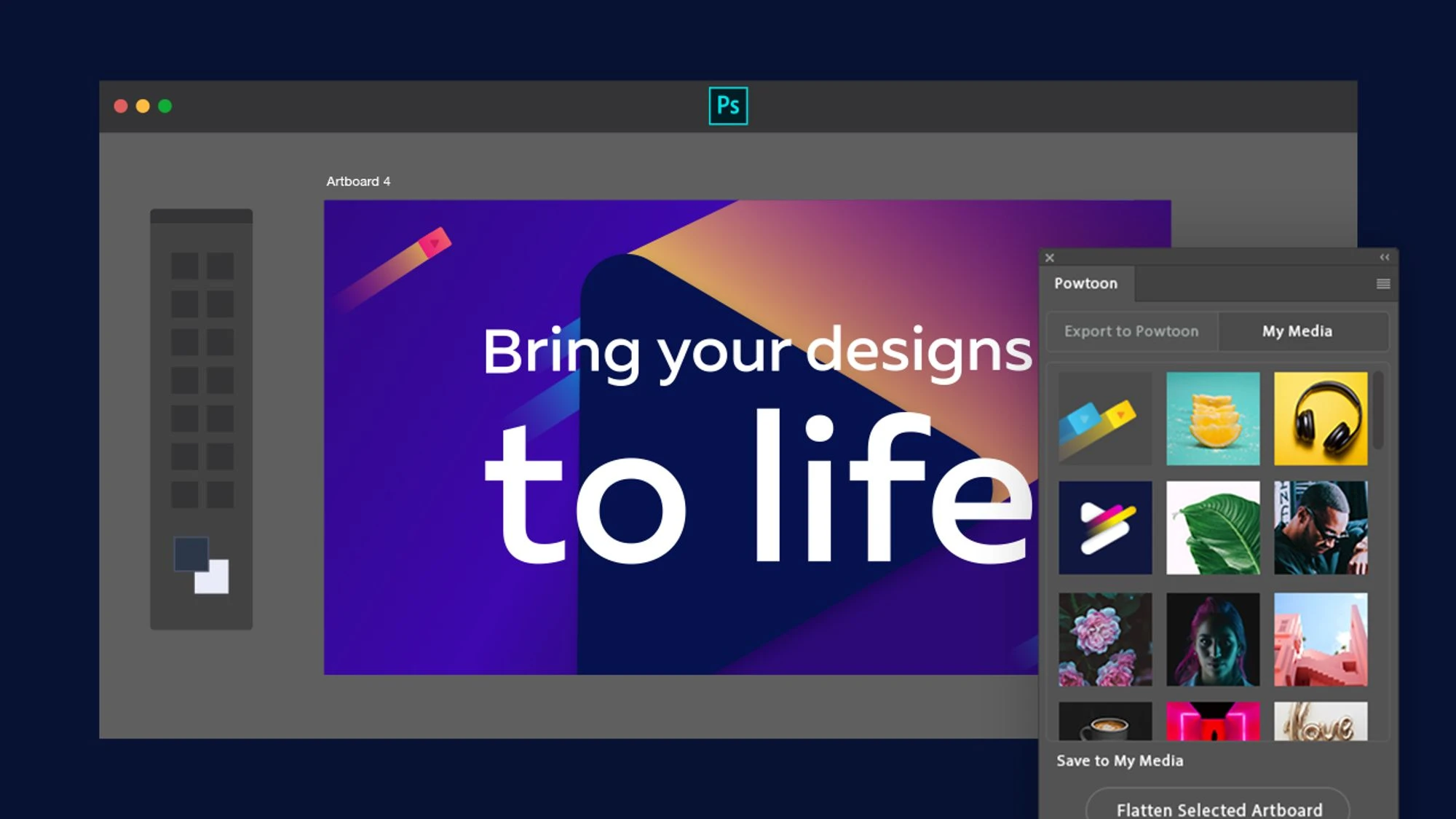 Image from Adobe

Powtoon is known for creating animated videos and artboards, but with its Photoshop plugin, you can bring your images and projects to life by turning them into videos. Moreover, you can add custom effects, backgrounds, and media files to create a stunning video for your audience and export it in .Mp4.
Key Features:
Animate Your Projects: Be more creative with your Photoshop projects and bring your designs to life with pre-built assets offered by Powtoon.
User-friendly Interface: As Powtoon was made for people with no prior designing experience, its Photoshop plugin is also the same, helping you animate your projects with maximum ease.
Benefits:
Be more creative and get different versions of the design.
Export your projects in .Mp4 and upload them on Youtube, Vimeo, and Facebook.
Pricing: Free
Website: Powtoon Extension
13. Eye Candy 7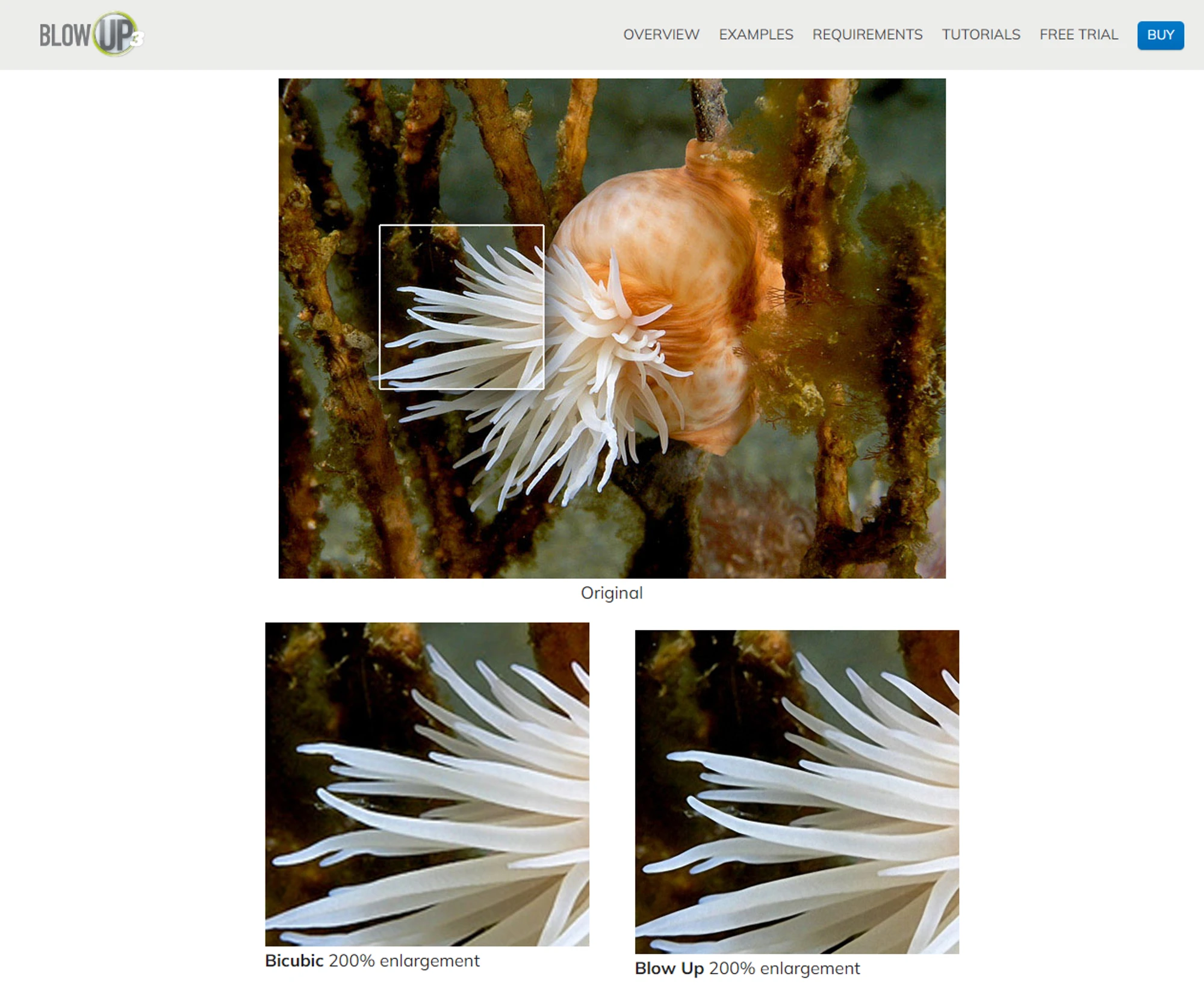 Image from Exposure

The Eye Candy plugin has been around for a decade, But in Eye Candy 7, you get all the possible features and effects you can think of. Furthermore, Eye Candy 7 can make the job of graphic designers easy, allowing them to quickly elevate their images with over 1000 presets and more than 32 categories filled with appealing effects, ready to be implemented into your projects.
Key Features:
Easy Adaptation: Eye Candy is among the best Photoshop plugins that automate most of your editing tasks; it automatically scales the effects to match your current project settings.
Lifelike Effects: Eye Candy effects are designed to keep your projects realistic.
Benefits:
Huge library of effects and presets
Easy-to-explore interface to keep you productive.
Pricing:
30 days free trial
$89.00
$49.00 to upgrade
Website: Eye Candy 7
14. GuideGuide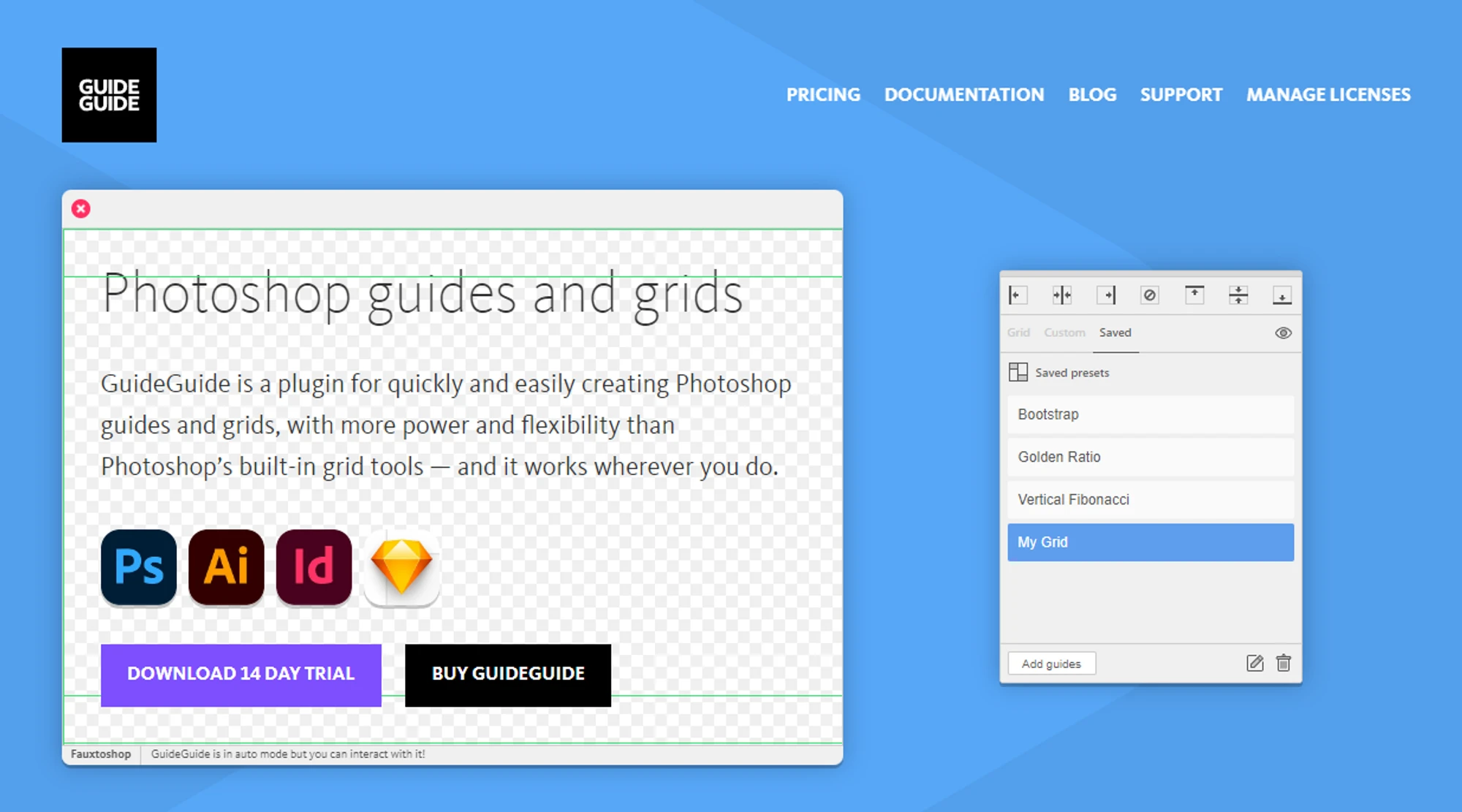 Image from GuideGuide

Do you need help placing elements and objects in your artwork neatly? Worry not because GuideGuide has got your back. This tool helps you to be better with your project alignments and get your project done by ideally utilizing all the space in the design. Moreover, you can save your perfect grids so you don't have to create a new one for a different project.
Key Features:
Grid and Guides Creation: Create grids and guides unavailable in Photoshop's default version.
User-friendly interface: GuideGuide believes in making the job easy; it comes with an intuitive interface that is easy to use and understand.
Benefits:
Perfect align all the objects in your Photoshop projects
Utilize all the extra space in the best way possible
Pricing:
14 days free trial
Expert: $9/Yearly
Polymath: $19/Yearly
Benefactor: $39/Yearly
Website: GuideGuide
Design trends for Photoshop that every designer must know!
15. BrushBox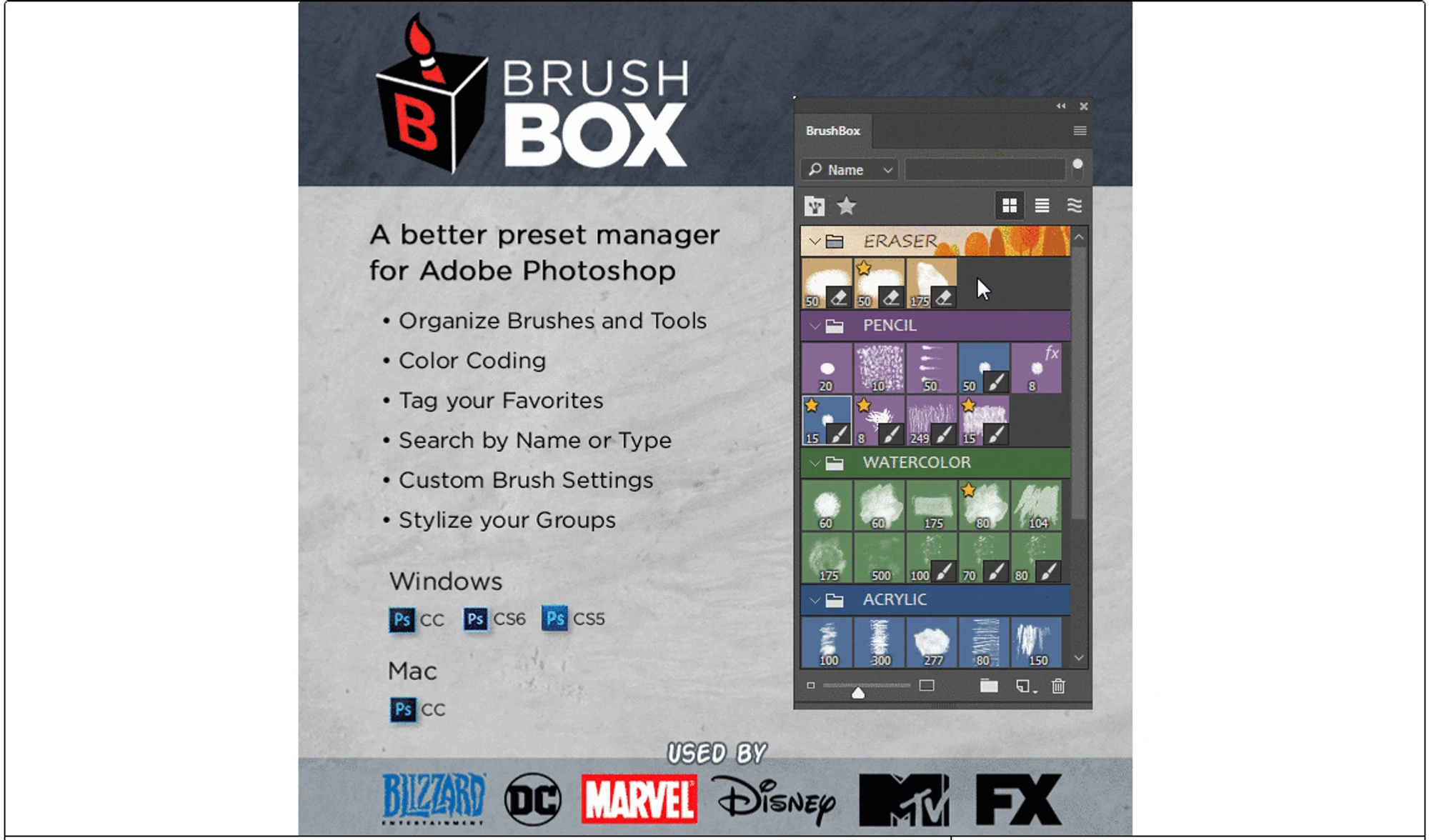 Image from Gumroad

Do you find it annoying whenever you have to look for your favorite brush? If yes, then let BrushBox help. With this Plugin, all your favorite brushes are at your fingertips. Moreover, you can create custom tags, change brush settings and search for your favorite brush with tags, and much more.
Key Features:
Color Code: Choose a custom color to categorize your presets and groups.
Override Photoshop Brushes: You can make changes to the Photoshop default brushes and set them according to your needs.
Benefits:
Quickly locate presets and brushes by saving them in your favorites
Easy to use and user-friendly
Pricing: $19
Website: BrushBox
16. Blow Up 3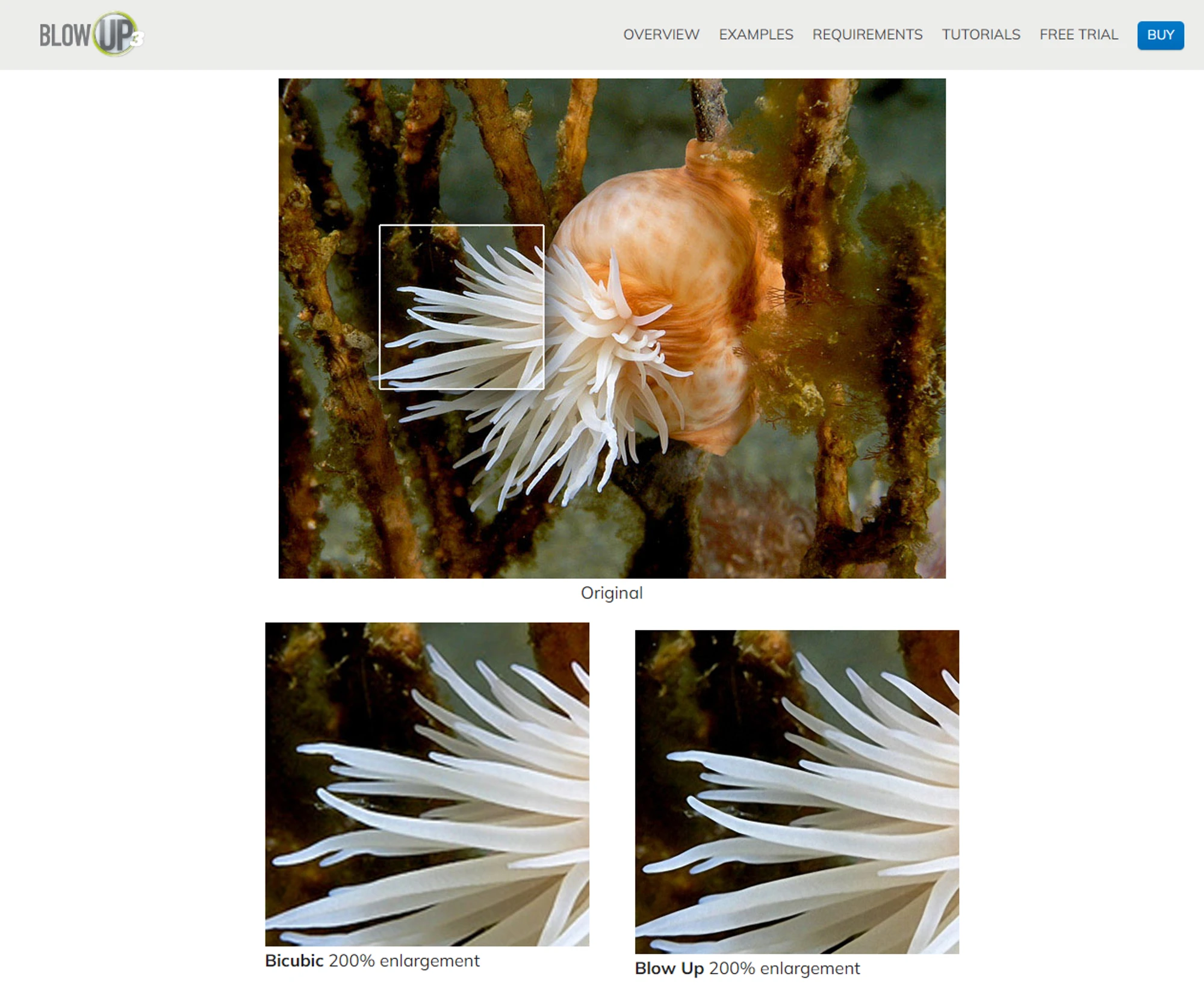 Image from Exposure

Resizing sometimes becomes an essential part of the editing process, but finding something that resizes without sacrificing the image's overall quality is hard. Thanks to Blow up 3, you don't have to worry about your image quality while resizing it to match your needs. Blow up 3 identifies the pixels and converts them into vectors to maintain the image quality while enlarging any specific part of the image.
Key Features:
Maximum Image Enlarging Capabilities: Blow Up 3 can resize images up to 300,000 pixels per side, making it one tool for all resizing needs.
Presets: It comes with presets to help you resize with the ideal size for specific needs.
Benefits:
Resize or enlarge your images without risking the quality.
Easy to use
Pricing:
30 Days free trial
$79.00
$49.00 to upgrade
Website: Blow Up 3
17. Optics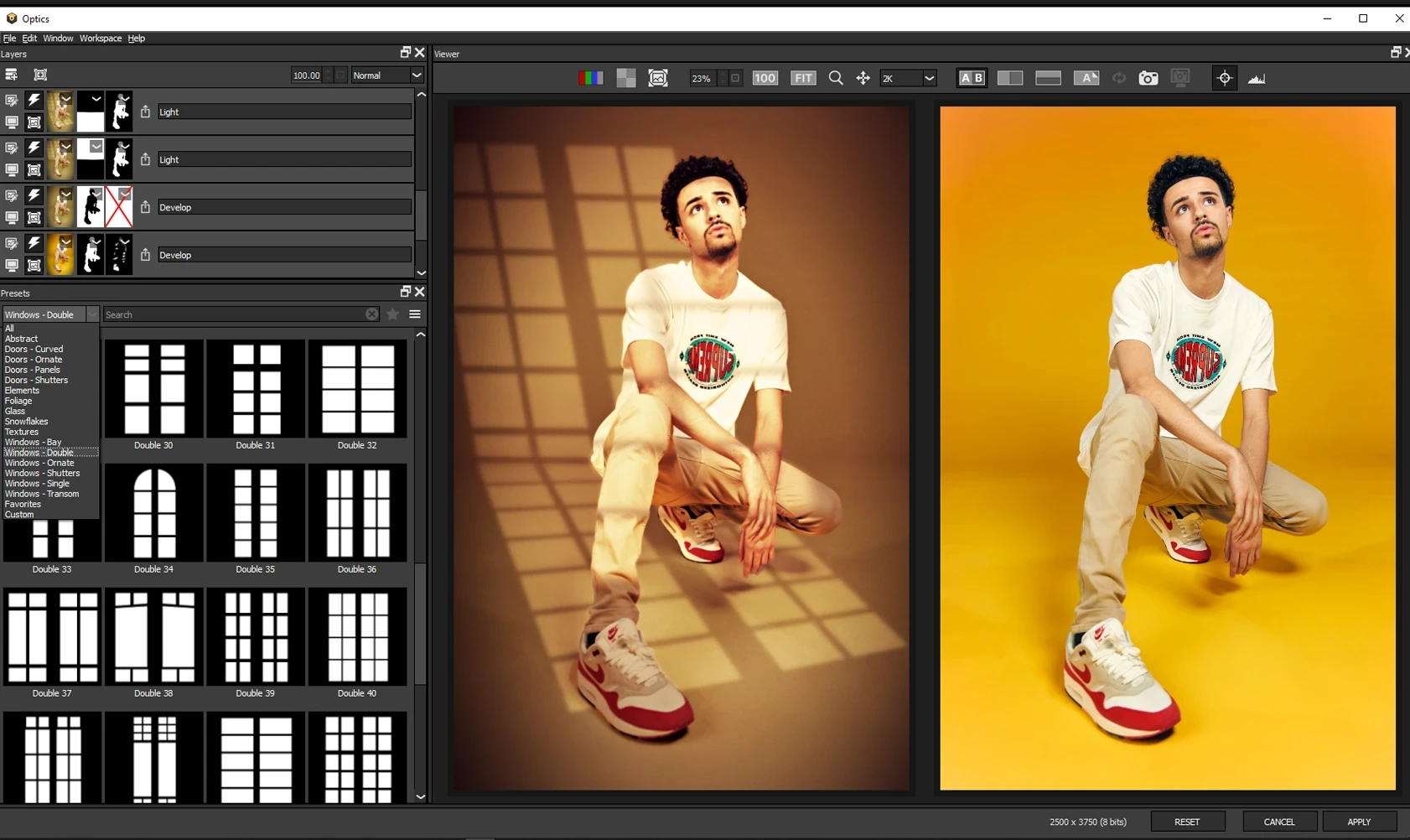 Image from BorisFX

Want to give your projects a cinematic touch? Optics got you covered for that. The ultimate Plugin for stunning effects and image manipulation capabilities. Furthermore, it comes with over 1700 particle presets, including Smoke, Fire, Sparkles, Explosions, Sci-Fi, Dust, and more. Additionally, you can animate your artwork with Optics' pre-built elements.
Key Features:
Pre-built Assets: Get read-to-use filters, effects, and elements to elevate your projects while saving your valuable time and energy.
Versatility: While Optics allows you to manipulate your images, it can also be used to create videos with visually appealing elements and effects.
Benefits:
Get more options to enhance your photoshops projects with.
Pre-built assets help you save time and work more efficiently.
Pricing:
Free 14 days trial
$9.00/Monthly
$99.00/Yearly
Website: Optics
18. Ultimate Retouch Panel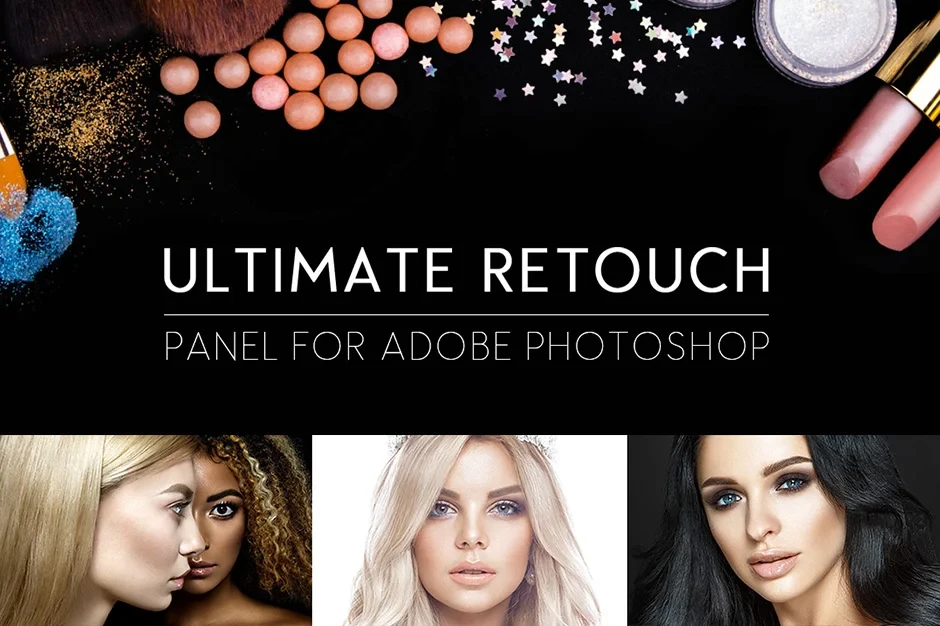 Image from Design Cuts

As you can guess by the name, this Plugin unlocks all the retouching possibilities with a comprehensive panel of presets and features. Additionally, it comes with 30 tools for retouching, 3 types of vignettes, 5 types of sharpness, and multiple color correction options to enhance your images. Fortunately, with this Plugin, you can get all the retouching options that may not be available in default Photoshop.
Key Features:
Dual Vision: With the dual vision feature, you can easily manage dodge and burn inside the Photoshop
Helping Layers: Comes with 3 help layers that help you find misadjustments and flaws.
Benefits:
A vast library of Effects and Retouching tools.
It can be used on any niche-specific project.
Pricing: $29.00
Website: Ultimate Retouch Panel
19. Renamy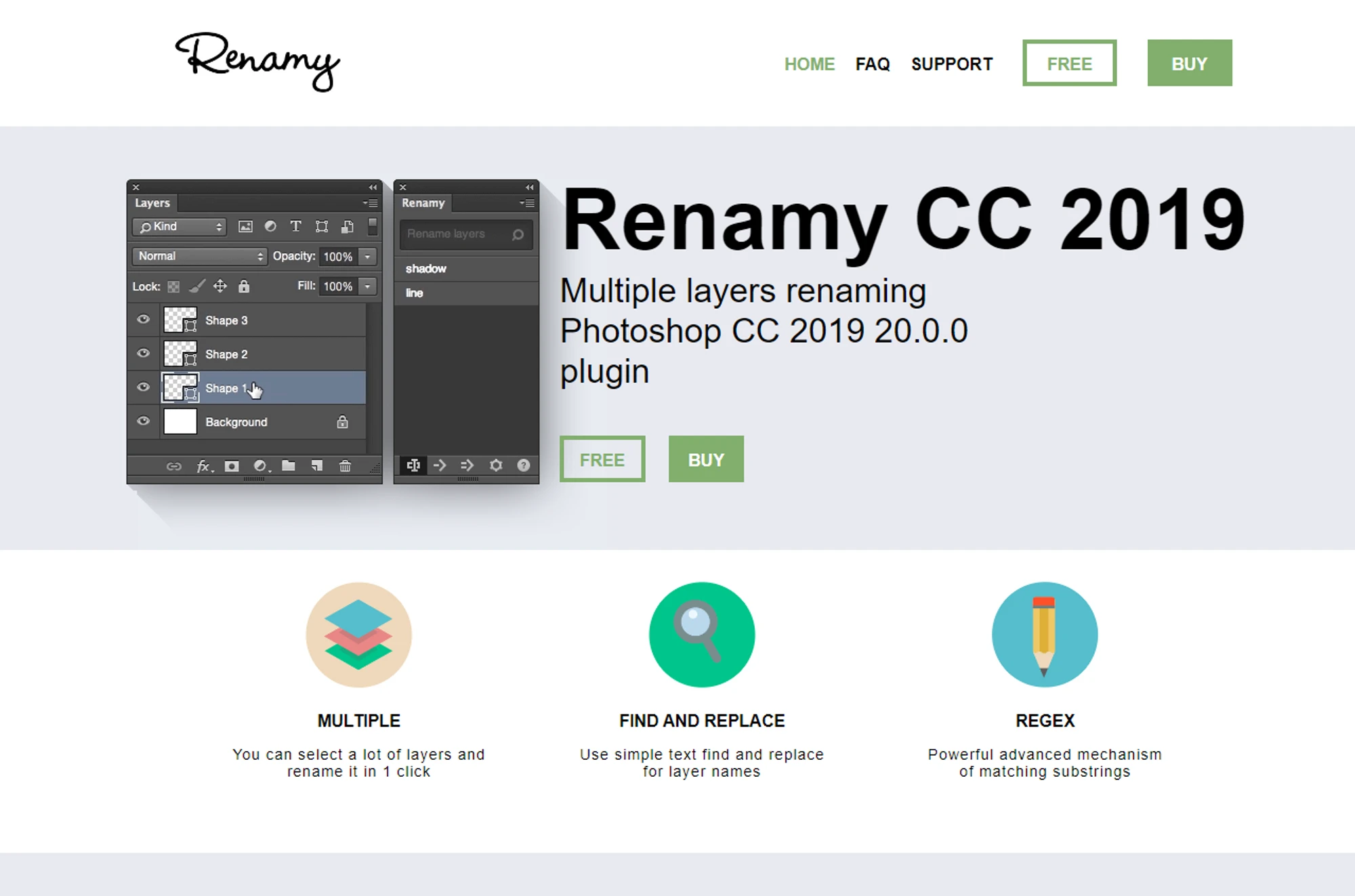 Image from Klaia

Large-scale projects often require dozens of layers to complete, but that gets hectic and might require renaming from time to time. However, doing that manually can be time-consuming. To address this concern, you can use Renamy to rename multiple layers simultaneously, making it convenient for designers and artists.
Key Features:
Rename Multiple Layers: Select as many layers as you want and rename them with a single click.
Browse and Replace: Look for specific layers through the search bar or replace their names.
Benefits:
It allows you to work efficiently with multiple layers
Easy to use
Pricing:
Website: Renamy
20. ParticleShop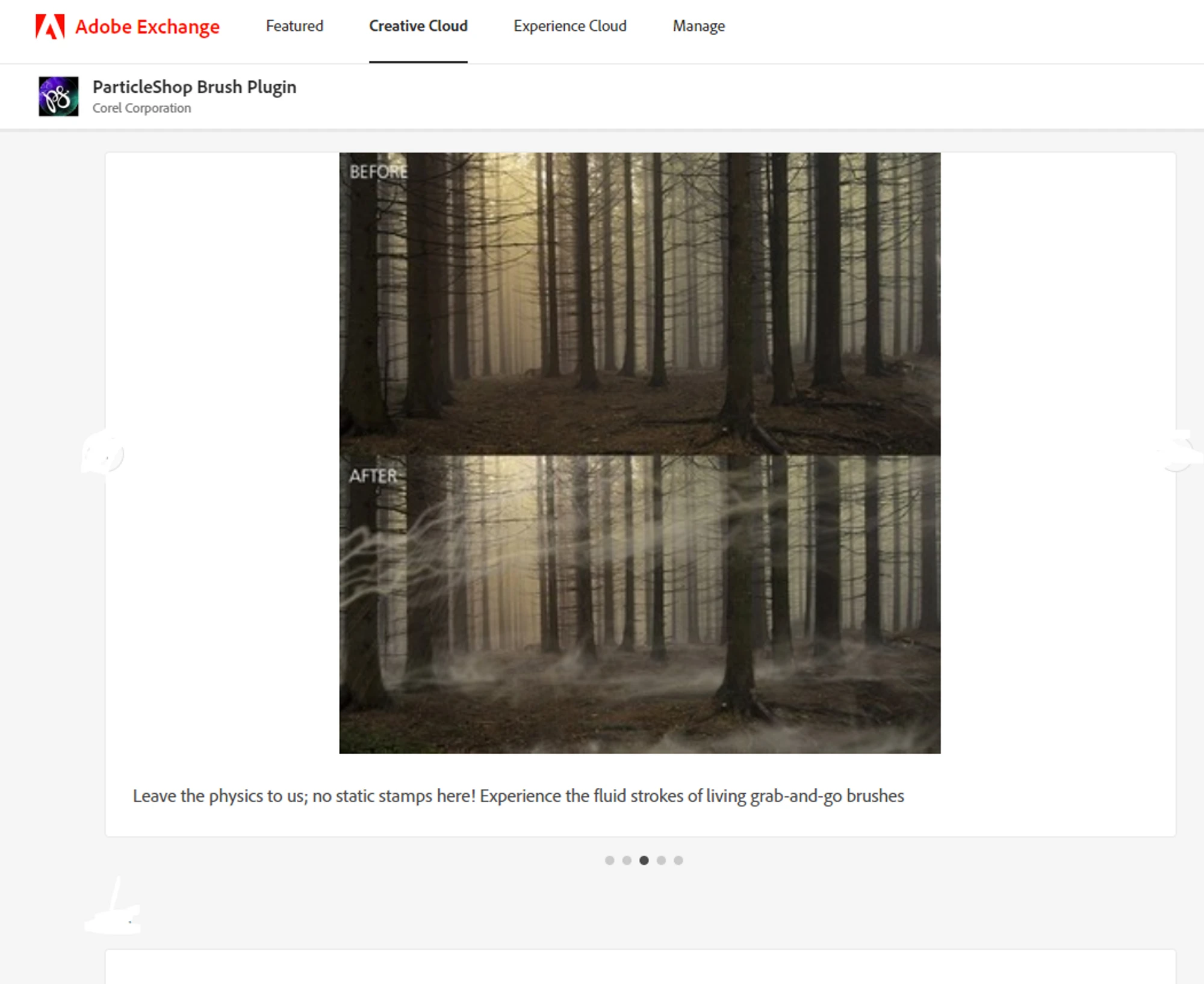 Image from ParticlShop

Photoshop default brushes can't do much; for that, Corel has a plugin developed to help you get more creative with brushes. Additionally, these brushes come with various effects, such as smoke, fabric, sparks, hair, and more. Furthermore, ParticleShop has a user-friendly interface allowing designers to select and apply these brushes with no complexity.
Key Features:
Real-time Particle Rendering: Applying these brushes to your designs and artworks allows you to see the particle effects instantly.
Customizable Brushes: ParticleShop comes with various brushes that can also be customized to suit user needs and preferences.
Benefits:
You get more options when it comes to enhancing your artwork with custom effects.
The real-time rendering allows designers to see the changes instantly and detect any misadjustments right away.
Pricing: $49.99
Website: ParticleShop
---
Bonus Mention - Let Eagle Elevate Your Photoshop Workflow
Video from Eagle (Easily drag and drop design assets to editing software)
Undoubtedly, Photoshop demands numerous images and media files for extensive projects. However, searching for these files within your computer can often be a tedious task. Luckily, Eagle offers a solution to all your digital asset management worries by ensuring your media assets are easily accessible whenever you require them. Also, it boosts your productivity and ensures a smooth workflow by letting you open an image in a new window, so your reference image always remains on top while you work on your artwork.
Additionally, Eagle comes with an intuitive interface that is very easy to navigate and use, enabling designers and creatives to work more efficiently and simplify their daily tasks by organizing everything in an orderly manner.
So, streamline your design workflow by using Eagle to collect, organize, find, and utilize design assets today. Begin your efficient journey with a 30-day free trial!
---
FAQ
How to install Photoshop Plugins?
There are several ways to install Photoshop plugins; here are the most common ones:
Installing Using Adobe Creative Cloud: This is by far the best method to ensure a smooth installation without any errors. Moreover, this can work as one software for all your Adobe applications. You can download Adobe Creative Cloud here: Adobe Creative Cloud.

Installing Manually: Most plugin packages come in .Zip file that can be installed by following these steps:

Unzip: Unzip your plugin files; in most cases, there is a folder or a single file.
Copy and Paste: Copy your plugin folder or file, and paste it into your Photoshop plugins directory, for example:

C:\Program Files\Adobe\Adobe Photoshop\Plug-ins

Test the Plugin: After pasting your plugin files, if your Photoshop is already opened, consider restarting it, and then you'll have your plugins available to use.
Are Photoshop plugins safe to use?
Yes, these plugins extend functionality and help users get more options that may not be available in the default version of Adobe Photoshop. Moreover, Adobe promotes these Photoshop add ons as well, so there are no restrictions on using these.
---
Conclusion
These plugins can potentially elevate your projects with pre-built assets; These are extremely helpful if you are experiencing limitations and drawbacks with the default version of Photoshop. However, It's important to evaluate your Photoshop requirements and the specific needs of your projects to choose the appropriate plugins that can enhance your workflow and make it seamless. Notably, some of these plugins are built to cater to specific needs and might be unnecessary in some cases.
If you're a Designer or Artist, you should also try these best design tools for enhanced creativity!