Icon Heaven: Discover 30 Best Free Icon Websites for Download
Imagination has no limits, neither do the possibilities we offer. Are you looking for websites to download free icons? Whether you are planning to download icons for personal or commercial usage, worry no more we have got you all covered!
This article is provided for designers who need to use various icons to embellish their own web page layout, interface design, and simply enhancing a better user experience. Check out all 30 websites for free icon download and usage instructions!
In this article you can:
Find the App interface design elements on Android or iOS
Find different design icons for various themes
Search for a variety of communities or function buttons
Authorize icons for business usage (subject to each icon details please double check before you download! )
Use the icons in personal projects
---
30 Best Websites for free icons download list
Eagle App - Organize icons & images with Colors
Before searching for more free icon, check out Eagle App! Eagle App is an App for designers who works with any kinds of digital materials, it lets you batch save icon and image online with just a simple click, then organize and browse it easily using filters, categories and even with colors!
It supports over 81+ formats including icon, images, 3d objects, videos, fonts, RAW files and more! Eagle has many great UI especially helpful for designers to store and grab assets, and bring them into Figma, Photoshop, Illustrator, or other graphic design software with a quick click and drag.
Website: en.eagle.cool
1. ICONFINDER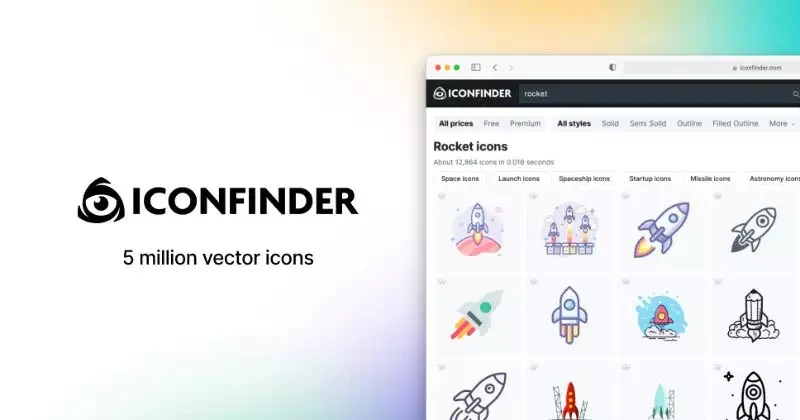 ICONFINDER is an icon search engine with a clean interface design that is well known among designers. You can find a large number of high-quality icon materials with colors as you enter the keywords!
Usage instructions:
ICONFINDER contains paid and free icons. If you want to find ICON that can be used for free commercial use, remember to check "Free" on the left side of the search result.
---
2. flaticon

Flaticon is an affiliated website of FreePik. The biggest feature of this search engine is that it will only find "free and commercially available" icons. How awesome is that!
Moreover, the ICON icons found include vector graphics files and general graphics files, which can be used by designers for work as you download.
Usage instructions:
The attribution needs to be added to the product for free usage, even if this is for personal use. For commercial usage needed to purchase the license.
---
3. FIND ICONS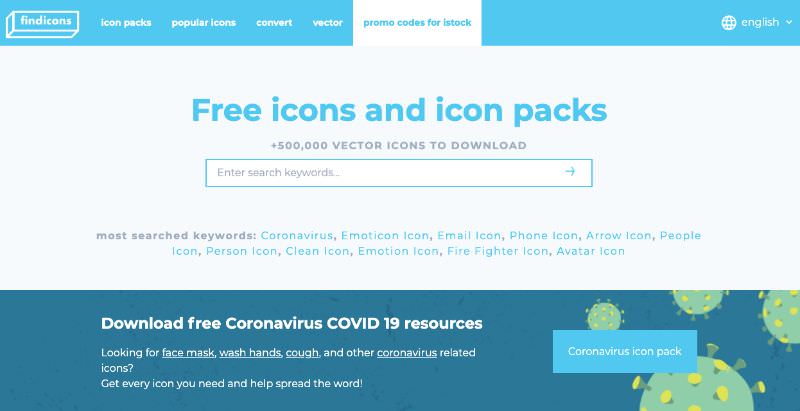 FindIcons.com is an icon search engine that helps you find free icons. It is said they have the largest searchable free icons database in the world with a search filtering and result matching system to make it easier for your design task.
The search engine looks a bit antique and traditional, but I believe there must be some designers who need this icon design style.
Usage instructions:
Each license usage are listed on each icon, please check the usage before you download.
---
4. IconArchive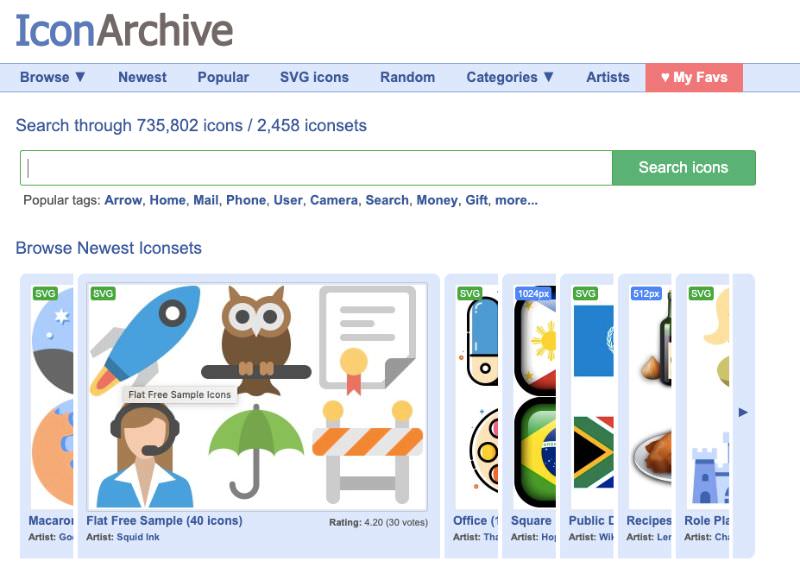 IconArchive is also a search engine for a large number of materials, and it contains not just interface buttons but more texture style icons it also has many comic patterns with various themes.
What's special what IconArchive is that it provides Up and Downvoting to improve search results and sort your results by color. You can collect, organize & share your favorite icons here with ease.
Usage instructions:
select "commercial-free" on the left to find icon materials that can be used for free commercial usage.
---
5. GraphicBurger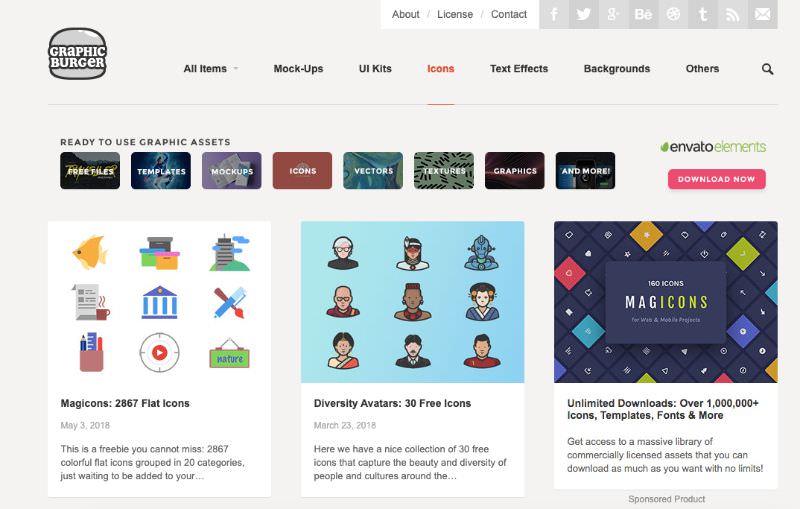 GraphicBurger is a website with premium quality design resources that are offered for free to the community. Here you can even find exclusive PSD files to modify each icon. If you're looking for cute icons don't miss out GraphicBurger!
Usage instructions:
All resources available for download on GraphicBurger, including but not limited to Logo MockUps, Product MockUps, Text Effects, Icons, User Interfaces, Illustrations, Background Images are royalty free to use in both personal and commercial projects.
No attribution or link back to this site is required, however any credit will be much appreciated.
---
6. Premium Pixel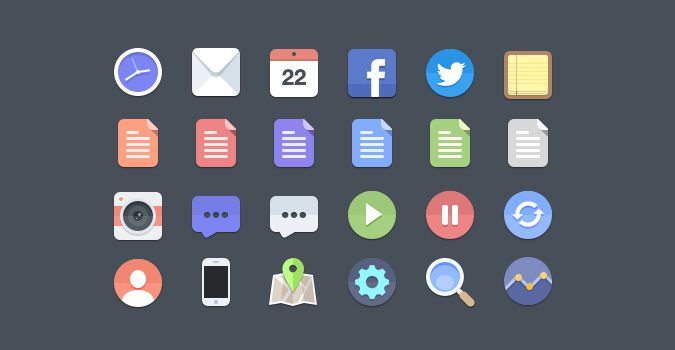 Premium pixels are free icons selected by experts you can search for various high-quality free materials. It also contains a large number of interface icon packages just for dummies if you dont know how to choose, isn't it thoughtful!
Usage instructions:
All resources are offered free of charge with very little restriction.
---
7. Freebiesbug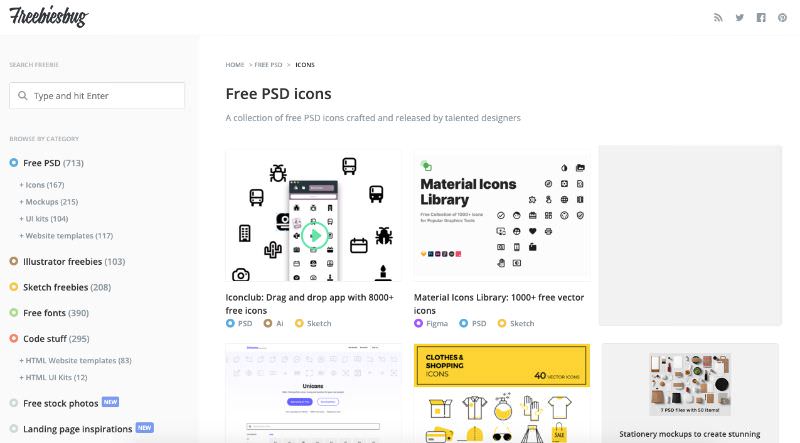 A collection of free PSD icons crafted and released by talented designers. As the website name suggests, it provides a large number of freebie Photoshop-specific materials.
Usage instructions:
You can use the icons in personal projects. However, for commercial projects check before you use it since every author's requirements are different.
---
8. IcoMoon app
IcoMoon is striving to build and provide the best iconography and icon management tool for perfectionists. All of the icons are designed on a precise pixel grid. The IcoMoon app lets you build and use your own icon packs in many different formats including SVG, Polymer, PDF, XAML, CSH, icon font with ligatures, or good old PNG/CSS sprites.
Usage instructions:
Each of the icons has a license link that you can refer to. Aside from these free icon packs, IcoMoon also provides 3 high-quality premium icon packs which can only be purchased separately.
You can download these icons, do some basic editing, import your own icons, make icon fonts (a font with icons as its glyphs) or generate icons in SVG, Polymer, PDF, XAML, PNG and CSS sprites.
---
9. Squid Ink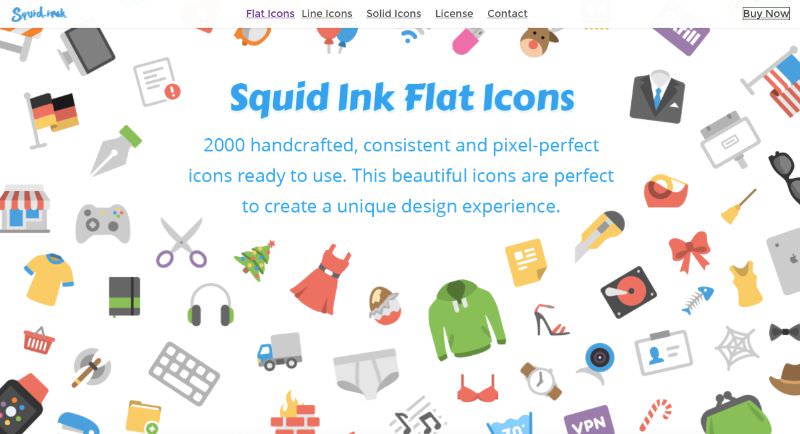 Looking for another cute icon place to download? Squid Ink provides 5 different formats for 2000 icons in 17 categories allows you to change colors or layer styles, move and re-size every single element and layer in no time.
Usage instructions:
For free, You can use 50 icons in personal and commercial project
---
10. Freepik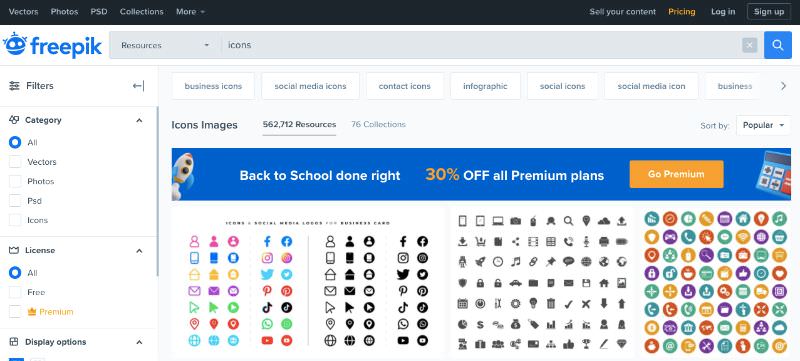 I'm sure many of us are familiar with FreePik, if you haven't heard of it it's time to check out! It is an amazing online resource that offers a lot more than just icons. They have a huge collection of vector images, illustrations, photos, and PSD files free to download.
Usage instructions:
require attribution for each resource.



Having problem sorting icons and keeping them neat and tidy on your computer? Try Eagle
---
11. iconstore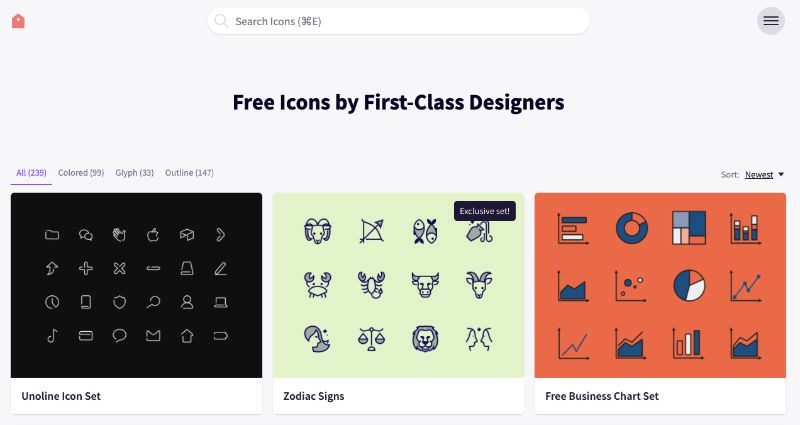 The IconStore is a library of free, vector (SVG) icons created by talented designers to download for commercial use.
Usage instructions:
You can use the icons in personal and commercial projects, no attribution is required but it would be appreciated.
---
12. icon8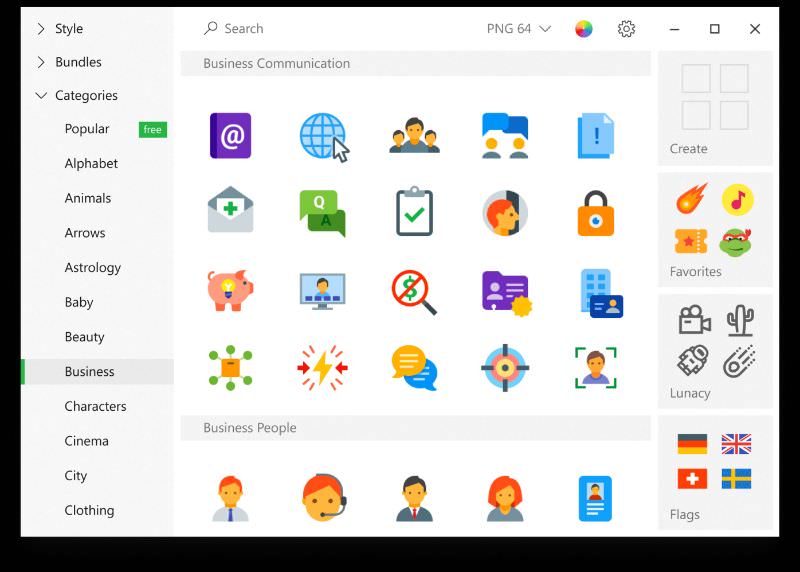 The website was originally a free resource website dedicated to providing free icons. At present, the Icons8 website not only provides free icons it also contains free high-definition pictures, free vector graphics, and free music usage.
They also got a powerful icon-editing function, which allows you to freely adjust the color of the icon, add text to the icon… etc. You can also change the icon background, size, position, shape… right on the browser.
If you need to embed icons into websites and programs just click the "Embed HTML" button, various Embed methods will be displayed!
Usage instructions:
You can use icons for free with a link to icon8 either commercially or not.
Please note that it's not allowed to resell and redistribute original icon files to third parties.
---
13. Oxygenna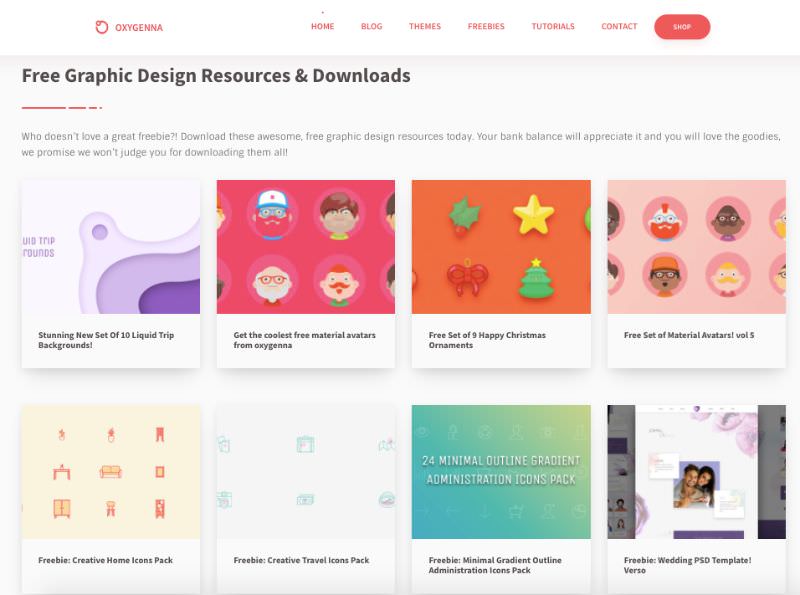 Oxygenna is a small creative design agency specializing in web design & apps. They provide free resources for designers to enhance their workflow. You can download these awesome, free graphic design resources all available in Photoshop, Illustrator and PNG format.
Usage instructions:
Feel free to use them as you like on any personal or commercial project.
---
14. 1001freedownloads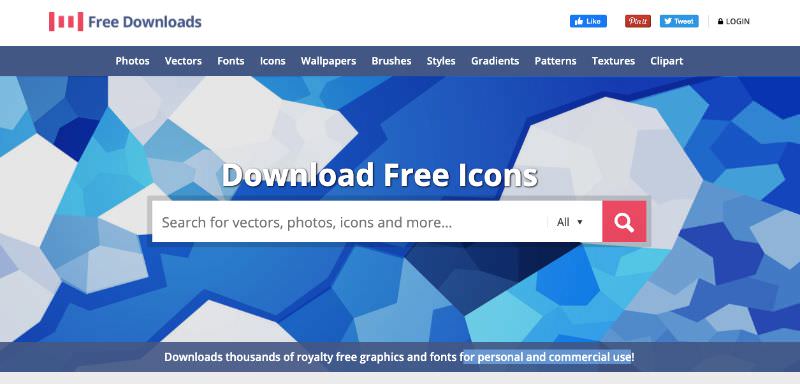 At 1001FreeDownloads they help you scour the web in search of the best and most attractive free graphics for designers and it's constantly expanding its content. It currently features thousands of free vectors, photos, brushes, gradients, PSDs and fonts. It also produces own high-quality graphics and offers them exclusively here on their site.
Usage instructions:
for personal and commercial use, attribution appreciated
---
15. iconshock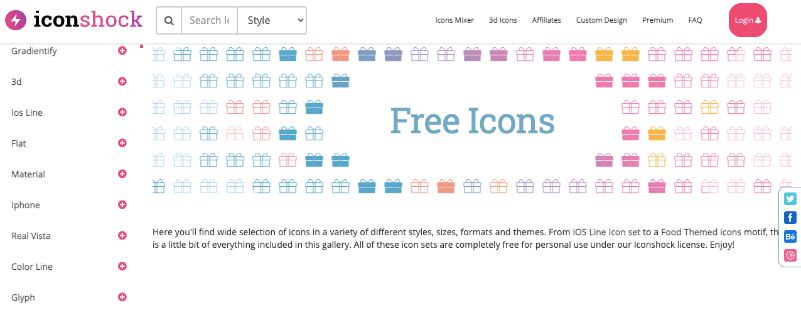 Here you'll find a wide selection of icons in a variety of different styles, sizes, formats, and themes. From iOS Line icon set to a Food-Themed icons motif, there is a little bit of everything included in this gallery. All of these icon sets are completely free for personal use under Iconshock license.
What I like about iconshock is that they offer 3D icons, they have a huge collection with a neat 3D design style delivered in 4k resolution with dimensions of 4000x4000px, in front and view perspectives and 5 different color palettes!
Usage instructions:
free for personal use
---
16. pngtree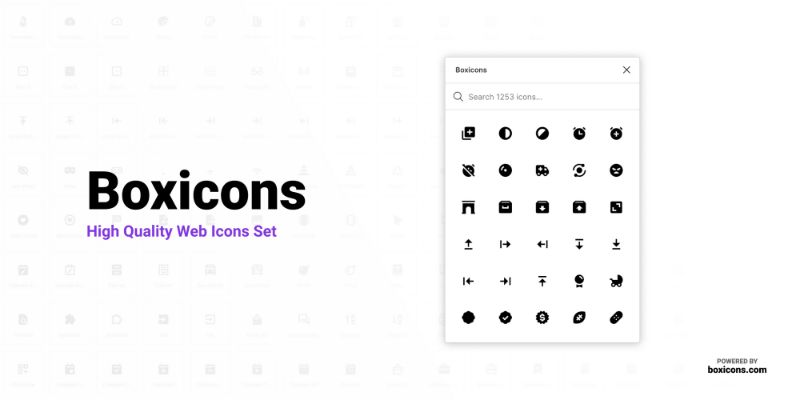 Pngtree has millions of high-quality pngs, vectors, templates, and creative illustrations. For years, it provides various image content for convenient or commercial use for 30 million designers and users!
Usage instructions:
Free usage attribution required
---
17. google fonts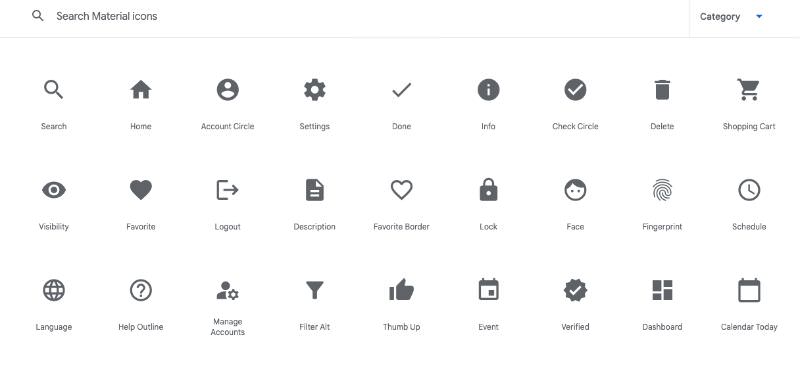 The icons are provided by Google for free. If you are developing an Android App or if you are still developing a new ICON for a new interface, then you might consider taking a look at this free download provided by Google.
Material Design Icons are available in five styles and a range of downloadable sizes and densities. The icons are based on the core Material Design principles and metrics.
Usage instructions:
free for everyone to use.
---
18. steamline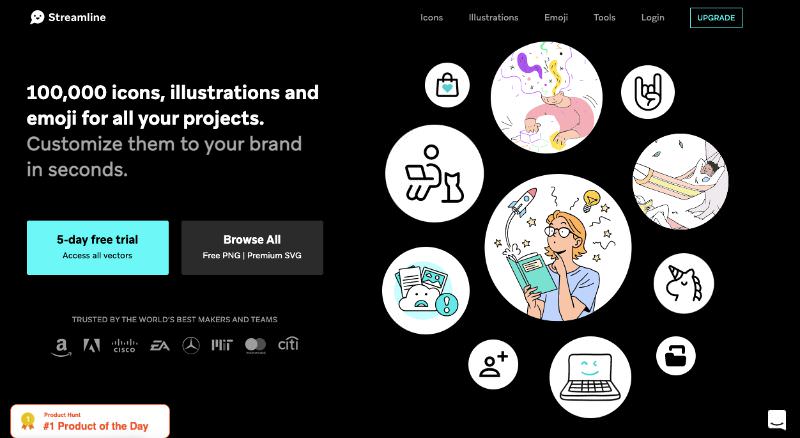 With 12 different styles and an impressive choice of themes, you will always find the right icon for your projects here in Streamline. You can find 100,000 icons, illustrations, and emojis for all your projects. All built from scratch by steamline team, searchable through their app or plugin for Figma, Sketch and Adobe XD.
Usage instructions:
Free to use attribution required
---
19. fontawesome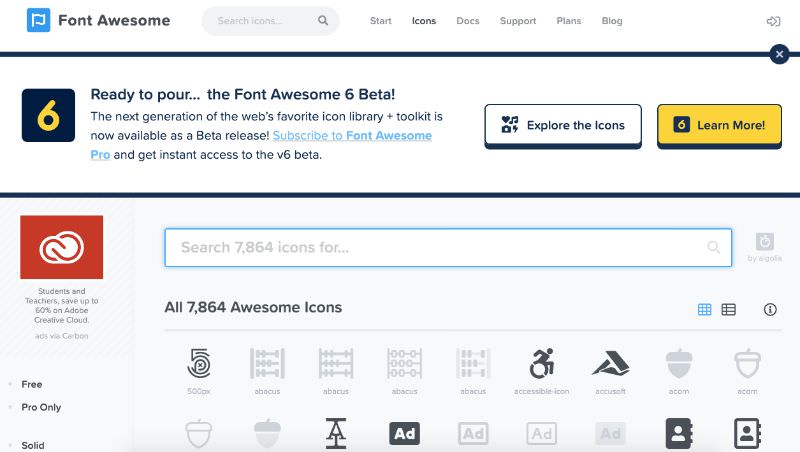 You can place Font Awesome icons just about anywhere using a style prefix and the icon's name so that icons take on the characteristics and appear alongside text naturally.
Font Awesome is designed to be used with inline elements, and they recommend sticking with a consistent HTML element to reference them by in your project.
Usage instructions:
Press the free category for free and commercial usage.
---
20. Dribbble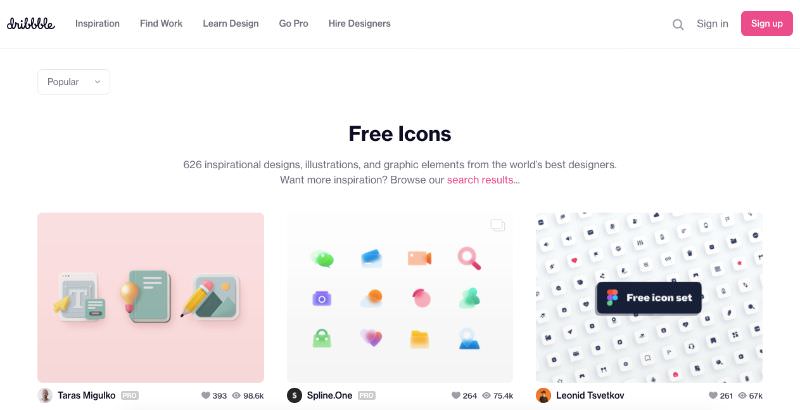 Dribbble is a world-class designer-sharing platform. You can think of him as the Facebook of the design world. Designers from all over the world will publish works on it, including graphic, animation, UI, Web, and illustrations. You can now discover 500+ Free Icons designs on Dribbble and connect with designers worldwide.
Usage instructions:
Each icon information is listed on each icon's detail page. Click on any page to get more details on it.
---
21. UXwing

UXwing is a team of experienced icon designers specialized in hand-crafted vector icon drawing. They help designers and developers to create great-looking mobile app, website design, web app design, product design and many other creative works for clear visibility in high-resolution devices.
All icons are available scalable Vector SVG, Transparent background PNG, and web font icon format. Icons are compressed with losing the quality that helps to load icons really fast. UXwing have three main categories solid, line, color and 150+ subcategories which help you to find instant icons.
Usage instructions:
All icons are free for any personal and commercial use without attribution.
---
22. iconfactory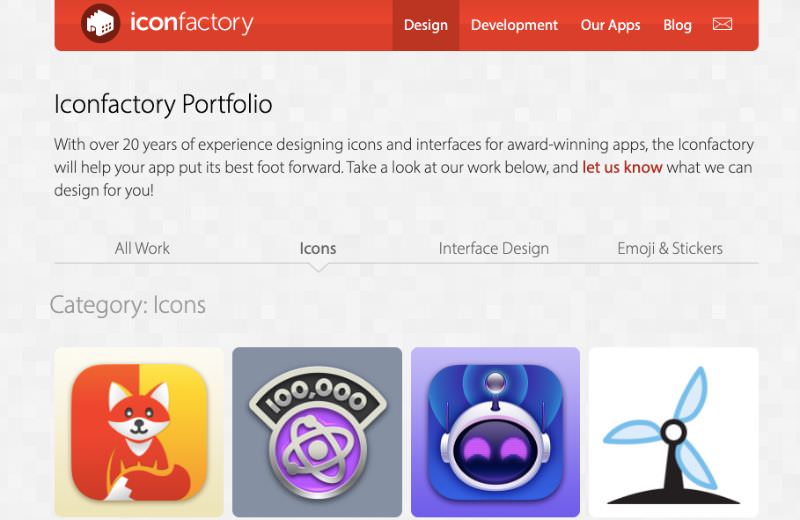 Iconfactory team had its humble beginnings over twenty years ago designing freeware icons and software.
Usage instructions:
Icons are strictly for personal use and all copyrights remain the property of their respective holders.
---
23. thenounproject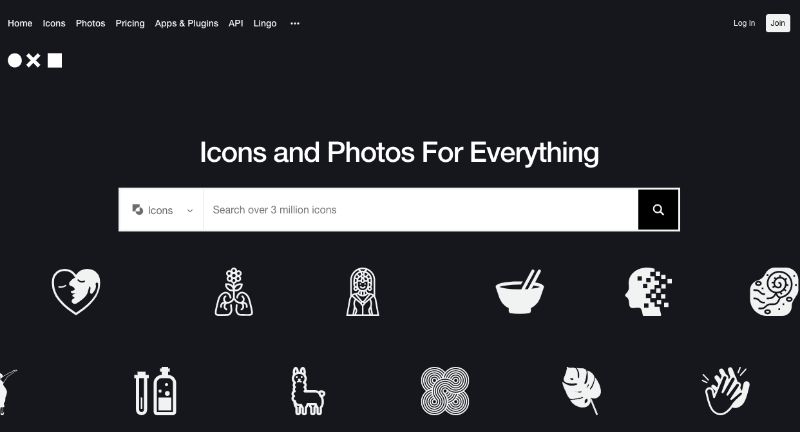 Thenounproject is a community of designers from 120+ countries, they made icons to become some of the most universal communication tools available, crossing language and cultural boundaries. No matter you are searching for icons for Artificial Intelligence or icons for UI elements or even Beyoncé, they've got you covered.
Usage instructions:
License information is listed on each symbol's detail page. Click into any symbol to get more detail on it.
You can use the icon for free as long as you attribute, or pay via a NounPro subscription, pre-paid credit or a single $2.99 purchase to not have to attribute.
Website:
https://thenounproject.com/icons/
---
24. DeviantArt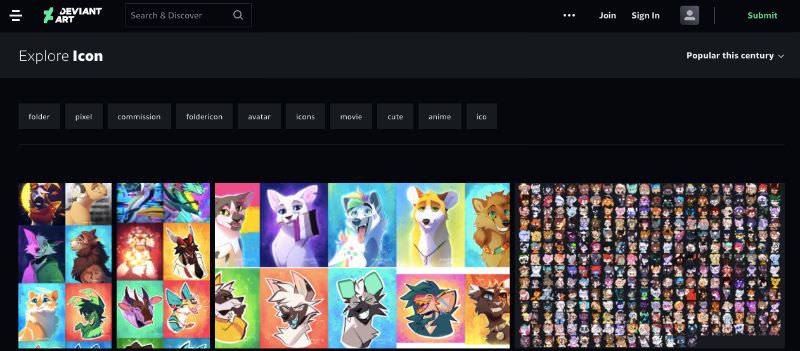 DeviantArt is a vibrant community of artists with almost 200,000 free icons available for download. If you are looking for more animate style icons check DevianArt it will never go wrong!
Usage instructions:
Attribution requirements range, so be sure to check it before downloading. Some artists also require that you are a member of the DeviantArt community.
---
25. iconmonstr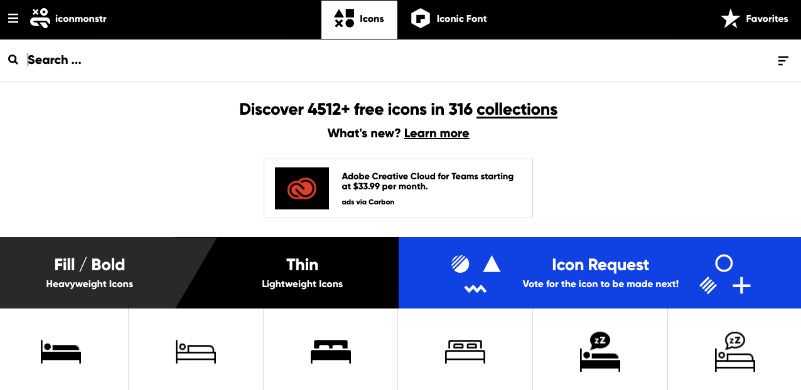 The iconmonstr offers 4512+ free icons in 316 collections, icons here are only black and white. There are all designed in Fill/Bold and Thin. Each icon is available in SVG, EPS, PSD and PNG formats. The SVG format also has embedded code. You can change the image online by selecting the PNG format. Basic editing such as size, color, and background color.
Usage instructions:
All icons are free for any commercial use.
---
26. softicon

SoftIcons.com allows downloading icon sets free of charge (at least for personal use). The catalog contains 475,655 icons/images in 2,849 sets free of charge. Since March 19, 2010, when the first icons were added, the catalog has been growing exponentially. Each week 9 new icon sets are added.
Usage instructions:
All the icons are free for personal use on your computer. For information on the possibility of public use (for commercial or non-commercial purposes), please read the license agreement on the respective icon set.
---
27. fontello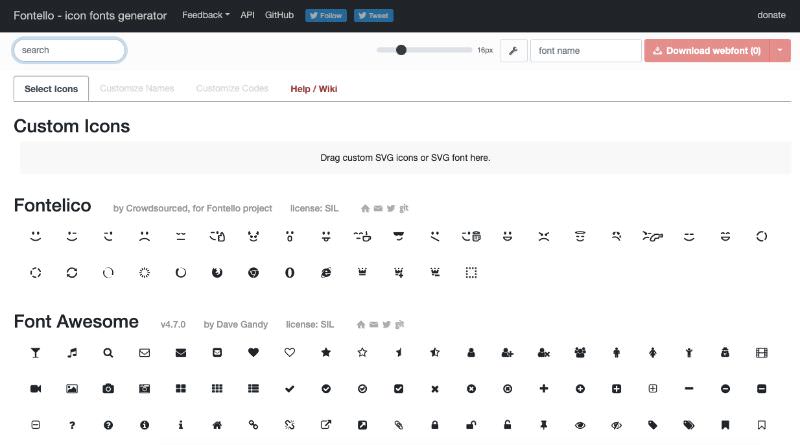 Fontello is a tool to quickly pack vector images into webfonts. Consider it like Twitter Bootstrap, but for images. It builds everything necessary to include graphics into your web pages. Also, fontello has a big built-in collection of open source artworks.
The best about fontello's icon is that there's no pixelation or blurring on high-resolution screens, browser support is as good as it needs to be.
Usage instructions:
All licenses are defined by original fonts authors. Fontello doesn't add any additional requirements. License type is shown on the right from font name.
---
28. veryicon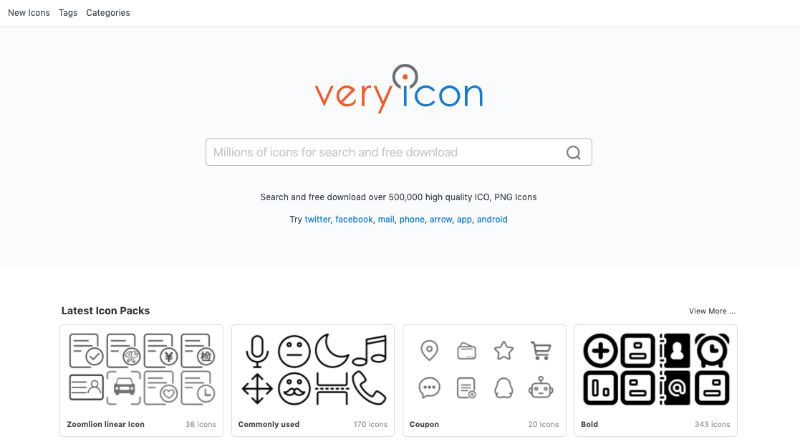 The VeryIcom.com is an icon search engine, it covers 20000 high-quality web icons in more than 1000 icon packs. Each Icon has serval file formats such as PNG, ICO, you can browse and download it free for Windows, Macintosh and Linux Systems.
Usage instructions:
All the icons can be free used for non-commercial, but part of the copyright belongs original author, if you want to use icons for commercial purposes, you have to pay to obtain the author's License agreement.
---
29. Boxicons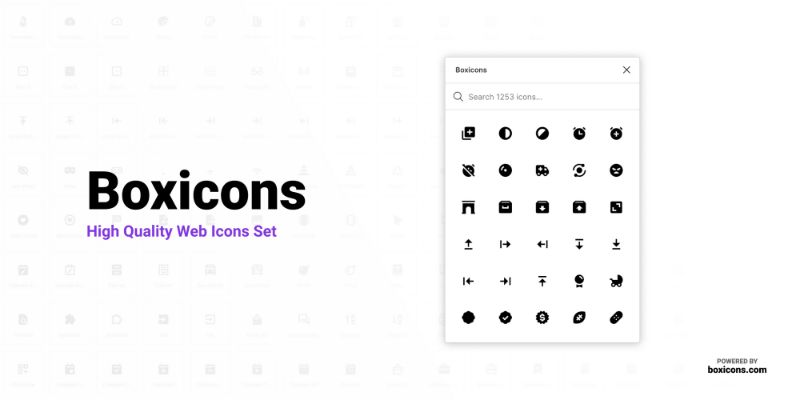 Boxicons is a carefully designed open source iconset with 1500+ icons. It provides simple vector icons carefully crafted for designers & developers to look enrich your website/app experience.
Usage instructions:
Boxicons is an open-source project , you can use them in your commercial projects too. The icons (.svg) files are free to download and are licensed under CC 4.0 .
Website:
---
30. Feather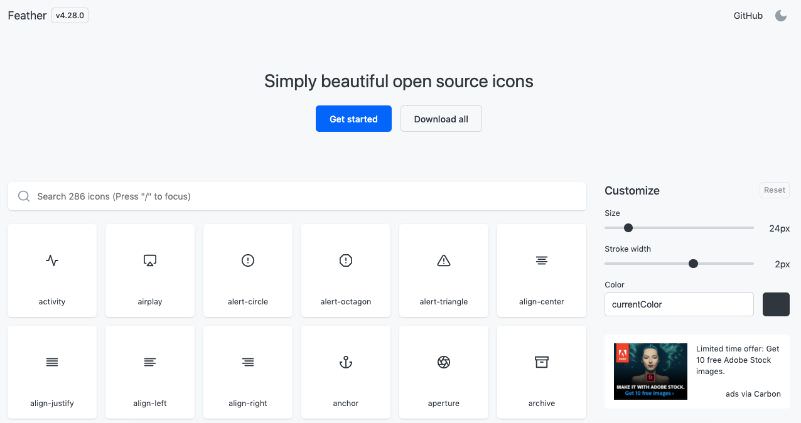 Feather is a collection of simply beautiful open source free icons. Each icon is designed on a 24x24 grid with an emphasis on simplicity, consistency, and flexibility.
Usage instructions:
Feather is a collection of SVG files. This means that you can use Feather icons in all the same ways you can use SVGs.
Website:
---
Conclusion
In total, there are probably more than millions of unique icons that you can download. But, it's not just about the quantity, you'll have to make sure the quality is right for your projects as well! Don't forget to give the author attribution your attribution is much appreciated.
If you are looking for a place to organize all your downloaded icon assets, don't forget to try Eagle. Eagle is a powerful digital assets management software especially made for designers to store icons and make your workflow easier and more productive!