26 Best Free Image Optimization Tools for Image Compression
Whether you're a designer, blogger, or salesperson, there are always moments when you need to compress images. For example, if you want to create a quick-load website, you mustn't upload full-size images otherwise it will hurt the rankings of your site.
Luckily, there are lots of free online image optimization tools for image compression, and they don't reduce the resolution too much. Let's take a look!
---
How to choose the tool for image compression
First, we should get to learn the differences between compression, resize, and convert.
Compression
Compression is a technique to reduce the file size while maintaining its resolution. This is mainly used for the condition when you need to accelerate websites' speed or save the storage of your computer. However, too much compression may reduce the image quality, so it's important to find the balance between speed and visuals. We'll explain more in the following paragraphs.
Resize
Resizing is changing the visual dimension of the image. For example, you can take a 1920 pixels width by 1080 height image and resize it down to 480 pixels width by 270 height, making it possible to fits in the constraint of its placement on your webpage or any online forms, and it will also reduce the file sizes.
Convert
Compare with the above two, convert is a way more different concept, which is meant to change the file formats into different types. Typically, converting an image will also change its size, but keep the dimension the same.
To choose a tool that best fits you, here are some criteria for you to evaluate:
The types of the file that the tool supports
Not all the compression tools support any type of file, so make sure the one you're going to use meets your needs.
The ways to upload
Some allow you to upload the images with URLs or directly from the cloud storage, which could save you some time and make this process more convenient.
Restriction of uploading
If you need to batch upload, make sure to check out the maximum amount and size of uploading.
The ways to download the compression results
Generally, there are three ways to download the compression results, including download by each, as a ZIP file, or can be directly downloaded to the cloud storage.
Privacy Statement
Using the compression tool also means you're uploading your images to their web host, so you need to confirm how long will they delete the uploaded images, to protect your privacy.
---
Top 26 tools for image compression
1. Caesium Image Compressor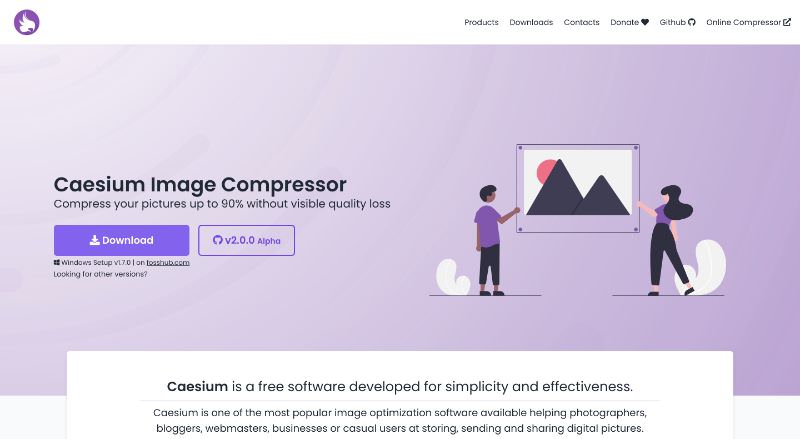 image from Caesium Image Compressor
Image from Caesium Image Compressor
Caesium Image Compressor is a free software developed for simplicity and effectiveness, and it's especially aimed at helping photographers, bloggers, webmasters, businesses, or casual users at storing, sending and sharing digital pictures.
It provides a simple interface with a real-time preview and multiple image processing at the same time, Command Line Tool and online version include. Though the program is absolutely user-friendly, you still need to spend some time learning all the tools. During this period, you can reach out to a reliable image manipulation service and have your photos optimized by experts on short notice.
Platform: mac OS, Windows, Web
Website: https://saerasoft.com/caesium/
---
2. TinyPNG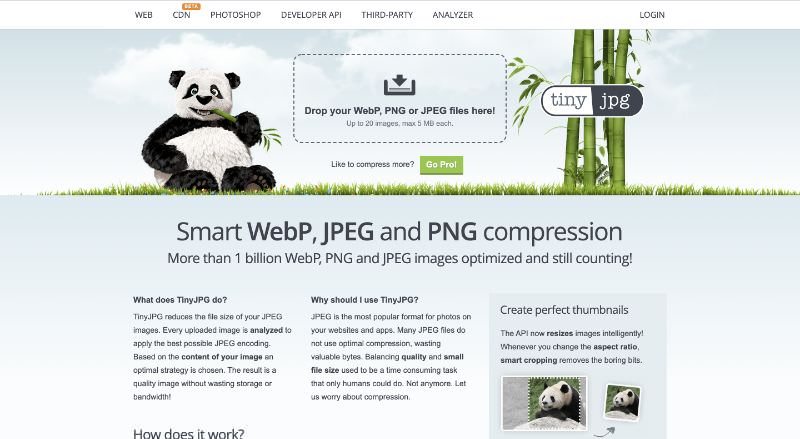 image from TinyPNG
Image from TinyPNG
TinyPNG is one of the oldest and most well-known free image optimization tools. This one works great for JPEG and PNG image files. It allows you to upload up to 20 images in one go and up to 100 images a month. The image size for each image cannot exceed 5 MB, but for most that won't be an issue. After the compression, you can download the compressed images to your computer or easily save them to Dropbox.
It also offers a WordPress plugin and Magento extension, so that you don't have to go to navigate away from your own website to compress your images.
Platform: Web, WordPress plugin
Website: https://tinypng.com/
---
3. JPEG Optimizer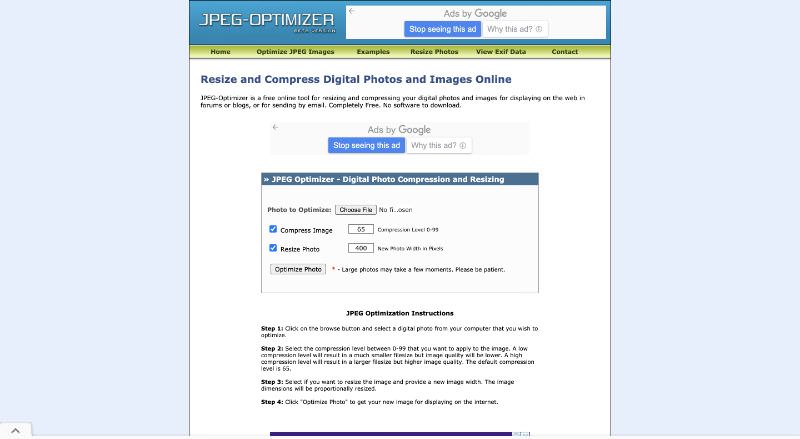 image from JPEG Optimizer
Image from JPEG Optimizer
JPEG Optimizer is a free online tool for resizing and compressing your digital photos and images for displaying on the web in forums or blogs, or for sending by email. Completely Free, has no software to download, but only supports JPEG files.
What's great about JPEG Optimizer is that it allows you to resize your images before you optimize, and helps you save, even more, loading time for your site. It also allows you to select your own optimization level since you'll want to find the sweet spot between preserving quality and saving space.
Platform: Web
Website: http://jpeg-optimizer.com/
---
4. Imagine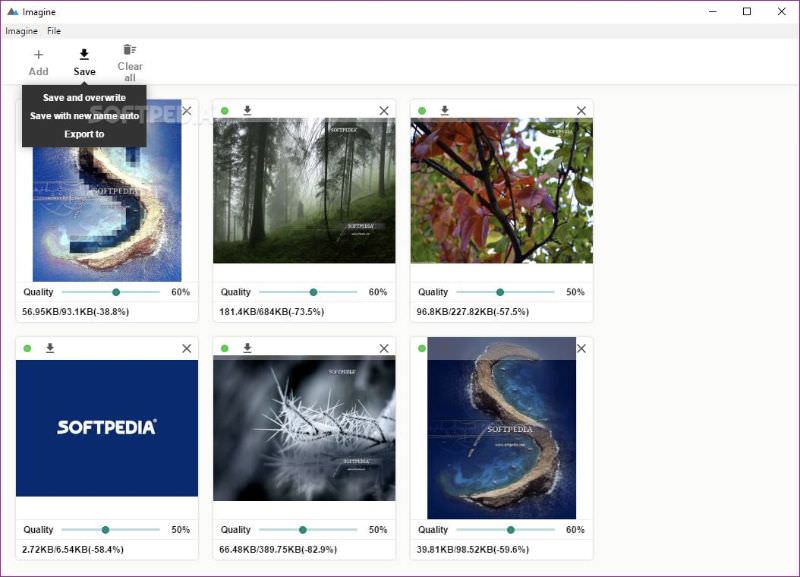 image from Imagine
Imagine is a PNG and JPEG optimization app for macOS, Windows, and Linux. It's Electron-based, supports batch processing and drag and drop. Another compelling feature is the app's Before/After preview engine, which provides a clear view of the impact the optimization process has on your pictures' quality.
Platform: macOS, Windows and Linux
Website: https://github.com/meowtec/Imagine
---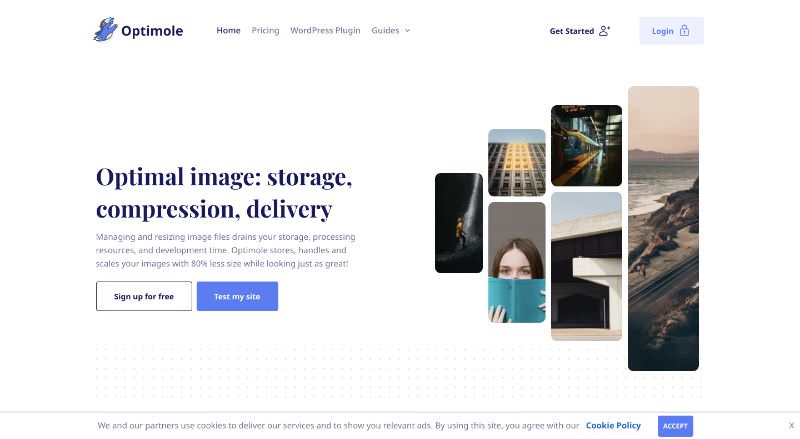 image from Optimole
Image from Optimole
Optimole is a popular image compression tool and optimization plugin. It can compress, resize, lazy load and host your images on the ThemeIsle's CDN. The best part is you can install the WordPress plugin on your site and easily optimize your images without having to do much.
Platform: Web, WordPress plugin
Website: https://optimole.com/
---
6. ImageRecycle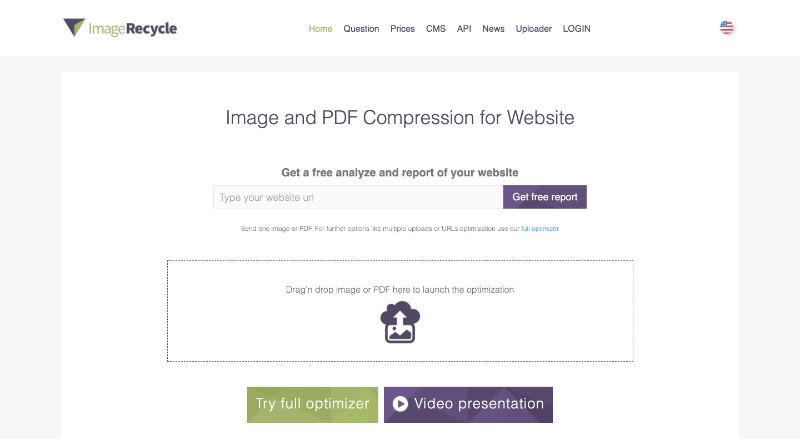 image from ImageRecycle
Image from ImageRecycle
ImageRecycle helps to compress your JPEG, PNG, GIF and PDF files with impressive results. Its drag-and-drop interface lets the optimization work for an easy workflow.
Also, it offers free website analysis, which would return to a free report telling you which images on your site would benefit from optimization to improve your site's performance. For WordPress users, there's an exclusive plugin as well.
Platform: Web
Website: https://www.imagerecycle.com/
---
7. CompressNow
image from CompressNow
Image from CompressNow
CompressNow is another easy-to-use optimization tool that allows bulk upload. You can drag and drop up to 10 JPEG, PNG, or GIF images at once, then set a compression percentage, and voila! Simple and quick.
Platform: Web
Website: https://compressnow.com/
---
8. Online Image Optimizer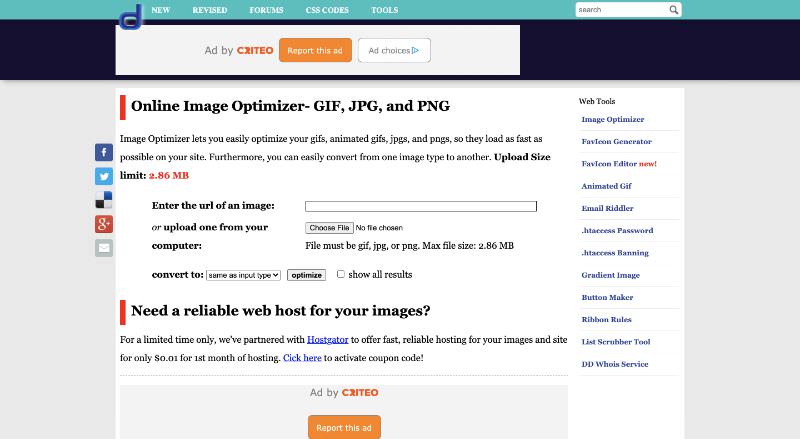 image from Online Image Optimizer
Image from Image Optimizer
Image Optimizer lets you easily optimize your GIFs, animated GIFs, JPGs, and PNGs so that they could load as fast as possible on your site. It lets you upload images via URL, which means you can optimize images already on your website. Furthermore, you can easily convert from one image type to another.
However, it has an upload size limit of 2.86 MB for each image.
Platform: Web
Website: http://tools.dynamicdrive.com/imageoptimizer/
---
9. GiftOfSpeed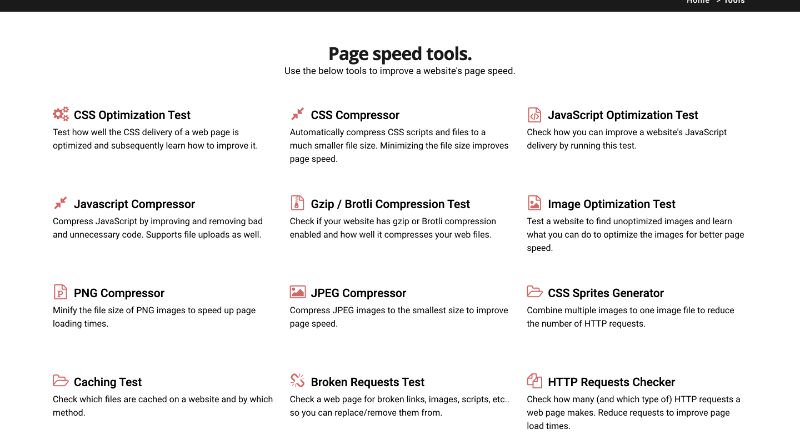 image from GiftOfSpeed
Image from GiftOfSpeed
GiftOfSpeed is a compression tool to optimize your PNG and JPEG images. It applies multiple image compression techniques to minimize the file sizes to the lowest size possible. The downside of this tool is that the batch compression function only works for PNG files, not for JPG ones.
Platform: Web
Website: https://www.giftofspeed.com/tools/
---
10. Image Resizer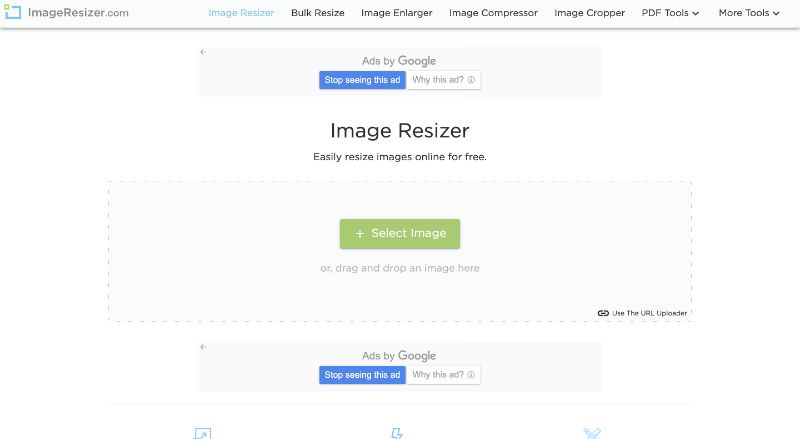 image from Image Resizer
Image from Image Resizer
Image Resizer is a very versatile picture editing software. It can do cropping, compression, enlargement, batch adjustment, etc., and even the mutual conversion of various file formats. The maximum uploading range is up to 20 JPG or PNG files, regardless of the file size, and it will automatically delete your images from its web host after 6 hours.
Platform: Web
Website: https://imageresizer.com/
---
11. iLoveIMG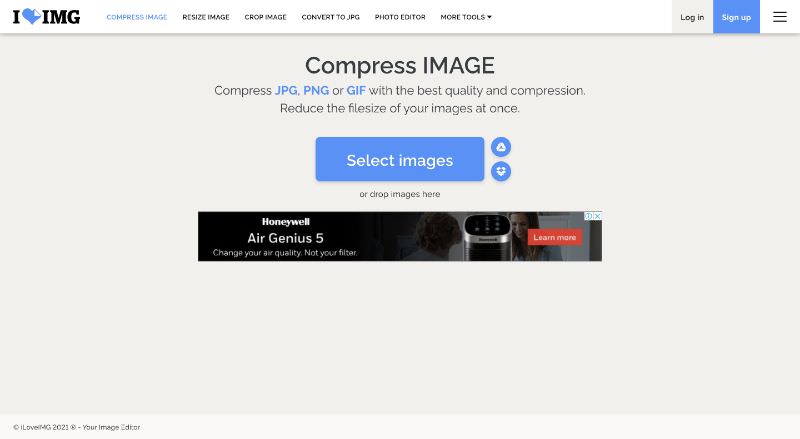 image from iLoveIMG
Image from iLoveIMG
iLoveIMG helps you compress JPG, PNG, or GIF with the best quality and compression. You can upload up to 30 images at once when you sign up, and it allows uploading directly from Dropbox or Google Drive. As for the download options, you get to choose from downloading to the computer desktop, to Dropbox or Google Drive, or scanning the QRcode to save them on your phone.
Platform: Web
Website: https://www.iloveimg.com/
---
12. Photoshop Express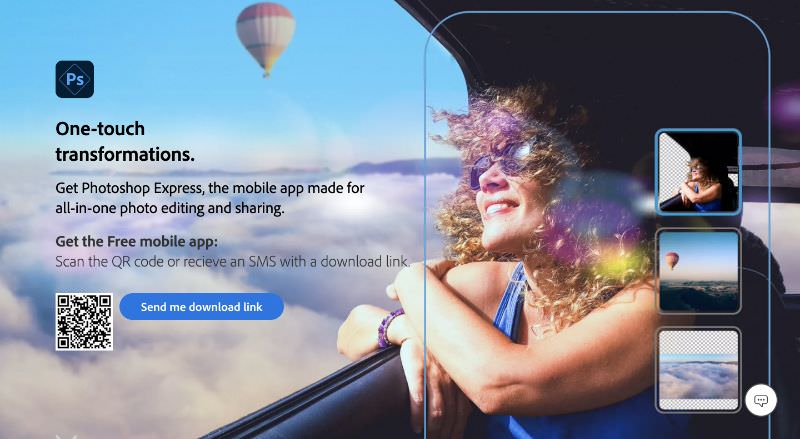 Image from Photoshop Express
Photoshop Express, aka PSX, is a software specially designed for mobile devices, an online version included. It's often used by designers, since, it's capable of connecting with Photoshop. PSX has rich functions such as crop, filters, and remove backgrounds, and it allows you to compress the image right after editing.
Platform: iOS, Android
Website: https://www.adobe.com/products/photoshop-express.html
---
13. Picdiet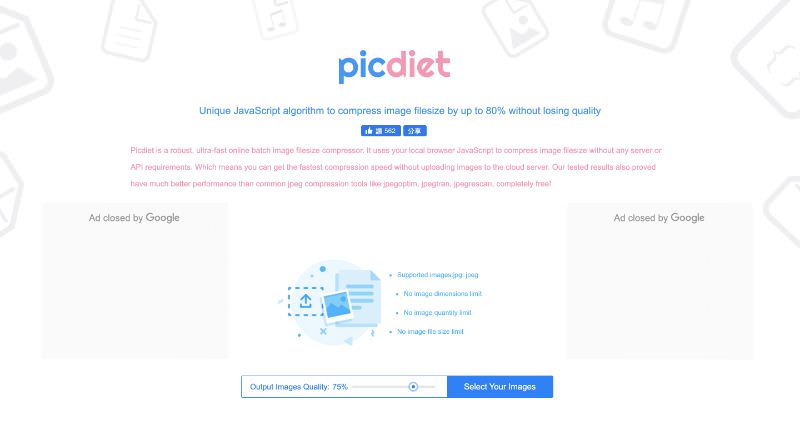 image from Picdiet
Image from Picdiet
Picdiet is a robust, ultra-fast online batch image compressor. It uses your local browser JavaScript to compress the images, which means you can get the fastest compression speed without uploading images to the cloud server and can have more privacy. Though it only supports JPG files, it doesn't have a restriction on file size, dimension, or uploaded amount.
Platform: Web
Website: https://www.picdiet.com/
---
14. Apowersoft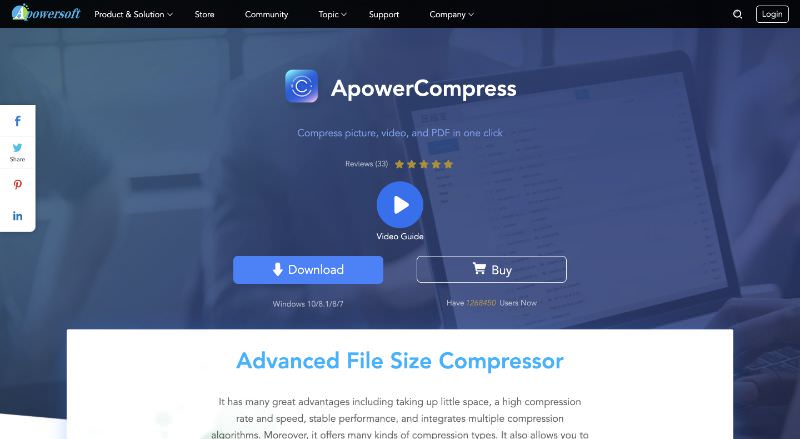 image from Apowersoft
Image from Apowersoft
You can compress JPG, PNG, GIF, TIFF files with Apowersoft, and it deletes your files from its web host after an hour of the compression, a caring policy to protect your privacy. However, it does have a relatively slow speed of compression, and can only download the results in ZIP files.
Platform: Web, macOS
Website: https://www.apowersoft.com/compress-image-online
Squoosh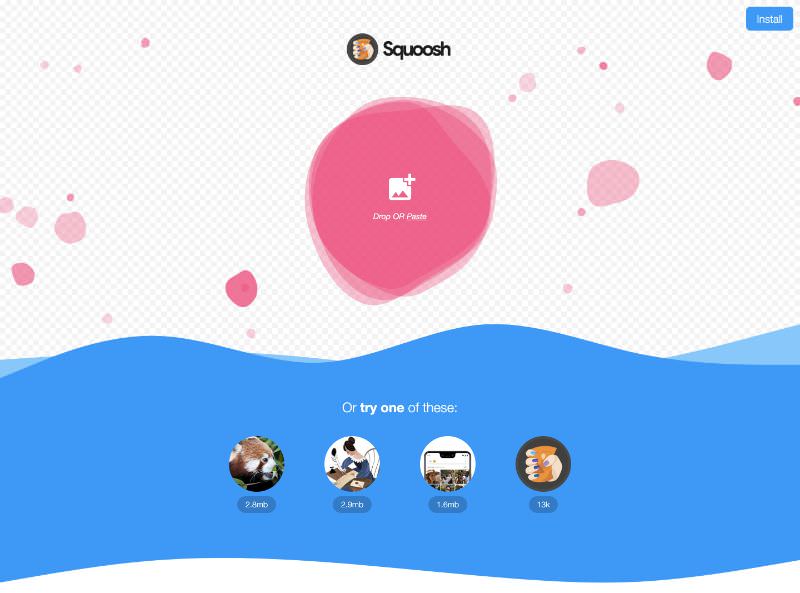 image from Squoosh
Image from Squoosh
Squoosh supports JPG, PNG, GIF, and WebP formats. Among them, WebP is the image format that is officially recommended by Google and is also the most suitable for blogs. The compression process of Squoosh can be done online or installed as a computer application.
Platform: Web, macOS
Website: https://squoosh.app/
---
16. ShortPixel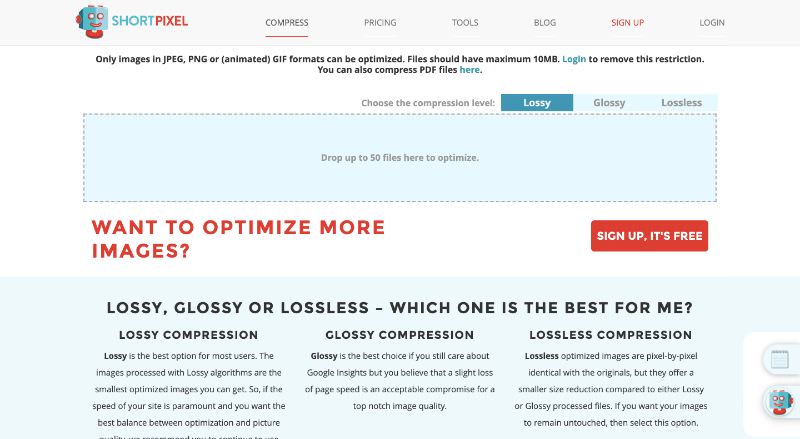 image from ShortPixel
Image from ShortPixel
Images in JPEG, PNG, and (animated) GIF formats or PDF files can be optimized in ShortPixel. The maximum uploaded file size is up to 10MB, and it allows you to choose the compression levels within three.
There's also a ShortPixel plugin, an efficient tool highly recommended for WordPress users!
Platform: Web, WordPress plugin
Website: https://shortpixel.com/online-image-compression
---
17. Kraken.io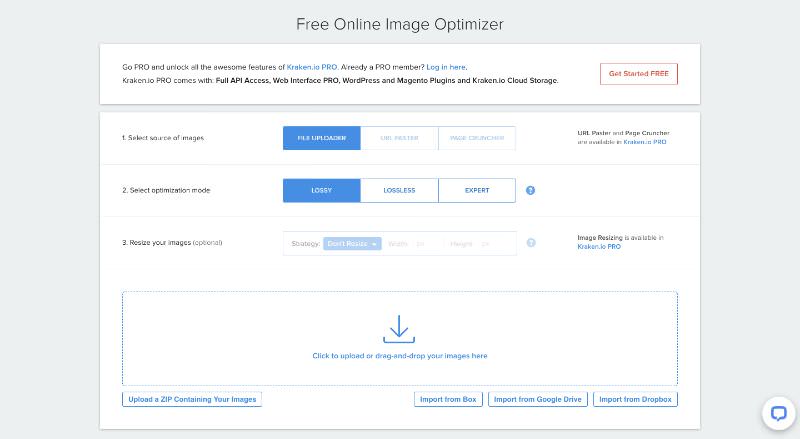 image from Kraken.io
Image from Kraken.io
Kraken.io is a bulk image optimizer. With this, you can optimize bulk quantities of JPEG, PNG, and animated GIF files, and it always optimizes your files for the lowest size, then you can download the compressed photos one at a time or in a ZIP file.
If you're looking for more advanced features, Kraken.io offers a pro version that comes with a slew of other perks like full API access, web interface PRO, WordPress, Magento plugins, and Kraken.io Cloud Storage.
Platform: Web, WordPress plugin
Website: https://kraken.io/web-interface
---
18. Optimizilla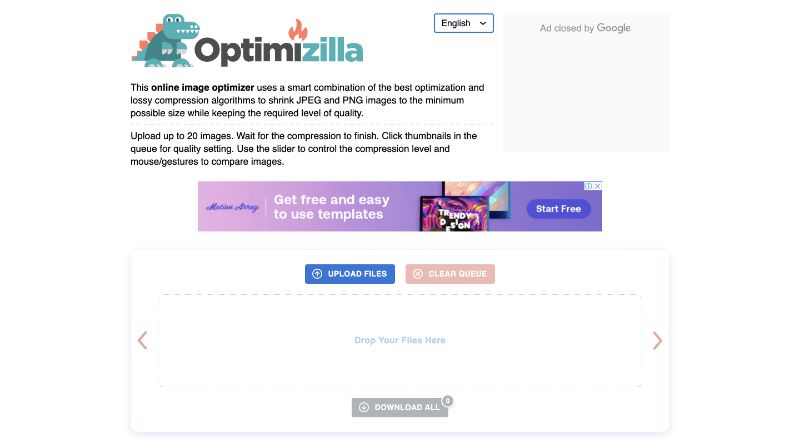 image from Optimizilla
Image from Optimizilla
Optimizilla manages to reproduce great quality in your images with the best optimization and lossy compression algorithms to shrink JPEG and PNG images to the minimum possible size while keeping the required level of quality. You can deal with 20 images at once, great for batch processing, and it also offers a slider for you to control the level of compression, which is considered pretty convenient!
Unfortunately, Optimizilla only works on JPEG and PNG files.
Platform: Web
Website: https://imagecompressor.com/
---
19. Compressor.io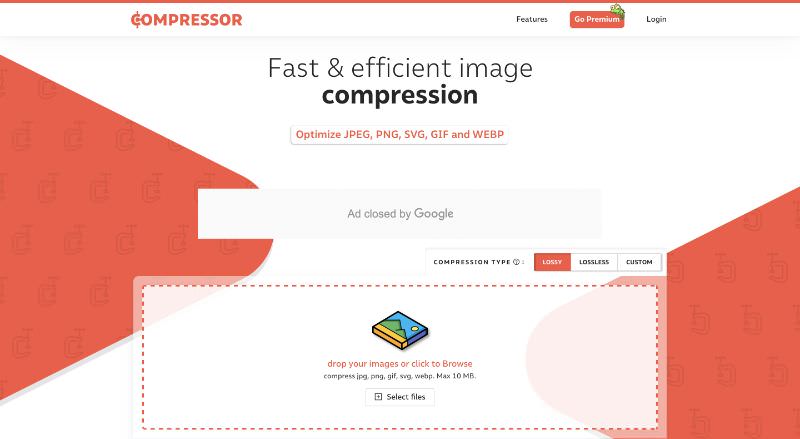 image from Compressor.io
Image from Compressor.io
Compressor.io makes sure that you don't lose the image quality while also achieving high compression results. It allows you to choose the level of compression from lossy to glossy. But there are some downfalls, including you can't optimize more than one image at a time, and you can only compress 50 images per day.
Platform: Web
Website: https://compressor.io/
---
20. ResizePhotos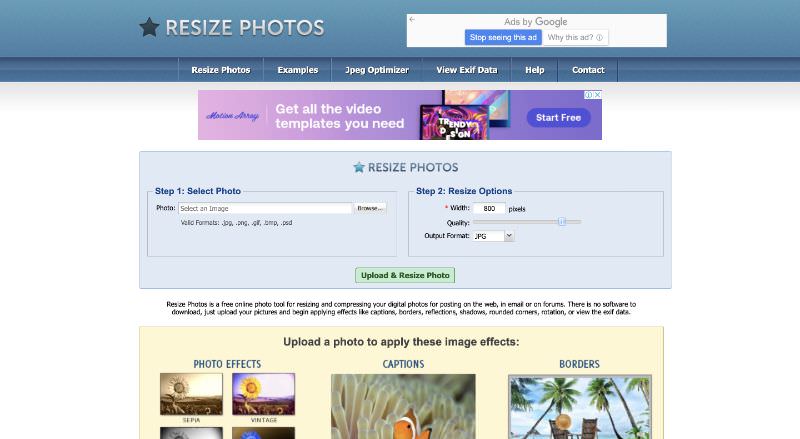 image from ResizePhotos
Image from ResizePhotos
ResizePhotos is a compression tool with a simple interface, and it supports many file formats, such as JPG, PNG, GIF, BMP, and PSD files. You can also adjust the image size, and choose how much you'd like to compress, pretty function-rich. However, the compression speed is relatively slow.
Platform: Web
Website: http://www.resize-photos.com/
---
21. JPEGmini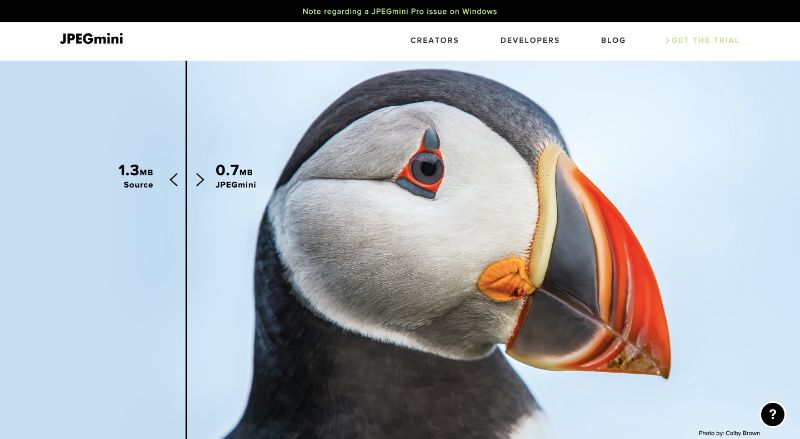 image from JPEGmini
Image from JPEGmini
JPEGmini is a patented photo recompression technology, which can shrink the file size of your images without taking away the quality. It has a quite good interface, which allows you to see the before and after versions by using the slider. Also, there's an option to upgrade to their Pro version to enjoy more functions.
Platform: macOS, Linux, iOS, Android
Website: https://www.jpegmini.com/
---
22. Convert Image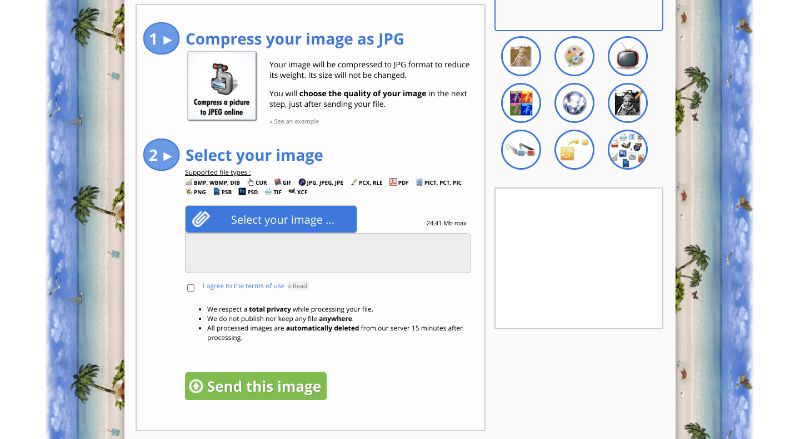 image from Convert Image
Image from Convert Image
Convert Image is a compression tool, especially for JPEG images. You can use it to convert JPEG photos into other file types like BMP, GIF, ICO, PNG, and more. It even has some onboard settings which can reverse your image, crop, straighten an image, etc. And better, it has a complete privacy setting to apply!
Platform: Web
Website: https://convertimage.net/optimize/compress-a-picture-in-jpg-online.asp
---
23. PNGGauntlet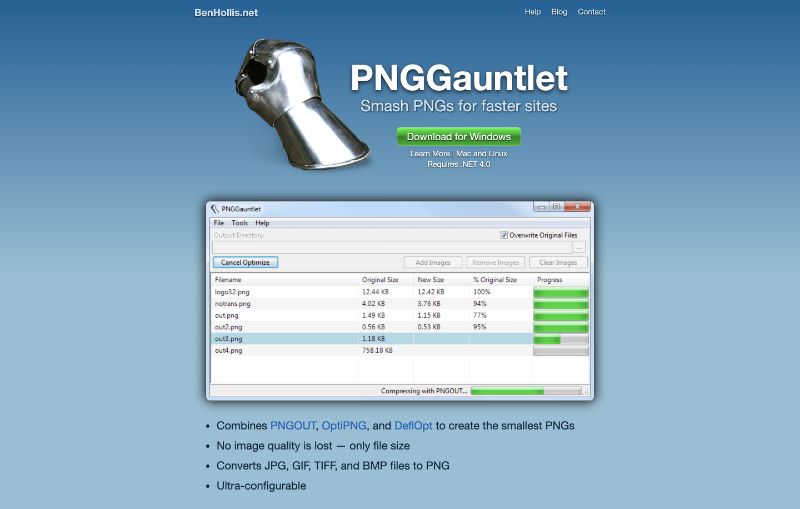 image from PNGGauntlet
Image from PNGGauntlet
PNGGauntlet combines PNGOUT, OptiPNG, and DeflOpt to create the smallest PNGs, and it works without affecting the image quality. Also, the JPG, GIF, TIFF, and BMP files are accepted to be converted and compressed into PNG files.
Platform: macOS, Windows, Linux
Website: https://pnggauntlet.com/
---
24. Trimage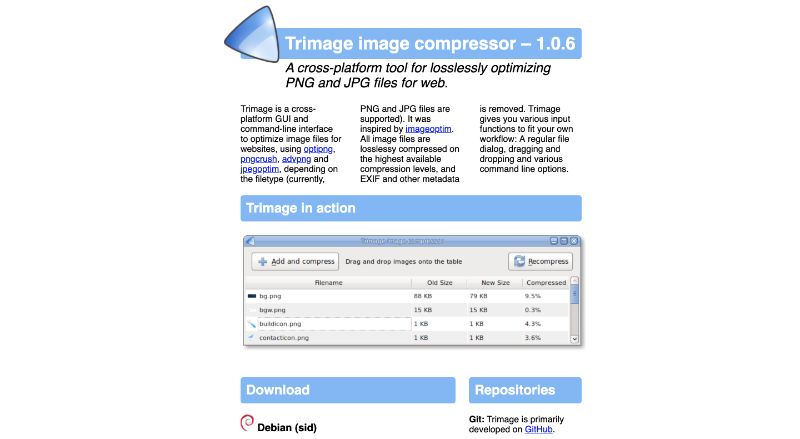 image from Trimage
Image from Trimage
Trimage is a cross-platform tool for loosely optimizing PNG and JPG files for the web, to optimize them to the highest level possible. It works well and is best suitable for Linux users to remove EXIF and metadata from images.
Platform: macOS, Arch Linux, Ubuntu, Debian (sid)
Website: https://trimage.org/
---
25. Pngyu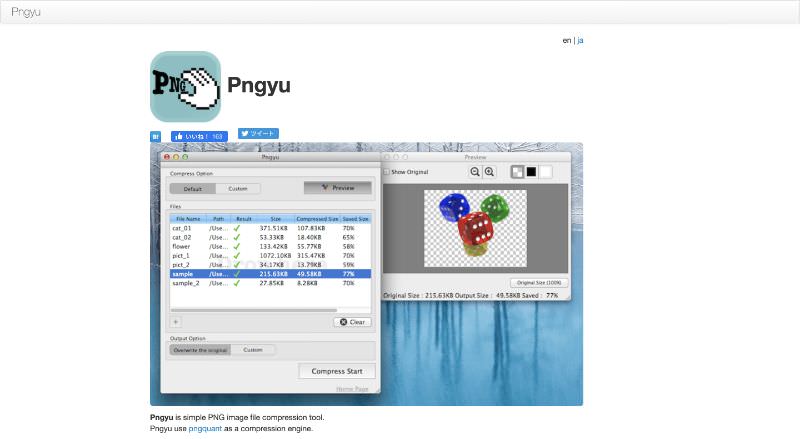 image from Pngyu
Image from Pngyu
Pngyu is a compression tool for PNGs, and it uses pngquant as a compression engine. There are two versions to download, for macOS and Windows users each. It also offers a drag and drops function, which is considered convenient.
Platform: macOS, Windows
Website: https://nukesaq88.github.io/Pngyu/
---
26. Compressor.js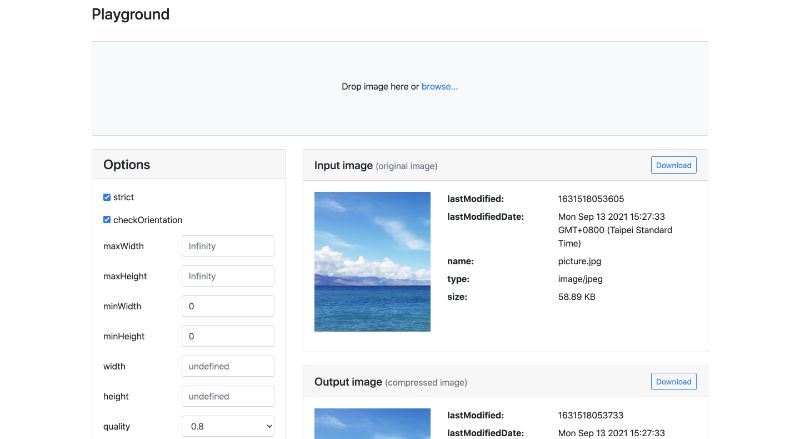 image from Compressor.js
Image from Compressor.js
Compressor.js uses the Browser's native canvas.toBlob API to do the compression work, which means it is lossy compression, asynchronous, and has different compression effects in different browsers.
Platform: Web
Website: https://fengyuanchen.github.io/compressorjs/
---
Organize your images with Eagle
After all this image compression, you got piles of images on your computer, next, to make your workflow easier, you should learn to store them logically. Here, I'll recommend Eagle, a powerful files organizer, to lighten your burden!
It can automatically organize your images by names, tags, or even color. Save you time when finding one and efficiently improve your workflow! Give it a try: https://en.eagle.cool/