How To Write And Design An Awesome About Us Page
The About Us page is by far one of the most important and essential pages on any business website. It helps businesses, creators, and entrepreneurs introduce themselves to their audience in a way that can be truly defining.
This is why spending enough time and effort to write and design your About Us page is one of the first things you should do when you first create your website. Hence, here's everything you need to know about how to write and design an awesome About Us page.
---
How To Write And Design About Us Page Step by Step
#Step 1 Understand the Purpose of an About Us Page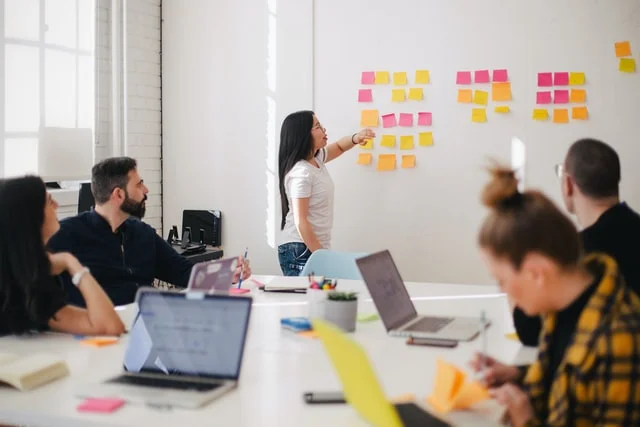 Image fromJason Goodman on Unsplash
First of all, you need to understand the purpose of an About Us page. There are reasons why it is considered one of the most essential pages every website should have alongside the Home and Contact Us pages. Here are the three main goals that an About Us page helps you accomplish:
Share What Your Brand Is About – Your About Us page is where you can share what your brand is about. You can explain what your company does i.e. which products or services you provide. Moreover, you can explain who your audience is if that is a part of your branding strategy (e.g. serving a global audience vs operating locally). This is also where you can explain whether you have a completely online business or you have offline facilities such as offices or shops. However, you may want to provide your addresses and different contact details on your Contact Us page.
Tell Your Company's Story to Potential Customers – Another thing you can talk about on your About Us page is your company's story. You can explain when the company was founded and by whom. You can go through all the major events in your company's history and the plans you have for the future. If your company was created very recently, you can explain what your goals and expectations are in more detail. By telling your company's story, it will be easier for you to humanize your brand and for your audience to connect with it.
Hook Your Audience on Your Mission and Purpose – One more goal you can accomplish with the help of your About Us page is hooking your audience on your mission and purpose. After all, this is where you can explain your values, vision, mission, and even your slogan. If you can hook your audience with these things, it will be much easier to persuade them to buy your products or services and maybe even keep coming back for more in the future.
#Step 2 Define Your Mission Statement and Values
As explained earlier, your About Us page will need to include your mission, vision, and values that will help you humanize your brand and allow your audience to connect with it. It's best to start with these things points and only then explain what your company does and the history behind it.
Your mission statement should explain one or several main goals that your company is pursuing. For example, your mission might be to educate teenagers on pollution. Your core values would then include things like sustainability, research into green solutions, eco-friendliness, education of the youth, and so on.
You can also use your slogan or company motto if you want to have stronger branding. Not every company has its own slogan, but this could be the best time for you to think about one. Some of the most well-known slogans like Nike's "Just Do It!" are commonly used in marketing, advertising, and branding. They can have a very powerful effect on your audience.
#Step 3 Explain What You Do Clearly and with Details
Once you have defined your mission statement and values, you will need to explain what you do. You will need to be clear about this and include some details as well. There are many examples when companies don't do this, so a customer may visit the website, check the About Us page, and still be confused about the products or services offered by the company.
Try to be precise and direct. You can even link your product catalog if you have one on your website. If you don't know how to describe such things well, you can hire an experienced writer from the custom writing reviews site Writing Judge who can write this copy for you.
#Step 4 Write About Your Company's History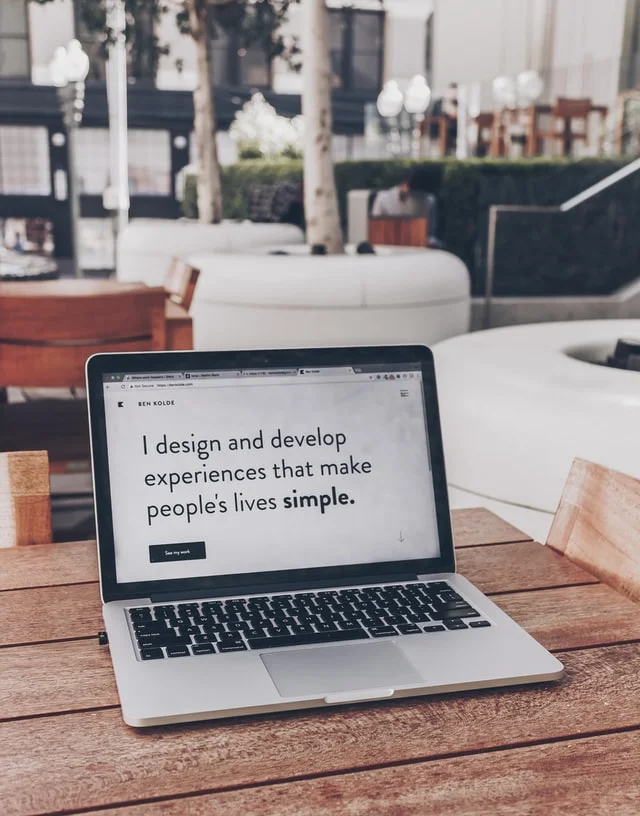 Image from Ben Kolde on Unsplash

After explaining what your company does, write about its history. What is the story behind your brand? When was it founded? What are the major events in its history? Who are the people behind the brand?
Answer all of these questions, but don't make the story too long. Remember to be brief and stick to your outline. During the final revision stage, you may notice that you could still add some details and keep the text short. But for now, try to avoid adding any unnecessary information.
#Step 5 Know the Essential Elements of an About Us Page
Once you truly understand the purpose of your About Us page, you can start thinking about its structure. There are several essential elements that every About Us page needs to have, including:
Headline – You can either call your About Us page just that, "About Us". Or you can go beyond that standard title and think about a unique headline. You can take a relatively common phrase like "Our History" or "Our Story". Alternatively, you can lose a slogan (e.g. "Let's go places.")
Body Copy – The bulk of your About Us page will include your body copy where you explain your mission, vision, and values as well as describe the benefits of your company for your customers. This is also where you explain which products and services you offer.
Visuals – Photos, videos, infographics, statistics, and any other visual elements that help present your company's history and personality. In a way, elements of your web design are also a part of the visuals present on your About Us page. But the visuals you add still play a bigger role which is why you need to make the most of them.
#Step 6 Determine Everything You Want to Include
Now, you need to determine everything that you want to include on your About Us page. Based on the essential elements listed above, you can decide (and later on gather and prepare) all the information you want to put on this page. Here are some tips to help you choose:
While there is no actual limit for how much you can include, it's worth making your page relatively short. Remember that your audience likely doesn't have a lot of time, so explaining everything briefly and including the most impressive visuals will be more effective than writing a lengthy essay about your company.
When choosing which information about your company to prioritize, start with the basics first. Select the key dates and events, values, vision, mission, slogan, and any major achievements you would like to highlight. You can then think of fun or extra facts to include.
If you have a relatively small team, you can easily introduce everyone on your About Us page. Just make sure to stick to the same practices as you do for all the other information on the page – make it brief and focus on key points.
Choose only high-quality visuals such as photos and videos. If you can, try to include an infographic, chart, or graph to showcase some statistics or past achievements. Make sure that you only use one or several of these – if you include too many, they can be overwhelming to your audience.
#Step 7 Create a Checklist or Outline Beforehand
Before you actually start creating your About Us page, it's definitely worth creating a checklist or outline. This is necessary so that you have a clear plan in mind and so that you don't forget anything that you want to include on your About Us page. Moreover, having an outline will allow you to organize your thoughts and ideas in a coherent and logical way. Here are some things to consider when creating your plan and outline:
Research and Data Gathering – This is the time you will need to do some research about your company in case you need any special documents, mission statements, and core values that will be put on your About Us page. For example, if you want to use a quote from one of your executives, you will need time to find that exact quote.

Writing the Outline or Checklist – This is the actual outline or checklist of things you will include on your About Us page. Think about:

The headline


Key events


Achievements


Team members


Goals for the future


Mission, vision, and values


Visuals (photos, videos, graphics)

Checking and Publishing Stage – This is the final stage of creating your About Us page when you will have to proofread and edit your copy before you publish it. Make sure to plan enough time for this stage because you might even have to remake or slightly edit your graphics.

#Step 8 Choose the Tools to Help You Write and Design

Thanks to the many tools available to you, you won't have to rely only on your own skills when writing and designing your About Us page. Here are three helpful tools you can use in the process to assist you:

Hemingway Editor – A word editor with a unique twist. Unlike Grammarly which is used for finding grammar, spelling, punctuation, and word choice mistakes, Hemingway Editor looks at the stylistic aspects of a text. It will highlight the parts of your text that have adverbs, passive voice, complicated phrases, and hard-to-read sentences. You will be asked to change these to improve the readability of your copy.





Eagle App – An inspiration collection tool that will help you find ideas for the design of your About Us page. You can collect all kinds of references for inspiration and then sort them with the help of tags, ratings, color search, and annotation features. It's a way to brainstorm ideas and then choose the best ones for your needs.





Image from Eagle App
Canva – A free graphic design tool with free templates and numerous customization features. The online tool is very easy to use even for beginners, so you can create professional-looking graphics (e.g. infographics, charts, timelines, etc.) without having any graphic design experience.
#Step 9 Consider Outsourcing Some of the Tasks
When creating your About Us page, you might be wondering how you can manage to do everything from planning to writing to designing. Not everyone is able to complete all of these on their own, so you will likely have to involve your team members to help you out. On the other hand, you can consider outsourcing some of the tasks that are a part of creating your About Us page.
For example, you can hire an experienced writer from the writing services reviews site Best Writers Online who will write your body copy. This way, you can focus on the visuals. If you want to write it yourself, you can hire an editor from the same website to proofread and edit your final text. You may also consider outsourcing the creation of infographics, charts, or graphs that you want to add to the page.
The reason why outsourcing has become so common nowadays is that it allows you to save money while maintaining quality. This pretty much means that you can be sure that your About Us page will be the best it could possibly be even if you yourself will actually spend relatively less time working on it directly.
#Step 10 Proofread, Edit, Design, and Publish
Last but not least, you will need to proofread, edit, design, and publish your About Us page:
Proofread and Edit – Read through your text and correct any linguistic and factual mistakes. Possibly add some more details if you feel like it.
Design – Prepare the visuals for your About Us page. Think about photos, videos, and graphics you want to use.
Publish – Publish your About Us page and get feedback from your audience. If they want you to include more details, make those additions.
---
About Us Page Templates
If you are looking for content or design inspirations for about us page, we have found some perfect website to get you started.
About Us Page Content
SaaS Pages: Including many successful SaaS website screenshots, you can see how others present their content on about us page, pricing tables, CTAs and FAQs.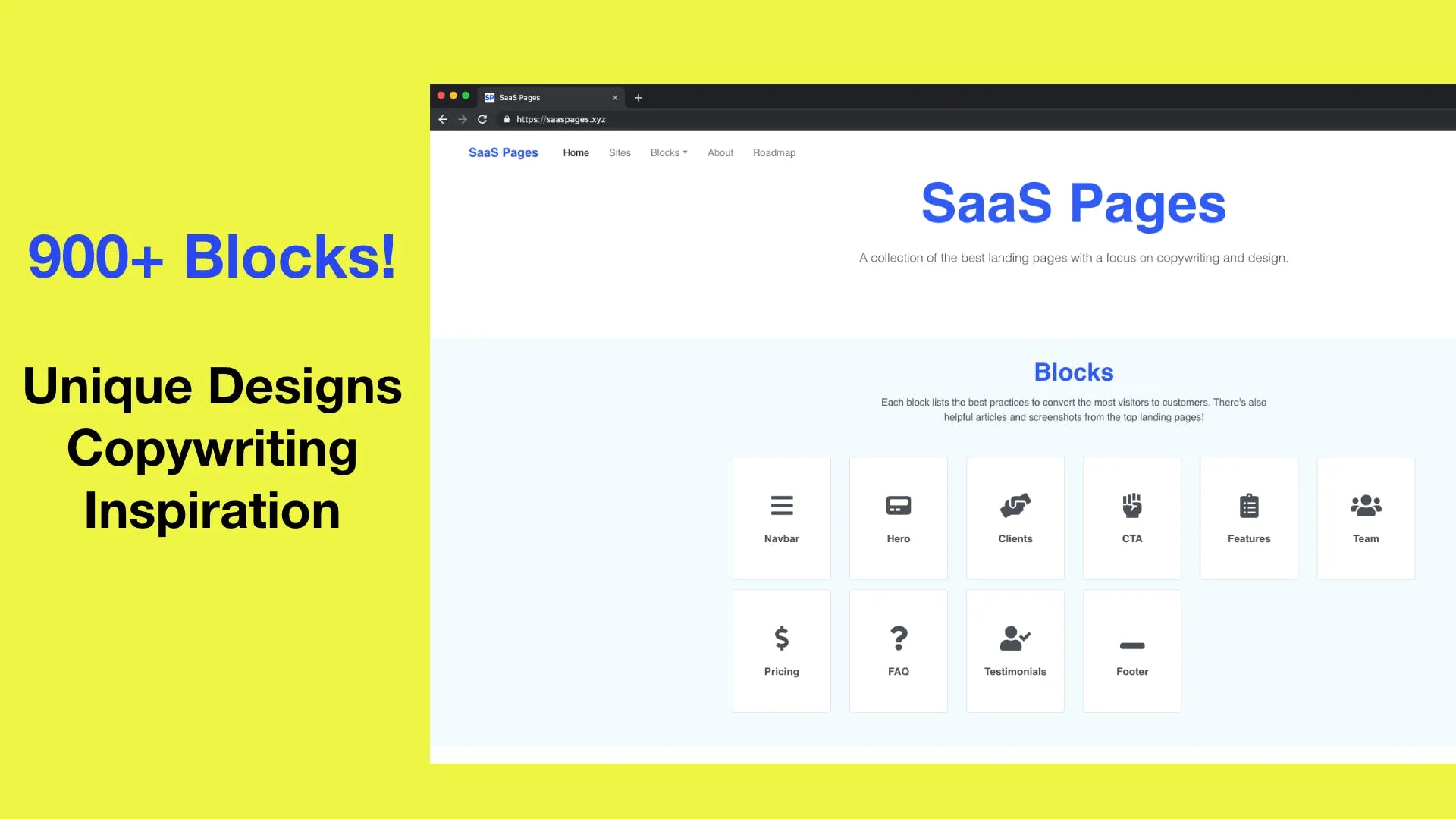 Image from SaaS Pages
About Us Page Design
Awesome About Us design collection to get yourself inspired and even brainstorm.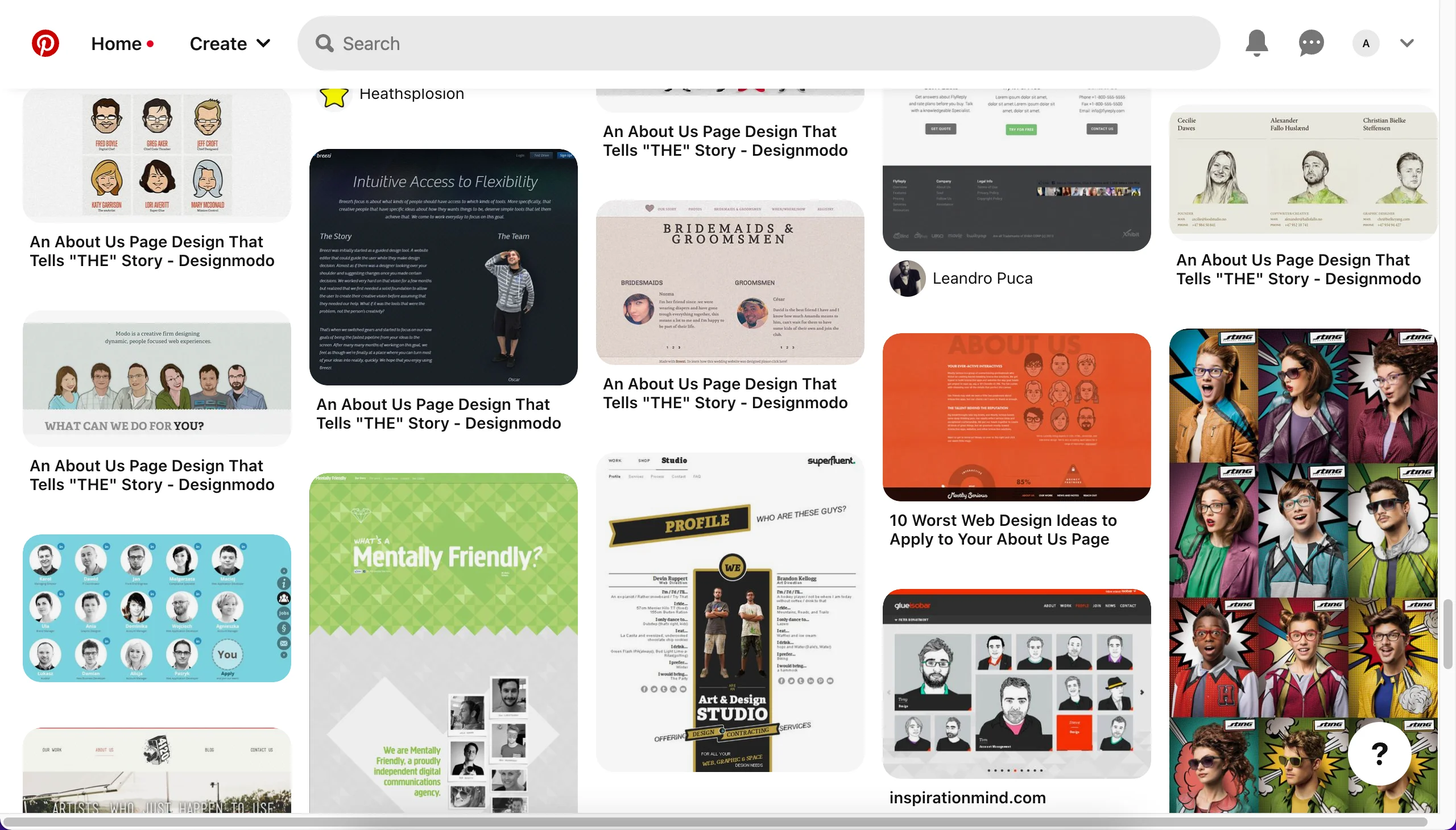 Image from Pinterest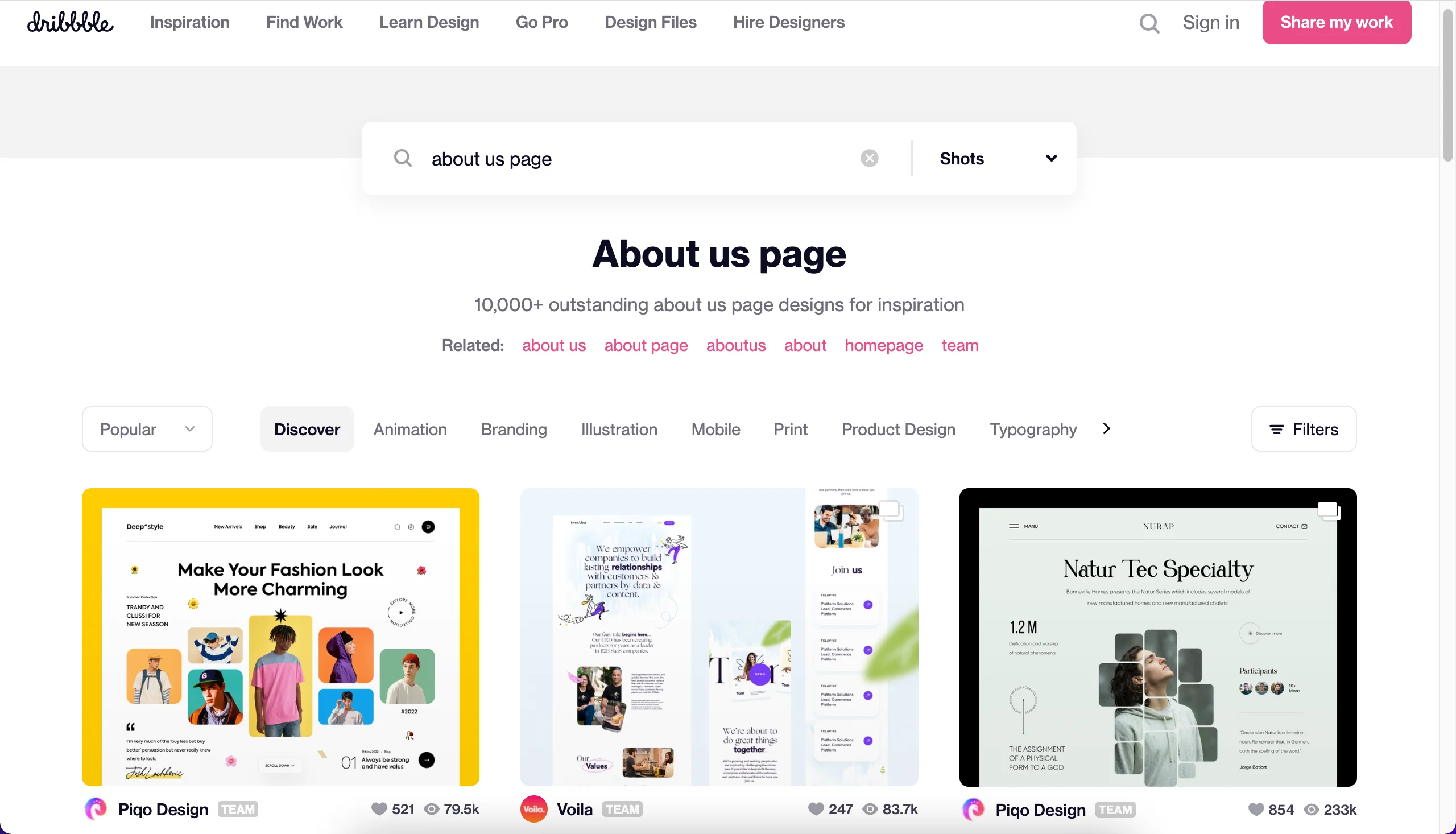 Image from Dribbble
Read more: 43 Best Websites Designers Love for Finding Design inspirations
---
About Us Page FAQ
Why do websites have About Us content?
Websites write About Us content because it allows companies to:
Share what the brand is about
Tell the company's story to potential customers
Hook the audience on their mission and purpose
What should be on the About Us page?
A typical About Us page includes
a brief company description
an introduction of the company's team
a short history of the brand
some photos or videos.
How do I write an About Us page?
Follow the steps explained in this article! Collect information for your page, make an outline, tell your story, and finally design your page.
---
Conclusion
All in all, writing and designing your own About Us page can be challenging if you want to make it perfect. But even simply making your About Us page good will already be incredibly beneficial to you. Use the tips in this article to help you write and design the best About Us page for your business website.