Eagle VS Pinterest: Which is The Better Inspiration Organizer?
It is a well-known fact that Pinterest is an exceptional online platform to collect new, stunning, worldwide inspiration; while Eagle is a rising star that cover-up the whole design process. But which tool is better to organize all the references and help you construct a design library?
This article is going to discuss how these two products compare in terms of:
Server
Product position
The way they collect references
The way they organize files
The way their browser work
First, let's walk through the introduction of Eagle and Pinterest.
---
Introducing: The Two Inspiration Organizing Tools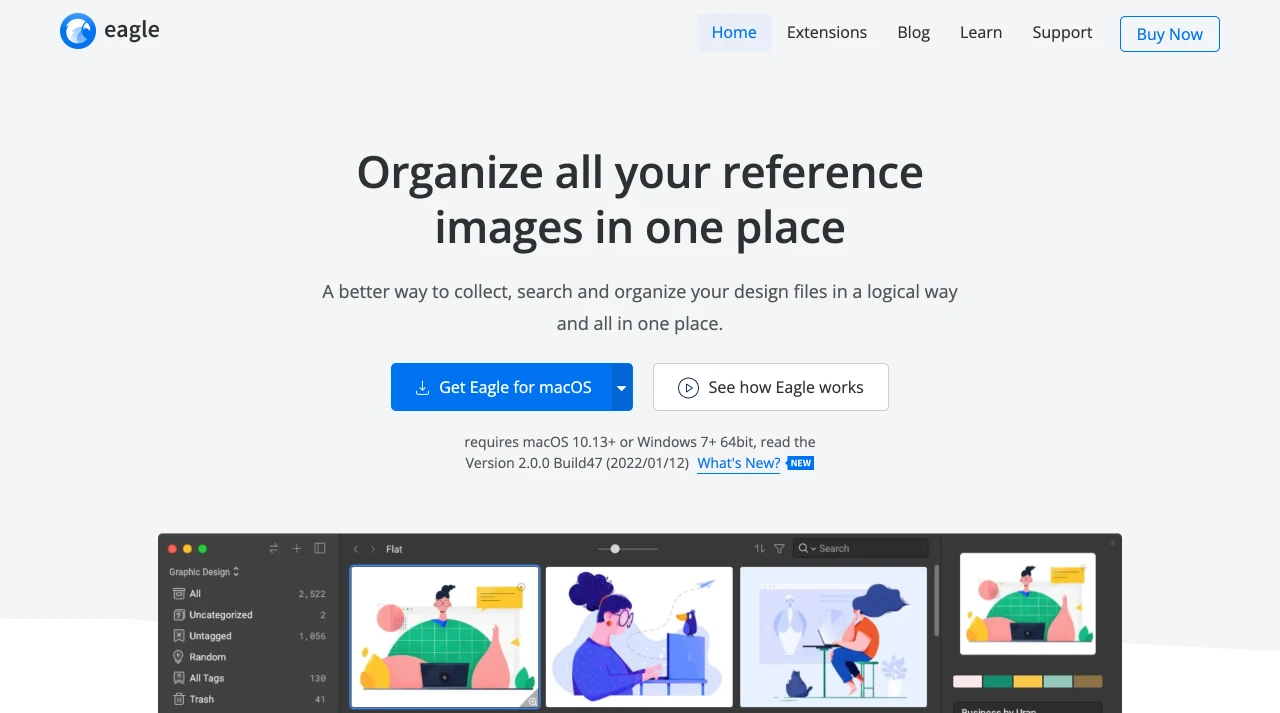 Home/ Image from Eagle

Eagle is a design asset management software that is developed especially for designers as it is mainly focused on designers' daily workflow - collecting, organizing, searching and browsing. It helps you unify all your creative files in a new logical way with its powerful "Smart Folder", browser extension and various sorting methods.
People usually use it to capture layouts from other social media accounts and webpages, organize interior design sketches, or preview GIFs, video clips and sound effects for games, VLOGs, etc.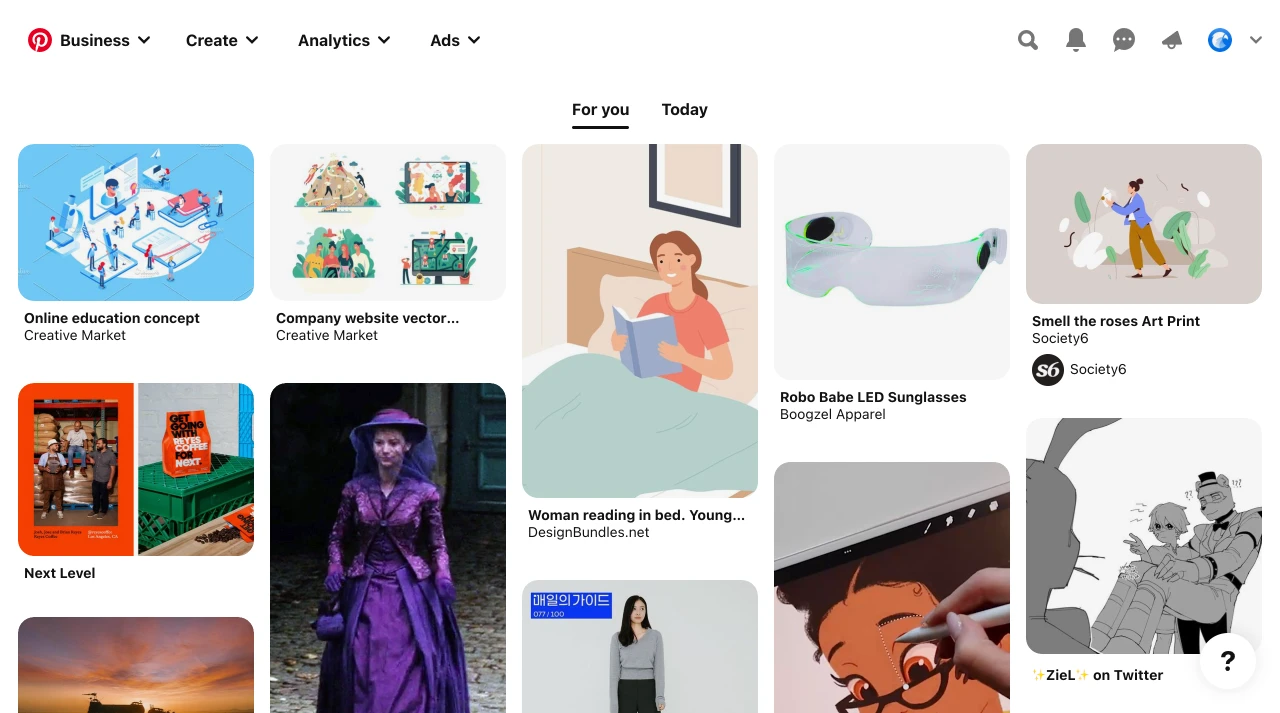 Home/ Image from Pinterest

In the other corner, we have Pinterest, which is an image sharing and social media service designed to enable the saving and discovery of information on the internet using images, animated GIFs, and videos in the form of pinboards. Not only can you find different design inspirations even home deco, recipe, style, other ideas, and competitors' products as well!
That said, they can both be inspiration organizing tools that help you collect trendy and stylish references, while Eagle has a ton of features that makes it a direct competitor to Pinterest, including:
Drag and drop to save pictures, GIFs, videos, and more
Add tags, descriptions, notes, comments on files
Smart folder feature
A powerful browser extension
Color filter
…and more to be compared in the following paragraph.
---
Eagle vs. Pinterest: The main differences
1. The software platform
The most obvious and biggest difference between Eagle and Pinterest is the platform they run on. While Eagle is an on-premise tool that needs to be downloaded to your digital device, Pinterest runs majorly on a webpage or in the application.
This difference has then affected the storage space, the file format they can support, the way users interact with each other, and how frictionless are the user experiences. You can see more pros and cons between on-premise and online services in the below table.
On-premise tools
Online tools
Pros
- Can drag and drop the files anywhere and use the files directly
- Supports more file formats
- Can quickly browse pictures
- It works well offline. Won't be affected by the Internet speed
- Unlimited storage
- Integration between devices is easier
- Easy to collaborate with your team
- Instant multi-platform synchronization
Cons
- Takes up storage space on your computer
- Lacks of social function
- Can't sync to any devices easily
- Can't use it without the Internet
- Usually need to download the files to edit them, which increases your workflow
E.G.
Eagle
Pinterest
It's hard to say that any of them won this category since it depends strongly on the user demands. If you don't necessarily want to share the inspiration you collected or showcase your design like me, then an on-premise tool like Eagle may suit you better. It will sure to help you become a more organized and efficient designer as it integrates everything on your computer together.
Pinterest on the other hand offers you limitless storage to collect tons of beautiful references and you can also socialize with other Pinners directly when the Internet is available.
To sum up, both software is restricted by the technology to some degree, thus I will call it a tie here and let's move on to the next point.
2. The product positioning
The second difference between Eagle and Pinterest is their product positioning, which embarks them on a different product development journey.
Eagle emphasizes optimizing the whole process and the cycle of designing from collecting, organizing, searching to browsing; while Pinterest values more sharing and socializing, the majority fire it up to learn, plan and be inspired.
That's why Eagle has developed a comprehensive categorizing system and distinct display modes, to help you quickly find your design files to accelerate your workflow and make a great first impression on your clients.
On the flip side, Pinterest is more business-oriented. You can drive traffic from pins to your website and start a conversation with your followers. It's also many companies' marketing channels to out-reach new potential customers.
Again, it's difficult to judge which one is better, according to their business model. However, keep in mind that they are first and foremost an inspiration collecting and organizing tool, and the comparison of their capabilities to do that must be included as well!
---
Which Tool is the Best to Organize Inspiration?
To review Eagle and Pinterest in detail, I will introduce and compare their features and systems in 4 sections, including collection, organization, search and browse.
1. Collection
To collect images with Eagle, you need to install and activate Eagle's browser extension, then you can drag and drop, press Alt + right-click or use the context menu to collect media files on the website! With the browser extension, you can also take screenshots and batch save tons of references in one click!
Collect with browser extension/ Video from Eagle


If you would like to save and organize videos from YouTube or Vimeo, the "save URL to Eagle" feature will definitely help as well. Furthermore, you can preview them easily in Eagle by just hovering on them!
Save the video with URL/ Video from Eagle


Another way to collect pictures to Eagle is to copy and paste using the Clipboard (shortcut Ctrl + C and Ctrl + V), giving you the most diverse and quickest ways to store anything you like.
While on Pinterest, you can collect images and videos by hovering over a Pin or clicking on the Pin to open the Pin closeup, and then choose a board to save your Pin to boards.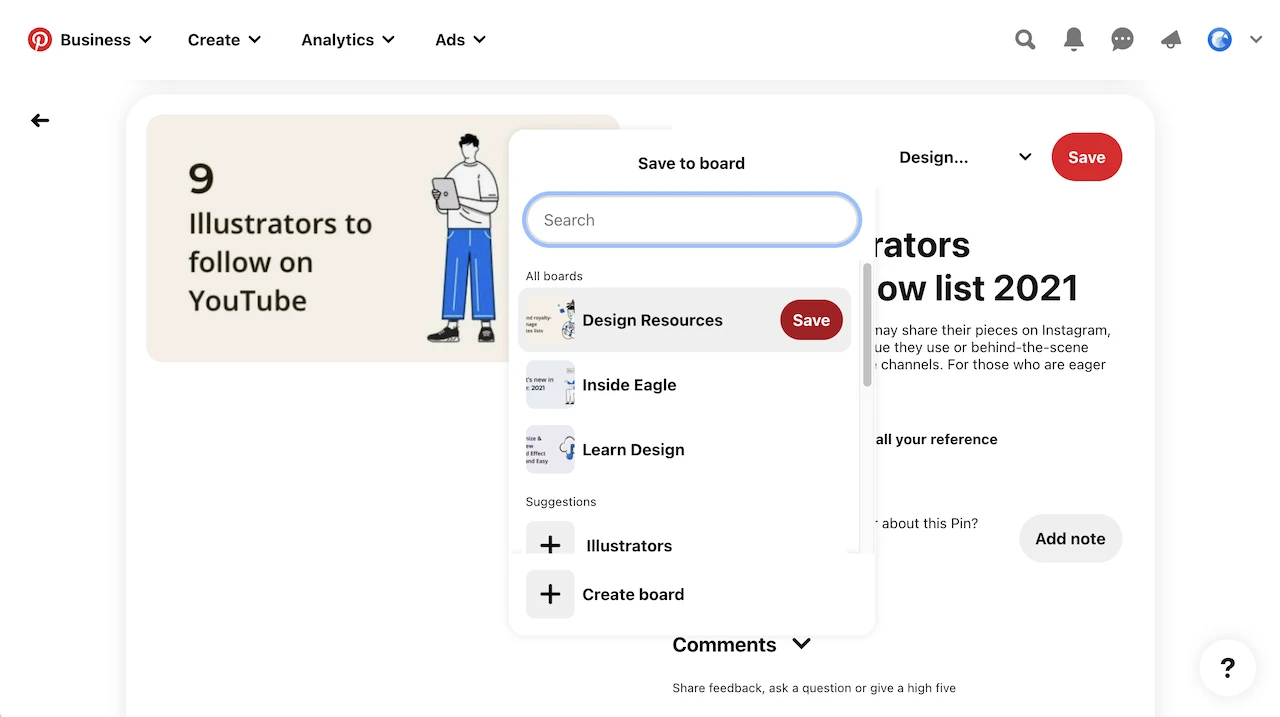 Collect images/ Image from Pinterest

If you want to download them, you need to tap the ellipsis icon at the top-right of the screen, then tap "Download image" to save.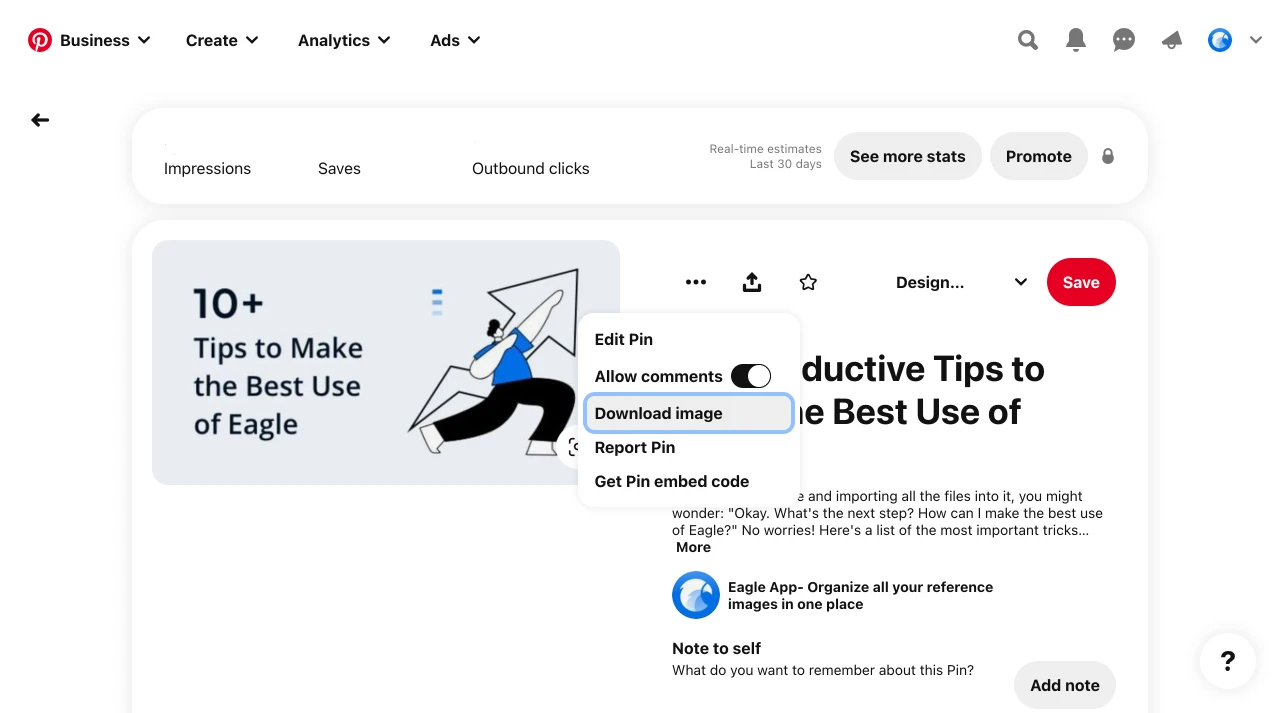 Download images/ Image from Pinterest

Pinterest offers a browser extension to help you save images quicker too. However, by comparing the two software, you can figure out which one requires more steps to collect, which creates more burdens on your workflow.
Therefore, I would recommend Eagle for a better collecting experience and to create a more smooth and efficient working process; but for storing more unique content and a small amount of collection, Pinterest can wrap it up.
2. Organization
Imagine now you have collected thousands of images but they are all cluttered up, how are you going to sort and keep them organized?
Well, Eagle then provides multiple methods to help you categorize all the files, including tagging, annotating, batch-renaming, or even color filtering. You can separate the pictures into different folders hierarchically depending on their uses or meta information. Also, one file can be added into multiple folders at once, saving you time and working process to become a more efficient designer!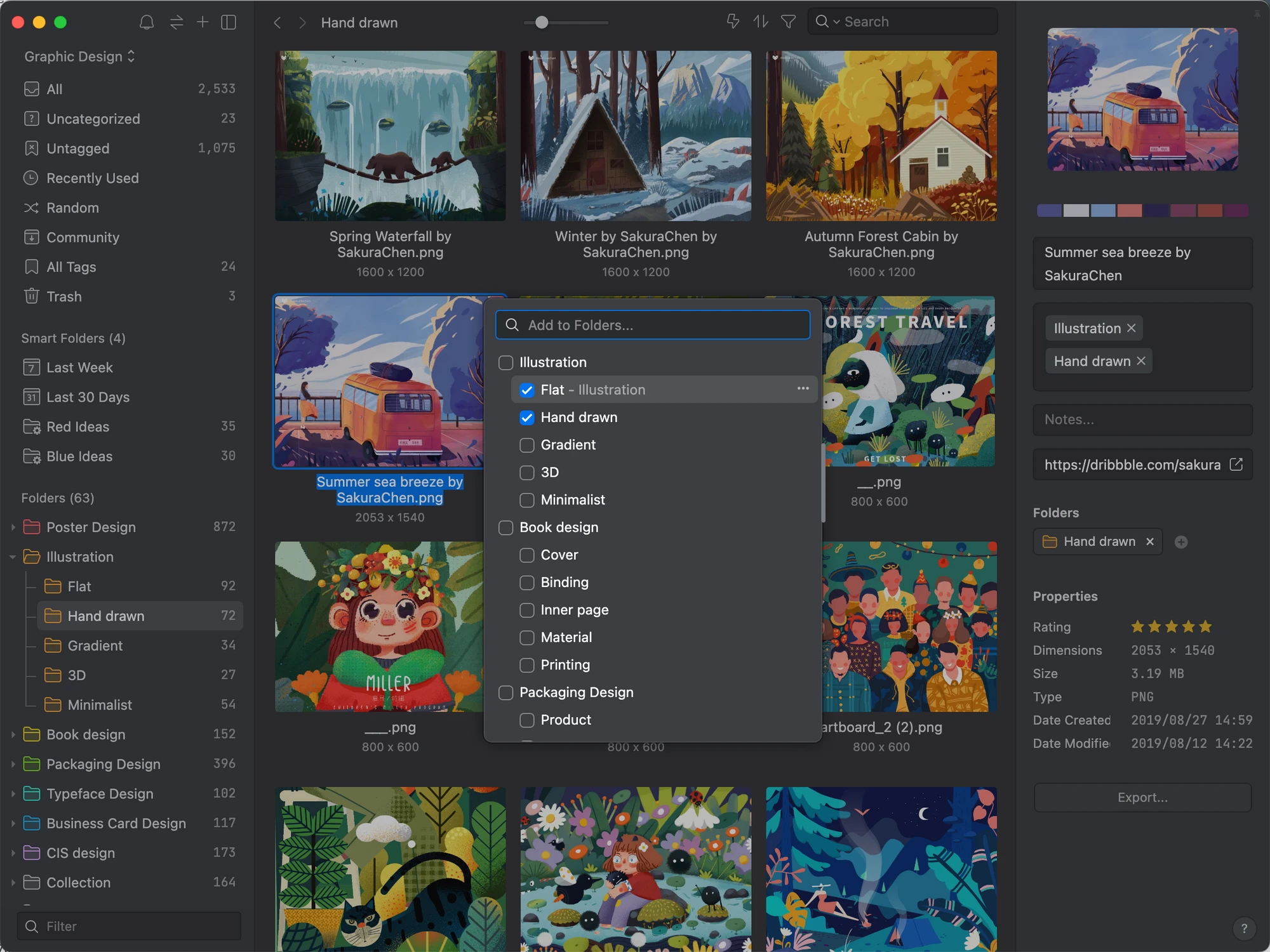 Add files to different folders/ Image from Eagle

To organize your files with Pinterest, you can create "boards" to categorize your saved images and videos, add a note on your Pin and boards, or build a "board section".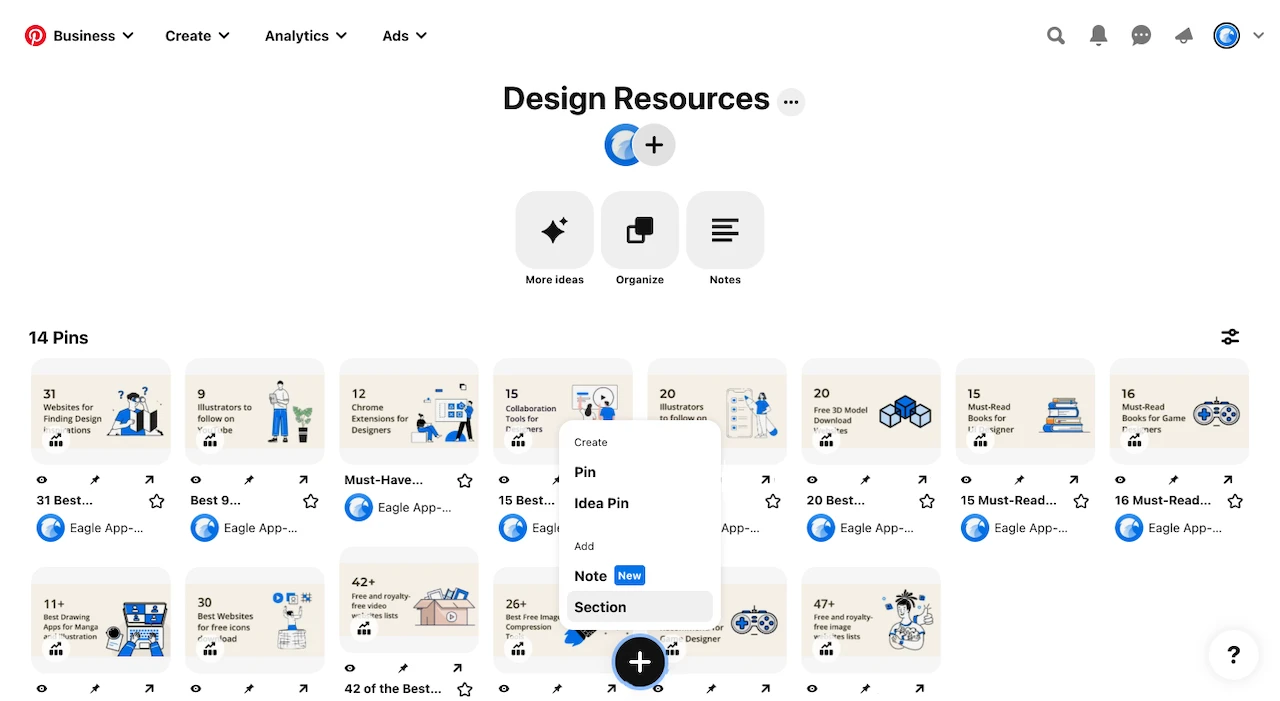 Build a board section/ Image from Pinterest


Here, we can see the problem as the same as in the previous step. Compared to Eagle, the way Pinterest sorts and manages the files isn't frictionless enough and the display modes are also unvarying. You are not able to see the full structure of folders, images, and other details at once on Pinterest.

Waterfall and List-display/ Image from Eagle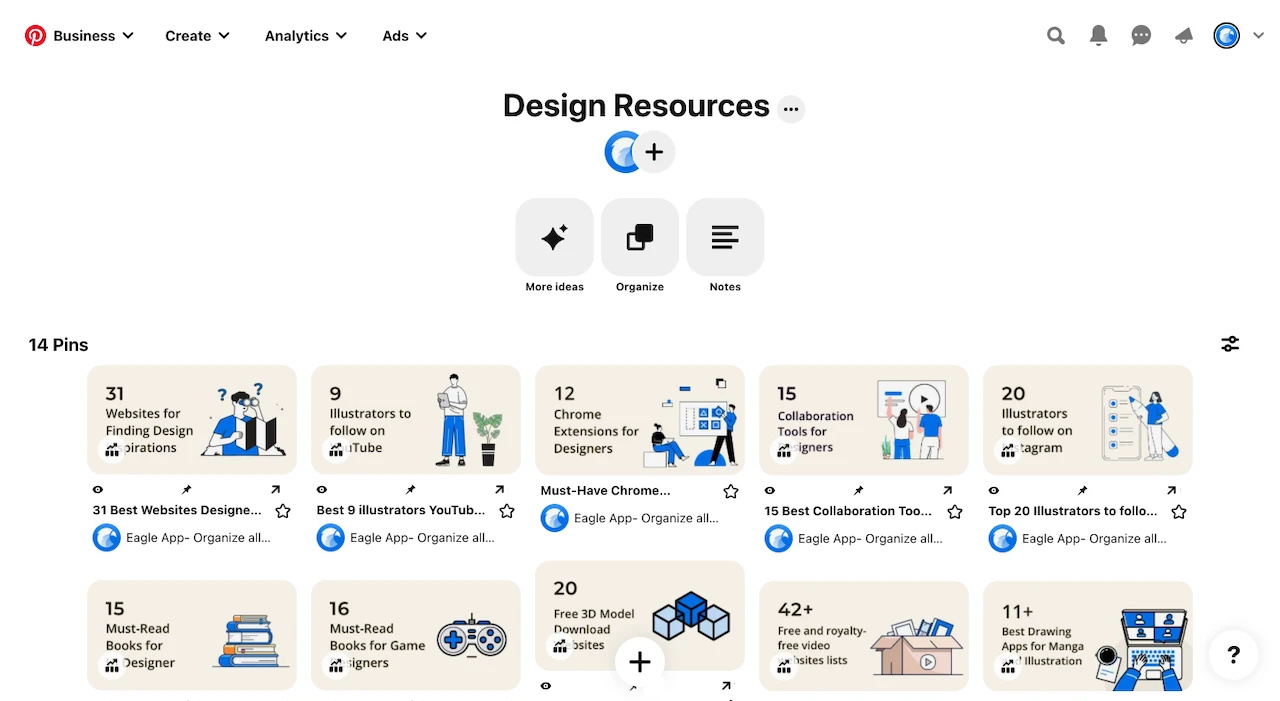 Default-display/ Image from Pinterest

To sum up, if you only need 10 or fewer folders to distribute all of your media files, Pinterest could probably meet your expectations. However, it's easy and normal to exceed that number, not to mention that we usually don't just have to manage images and videos, but also fonts, PDFs, and more, which Pinterest doesn't support.
So this round, it's a win to Eagle.
3. Search
Now that you have constructed a design library, the next function we considered important will be their search capability.
Within Eagle, you can search any specific file and folder by color, keywords, dimensions, ratings, BPM and more.
Color search/Video from Eagle


Keyword search/ Video from Eagle


Advanced search/Video from Eagle

The keyword search includes "Fuzzy search" and "Keyword Exclusion Search" as well. They help you get to the correct folders even if typing incomplete or not in exact-in-order keywords. For example, you can find the "Design" folder by just typing in "ds", making the searching process more easily!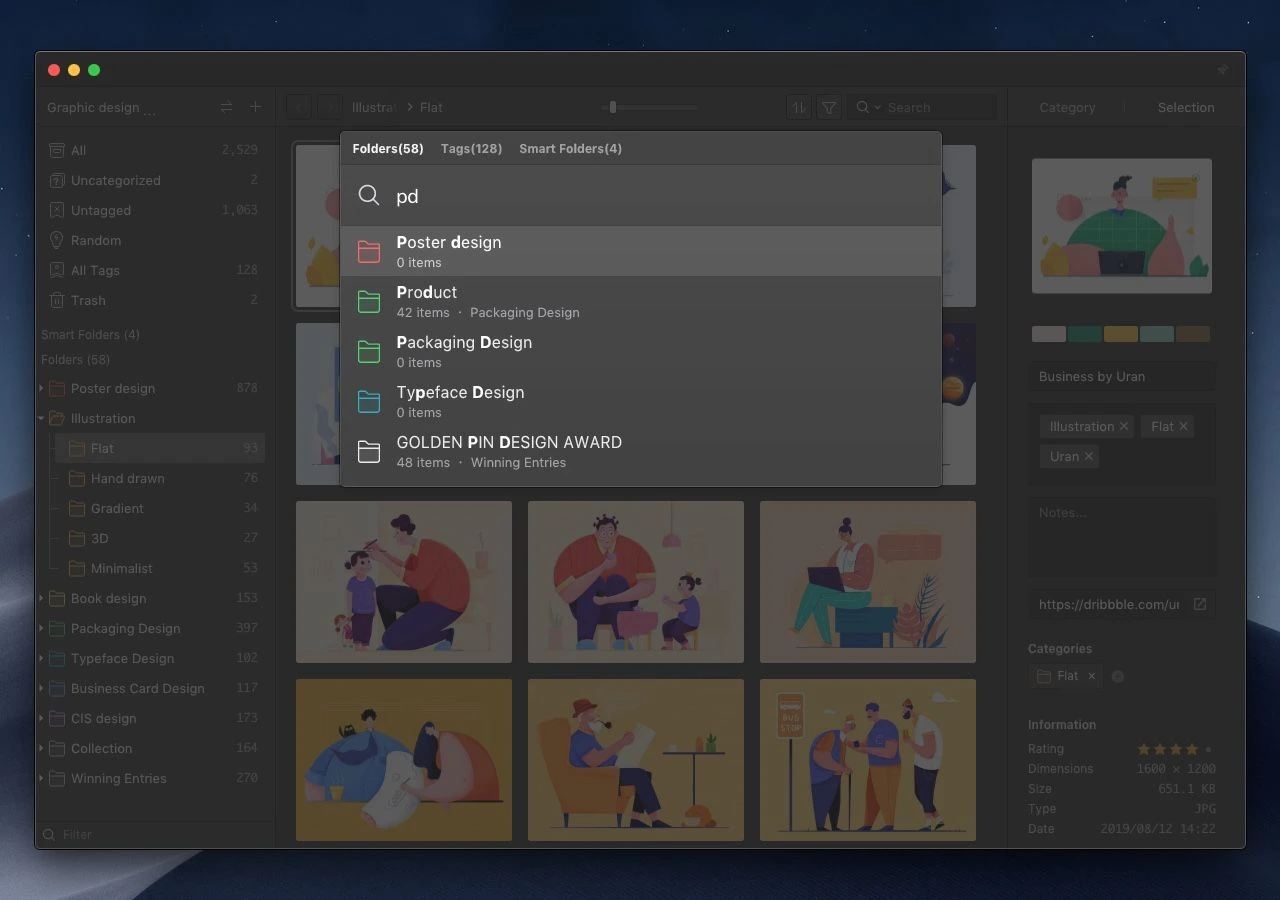 Fuzzy and quick search/Image from Eagle
As for Pinterest, it only supports keyword search and if you don't type them correctly, it can't recognize them. This would probably end up browsing all of your pinboards to find that image you need, pretty time-consuming.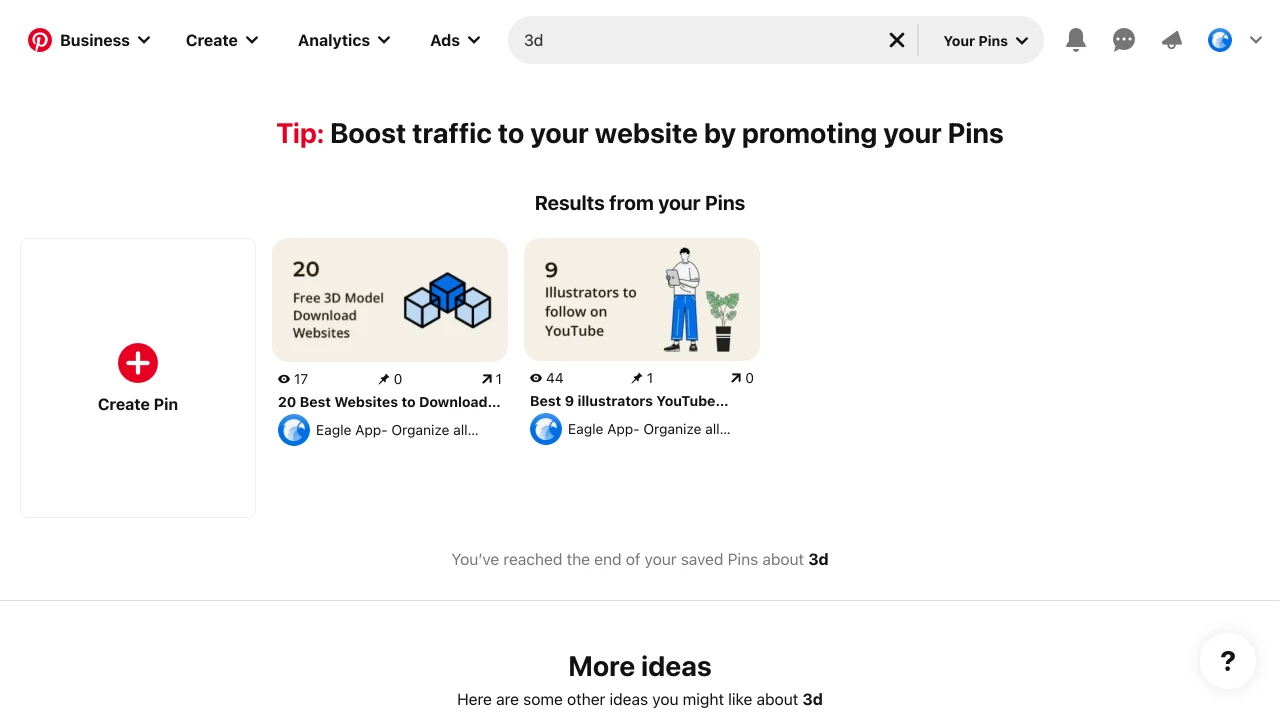 Search your pins/ Image from Pinterest


And it is obvious which tool got a better capability to find your files. Last but not least, let's review how they work on browsing.
4. Browse
Eagle provides methods to speed up the browsing efficiency, such as hover preview and spacebar preview, letting you view the content in detail without clicking in.
Hover preview/ Video from Eagle

Spacebar preview/ Video from Eagle

To check or study more detail of the file, Eagle enables a zoom-in or zoom-out slider and the color swatch in the inspector, helping you analyze the art pieces more clearly!
Zoom as you like/ Video from Eagle


As regards Pinterest, it's laid out as the below picture has shown. The videos will be played automatically, but you need to click in to see them in full size.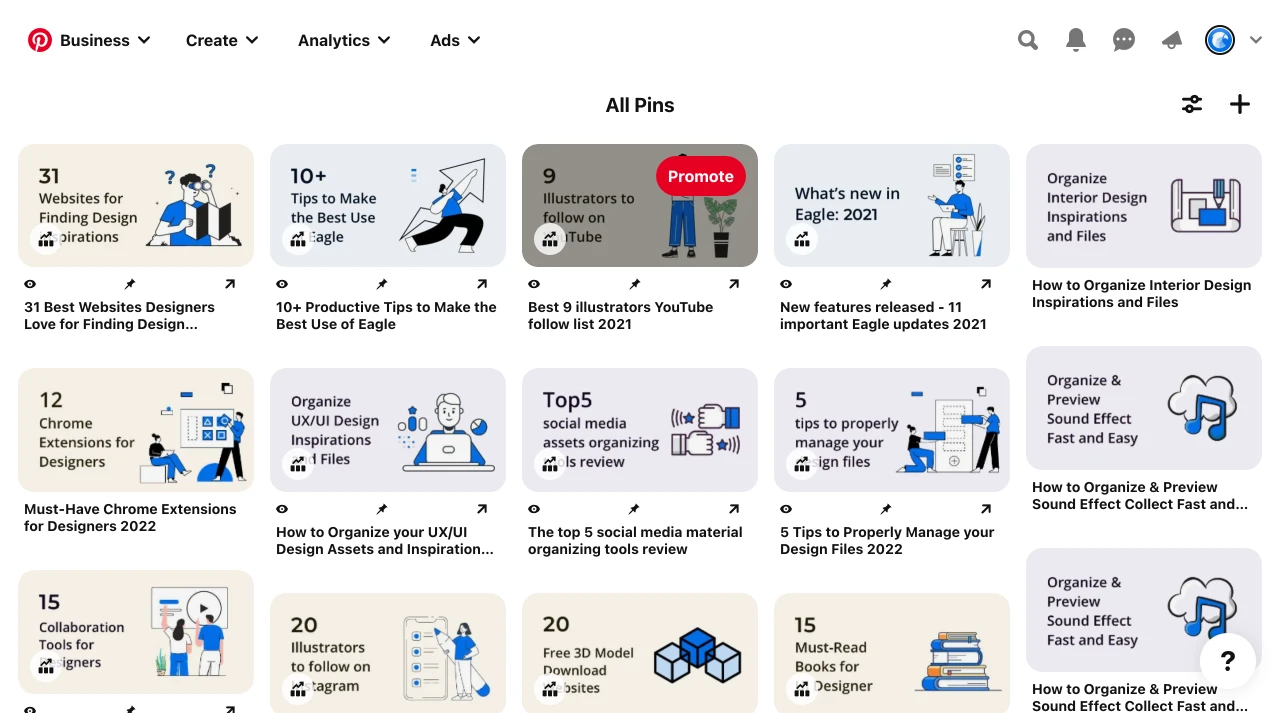 Preview pinboard/ Image from Pinterest

When you click in to see your saved pins, here's an interesting function, you can select a certain area, then it will show more ideas according to that within Pinterest! This will help those who are finding new sparks for their next project.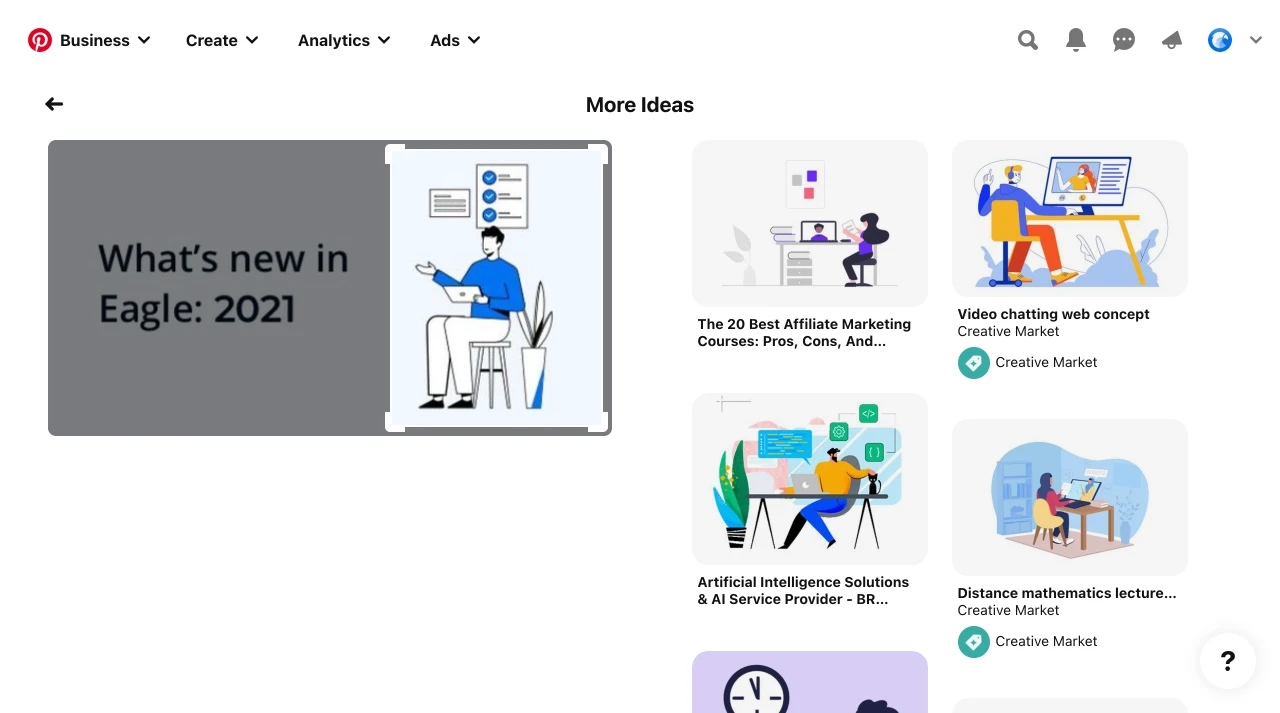 More ideas/ Image from Pinterest


However, objectively speaking, when it comes to browsing a video among files or browsing efficiency, Eagle is sure to be the better one.
---
What makes Eagle the right choice?
Let's take a glimpse at this:
"Basically, every designer has its own library to save inspiration and resources. You sign up on Pinterest, collect and download, maybe to an external hard drive, but chances are that you don't remember them anymore." Lwanna, a UX designer said.
Senyu KK is also on the same page: "I've tried downloading my Pinterest collections, and it ended up spending half an hour to save a hundred motion design resources. Not to mention there are more assets scattered around on other platforms and websites. I don't know where to find the references even when I have ideas."
It is always attractive to pile up stunning design references, but the cost is too high if you have to "Search, Select, Download, Categorize" every single time you need new ideas.
Not to mention sometimes "It's good to learn from those short videos on Pinterest, but they're too difficult to be downloaded and viewed." All in all then, "Eagle is the savior. As it can batch-save the entire Pinterest collection and easily drag and drop to store videos." said Mr-hezi.
To sum up, if you meet one of the following conditions, you should give Eagle a shot!
Don't know where to find the design files when you need them
You want to classify one file into multiple categories
Wondering if there's a faster way to save design inspiration
You want to organize different types of media files all in one place
You want to increase productivity and reduce daily workload
Plus, Javier Cristóbal the Digital Nomads Trainer shared: "You can't just use Eagle for collecting and organizing 'logos you like', but images of workspaces, ideas you want to try, travel places…Eagle can be your own Pinterest!."
---
In nutshell
Eagle and Pinterest are both great tools to deal with inspiration, but you should pull the right trigger so that it can benefit you the most. That said, If you like to share, socialize and study design at the same time, Pinterest is probably more suitable for you.
On the other hand, if you are trying to organize ALL types of files in one place, quickly find images or video references before starting a design, and reduce repetitive work, Eagle is an excellent alternative to Pinterest. Besides, it's simple to migrate everything on Pinterest into Eagle, making it even more beginner-friendly!
Start your journey now >> https://eagle.cool/