Introducing Eagle Community - Best Design Resources for Your Next Project
Hello everyone! This is Eagle Team! Over the years our product Eagle App have solved most of the nightmare designer fear daily which is "collecting, organizing, searching, browsing" of files, Eagle App is able to manage design files and materials in the easiest and most intuitive way.
However, at times we found users still face challenges searching for the perfect inspirations, reference materials or even finding the correct tools for all kinds of design projects.
So, today, as the Eagle community grows bigger, Eagle is evolving to help you streamline ALL the research process, we're happy to introduce the "Eagle Community"!
Eagle Community is a resources sharing platform, where you can explore, share and learn ideas from. Currently, Eagle Community provides exclusive design resources and design tool database ranging from UI, graphic, illustration, game and interior design.
We have also made the long-awaited eaglepack resources area, where you get to browse assets packed in eaglepack format and import directly into Eagle App along with your amazing library to get yourself prepared for your next design project!
Now, through this article, we will guide you to our "Eagle Community", introduce features and tell you the tips and tricks, let's go!
---
Your Favorite Design Resource Platform — Eagle Community

What is Eagle Community?
Eagle Community is a design resource sharing platform, where you can find high quality reference materials & inspirations, share resources, communicate and learn with users in the community to create a better design experience for your next creative project!
Who is Eagle Community for?
Whether you are interested in design, beginners, or an advanced designers you are ALL welcomed in the Eagle Community! You can find many high-quality and ready-to-use materials or tools here, and the most important goal of the Eagle community is to help those who can't find inspiration to have place to explore and discover ideas, making the design research process easier!
---
Why build Eagle Community?
With the Eagle Community and Eagle App together, it would be easier to find assets and design tools that designers love to use, making digital assets easier to manage and help you focus on creating meaningful design work.
---
Guide to Eagle Community— How to Use & Features
Explore Resources — ALL in One High-Quality that Designers Love
Eagle Community provides a variety of resources in UI, graphic, illustration, games, and interior design field. You can search by keyword or advanced filter to find the top picked inspirations and ready-to-use assets.
If you are Eagle App user, Eagle Community also have a dedicated eaglepack area, where you can find accessible design files that has already categorized by folders, tags, notes, URL, etc. which can be very useful for you to manage later on in your project!
Advanced Resources Filter
Explore design resources by fields, categories, type, copyright, eaglepack, etc.
After entering keywords or applying filter, you can start browsing all the quality assets!
---
Toolbox— Finding the right tool to enhance your design process
Feeling overwhelmed by online tools and websites? Eagle Community has curated and categorized more than 500+ of the best design tools and resources, so you don't have to go over them one by one!
Whether it is for color management, inspiration sites, design systems, illustration, texture, stock images or more, we have organized them into 15 major categories, you can easily find the right one to your needs.
---
Design Guidance — Share your favorite resources, tools and eaglepacks
Eagle Community not only provides free design resources, it is also a resource sharing space. We invite you to share your favorite design files, materials, tools or eaglepacks with people all over the world. Let's learn and grow with ALL the community members together!
Currently, Eagle Community are open to
Submit Resources or Eaglepack

Submit Tools or Websites
---
What can you do in Eagle community?
Easily browse resources and material in details
You can find resources introduction, author, views, category, copyright information, at a glance, you can also access the original source or download the Eaglepack files with just one click, and import it directly into the Eagle App the digital assets management tool to create your own media library.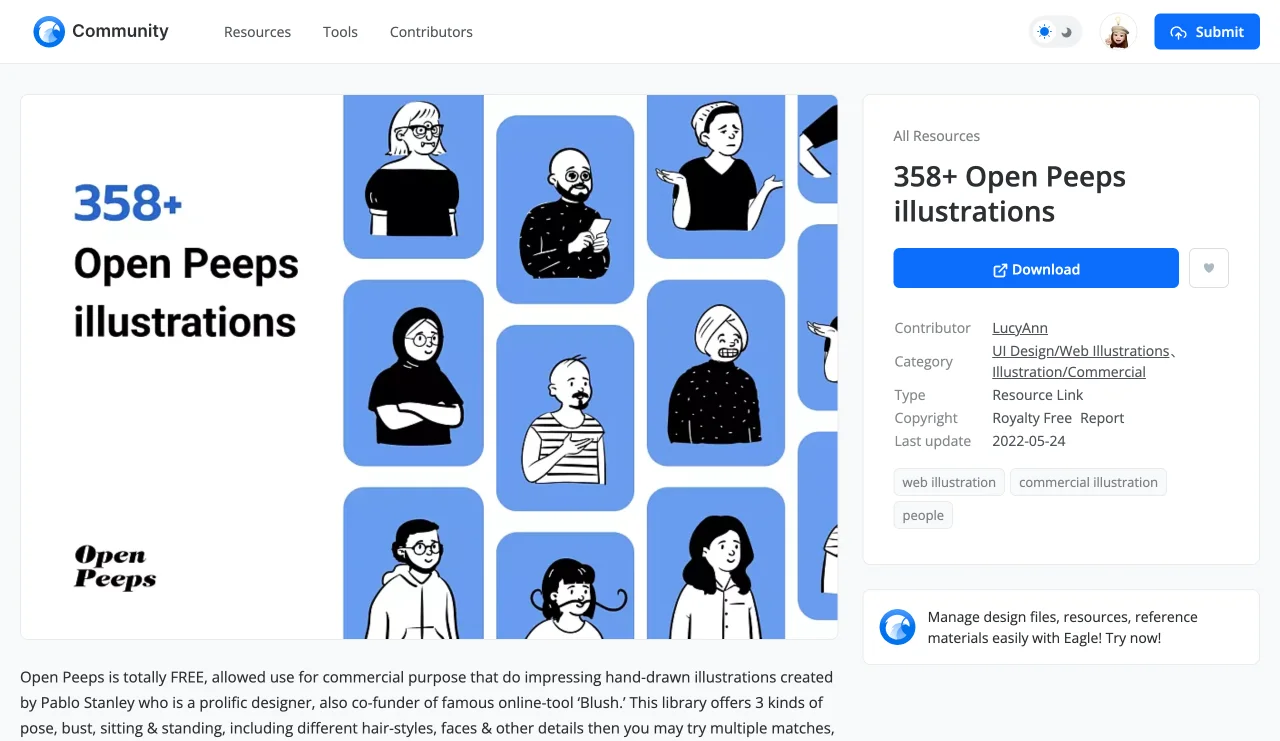 ---
Do you want to centrally manage and categorize the downloaded files you found in the Eagle Community? Then select the file with the eaglepack in the filter for design assets! You can open the eaglepack file through the Eagle App, and use various management methods such as color classification, labels, and shapes in the Eagle App to create your own material library!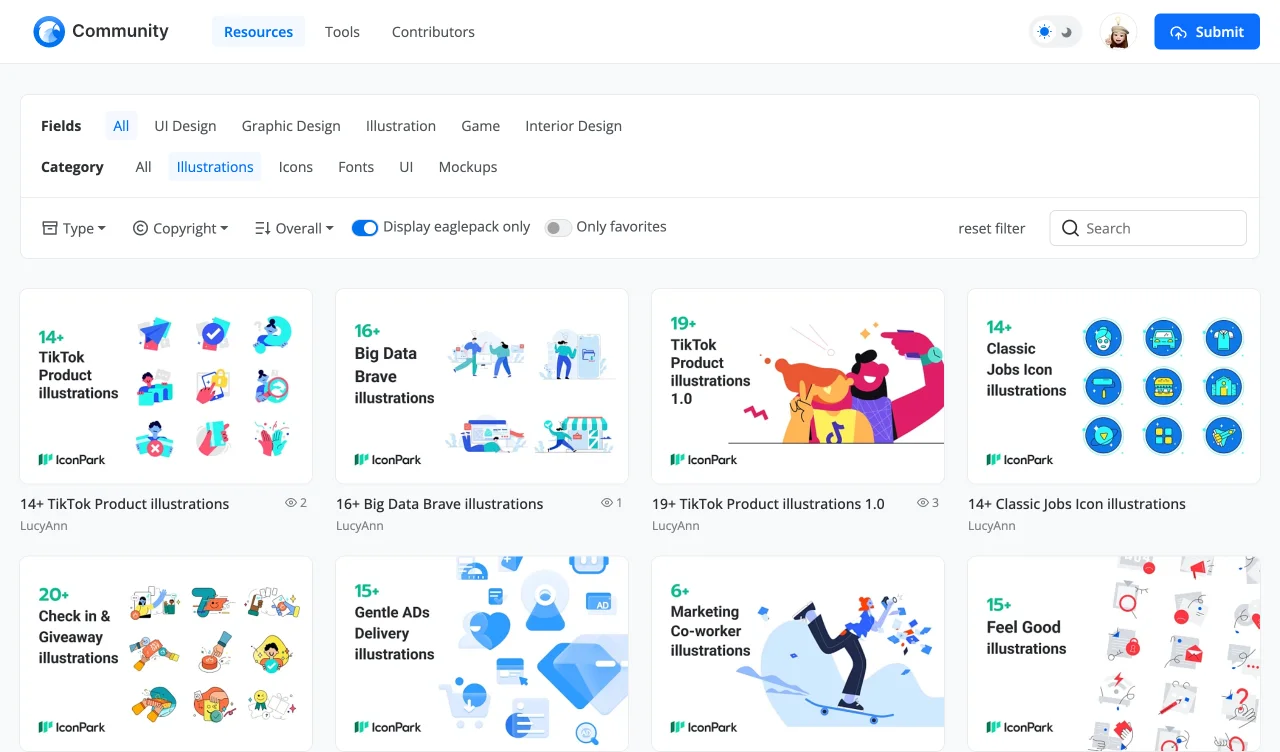 ---
Top contributor —become the most outstanding author
The Eagle Community has also opened an area to shoutout to outstanding authors. You can find the list of authors with the most downloads, the most contributions, and the official selection on this page.
Before you become an top contributor, don't forget to set up your profile page and put your profile on it! While sharing your favorite design resources and tools, you can also let designers all over the world get to know you a little bit better!

---
Give it a Like — Set favorite
Have you seen a favorite material or tool you like? Click on the upper right corner to set the resource as my favorite, and you can quickly find it in the future.
---
Eagle Community is next needed in your creative toolbox! Discover Now!
How do you like Eagle Community so far? What is your favorite feature about Eagle Community? Feel free to share with us how you manage your design assets and files with Eagle!
As a product, the interactive experience is the key to everything. Eagle is cool not just because it's really easy for to use, but for what it brings to your clients as well. With the ease of editing, total control over your materials and near-limitless features, this means that you and your clients can save time and money and still get your creativeness!
Hope Eagle Community helps you learn to become a more confident designer and eventually generate more business opportunities and create a wonderful design experience!
With the advancement of technology, we will continue to keep our faith and continue to optimize, and you are welcome to join our journey and share your thoughts with us. Hopefully, one day everyone finds your own Eagle Community in your daily toolbox! Why not get started and use Eagle to plan your mood board or tackle your next big project?
💡 Try Eagle: https://community-en.eagle.cool